Scheduling appointments manually can drain productivity in any business.
Employees spend an average of 4 hours per week just fielding calls and emails to coordinate timings with clients and customers.
Manual scheduling leads to a 19% increase in no-shows because of limited availability and no reminders. Implementing an automated chatbot for appointment booking can help recapture this lost productivity.
Research by Harvard Business Review indicates that AI-powered chatbots increase scheduling efficiency by 25-30%. Continue reading to learn how a booking bot streamlines appointments, reduces no-shows, and gives staff hours back in their week.
What is an Appointment Booking Chatbot?
Picture this: You're a busy professional trying to manage appointments while keeping your sanity intact. An Appointment Booking Chatbot is like your personal superhero assistant! It's an AI-powered virtual assistant that handles the entire appointment booking process, from initial inquiries to final confirmation. These chatbots are intelligent, efficient, and available round-the-clock to make your life easier.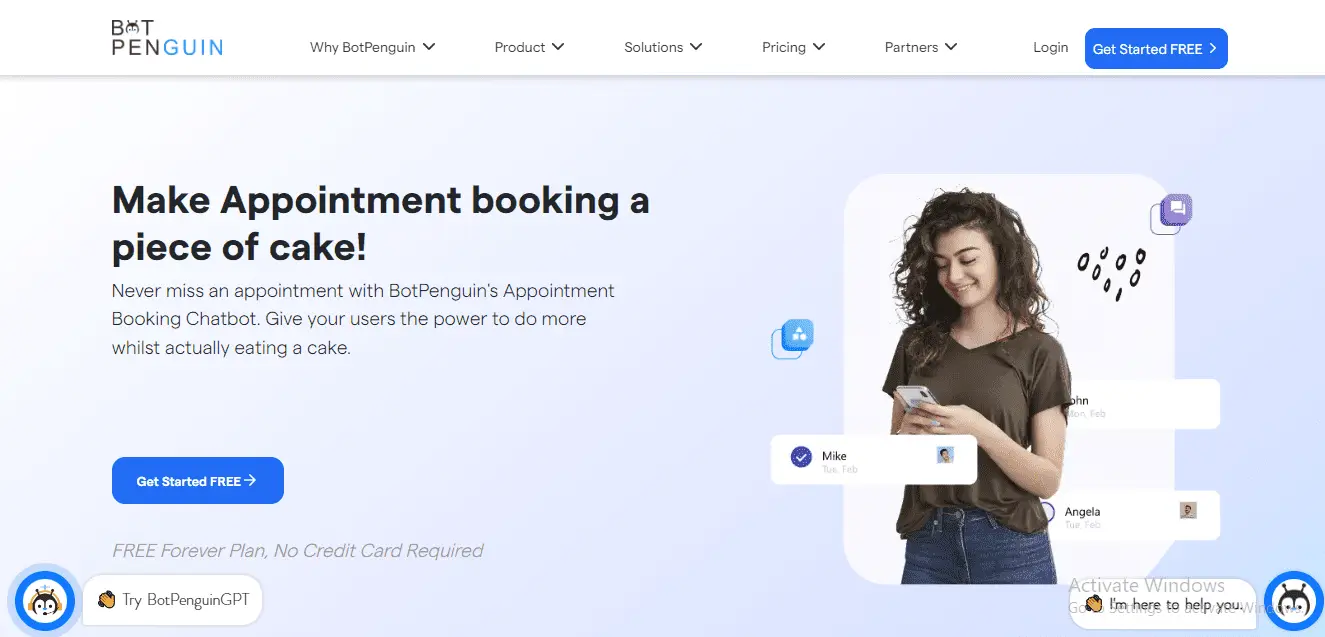 How do Appointment Booking Chatbots Work?
Say you're Booking a haircut appointment. Instead of calling the salon, you could just chat with their bot! Appointment booking chatbots allow you to schedule appointments 24/7 using conversational text or voice chat. Here's how they work:
The bot greets you and asks what service you need - say, a women's haircut. You tell it your preferred date and time. The bot is connected to the business's calendar and checks availability at that time. If there's an open slot, it offers to book the appointment and asks for your name and contact info. If not, it suggests the closest available times.
Once you confirm a time, the chatbot adds the appointment to the calendar and sends you a confirmation with date, time and location details. You're all set! It also asks if you want a reminder message - you say yes and the bot promises to text you the day before your appointment.
The business gets a notification of the new booking and your details. On the day before, the bot sends you an automated reminder as promised. And that's it! The chatbot handled the entire booking process quickly and easily without human involvement. Appointment bots make scheduling easy for customers and businesses.
How Can Appointment Booking Chatbots Increase Productivity?
If you run a business that relies on appointments, you know how much time it takes to coordinate schedules, especially if you have a lot of clients. It can drain your time and create a lot of stress. What if there was an easier way? Well, there is! By using appointment bots, you can simplify the scheduling process, saving time and energy.
Streamlining Appointment Scheduling
One of the most significant benefits of using an appointment bot is that it streamlines the scheduling process. Traditionally, scheduling appointments involves a lot of back-and-forth communication between you and the client. It can include emails, phone calls, text messages -- you name it.
With an appointment bot, however, the process is streamlined and much faster. Rather than go through all the rigmarole of scheduling the appointment, an appointment bot can handle it with simple commands and questions.
Ease of Use for Your Staff and Clients
Another advantage of using appointment bots is the ease of use for your staff and clients. The bot can easily get integrated into your website or social media accounts. From there, clients can immediately access your team's calendar and schedule their appointments with just a few clicks. It significantly reduces the time and effort your staff requires on appointment scheduling. They can smoothly cater to customer requests and focus on providing best-in-class services.
Saving Time for Businesses
As a business owner, time is valuable, and every minute counts. Appointment bots can free up your precious time by reducing the need for manual scheduling, which would take additional time to complete. It will increase efficiency, and the bot will maintain a database of your customers' appointments and provide real-time updates. It gives you more time to focus on other aspects of your business.
Handling Multiple Requests Simultaneously
Another significant benefit of using appointment bots is that they can handle multiple appointment requests simultaneously. In an era where speed is everything, having an appointment bot can give you a competitive edge over other companies. Handling multiple appointment requests means that you can cater to your client's needs quickly and efficiently. That, too, without the risk of double booking appointments.
Enhancing Customer Experience
Customer satisfaction is everything in business. The appointment bot can enhance your customer experience in several ways. For instance, the BotPenguin appointment chatbot can handle common queries like open slots, pricing, and discount offers. It can remind the customers of their scheduled appointments. Creating such a streamlined process leaves a lasting positive impression on customers. It will enhance their experience and loyalty towards your brand.
Along with the Appointment Booking Bot, BotPenguin offers various business automation solutions like:
Personalization for Customers
Additionally, appointment bots can also offer customers personalization. For example, customers can choose the service they need or the preferred staff member before scheduling their appointments. This service makes the experience more pleasant for customers and leaves them feeling valued.
Increasing Accessibility and Convenience
Lastly, appointment bots make it more accessible and convenient for customers to schedule appointments. With the ability to book appointments through social media accounts, websites, or messaging apps, customers can schedule appointments 24/7, anytime, anywhere. That's precisely what BotPenguin appointment booking chatbot does with its live chat and omnichannel support.
They no longer need to worry about finding time to call or email and await a response. Chatbots are just one of the ways that businesses are freeing up time to focus on building stronger relationships with customers.
Key Factors to Consider While Choosing the Right Appointment Booking Chatbot
In the digital age, chatbots have become famous for businesses to streamline their appointment booking process.
But with so many options available, how do you choose the fitting appointment booking chatbot for your needs?
Here, we will explore three key factors to consider when selecting a chatbot, popular providers in the market, and how to evaluate pricing and features.
Easy Setup and Use
Firstly, consider the ease of use and setup. Look for chatbots with a user-friendly interface and simple integration with your existing systems. Additionally, consider the customization options available. A good chatbot should allow you to tailor it to your specific business needs and branding.
Ability to Handle Complexity
Another essential factor is the chatbot's ability to handle complex appointment scheduling scenarios. Ensure the chatbot can manage multiple appointment types, handle cancellations and rescheduling, and accommodate various scheduling rules such as availability and duration.
Evaluating Pricing and Features
When evaluating the pricing and features of appointment booking chatbot providers, it's essential to consider your budget and specific requirements. Some providers offer tiered pricing plans, allowing you to choose the features and level of support that best suit your needs.
Other Features
Apart from the above three factors, look for features such as:
multi-language support

integration with popular messaging platforms

analytics and reporting

customer support options

scalability of the chatbot solution and your business
How to Customize Appointment Booking Chatbot Workflows?
In this section, we will explore essential steps to effectively customize your appointment booking chatbot workflows, enabling you to optimize efficiency, accuracy, and customer satisfaction.
Tailoring Appointment Booking Chatbot Workflows to Your Business Needs
In this section, we will cover various steps you can take to customize the workflow of your appointment booking chatbot, ensuring it aligns with your specific requirements.
Define Conversation Flow
Craft a structured conversation flow that is easy to follow and addresses your customer's needs. Outline crucial steps in the appointment booking process and design interactive, engaging, and user-friendly dialogue to guide users through each step.
Integrate with Calendars & Scheduling Tools
Seamlessly integrate your chatbot with popular calendar and scheduling applications to ensure real-time updates and access to available time slots. This keeps your booking process consistent, helping to avoid overbooking or appointment conflicts.
Configure Business Hours & Time Zones
Customize your chatbot to adhere to your business hours and time zone. This ensures your customers can only book appointments during your operational hours and prevents misunderstandings due to time zone differences.
Personalize Reminders and Notifications
Create custom notifications and reminders for your customers with personalized messages. Configure these alerts to be sent through various channels, such as email or SMS, and adjust the frequency of reminders to suit your business needs.
Collect Relevant Customer Information
Tailor your chatbot to collect the necessary customer details during the appointment booking process. This may include their name, contact information, or any specific preferences related to the appointment. Use this information to provide a more personalized experience and enhance customer satisfaction.
Conclusion
And there you have it - all the reasons why a scheduling chatbot is guaranteed to make your business more productive. Just imagine - no more wasting hours each day manually handling booking calls and emails.
Instead, you could use that time for meaningful work that actually moves the needle for your business. While your BotPenguin bot flawlessly handles the appointment grunt work!
BotPenguin's automation is perfect for tackling scheduling drudgery. Their bots are specially designed to handle booking conversations like a pro. You just set it up once based on your needs - easy peasy.
From there, your BotPenguin bot will be your scheduling champion! It'll take appointments 24/7, integrate with your calendar, send reminders - the whole shebang. Leaving you and your team with more time and energy to focus on tasks that boost productivity and profits.
Don't let your business potential be limited by booking inefficiencies. Empower yourself with a BotPenguin scheduling chatbot! See your productivity soar while your bot handles the appointments. Sign up today- you'll be amazed by how much time you win back in your day!
Frequently Asked Questions (FAQs)
Can an appointment booking chatbot handle different time zones for global businesses?
Yes, appointment booking chatbots can handle different time zones. It considers the user's location or provides options to select the desired time zone during the booking process. It ensures accurate scheduling across other regions.

Is an appointment booking chatbot suitable for businesses of all sizes?
Yes, appointment booking chatbots are suitable for businesses of all sizes. Whether you're a solo practitioner or a large enterprise, the chatbot's automation capabilities and scalability can benefit your appointment management process.

How can an appointment booking chatbot reduce no-shows and cancellations?
Appointment booking chatbots can send customers automated reminders, confirmations, and follow-ups. It reduces the likelihood of no-shows and cancellations. Timely communication keeps customers informed and engaged.

Can an appointment booking chatbot integrate with my existing calendar or scheduling system?
Yes, appointment booking chatbots can integrate seamlessly with popular calendar platforms or scheduling systems. It can sync appointments in real time. It avoids conflicts and ensures accurate availability management.

What kind of personalized interactions can an appointment booking chatbot provide to customers?
An appointment booking chatbot can provide personalized interactions by:
Addressing customers by name

Offers tailored suggestions

Sending customized reminders

Collecting specific details based on individual requirements