With the wave of the chatbot revolution, do you want to launch your very own chatbot agency in 2023?
But stuck on or needing clarification on how to do it?
Don't worry; we've got the ultimate expert guide to help you navigate the ever-evolving landscape of AI-driven chatbots.
Chatbots have become powerful tools for businesses to engage with customers. It also streamlines operations and boosts efficiency.
As we enter 2023, the demand for chatbot solutions and agencies is at an all-time high.
The PR Newswire writes that the global chatbot market will reach $1.25 billion by 2025. It is growing at a CAGR of 24.9% from 2020 to 2025.
Whether you're an entrepreneur or a beginner, we've covered you with our expert guide.
In this comprehensive blog, we'll dive into how to launch your chatbot agency in 2023.
Understanding the Chatbot Market in 2023
In this section, you find the latest information on the chatbot market.
Current Trends and Statistics in the Chatbot Industry
There is no denying that chatbot technology is revolutionizing the way companies engage with their consumers. According to Gartner, more than 89% of customer service and interactions will be handled by chatbots by the end of 2023.
Chatbots provide 24/7 customer support, personalized recommendations, and streamlined organizational communication. Smart businesses can harness the power of chatbots to improve customer satisfaction, increase efficiency, and drive revenue growth.
Identifying Niche Opportunities and Target Markets
As with any successful business, niche and target marketing are key. You need to identify the markets where chatbots are most in demand.
For example, you could explore e-commerce, healthcare, and banking sectors. In this sector, chatbots can enhance customer experience, automate processes, and manage large volumes of data.
Analyzing the market and identifying specific niches could help your agency identify the right target customer and tailor your chatbot solutions accordingly.
Competitor Analysis and Market Positioning Strategies
In any industry, it's essential to understand your competitors. It is important to know their strengths and weaknesses and their market positioning strategies.
Analyzing your competitors' offerings can help you determine what works and does not work in the chatbot industry. It can create a unique value proposition and differentiate your agency from your competition.
To position your agency well in the market, focus on providing high-quality customized chatbot solutions. It must meet your client's needs and exceed their expectations.
Building Your Chatbot Agency Team
Now that you have a brief idea about the chatbot market, let's see how to build your chatbot agency team.
Identifying Key Roles and Responsibilities Within the Agency
The quality of its team determines the success of any chatbot agency. Therefore, your first task is identifying your agency's key roles and responsibilities.
It includes developers, project managers, marketing specialists, sales representatives, and customer support staff.
You need to have a clear understanding of each role and the responsibilities associated with it. Analyze how each employee contributes to the organization's broader goals.
Hiring the Right Talent with Relevant Skills and Expertise
Finding and hiring the right person can be a daunting task, but it's a crucial one. You must build a team with relevant skills and expertise to deliver quality chatbot solutions to clients.
For example, your developers should be skilled in programming languages such as JavaScript, Python, and AI/ML-based solutions.
Your sales representatives should have experience in consultative sales, relationship building, and excellent communication skills. Building a collaborative and effective team is crucial to creating a successful chatbot agency.
And if you are the one who likes the no coding chatbot building process, then meet BotPenguin, the home of chatbot solutions. With all the heavy work of chatbot development already done for you, simply skim the cream out of milk by opting for the White Label chatbot reseller program. Launch your own chatbot maker platform with BotPenguin and create chatbots for your customers with your logo, your brand, your domain, and your pricing.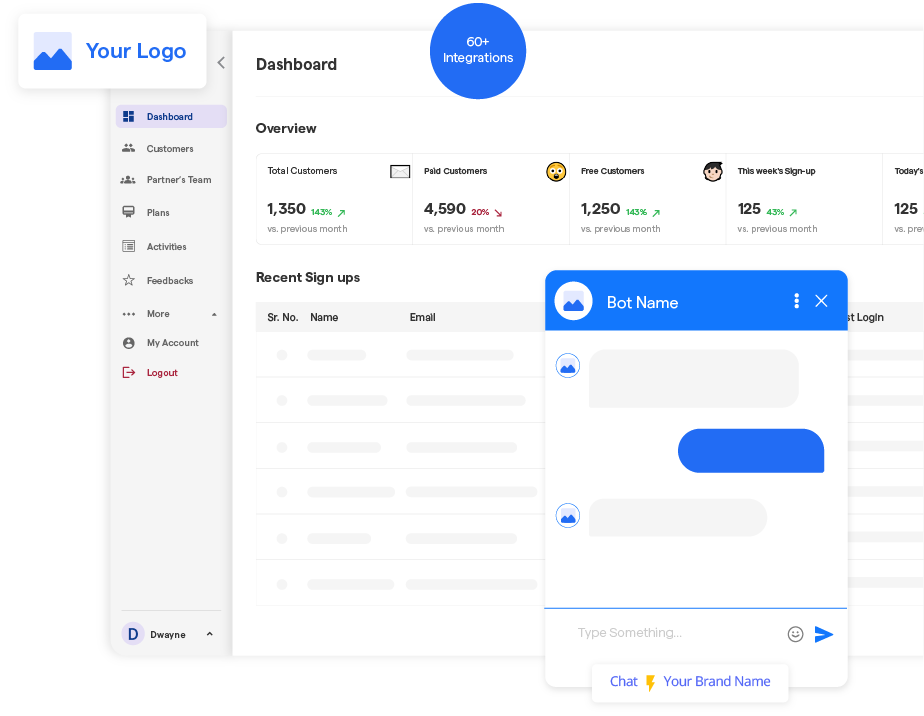 Creating a Collaborative and Innovative Work Environment
Creating a work environment that promotes collaboration, creativity, and innovation. It is critical to the success of your chatbot agency. You can achieve this by organizing team-building activities, cross-functional training, and fostering an open-door policy.
Encourage your team to think outside the box by constantly challenging and pushing them to learn and innovate. An innovative team is more likely to develop new and unique chatbot solutions that could set your agency apart in the market.
Defining Your Services and Pricing Structure
A chatbot agency team will be successful when you define your services and pricing structure. So, let's see that in this section.
Identifying the Different Types of Chatbot Solutions Your Agency Will Offer
Chatbots can offer various business solutions, such as customer service, sales, lead generation, and marketing. You need to identify the types of chatbot solutions that your agency will provide.
For example, you could offer customized chatbots for the e-commerce, healthcare, and banking sectors. Just like BotPenguin's white-label chatbots offer different customized chatbots for various industry sectors.
Pricing Strategies Based on Market Analysis and Client Requirements
A crucial aspect of building a successful chatbot agency is to define your pricing structure based on competitive market analysis and client requirements.
Analyzing the market can help you determine the range of chatbot services and position your agency's prices competitively. When creating pricing packages, you should consider the client's budget, objectives, and requirements.
Packaging Services to Cater to Different Budget Levels
Pack your services based on different budget levels. Doing this makes it easier for consumers to choose among your offerings. It will also increase client conversion rates and generate repeat business.
For example, you could offer a basic package for SMBs at an affordable price and a premium package for larger enterprises that require more complex solutions.
Developing a Comprehensive Marketing Plan
In this section, you will find how to develop a comprehensive marketing plan for your chatbot agency.
Creating a Strong Brand Identity for Your Chatbot Agency
Creating a solid brand identity for your agency that will stand out among the competitors. It will make a lasting impression on your clients. Your brand identity should reflect your agency's personality, values, and unique value proposition.
Ensure that your chatbot agency's brand identity is consistent across all platforms. It includes logo design, color, and messaging.

Build an Online Presence
An online presence is essential for any business; your chatbot agency is no exception. You need to build a website that showcases your agency's services and expertise and it's easy to navigate and use.
You should also leverage platforms like LinkedIn, Twitter, and Facebook. It will assist in connecting with potential clients and building your agency's online reputation.
Implementing Effective Marketing Strategies to Generate Leads and Clients
Effective marketing strategies can help you generate leads and convert them into clients. A good marketing plan includes inbound and outbound techniques. It includes email marketing, content marketing, search engine optimization, and paid advertising.
You should also attend industry events, participate in conferences, and network with other professionals in the chatbot industry.
Sales and client acquisition strategies
There is no sale without a sales acquisition strategy. You need proper sales and client acquisition strategies to make your business successful. So let's check them out:
Develop a persuasive sales pitch and value proposition
Before acquiring clients, you must create a sales pitch persuading them to buy your chatbot services. Start by identifying their business challenges and how your chatbots can help solve them. Communicate the value proposition that differentiates you from your competitors.
Highlight the benefits of chatbots, such as increased efficiency, reduced costs, and enhanced customer satisfaction. Creating a persuasive sales pitch and value proposition is critical to attracting and retaining clients.
Identify potential clients and generate leads through targeted outreach
Identifying potential clients and generating leads is essential to growing your chatbot agency. Begin with defining your target market and creating buyer personas. Research potential clients and gather information about their industry, business challenges, and pain points.
Create an outreach strategy that includes personalized emails, cold calling, event attendance, and networking. Consider providing free assessments or sample chatbots to demonstrate the potential of your services. Effective outreach can generate leads and accelerate the acquisition process.
Build relationships and close deals through effective sales strategies
Building relationships with potential clients can increase trust and confidence in your services and promote them as brand advocates. Connect with them through multiple touch points and channels like social media, SMSs, email, and phone calls.
Be responsive, helpful, and transparent throughout the sales process. Establish communication channels to gather feedback and maintain relationships on an ongoing basis. Introduce cross-selling and upselling opportunities to increase the revenue of your agency.
Launch and optimize your chatbot agency
Launching and optimizing your chatbot agency involves certain essential practices. This section will teach you how to launch and optimize your chatbot agency.
Setting up the necessary infrastructure and processes for your agency
Setting up your agency requires gaining insight into business operations, such as financing, legal requirements, HR management, and marketing. Consider setting up cloud-based tools to optimize efficiency.
The more time you free up, the better prepared you will be to optimize your chatbot performance for clients.
Implementing chatbot development best practices and industry standards
Implementing chatbot development best practices and industry standards is essential to creating successful chatbots. Keep constant attention to chatbot development and technologies used.
Additionally, following the fundamental principles of intuitive and straightforward design and developing conversational skills to accommodate a broad range of user needs is essential.
Continuously monitoring and optimizing chatbot performance and client satisfaction
Continuous monitoring and optimizing chatbot performance and client satisfaction will help your agency remain competitive and relevant. Evaluate chatbot performance by gathering feedback, implementing testing strategies, and comparing this to relevant standards.
Identify ways to improve chatbot performance, such as through machine learning, natural language processing, or by incorporating databases.
Scale and expand your chatbot agency
Scaling and expanding your chatbot agency can take your business to the next level by opening new markets. It can also diversify service offerings, building partnerships and collaborations. So let's learn more about them.
Strategies for scaling your team and resources as your agency grows
As your agency grows, consider scaling your team and resources through recruitment, training, and collaboration with other companies. This approach will steady your chatbot improvement and build relationships with partners and customers.
Expanding into new markets and diversifying service offerings
Expanding into new markets and diversifying your service offerings can increase growth opportunities. Research potential growth markets and stay up-to-date on emerging technologies and trends.
Look for ways to incorporate new technologies, such as artificial intelligence or machine learning.
Building partnerships and collaborations to enhance your agency's capabilities
Building partnerships and collaborations with other companies can enhance your agency's capabilities and increase business potential. Research complementary services or tools and reach out to potential partners for collaboration.
Establish strong communication channels and clear objectives and define expectations to cultivate profitable and long-term relationships.
Conclusion
In conclusion, launching a chatbot agency in 2023 can be a lucrative venture with the right approach and strategies. As we move into the digital age, businesses increasingly seek ways to streamline customer interactions and enhance efficiency, making chatbots a valuable solution.
Intercom reports show the average customer satisfaction rate for chatbots is 87% for the speed, accuracy, and convenience of chatbots. To succeed in this competitive field, staying updated with the latest AI and chatbot technologies is crucial to offer cutting-edge solutions.
Build a strong portfolio showcasing your expertise and previous successful projects. Invest in marketing and networking to reach potential clients.
Remember to provide excellent customer service and ongoing support to retain clients and gain referrals. Also, adapt to evolving trends and customer preferences to remain relevant.
Follow this expert guide to position your chatbot agency for success in 2023 and beyond. It will help businesses enhance their customer experiences and drive growth through AI-powered conversational agents.
BotPenguin is the ultimate cutting-edge solution for building world-class chatbots that offer exceptional customer service and so much more. With a focus on innovation and an attitude of constant improvement, the platform moves towards a better path daily.
If you're looking to start your chatbot agency, there's no better partner than BotPenguin to begin your journey. Sign up today and see for yourself!
Frequently Asked Questions (FAQs)
What is a chatbot agency, and why should I consider starting one in 2023?
A chatbot agency specializes in creating, managing, and implementing chatbot solutions. Starting one in 2023 is a strategic move due to the growing demand for chatbots in businesses for customer engagement and automation.
What are the essential skills or qualifications required to launch a chatbot agency?
Skills in AI, machine learning, natural language processing, and business acumen are crucial. Technical expertise and an understanding of client needs are also valuable.
How do I identify my chatbot agency's target market and potential clients?
Market research is vital. Identify industries or businesses benefitting from chatbot solutions, considering factors like customer support needs and automation potential.
What are a chatbot agency's typical services, and how do I structure my offerings?
Services may include chatbot development, customization, maintenance, and analytics. Structuring offerings depends on client requirements and industry trends.
How can I differentiate my chatbot agency from competitors in 2023?
Differentiation can be achieved through niche specialization, excellent customer service, innovative chatbot features, and staying updated with the latest AI advancements.