Smart algorithm-powered, text- or voice-based interfaces have increased in recent years. They are increasingly finding a home in the medical field. BotPenguin envisions a time when artificial intelligence health assistants like Molly, Ginger, Replika, and others will help primary care physicians and their patients better manage their health.
We've compiled a list of the best healthcare chatbots in 2023, so you can better understand what this technology offers.
Today, we enter the era of algorithmic conversation.
Even more impressively, chatbots have entered the realm of human emotion and empathy. When you're feeling lonely, do you need someone to talk to?
Feel free to share anything with your artificial intelligence friend Replika as you speak.
You may also try Woebot, a chatbot that claims to help you interact with others. Like a real psychologist, this chatbot may get to know its customers personally, empathize with them, and provide therapy.
Do you want to talk to a bot or a real coach immediately? Ginger it out!
The Future of Chatbots in Healthcare
Healthcare providers, patients, and their loved ones could all benefit from the assistance of a digital personal assistant or chatbot. Chatbots can help relieve medical personnel' workloads in various settings, including better patient route organization, medication administration, assistance in emergencies or first aid, and providing solutions to lesser medical difficulties.

Chatbots are also being employed in the healthcare industry to solve specific problems.
To prevent "no-shows" for colonoscopies, a crucial procedure in the detection of colorectal cancer, Northwell Health implemented one. Forty percent of individuals from lower socioeconomic backgrounds don't go through with the surgery, making this an especially pressing problem.
Southside Hospital and Long Island Jewish Medical Center (LIJ) already provide this artificial intelligence-based treatment option. The software will also allow researchers to track patient satisfaction, exam cancellations, no-shows, and pass rates.
Health chatbots can also connect users with doctors for further evaluation and treatment in some circumstances, but this is taking things a bit further.
Build your own Healthcare Chatbots using BotPenguin, it also offers chatbot creation for social platforms, websites, wordpress:
The basic premise is that these intelligent algorithms, which can have conversations or respond to texts, may one day serve as primary care's initial point of contact.
Rather than consulting their doctor, nurse, or another healthcare provider, patients will increasingly use chatbots for basic health inquiries.
If the chatbot cannot satisfactorily address the concerns presented, it will forward the case to a human physician.
Given the exponential growth of the health chatbot market, we thought it would be helpful to compile a list of the most promising chatbots so that we might get an idea of where the sector is headed.
The Trend toward the use of Health-Related Chatbots
Some well-known health chatbots have left us in the past few years. The helpful period tracking and women's health bot Izzy has disappeared.
Bots4Health's Spanish-based Eva, who could converse with users on various health topics, followed suit.

Some intriguing technologies have fallen off the radar, including Cognitoys and its dinosaur-shaped artificial intelligence companion toys.
Although we regretfully must say farewell to our former robotic colleagues, we look forward to working with their replacements.
Nonetheless, health chatbots are becoming increasingly popular, drawing more financial backing.
According to data compiled by Crunchbase, at least 14 companies have received over $800 million in venture capital funding to develop health-focused chatbots.
For this reason, we revised our list of recommended chatbots for 2023.
1. BotPenguin
You can rapidly and simply create useful chatbots using BotPenguin, an AI-powered chatbot platform. On any platform and website, it aids in client communication and engagement.
BotPenguin works brilliantly for any healthcare service in the market by letting users create chatbots for free and putting the code into their SDK.
Additionally, you can manage it all with our simple, integrated system.
It also provides near-zero-cost multichannel consumer engagement solutions.
Using chatbots, you can help your patients' book appointments or reach out to a doctor in just a few minutes.
With a variety of templates available, BotPenguin is the perfect tool for healthcare professionals to develop, users to schedule appointments, and many more.

2. Youper
Youper's A.I. is based on the most up-to-date scientific findings. It uses psychological tactics to communicate with users to improve their emotional well-being quickly. The software can measure mood and monitor emotional health, as well as personalized meditations to further aid in improving one's emotional well-being. The chatbot will adapt to the user's preferences as it gains knowledge through conversation.
3. Babylon Health
Babylon Health, a British subscription-based online medical consultation and health service, was created in 2013 and is now worth over $2 billion. Whenever a patient has a medical question, they can consult with either an A.I. that analyses their medical records and the Internet for relevant information or a real doctor via video call.
In the first scenario, users input their symptoms into the app, using speech recognition technology to compare them to a database of ailments and recommend a treatment plan. In the second scenario, doctors carefully observe and listen to make a diagnosis, then either prescribe treatment or refer the patient to a specialist if necessary.
In 2017, the NHS in the United Kingdom began trialing the use of a chatbot to provide medical advice. NHS introduced its AI-based triage tool, Babylon, during COVID-19. It's unclear how the partnership will develop, but Babylon has made an expansive move into the United States.
4. Florence
The chatbot can serve as a "personal nurse" on platforms like Facebook Messenger, Skype, and Kik. "She" can serve as a drug reminder, which could be especially helpful for elderly people. The medication's name, dosage, and administration schedule can all be typed into a chat window. Then, Florence reminds you to take the pill by sending a message in chat.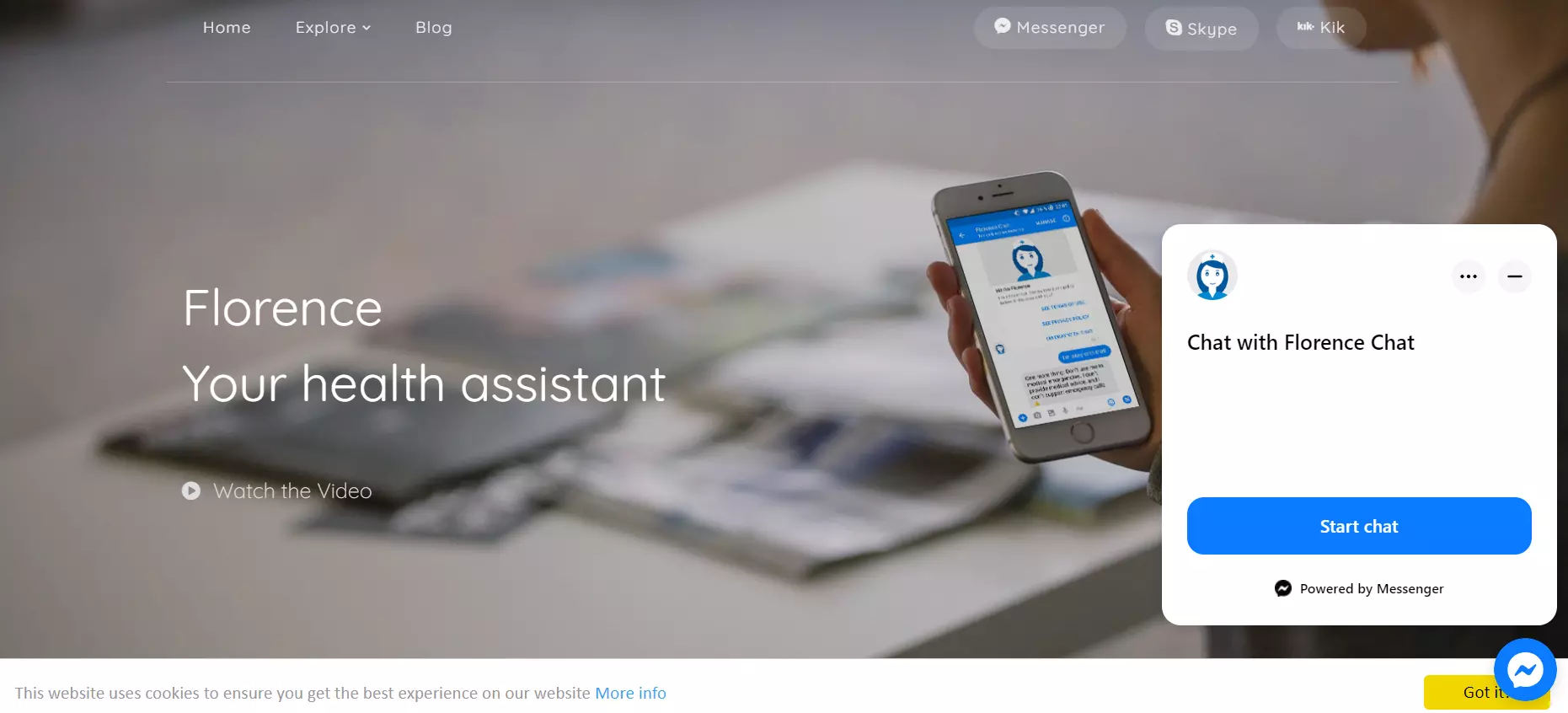 In addition, Florence may monitor the user's well-being by keeping tabs on their weight, emotions, and even their period. The chatbot can locate a nearby medical facility or pharmacy if you find yourself in need of either.
5. Healthily
The user is empowered to make the best decisions for their health thanks to this free platform's provision of actionable health information derived from highly reliable sources. You can think of it as a symptom checker supercharged by artificial intelligence. You can use it in the browser or on mobile devices running iOS or Android, as well as on Facebook Messenger, Slack, KIK, and Telegram.
Whether you're looking for pharmacies, testing facilities, medical offices, or suggestions for mental health apps, Healthily (previously known as Your. M.D.) is an outstanding source of online medical service providers.
This chatbot is straightforward but can potentially overwhelm the user with diagnoses. A big no-no for the average anxious person.
6. Ada Health
Ada is one of the most widely used symptom assessment tools, with over 11 million users and 24 million assessments. Using its extensive AI-based database, the health companion app can make a diagnosis based on the user's specified symptoms. In our comprehensive evaluation of symptom checkers, we also tried this one and concluded that it had the most functionality.
Ada Health CEO Daniel Nathrathpredictes that Ada will become a routine diagnostic tool for doctors in the near future. This is the case, as customers can discuss their health report with their physic,ian or, in the United Kingdom, schedule an appointment with a licensed general practitioner.
Ada will also evolve into a much more permanent health companion, assisting patients and physicians in intelligently monitoring health data over the long term to facilitate predictive and proactive therapy.
Additionally, they have tried out a speech interface, utilizing Ada through Amazon's Alexa.
7. Sensely
The virtual assistant, Molly, can evaluate a patient's condition via audio, text, and video. It has the flexibility to speak or type depending on the user's preferences.
Sensely interprets the user's symptoms and suggests a diagnosis based on collected data and information fed into its intelligent algorithm.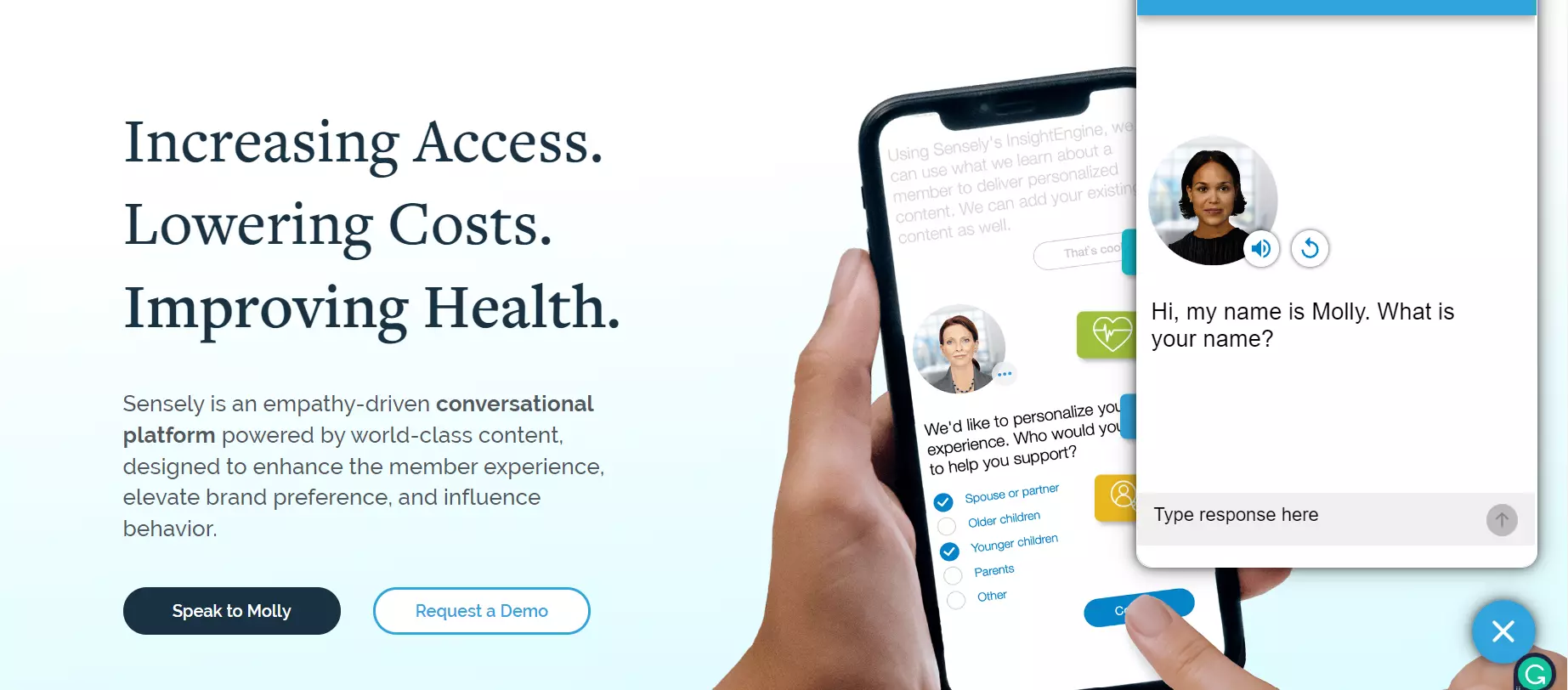 When determining the severity of an emergency, Molly applies the well-known triage system's color-coded scheme.
Sensely employs a "symptom triage" process to determine if a user should attempt self-care measures or seek medical attention. In addition, it has a search function for nearby services and a wealth of informational materials to help people take care of themselves.
8. Infermedica
Machine learning technologies developed by Infermedica power the symptomatic chatbot. The system can be used as a chatbot or a voice-activated app, both online and on mobile devices. User health is evaluated, and a diagnosis and treatment plan is proposed based on the information gathered.
More than 8 million health exams have been performed using Infermedica's services, and the company's products are available in 19 different languages.
Within the first year of the pandemic, the company released a COVID-19 risk assessment tool utilized by many patients and implemented by various institutions, including two national governments.
9. GYANT
GYANT is a health chatbot that asks users to describe their symptoms and then shares that information with doctors, who make instant diagnoses and medication recommendations.
The website boasts that the company's "empathetic, intuitive A.I. technology leads patients through the complexity of their healthcare journeys" and that it does so in Spanish, Portuguese, and German.
More than 785,000 people in Latin America were motivated to get screened for diabetes by the company in March 2020. After this, it offered weekly glucose therapy to over 174,000 high-risk members of low-income communities, which isn't bad.
10. Woebot
As indicated above, Woebot bills itself as "the future of mental health," and from all appearances, that may very well be the case. The chatbot is trained in Cognitive Behavioural Therapy (CBT) and will listen to and offer advice to anyone who approaches it for assistance. If you start using it on Facebook Messenger, you'll be bombarded with daily "how are you doing?" questions.
Woebot provides resources and tools for managing emotional health but is not meant to replace professional therapy. You may download it from an app store without cost on any smartphone.
11. Cancer Chatbot
The Cancer Chatbot is a helpful tool on Facebook Messenger for people dealing with cancer and their loved ones. The chatbot provides a wealth of information, including chemo survival strategies and access to free support services, to its users.
Caregivers can find the support they need to lessen the stress and live comfortably. Additionally, it guides loved ones on how to comfort people living with cancer. This is a very clever and well-planned answer to the problem and feels super humane.
Summing Up
According to Forbes, a missed appointment can cost a medical practice $200.
Virtual assistants can send reminders to patients and reduce the patient's risk of not turning up at the scheduled appointment time.
With the growing technology and availability of information online, it isn't that shocking to find out that healthcare has also entered the digital world. Doctors realized how useful it could be in easing the patient process, providing better CX, and reaching them where they prefer.
Post-Pandemic, Healthcare chatbots have seen no decline in usage.
Build your own Healthcare Chatbots using BotPenguin
People have grown accustomed to them, with more healthcare chatbots popping up. The Telemedicine industry is drastically improving from these various chatbots and is changing lives.
Frequently Asked Questions
What do Healthcare chatbots do?
Healthcare chatbots are programs that use artificial intelligence and natural language processing to have simulated conversations with patients. These chatbots are designed to assist patients with medical information, advice, and support.
How do Healthcare chatbots operate?
Healthcare chatbots use AI and NLP to analyze the patient's input and provide responses in a conversational manner. The chatbots can answer patients' questions, provide medical advice, and even book appointments.
Are Healthcare chatbots secure?
Healthcare chatbots must comply with data privacy and security regulations such as HIPAA. Chatbot providers must ensure that patient data is protected and secure.
What is the future of Healthcare chatbots?
The future of healthcare chatbots is promising. As AI technology continues to improve, chatbots will become more intelligent and be able to handle more complex medical cases. Chatbots will also become more integrated with other healthcare technologies, creating a seamless experience for patients and healthcare professionals.
Can Healthcare chatbots replace doctors?
No, healthcare chatbots cannot replace doctors. Chatbots are designed to provide support and information to patients and assist healthcare professionals, but they cannot replace the expertise and judgment of a trained medical professional.
What are the drawbacks of Healthcare chatbots?
The limitations of healthcare chatbots include limited ability to handle complex medical cases, inability to provide a physical examination, and potential privacy concerns. Chatbots may also be limited by the quality of data they receive and the accuracy of their algorithms.