We've seen a sharp increase in online classrooms and examinations since the COVID-19 pandemic. It has reached a point where students can also graduate through online learning platforms.
So, the educational infrastructure is evolving to provide a better & more accessible virtual learning environment.
This boom in e-learning platforms has also increased the demand for educational chatbots to assist students or learners by serving as information providers.
They personalize learning experiences, offer 24/7 support, aid in assessments and feedback, and assist with administrative tasks.
Additionally, these chatbots support language learning, guide resource location, and facilitate study planning.
Let's look at why the BotPenguin chatbot is the greatest for schools and institutions and why chatbots are the future of education.
What is BotPenguin's Free Chatbot for Education?
BotPenguin's Free Chatbot for Education is a powerful tool tailored for educational institutions, educators, and students, providing seamless communication and enhanced learning experiences.
This chatbot is designed to automate responses to common queries, making it invaluable for handling many tasks.
Whether answering questions about course details, admission procedures, or campus facilities, this chatbot ensures prompt and accurate responses, fostering a positive experience for students, parents, and staff.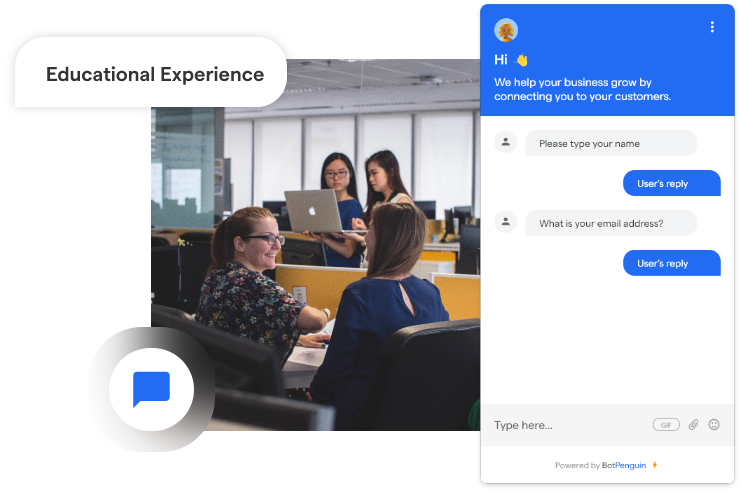 Why Choose BotPenguin's Free Chatbot for Education?
BotPenguin's Free Chatbot for Education is the ideal choice for educational institutions, educators, and students for several compelling reasons:
Cost-effectiveness and Affordability
Education can be expensive, but BotPenguin's Free Chatbot is here to change that. Unlike traditional tutoring services or learning platforms, this chatbot is free.
By offering a free educational chatbot, we ensure that quality education is accessible to all, regardless of financial constraints. This opens opportunities for a broader demographic to enhance their knowledge and skills.
With BotPenguin, there are no hidden fees or subscription costs. You can engage with the chatbot for free, allowing you to focus on learning without worrying about additional expenses.
Our educational chatbot doesn't limit your access or put a cap on the number of queries or lessons. You can enjoy unlimited learning, making it a cost-effective and valuable resource.
BotPenguin provides high-quality educational content and support despite being free. You can trust that you're receiving valuable information and assistance without compromising the quality of education.
Customization Options for Educational Institutions
Every educational institution has unique requirements and curriculum. BotPenguin's Free Chatbot understands that and offers customization options to tailor the learning experience to the institution's needs.
From subject-specific modules to personalized assessments, you can customize this chatbot to align with the institution's goals and objectives.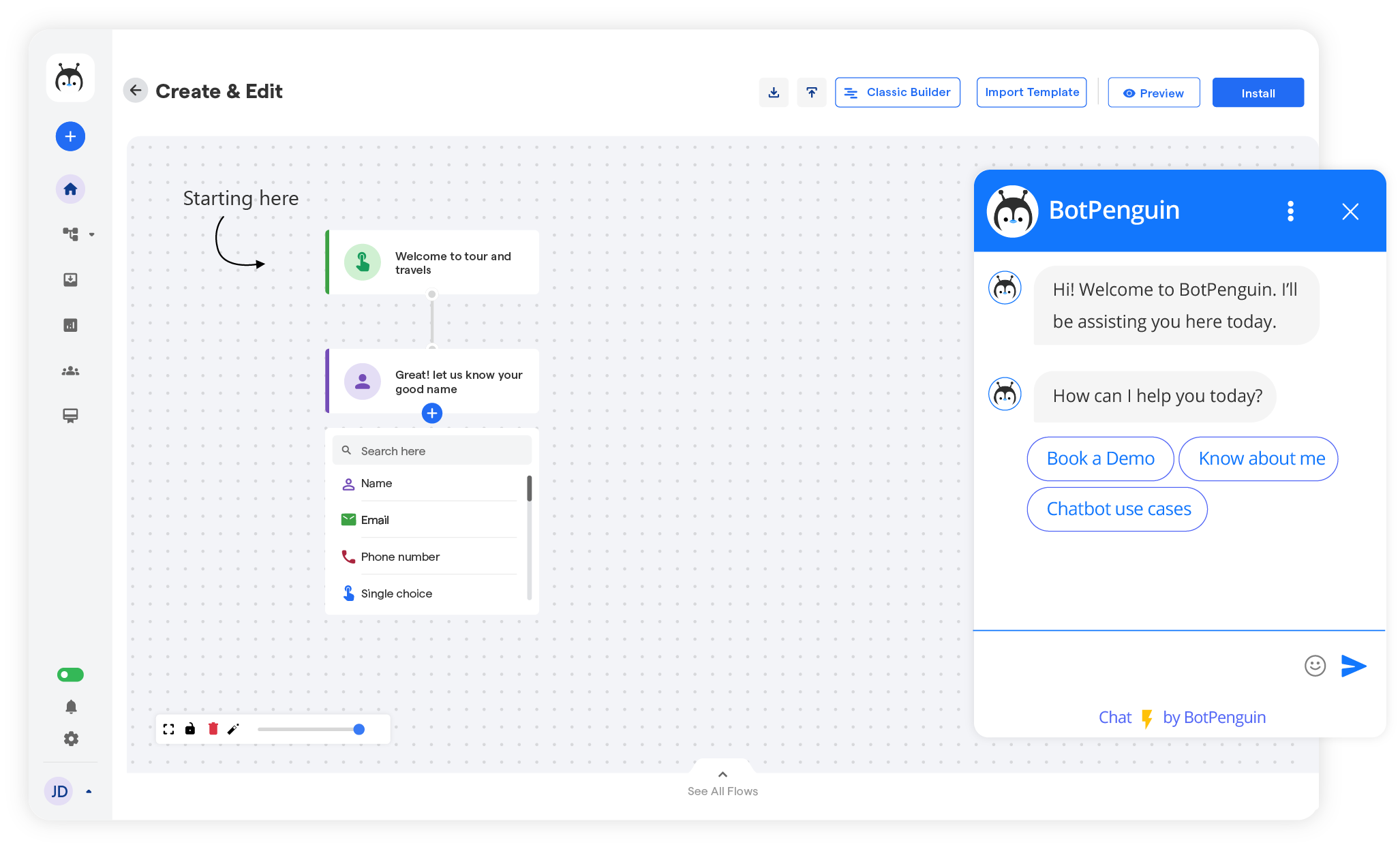 User-friendly Interface and Ease of Implementation
No one wants to deal with complicated technology, especially regarding education.
BotPenguin's Free Chatbot is designed with a user-friendly interface, making it easy for students, teachers, and administrators to navigate and utilize its features.
Integration with Popular Learning Management Systems
BotPenguin's Free Chatbot understands the importance of collaboration and integration. It seamlessly integrates with popular learning management systems like Moodle and Canvas to provide a unified learning experience.
Students can access the chatbot directly from their learning platforms, making it convenient and easily accessible.
How Does BotPenguin's Free Chatbot for Education Work?
BotPenguin's free chatbot for education uses artificial intelligence to automate interactions between educational institutions and students. Here's how it works:
Natural Language Processing and Machine Learning Capabilities
BotPenguin's Free Chatbot is powered by advanced natural language processing (NLP) algorithms and machine learning models.
This means it can understand and interpret human language, allowing students to communicate with the chatbot conversationally.
Personalized Learning and Adaptive Feedback
One of the standout features of BotPenguin's Free Chatbot is its ability to provide personalized learning experiences.
It adapts to each student's learning style, pace, and preferences. The chatbot tracks the student's progress, identifies areas of improvement, and offers tailored recommendations and resources.
24/7 Availability and Instant Responses
With BotPenguin's Free Chatbot, learning doesn't have to be confined to specific hours. The chatbot is available 24/7, ensuring students can seek assistance whenever needed.
Whether late at night or on weekends, the chatbot is always ready to respond instantly to queries, helping students overcome hurdles and continue their learning journey without any delays.
Multilingual Support for Diverse Student Populations
Education knows no boundaries, and neither does BotPenguin's Free Chatbot. It offers multilingual support, catering to students from diverse linguistic backgrounds.
The chatbot can communicate in multiple languages, breaking down language barriers and ensuring every student can access the educational resources and assistance needed.
And the tech for BotPenguin just doesn't stop there. For every chatbot solution you can name, BotPenguin can do it, making omnichannel support look easy: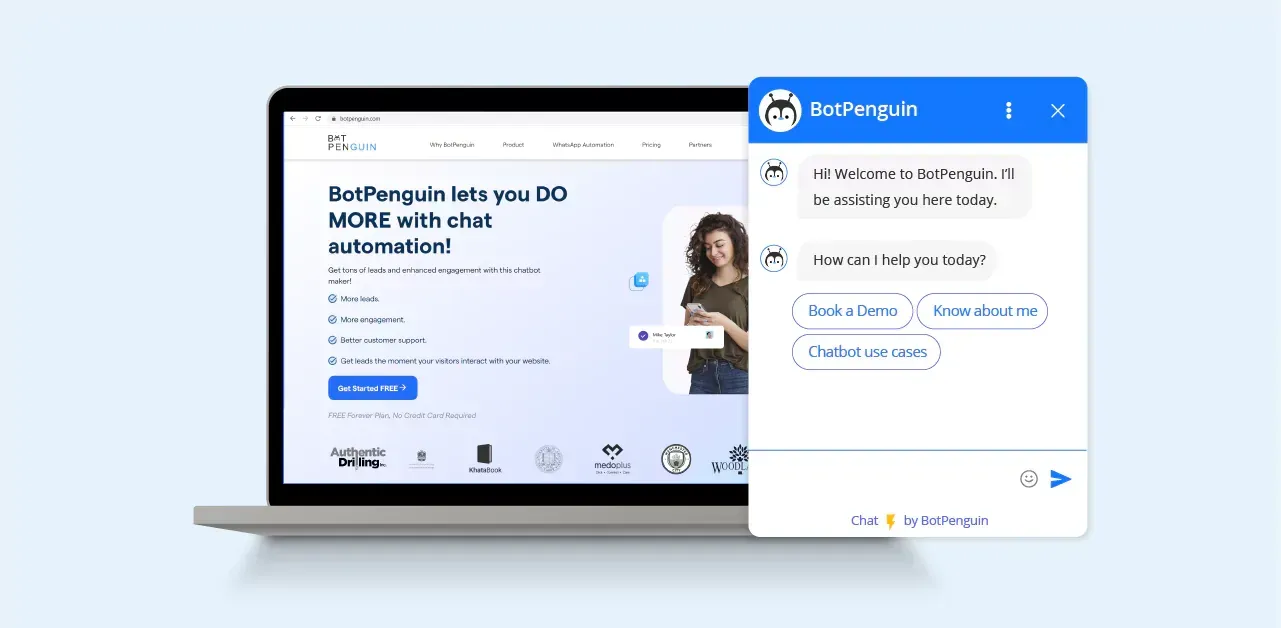 Use Cases of BotPenguin's Free Chatbot for Education
BotPenguin's free chatbot for education can be applied across various use cases within the educational sector. Here are some common applications:
Virtual Classroom Assistance
In a virtual learning environment, students often miss the immediate support they receive in a physical classroom. BotPenguin's Free Chatbot fills this gap by providing virtual classroom assistance. It can answer questions, explain, and offer additional resources to supplement the online learning experience.
Homework and Assignment Help
Stuck on a challenging homework problem or need guidance with an assignment? BotPenguin's Free Chatbot is here to save the day! Students can simply input their questions or upload their assignments, and the chatbot will provide step-by-step explanations, examples, and even relevant study materials.
Exam Preparation and Study Resources
Preparing for exams can be overwhelming, but BotPenguin's Free Chatbot makes it a breeze. The chatbot offers many study resources, including practice quizzes, flashcards, and study guides. It can also provide tips and strategies for effective exam preparation.
Conclusion
A variety of capabilities provided by BotPenguin's chatbot can help higher education organizations. BotPenguin's chatbot is a tremendously efficient way of communicating with a digitally savvy generation, from automating the course-finding process or conveying information about the institution to educational help and even supporting students in their daily life.
Chatbots for education are not limited to e-learning platforms; schools and universities are eager to embrace artificial intelligence to improve their educational systems.
Many universities are rapidly utilizing AI-powered chatbots to facilitate interactions with applications, prospective students, and present students.
Furthermore, chatbots for education can automate administrative chores, increasing the efficiency of educational organizations.
Overall, the incorporation of AI chatbots and the opportunities they give for a modern education system bodes well for the future of education.
Make admissions a breeze by having BotPenguin handle FAQs, customer service, lead generation, or simply being the finest Education bot.