Customer relationship management (CRM) systems are becoming increasingly important for businesses as the market becomes more competitive and customer expectations continue to rise. CRMs allow businesses to manage and improve customer interactions, providing a centralized platform for storing and accessing customer data and interactions.
According to a study by Salesforce, companies that use CRM have seen average revenue growth of 29% over three years. Another study by Nucleus Research found that companies that use CRM have seen a return on investment (ROI) of $8.71 for every dollar spent on the technology.
In addition, CRM can help businesses improve customer satisfaction and retention rates. A study by Forbes found that companies that use CRM have customer retention rates that are 15% higher than those that do not. It can lead to significant cost savings, as acquiring new customers is often much more expensive than retaining existing ones.
If you are using Insightly CRM and looking for alternatives, here are seven great options for you!
Use Cases Of Insightly CRM
Insightly CRM is a versatile tool that can be used across various industries and business functions. Here are some common use cases of Insightly CRM:
Contact Management
You can see the relationship between your contacts and other records using linking. It will also help you see where they work or what pending tasks need to be completed.
Sales Management
Keep track of all the stages of your sales with customized Kanban views and pipeline and workflow automation to expedite your deals.
Project Management
Manage your projects by assigning deadlines and easily monitoring progress, and managing your pre- and post-sales work with features like Kanban views.
Task Management
Set reminders, To-do lists, call logs, or activity sets to automatically generate tasks.
Reporting and Dashboards
Reports and dashboards help you gain a visual insight into your business and monitor metrics.
Insightly CRM key features
Insightly CRM offers a range of key features including contact management, pipeline management, project management, email integration, reporting and analytics, mobile access, and collaboration tools.
Lead and contact management
Insightly offers great lead and contact management tools that help you better organize your existing and new customers. It provides some great ways to capture new leads. You can add new records manually or through batch importing from excel files. Embedding contact forms into your website is another way that Insightly CRM helps you bring in new leads. Once you've got a lead, the social profile enrichment feature links all the relevant information to each record.
Once they are in the system, you can use the criteria you defined to automatically route new leads to the appropriate sales agents. Following that, you can see an activity timeline of all contacts' interactions with your brand, which includes a history of every correspondence, task, activity, connected things, and more.
With Outlook and Gmail connectors, Insightly now allows you to email contacts. A built-in phone dialer can help you make calls and record them automatically. On top of all plans, this feature has a separate cost.
A contact becomes an "opportunity" and enters the sales funnel once verified as a possible customer. Multiple sales pipelines can be created and customized, with activity sets assigned to each pipeline stage. Once a prospect has converted, you can turn an opportunity into a project and manage client relationships using Insightly's integrated project management capabilities.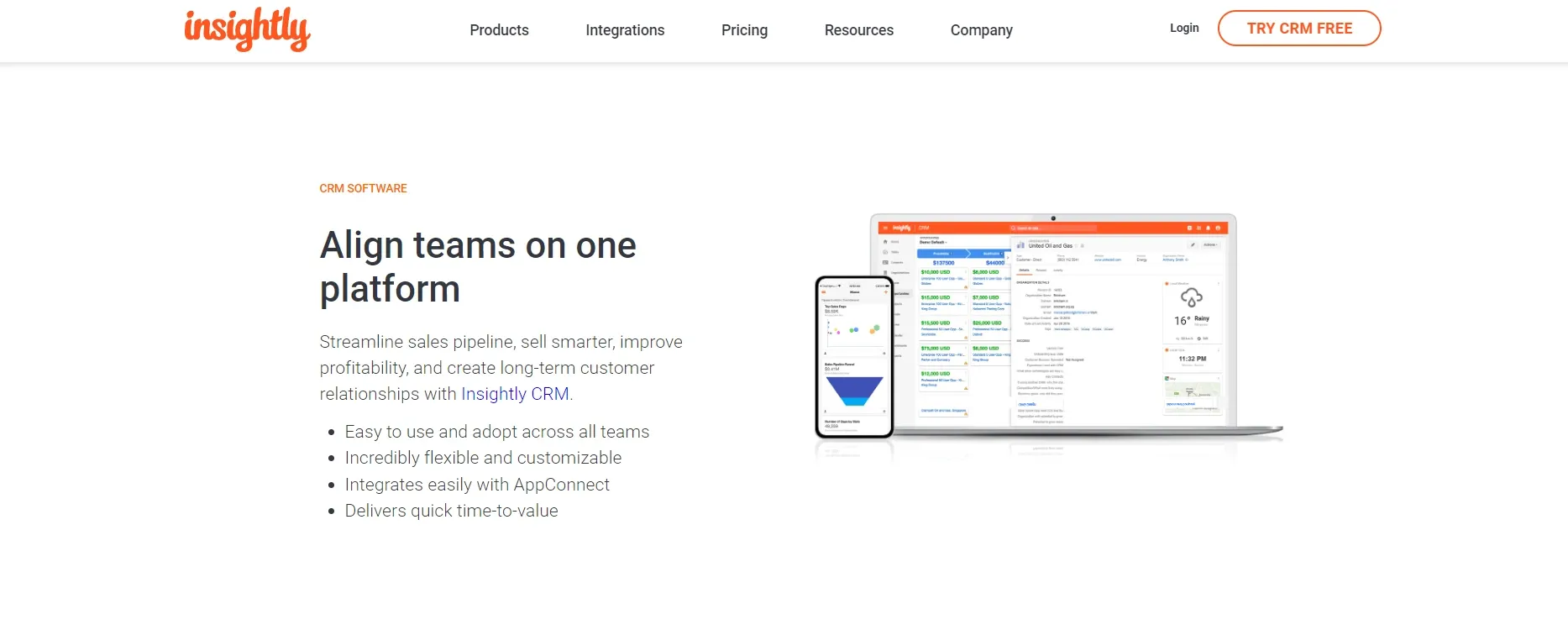 Create reports and dashboards
With Insightly, you can create complex reports and dashboards for a high-level picture of the condition of your business. This reporting tool has respectable reporting capabilities. You can share these with coworkers.
You can even plan for reports automatically sent to them by email. You can connect Insightly to other apps to access more sophisticated reporting options.
Automate business operations
You can automate some business operations using workflow automation tools, such as sending emails, modifying records, and firing webhooks based on predefined triggers.
These aid in streamlining your sales procedure and minimizing your team's monotonous physical labor, freeing them up for more beneficial responsibilities.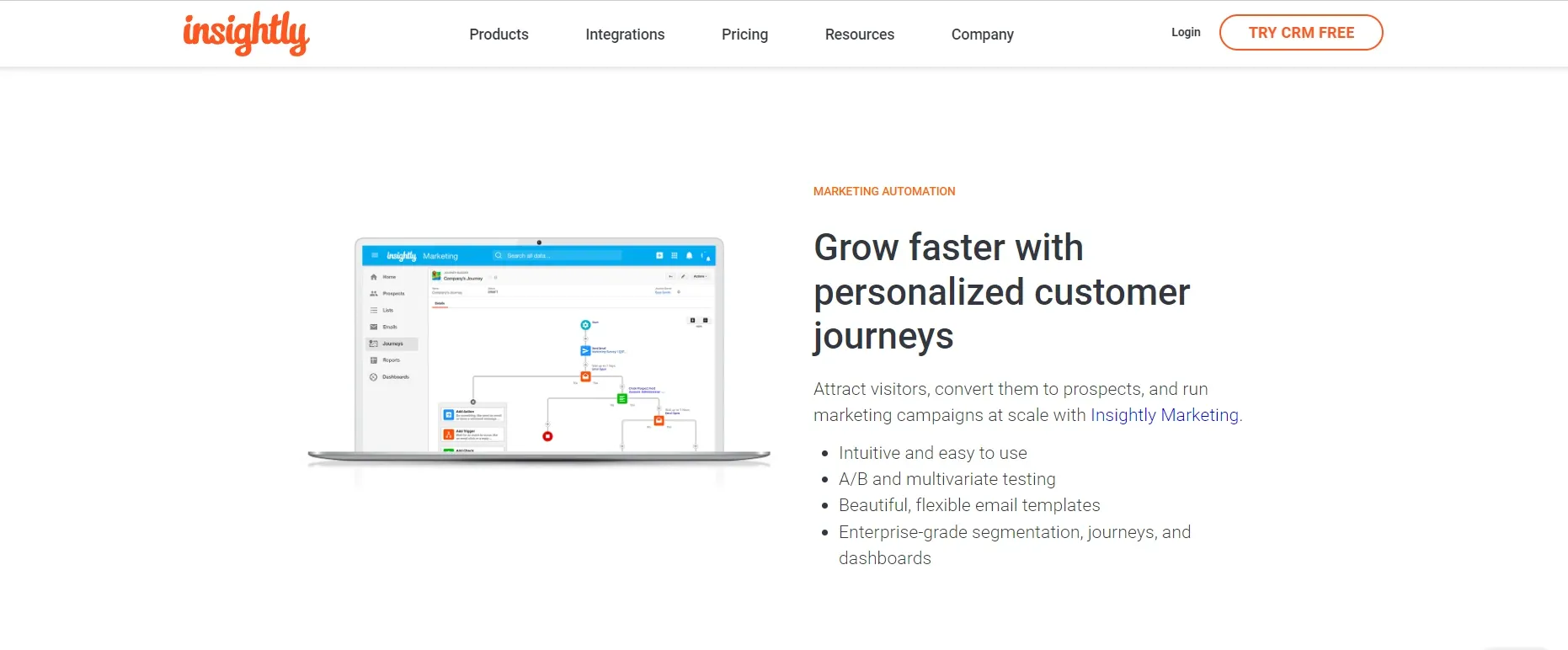 App integrations
Insightly provides over 250 business app connectors in addition to an API. Thanks to popular connections with programs like Slack, Amazon S3, and Adobe, it will maintain your company's communication. The CRM also offers contact information, calendar synchronization with Microsoft Office and Google, and integration with cloud file storage providers that let you link files to records.
How responsive and effective is Insightly's customer service?
We designed a straightforward workflow that automatically sends a brief introductory email whenever a new entry is created in the CRM to evaluate the efficacy of Insightly's automated workflows.
We first established the generation of a new record. Then we included the prompt to "send an email." The workflow can be executed more than once or have time triggers added. In addition, you can add tasks, activities, or notes to the record.
The next step was to create a new contact in the CRM to test our automated procedure. Our inbox received the scheduled email right away without any hiccups or delays.
It helps us to know the response and effectiveness of Insightly CRM.

7 Great Insightly CRM alternatives
Explore these 7 excellent alternatives to Insightly CRM that provide powerful features and functionalities. Find the perfect CRM solution for your business needs.
HubSpot CRM
HubSpot CRM is a very simple-to-use platform that enables you to start quickly. HubSpot CRM is perfect for you if you're looking for something to explore the potential of a CRM tool.
Here are some reasons why you should opt for HubSpot CRM
You can link it to all the places where your sales processes take place.

Enjoy as many as 1 million contacts for free and unlimited storage.

The software runs in the background and triggers it when needed.




Pipedrive
Pipedrive has been designed very carefully by web app developers and sales professionals. It organizes your leads neatly to give you an overview of your sales and concentrate on priority deals.
The platform is mobile optimized, too, which helps you to be productive on the go. Reasons to opt for Pipedrive
It allows you to have a great sales pipeline and timeline views.

It provides email integration.

It offers API integration for seamless integration.
Freshsales
Freshsales was developed as a solution for managing diverse elements of the sales process and avoiding the use of multiple programs.
It uses all the features of legacy CRM as well as its own unique set of pipeline opportunities and optimizes sales. Reasons to opt for Freshsales
Advanced lead scoring.

Facilitating interactive pipeline management

Personalized templates




Zoho CRM
Zoho CRM offers a very simple interface and allows you to personalize your dashboard for your specific needs. You can automate routine activities and monitor sales, along with engaging customers.
It also integrates with Google apps, MS Outlook, and more. Reasons to opt for Zoho CRM
Capture leads from your website

Automate your lead management system

Fast-track the lead to the deal process.
Salesforce CRM
Salesforce CRM is a great software that tracks customer interactions and information in one place. It offers iOS and Android apps that can give you real-time reports.
It provides you with power management tools, marketing automation, and lead management tools. Reasons to opt for Salesforce CRM
The opportunity management module gives you more insight into sales opportunities.

It can help you track launch campaigns and automate generating leads.

The dashboard and reports can help you collect data.




EngageBay
EngageBay is an all-in-one marketing, sales, and customer support software designed specifically for SMBs and startups. It helps businesses track customers across every touchpoint throughout their customer journey. A free CRM, powerful marketing automation at an affordable price, and unlimited contacts make EngageBay a great Insightly CRM alternative.
Reasons to opt for EngageBay:
EngageBay is a truly all-in-one CRM solution

Offers multistep visual workflow automation builder

One of the most affordable CRM software

360-degree customer view with detailed customer journey data and activity timelines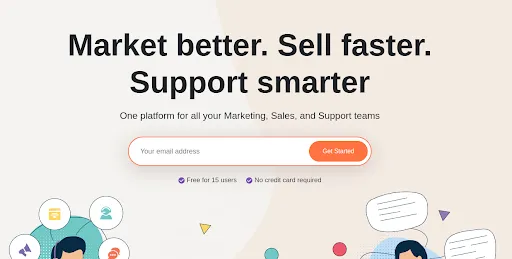 Nimble
Nimble is a popular CRM platform that helps you develop better work relationships. The software gathers your contacts and provides a great way to engage and nurture business conversations.
You do not have to invest in multiple platforms as they can utilize Nimble, which will do all the work for you. Reasons you should opt for Nimble
Provides you with handy tags and search features.

Helps you to schedule events and coordinate calendars effortlessly.

Facilitates social engagement to help you generate new leads.





Conclusion
The above-listed platforms are a great replacement for Insightly CRM. Some of these softwares offer some of the best facilities in the market. It would help if you did all the research you could and then decide which software you wanted to get for your business.
You must have a set of requirements that you wish to meet before you set out to look for the best CRM.
These requirements will help you choose the best CRM for your needs, as you have already set the parameters for it to work best for your business. Choose the CRM that meets your needs; the right CRM will go a long way.