Are you looking to automate your management and CRM tasks?
Are you looking for a tool to efficiently manage your files, projects, etc.?
If your answer to the above question is yes, you're in luck!
Automation is taking the world by storm. Be it in our homes, offices, or even the little tasks like switching off lights. You can do all this with the right tools.
The size of the global automation industry reached USD 175 billion in 2020 and will grow at a compound annual growth rate (CAGR) of 9%. It should be roughly USD 265 billion in 2025.
Bitrix24 is a platform offering automation that makes business growth streamlined and easier to achieve. Here are six things you didn't know about Bitrix24.
What is Bitrix24?
Bitrix24 is an all-in-one collaboration software for your business management, collaboration, and communication. It gives you a platform for all your projects, files, tasks, and contacts. Bitrix24 offers a lot of great features as a collaboration tool
Project management
Data management
Time management
HR management
CRM
Social networks, file sharing, calendars, and planning are some of the main solutions provided by Bitrix24. It works on smartphones and tablets too. The free plan provides many essential tools and features like online storage, 12 users, and collaboration tools. You can access the premium plans on any device.
What can Bitrix24 do?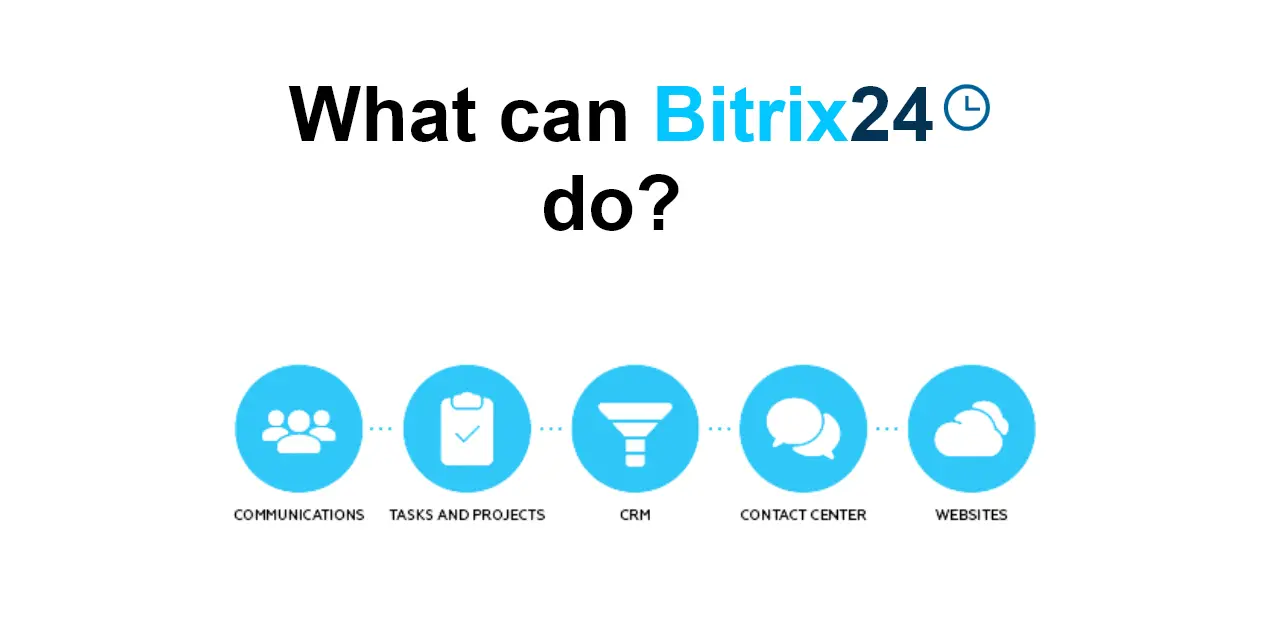 Bitrix24 focuses on five main areas:
Communications
It can easily and efficiently facilitate communication. It uses activity stream, chat, and document management to maintain an effective and robust communication system.
Tasks and Projects
Bitrix24 does a lot of tasks that most project management tools do. Still, the huge amount of integrated features sets it apart from the rest of the competition. Bitrix24 is one of the most comprehensive project management tools that you can find in the market. They integrate Gantt charts, Kanban, and reporting, among many other tools.
CRM
Customer relations management is a very important aspect of every business. Bitrix24 understands the very need for a good CRM. It has invested many resources in providing you with a quality CRM solution.
Live chat support
Bitrix24 has integrated live chat into the website so customers can quickly connect with an employee. And the best part about Bitrix24's live chat feature is that it is free.
Website Builder
The newest addition to Bitrix24 has been the website builder. It aims to help you create beautiful sites and landing pages that help you increase your sales. Bitrix24 offers unlimited hosting bandwidth, and you can create as many pages as you want.
Is Bitrix24 safe?
Bitrix24 takes data security very seriously and is made so that your data is only accessible to you and your colleagues. The security layers involved in keeping your data safe are
Data Storage
All the Bitrix24 data centers are protected with SAS 70 Type II and conform to the safe harbor standard.
Data isolation
All the data is separated at the database and cloud storage levels.
Data Transfer
The transfer of data for all the users is carried out through an SSL-encrypted connection.
Data Protection
All the information that Bitrix24 collects is processed and held per the provisions of the local data protection legislation.
How does Bitrix24 CRM work?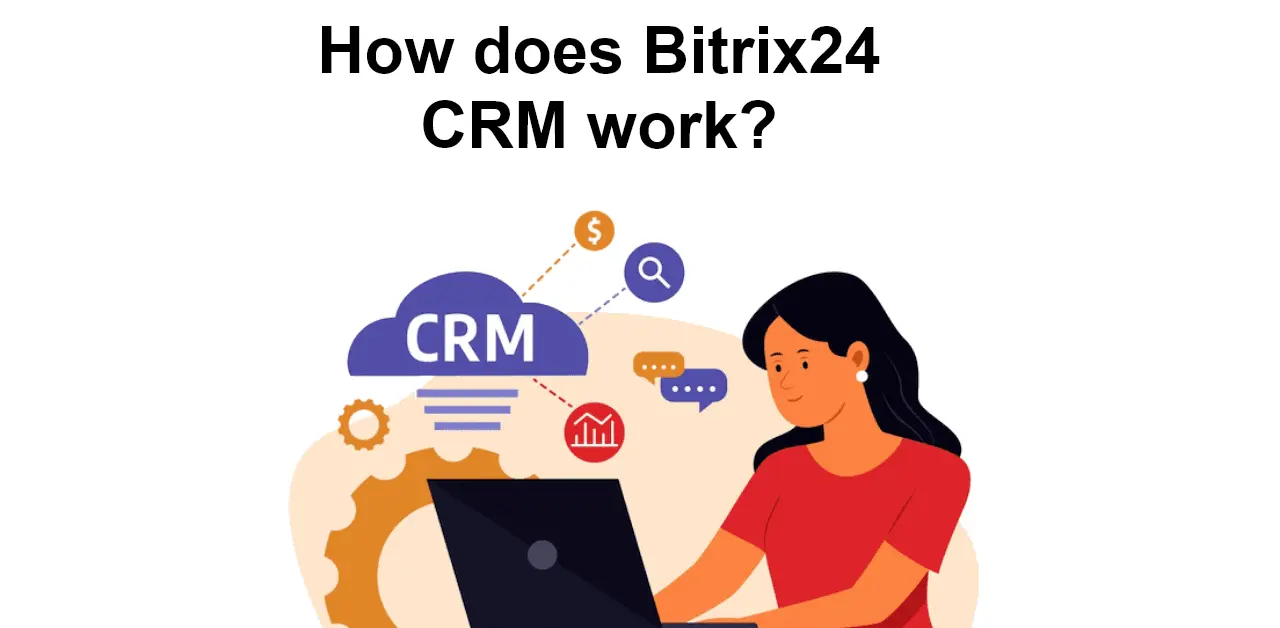 Bitrix24 CRM puts the customer at the heart of the business. It helps you to understand everything related to customer interactions, sales, and lead management. It can also help you see each client's history, helping you build better relationships with your customers.
Bitrix24 is equipped with all the tools required to automate sales and marketing, making tasks easier and boosting revenue.
Features of Bitrix24
Bitrix24 works on iOS and Android and is free, making it one of the best collaborative tools. It offers virtual telephone calling and is equipped with comprehensive functions for intranet services. Other key features of Bitrix24 are
Omni-channel communication
Bitrix24 is equipped with all the essential tools to maintain effective communication with clients, including calls, social networks, live chat, and messengers. This approach helps you communicate with your customers no matter where they are, and they can feasibly connect with you.
You can run almost any marketing campaign, from voice broadcasting to email marketing, and accquire maximum leads.
Marketing automation
SMS and email marketing tools allow us to build prospects and move them quickly from leads to deals. You can create and design your own rules to navigate customers through the sales funnel.
Sales analytics
The sales intelligence of Bitrix24 provides detailed reports for marketing campaigns. It helps you determine which traffic source is the most successful and see sales conversion through the Advertising ROI and Traffic report, respectively. Reports can also help you understand where your team is lacking and ensure they are supported in the best way possible.
Customer contact center
Customer satisfaction is of utmost importance. You can help keep your customers happy and satisfied with a round-the-clock contact center.
Invoices inside CRM
You can process payments and generate invoices inside the CRM. It supports all major payment methods, from credit and debit cards to Paypal and BrainTree.
Advantages of Bitrix24 over other CRM Platforms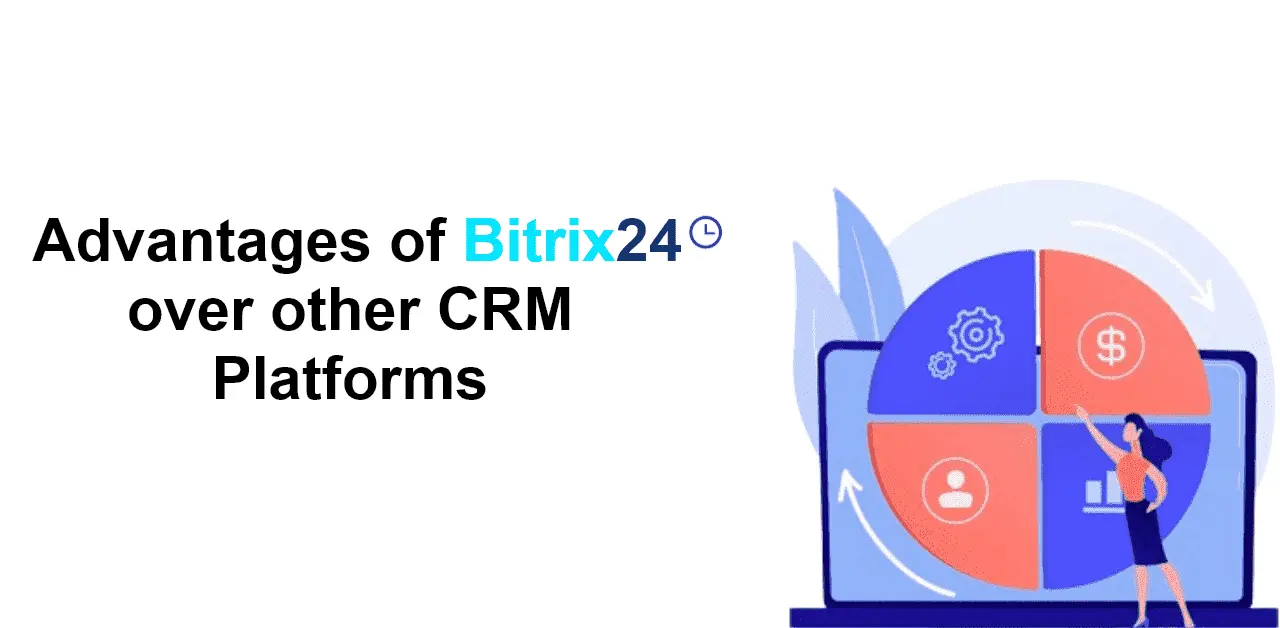 Comprehensive solutions
No other software in the market offers a holistic package of tools than Bitrix24. You get a CRM, contact center, a huge range of communication tools, all the essential tools to carry out the various tasks, and even a built-in website builder.
Free version
The free version offers almost all of the essential features, which is more than enough for most businesses. You can always buy the premium version, but you should first test out the free version as it is sufficient for most people.
Self-hosted data protection
Bitrix24 is very well equipped with the latest security features and is a great solution for those concerned about data security. It provides both a cloud and an on-premise version, and you can try out the cloud feature first, and then, if you like, you can transfer to an on-site version.
Final Thoughts
Bitrix24 is a comprehensive tool for any business and is one of the best in the market, if not the best. The integration of CRM, communication tools, project management tools, HR management tools, and time and data management tools makes it a 360-degree package.
It is completely free of cost, which gives it an edge. Most importantly, the free features are the most necessary for most businesses. And if the necessity arises, you can always buy the premium version. Bitrix24 also offers you an option of storing data on their cloud, or you can host it on your servers.