Chatbots are a wave from the future that is fast becoming normality. They are intelligent information channels that help customers with anything they want to know. Chatbots can identify conversation trends and other metrics using AI. Healthcare chatbots can be an eccentric supplement for better management in a variety of situations.
Healthcare Chatbots are disrupting the market with functionalities that were unseen before. Chatbots have gotten more aware and empathic to suit user demands since the arrival of AI. These chatbots provide everything from health information to organizing appointments. Healthcare chatbots remind users about their medication routine thereby serving as virtual assistants.
There is a huge disparity in the number of doctors available to the patients per capita, and chatbots are the answer that can fill this gap. With the technology advancing by leaps and bounds, they'll soon be able to replace human counterparts. They can already handle simple duties and share labor burdens and a day when a chatbot can serve as a complete virtual assistant is not far away. In this blog, we'll look at the different usages of healthcare chatbots.
Importance of Healthcare Chatbots
Healthcare Chatbots can play a revolutionary role in front-office healthcare by streamlining admissions, discharge, and transfer requests. These chatbots can schedule patient consultation requests and also send and receive recommendations. Chatbots can also enhance peer collaboration, update record systems with a patient's medical history, and deliver prescription refill reminders and notifications.
Patients will no longer arrive for a consultation to discover that their doctor is busy. Instead, chatbots will automatically communicate important training material, patient information, and pertinent data to the appropriate individuals. A Healthcare chatbot makes sure that the entire process runs smoothly. While integrating information sources may appear to be practically difficult, the technology powering the chatbots can help build a single system of records by transferring data from ancient systems to modern databases, saving time and money.
For hospitals and doctors, chatbots can save thousands of working hours per year. It results in cost savings and a higher level(more time) of care for the user. Do you want a great user experience at your next hospital visit? Request your doctor and hospital to begin employing a healthcare chatbot. Listed below are some incredible usages of Healthcare chatbots.
13 Different Usages of Healthcare Chatbots
Checking Symptoms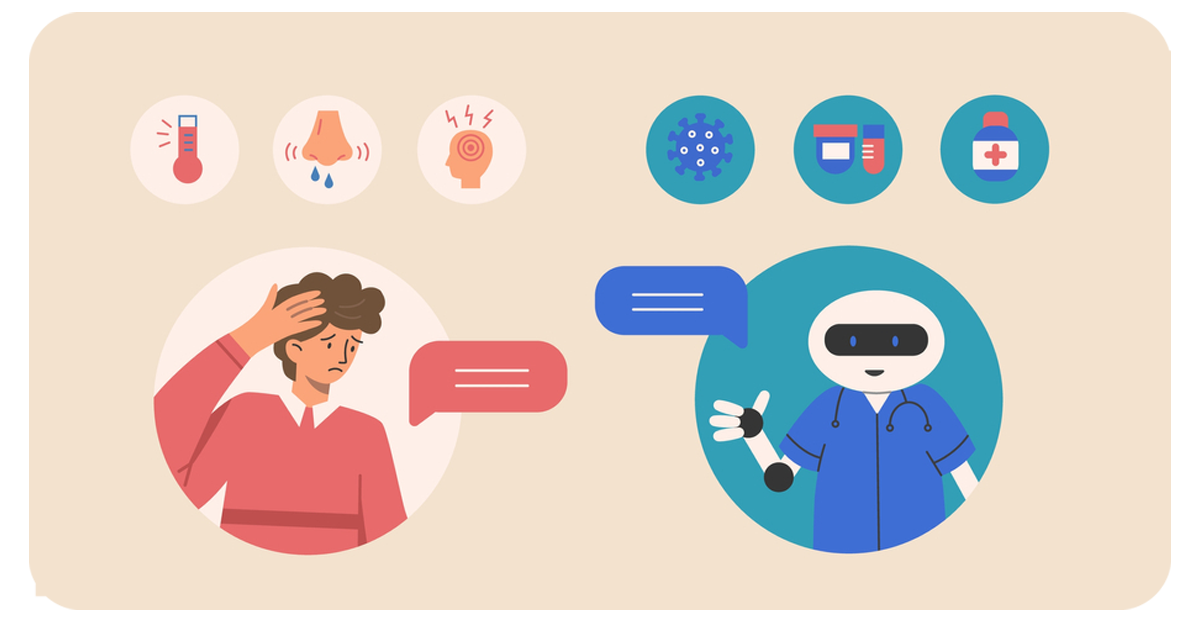 Yes, chatbots help to check symptoms like a professional. Many healthcare providers advise their patients to check their symptoms using chatbots. As chatbots use natural language processing (NLP), they can grasp the user's request regardless of the input. Chatbots assist patients in narrowing down the reason for their symptoms by analyzing data and applying knowledge to the disease. In most cases with the help of guidance from the healthcare chatbot, the patient can determine whether over-the-counter drugs are sufficient or if expert therapy is required. Patients can save money and time. Meanwhile, doctors can give their time to more critical patients. It is a win-win situation for both.
Therapists
According to studies, conversing with a non-human being can be beneficial in restoring mental health. Another widely accepted application of a chatbot in healthcare is customer service. Furthermore, Chatbots serve as available patient listeners 24 hours a day, seven days a week, and provide a sense of security when it comes to mental health and other delicate matters. Sometimes all a patient requires is the ability to speak with someone who will not judge them and will listen to them at any moment. As chatbots are not humans, psychological patients find conversing with them to be quite straightforward, making them an effective palliative for restoring mental health. To add to it, chatbots are increasingly becoming efficient in simulating natural human-like conversations leading to a better experience for the patient.
Scheduling Appointment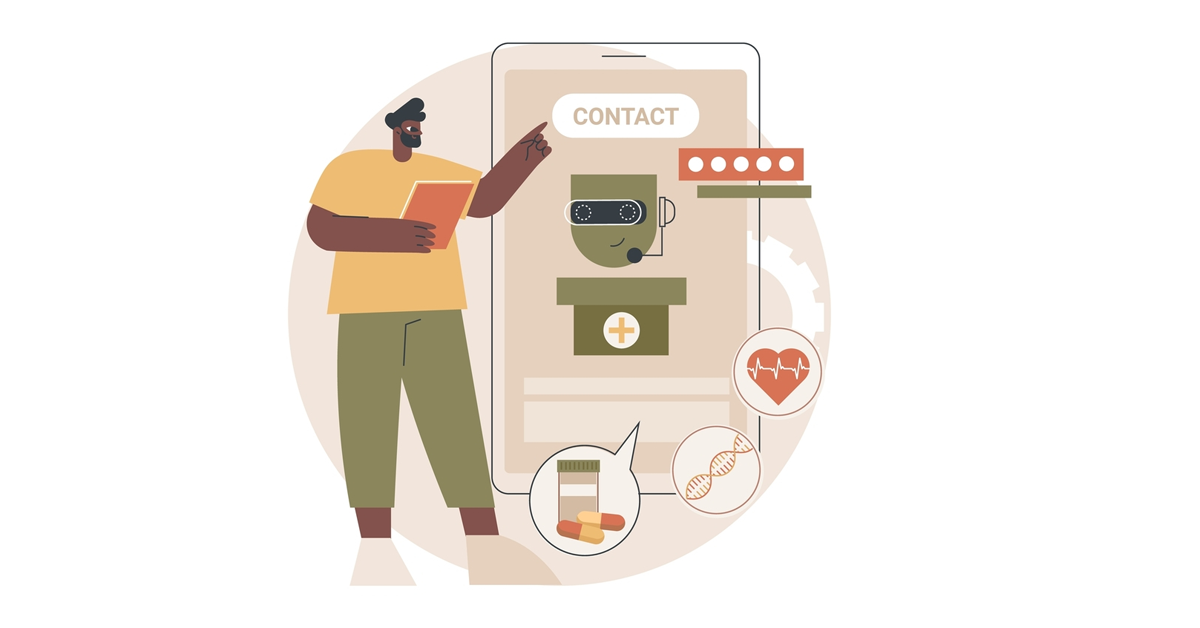 Many of us have waited long periods on the phone to schedule a doctor's appointment. Meanwhile, chatbots allow you to book appointments with doctors via text or messaging, with no human interaction. Healthcare chatbots streamline the business process to provide users with a smooth experience while booking appointments. Chatbots can also remind patients about their scheduled appointments.
24/7 Support to Patients
This is something that the present healthcare system is lacking. Chatbots never sleep and can help patients 24 hours a day, seven days a week. Simple and commonly asked questions (FAQs) can be answered by chatbots at any time. It may not be able to make a diagnosis, but it can monitor the patient's health and alert a nurse if any of the parameters are out of control. This is a big plus when it comes to making an efficient prognosis in many cases.
Answering Frequently Asked Questions (FAQ)
The most common component of the chatbot is the frequently asked questions section. Many healthcare service providers are modernizing FAQs by incorporating an interactive chatbot function to respond to consumers' general questions. This is being implemented in hospitals and clinics so that people may simply find the information they need. This capability is especially important in post-pandemic times to control the spread of misinformation.
A healthcare chatbot responds to any FAQs asked by users. For instance, the visiting hours, paperwork requirements, treatment cost, payment tariff rates, and more. Patients can have any information at their fingertips. As a result, healthcare chatbots serve as a one-stop shop for all of your common questions.
Medication Reminders to Patients
Patients frequently forget to take their prescriptions and nutritional supplements as directed, putting their health at risk. This is where Chatbots come in handy, since they may send medicine reminders at predetermined times. This function becomes all the more important when it comes to older patients, who routinely forget about taking medication. Reminders for re-prescriptions, routine check-ups, and other health-related appointments can also be sent via chatbots.
Health Tracking
How do chatbots keep track of your health? The most notable example is the new generation of smart wearable devices that allow you to track your vitals, calories burnt, steps taken, and other information. A healthcare chatbot can be integrated with such devices. Healthcare as a profession necessitates being available 24 hours a day, seven days a week, 365 days a year, and here is where chatbots come in handy. They are there anytime you need them, 24 hours a day, 7 days a week. Patients who require medical care regularly would benefit greatly from chatbots.
Paperless System
To create and manage patient medical data, chatbots can be connected with EHR/EMR systems. The patient or the doctor can view these records whenever they need them. This not only saves lots of time but saves pape too and provides a hassle-free system.
Billing and Registration
The healthcare chatbot can be a perfect tool for your behind-the-desk administration work. As with the help of backend systems, a healthcare chatbot can produce bills, inventory, handle registration, payment, and insurance claims administration. A chatbot can be used by service providers to answer queries about insurance claims, processes, and coverage.
Collect Feedback
It is critical to receive feedback to improve. A healthcare chatbot can ask easy-to-answer survey questions and communicate the results with the team. This leads to continuous improvement of the system with happier customers every time.
Personal Assistance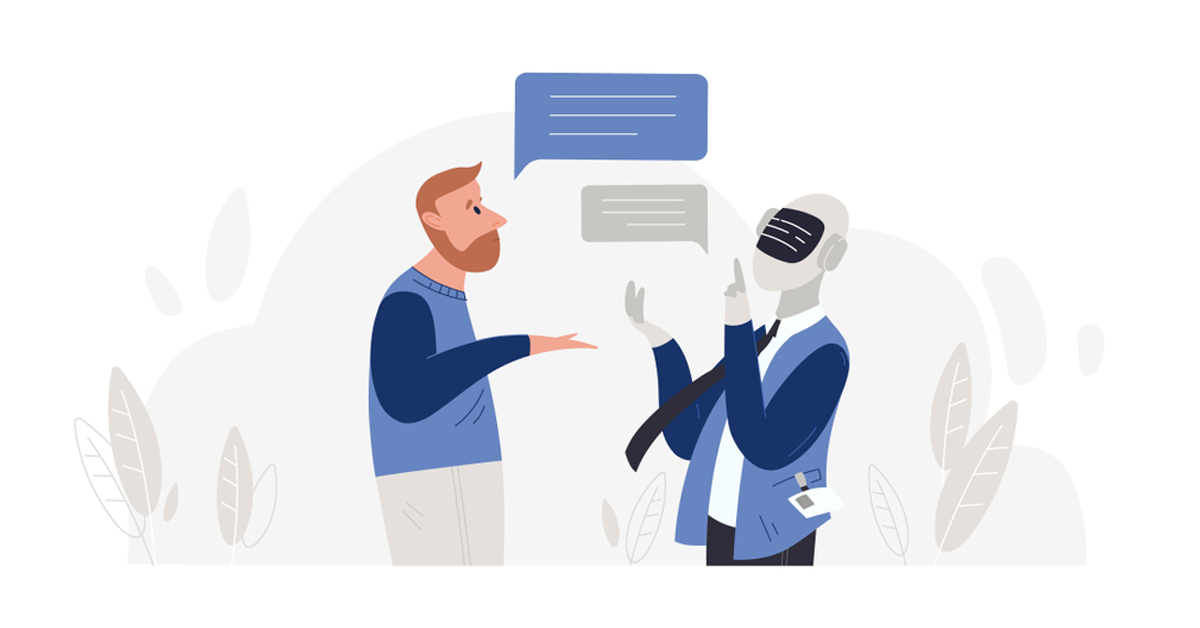 Today's generation is known as the Google generation. Before contacting a healthcare expert, the majority of users browse and try to better understand their health issues. It is frequently to determine the severity of the sickness and, in some cases, to determine what they may be facing. Consider how tough it would be to sift through multiple websites and web pages to get a valid conclusion.
The Healthcare chatbot transforms into a personalized smart assistant, assisting patients in understanding medical concerns, recommending appropriate experts, and scheduling appointments. Having a chatbot that can do these roles will not only benefit patients but will also boost your brand's trust. If the bot can assist them in finding their way, they are more likely to visit your practice for a diagnostic.
Raise Awareness
A healthcare chatbot can be used to raise awareness about a healthcare issue while still providing accurate information. Many ambiguities and misconceptions arise as a result of the rapidly expanding pandemic, which can be addressed with the help of a healthcare chatbot.
Data Hub
The next name for healthcare is an emergency. Healthcare providers will have a better understanding of how emergencies occur. Any delay or lack of access to the correct information at the right moment can result in a fatal error. Consider how simple it would be to key in a patient's information and obtain their medical history in a fraction of a second.
Isn't that fascinating? A healthcare chatbot can enhance fast-affirming diagnosis and treatment by serving as a data hub for healthcare workers, allowing them to trace their patients' histories and provide immediate medical assistance. Many hospitals and healthcare professionals have recognized this gap and have begun to use chatbots to maintain internal records. Allergy information, prior test results, and prescription administration information are all available with just one click. This new piece of technology saves time.
Challenges related to Healthcare Chatbots
Healthcare chatbots have a huge potential for improving healthcare quality. Despite their potential, chatbots are facing several challenges on their way to mainstream acceptance. Let's have a look at the challenges of healthcare chatbots:
The use of algorithms and chatbot technologies, as well as how their skills are put to use, should be exceedingly precise. As health decisions will be made based on their recommendations or risk assessments.
Elderly people still like to avoid using digital technology, and the lack of a specialized strategy in this area is an obstacle to corporate expansion.
Chatbots are vulnerable to hacking. Putting private data in danger.
Bottom Line
Chatbots provide a fantastic user experience, but the key is to design and train the chatbot so that it can converse accurately. Healthcare chatbots are going to be revolutionary coupled with fast-evolving AI technology. An AI-based chatbot will not only help Healthcare businesses flourish and expand but prove to be a game-changer for many. All being said, chatbots are going to be a part of the mainstream very soon, so try one sooner than later and reap the advantage of being the first-mover by using Botpenguin's chatbot creator.
Related Articles: Why Chatbots Are The Future Of Healthcare Future and growth of Global Healthcare Chatbot market