Discord: The most incredible thing that happened to gamers
Users can enjoy the most pleasing conversation experience by deploying 'bots' commands on Discord, the biggest and most widely used AI-powered Free-to-Use VoIP server.
Rhythm Music bot resides on Discord, a server dedicated to boosting output. Discord simultaneously retrieves crucial information, sends notifications, plans events, and moderates chats. Discord servers were first created for gamers, but they may now be customized for voice and text chats over the internet. Anyone can start a Discord server to host discussions on any topic. It becomes a platform for social interaction, and Rythm bots can boost user interest by introducing music.
One of Discord's other achievements is its Xbox One integration.
With the new Discord connection technology, Discord users can link their Discord profiles to Xbox One and check what games their friends are playing—or chat.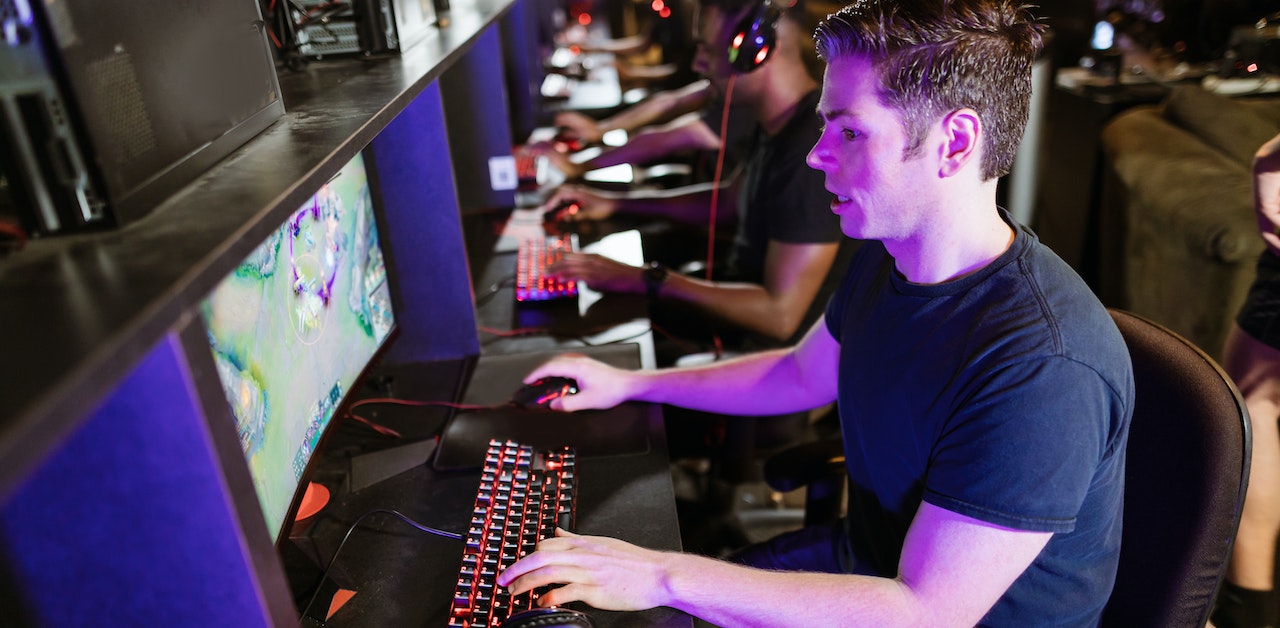 Although there are some restrictions, integration has improved Discord's gaming possibilities.
Who is Rhythm?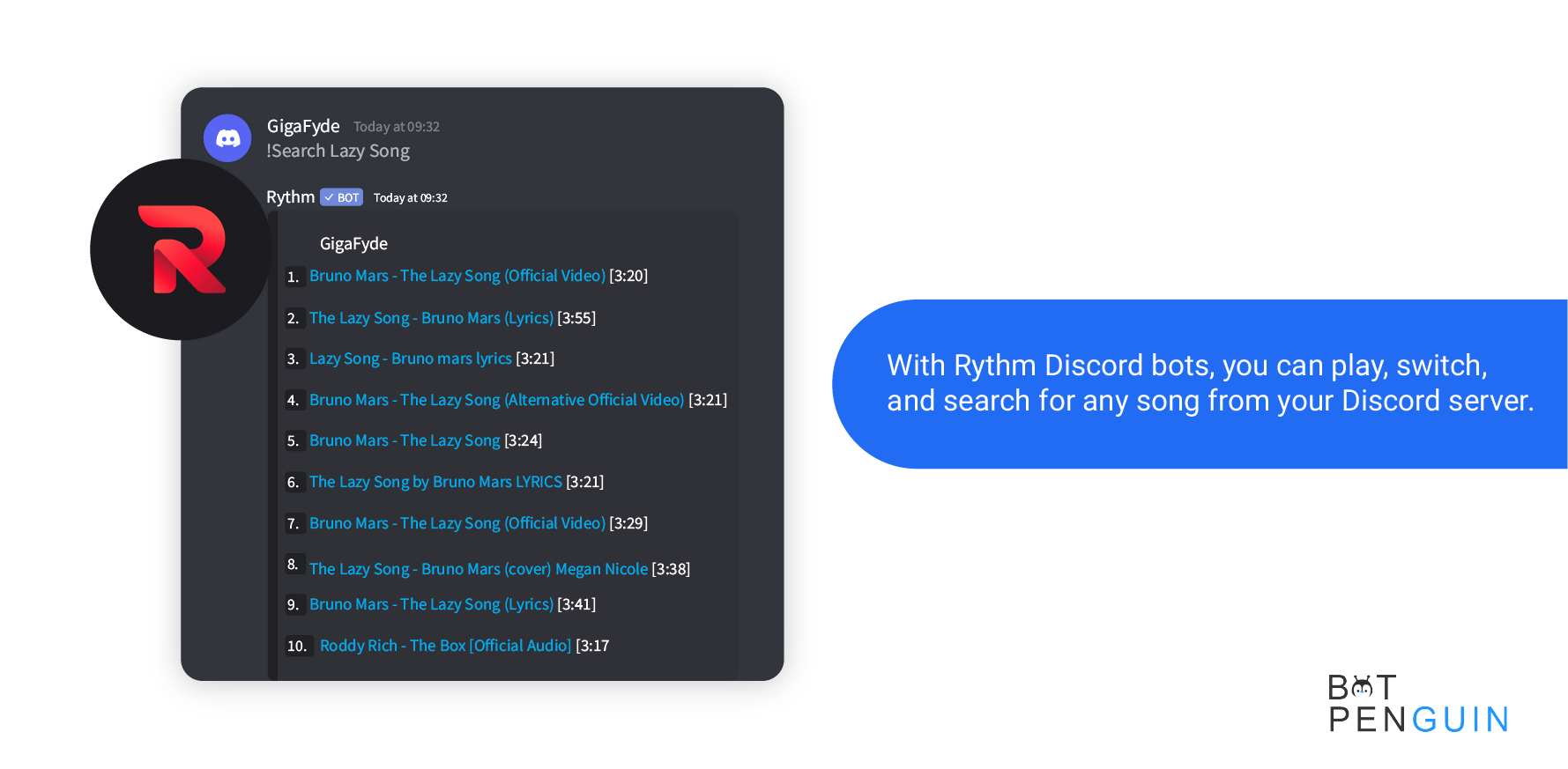 The Rythm music bot is a dedicated music bot that can access and play songs from well-known music streaming services like YouTube and Apple Music. It integrates with your Discord server. With Rythm Discord bots, you can play, switch, and search for any song from your Discord server.
The Rythm Discord bot can also queue up your favorite songs when you're ready to listen to them, play music, import and export playlists, and play music.
Although you can pay to access extra features, they are typically free to use. Use the ! Join command or Rhytm dashboard at https://rythm.fm/app; you can join a voice channel and call the Rhythm music bot once it has been added to your server. From there, perform a search for or play the song or playlist you wish to listen to.
These features simplify your life by automating tedious or repetitive tasks, so you don't have to repeat them while still getting the most incredible experience.
Adding the Rhythm bot to your discord server
Visit rythm.fm, the website for the Rythm bot, using any browser. If the internet connection is strong, you shouldn't experience any issues with this.
Choose "Invite the bot."
If you don't have an account, you must create one using your email address. Scan the QR code to finish the registration process.
Select a server from the drop-down menu after signing into your Discord account.
Ensure you are authorized to control the server (check your server settings to grant this permission). To complete the authorization, this is necessary.
After selecting "choose a server" on the authorization page, pick "Music Lover" from the drop-down menu.
After choosing your preferred server, click "Continue" in the bottom right corner of the page.
You should tick every box, including the "Administrator" box. If you don't do this, your other settings will be useless.
For the most fantastic experience, you must grant the Rythm Discord bot the 'Administrator' permission on your server. This facilitates Rythm's Discord bot's ability to carry out activities like playing sound and music.
The procedure is complete by clicking the "Authorize" button.
You must approve and validate the setup by completing the Captcha in the last step. When you successfully add Rythm Music Bot to your server, the message "Thanks for adding Rythm" will appear.
Rhythm Commands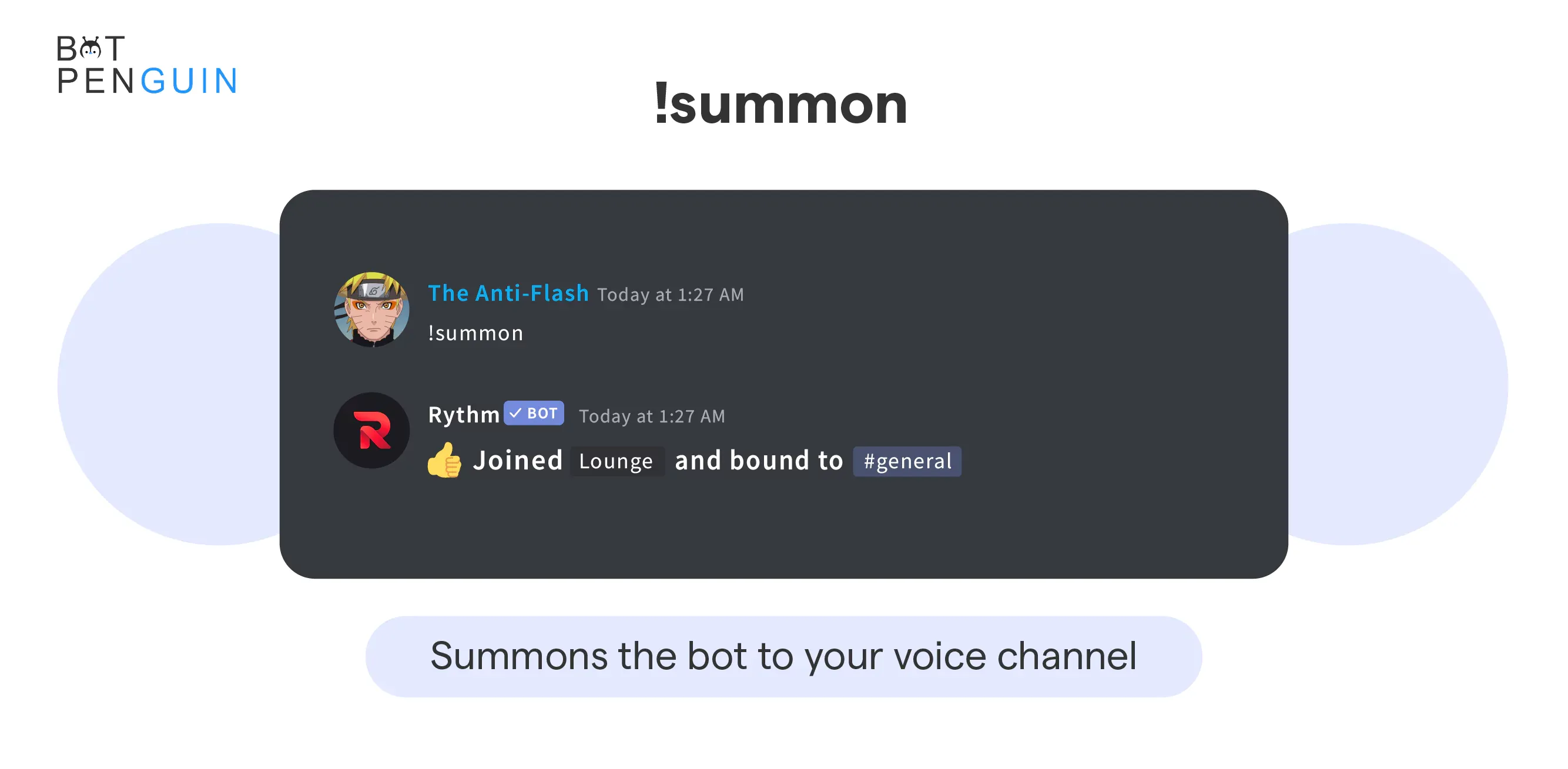 This command plays the song you provide.
!np shows the song that is presently playing.
!disconnect: Use this command to disconnect the Rythm bot from the server.
!skip: Eliminates the music that is playing from the playlist.
!move: This instruction enables you to advance or rewind any song in the queue.
!rewind: you can skip ahead or backward in the current music.
!forward: advances the current song to the specified point.
!clear: eliminates a song from the playing list.
!ping: Verifies how quickly the bot responds in Discord.
!aliases: Shows the nicknames for each bot command.
!remove: Removes a song from a previously built queue.
!search searches a music source for a given entry.
!SoundCloud: Looks through the songs on SoundCloud.
!seek: Finds a specified spot inside a track of music.
!stats displays the statistics for the bot.
!join: This command enables the bot to carry voice commands more effectively.
!loop: You can loop the current music by using this command.
!loopqueue: This enables you to continuously play every song in the queue.
!donate: This Shows guidelines for donating to the Rythm server.
!shard: displays the shard you are currently on.
!removedupes: Removes duplicate songs from the queue.
!info: Offers details about Rythm.
!replay: Repeats the song currently playing.
!settings: This command changes Rythm's settings.
!shuffle: The tracks in the queue are shuffled with the command
!invite: Link invitations are displayed using this command.
!p volume: This command alters the volume of the selected track.
!pause: This command stops the song that is playing.
!clean: This command erases all messages and commands issued by the bot.
!lyrics: Shows the song's lyrics as it is playing.
!playskip: Adding a song to the queue and skipping right over.
!playtop: plays the top track in the queue.
!queue: displays all of the songs in a standard column. Type the command followed by the page number if there are several queues.
Be wary that for any of these commands to function correctly, Rythm must be installed on your Discord server.
Why is Rhytm not working?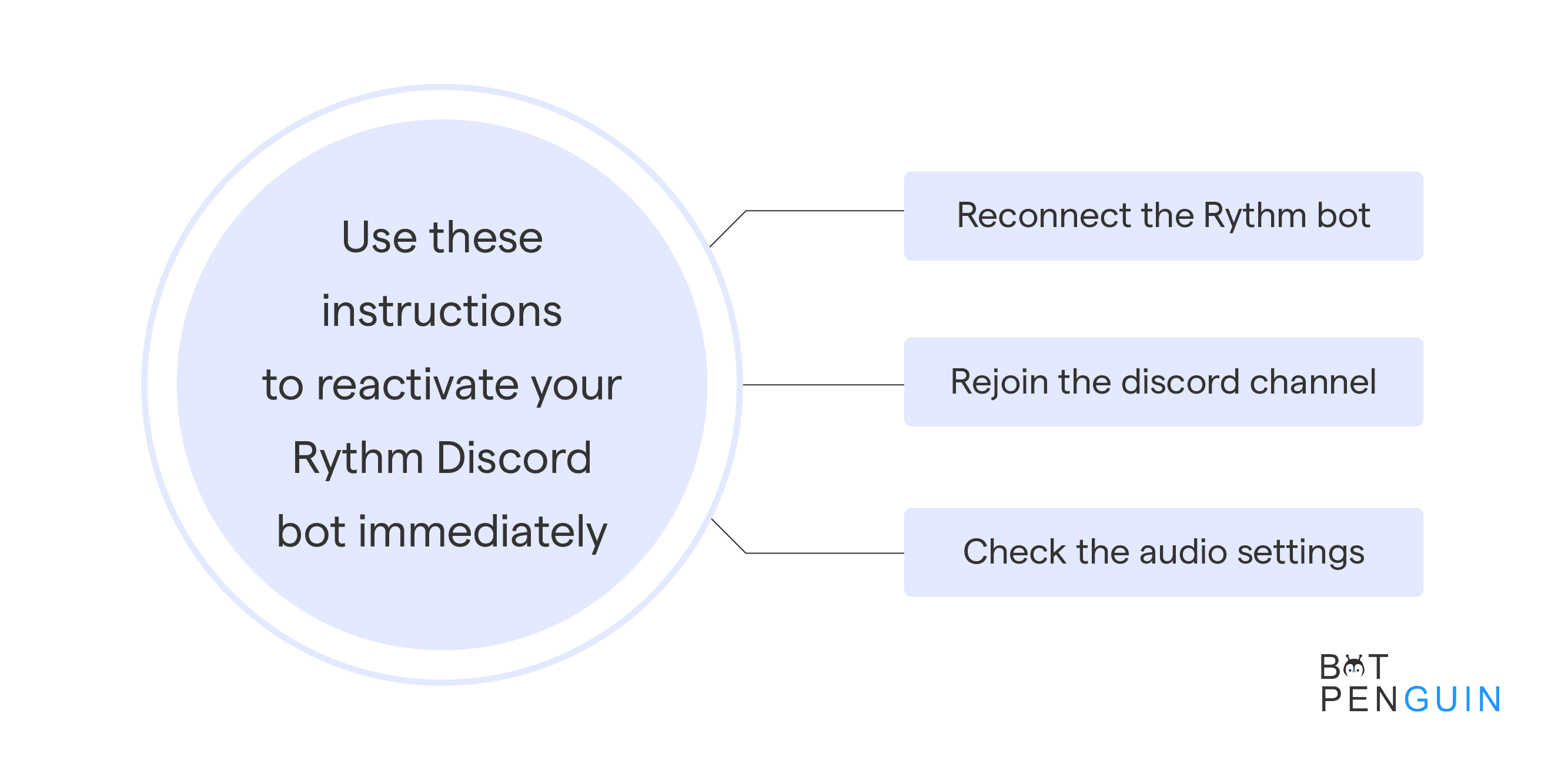 Although Rythm Music Bot is an excellent tool, it isn't always trustworthy. Users frequently report problems with the bot slowing or occasionally failing to function. If this occurs, use these instructions to reactivate your Rythm Discord bot immediately:
Check if the volume is up.
You might have set the volume of the bot to zero, which is a frequent reason for Rythm Bot to not function as intended and to make no sounds. You can quickly determine whether the Rythm Bot's volume bar is empty or filled if you right-click on it and then glance at it. If so, try setting the volume to 0 and dragging the bar to the right to turn up the volume to see if it fixes the issue.
Rhytm is muted
Another option is that Rythm Music Bot has been disabled for the server as a whole or a particular channel. The only people often able to do this are members with advanced access, such as moderators, administrators, or the server owner. If one of them silenced the Rythm Bot, there isn't much you can do, unfortunately.
Reconnect the Rhtm bot
If you are the server owner and Rythm Bot isn't working for you, you can try detaching the bot from your server and inviting it again as described above. Although it may be helpful if you're unsure why something isn't working, this is trial and error.
Rejoin the discord channel
If you aren't a server mod or owner, you can try leaving the channel and returning to it after a few minutes if Rythm Bot isn't working for you. While occasionally useful, there's a considerable possibility the bot isn't functioning for some other reason. Whatever the case, it's worth a try.
Check the audio settings.
The Discord App's audio settings can occasionally make Rythm Bot malfunction. The appropriate audio output, such as headphones or stereo boxes, is chosen by going into the audio options. Additionally, check to see if you accidentally set the volume to 0 using something like your keyboard.
How does Rhytm Bot make your server better?
Rhythm Music Bot features are available for administrators to employ to improve community engagement. When creating a playlist, for instance, the Rythm bot can pull music from various websites, such as YouTube, SoundCloud, Twitch, Vimeo, and Mixer. Administrators are now able to select the top songs for their playlists. Following creating a playlist, the Rythm bot can automatically add songs to the queue when it is empty. Even when the administrator isn't manually putting together song queues, this offers music continuously. Users can view lyrics while listening to songs. Users can listen to music without experiencing any lag, thanks to Rythm.
Administrators can also alter the user experience thanks to it. The Rythm bot also enables modification of the server prefix, which can be changed from the default "!" to any character.
An administrator might connect many servers to the Rythm bot program to increase listening among various user groups.
Rhythm Music Bot is a straightforward approach to boosting user engagement on a Discord server because it's straightforward to integrate. This bot is all about music and providing platform users with extra amusement. Discord servers foster a community among players, and the Rythm bot goes even further. You probably do not want to miss out on this bot.
Is this the end for Rhythm?
The cause is the same as the one that led to Groovy's demise. Once submitted to Groovy Bot, it needed to be stopped since they "changed the service and used it for commercial reasons."
The other music bots may eventually have to experience the same thing.
In the meantime, Rythm Bot's developers are developing a new project. According to their message on Rythm.fm, it will continue to be in the music industry that "revolutionizes how we all listen to music." Users are urged to subscribe to their newsletters and keep Rythm on their servers. Doing this will inform you of any new information that arises in the upcoming several months.
Luckily, Rythm Music Bot is still around if you're a fan. Let's wait and see what this service has in store.
Conclusion
Despite being forced to shut down, Rhythm Music Bot is the best. A whopping 5.2 million users isn't a joke. Indeed, it lacks some support for newer music platforms like Deezer and some playback issues. Still, this bot is the best for simplicity and ease of access.
Sometimes you need chatbots to express something beyond music. In that way, you get to engage your audience and also save their time. Try BotPenguin, a platform for making chatbots without coding, all about your business and according to you.
As a long-time gamer and a Rhythm fan, it is hard to part way with such an awesome bot that made great memories while having a great gaming session with the boys.