Everyone wants to post unique content on various platforms for entertainment. But do you have any idea about how to jazz up your videos?
To answer this question, you can use the text-to-speech recording from an AI system called Uberduck AI.
This app is undoubtedly famous for this type of thing, giving various voices to try on. It has loads of celebrity voices for trying on different avatars.
Uberduck AI is an artificial intelligence platform that helps individuals and businesses alike.
It aids in making a better decision through data analysis and insightful recommendations. It is considered one of the best AI software that makes songs or voices real.
Continue reading this post to learn about Uberduck's pros, cons, and alternatives.
What is AI Voice?
You may speak vocally to your smartphone utilizing artificial intelligence thanks to AI speech.
Numerous AI speech programs, like Alexa, Google Assistant, and others, are available.
You only need to speak the voice command to activate the AI feature and have it carry out the task automatically.
What is Uberduck.ai?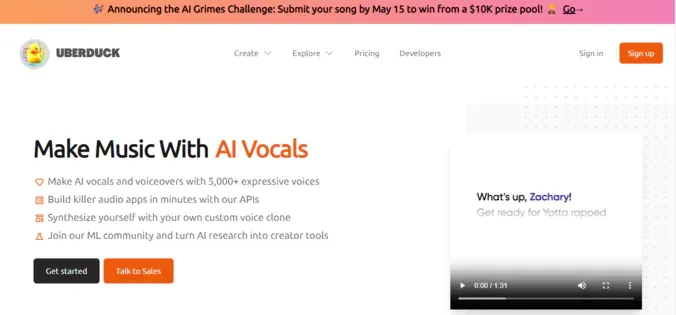 One of the most significant character text-to-voice systems available on the market is Uberduck.ai.
It has always been the top pick for text-to-speech voice generation since it is the most widely used.
Uberduck AI is an effective tool that may assist you in making smarter decisions.
How does the Uberduck.ai function?
For both artists and users, this application has proven a great hit. You may use this application to convert any text into a speech using a variety of voices.This is how it functions: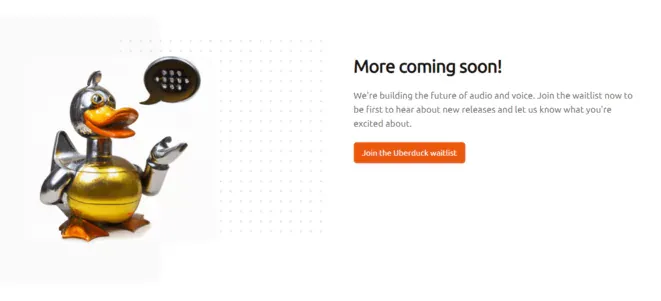 Several commercial videos employed technology of a similar nature.




Students

created Uberduck AI

, which was eventually transformed into a text-to-speech program.




You may use this application to convert any text into a speech using a variety of voices. You may use your voice, those of celebrities and fictitious characters, and your own.




You may select from various celebrity voices in the voice library to make a humorous speech. The outcome of this software is its finest feature.




There may be many tools available with comparable features and functionalities, but none can provide as good of outcomes. It is hard to distinguish the speech produced by AI since it is so skillfully made.




Additionally, the tool has cutting-edge technology and is entirely free to use. Although many individuals remain dubious about AI, they should undoubtedly give it a shot.




In any case, you may use the software to convert any text to speech utilizing the voices of cartoon characters, characters, and others for free.
BotPenguin offers chatbot creation for social platforms, websites, wordpress along many different features:
Uberduck.ai Pros
Uberduck AI

only offers its excellent pitch and amplitude adjustment capability with rapper that sounds like Kanye West and Eminem. So you can modify these elements and use Uberduck AI to create a good-sounding rap.




It is renowned for staying up to date with the popular text-to-speech features on other social networking sites. You will more likely discover the character voices you are looking for on Uberduck than on other websites.




It offers a leaderboard for voice models where you can look for the character voices you need and see which models are most popular with users. Many enjoy this feature since it quickly makes finding what many are looking for easier.




Uberduck.ai offers a larger selection of AI Text-to-Speech models that already have rigorous training and testing. The best part is that each model's quality score is assigned. As a result, you will know what to expect from each character's voice when it is finally complete.




This website may also provide a free text-to-speech API for developers to use in their projects.




The ability to accelerate decision-making is one of Uberduck AI's benefits. By enabling you to make decisions based on data you would not have had time to evaluate yourself, this can provide you a competitive edge.




The ability to save money is another benefit of Uberduck AI. You may use the platform to automate processes that would otherwise be done by hand.




It is incredibly user-friendly, which is one of its benefits.
Uberduck.ai Cons
To produce the voices on uberduck.ai, you must sign up with your email address, Discord account, or Google account. If you want text-to-speech that sounds like your favorite character voices, we vouch for the service and urge you to join and utilize it once.




Uberduck AI's

drawback is that it occasionally makes mistakes. The platform depends on a range of sources for its data, some of which may include erroneous information.




Furthermore, the platform is always learning, so it's conceivable that its suggestions will alter over time.




t's crucial to examine the benefits and drawbacks before adopting Uberduck AI. Uberduck AI is helpful, but not every firm should use it. Before choosing a platform, consider whether it will meet your demands.
Uberduck.ai Alternatives
Flixier
With only a few clicks, you may create your voiceover using the API-based application Flixier.
You may select from 20 alternatives and alter the pace, quality, and volume using the power of an AI synthesizer.
You can quickly add your audio to your movie editor because it is saved in a library.
Nothing has to be downloaded or installed. Use the online video editor on Flixier after using the text-to-speech feature. With AI audio, you can make a polished cut on your PC!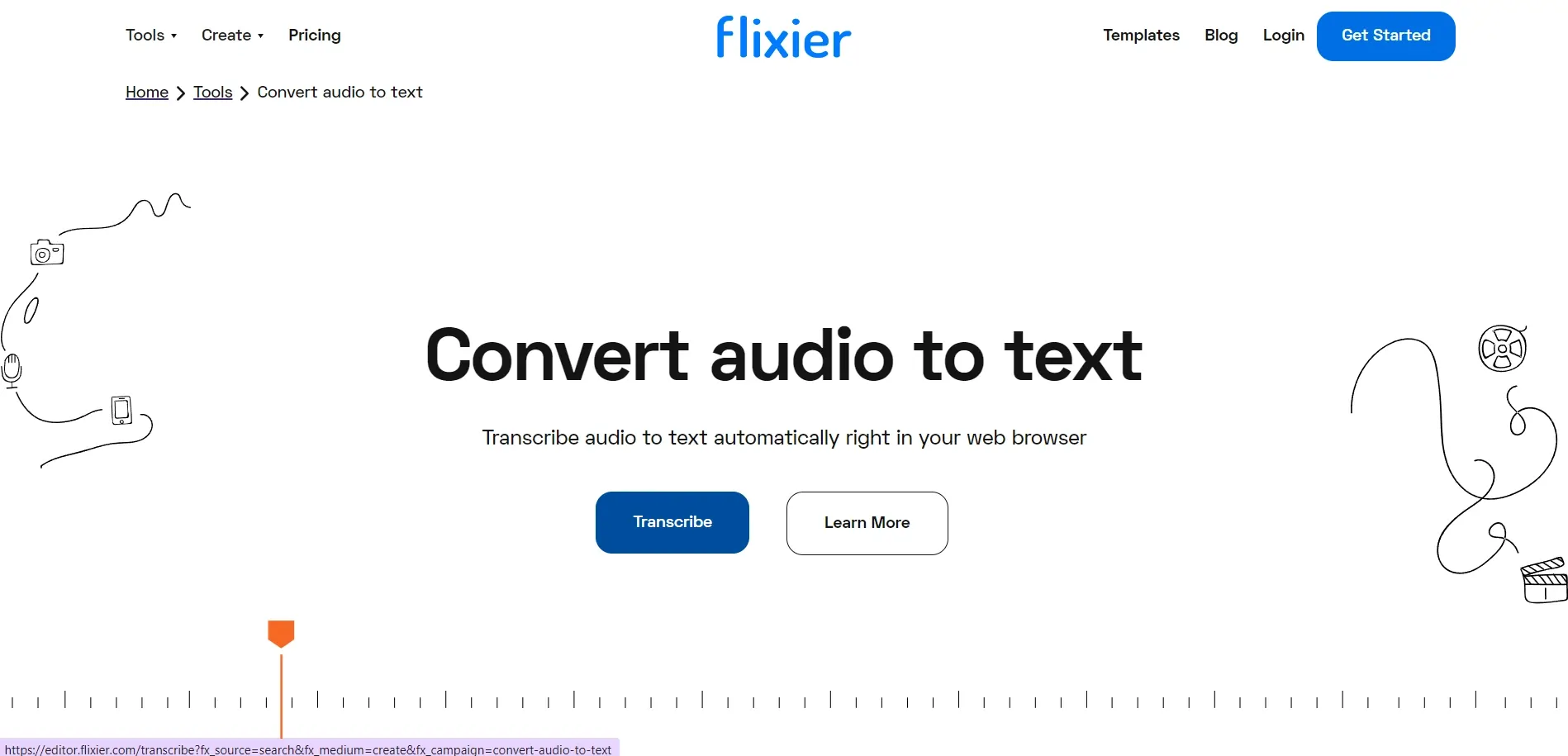 Speechify
With the help of the text-to-speech screen reader Speechify, you can hear the genuine text, documents, emails, books, files, PDFs, articles, and other online information on your laptops, desktop computers, and mobile devices.
The text-to-speech audio narrator and reader Speechify Text to Speech converts your reading material and information into interactive audiobooks.
Using Speechify, you may read lengthy paragraphs and material in less time. Choose from more than 30 AI-engineered voices, 20 different languages, and more than 30 distinct accents.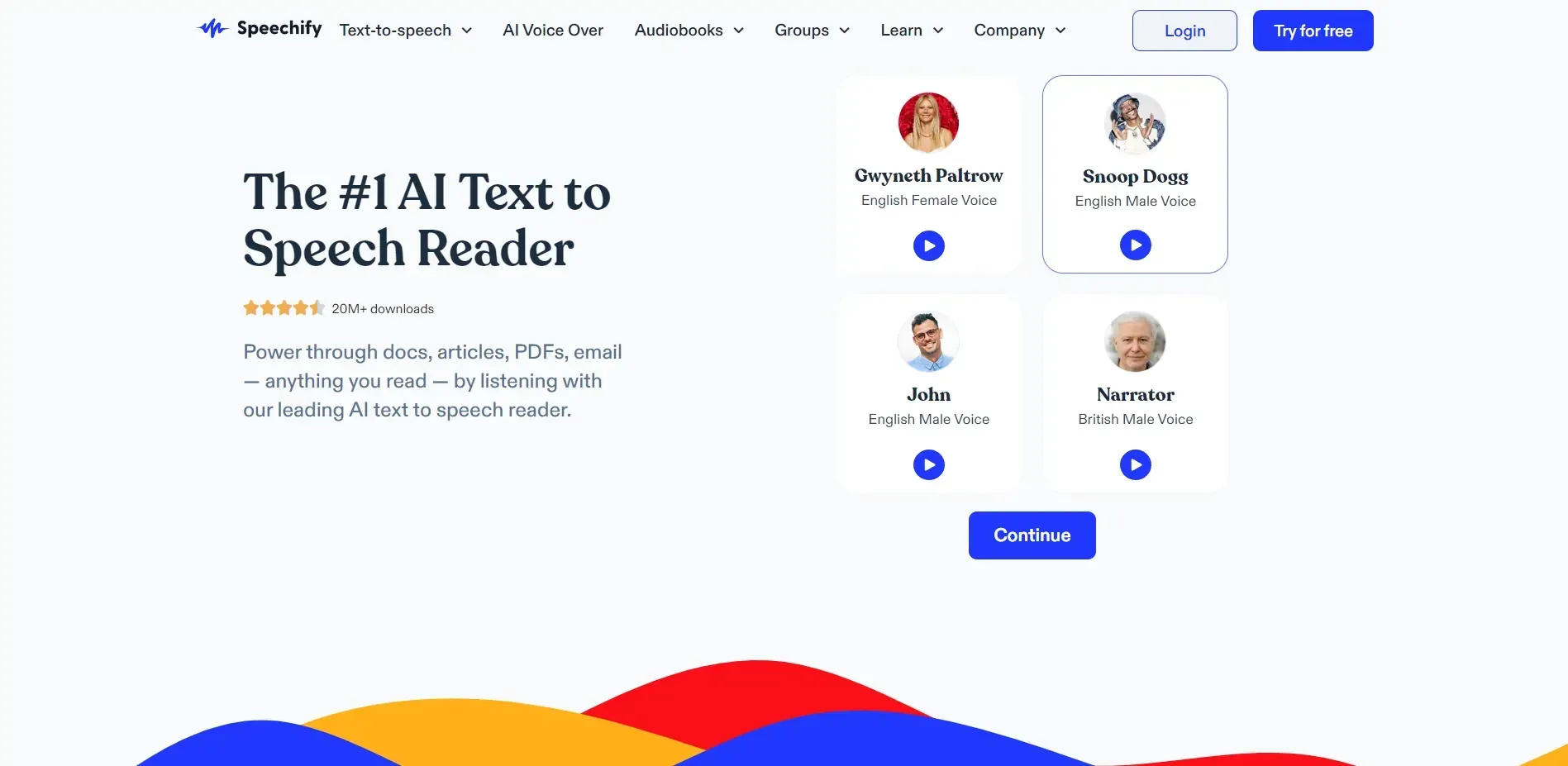 eSpeak
TXT and XML are the only file types that eSpeak can read aloud, which is a pretty limited file format support.
You may change the tone and loudness and choose from a few different voices.
Additionally, it has all the standard voice control and reading options, such as pause, skip, and reset.
For all you keyboard freaks out there, eSpeak is a lightweight program that may also function as a command-line tool. It supports several voices.
Voice RRS
Another excellent online text-to-speech service is Voice RRS.
On its app, a demo with a length of 100 letters is available for testing. High-quality human voices and many languages are available in this API.
It is an excellent choice to consider if you want a cross-platform, cloud-based application.
You may pick from over six different options if you want more features.
Balabolka
You might make real-time adjustments to voice aspects, including speaking, pitch, and volume.
The essential feature of Balabolka is that it provides various tools you can use to combine and edit files.
You can extract text from audio recordings and perform multiple other tasks. Balabolka may also instantly read out the publishing copied to the clipboard.
In addition to English, it supports several other languages, such as Finnish, Greek, Romanian, and Spanish.
Several formats are available, including AZW, AZW3, DOC, DOCX, WPD, XLS, XLSX, LIT, HTML, EML, and more.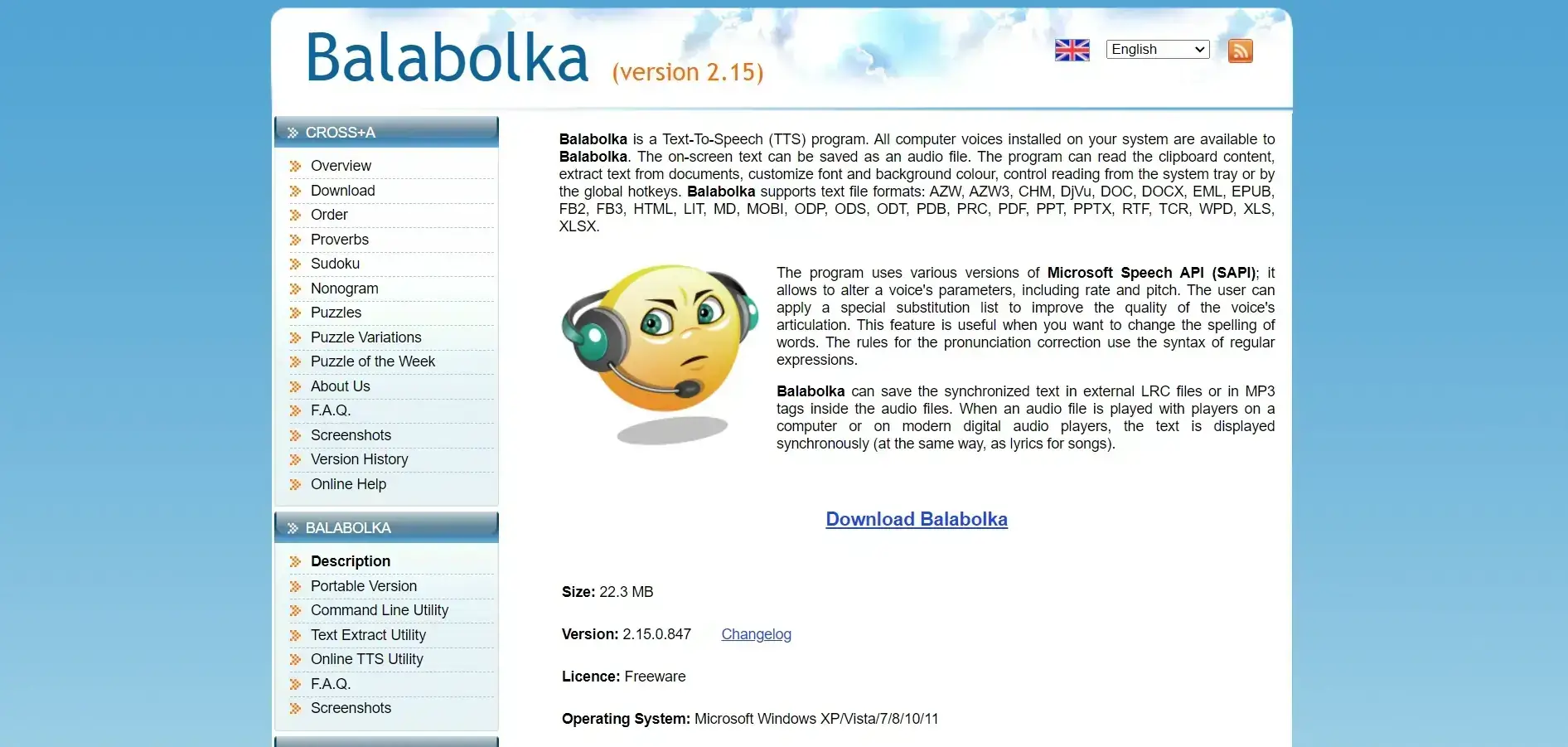 Reasily
Reasily is a powerful EPUB reader that offers many features that make it easy to find everything you want on a single platform.
Reasily has automatic cloud backup and sync for bookmarks and notes capabilities.
It supports other programs like GoldenDict, ColorDict, BlueDict, For a Dictionary, Microsoft Translator, and others.
You may purchase the pro edition to have automatic cloud, customizable CSS, and more.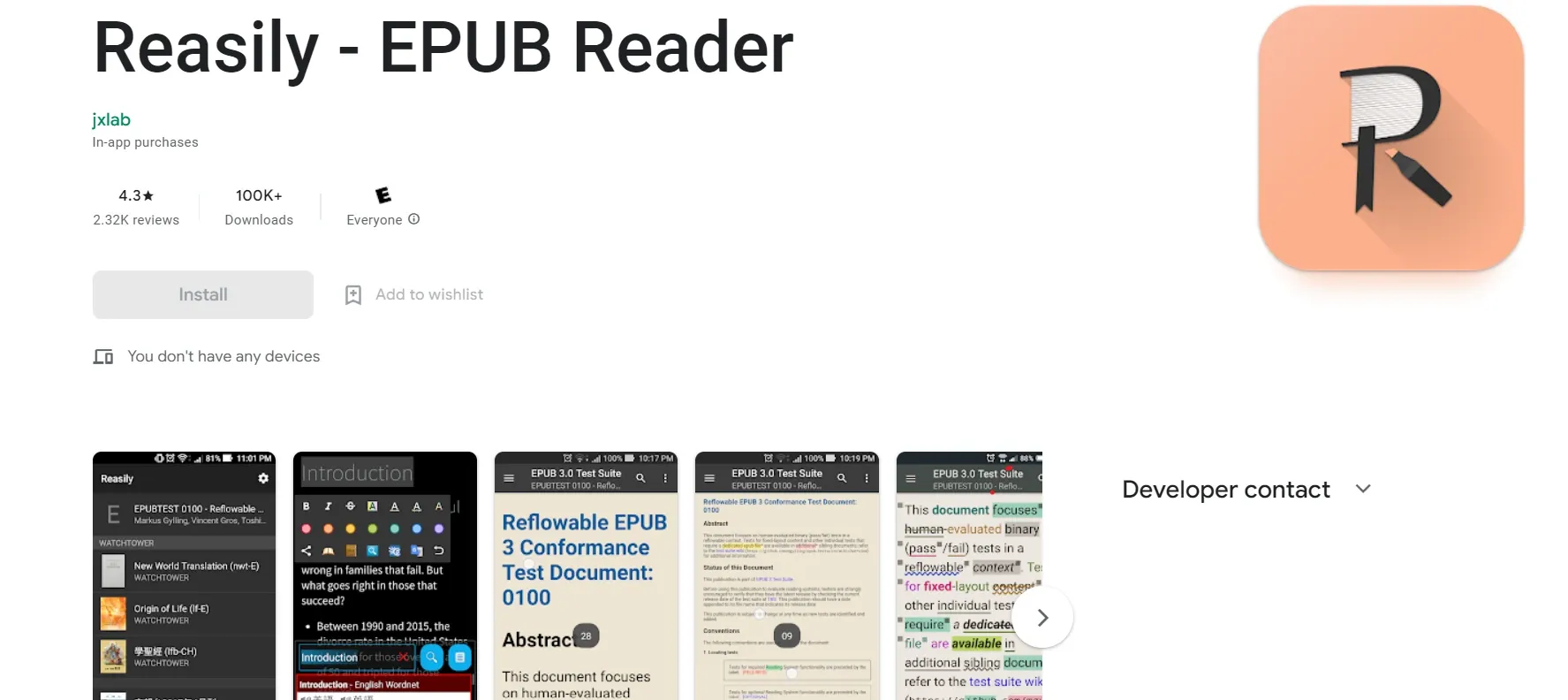 Is Uberduck.ai safe for your business?
Uberduck AI is probably something you've heard of, but you might not know what it is or whether it's secure for your company.

By analyzing data and making intelligent recommendations, this artificial intelligence platform assists organizations and people in making more intelligent decisions.

How can you utilize Uberduck AI's powers, and what is it?
It is a platform for artificial intelligence that runs in the cloud and makes suggestions after analyzing data.

The platform gathers information from various sources, including news, financial, and social media data.

Uberduck AI makes suggestions on a range of subjects, such as investment prospects, marketing plans, and product development, based on this data.
Is Uberduck AI Free?
You can sign up for free if you don't already have an account.
However, remember that signing up will allow the Uberduck.ai creator access to the information on the public discord.
If you're cool with that, register and click "authorize"; the rest is quite simple.
What to do if Uberduck is not working?
To join up more quickly:
Use uberduck.ai instead of discord or your Gmail ID.




Check whether your speakers are working correctly, and for more assurance, try using earbuds or headphones.




Check to see the website once more when it has been updated.
Conclusion
In conclusion, Uberduck AI is a great tool to get insights from their data. The platform is straightforward to use with accurate recommendations.
It is cost-effective as well.
Uberduck.ai tool provides the best AI and neural speech synthesis for producing the voice of fictional characters, cartoons, and celebrities.
The ultimate decision to use Uberduck.ai lies in you and your business needs.
Uberduck.ai is a good choice if you need a tool that provides voice templates and accurately makes decisions.
If not, you can try the alternatives mentioned above!
And just like Uberduck AI sets the mood for your study sesh or chill time, BotPenguin can Help you handle customers like a pro!
Create your own bot, Try BotPenguin!
It's a super powerful chatbot creation platform that works seamlessly across WhatsApp, Facebook, Websites, and even Telegram. So why wait? Sign up today and Discover the magic of BotPenguin for yourself! And the best part? There's a free Forever plan!
Frequently Asked Questions
What is Uberduck AI?
Uberduck AI is an advanced artificial intelligence system that leverages machine learning and deep neural networks to optimize various tasks.
Can Uberduck AI be integrated with existing software systems?
Yes, Uberduck AI can be integrated with existing software systems through APIs (Application Programming Interfaces). APIs allow developers to connect their applications with Uberduck AI, enabling seamless data exchange and leveraging its capabilities within their software.
Does Uberduck AI require specialized hardware to operate?
Uberduck AI does not necessarily require specialized hardware. It can run on standard hardware configurations, although performance may be optimized by utilizing GPUs (Graphics Processing Units) or TPUs (Tensor Processing Units) for computationally intensive tasks.
How can businesses benefit from implementing Uberduck AI?
Businesses can benefit from implementing Uberduck AI in several ways. It can automate repetitive tasks, improve decision-making processes, enhance customer experience through personalized recommendations, and identify patterns or anomalies in large datasets, leading to increased operational efficiency, cost savings, and competitive advantages.
Is Uberduck AI capable of learning and improving over time?
Yes, Uberduck AI is designed to learn and improve over time. Through a process known as "training," the AI system can analyze data, identify patterns, and adjust its algorithms to enhance its performance. Continuous learning enables Uberduck AI to adapt to changing conditions and improve its accuracy and effectiveness.