What is the POEM framework?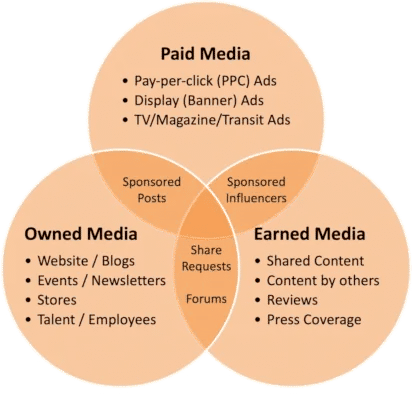 The POEM framework is a marketing model that stands for Paid, Owned, and Earned Media. It helps businesses to strategize and balance their marketing efforts across these three media channels to maximize reach and impact.
Paid Media involves advertising through channels where you pay for exposure, like online ads, sponsored content, or billboards. This approach can quickly expand your audience and generate immediate leads. For example, investing in Google Ads can push your website to appear higher in search results.
Owned Media refers to the platforms you create and control, like your website, blog, or social media profiles. Focusing on owned media helps you build your brand and engage directly with existing and potential customers. An example is publishing an insightful blog post on your website to increase organic traffic.
Earned Media is the unpaid recognition and promotion your brand receives from customers, influencers, and media outlets. It's often seen as the most authentic form of marketing. Positive customer reviews, social media shares, or word-of-mouth recommendations are examples of earned media.
In a balanced marketing approach, the POEM framework guides you to allocate resources efficiently, enabling your brand to reach the right audience, build credibility, and drive sustainable growth.
Paid Media
Paid media refers to external marketing efforts that involve paid placement of content, which can include advertisements, promoted posts, or sponsored partnerships. Essentially, brands pay for visibility to reach a broader audience.
Advantages of Paid Media
Paid media offers various advantages: swift exposure, extensive reach, and the ability to target specific audience segments. Marketers can effectively control their messages' visibility and impact by adjusting ad targeting and budgets.
Common Paid Media Channels
Popular paid media channels include online advertising (Google Ads, display ads, social media ads), sponsored content (partnering with influencers or brands), and offline channels (print, radio, and television advertising).
Measuring Paid Media Success
Success in paid media campaigns can be quantified by tracking specific metrics like impressions, click-through rates, conversion rates, and overall return on investment (ROI). Monitoring these metrics helps in driving campaign optimization.
Integrating Paid Media with Owned and Earned Media
In a comprehensive marketing strategy, paid media works best when integrated with owned (brand-owned) and earned (customer-created) media. Combining all three creates a holistic approach that boosts reach, engagement, and overall marketing performance.
To sum up, paid media offers a versatile marketing solution by allowing brands to reach desired audiences rapidly and effectively. When integrated with owned and earned media, it can deliver a well-rounded and potent marketing mix.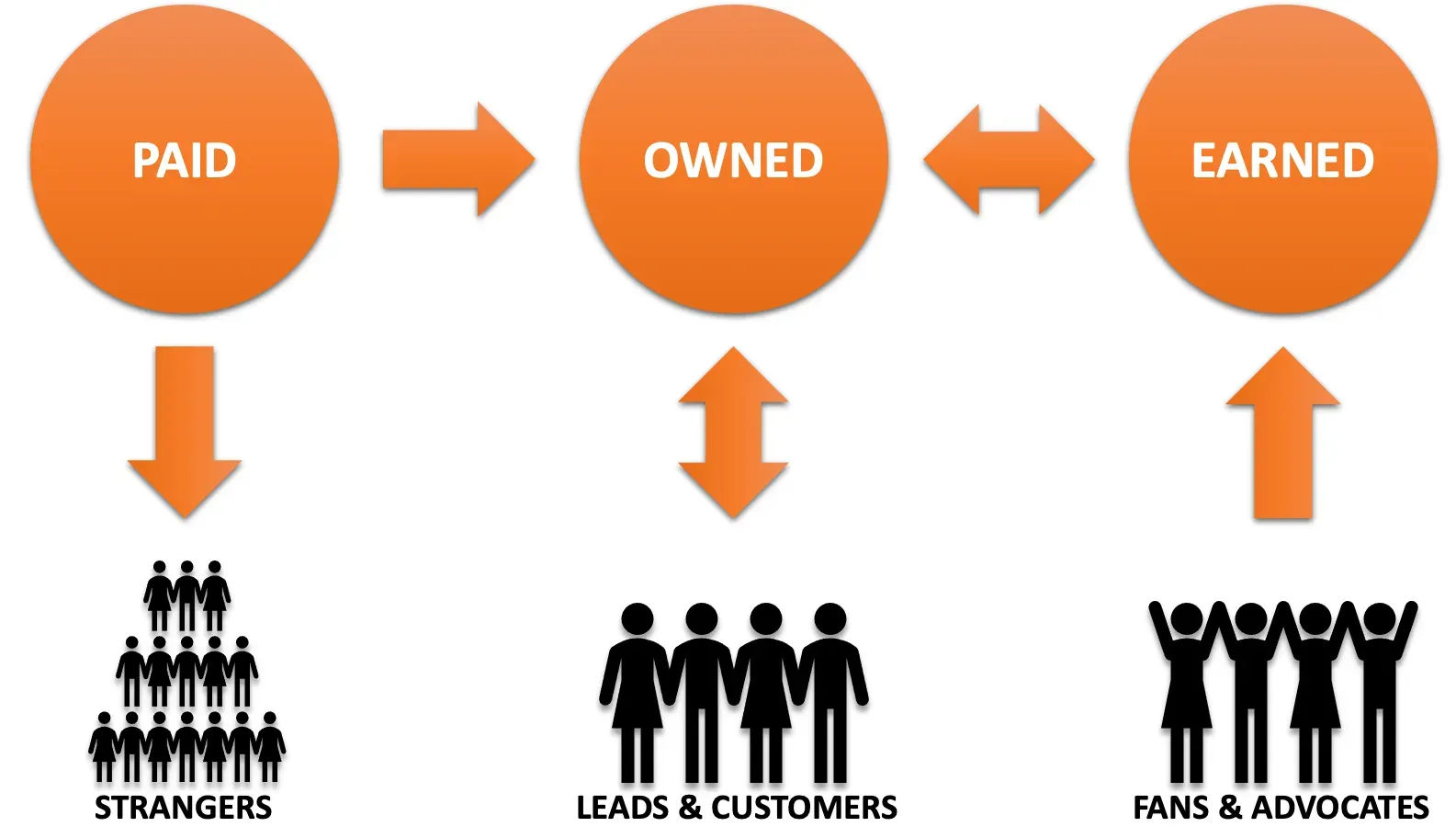 Owned Media
Owned media refers to channels that a company has complete control over, including websites, blogs, social media profiles, newsletters, and other content created by the brand itself. It's about crafting a unique story, in your words, on your terms.
Benefits of Owned Media
Owned media builds up long-term value for businesses, with SEO benefits and the ability to gather user data. It allows for direct interaction with your audience and gives you full control over the narrative of your messaging.
Common Channels for Owned Media
Some typical owned media avenues include company websites, blogs, whitepapers, newsletters, branded social media profiles, brochures, podcasts, and mobile apps. These channels often provide a base for a business's overall marketing strategy.
Measuring Success in Owned Media
Just like other media types, measuring the effectiveness of owned media involves tracking specific performance metrics, These may include website visits, interactions, engagement rates, user-generated content, and more, all monitored over time for comprehensive insights.
Integrating Owned Media with Paid and Earned Media
In a holistic marketing strategy, owned media integrates seamlessly with paid media (advertisements and promotions) and earned media (review, shares, and mentions). This trio offers a balanced, cohesive, and effective marketing mix.
To sum up, owned media is a prime platform for businesses to control and manage their narratives, directly engage with their audience, and generate continuous value. Coupled with paid and earned media, it forms an essential part of an effective marketing strategy.
Earned Media
Earned media refers to any publicity generated through promotional efforts other than paid advertising. This can include media coverage, social media mentions, customer reviews, or any mention generated by someone other than the company itself. It is essentially the process of engaging your audience to the point where they willingly amplify your message.
Significance of Earned Media
The real-world engagement of earned media can bring a wealth of benefits. These may include improved credibility, as recommendations from real customers are often perceived as more trustworthy than self-promotion, increased brand awareness, and potential organic growth from word-of-mouth marketing.
Strategies to Gain Earned Media
There are several strategies for gaining earned media, like creating compelling, share-worthy content; engaging with your audience on social media; or partnering with influencers who reflect your brand values. Constantly maintaining the quality of products or services can also encourage positive reviews.
Measuring Earned Media
Measuring earned media efforts typically involves tracking metrics like social media engagement, backlinks, mentions across different platforms, and similar non-controlled publicity. Tools for online reputation management, social listening, and PR analytics can be employed to gather and analyze this data.
Challenges and Opportunities
While earned media has the potential for significant marketing impact, it also presents challenges. It's not directly controlled by the company, so negative publicity can arise. However, by carefully building a solid strategy and continuously striving towards quality, companies can turn earned media into a vital asset in their marketing toolkit.
The Benefits of the POEM Framework
The POEM (Paid, Owned, Earned Media) framework improves the overall effectiveness of a communication strategy. By considering all three aspects, planners can synergize efforts across channels, amplifying messages and enhancing reach.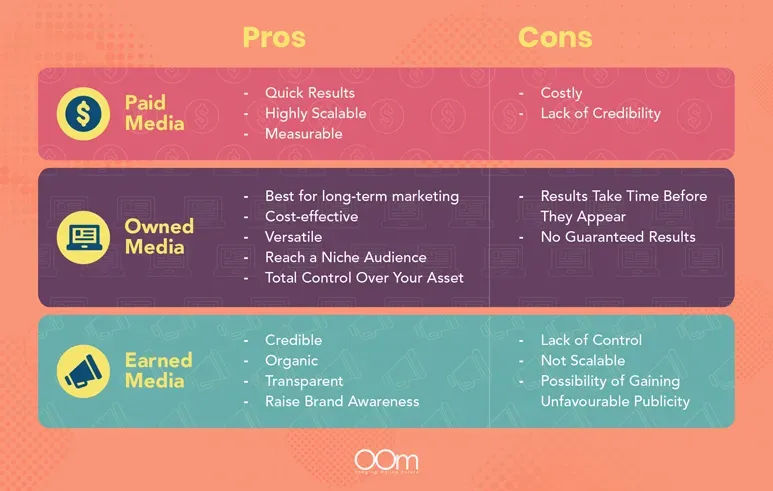 Optimizing Budget Allocation
The POEM model provides a clear perspective on where funds are invested — paid, owned, or earned media. This insight is crucial for decision-making and budget optimization, ensuring resources are spent efficiently and effectively.
Comprehensive Performance Analysis
This framework enables a structured approach to measure the performance of each media type. Identifying the performance gaps in paid, owned, and earned channels allows for strategic resolutions and improved outcomes.
Facilitating Cross-Channel Consistency
With the POEM framework, organizations can maintain consistency across different channels. Message and brand alignment, whether in paid, owned, or earned media, results in a cohesive and compelling brand image.
Enabling Holistic Audience Engagement
The merging of paid, owned, and earned media in a unified strategy ensures that all potential touchpoints with audiences are identified and utilized. This leads to a comprehensive audience engagement across multiple platforms.
In essence, the POEM framework not only amplifies communication strategies but also optimizes resource usage, facilitates holistic performance assessment, and improves brand consistency and audience engagement.
How Conversation AI can be Integrated into Converged Media
In this section, we'll explore how conversational AI can be incorporated into converged media experiences.
Intelligent Assistants
AI-powered voice assistants can engage viewers via smart speakers and screens for personalized recommendations and queries.
Contextual Chatbots
Chatbots can have contextual conversations about media content while guiding viewers to related information and actions.
Dynamic Content Curation
Leveraging NLP and machine learning to analyze viewer interests and curate hyper-personalized dynamic media playlists.
Voice-Enabled Smart Controls
Conversational interfaces to allow hands-free media browsing, search, and device control using voice commands.
Immersive Experiences
Blending voice interactions with AR/VR to enable natural conversations and voice-directed narratives for next-gen immersion.
Frequently Asked Questions (FAQs)
What is the POEM Model and how does it help in marketing?
The POEM Model categorizes media types into Paid, Owned, and Earned. It helps marketers evaluate and strategize their marketing efforts by understanding where and how to allocate resources for maximum impact.
What are examples of Paid Media channels?
Paid Media channels include social media advertising, display ads, and pay-per-click (PPC) marketing. These channels require payment to reach and engage with the target audience.
Can you provide examples of Owned Media channels?
Owned Media channels are websites, blogs, and social media pages that a company owns and controls. Examples include a company's website, a blog that provides valuable content, and Facebook or Instagram pages.
How does Earned Media differ from Owned and Paid Media?
Earned Media is publicity that a company earns organically, such as word-of-mouth marketing, viral content, and press releases. In contrast, Owned Media is content the company controls, while Paid Media requires payment for distribution.
How can Conversation AI be integrated into the POEM Model?
Conversation AI, like chatbots, can enhance all three media types. Chatbots on social media, websites, or retargeting can improve customer engagement, user experience, and overall marketing effectiveness within the POEM framework.