What is an Education Chatbot?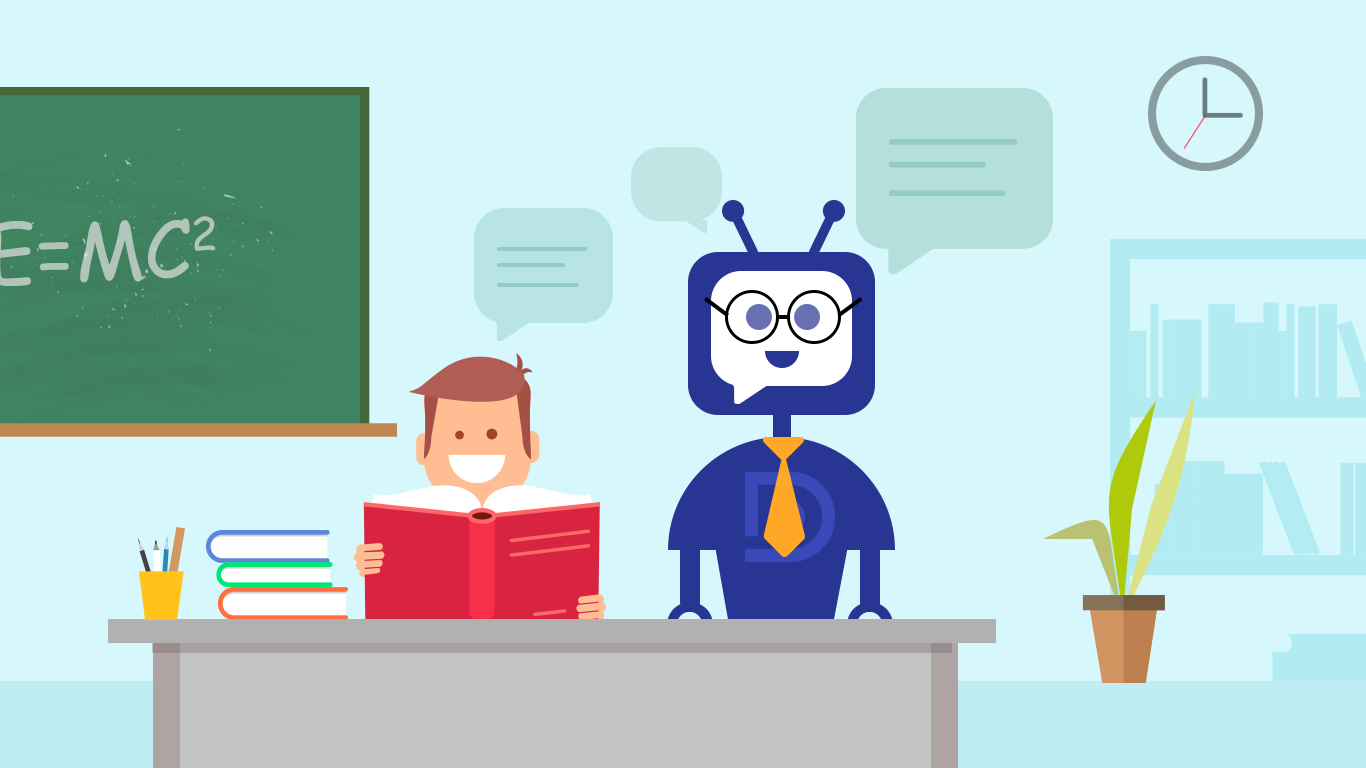 An education chatbot is an AI-powered conversational agent designed to assist with learning, teaching, and communication within the educational context. It interacts with users through natural language processing and can provide personalized learning experiences tailored to individual needs.
Education chatbots can be integrated into various platforms, such as websites, messaging apps, and learning management systems, to facilitate learning, answer questions, or guide users through educational content.
For example, imagine a chatbot named "StudyBot" that helps students with their math assignments. Students can interact with StudyBot through a messaging app, asking questions or seeking clarification on specific math problems.
StudyBot can recognize the context of the question, analyze the student's input, and provide a step-by-step explanation of the solution. In addition, StudyBot can adapt to the student's learning pace and style, offering personalized feedback and recommendations for further practice.
Types of Education Chatbots
Like a box of chocolates, education chatbots come in all shapes and sizes. Here are a few of the main types you might encounter on your educational journey:
Subject-specific chatbots: These lovable know-it-alls specialize in a particular subject, like math, science, or history, offering subject-specific guidance and resources.

Administrative chatbots: The unsung heroes of the education world, these chatbots handle the behind-the-scenes stuff, like enrolment, scheduling, and record-keeping.

Mentor chatbots: Personal cheerleaders for students, these chatbots offer motivation and support, helping learners stay on track and achieve their goals.

Assessment chatbots: The ultimate grading machines, these chatbots streamline the evaluation process by analyzing student performance and providing real-time feedback.
Why use an Education Chatbot?
1. Benefits for Students
Education chatbots are the virtual BFFs students never knew they needed. Here's how they make life better for learners:
Personalization: Education chatbots can tailor their approach to suit each student's unique learning style and pace, making for a more engaging and effective educational experience.

24/7 support: Got a burning question at 3 am? No problem! Education chatbots are always available to help, so students can get the assistance they need, whenever they need it.

Instant feedback: No more waiting for teachers to grade assignments – education chatbots can provide real-time feedback, allowing students to learn from their mistakes and improve faster.

Increased engagement: Let's face it, chatbots are way more fun than textbooks. By adding an interactive element to learning, education chatbots can boost student motivation and keep them coming back for more.
2. Advantages for Educators
But what about the teachers? Fear not, education chatbots are here to make life easier for educators too:
Time-saving: By automating routine tasks like grading and answering FAQs, chatbots free up precious time for teachers to focus on what they do best – teaching!

Data-driven insights: Armed with valuable data on student performance and engagement, educators can make informed decisions and tailor their teaching strategies to better meet their students' needs.

Increased communication: Chatbots can help bridge the gap between teachers and students, facilitating more open and frequent communication, and fostering stronger relationships.
3. Improving Institutional Efficiency
Last but not least, education chatbots can work wonders for the efficiency of educational institutions:
Streamlined processes: From enrolment to scheduling, chatbots can automate and optimize various administrative tasks, making for a smoother, more efficient experience for all.

Reduced costs: With chatbots shouldering some of the workload, institutions can save on staffing and resource costs, enabling them to allocate funds to other important areas.

Enhanced reputation: By offering cutting-edge technology and a superior user experience, education chatbots can help institutions stand out from the competition and attract more students.
Where are Education Chatbots Used?
1. Colleges and Universities
Higher education institutions have also eagerly welcomed education chatbots into their hallowed halls. Here, they play several important roles, including:
Guiding prospective students through the admissions process.

Providing course and program information to current students.

Assisting with academic advising and career planning.

Managing administrative tasks like financial aid, housing, and registration.
By offering a helping hand (or algorithm) to busy college students and staff, education chatbots are proving to be valuable members of the university community.
2. Online Learning Platforms
Education chatbots and online learning platforms are a match made in digital heaven. With their 24/7 availability and personalized approach, chatbots are right at home in the world of online education, where they:
Help learners navigate courses and find relevant resources.

Offer on-demand support and tutoring for various subjects.

Facilitate peer-to-peer learning and collaboration.

Provide instant feedback on assignments and quizzes.
As the popularity of online learning continues to grow, education chatbots are poised to play an increasingly important role in shaping the future of education.
3. Corporate Training Programs
But wait, there's more! Education chatbots aren't just for schools and universities – they're also making waves in the corporate world, where they're used to:
Deliver engaging and interactive training materials.

Assess employee performance and offer personalized feedback.

Automate onboarding and orientation processes for new hires.

Support employees in their ongoing professional development.
With their ability to streamline training and improve knowledge retention, education chatbots are quickly becoming a go-to tool for companies looking to enhance their workforce's skills and expertise.
When to Implement an Education Chatbot?
1. Assessing Needs and Goals
The first step is to assess your needs and goals. Start by asking yourself questions like:
What specific challenges or pain points do we want the chatbot to address?

How can a chatbot enhance our existing educational offerings?

What are our short-term and long-term goals for implementing a chatbot?
By clearly defining your objectives, you'll be better equipped to choose the right chatbot solution and measure its success down the line.
2. Planning and Budgeting
With your needs and goals in mind, it's time to start planning your chatbot adventure. This stage involves:
Researching different chatbot platforms and providers to find the best fit.

Determining the scope and scale of your chatbot implementation (e.g., will it be used across your entire institution or just within a specific department?).

Creating a budget that accounts for development, maintenance, and any necessary staff training.
Remember, Rome wasn't built in a day, and neither is a successful chatbot implementation! Take the time to carefully plan and budget for this exciting new addition to your educational toolkit.
3. Measuring Success Metrics
Last but not least, it's essential to establish success metrics that will help you evaluate the effectiveness of your education chatbot. These might include:
User satisfaction ratings and feedback.

Improvements in student performance and engagement.

Reductions in staff workload and administrative tasks.

Return on investment (ROI) in terms of cost savings or increased revenue.
How do Education Chatbots work?
1. Natural Language Processing (NLP)
Step right up and behold the magic of Natural Language Processing (NLP)! This fantastic technology is the secret sauce that enables education chatbots to understand and respond to human language. Through NLP, chatbots can analyze text or speech, grasp its meaning, and generate appropriate responses – just like a real-life conversation partner (minus the awkward small talk).
NLP is the reason why education chatbots can tackle complex questions, engage in witty banter, and generally make the learning experience feel more human and personal. It's like having a friendly, knowledgeable tutor who's always just a text or voice command away!
2. Machine Learning and AI
Education chatbots aren't just smart – they're constantly learning and getting even smarter, thanks to the power of machine learning and artificial intelligence (AI). By analyzing vast amounts of data, chatbots can identify patterns, draw inferences, and make predictions, allowing them to improve their performance and adapt to the needs of individual users.
In the context of education, this means chatbots can offer personalized learning experiences, tailor their responses to suit different learning styles, and even predict and address common student misconceptions. It's like having a teacher who knows you inside out and is always one step ahead of your needs.
3. Integration with Educational Systems
Last but not least, let's talk about how education chatbots fit into the bigger picture – that is, how they integrate with existing educational systems. Seamless integration is key to ensuring that chatbots can access relevant information, interact with other systems, and provide a smooth, unified user experience.
To achieve this, chatbots must be carefully designed and configured to work with learning management systems (LMS), student information systems (SIS), and other relevant platforms. This might involve using APIs (Application Programming Interfaces) or custom-built connectors to ensure that data can flow freely between systems, enabling the chatbot to access and process the information it needs to perform its many helpful tasks.
Key Features of Education Chatbots
1. Personalized Learning Support
Education chatbots are like the fairy godparents of learning, granting the wish of personalized learning support for students everywhere. By using data-driven insights and machine learning, these magical AI beings can:
Tailor content and resources to match each student's unique learning style and pace.

Provide targeted guidance and feedback to help learners overcome challenges and master new concepts.

Adapt to students' evolving needs and goals, ensuring a truly customized learning experience.
With their knack for personalizing the learning process, education chatbots make education feel like it was designed just for you!
2. Assessment and Feedback
Who needs a crystal ball when you have an education chatbot? These nifty AI pals have a sixth sense for assessment and feedback, enabling them to:
Evaluate student performance on assignments, quizzes, and tests.

Provide real-time, actionable feedback and guidance to help learners improve.

Track progress over time, offering insights into areas of strength and weakness.
Thanks to their assessment prowess, education chatbots make it easier for students to learn from their mistakes and soar to new heights of knowledge.
3. Scheduling and Reminders
Education chatbots are like the personal assistants every student dreams of – minus the hefty price tag. With their scheduling and reminder capabilities, they can:
Help students manage their time by creating and organizing study schedules.

Send reminders for upcoming assignments, tests, and events.

Suggest personalized study tips and strategies based on individual needs and preferences.
By keeping students on track and organized, education chatbots ensure that no deadline or study session is ever missed again.
Use Cases of Education Chatbots
1. Homework Assistance
Education chatbots can provide instant support and guidance to students working on homework assignments, offering explanations and resources to enhance understanding.
2. Language Learning
Chatbots can help learners practice and improve their language skills, facilitating conversation exercises, vocabulary building, and grammar lessons in an interactive environment.
3. Personalized Learning Paths
Education chatbots can assess individual learner needs and create customized learning paths, tailoring content and activities to maximize learning outcomes.
4. Administrative Support
Chatbots can streamline administrative tasks like scheduling, reminders, and progress tracking, freeing up educators' time for more critical responsibilities.
5. Assessment and Feedback
Education chatbots can conduct assessments, provide instant feedback, and recommend areas of improvement, enabling continuous learning and progress monitoring.
6. Student Engagement
Chatbots can motivate and engage students through interactive quizzes, games, and challenges, making the learning experience more enjoyable and rewarding.
7. Tutoring and Mentoring
Education chatbots can serve as virtual tutors or mentors, providing one-on-one support and guidance to learners, addressing their questions, and nurturing their academic growth.
FAQs
1. What are education chatbots?
Education chatbots are computer programs that can simulate conversation with humans. They are used in education to provide students with personalized support, answer questions, and provide feedback.
2. What are the benefits of using education chatbots?
Education chatbots can provide students with 24/7 support, answer questions quickly and accurately, and provide personalized feedback. They can also help students to learn more effectively by providing them with customized learning plans and resources.
3. What are the challenges of using education chatbots?
One challenge of using education chatbots is that they can be expensive to develop and maintain. Additionally, chatbots may not be able to provide the same level of support as a human tutor.
4. How can education chatbots be used to improve student outcomes?
Education chatbots can be used to improve student outcomes by providing them with personalized support, answering questions quickly and accurately, and providing feedback. Chatbots can also help students to learn more effectively by providing them with customized learning plans and resources.
5. What are the future trends for education chatbots?
The future trends for education chatbots include the development of more sophisticated chatbots that can provide more personalized support, the use of chatbots to deliver blended learning experiences, and the use of chatbots to provide students with access to expert advice.