What is Anaphora?
Anaphora refers to the use of a grammatical substitute, typically a pronoun or pro-verb, to denote a preceding word or a string of words. It is the linguistic behavior of referencing previously mentioned ideas or concepts in a condensed manner.
Derived from Greek, the word 'anaphora' translates to 'carrying back.' It echoes the linguistic strategy of referencing that 'carries back' to antecedents - words, phrases or clauses that are referenced later.
In linguistics, anaphora plays a crucial role—not only in enhancing textual cohesion by creating links across a discourse but also in enriching nuances of emphasis, focus, and coherence in communication.
Role of Anaphora in NLP
In Natural Language Processing (NLP), understanding anaphora is indispensable for text representation, analysis, and subsequent knowledge extraction, playing a major role in decoding the underlying semantics of language data.
Significance of Anaphora in NLP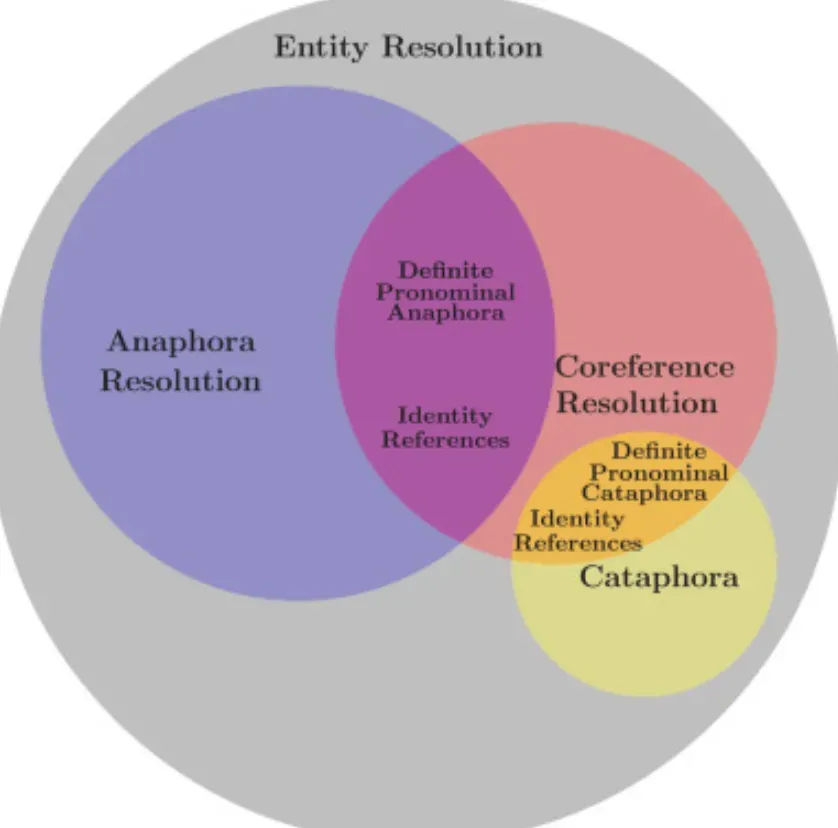 Let's now delve into why anaphora holds immense importance in the sphere of NLP.
Enhancing Text Comprehension
By resolving anaphoric references, NLP systems can understand the overall context in a better way, thereby improving text comprehension and information retrieval.
Contribution to Machine Translation
In machine translation, effective anaphora resolution can potentially improve the translation's quality by making it more coherent and context-aware.
Role in Sentiment Analysis
Anaphora resolution aids sentiment analysis by enabling the effective identification of entities discussed and their connecting sentiments.
Influence in Text Summarization
Anaphora helps in text summarization by ensuring the correct interpretation of pronouns, and preserving the co-referential chains that contribute to the overall meaning and coherence of the summary.
Challenges with Anaphora
Despite its benefits, dealing with anaphora presents some significant challenges, particularly in NLP.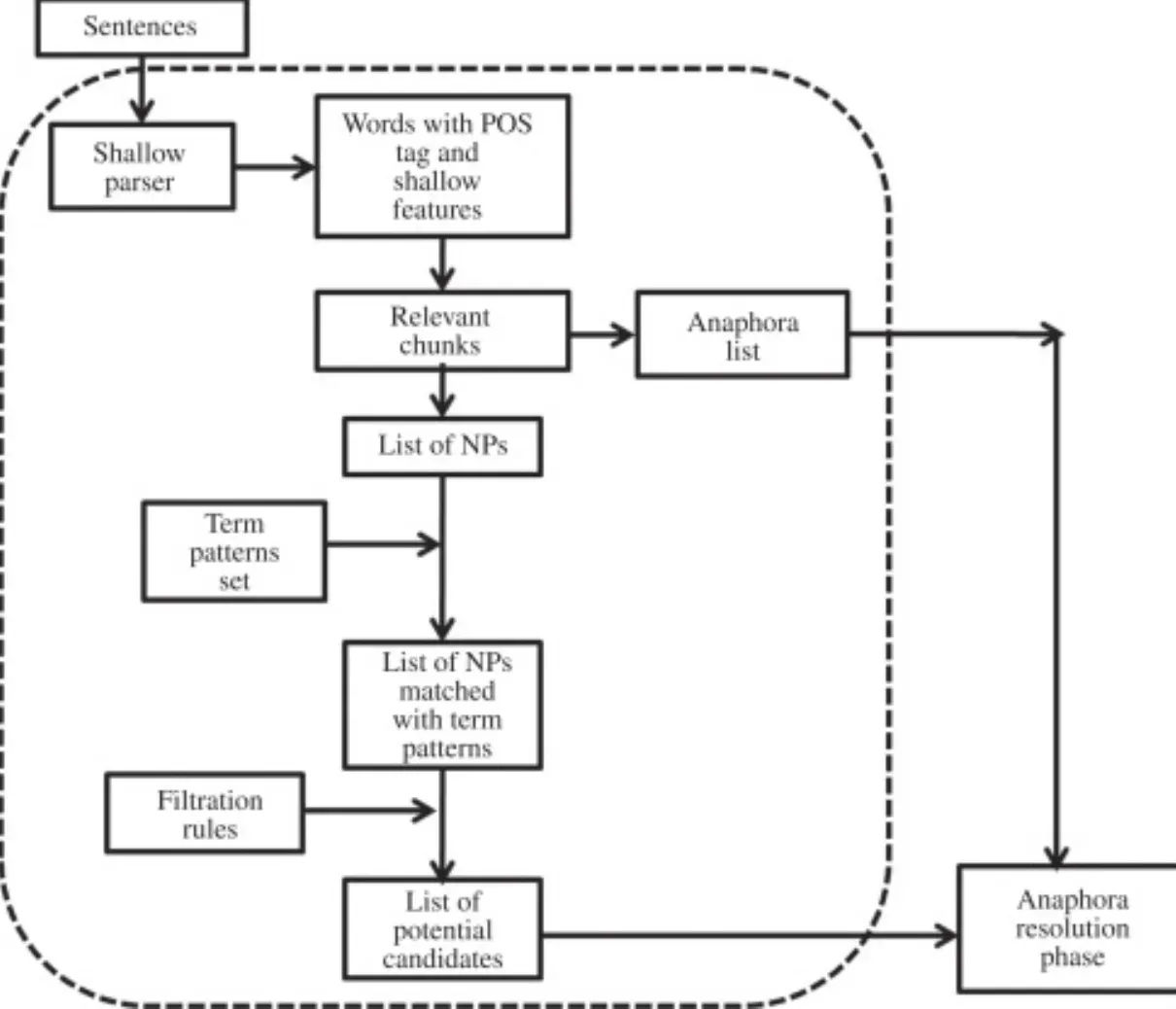 Difficulty in Resolving Ambiguity
Anaphoric references can often be ambiguous, making it challenging for NLP systems to link references to the correct entities without comprehensive contextual information.
Handling Complexity
The complexity and diversity of language use necessitate sophisticated models and techniques to accurately resolve anaphoric references.
Scalability Concerns
An effective anaphora resolution approach needs to be scalable to handle vast and diverse language data found in real-world applications.
Computational Burden
Achieving high precision in anaphora resolution can be a computationally intensive task, making it a significant challenge in real-time applications.
Types of Anaphora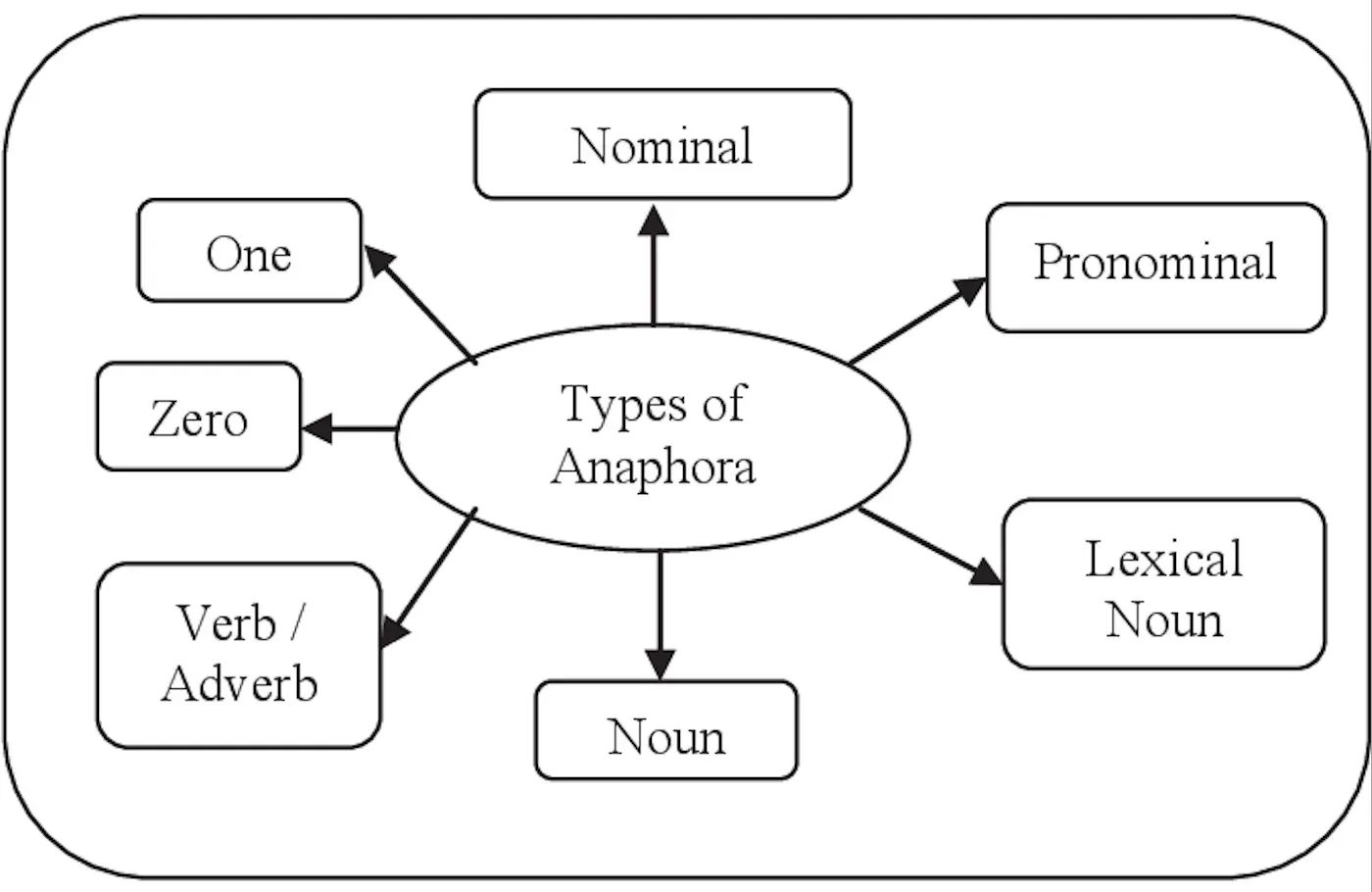 Understanding the assorted types and forms of anaphora allows a more nuanced understanding of this core linguistic phenomenon. Here are twelve disjointed realms of anaphora in language use:
Personal Pronouns
Personal pronouns, like 'he', 'she', 'it', or 'they', are a common type of anaphora that stand in for a previously mentioned noun.
Possessive Pronouns
Possessive pronouns such as 'his', 'her', 'its', 'their' also serve as anaphoric references by tying back to an antecedent.
Reflexive Pronouns
Reflexive pronouns like 'himself', 'herself', 'itself', and 'themselves' are used to refer back to the subject of the sentence.
Demonstrative Pronouns
Demonstrative pronouns like 'this', 'that', 'these', and 'those' can be used as anaphora to refer back to a specific antecedent within the context.
Relative Pronouns
Relative pronouns such as 'who', 'whom', 'which', and 'that' often function as anaphoric references within complex sentences.
Reciprocal Pronouns
Reciprocal pronouns like 'each other' and 'one another' also form part of the anaphoric landscape, indicating interactions within a group.
Proper Nouns
In certain contexts, proper nouns can also work as anaphora by referring back to previously introduced entities.
Zero Anaphora
Zero anaphora is about implicit instances where the reference is inferred from the context without a visible anaphoric term.
Indefinite Pronouns
Indefinite pronouns such as 'someone,' 'anyone,' or 'everyone' can also operate as anaphoric references based on their contextual usage.
Co-reference Anaphora
This type involves instances where the anaphora and antecedent refer to the same entity within the context of discourse.
Split Anaphora
Split anaphora refers to situations where an anaphoric expression and its antecedent reference different parts of an entity.
Comparative Anaphora
Coming into play in comparative constructions, this type of anaphora involves the reference to a comparative element in previous clausal units.
Anaphora Resolution in NLP

Anaphora resolution stands as a core problem in NLP, aiming at tracing references back to their antecedents.
What is Anaphora Resolution?
Anaphora resolution refers to the process of linking anaphoric references back to their antecedents in a text. This process assists in discerning whether different expressions refer to the same entity.
Importance of Anaphora Resolution
Proper recognition and resolution of anaphora are vital for building robust NLP systems that can correctly interpret and manipulate natural language.
Techniques in Anaphora Resolution
Various linguistic and machine learning techniques are employed in anaphora resolution, ranging from rule-based approaches and decision trees to neural networks.
Anaphora Resolution Challenges
The resolution process can be complex due to the inherent ambiguity and diversity in language use, the subtleties of cross-referencing, and the computation-heavy nature of the problem.
Frequently Asked Questions (FAQs)
What is Anaphora?
Anaphora is the linguistic practice of using a pronoun or a similar placeholder to reference a preceding word or group of words.
What is the role of anaphora in NLP?
Anaphora plays a significant role in NLP by aiding in text comprehension, machine translation, sentiment analysis, and text summarization.
What are the challenges of handling anaphora in NLP?
Challenges include resolving ambiguity, handling the complexity and diversity of language, ensuring scalability, and dealing with computational overheads.
What is anaphora resolution?
Anaphora resolution is the process of identifying the antecedents to which anaphoric references in a text point.
What are some types of anaphora?
Types of anaphora include central pronouns, reciprocal pronouns, demonstrative pronouns, and proper names and noun phrases.