In the last 12 months, 67% of worldwide customers interacted with a chatbot. Pure chat is undoubtedly one of the best chat programs on the market.
It's free, simple to use, and has a quick setup—perfect for online assist teams looking for a serene way to improve clients' experience without breaking the bank.
But some alternatives can be the same as Pure chat but somewhat better.
By 2023, chatbot eCommerce transactions will reach $112 billion. It is challenging to locate the best chatbot builder from the market and use it for the business.
Though it is not that tough, this blog can brief you on a fantastic chatbot that possesses all the features you ought to have for your business.
What is BotPenguin?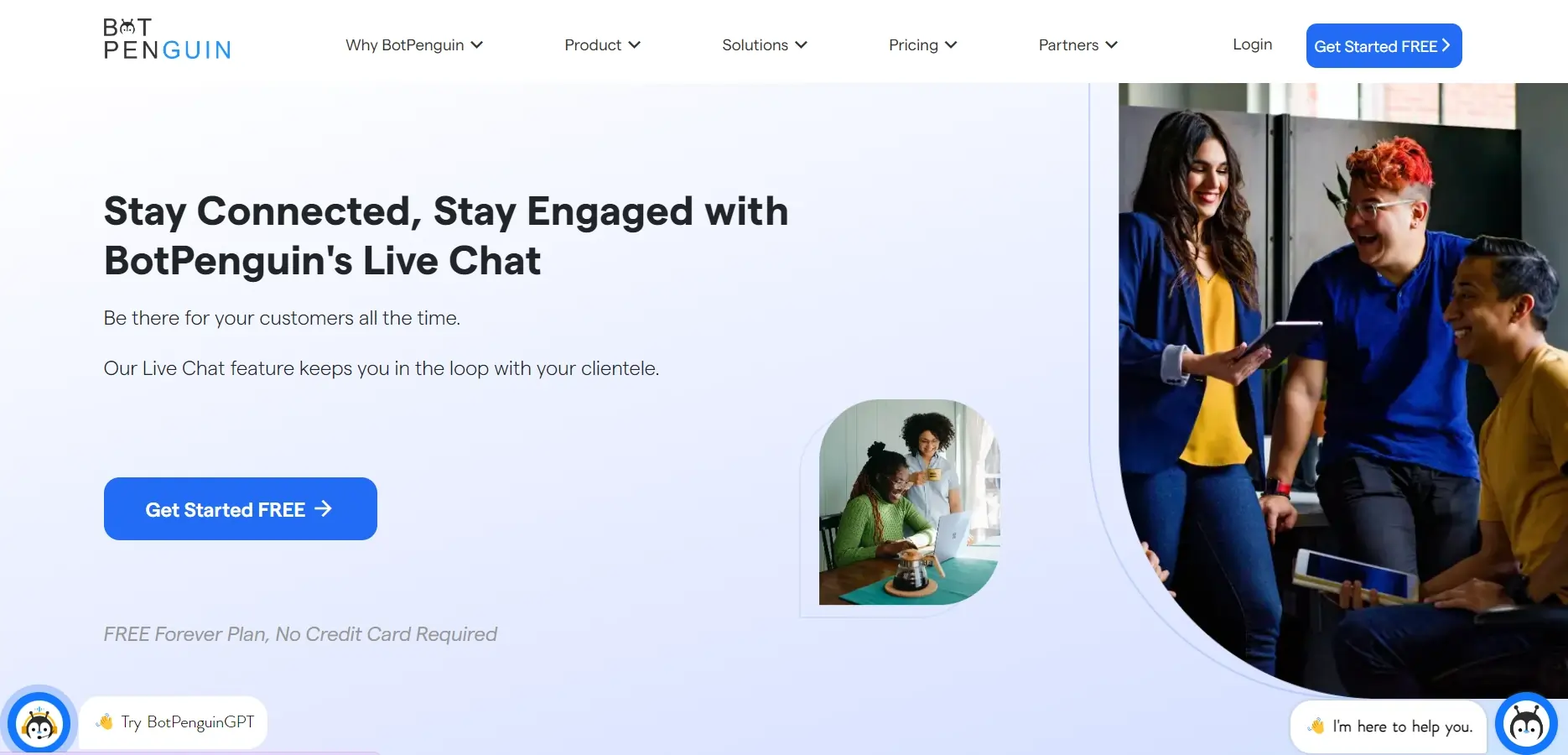 BotPenguin is a chatbot platform that enables you to quickly and easily build incredible chatbots to communicate and engage your customers on the website, Facebook messenger, and other platforms.
BotPenguin offers lead generation chatbots, customer service, assistant chatbots, order booking, etc.
It is software that imitates human conversation and builds up a connection. This chatbot gives us service 24*7 with no human involvement and errors.
What is Pure Chat?
Pure chat is a Live Chat plugin for WordPress. It offers unlimited chats—all chat widget customizations, transcript history, triggers, email forms (when unavailable), etc.
Pure chat is unquestionably one of the best live chats, and it provides world-class customer service.
The company was founded in 2010 by Danish entrepreneur Bilal Jaffery, who wanted to create a simple chat platform that would help brands improve their leads.
This live chat has almost 10,000 customers, including Microsoft and GrubHub. These companies drive over $10 million in revenue with the help of this software.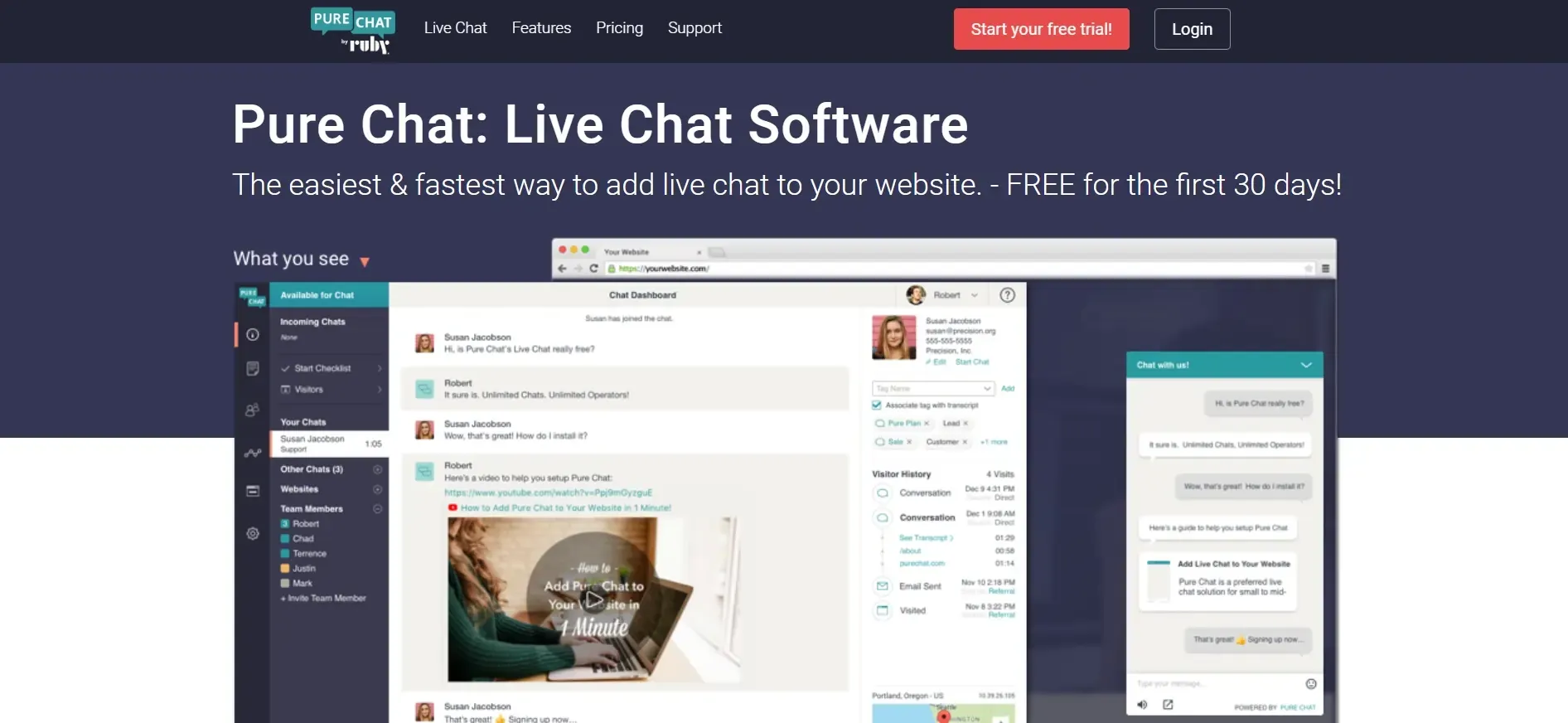 Features
Key Features Of BotPenguin
Drag-and-Drop Chatbot Builder can work over every channel with ease.
Chat Window helps in conferencing between two or more people
Agent Chat Interface populates an active chat window before the visitor.
Analyze the insights and meaning of data so that we don't miss out on vital information.
Natural Language Processing (NLP) can understand the text and speak the way human beings can.
Logic Branching, so that it can only answer those questions that apply to it.
Supports Multiple Messaging Channels.
Chatbots are optimized for whichever device they use.
The audience segmentation function can make it easier and add a custom field, or tag to target specific people
Omnichannel is a marketing automation platform that allows you to compose chat data once and use it over various platforms.
Chatbot tools such as Website chatbots, Facebook Messenger Website Chat Widget, and chat forms.
To download their IOS and Android apps, they built-in live chat integration.
Allows flexibility to customers if they want to subscribe or unsubscribe from sequences.
It provides email validation along with a persistent menu and location sharing.
Allows accessibility of Facebook Messenger chatbot templates.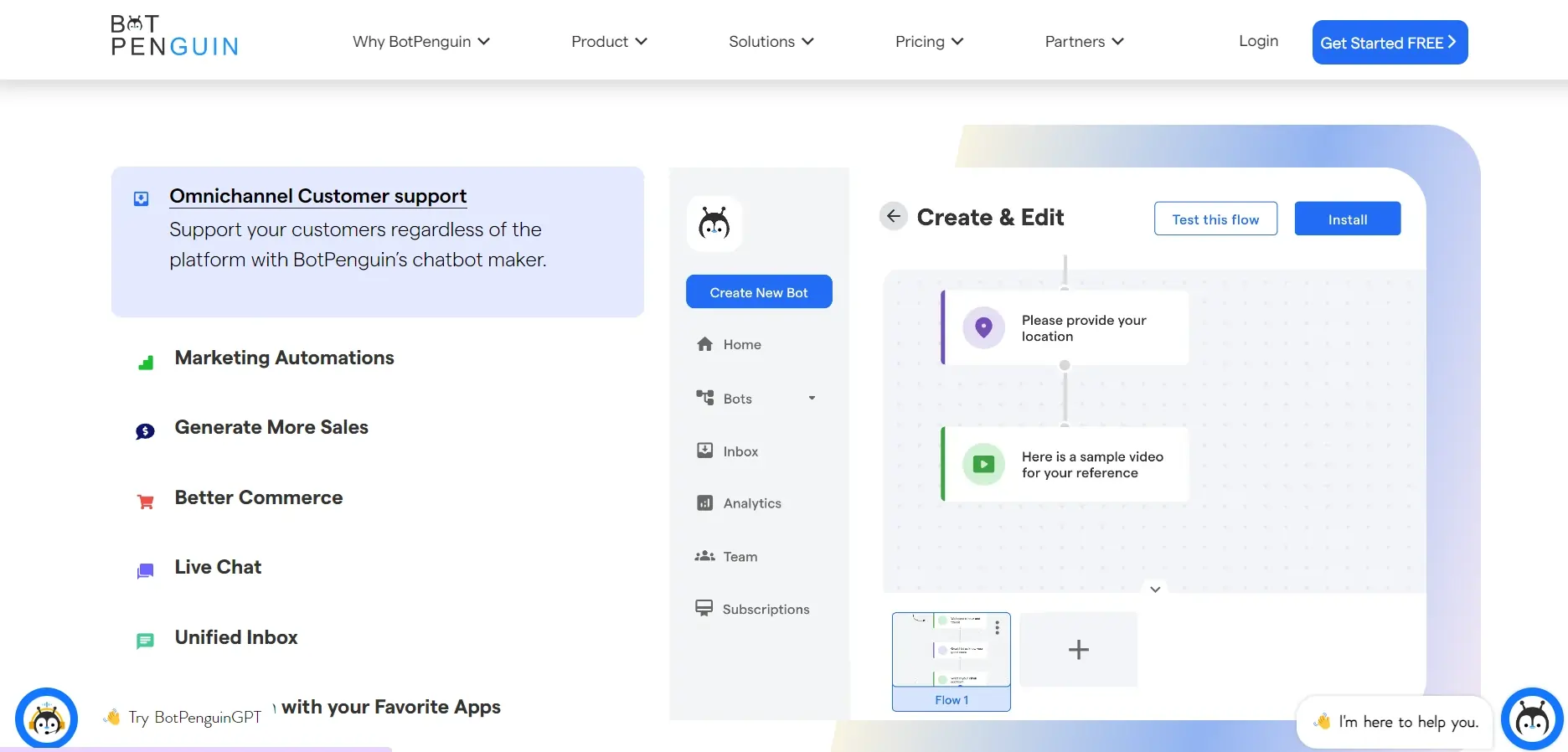 Key Features Of Pure Chat
Proactive chats and triggers.
Transcriptions.
Multi-chat management.
Visitor information and location details.
Chatbox assignment.
SSL security.
Canned response to give accurate replies to the most frequently asked questions.
Hosted chat boxes.
Integrations which is the key to generating successful outcomes.
Unlimited chats.
Powerful Dashboard Operator.
Mobile apps including iOS and Android.
Show your location.
Chat notifications.
Engagement Hub as it directly leads and addresses questions.
Customize the chat widget through a convenient editor.
Incredibly intuitive to use.
Organize and optimize every interaction.
Analytics or reporting.
Tag transcripts for simpler retrieval.
Routing.
Mobile access.
API
CRM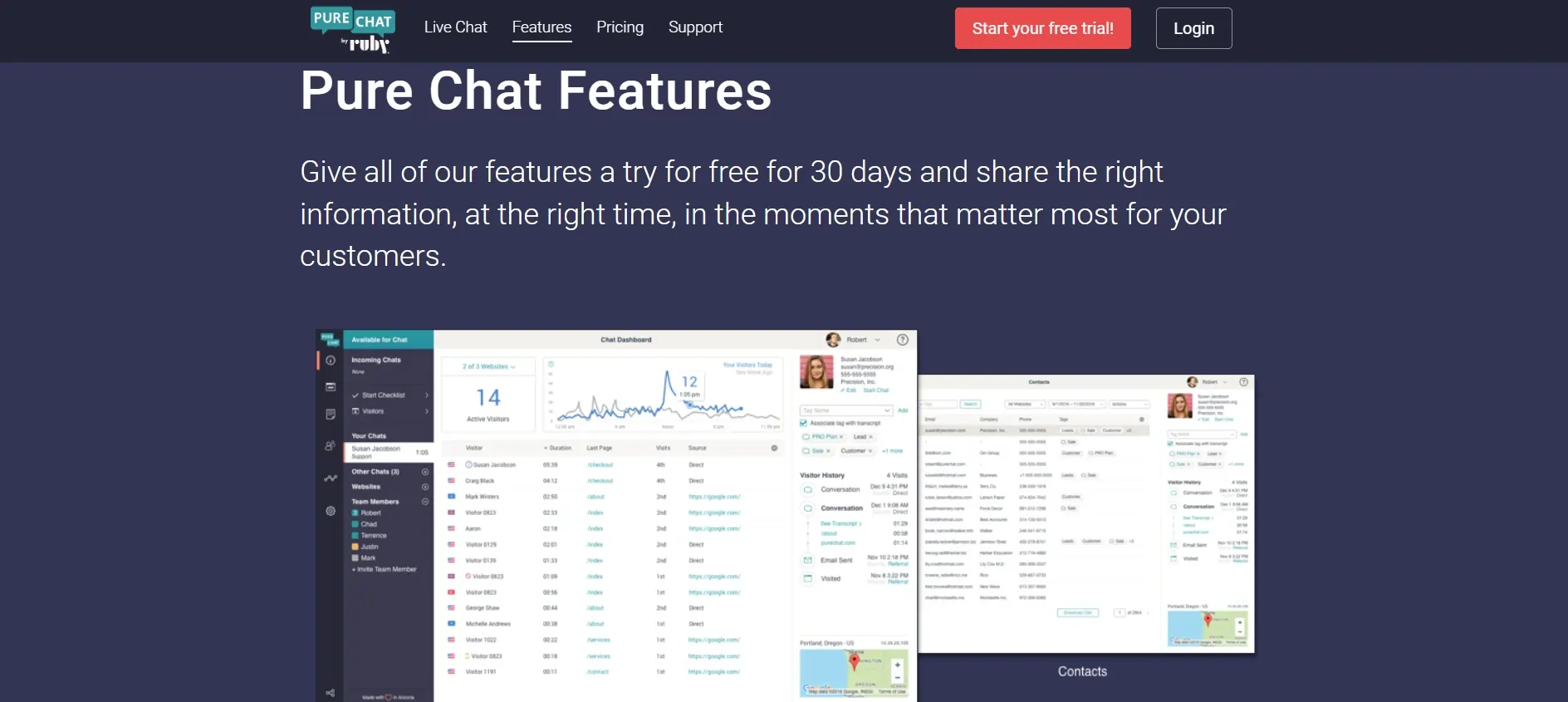 Pricing
Pricing Of BotPenguin
BotPenguin's pricing is on the number of send credits a client needs. The price starts at $5 monthly. Other offers, such as enterprise pricing packages, are available with more significant needs.
Those who only require basic features and a single bot can use the platform free. See more details below:
Baby – Free
1 Bot
2,000 Messages Per Month
1 Team Member
1 Facebook Page
Live Chat
Conditional Flow
30 Days of Data Storage
King – $5/month ($4.17/month if billed annually)
Unlimited Bots
3,000 – 500,000 messages/month
Unlimited Team Members
10 Facebook Pages
Live Chat
Conditional Flow
Book Appointments
CSV Export
Google Calendar, Bitrix, and Zoho CRM Integrations
90 Days of Data Storage
Reports & Analytics
Email and Call Support
Emperor – By quote
Unlimited Bots, Messages, Team Members, Facebook Pages, and Data Storage
Live Chat
Conditional Flow
Book Appointments
CSV Export
Customer Success Officer
Google Calendar, Bitrix, and Zoho CRM Integrations
Reports & Analytics
Remove BotPenguin Branding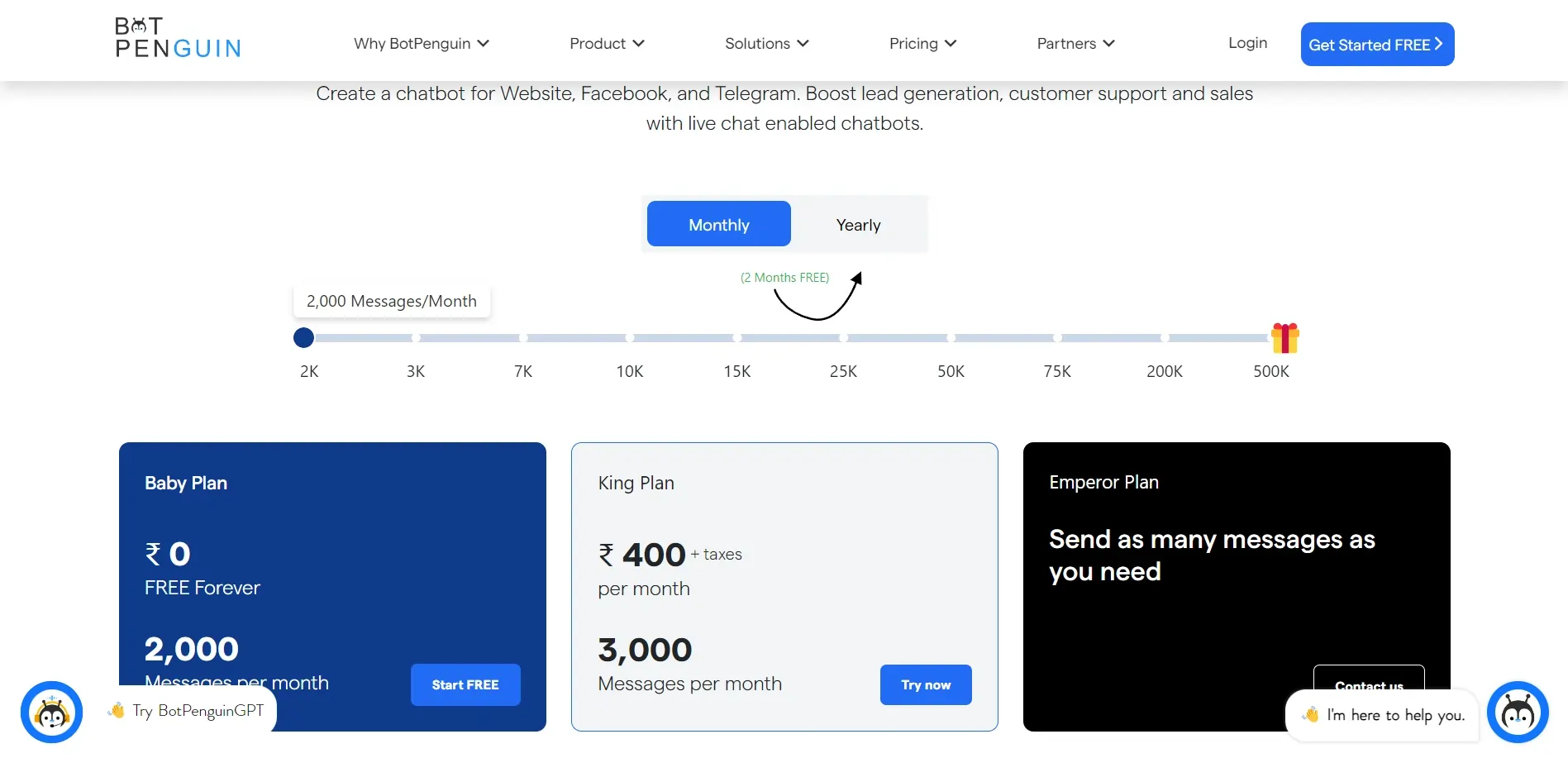 Pricing Of Pure Chat
Pure chat offers two pricing plans:
Free Plan
Unlimited Live Chat
Unlimited Users
Full Customization
Engagement Hub
Transcripts
All Integrations
Use on Up to 3 Websites
Pro Plan – $99 per month
Everything is Free, plus:
Real-Time Analytics
Visitor Tracking
Contacts
Unlimited Websites
SMS Notifications
Remove Branding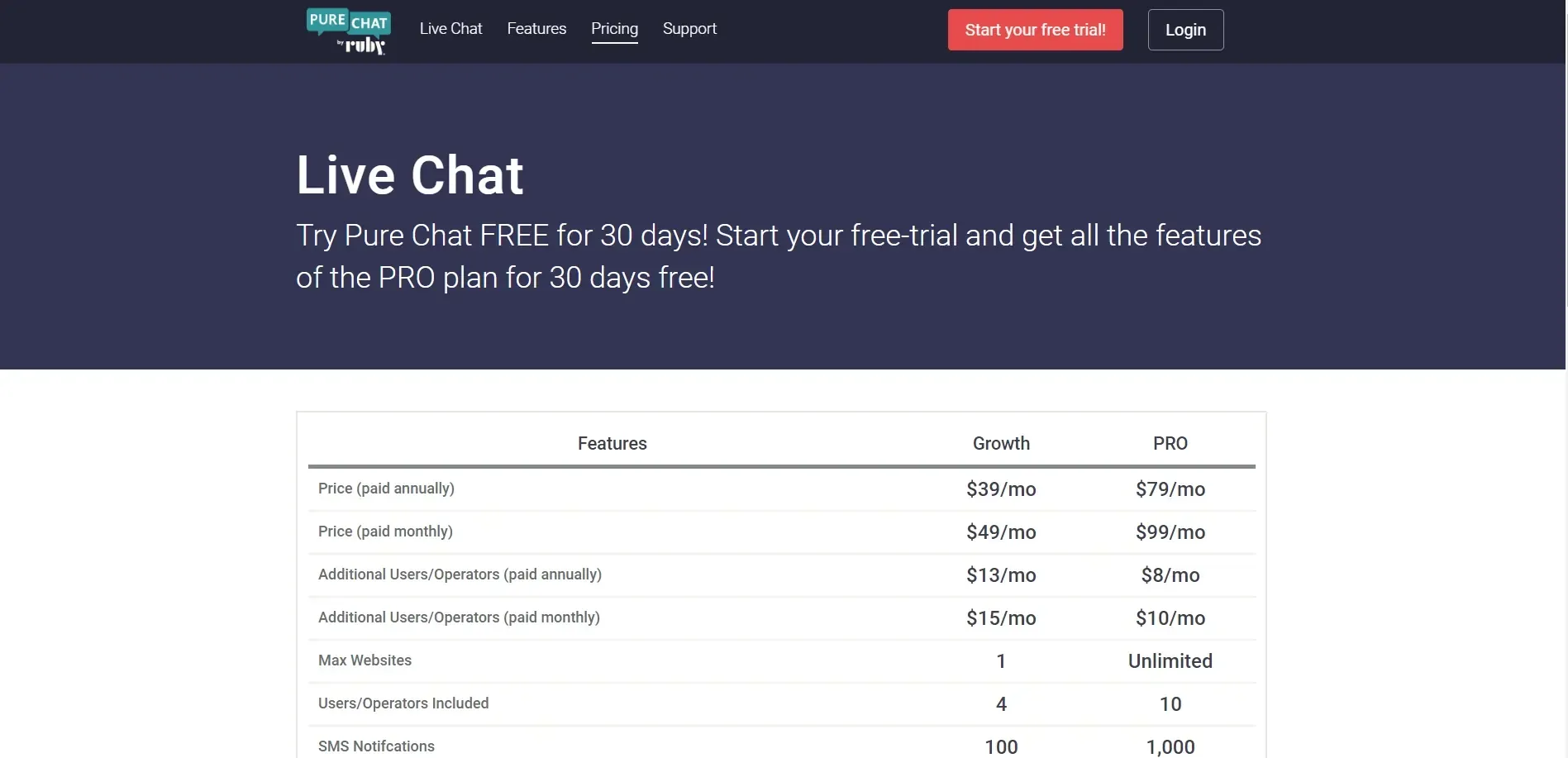 Integration Support
BotPenguin integrates with large business application networks such as Zoho, CRM,
Google, Calendar, Bitrix, Dropbox, Eventbrite, Freshsales, GoDaddy, Google, Analytics, Google Drive, Google Sheets, HubSpot, MailChimp, Outlook, PayPal, Salesforce, Shipway, Stripe, Todoist, Twilio, Wix, WordPress, Zapier, Zendesk, Zoom, etc.
On the other hand, Pure Chat integrates with Zapier, HubSpot, Infusionsoft, MailChimp, etc.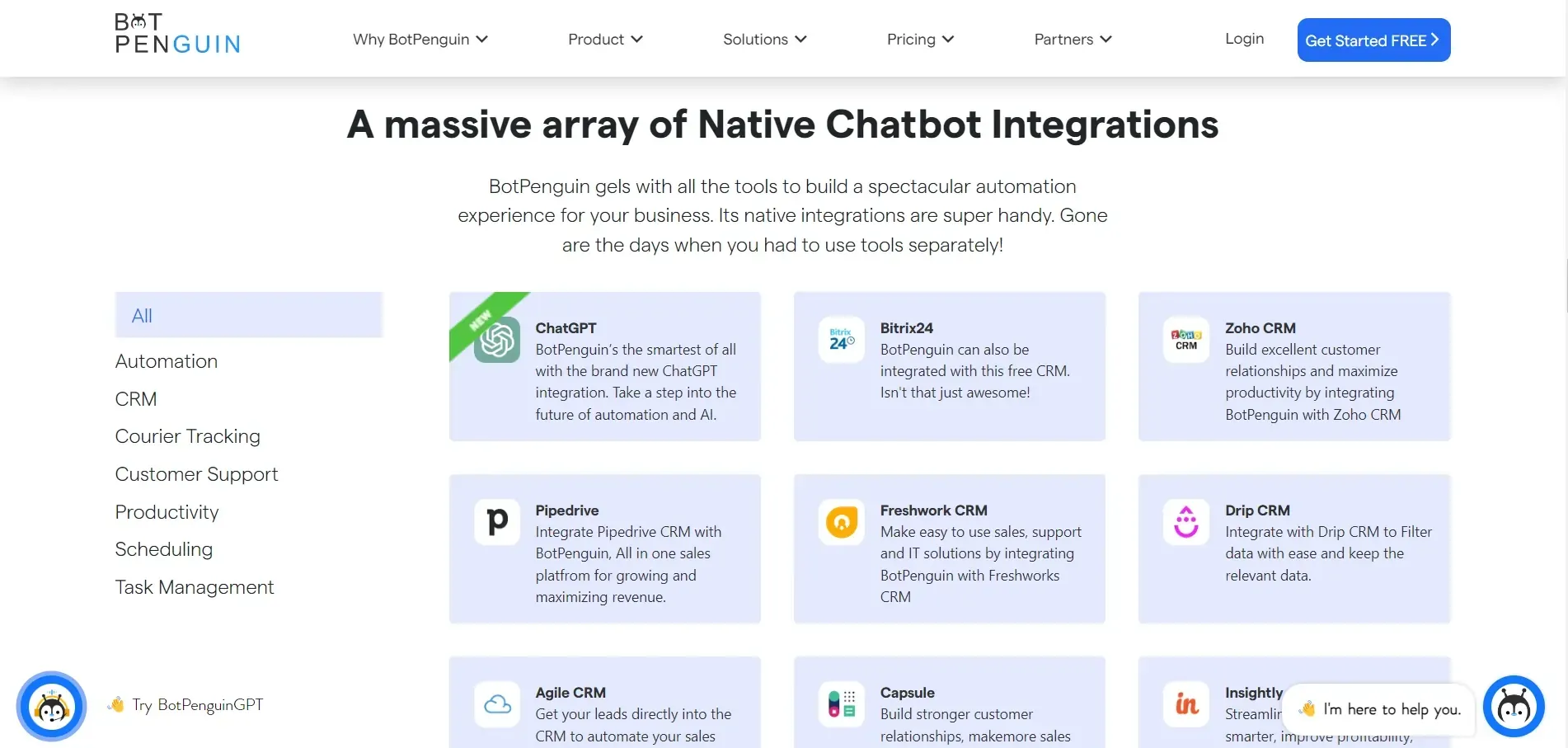 Why BotPenguin is the Best Pure Chat Alternative?
Thousands of on-demand applications, but one needs to find the best out of them, and BotPenguin, without a doubt, proves to be such. Here are some following points:
It has some extraordinary features such as drag-and-drop and 'test the bot' that tempts visitors to return soon.
BotPenguin can now create FAQ bots that can train the bots and provide adequate knowledge regarding the solution for the user.
BotPenguin integrates over 40 applications which helps it to combine more easily.
BotPenguin also plays a side role whenever it feels that humans must handle it and sometimes allows you to contact a live representative whenever you need to.
You can access it through Facebook Messenger and WhatsApp to attract a large audience.
Its flexibility allows you to create and deploy bots.
BotPenguin provides a personality to your brand which w
ill fascinate more clients.
It furnishes more than ten templates for various industrial aspects. You can customize it on your own and then launch it.
It offers multilingual facilities because when your consumers are from all over the world, you also need to possess the qualities to understand them all.
BotPenguin is one of the most reasonable and offers various benefits to the clients. You are all welcome to customize your plans according to your requirements.
BotPenguin helps in improving sales and customer interaction drastically. It attracts customers from overseas by communicating with them in their native language.
It inherits some human way in which the customer feels more comfortable as if they are talking to a real personality.
The bots specialized in conversational marketing capabilities. It claims to get more leads and backs it up with a money-back guarantee. It is a no-code bot builder and provides intelligent chatbots.
The Bottom Line
Sometimes it feels advantageous to have lots of options and, at the same time, a little challenging to pick one between two.
Nevertheless, each bot has its significant place and features in the market and provides its benefits. It is over the brands they will choose according to their benefits.
Mainly the different pricing plan attracts enormous traffic.
Now, suppose you do the research well to get a chatbot for your brand undoubtedly. In that case, the BotPenguin will be the best option.
You will never regret your decision because BotPenguin has everything you want from a chatbot.
BotPenguin!. Try it. It's free!