Who hasn't heard about WordPress? After all, it has many best options for live chat with good features. But did you hear about WordPress chatbots? Your visitors always have something to ask about or expect good customer service, no matter how comprehensive your website is.
Not many customers will go through your website for an answer. Instead, they would prefer instant answers upon asking. It will be highly impossible for a human to sit and answer thousands of questions from different users simultaneously. That's where WordPress chatbots come into play.
There are many WordPress chatbots available in the market. But choosing one can be challenging nonetheless. If you are on a quest for a chatbot solution with full integrations and without any external API, BotPenguin is the chatbot solution. It has many advanced options to help customer interaction be smooth and streamlined.
Continue Reading And Find out why BotPenguin is the best for WordPress chatbots.
What is WordPress?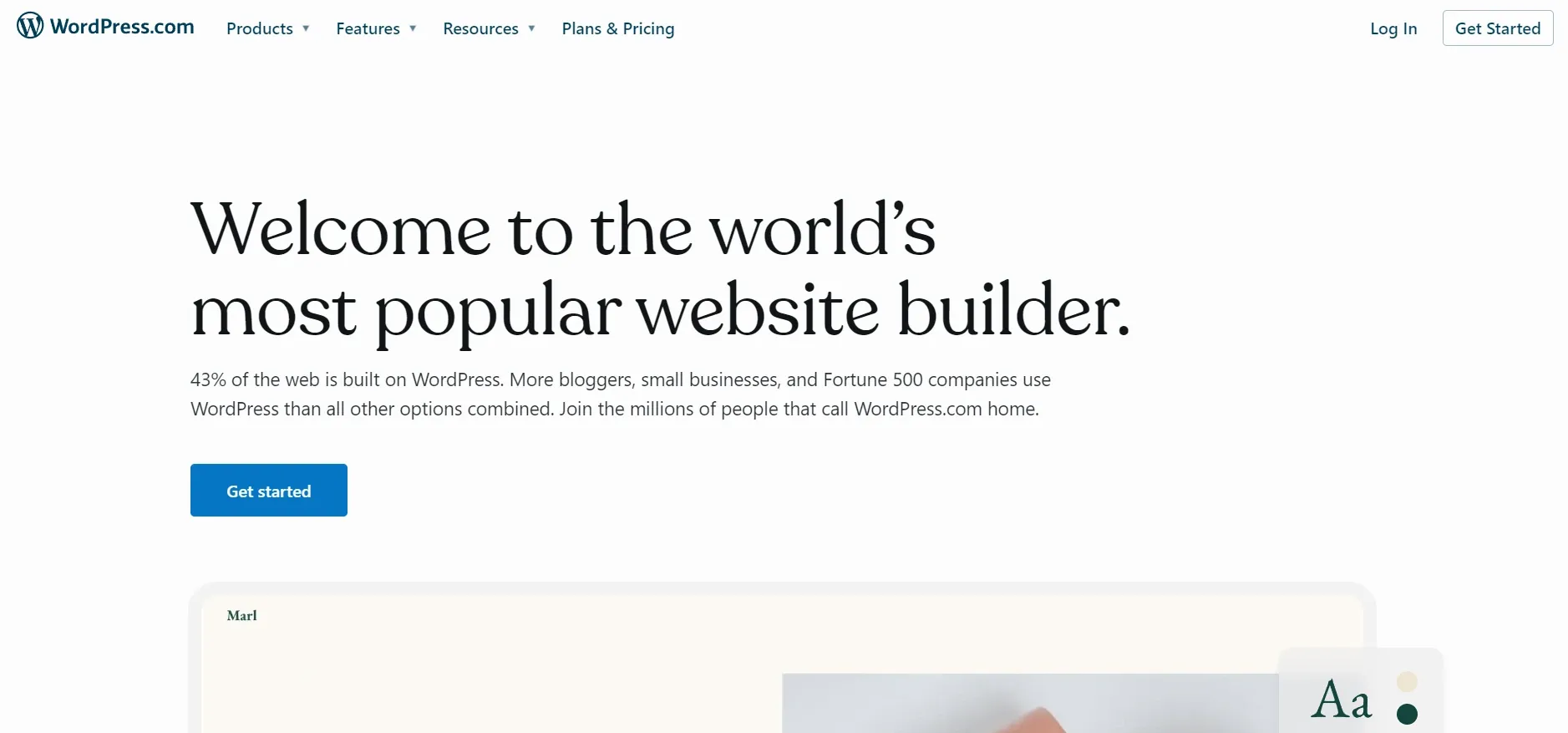 As we all know, WordPress is a popular open-source content management system that allows users to create bespoke solutions on top of it.
WordPress is a software program that must be installed, configured, or hosted by a third-party hosting provider.
Its interface contains the essentials, such as content creation tools, but further functionality, such as sitemaps, SEO, analytics, and more, requires plugins.
What is BotPenguin?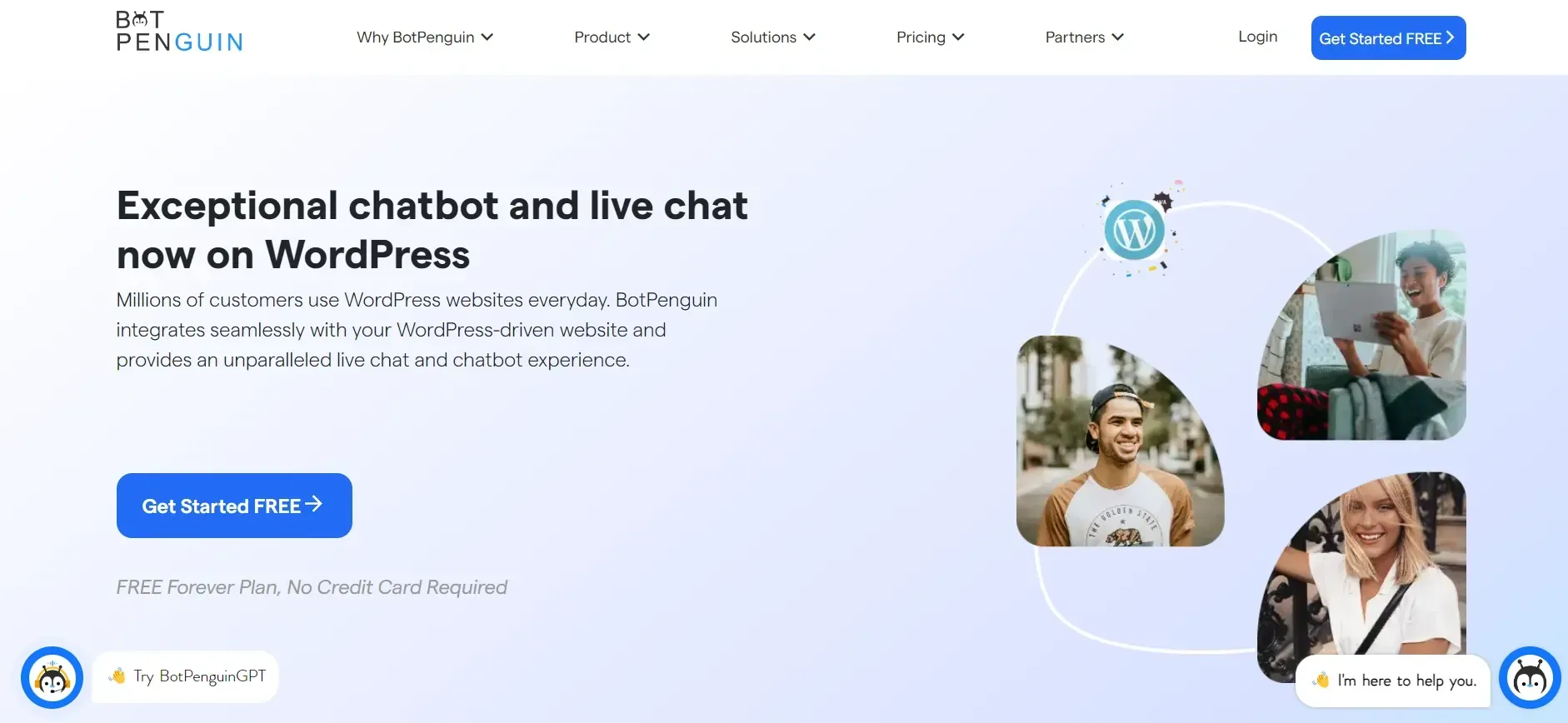 BotPenguin is a multichannel marketing platform that includes a chatbot, live chat, and a support desk. Its exit-intent messages keep visitors from leaving, allowing firms to convert more transactions.
It also features chat history storage, which will enable you to keep track of vital client data. Customers may contact users using their favorite medium, such as Facebook, email, or Instagram.
They may also track visitors to their website and develop real-time lists to see who is now visiting their store.
Marketers and developers alike can utilize BotPenguin to create beautiful website chatbots centered on the consumer experience. Users can develop chatbots, optimize their site for conversions, and track performance in one spot.
BotPenguin takes the hassle out of administering your website, allowing you to focus on creating growth-oriented marketing and content.
Just like this, BotPenguin offers chatbot creation for social platforms, websites, wordpress:

Why BotPenguin is the best when it comes to WordPress chatbots?
There are various reasons to rely on BotPenguin for WordPress Chatbot development few of them are-
Build stronger customer relationships
Customers that visit your website want a quick and easy purchasing procedure. However, they may not always know what they're looking for or where to look for it.
BotPenguin chatbots serve as a personal shopping assistant for visitors, guiding them through the purchasing process. They assist clients in finding the goods they're searching for, inform them of promotional discounts, and even process payments and track purchases using human-like conversational strategies.
Customers value a quick and straightforward purchasing experience, which leads to long-term client connections.
Influence on sales teams
BotPenguin chatbots are beginning to take the role of some online forms. Someone would fill out a form, wait for an email answer, and then schedule a meeting in the previous sales procedure.
You may plan a meeting immediately on the sales rep's calendar (called SDR). Moreover, you can talk to the SDR live if you answer some qualifying questions.
It implies chatbots can free up SDRs to answer typical queries or ask qualifying questions. E.g., what is the size of your organization?
They may now concentrate on closing warmer deals. You can speed up the sales pipeline this way.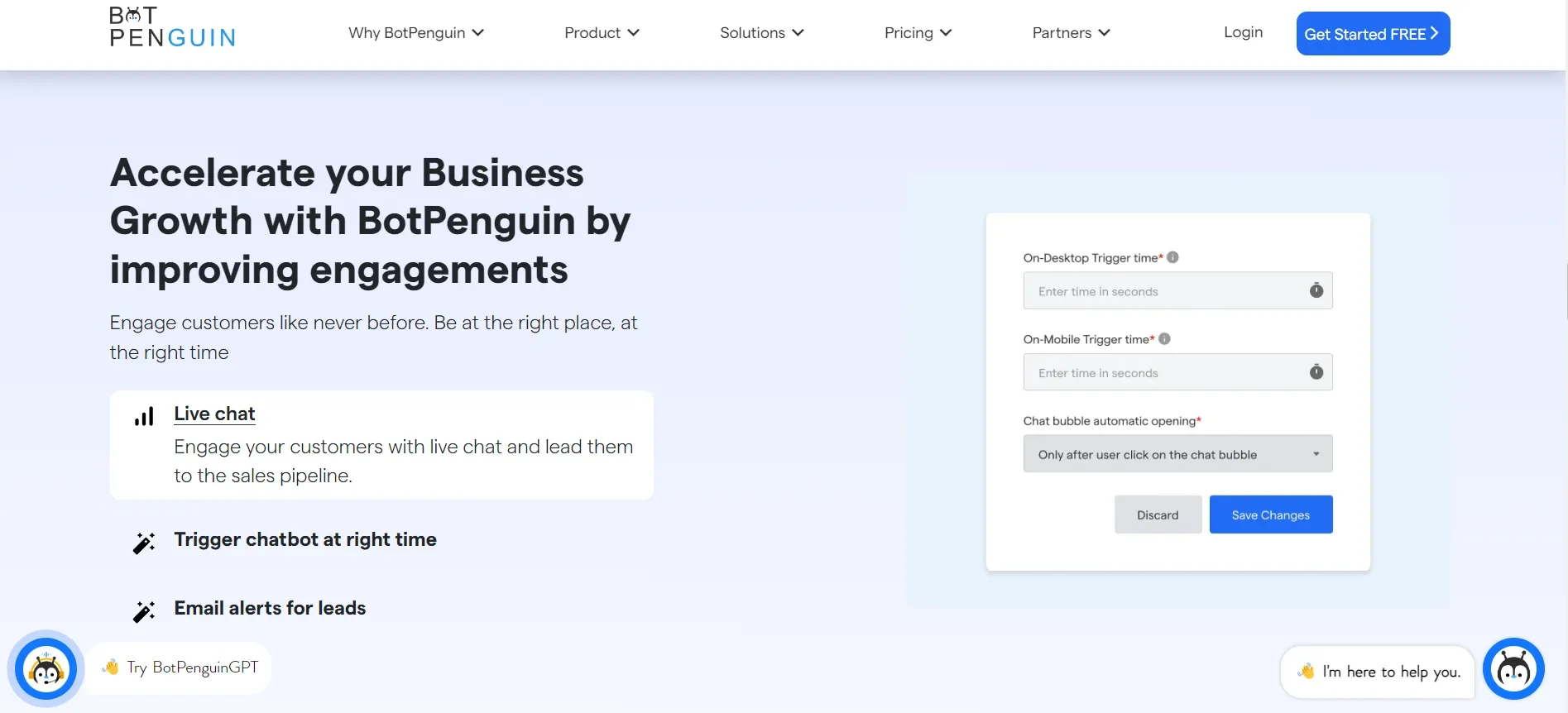 Boost subscriber numbers
BotPenguin chatbots may also gather email addresses from site visitors by asking whether they want to be included in your newsletter or get email updates.
Even if they don't buy, you may keep in touch with them to ensure they don't forget their initial interest in you.
Collect newsletter subscribers
Chatbots can also help you increase the number of people who subscribe to your newsletter or email list. When you install a bot on your WordPress site, it may ask visitors if they wish to receive email notifications on new products or special deals.
After entering their address and contact information, It automatically adds a person to your archives as a new subscriber.
BotPenguin allows you to export segmented user lists to your email marketing software, allowing you to add new subscribers to your current lists.
Consequently, your email and marketing initiatives can reach a larger audience.
Analytics & Reporting
BotPenguin includes all of the statistics you'll need to track your website's performance and gather data to determine its return on investment. Additionally, because BotPenguin directly connects with your CRM, you'll have access to more actionable data and deeper insights.
It's simple to create lists of contacts who have visited certain pages on your site, downloaded content offerings, or communicated with you via live chat with BotPenguin.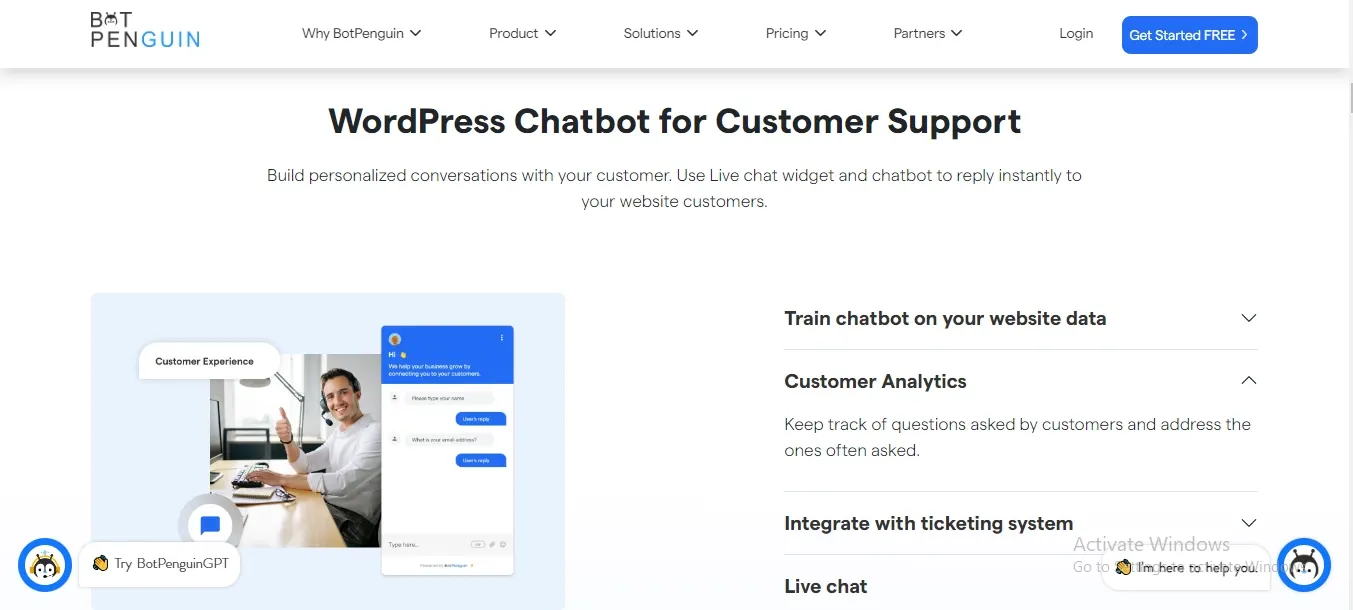 Premium Hosting
BotPenguin chatbots are pre-installed with premium hosting and security features. It handles the delivery of your content so you can concentrate on providing the best possible experience for your consumers.
You can rest easy knowing your website is safe from unscrupulous actors thanks to standard security. It includes SSL certificates, a web application firewall (WAF), a worldwide CDN, and 24/7 security and threat monitoring.
All-On-One Platform
BotPenguin is an open-source platform. You'll have various plugins and solutions to build your company's digital experience. As a result, you'll have all the tools you need to develop a seamless digital experience that your clients will adore.
Consequently, the user experience is unified and uniform, with data, reporting, and personal tools comparable and functioning together.
Speed
Visitors want your site to load quickly. Otherwise, they will leave and go to another site. According to Google, if your website does not load in three seconds or less, 53% of visitors will abandon it.
When choosing a chatbot, be sure the bandwidth you're obtaining is sufficient for your demands and their infrastructure supports your success.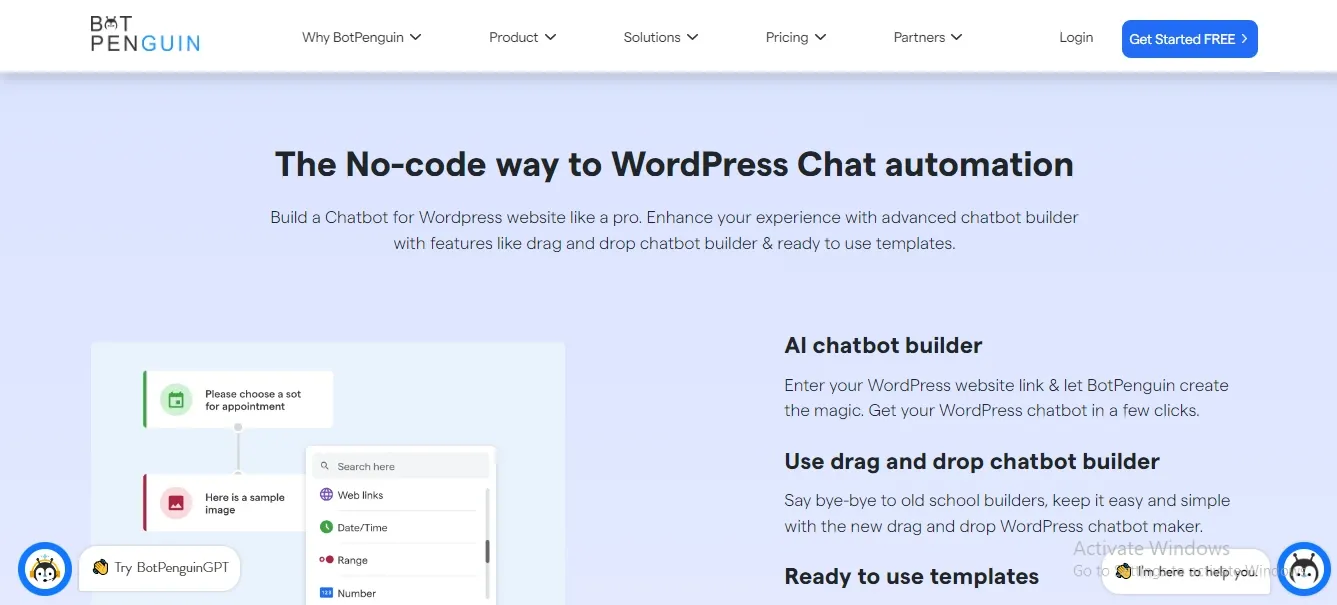 Stability
For most businesses nowadays, a down website implies missed money and opportunities. The majority of well-known CMSes give uptime statistics that indicate their dependability.
BotPenguin chatbot has a 99.999 percent uptime guarantee and a committed staff that continuously improves the speed, security, and reliability of websites hosted.
Content Creation
BotPenguin is the best CMS for mid-market businesses. There are many themes available. Then use drag-and-drop layouts to build, change, and add -to pages quickly. You choose from thousands of pre-made themes or create your own from the beginning.
BotPenguin enables you to provide seamless digital experiences to your consumers and scales with you whether you're a marketer, developer, or IT expert. You'll have all the data you need to customize the customer experience at your fingertips since BotPenguin has a single unified database.
Furthermore, BotPenguin's blogging and landing page capabilities are also simple to use, making it simple to increase traffic and create leads for your company.
Reduce costs on customer service
Sometimes, a buyer requires a brief answer or two to persuade them to make a purchase. However, if they do not receive such answers quickly, they may opt to seek help elsewhere. It's important to remember that when someone is buying online, it simply takes a few clicks to go on to the competition.
However, if a customer care representative were always available to answer queries, the expense of such a customer service option would soon mount. BotPenguin chatbots, on the other hand, are inexpensive to set up and maintain. They also don't take breaks or vacations.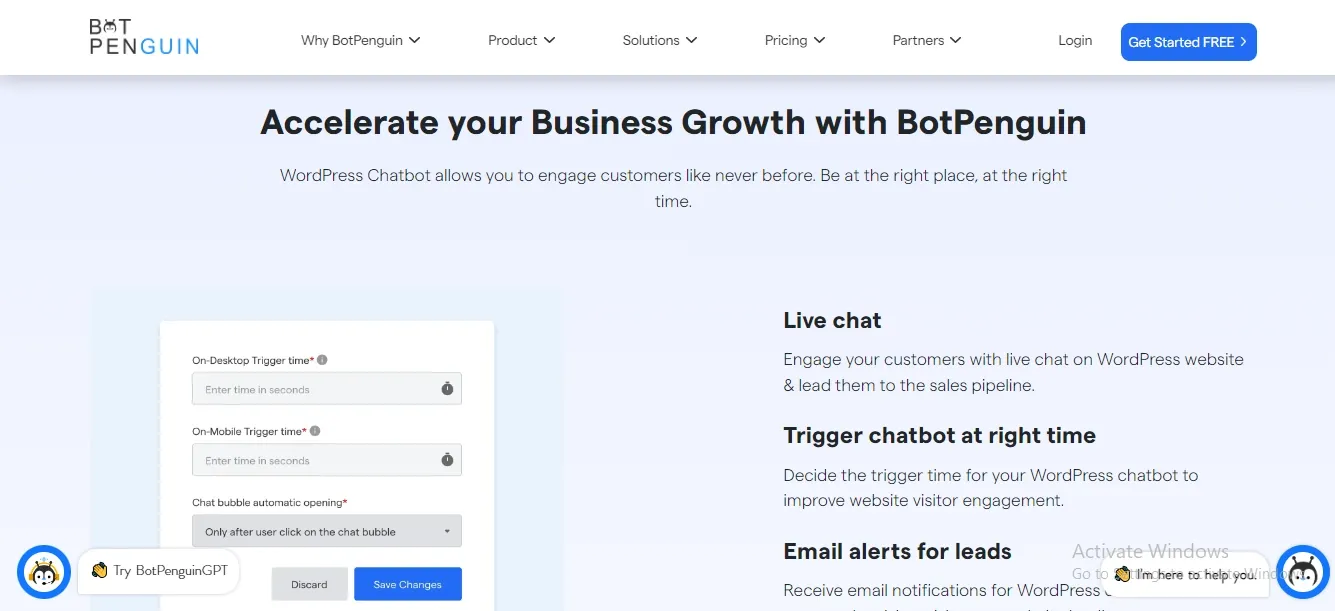 Effortless data collection
Even if visitors aren't ready to make a purchase, they may still communicate with your chatbot and provide helpful information about their shopping habits. It might include contact information, demographic data, or product preferences.
You may save and analyze this information to learn more about the kind of individuals that visit your site and what they want from you.
Cut down on cart abandonment
People don't stand in line at a store only to drop products off at the counter and forget about them. When consumers purchase online, though, they do just that. They'll add stuff to their cart and then leave. Cart abandonment is a prevalent problem in eCommerce, and chatbots are a fantastic way to combat it.
BotPenguin chatbots will contact consumers after an abandoned cart has reminded them that their desired goods are still waiting for them. It's a friendly reminder that doesn't go overboard with being aggressive yet still gets a lot of clicks.
Conclusion
Chatbots are still a new concept for business as a way to engage customers. With each day, companies are seeing the benefits of incorporating them. BotPenguin chatbots aid you in practical sales tools required for providing fast responses and assistance to your customers. It provides instant customer support 24/7.
BotPenguin enhances your lead generation process by observing visitors. Your sales rep can focus more on prospects and leave the rest to automation with it. There are many options for WordPress chatbots in the market. However, BotPenguin is a worthy competitor to each one. See for yourselves. Try it out. It's free!

Frequently Asked Questions (FAQs)
What features does BotPenguin offer for WordPress Chatbots?
BotPenguin offers a wide range of features, including customizable chatbot templates, natural language processing, multilingual support, lead generation tools, and integration with popular marketing platforms.
These features enable you to create interactive and effective chatbots that enhance user engagement and boost conversion rates.
How does BotPenguin ensure a smooth user experience on WordPress sites?
BotPenguin's chatbots are designed to provide a seamless user experience on WordPress sites. The chatbots load quickly, are responsive to various devices, and offer personalized interactions, thanks to their AI-driven capabilities.
This ensures that visitors to your site have a positive experience and can easily find the information they need.
Can BotPenguin's WordPress Chatbots handle complex queries?
Yes, BotPenguin's chatbots are equipped with advanced natural language processing (NLP) algorithms, allowing them to understand and respond to complex queries.
They can provide relevant answers, guide users through different processes, and offer detailed information, making them highly effective in handling diverse user interactions.
Is BotPenguin's WordPress Chatbot easy to set up and customize?
Absolutely! BotPenguin offers a user-friendly chatbot builder that requires no coding skills. You can easily customize the chatbot's appearance, conversation flow, and responses to align with your brand's personality and meet your specific requirements.
How does BotPenguin help with lead generation on WordPress sites?
BotPenguin's chatbots are equipped with lead generation tools, allowing them to collect user information and qualify leads.
By engaging visitors in interactive conversations, the chatbots can capture valuable data that can be used for marketing purposes and to nurture potential customers.
Can I integrate BotPenguin's WordPress Chatbot with other marketing tools?
Yes, BotPenguin offers seamless integration with various marketing tools and platforms.
You can connect the chatbot to your email marketing software, CRM system, and analytics tools, enabling you to streamline your marketing efforts and gain valuable insights into user interactions.
Is there customer support available for BotPenguin's WordPress Chatbot users?
Absolutely! BotPenguin provides excellent customer support to assist users with any queries or issues they may encounter.
Their support team is responsive and dedicated to ensuring a smooth experience for all users.