So you have finally decided to automate monotonous processes. You want to free up your team's time and resources. And, you have chosen WhatsApp automation for that.
Let us guess, you're not sure if BotPenguin is the right choice for you?
This short blog will clear all the doubts you have about BotPenguin. Plus, we'll show you how you can start your Whatsapp Automation with Botpenguin in just 3 simple steps. That too for FREE! Forever! No Credit Card Required!
Did we mention you won't need any coding or technical knowledge to do all that? Yes, all the leg work is already done by us.
We'll get into the benefits a bit later, but for now let us show you why BotPenguin is the right platform for your business.
Why Choose BotPenguin for WhatsApp Automation?
Choosing BotPenguin as a WhatsApp automation tool is a wise choice. This is because we offer a wide range of features and benefits to businesses of all sizes. Here are some of the reasons why you should choose BotPenguin for WhatsApp automation needs:
Easy Setup and Integration
Setting up a WhatsApp Automation system can sometimes be a daunting task, but not with BotPenguin. It's designed with simplicity in mind, ensuring a smooth and hassle-free integration process.
Versatility in Automation
One of the standout features of BotPenguin is its versatility in automation. It's like having a Swiss Army knife for your WhatsApp conversations. From answering frequently asked questions to provide order updates, conducting surveys, and even handling appointment bookings, BotPenguin has got you covered.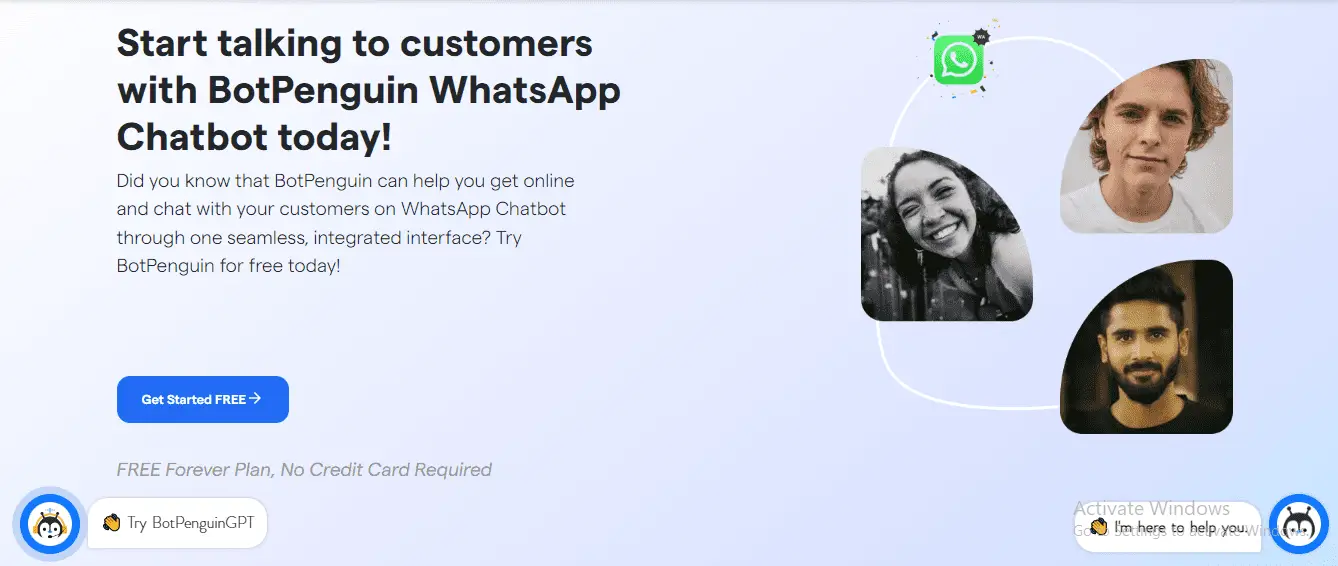 Advanced AI Capabilities
Powered by Natural Language Processing (NLP) technology, BotPenguin engages in intelligent human-like conversations. It understands and interprets user queries with remarkable accuracy. It also provides smart and personalized responses. Say goodbye to robotic interactions and hello to a delightful and human-like chatbot experience.
Multi-channel Support
Why limit yourself to WhatsApp when you can conquer multiple messaging platforms? BotPenguin understands the importance of a diversified approach to customer engagement.
That's why it offers support for various messaging channels. It allows you to manage all your customer conversations from a single interface. So, whether your customers prefer WhatsApp, Facebook Messenger, or even your website's live chat, BotPenguin has your back.
Benefits of Using BotPenguin for WhatsApp Automation
Here are some of the benefits of using BotPenguin for WhatsApp automation:
Time and Cost Efficiency
With BotPenguin taking care of your WhatsApp interactions, you can bid farewell to mundane and repetitive tasks. The average BotPenguin user saves 20 hours per week by using the platform. No more spending hours answering the same questions or providing routine updates.
BotPenguin automates these processes, freeing up your time and resources. Additionally, investing in BotPenguin is a cost-effective solution compared to hiring extra staff for customer support.
And the tech for BotPenguin just doesn't stop there. From automating the lead generation process to customer support automation, BotPenguin has got too much to offer:
Enhanced Customer Experience
In a world where instant gratification is the norm, providing prompt and personalized responses is crucial. With BotPenguin, you can deliver an exceptional customer experience.
It's available 24/7, ensuring your customers are attended to promptly, regardless of the time zone they reside in. Plus, with its intelligent chatbot capabilities, BotPenguin can engage in meaningful and relevant conversations, making your customers feel valued and heard.
Increased Productivity and Scalability
Imagine having a team member who never tires, never needs a break, and can handle an infinite number of customer inquiries simultaneously. Well, that's precisely what BotPenguin brings to the table.
By automating your WhatsApp interactions, BotPenguin boosts your productivity. It allows your human resources to focus on tasks that require their expertise.
As your business grows, BotPenguin scales effortlessly to meet your increasing demands. It ensures a seamless customer experience at any volume.
Data Analytics and Insights
By tracking and monitoring customer interactions, you can gather insights into their preferences, pain points, and expectations.
It can show how many clients responded to a message that was sent and how many of them click on the link your provided.
How to Get Started with BotPenguin for WhatsApp Automation?
Did you know that BotPenguin chatbots have an average response time of 5 seconds? So, let's not waste any time and get started with BotPenguin for WhatsApp automation:
Step 1
Account Registration and Setup
Before you dive into the world of WhatsApp Automation, you'll need to create a BotPenguin account. Head over to the BotPenguin website and follow the simple registration process.
Step 2
Designing Conversational Flows
Now that you have BotPenguin at your disposal, it's time to unleash your creativity and design engaging conversational flows.
You want to create interactions that feel natural, and interactive, and leave a lasting impression on your customers. Incorporate rich media, interactive elements, and witty responses to make your chatbot shine.
Step 3
Testing and Deployment
Test different scenarios, tweak the responses, and ensure that your chatbot is ready to impress your customers.
Conclusion
BotPenguin is a versatile tool that can be used for a variety of WhatsApp automation tasks. It is a powerful tool that can help businesses improve their customer service, increase sales, and save time and money.
Its easy setup and integration, versatility in automation, advanced AI capabilities, and multi-channel support make it a formidable tool in your arsenal.
Earlier, we talked about how you can get started for free, remember? Well, now is the time we show you how.
If you click on the (Let's Get Started) button now, you will get BotPenguin's Free Forever plan, which lets you create your own WhatsApp Chat (Just Drag and Drop) for free. You can use the bot for your business and start seeing new leads rolling in.