Introduction
A flexible platform is necessary for building various chatbots for various enterprises. With conversational AI and a customer automation platform, Mindsay completely changes the game. It offers not only internal and external communication but also top-notch services.
It is a platform that enables personalized customer service through conversational AI and process automation. It allows for easy and efficient communication with every customer at any time. Additionally, it features an open-source platform that is free to use and NLP capabilities. Additionally, it can give personalized responses to questions and provide deeper insight than specific FAQs.
What is Mindsay?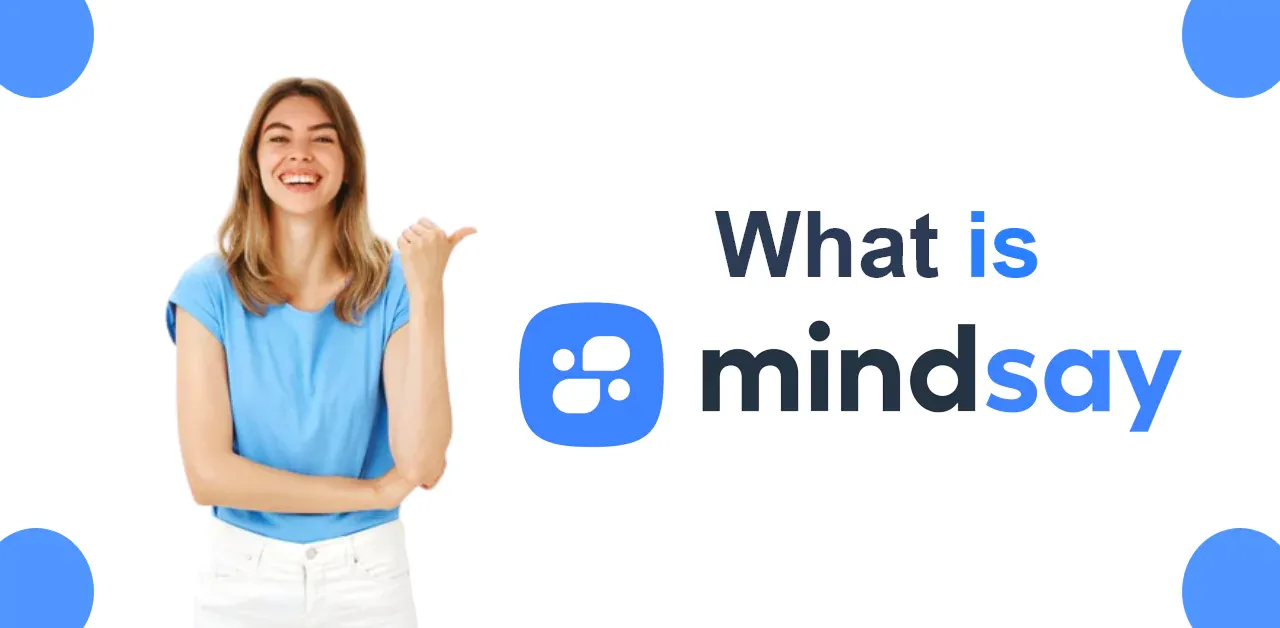 The chatbot-building tool on Mindsay, a conversational AI platform, is now accessible. It delivers simple and effective client interactions. Additionally, automating numerous client requests reduces time-consuming procedures and optimizes the utilization of human resources. Customer service teams can overcome common challenges with the use of Mindsay.
You can improve customer service and boost sales with its assistance. Mindsay allows companies to offer 1-to-1 customer assistance at scale with conversational AI. Through live chat, human agents can easily enter and leave discussions. Utilizing the AI chatbots from Mindsay, you can also create tickets.
Features of Mindsay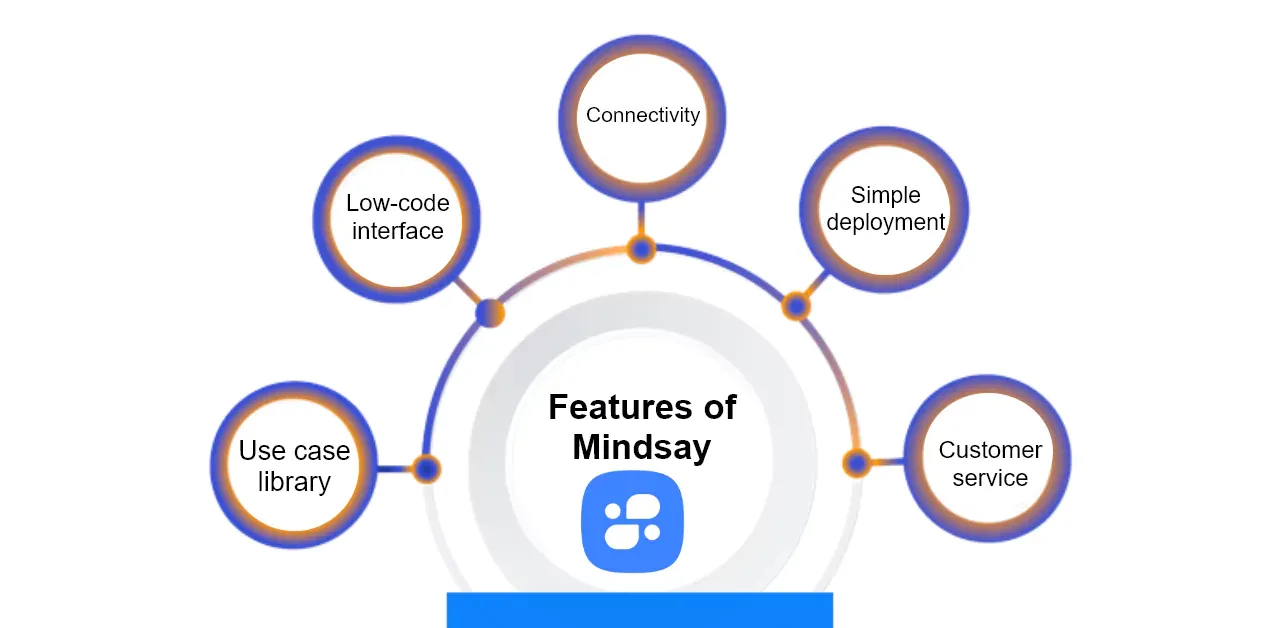 Use case library: Mindsay's use case library covers unique issues across numerous organizations, ranging from simple FAQs to complex activities.
Low-code interface: Its platform aims to simplify developers and business users to build, maintain, and improve bots.
Connectivity: The platform can connect to any proprietary, sector- or customer-specific system through an API.
Simple deployment: You may rapidly launch your bot across any channel or platform using Mindsay's platform.
Customer service: You can improve customer service and increase sales with the help of this other great conversational AI platform.
Advantages of Mindsay
NLP capabilities and a free-to-use open-source platform are both features of Mindsay.
It provides a range of customer service options that can benefit your business.
It can respond to queries with dynamic responses that go beyond simple FAQs.
Additionally, it has the intelligence to transfer the call to a human agent if it cannot resolve the issue.
It helps you to service customers from all around the world because it supports 110 different languages.
Additionally, it includes conversational marketing chatbots that automate your sales and marketing procedures.
It can also serve as a tireless salesperson who is available twenty-four hours a day, seven days a week.
It gives a time-to-market of four weeks.
It has two main products- a sales chatbot and a customer service chatbot.
It has high use in business.
Requires no technical expertise on your part.
The discussion flow is simple to use.
The measure and analysis of performance are excellent.
The ability of the bot to connect to CRM and other systems and do real-time data checks is a huge advantage. The bot is helpful to our customer service staff because of this functionality.
The staff at Mindsay are informed, friendly, and devoted to their customers. They function successfully and efficiently as they quickly understand the needs and offer answers.
Mindsay is user-friendly and straightforward.
It lets its clients be self-sufficient.
The Mindsay team is a perfect fit for organizations.
Disadvantages of Mindsay
In some situations, loading can be a little slow.
Technical expertise is required to create a chatbot utilizing this platform.
Running it takes a short while.
Additional layout options and little UX improvements would be beneficial.
Managing NLP used to be difficult, but recent developments have made it possible for consumers to do so much more swiftly.
There isn't a broad overview of the flow. You cannot move from one use case to another because you need to know what links to which use case.
It isn't easy to keep track of everything and optimize the user experience.
There is no option to create a dialogue.
You need to utilize a separate tool for mapping.
Very hard to locate use cases
The absence of a log makes it very hard to keep track of changes.
How does Mindsay Work?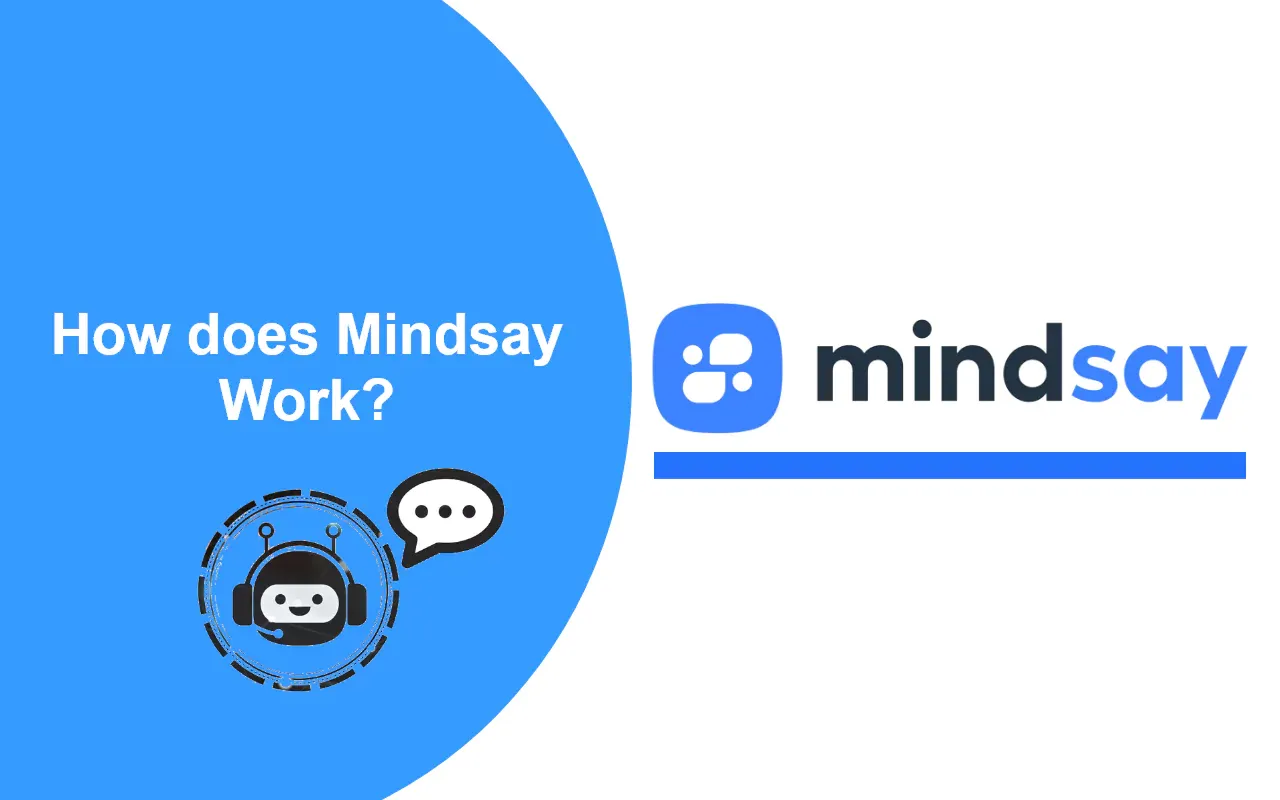 Use of Natural Language Processing
Natural Language Processing is the first phase (NLP). NLP's role is to simplify a request into words and sentences that the virtual agent can understand, fix spelling, find synonyms, analyze grammar, and discern sentiment.
Several Deep Learning and Machine Learning models take over after the request has been prepared using NLP. These processes, which are collectively referred to as Natural Language Understanding (NLU), enable conversational AI to determine the correct intent (or topic) of a request and extract other crucial data that you can use to initiate further actions, such as context, account preferences, entity extraction, etc.
To improve a virtual agent's overall NLU capabilities, proprietary methods are also crucial. For the conversational AI platform offered by boost.ai, we created Automatic Semantic Understanding (ASU), an algorithm that functions in tandem with Deep Learning models as a safety net to further minimize the possibility of conversational AI misinterpreting user intent.
Creating responses to customer requests
It's time to create a response to the customer's request now that it has been fully comprehended. Conversational AI outperforms conventional chatbot solutions regarding personalization, which is essential for virtual agents. A virtual agent can respond appropriately - whether it's answering a simple question or completing a complex transaction - in a conversational manner that is more akin to interacting with a human than a machine by combining the information gathered using NLU (customer intent, contextual information, etc.) and a structured hierarchy of conversational flows.
Conversational AI becomes wiser over time, learning new variations to each purpose and how to improve its responses as the virtual agent responds to more queries and as AI Trainers help to expand its knowledge.
Mindsay implements all these features to give you an amazing chatbot experience. It cleans up requests using NLP, and then the NLU understands the input and helps formulate a human-like answer. The intent predictor identifies the correct topic, and the ASU boosts the understanding and reduces the error. Then the entity extraction extracts the important information to trigger the right actions.
Conclusion
Mindsay is one of the best conversational AI chatbots. It utilizes NLP and NLU to give you the best possible experience. The conversational AI is the synthetic brainpower that makes it possible to provide users with such a powerful tool.
It is a strong tool that can understand user inputs and respond accordingly along with learning new things during the process. BotPenguin is another chatbot creator that offers a very strong AI chatbot that uses NLU and NLP and provides you with one of the best available chatbots in the market.
Related articles
Mindsay: A Holistic Review 2023
Mindsay Pros, Cons and Alternatives