Looking to take your WordPress site to the next level by increasing user engagement and lead generation?
Look no further than chatbot integration! Chatbots are becoming increasingly popular among businesses.
A 2022 survey by Arm Treasure Data uncovered that 67% of people use chatbots to get help online.
Chatbots boost interaction, provide immediate assistance, and can increase your lead and sales generation.
In this post, we'll see how WordPress chatbot integration can be a game changer for you. Why you need wordpress chatbot integration on your website, and how to do it.
Are you prepared to use WordPress chatbot integration to alter your website?
Let's get going! Let's talk about chatbots first before anything else.
What are Chatbots?
Chatbots are simpler computer programs that replicate conversations with human users.
They are frequently used in customer care because they enable companies to offer round-the-clock customer help without needing a live human agent.
Additionally, chatbots may be employed in sales and lead creation.
Now let us explore why are they so valuable.
Why are Chatbots Valuable?
Businesses, as well as website owners, may profit from chatbots in a variety of ways.
They can:
Provide instant support: Since chatbots are available 24/7, they can provide instant support to visitors and customers. This can lower your support expenses and increase client happiness.

Increase engagement: You may encourage website users to interact more actively with your content and services by enabling chatbots on your site. This may result in longer typical session lengths and higher user retention.

Improve lead generation: Chatbots can capture leads and gather contact information from potential customers.

Chatbots may enhance your lead generation

and revenue by posing specific queries and making tailored recommendations.

These are the reasons why they are so valuable. The next section will cover how to do Chatbot integration for WordPress.
How to Integrate a Chatbot into Your WordPress Site
Chatbots and WordPress go together like peanut butter and jelly! Let's make them play nice.
Chatbot integration for WordPress is relatively straightforward. Here's how you can do WordPress chatbot integration:
Step 1
Choose a Chatbot Platform
There are many chatbot platforms available that you can use for WordPress chatbot integration.
Some popular options include BotPenguin, Tars, and Chatfuel. Make sure you choose a platform that offers the features and functionality you need for your chatbot.
And opting for BotPenguin is a real gold rush of features. From automating the lead generation process to customer support automation, BotPenguin has too much to offer: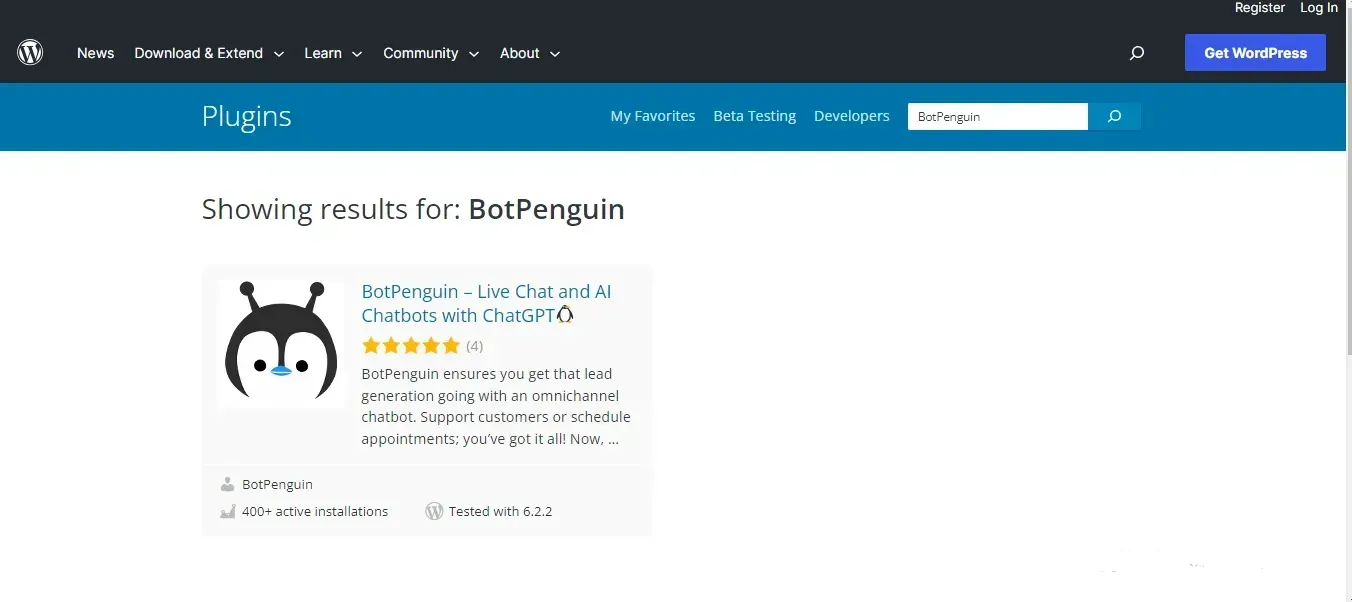 Step 2
Create Your Chatbot
Once you've chosen a platform, it's time to create your chatbot.
You can develop your chatbot using a visual interface or code, depending on your preferred platform.
Ensure your chatbot is designed to provide value to your users and align with your website's goals.
Step 3
Integrate Your Chatbot with WordPress
Once your chatbot is complete,
It's time to integrate it with your WordPress site.
Many chatbot platforms offer WordPress plugins or integrations that simplify this process.
Alternatively, you can use custom code to integrate your chatbot with your site.
Step 4
Test and Optimize Your Chatbot
After WordPress chatbot integration, testing and optimizing its performance is essential.
Monitor your chatbot's interactions with users and refine its responses to provide the best possible user experience.
Conclusion
WordPress chatbot integration can change the way how you engage with your audience.
Whether you want to provide round-the-clock support, increase website engagement, or generate more leads, chatbots have covered you.
So why wait?
To easily chatbot integration for WordPress and start reaping the benefits, follow the easy procedures laid forth in this post.
It's time to integrate chatbots into your website to alter it and propel it forward!
Want to take your WordPress website's customer experience to new heights? Get ready to soar with BotPenguin.
Integrating BotPenguin's chatbot capabilities into your WordPress site is a total game-changer. In just a few clicks, you can have an intelligent virtual assistant ready to engage visitors 24/7.
BotPenguin makes it simple to provide instant, personalized support without your team getting overwhelmed. Your customers will love the fast, seamless conversations.
Take advantage of sales and service opportunities. With BotPenguin's AI chatbot integration, your WordPress site will convert and delight customers around the clock.
Elevate your business today with seamless WordPress chatbot capabilities. Provide 5-star service with BotPenguin! Your customers are waiting to connect - give them the experience they deserve.