The use of IM programs has skyrocketed in recent years. And by 2022, there will be eight billion IM users around the globe. Your customers are undoubtedly making use of IM services. Your team is no different.
The true question is whether or not you are making the most of IM to serve your company's purposes. That is, communicating and collaborating while reaching out to customers on their preferred medium.
So, what is IM, and what are the best IM programs for companies to use? Keep reading to learn about the best group chat software for your company.
Why do we use IM, exactly?
Instant messaging (or IM) is electronic messaging that enables simultaneous two-way communication between users at different locations.
Direct peer-to-peer connections in instant messaging software were popularized by the now-defunct AOL Instant Messenger (AIM).
As with other IM clients, the original version of AIM allowed two "contacts" to exchange instant messages in real-time so long as they were both online, logged into the client, and knew each other's screen identities.
Most people think of messaging apps as a way to communicate privately with another person. Still, in reality, most messaging apps use centralized servers to facilitate communication between users. Users often sign up for the service by entering their phone number and downloading the client application onto their preferred device.
A network administrator may be able to restrict user access to the network in certain circumstances. Over the past few years, IM has grown to incorporate many communication functions originally designed for usage in both personal and business settings. Better collaboration and efficiency in the workplace are just two of the many positive outcomes of this breakthrough.
The need for Messaging Apps is high!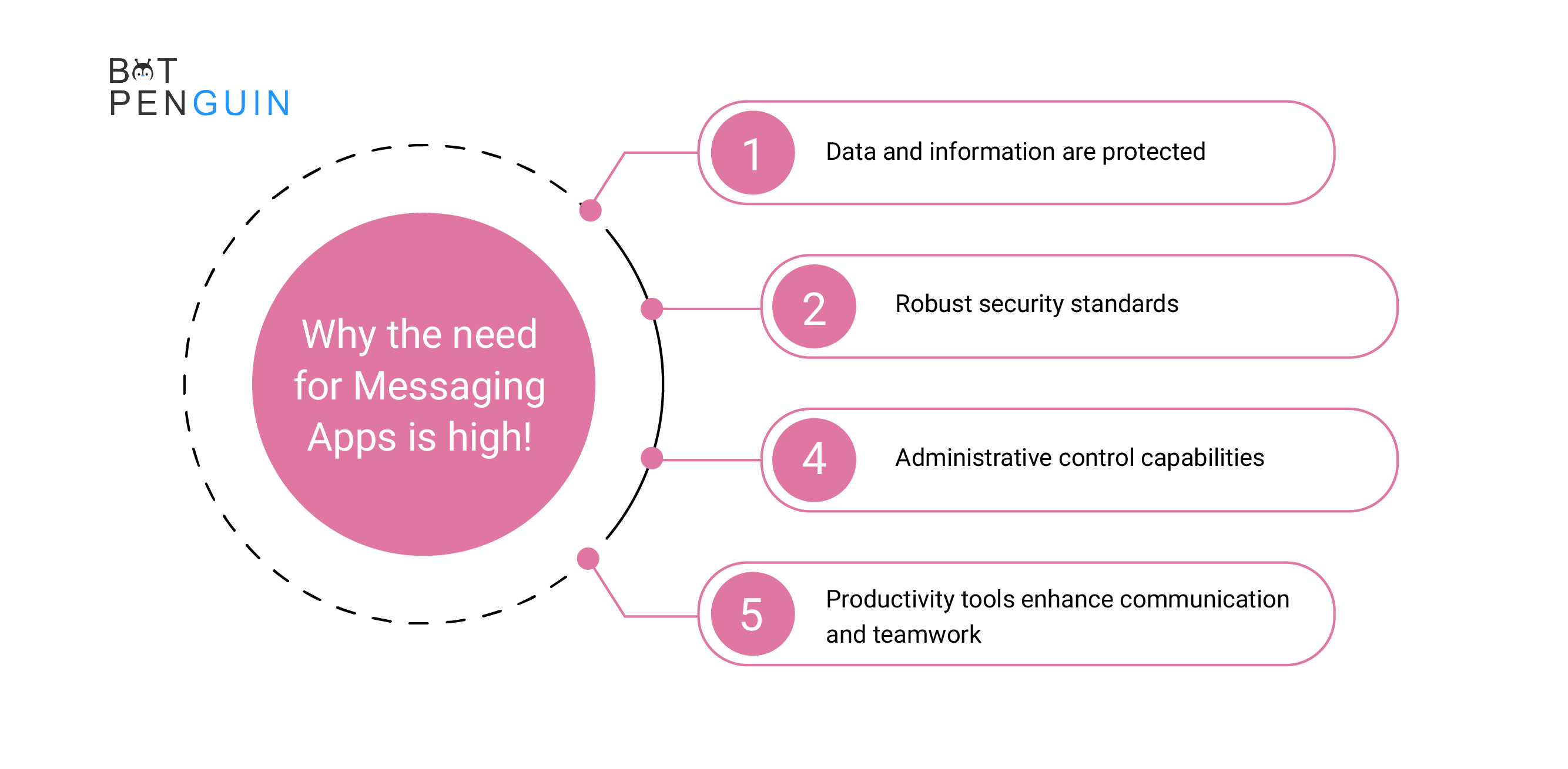 With billions of people increasingly turning to message apps as their primary communication method and business IMs offering increased security and efficiency, IM is quickly becoming an indispensable tool for any organization.
However, picking any old chat app won't do the trick.
Communicate with your customers using consumer-grade instant messaging tools, such as for answering fast questions about your products. You should exercise caution when using apps that don't provide end-to-end encryption by default. Avoid using free IM services for team discussions.
Rather than using email for internal team communication and cooperation, switch to a corporate instant chat. Data and information are protected, while robust security standards, administrative control capabilities, and productivity tools enhance communication and teamwork.
It's important to consider internal and external communication demands when selecting the best messaging apps for your company. This will give you a better idea of whether you need consumer-focused IM software or a business-focused IM service like Slack.
Is IM still popular?
The era of instant communications has arrived. Messaging apps are among the most downloaded programs for smartphones. More than 4 million people use WhatsApp, Meta (previously Facebook Messenger), and WeChat every month.
Is it safe to use Instant Messaging?
Instant messaging is less safe than traditional methods of communication since it runs via the Internet. Additionally, authentication and passwords are vulnerable points that might allow sensitive data to fall into the wrong hands.
Where does Instant Messaging fall short?
Because it is text-based only, instant messaging has its limitations. When you talk to someone face to face, you can pick up on their emotions and motives just by looking at their expressions. Misunderstanding the meaning of communication is more common when using messaging apps.
It also has the problem of being ineffective in large gatherings. Instant messaging is a convenient way for two people or a small group to have a short, informal conversation or exchange information quickly. However, it might be challenging for all participants to keep up with the discourse when many people join a single group chat.
The Benefits and Drawbacks of using instant messaging.
Among the numerous benefits of instant messaging is that it allows users to have brief information exchanges. Instant messaging is quicker and more efficient than email in getting people's attention.
Instant messaging's convenience in linking users together regardless of physical proximity is another of its many strengths. It's a great tool for those who do part of their work from home or in a hybrid office/field situation. Instant messaging apps are easy to learn and use with minimal training.
While there are many advantages to using instant messaging, there are also many drawbacks, the most noteworthy of which are related to lost productivity and interruptions at work. Even though instant messaging at work can improve efficiency, some workers may waste significant time each day chatting online.
What is the distinction between IM and Texting?
Instant messaging differs from texting because it does not transmit messages through the carrier's network.
In addition, no additional download is required for texting on any mobile device, independent of the cellular carrier. However, both parties must have the same software installed on their devices to use instant messaging.
In addition to text, instant Messenger also permits the transfer of other material forms, such as photographs and videos.
The disparity in international capacities is another key distinction. While the countries to which you can send messages and the associated costs depend on your international carrier plan, instant messaging apps facilitate global communication.
Is it more Secure to Communicate via Instant Message than via Email?
Malware can infect both instant messaging and email. However, malicious software and viruses are more commonly spread through electronic mail. While emails may be encrypted in transit, they are typically stored on the email server in an unencrypted form. This means that email is not necessarily safe.
Thanks to end-to-end encryption, instant messaging is more secure than email. This is because instant messaging apps are developed with security and privacy in mind.
Top Messaging App Picks 2023
WhatsApp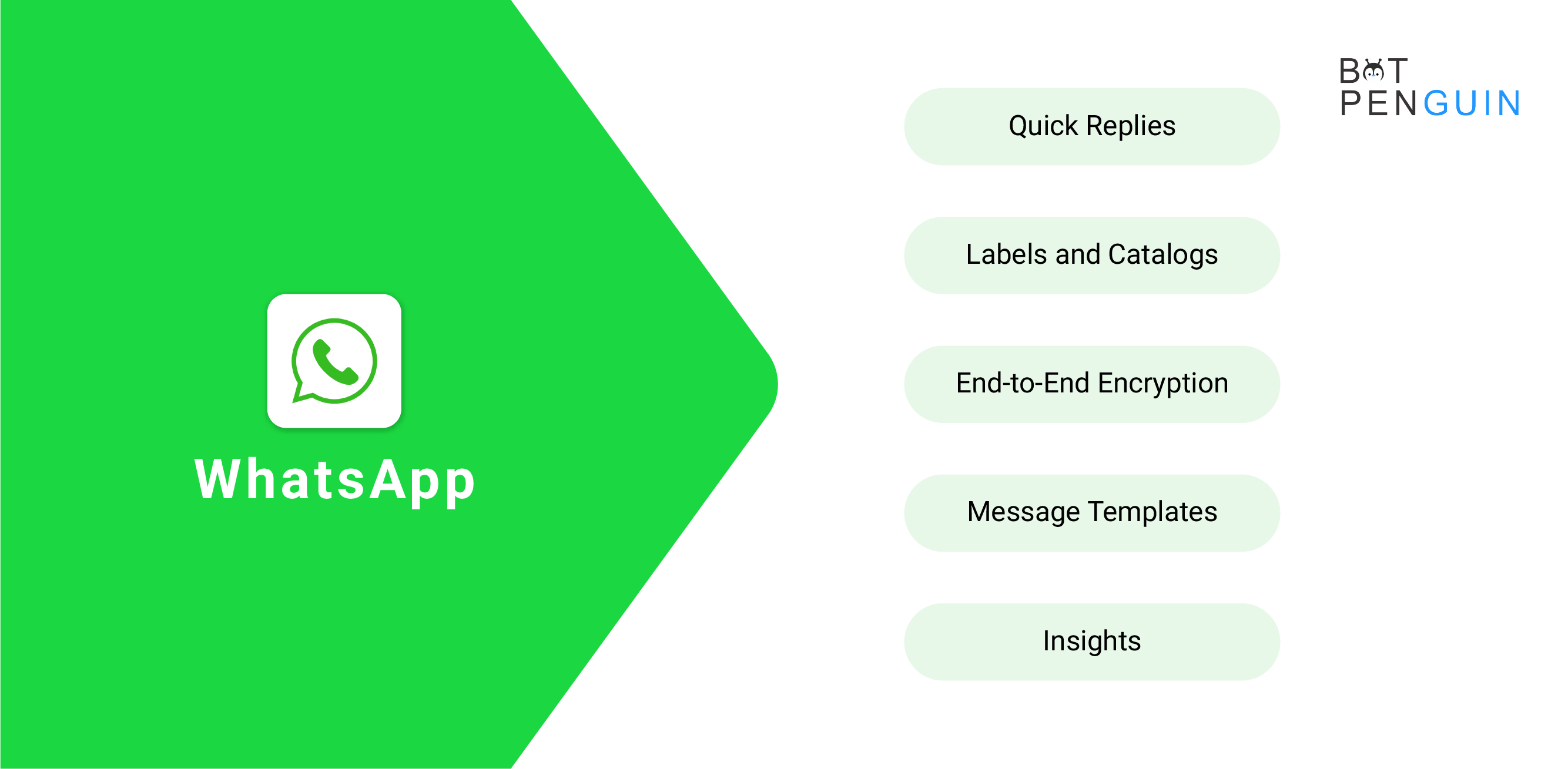 Whatsapp is accessible on all major platforms, including Android, iOS, Windows, macOS, and the web.
WhatsApp is one of the most popular messaging apps currently available. With over 2 billion users, your consumers are likely utilizing its various communication features, including but not limited to messaging, group chats, file sharing, and audio and video conversations. Admins can use a group chat option to have private conversations amongst themselves.
WhatsApp also includes a basic business tool for facilitating communication between businesses and their clients. WhatsApp for business allows you to create a company profile, welcoming message, rapid reply, and away reply.
Advertise your business; Program in automatic responses.

Improve live chat support for customers.

Check your statistics, such as the number of IMs you sent and received.
WhatsApp Business is a version of the popular messaging app that's specifically designed for small businesses. It offers a number of unique benefits to help businesses communicate more effectively with their customers, including
Automated Messages: Businesses can set up automated messages to respond to common questions, such as business hours and product information.
Quick Replies: Businesses can also create and save quick replies to frequently asked questions, making it easier to respond to customers on time.
Labels and Catalogs: Businesses can organize and categorize chats with labels and display their products in a catalog for customers to browse.
Short Link: Businesses can create a short link that can be used to share their catalog with customers quickly.
Message Templates: Businesses can create message templates for common transactions, such as order confirmations and shipping updates.
End-to-End Encryption: All messages sent through WhatsApp Business are end-to-end encrypted, ensuring that sensitive information remains secure.
Verified Business Account: Businesses can get their accounts verified by WhatsApp to help customers quickly identify the authenticity of the business.
Insights: WhatsApp Business provides businesses with insights on messaging statistics, such as the number of messages sent and read, to help optimize their messaging strategy.

BotPenguin offers a spectacular chatbot that works flawlessly on Whatsapp. Read more about how BotPenguin can accelerate your business here.
Facebook Messenger
Facebook Messenger is quickly catching up to WhatsApp as a viable messaging app option for expanding your company's external communication capabilities. It's widely accessible everywhere but not in China.
As a business, you undoubtedly already have a Facebook page, and even if your consumers aren't on Facebook, they're probably on Messenger. Combining Facebook with chatbots like BotPenguin can provide numerous benefits for businesses, including
24/7 Availability: Chatbots can handle customer inquiries and respond to messages even when the business is closed, providing customers with round-the-clock support.
Personalization: Chatbots can be programmed to personalize their responses based on customer information, creating a more engaging customer experience.
Improved Customer Experience: Chatbots can provide customers with quick and accurate information, improving the overall customer experience and building trust in the brand.
Increased Lead Generation: Chatbots can engage with potential customers on Facebook, helping businesses generate leads and drive sales.
Data Collection and Analysis: Chatbots can collect customer information and preferences, providing businesses with valuable insights that can be used to improve marketing strategies and target customers more effectively.
Integrations: Chatbots can be integrated with other platforms, such as email marketing and e-commerce systems, to streamline business processes and improve efficiency.
WeChat
WeChat is a no-brainer if you have a Chinese clientele. Customers are more likely to interact with you through messaging, social media, and electronic payment app, which has over 800 million users.
Payment options, news, maps, and more are included in addition to standard texting features. The same advertising and marketing initiatives that may be run on Messenger can also be run on WeChat.
Regarding instant messaging apps, WeChat is one of a kind because businesses can also use it. To facilitate internal communications and streamline administrative tasks, businesses in China have used WeChat Work.
You should be aware that communicating over WeChat can compromise your personal information and privacy.
Telegram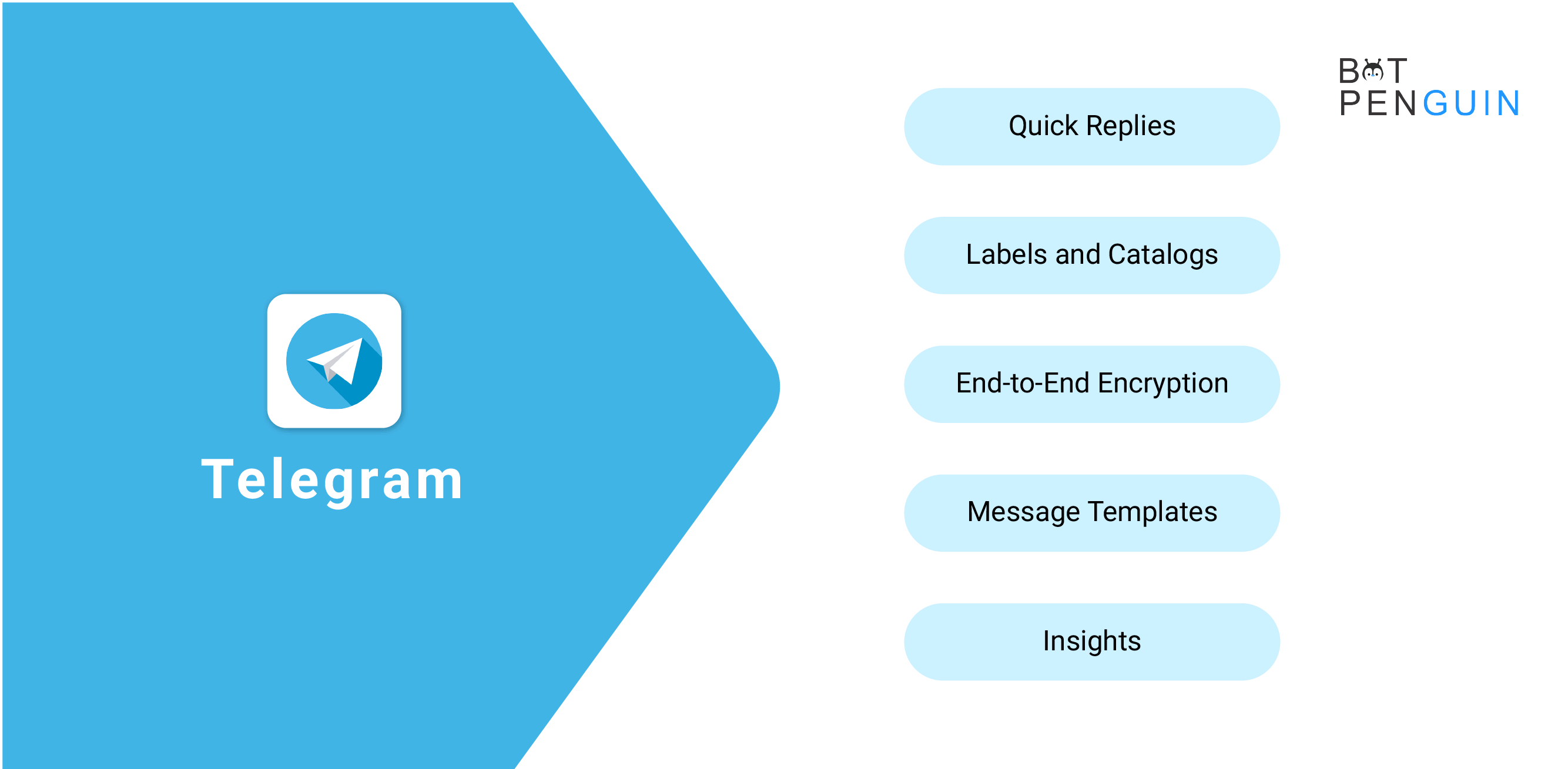 Telegram's user base is noticeably smaller at around a billion compared to the other messaging apps on our list. Despite this, the messaging app is gaining appeal among businesses, especially in countries with strong regulations on messaging apps, because of features like bots, private chats, supergroups, and the capacity to transmit files up to 1.5 GB in size.
Public channels and groups, as well as supergroups that support up to 100,000 individuals per group, are just a few tools that can help your lead generation. Additionally, while the server-side code for Telegram is open-source, the encryption technology it uses is not and has not been tested by experts, which may lead you to believe a lie about your safety.
Also, here are some benefits of using Telegram for business:
Secure Messaging: Telegram offers end-to-end encryption for all messages, ensuring that sensitive information remains secure.
Group Chats: Telegram allows businesses to create group chats with customers and colleagues, making it easy to communicate and collaborate.
Bot Platform: Telegram has a robust bot platform, allowing businesses to create custom chatbots to automate routine tasks and improve customer service.
Open API: Telegram has an open API, allowing businesses to integrate the platform with other tools and systems.
Cross-Platform Support: Telegram is available on various platforms, including desktop, mobile, and web, making it accessible to customers and employees regardless of device.
Telegram chatbots can offer several benefits for businesses, including
Automated Customer Service: Telegram chatbots can handle routine customer inquiries, such as product information and support requests, freeing up staff to focus on more complex tasks.
Customized Responses: Telegram chatbots can be tailored to respond to customers based on their specific information, resulting in a more appealing and interactive experience.
Save more: By automating routine tasks through Telegram chatbots, businesses can save substantial money on customer service, allowing their staff to focus on more challenging issues.
Generation of Leads: Telegram chatbots can be utilized to reach out to prospective customers, helping businesses grow their leads and boost sales.
Accessibility: Telegram chatbots are accessible from anywhere and at any time, making it easy for customers to receive support and information outside regular business hours.
Skype
Initiated in 2003 as a peer-to-peer platform for instant messaging and voice calling, Skype is one of the earliest IM programs available. Instant messaging, voice calls, video calls, and screen sharing are still all viable options on Skype for individuals and small groups. Also, it's ideal for making cheap calls to landlines.
For the time being, Skype has you covered if you need Skype messaging on a private business network. Skype for business operates on its network, but regular Skype users can be invited to join. In addition to the features found in the consumer edition, business users can also take advantage of a whiteboard, video conferencing, custom meeting URLs, and meeting recording capabilities.
With that in mind, let's examine the top business instant messaging apps for facilitating productive internal communication.
Discord
Discord provides instantaneous push-to-talk interaction, much like a walkie-talkie. It offers a fresh take on the conventional methods of corporate instant messaging. Discord's powerful speech features and chat and screen sharing have gained appeal in the corporate sector, even though the service was first developed to enhance gameplay for gamers.
Still, there are a few variations. Unlike other corporate communicators, Discord organizes your interactions into "Servers," with easy access to all of your Servers from a single interface.
In addition, Discord's speech feature is entirely independent of the chat function. You can mute the ongoing background chat by pressing the push-to-talk button. When a user clicks on a voice channel, an instantaneous conversation begins.
As a gaming tool, it includes YouTube, Twitter, Reddit, and a few others popular among gamers. This also means that the platform will attract a diverse user base. That might not be up to par with your company's ethics.
Discord's freemium version has all the basics, while the $9.99/month Nitro plan adds further features.
Mattermost
If your company is looking for an open-source messaging app, Mattermost is your best bet. You may be wondering, "What is open source?" because of this, you can tinker with the program's code and modify it to meet your business's requirements better.
Mattermost gives you a lot of leeways to make it your own, from the logo and login page to the user interface language and the option to encrypt data in transit and at rest on the server.
One-on-one conversations can occur in public and private chat rooms, and group conversations can occur through both. Voice communication, video, and desktop sharing are also available.
Installing Mattermost on your server is necessary because it is a self-hosted app. There are many open-source integrations and links to third-party tools like Jira.
Prices start at $10 per user per month, making it affordable for even the smallest teams and companies. A more robust plan is available for larger organizations.
Microsoft Teams
Microsoft Teams, which has 13 million daily users, recently surpassed Slack as the most popular workplace messaging app.
Teams have a few selling advantages, one of which is its word processing-like format for communication. You can use several fonts and construct bulleted lists within each messaging app. Then there's the seamless connection between Teams and Office 365. It's perfect for the workplace because it allows for seamless teamwork across Microsoft Office.
The platform welcomes you with a choice of two bots, T-bot or Who-bot, which provide access to the company intranet and the ability to search for and extract the information you need.
There are almost two hundred additional connectors available in Teams. Team members can talk to each other in either public chat rooms, where they can have a threaded dialogue, or privately.
But there are a few negatives to consider. Teams are expensive for startups with limited resources. The setup process for Teams can be lengthy and complicated.
For groups, the costs are as follows: $4 per user per month for Business Essentials: $6 per user per month for Business Basic: and $12.50 per user per month for Business Standard.
Fleep
When it comes to coordinating with other companies, Fleep is invaluable. Fleep allows you to communicate with people and groups outside of your company.
Fleep provides standard IM features such as sending and receiving messages. The program also allows you to send emails, organize tasks, and keep track of your conversations in an infinite message archive.
Fleep lacks built-in collaborative features, despite its compatibility with a wide variety of other apps (about 20 in total). Additionally, native voice and video calls are unavailable. It is achieved by using Whereby, which has some restrictions.
Fleep's pricing structure is as follows: Fleep Basic is free for one group conversation per month, while Fleep Pro costs $5 per user each month.
Chanty
Despite your unfamiliarity with the name, you should keep an eye out for Chanty. In 2018, Chanty joined the crowded messenger software market, providing medium and small businesses with an affordable AI-based business IM application.
One-on-one and group chat, audio and video calls, and assignment management are all rolled into one convenient platform with Chanty. You may also connect it to services like Google Drive, Trello, Dropbox, and GitHub.
Users who value organization will adore Chanty's Teambook function. Teambook's folder system centralizes communication, links, contacts, and tasks. With Chanty, you and your team may collaborate in several ways: by sharing files, sharing your screen, and full, searchable message history.
Prices for Chanty range from free (up to 10 users) to $3 (per user, per month) for Business subscriptions.
Troop Messenger
You may not yet be familiar with Troop, another corporate messaging tool. However, reasonable pricing guarantees that it won't go undetected for long.
All of these features, plus file sharing, screenshots, usage analytics, and fingerprint security, can be yours for just one dollar per month per user. The Enterprise package includes additional capabilities, including private messaging, screen sharing, and message editing.
With Troop, you can get 50 GB of free space and pay for an additional terabyte if needed. Troop is not just a cheap but also a flexible business IM solution because it allows for self-hosting.
Being a newcomer, Troop still has some rough edges. Some of the future features include comprehensive admin controls, message scheduling, tagging, integration with Google Drive and Dropbox, and more.
Costs for a group range from $9/month for Superior to $5/month for Enterprise to $25/month for Premium.
Flock
In its home country of India, Flock has achieved great success. Flock, though, has bigger fish to fry, having recently set its sights on Slack, Google, and Microsoft.
The standard functionality of a corporate IM app, such as chat channels, direct messages, group messages, threaded responses, and alerts and notifications, are all available in Flock.
Integrations are necessary for a wide variety of messaging apps feature, including but not limited to task management, to-do lists, channel-based emailing, and polling. But with Flock, everything you need is already there. Flock provides around 60 connectors, including Google Drive, Trello, Dropbox, and Twitter.
Teams with the free plan get access to 10GB of shared storage, while those with the Pro and Enterprise plans have access to 10GB and 20GB, respectively. However, you will be limited to uploading files no larger than 100 MB.
Flock's free tier only allows for 10,000 messages each month, while the $4.50/month Pro tier and the custom-tailored Enterprise Plan cost considerably more.
Ryver
Ryver has a built-in Kanban board and task tracking that ensures everyone is on the same page. Considering the messaging platform for business and other forms of communication like chat, voice, and video is a good idea.
Communicating can happen one-on-one, in small groups, or on public discussion boards. Pick some mail, then insert some titles and some long-form text. It's all manageable using a Kanban board once tasks have been derived from the information.
Do not forget to follow up on previous discussions by setting reminders. You will never miss an instant message again, thanks to the Notifications page. Ryver works with popular services such as Dropbox and Google Drive. Additional features include sharing your screen and an abundance of Zapier integrations.
Remember that Ryver could be a major blow to your bottom line if your staff heavily utilizes Zapier integrations. Zapier plans aren't cheap at all. Additionally, there is no free plan and restricted customization choices.
The starting price for Ryver is $69 per month for up to 12 users and $129 per month for up to 30 users.
Slack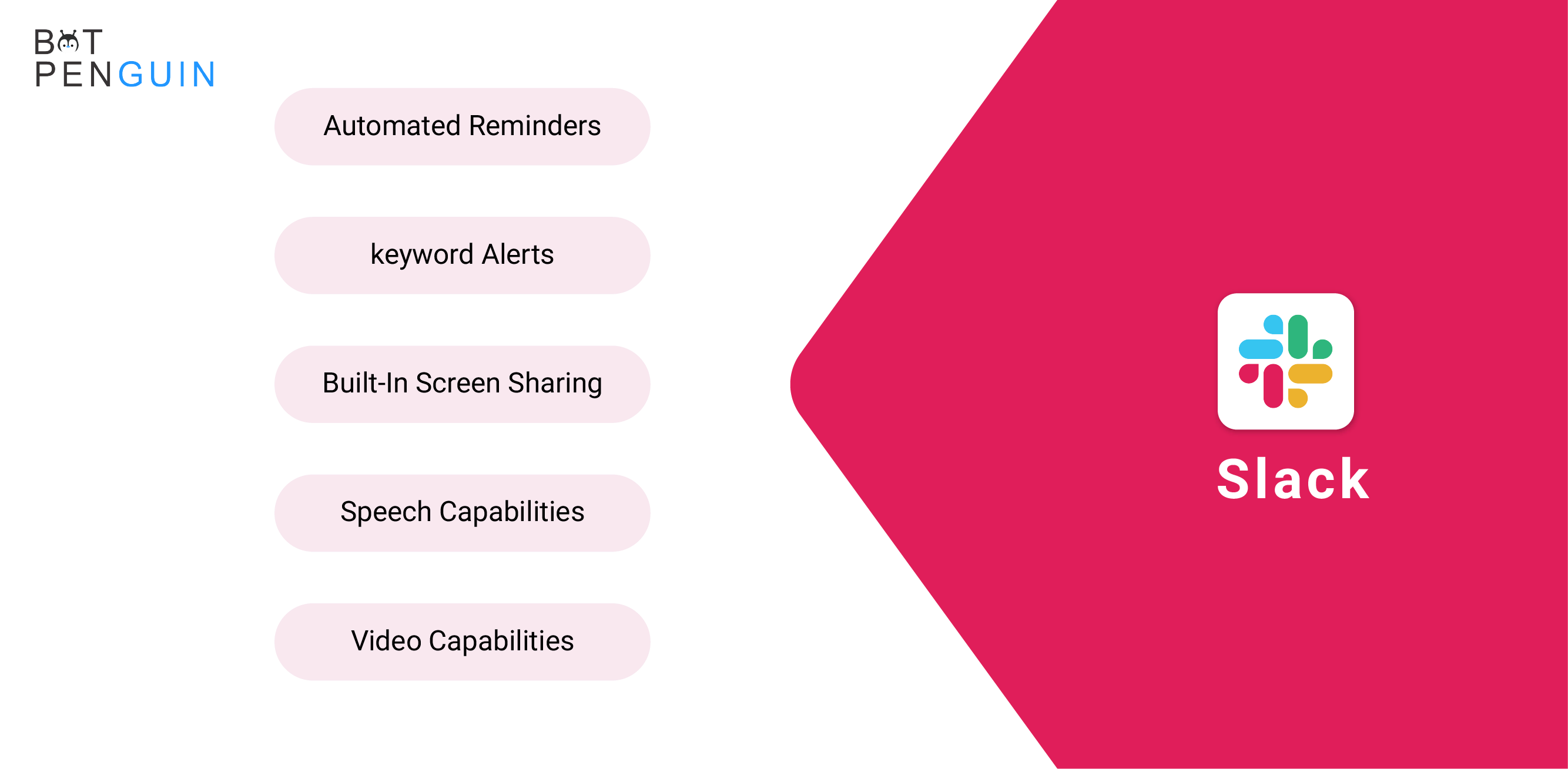 Slack is frequently praised as the leading platform for business instant messaging and collaboration, despite lagging behind Microsoft Teams. This is because Slack has one of the largest users and provides more integrations (1500+) than its competitors.
Slack's threaded chat, direct messages, and public/private channels simplify organization-wide collaboration and facilitate productive exchanges.
Features like automated reminders and keyword alerts complement built-in screen sharing, speech, and video capabilities. The latter will alert you whenever the phrase you specify is used. Slack offers a variety of security features, like two-factor authentication, data encryption, business key management, and more, for its users that prioritize safety.
However, the cost of Slack prevents many young companies and small teams from using it. In addition, many of its features and functions result from other tools and technologies, which could leave your company's network vulnerable due to its powerful integrations.
The free Slack plan has some restrictions, including a maximum of 10,000 messages, 10 integrations, and 5GB of shared storage. The Pro Plan costs $7.25 per user per month, the Business Plan is $12.50 per user per month, and the Enterprise Grid plan is available upon request.
Final Thoughts
Messaging apps have become a crucial part of communication for businesses of all sizes. There are tons of benefits and a more personalized and efficient communication experience for customers.
Whether you're looking for a free or paid option, many great messaging apps are available on the market. Slack, Teams, WhatsApp, and Ryver each of these platforms has its unique features and capabilities.
Ultimately, the best messaging app for your business will depend on your specific needs and budget.
By considering each platform's features, pricing, and ease of use, you'll be able to make an informed decision and take your business communication to the next level.