The most widely used messaging app on the planet right now is WhatsApp. The research firm Statista found that a staggering 1.6 billion users used the messaging app monthly.
Everyone uses one of the safest and most confidential communications platforms anywhere in the universe.
Let's keep our fingers crossed that this holds. The founders of WhatsApp have parted ways with Facebook under contentious terms, and Facebook is planning to rebrand WhatsApp shortly.
Additionally, Facebook intends to merge WhatsApp with the messaging platforms of Instagram and Facebook Messenger.
These developments signal the beginning of a new era for WhatsApp. According to Mark Zuckerberg, all of Facebook's services will soon emphasize protecting users' privacy.
However, I hold out little hope because Facebook is fundamentally a firm that violates users' privacy.
Through recent conversations with family and friends, young and old, and new and longtime users, I've discovered that many WhatsApp users need the maximum amount of privacy and Whatsapp features out of the app they can be getting today.
These conversations took place with young and old users.
This includes security that prevents other users of WhatsApp, Facebook, and data miners who hack into WhatsApp for their livelihood from seeing your WhatsApp activities.
Why is it Crucial to ensure the safety of the data?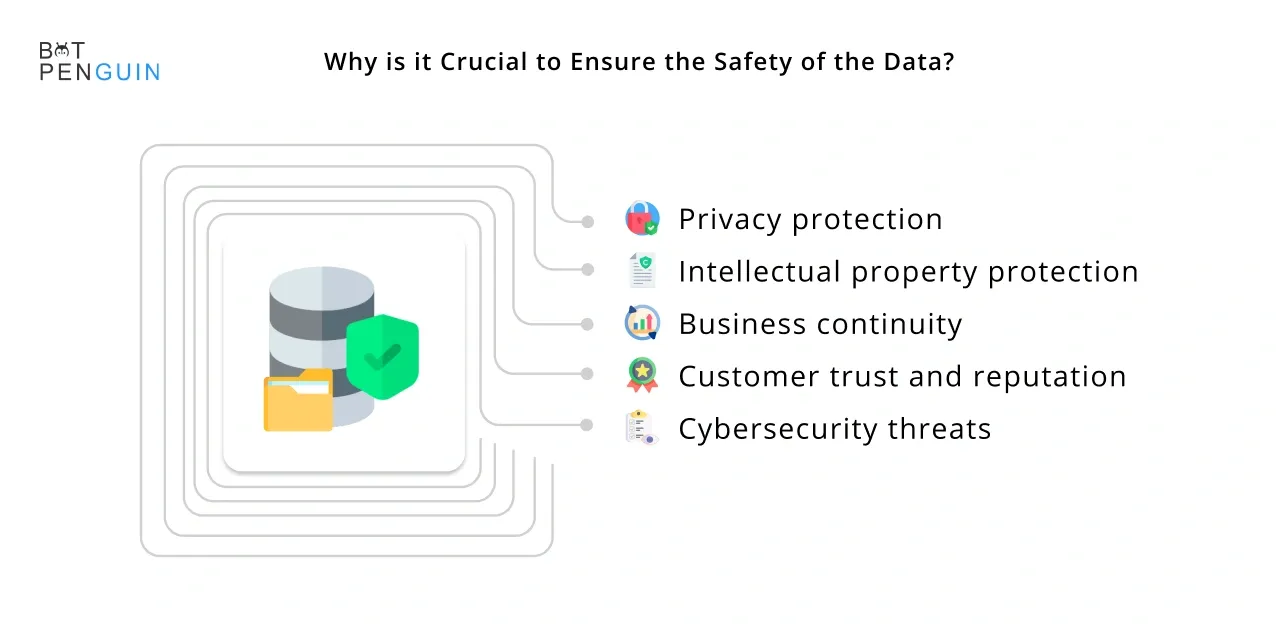 The primary goal of rules concerning data protection is to protect the individually identifiable information of customers and to offer consumers the ability to decide who can access their personal information and in what manner.
Personal data can include a person's name, address, date of birth, e-mail address, Internet protocol (IP) address, license plate number, location, and financial information.
Some examples of personal data include this information: Although it can give the impression that data protection is a more recent trend in legislation, the fact of the matter is that policies that protect a citizen's privacy have been in place for quite some time.
The most recent development is the extension of the rules governing data protection to embrace personally identifiable information obtained online.
This information may have been gained by monitoring cookies on an e-commerce website like Amazon, or it may have been user data maintained by social media corporations like Facebook or WhatsApp.
Either way, this information was obtained without the user's knowledge.
On the one hand, using this personal information can help businesses provide better goods and services to their consumers and enhance their overall experience.
On the other hand, using this personal information can assist customers in protecting their personal information.
On the other hand, since this digital data footprint contains private information about an individual, it may be exploited inappropriately.
Complying with applicable data protection laws, such as the Information Technology Act in India or the General Data Protection Regulation in the European Union, is vital.
They intend to protect the users' right to keep their personal information private. If these laws are broken, the companies involved will have severe financial repercussions.
But at the same time, you don't want to abuse the information that your customers entrust you with because doing so can damage the image of your company, even if it happens by accident or because of ignorance.
This is because abusing the information that your customers entrust you with can damage the image of your company.
Put another way; you want to avoid taking advantage of the information your clients have entrusted you.
Companies who can demonstrate to their customers that they treat the information they supply them with respect are more likely to acquire their customers' trust. And this encompasses your conversations on WhatsApp with your clients and consumers!
Depending on the locations of your company and your customers, there may be a range of data privacy standards that apply to your company and your consumers.
These rules may vary from country to country.
This is a handbook that will explain how to make use of all of the privacy protections that the service provides.
IT Act and Regulations in India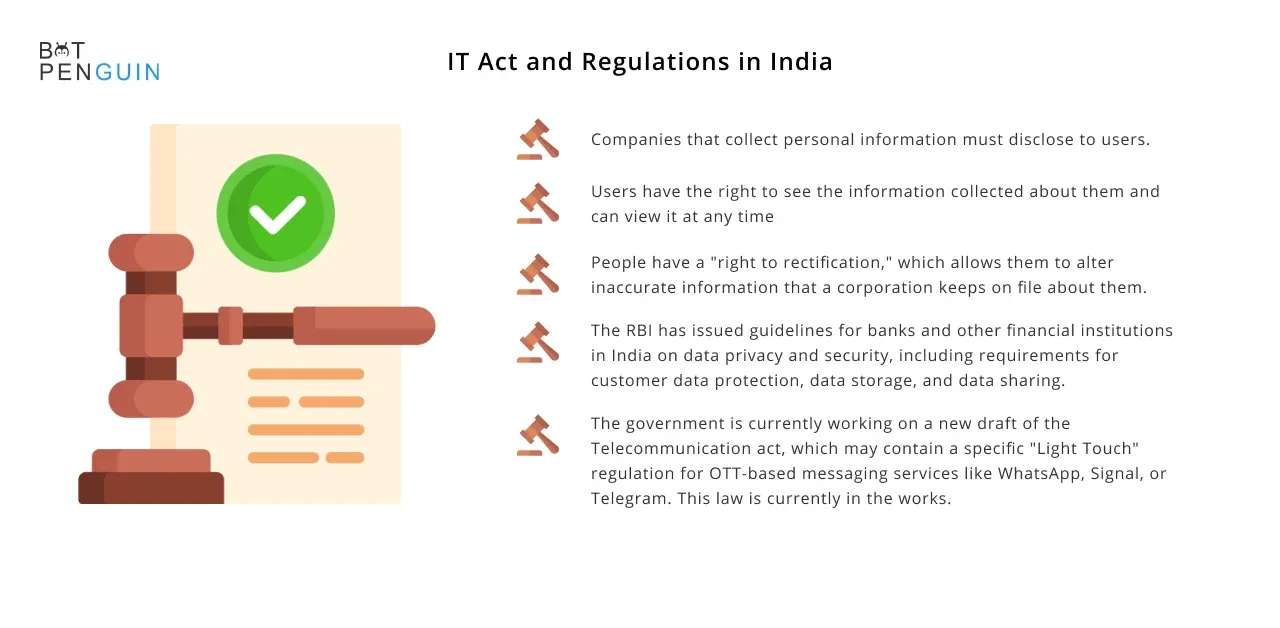 The Consumer Protection Act, restrictions imposed by the Telecom Regulatory Authority of India or the Reserve Bank, and the Health Data Management Policies are a few examples of the various legislation in India regulating the protection of personal information.
The government is currently working on a new draft of the telecommunication act, which may contain a specific "Light Touch" regulation for OTT-based messaging services like WhatsApp, Signal, or Telegram. This law is currently in the works.
Currently, the IT Act and its SPDI Rules are the primary factors affecting India's enterprises.
The Information Technology Act stipulates, in general terms, that businesses are liable to pay damages and, in certain instances, prison sentences of up to three years if they cause any loss by being negligent in the implementation and maintenance of security rules for the handling of personal data.
This holds even if the negligence did not result in any loss. Consent in the form of affirmative action is required before any collection, processing, or storage of personally identifying information (PII).
The SPDI guidelines, on the other hand, specify more detailed requirements and standards for how businesses are expected to deal with customers' personal information.
The following are examples of these types of personal rights: The right to receive information:
Companies that collect, store, process, or handle personal information must disclose to users, in the form of a privacy policy, the types of data they collect, the reason for which they gather it, and the security practices that they have in place.

Users have the right to see the information collected about them and can view it at any time.

People have a "right to rectification," which allows them to alter inaccurate information that a corporation keeps on file about them.
Now, individuals do not have the right to have information wiped from their records; however, they can withdraw their consent to process their data.
EU: GDPR
Since 2018, the General Data Protection Regulation has governed how personal data can be used within the European Union.
Any business that deals with customers' personal information must adhere to the following guidelines.
Data minimization: only process what is necessary.
Limitation on purpose: Before organizations can handle customers' personal information, they need to have a purpose that is well-defined, understandable, and lawful.
Accuracy: to process the data, it is necessary that the data be correct.
Accountability: The companies' responsibility is to ensure that how they handle user data complies with the GDPR.
Limitation on storage: personal data can only be kept on file for a maximum of necessary in light of the reasons they are being processed in the first place.
Bill for the Protection of Data and Digital Information in the UK
The Data Protection and Digital Information Bill 2022-23 is now being reviewed and ratified in the United Kingdom.
Under the current iteration of the UK General Data Protection Regulation (GDPR), "personal data can only be handled if there is a lawful basis for doing so."
There are a total of six bases of this type.
Consent means that a person has indicated that they are okay with having their personal information used for a particular purpose in some way.
Contract: If an individual's personal data is required to carry out the terms of an agreement to which the individual has agreed, then the data can be processed.
Obligation imposed by law: The processing of the data must take place to satisfy a legal requirement that the entity in charge of the data must fulfill.
The party controlling the data has a legitimate interest in processing the information since it is in their best interests.
For businesses in the UK to handle personal data, they are required to adhere to seven basic principles:
Respect for the law, impartiality, and openness to scrutiny

Purpose limitation

Data minimization

Accuracy

Storage limitation

Honesty and discretion are of the utmost importance (security)

Accountability
Any individual found to have violated these policies may be subject to a fine of up to 500,000 British pounds.
CCPA: The USA
The California Consumer Privacy Act will go into effect in 2020 to preserve the data privacy rights of citizens of the state of California.
Any corporation that fits any of the following criteria and conducts business in California must comply with the requirements of the CCPA.
Total annual revenue of more than $25 million, manages the personal information of 50,000 customers or more generates at least fifty percent of its yearly income from the sale of personal information
Even though the CCPA is only applicable within California, it may nonetheless have an impact on businesses outside the state that operate within California.
It is also important to note that other states in the United States, such as Colorado, have begun adopting privacy regulations comparable to those in California.
The following are some of the privacy rights included in the CCPA:
The right to be informed about any personal information that is collected about them by a company, as well as how that information is used and distributed by that company.

The ability to delete any personally identifying information obtained from them (with some exceptions).

They can opt out of having their personal information sold to third parties.

The right to protection from discrimination if they exercise their CCPA rights.
Even though data privacy rules in each country and region are different, they all place restrictions on how businesses are permitted to use WhatsApp to communicate with their customers.
Why are your company's WhatsApp conversations subject to the regulations that govern data protection?
When you engage with your clients via WhatsApp, you will invariably come into contact with personal information such as the name, phone number, delivery address, or customer number.
If the customers contact your company first, there will be no violation of data protection rules involving their personal information because they would have initiated the contact.
If this is the case, as a company, you have a valid justification (purpose) to handle the personal information of your customers.
However, things get more complicated when you start a conversation with a consumer by sending them a marketing message or a WhatsApp newsletter.
In these circumstances, the customer data that eventually makes its way to WhatsApp is being managed on your organization's behalf, not on the client's behalf.
When this occurs, your organization takes on the role of the responsible party, which means it is now obligated to guarantee that applicable data privacy regulations are adhered to.
The specific criteria for managing a user's personal information differ according to the firm's location and clients.
This process was governed, for example, by the US and EU PrivacyShield, which existed between the European Union and the United States.
However, in July 2020, the EU concluded that the Privacy Shield did not offer adequate protection for personal data as required by the GDPR.
Following unpredictability, the European Union (EU) presented the Standard Contractual Clauses for International Transfers in June 2021.
These new explicit principles replaced the previous vague ones. During the same time, WhatsApp revised its data policies for use within the European Union to ensure they complied with the new regulations.
However, even with these new agreements in place, there is no guarantee that your business can completely protect its customers' data when using WhatsApp for customer communication.
How secure is business communication on WhatsApp, and what potential dangers does it pose?
Encryption ensures safety.
It is essential to distinguish between the security protocol integrated within the WhatsApp chat software and the data protection.
Like most other messaging apps, WhatsApp encrypts its users' conversations from beginning to end.
This ensures that the content of your communications cannot be viewed by anybody other than the sender and the recipient of those messages. (There is one exception to this rule: if you save your chats in a backup cloud and someone hacks the cloud.)
End-to-end encryption is the default setting.
Users of several other chat apps, including Telegram, must turn on end-to-end encryption for the app on their own.
To put it another way, your conversations on WhatsApp are safe to read. The security system utilized by WhatsApp does not give rise to any issues regarding the privacy of users' data.
Instead, they take place during the process of creating metadata and utilizing the synch function that the app provides.
Accessing user information on the phone is risky
The conversation in WhatsApp takes place over the cloud, just like other chat programs. This results in data that is not encrypted, such as the telephone number, the physical location, or the Internet Protocol (IP) address.
This information is considered "personal data."
It, therefore, must be handled with extreme caution by the rules governing data protection in India, Europe, and certain regions of the United States.
On the other hand, because this information is stored on servers in the United States, Meta does not comply with the requirements of certain of the more stringent data privacy rules.
The issue is that your firm will be held accountable for the damages.
The syncing of contacts between many phones
In addition to the fact that WhatsApp stores personal data in the United States and does not process it by data privacy legislation, there is also a problem with how WhatsApp handles technical aspects of customer contact.
When you use WhatsApp on your mobile device (which you generally do with the WhatsApp Business Program), you immediately ask the app to search your contact list.
This contact synching is an incorporated WhatsApp feature that searches your contacts to determine whether or not any of them already have WhatsApp installed on their device.
It is possible to ensure that this procedure does not violate data privacy standards, but doing so will be a complex task.
This makes it difficult for businesses to use WhatsApp features while protecting their customers' data, although it is possible. Using the appropriate platform is the first step in getting things going.
Is WhatsApp safe?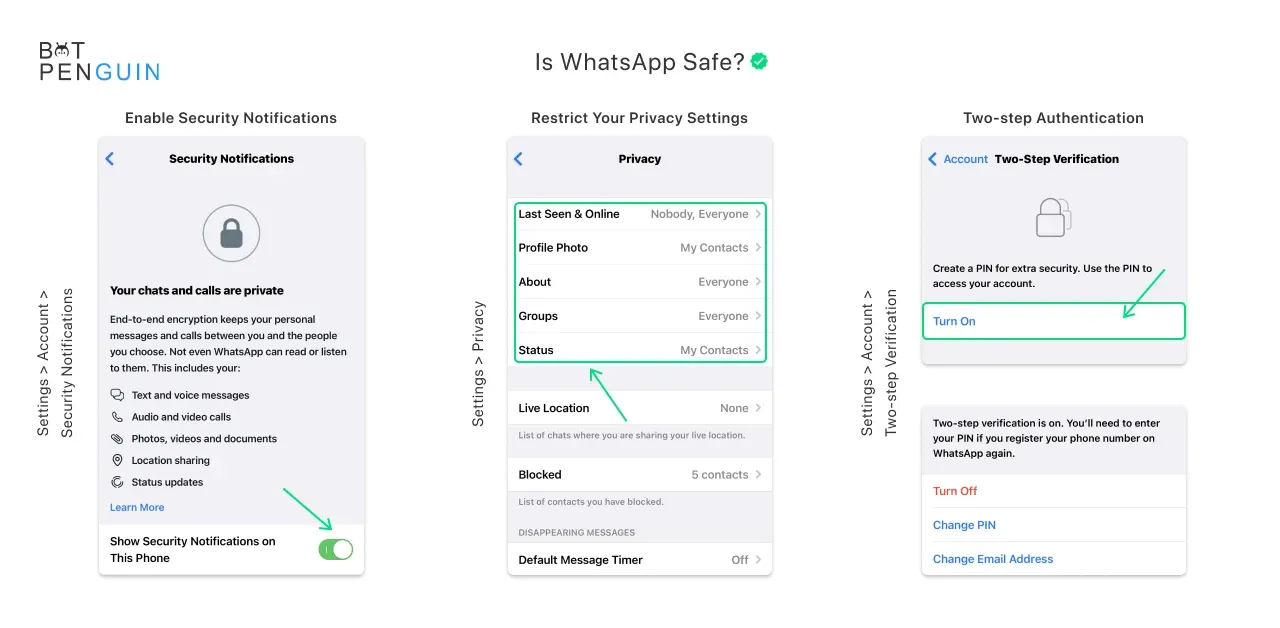 Encryption from Start to Finish
Because WhatsApp uses end-to-end encryption for its messaging services, the answer to your question is yes; your messages are safe using WhatsApp.
Because WhatsApp features like end-to-end encryption, all text messages, photographs, videos, audio and video calls, documents, and other files you send are protected from prying eyes.
No one else, not even WhatsApp, can decrypt the messages; only the person who sent them and the one who received them can do so.
Even if the hackers are successful in intercepting the transmission, this security and privacy mechanism will prevent them from being able to decode the contents.
This is one of the many benefits of using it. In addition, the content of messages is not stored on WhatsApp's servers under any circumstances.
As a result, WhatsApp is one of the platforms that offers the highest level of security. Compared to Telegram, Instagram, Twitter, and Snapchat, WhatsApp has a more secure platform.
Fraud and malicious software
On the other hand, one needs to know that every app can be broken into. The hackers may make use of a variety of scamming links to acquire your personal information.
For instance, if you click on the phishing link supplied to you by a hacker on WhatsApp, you will most likely be compromising the security of your WhatsApp account.
They can also employ a variety of malicious software programs to break into your WhatsApp.
Fake news poses a second risk to the safety of WhatsApp users since it may lead users to click on links that lead to malicious websites.
Therefore, you must educate yourself on spotting and avoiding falling for WhatsApp feature scams.
WhatsApp keeps track of your time using the service. This information is provided to Facebook as well. Another potential danger is posed by Facebook when it shares data from WhatsApp.
It poses a risk to users' privacy, and the recent change to Facebook that allows users to share their contact information may raise some privacy concerns.
Privacy and Status
Another potential risk that can expose your private information or photographs to people who have no business seeing them is the breach of status privacy.
The essence is that every software has vulnerabilities, and hackers make every possible effort to exploit such vulnerabilities. Because of this, users of these programs need to exercise extreme caution when doing so.
How to maintain the Confidentiality and safety of your WhatsApp conversations?
The sending and receiving of messages between two users on WhatsApp are protected by end-to-end encryption, a great Whatsapp feature making it a secure platform from a more general security standpoint.
However, there are a few security weaknesses that a hacker may exploit to get into this software and take vital information.
For instance, hackers may be able to access your WhatsApp account through malicious links that have been shared with WhatsApp groups.
1. Adjust your settings to give you less privacy.
Consequently, taking preventative actions to secure and keep your communications secret would be beneficial.
Your first order of business should be to tighten up the privacy settings on your account. You can change any settings related to your privacy by going to the main settings menu.
2. Configuring the WhatsApp privacy settings
Many different privacy settings are available in the most recent version of WhatsApp, which includes settings for the privacy of your profile image, chats, and status updates.
If you want to increase security, make these settings more restrictive.
You can protect one of your WhatsApp features called status from the potential breach of privacy by imposing restrictions on who can access it.
3. Enable end-to-end encryption for the backup service.
When it comes to the safety of messages and chats, WhatsApp, in general, provides a thorough level of protection.
On the other hand, in contrast to the messages, the backup of the WhatsApp chats is not end-to-end encrypted by default.
As a consequence of this, the backup of your WhatsApp messages that you keep on iCloud or Google Drive is susceptible to attacks from cybercriminals.
Because of this, it is strongly suggested that you enable end-to-end encryption of your WhatsApp backup to keep your WhatsApp backup data safe from cybercriminals.
In the WhatsApp features, you'll see an option to enable end-to-end encryption of your backups for WhatsApp.
4. Sign out of WhatsApp Web before quitting the app.
One fo the many WhatsApp features, you may now use WhatsApp on your desktop computer or laptop.
However, you are strongly advised to exercise caution when accessing WhatsApp from a desktop computer.
To accomplish this goal, it is recommended that you use a Two-Step verification method. It will make WhatsApp more resistant to being hacked than it was before.
In addition to this, ensure that you log out of the WhatsApp Web application when you are through using it.
5. Activate security notifications
Users of WhatsApp are continuously notified about potential dangers to their account security. You should enable security notifications to receive the most recent information regarding potential security risks.
In addition, you should be able to recognize the spam messages that hackers send to obtain your personal information.
One of the best ways to guard oneself against falling into the trap set by these con artists is to keep an eye out for possible cons.
Which version of WhatsApp offers the most reliable data safety for businesses?
You can use either the WhatsApp Business App or the WhatsApp Business Platform to communicate with your customers if you are a business.
Both of these alternatives are available to you. The personal app cannot be used for business purposes under any circumstances.
Free WhatsApp Business App, but there is no safety for user data.
WhatsApp Business is one of the best WhatsApp features offered for companies with up to five employees and is designed as a solution for small businesses.
In the same way, you would download the private app on your smartphone, you must also download the business app, link it to a phone number, and then create a profile for your company.
Since there is no cost associated with using the app, companies frequently select it as the top option.
Despite this, there is no assurance that the data will be protected. What exactly is the problem?
1. The app requires a smartphone to function.
The WhatsApp Business App is a mobile application similar to the WhatsApp private app.
Even though it may be used on a desktop computer, all operations are synchronized with your company's smartphone.
This includes syncing your phone contacts, which is already a violation of data privacy if you don't receive explicit permission from your contacts before installing WhatsApp.
You are already violating data privacy if you don't get this consent. Any new contact you add to your phone would require you to obtain their prior approval before adding them.
This is a cumbersome task, even if you utilize a separate phone line for your business.
You also have many WhatsApp features that prevent WhatsApp from searching through your contacts.
But if you did that, all that would be displayed in your WhatsApp contacts would be the users' phone numbers, and you wouldn't know who they belonged to.
In conclusion, if you use WhatsApp Business, you must always execute all updates immediately, deactivate the cloud back-up, and not send or save any attachments.
Examples of attachments include photos and PDF files.
Keeping in touch with your customers via WhatsApp in light of this information is, of course,
absolutely impracticable.
2. You use the cloud and server in the United States provided by Meta.
Even if you successfully kept your WhatsApp Business App on your smartphone above board, all of the information pertaining to your customers would still be transmitted over Meta's cloud and stored on their servers in the United States. This does not in any way guarantee the protection of data.
You will need to use the WhatsApp Business Platform to use WhatsApp features and guarantee that your data is protected in every way possible.
The WhatsApp Business Platform (API) is the only means to guarantee the complete confidentiality of user information.
The WhatsApp Business Platform, sometimes known as the API, is the official interface that WhatsApp provides for businesses.
It is not accessible via a mobile application; instead, it is accessed via a Business Solution Provider.
A Business Solution Provider is an official Meta partner company that provides you access to the API by putting in place the necessary infrastructure on your behalf.
This infrastructure is often already set up, allowing you to immediately begin using WhatsApp features while ensuring their data protection in your customer interactions.
This option does not come without a cost. Still, it offers complete assurance of the safety of your data if you verify that the servers hosted by your Business Solution Provider are located in a jurisdiction that provides such assurances.
How to ensure that your WhatsApp communications are 100% safe?
Utilizing the WhatsApp Business Platform by way of a Business Solution Provider is the initial and most essential step in using WhatsApp while also protecting your consumers' data.
In addition, you are required to gain the users' prior consent in the form of an explicit opt-in (legitimization), and you must also explain in great detail what will occur with the users' data.
1. Get user consent
On WhatsApp, there are two simple ways to obtain the consent of your users to process their data:
Opt-in widgets: Users of your website can enter into a WhatsApp conversation with your business if you install a widget on your site and make it visible to them.
However, this will only happen after they have acknowledged the data policies and sent you an introductory message. (It is important to note that the widgets offered by MessengerPeople by Sinch already fulfill all of the requirements for data protection.)
Chatbots: A person visits your website or one of your flyers, clicks on a WhatsApp link or QR code, and is brought directly into your WhatsApp chat through the "click-to-chat" function.
A chatbot takes over to obtain the user's agreement to your data regulations and some information from the user before passing the conversation off to a real-life representative.
2. Explain the legitimacy of the data processing
In addition to obtaining a user's approval of your data policies, you must provide them with information regarding the types of data you will process and how you will do so.
If you are processing health data, you should talk to a legal professional first since there may be additional regulations to follow.
Conclusion
Users concerned about their privacy are likely to have this question on their minds.
As a result of its end-to-end encryption feature, WhatsApp is a more secure social networking platform than its competitors.
Because of this feature, it is guaranteed that no one other than the sender and the receiver can decipher the messages. Because of this, no outside entity, not even WhatsApp, will be able to read your communications.
However, there are potential dangers that could compromise the safety and confidentiality of your WhatsApp account.
To give yourself the most thorough protection possible with WhatsApp features, turn on the end-to-end encryption feature for your backups. In addition, if you want to keep WhatsApp secure, you shouldn't click on any spam messages.
BotPenguin is a great tool for taking your Whatsapp communication to the next level.
Your business can serve your customers 24*7 and can reach out to them on any device. How awesome is that?
Augment your WhatsApp and automate today with the free trial and see the magic happen.
FAQs
Q: Tell me about these Whatsapp features.
A: Some of the Whatsapp features include messaging, voice and video calls, group chats, status updates, end-to-end encryption, and file sharing.
Q: How do I make a voice call on Whatsapp?
A: To make a voice call on Whatsapp, open the chat with the contact you want to call and tap the phone icon at the top right corner of the screen.
Q: Can I make video calls on Whatsapp?
A: Yes, you can make video calls on Whatsapp by opening the chat with the contact you want to call and tapping the video camera icon at the top right corner of the screen.
Q: How do I join a group chat on Whatsapp?
A: To join a group chat on Whatsapp, you need an invitation link from the group admin. Once you have the link, open it in Whatsapp and follow the prompts to join the group.
Q: What is end-to-end encryption in Whatsapp?
A: End-to-end encryption is a security feature that ensures that only the sender and receiver of a message can read its contents. Whatsapp uses end-to-end encryption for all messages, calls, photos, and videos sent on the platform.
Q: How do I update my status on Whatsapp?
A: To update your status on Whatsapp, open the app and tap the "Status" tab. Then, tap the pencil icon to create a new status or tap on an existing status to edit it.
Q: Can I share files on Whatsapp?
A: Yes, you can share files on Whatsapp by tapping the attachment icon in a chat and selecting the file you want to share. You can share documents, photos, videos, and audio files.
Q: What is Whatsapp Web?
A: Whatsapp Web is a feature that allows you to access your Whatsapp account from a web browser on your computer. You can send and receive messages, make calls, and access your chat history on Whatsapp Web.
Q: How do I use Whatsapp on my desktop?
A: You can use Whatsapp on your desktop by downloading the Whatsapp desktop app or by accessing Whatsapp Web in your web browser. To use Whatsapp on your desktop, you need to scan a QR code using your phone.
Q: Can I delete messages on Whatsapp?
A: Yes, you can delete messages on Whatsapp by tapping and holding on the message you want to delete and selecting "Delete" from the menu. You can choose to delete the message for everyone or just for yourself.