What is Tawk.to?
Tawk.to is an instant messaging and live chat service. It's a useful tool for facilitating engagement between companies and their target audiences.
It's a practical method of bridging the communication gap. It's also of the most popular live chat applications out there.
While Tawk.to certainly has its merits, it's important to remember that there are plenty of other powerful options out there and today, we'll talk about one of the better ones, BotPenguin.
Everything has benefits and drawbacks, and deciding requires a thorough consideration of both.
The core features
Lets you keep tabs on site traffic and communicate with your audience in real-time from a page you design for free.

The highly customizable software allows users access to their chat histories, performance data, and customer communications.

Interact with graphs and historical metrics in a visually appealing and informative dashboard.

Information about visitors, conversations, page views, and more is provided.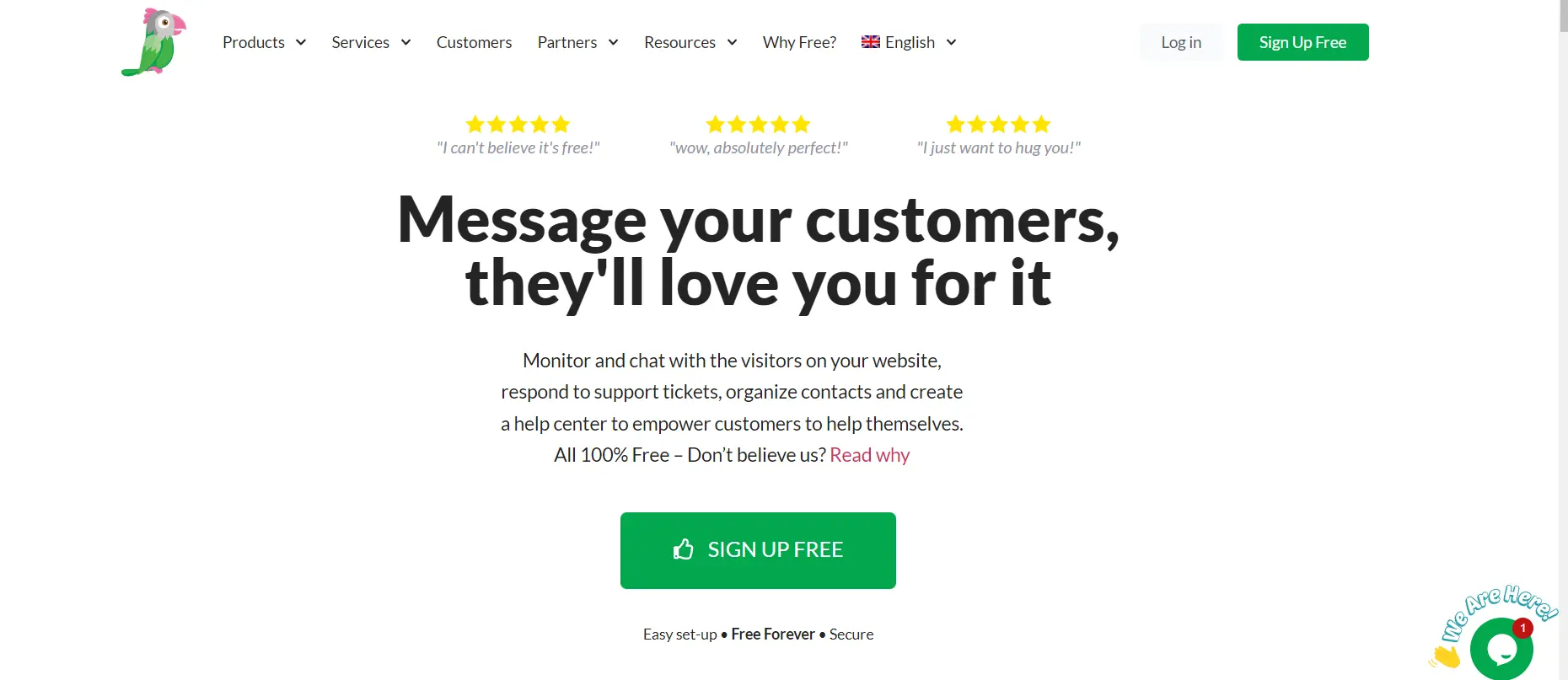 Highlights of Tawk.to
The following are some of Tawk. to's features that will help your company communicate with its customers better.
A constant presence in the market
Exactly how high-quality the offered service or product is. How quickly and effectively the customer's needs are addressed? Both of these are must-haves for any company hoping to succeed. Organizations seek new employees and use every means of communication to reach out to them. The social media site Tawk.to is a great place to meet these needs. Promoting your business is a great strategy because you can reach out to customers conveniently.
More Handlings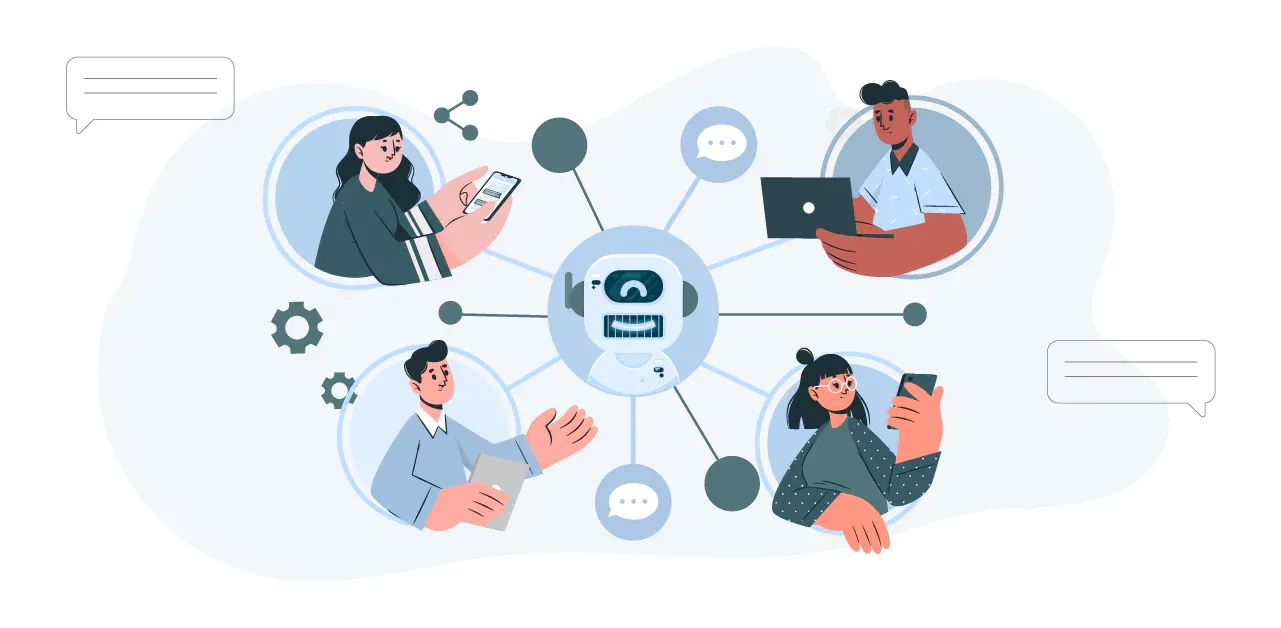 With Tawk.to, you may join an unlimited number of groups and chat with an unlimited number of people. In addition, your organization will be able to monitor its site's traffic. You'll be able to manage all visitors at once, even if there aren't enough active agents to handle everyone. The conversation can be shared with other agents. To make sure customers get the help, they require.
Customizable
Tawk.to is a flexible and user-friendly service that you can tailor to your specific needs. Many of its features, including as notification boxes, conversation hues, and user-specific uploads, are modifiable. You can integrate your company's name and logo into the design. You can use this if you want the app to have a more polished, customized look.
Engaging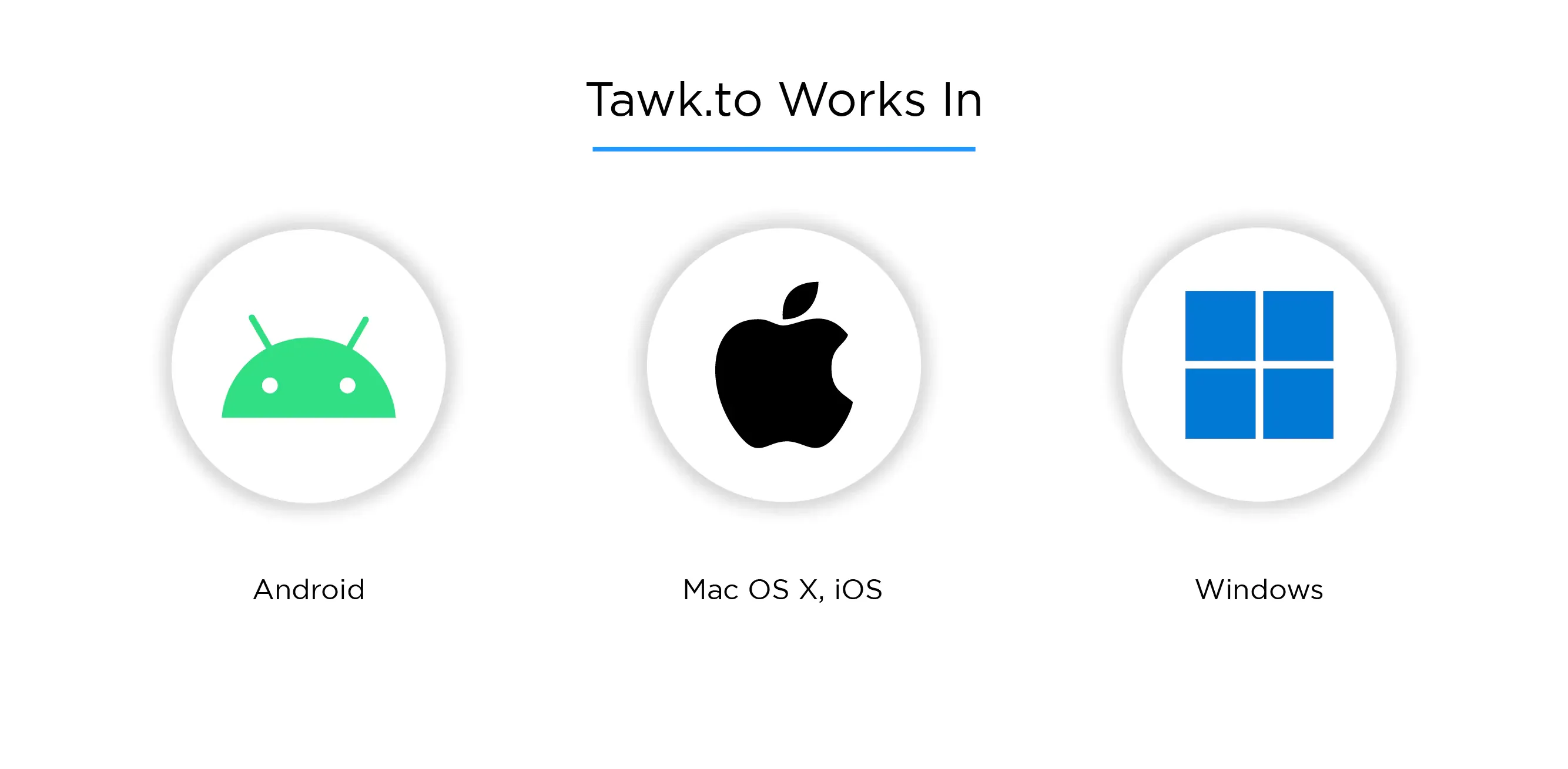 Initiating conversations with your clientele through premade shortcuts and automatic triggers. Use Tawk.to to pay closer attention to your patrons. By using the sneak peek feature, your staff may get ready to respond to customers' questions even before they start interacting with them.
Then, with a library of over 1,800 emoji, users may carry on the conversation in an informal and relaxed fashion.
In total, it supports 27 different tongues. The software is available worldwide and in a variety of languages. It also works with Mac OS X, iOS, Android, and Windows.
Advantages of Tawk.to
Tawk.to, a free live chat service, allows you to communicate with website visitors in real-time and offer them immediate assistance. There are benefits and drawbacks to anything, and this program is no exception.
This live chat software makes it simple to provide prompt, individualized service to customers in real-time.

Always be monitoring site activity and ready to assist your customers.

Proactively beginning conversations with app users and website visitors is another notable advantage.

For the first live conversation, users have access to everything they need.

Very little work is required to put this into effect.

Using the notes feature, you can remember the specifics of your conversations with customers in the past.

You have the option to label and delegate conversations to certain members of your team. Facilitating timely responses from the right people. As a result, your agents will have more information with which to interact and respond to customers' questions.
Disadvantages Tawk.to
However, only a small set of third-party apps is compatible.

It's possible that Tawk. to's interface will be overwhelming to first-time users.

There is no guarantee that it will operate or that you will receive the necessary support simply because it is free.

User analytics are unavailable when accessing content offline.

To initiate a conversation on behalf of a free agent, the bot message is the only option.

The only stats we have are the total number of conversations, unique visitors, and pageviews.

Online storefronts are not Tawk. to's strong suit. Being unable to fulfill the requirements of eCommerce business owners is a major limitation of the technology.

The interface isn't very user-friendly or aesthetically pleasing.

Notifications have been missing in action on multiple occasions. The last thing your customers want is for their messages to go unanswered or for them to have to wait for a response.

There are limitations on what can be done with the tool, even though it's free. You can remove their company logo, among other features, but doing so will cost you more.



What if you get free templates to make your chatbots? Go ahead and Try BotPenguin:
The Contender: BotPenguin
BotPenguin is an AI-powered chatbot that can be integrated into your company's website, messaging app, and other channels to help it grow. It is a much better Tawk.to alternative.
This Tawk.to alternative is imbued with chatbot with NLP and conversational AI, and BotPenguin make sure that this is easy to implement with zero development time, strictly no code and zero setup cost.
This facilitates the easy and rapid development of high-quality chatbots for user-brand interactions.
Users of BotPenguin can design their chatbots for use on websites to automate responses to frequently asked questions.
In a nutshell, this Tawk.to alternative helps customers find precise answers to their slang questions by guiding them toward relevant results.
BotPenguin ensures that you keep up with your customers and visitors with that awesome live chat, godly integrations and a mighty unified inbox to get all the queries.
It has a massive array of 60+ native integrations for customers.
Comes equipped with an omnichannel chatbot feature that can walk a gazillion miles for you around the web and keep your customers happy and engaged on all platforms.
This Tawk.to alternative gets those super bots working on Telegram, WhatsApp, Facebook or your website, which basically automates your marketing to the next level. You can generate leads like a pro, support your customers, and easily schedule appointments.
You can automate your chatbot marketing to the next level and whether you use drip campaigns or bulk campaigns or provide round-the-clock service, it's all for you to provide.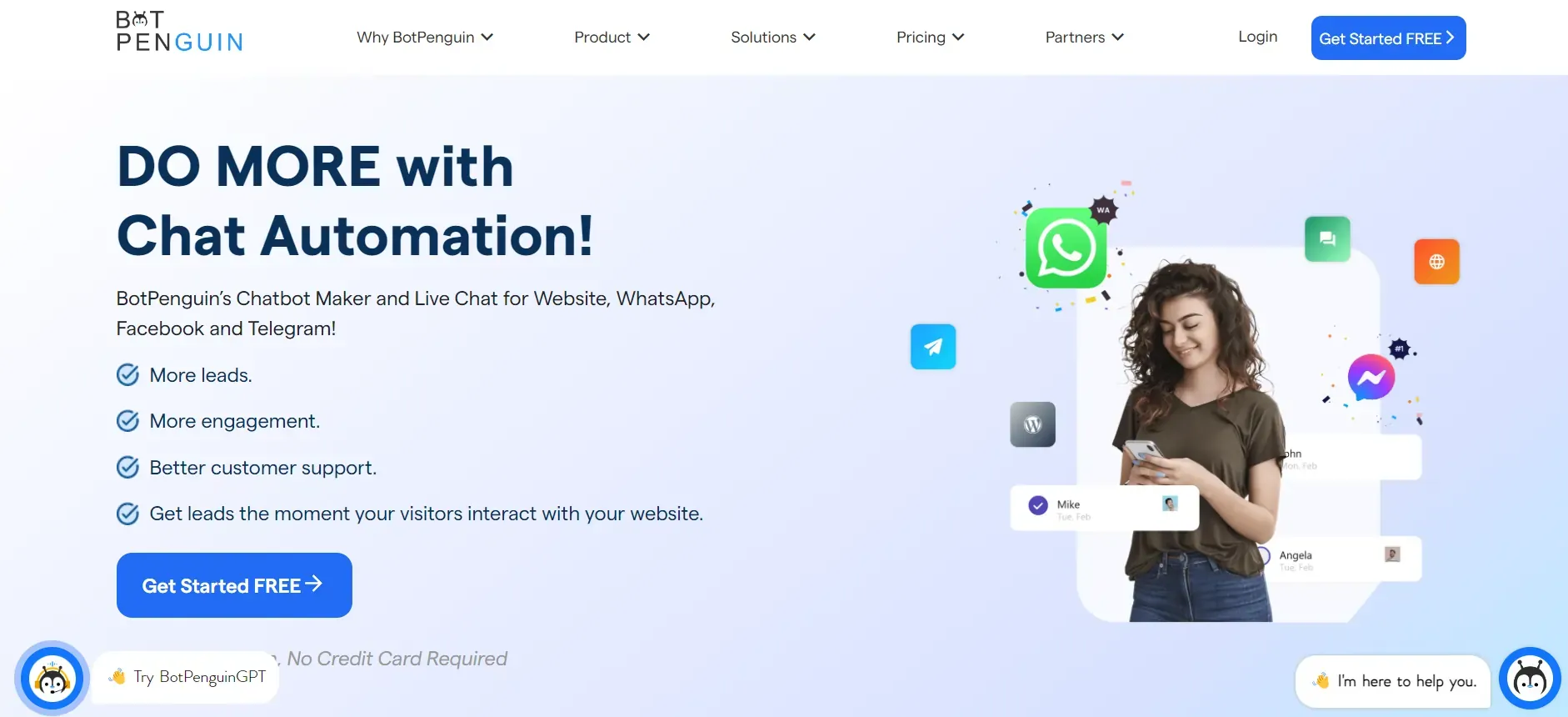 Key Features
Zero Development Time
It takes practically no time for a user to design, construct, and produce their chatbot.
Our website and platform allow you to create chatbots for free. No dime for a ton of money time!
Easy to Integrate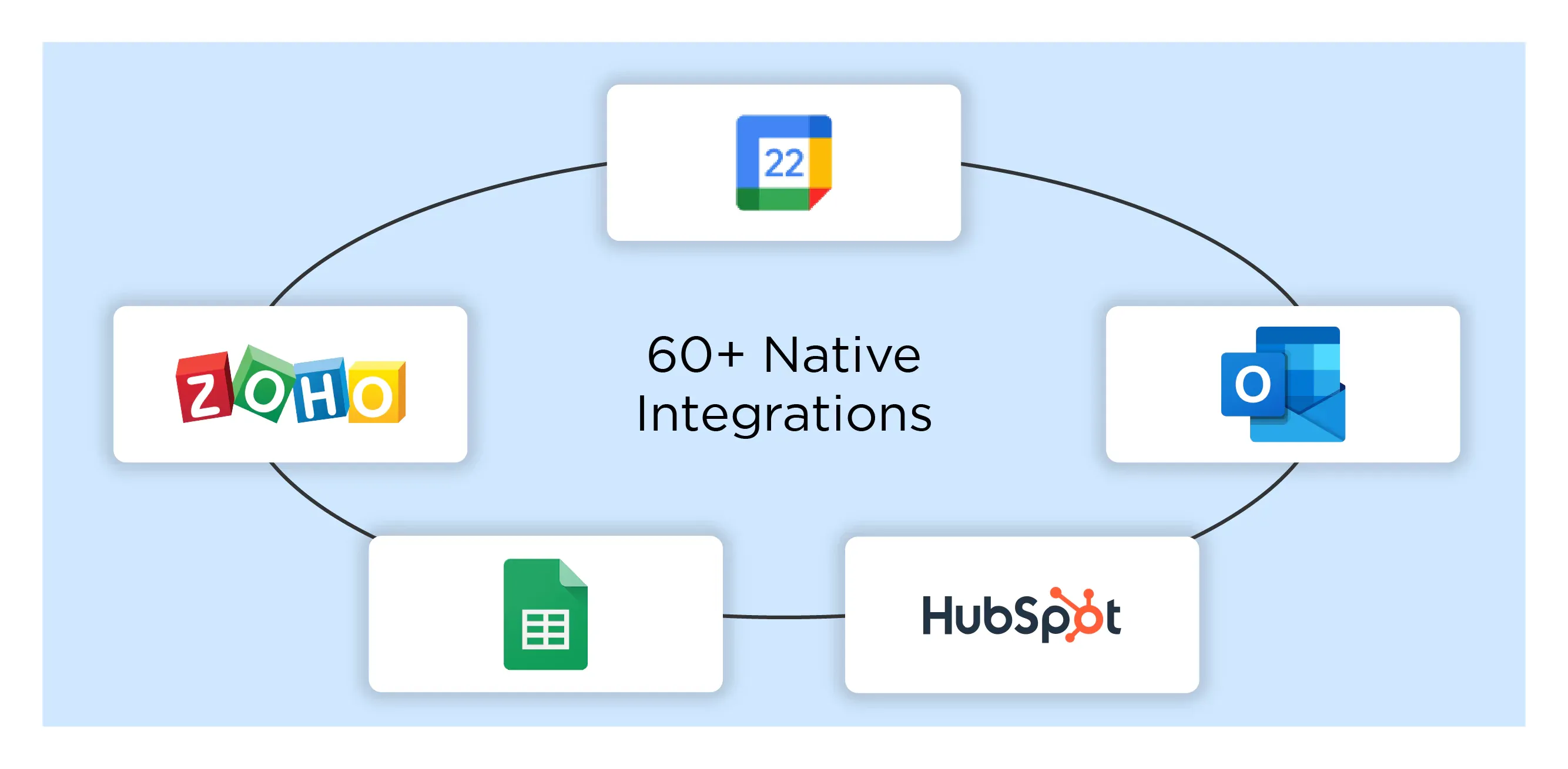 This Tawk.to alternative for a website can house up to 60+ native integrations. BotPenguin is easily compatible with Zoho, Hubspot, Google Sheets, Calendar, CRM, Microsoft Outlook, and many more!
Easily Customized
There are several user-friendly tools available while building a chatbot. Free templates made specifically for different corporate sectors are one of them. The templates can easily keep the users engaged and convey a conversational tone. The chatbot may be customized to meet the demands of the user's business since it can be branded as intended.
Easy Lead Generation
BotPenguin gets you leads conversationally, unlike other chatbots. The users can feel comfortable having a real conversation with a fellow neighbor. Additionally, it does help you get more visitor insights and develop a better marketing plan.
A 24/7 Live Chat
The Live Chat feature helps with excellent customer service and boosts sales while creating a nurturing relationship with your clients. Your clients or prospects can reach out to you anytime and any place.
Unified Inbox
This awesome feature can help you get all the emails from customers who dwell on different platforms like Facebook, Telegram, WhatsApp or website all in one inbox.
It can help you engage with your customers and provide them with excellent support, all at the same time.
Omnichannel Chatbot
This Tawk.to alternative is super hip, present across various channels, and dedicated to the satisfaction of your clientele around the clock.
It can carry on natural-sounding chats with customers on your behalf. Additionally, you obtain widgets that can lead visitors to your website or any other page of your choosing.
Multilingual
BotPenguin can easily communicate in a selection of 20+ supported languages.
Trigger timer
Schedule your website's chatbot's activation time to match client responses and help them complete their purchases.
Device compatibility
BotPenguin can create a dynamic and a customized experience for smartphone and website users.
Marketing Automation
This Tawk.to alternative can help you automate your marketing with drip and bulk campaigns, broadcast your catalog, and give your customers a warm welcome with personalized greetings.
Facebook Automation
You can get the best out of Facebook with automated chatbots to boost your sales.
BotPenguin can recommend products and collect feedback to improve the customer experience.
Additionally, you can automate BotPenguin to answer FAQs and keep your customer in the loop with their informational needs.
WhatsApp Automation
Witness the next-level Whatsapp automation and provide your customers end-to-end shopping experience.
You can also deploy a WhatsApp button, Ads, and a QR code at your convenience.
You get the added functionality of Push Alerts and Notifications to push product updates and notify them about upcoming services.
Unparalleled Customer Service
BotPenguin loves to be there on a website, WhatsApp, Telegram, or Facebook. Any of the customers can be easily tackled by BotPenguin can easily help them navigate to their solutions.
Business Automation
Business processes can be pretty complex, and sometimes, it so happens that you can lose track of things.
This is where this Tawk.to alternative comes in to save the day, as it can automate your marketing, generate leads faster, and make payments a walk in the park.
It can also act as an effective media distributor since it constantly updates your customer with catalog news and product updates.
You can put your sales and cross-selling through BotPenguin as it can serve various industries like e-commerce or food and as a one-stop shopping solution for all.
Ready to use templates
Our templates are one of a kind. We've got a great selection of templates to engage with your customers as if conversing with a friend on a Friday evening.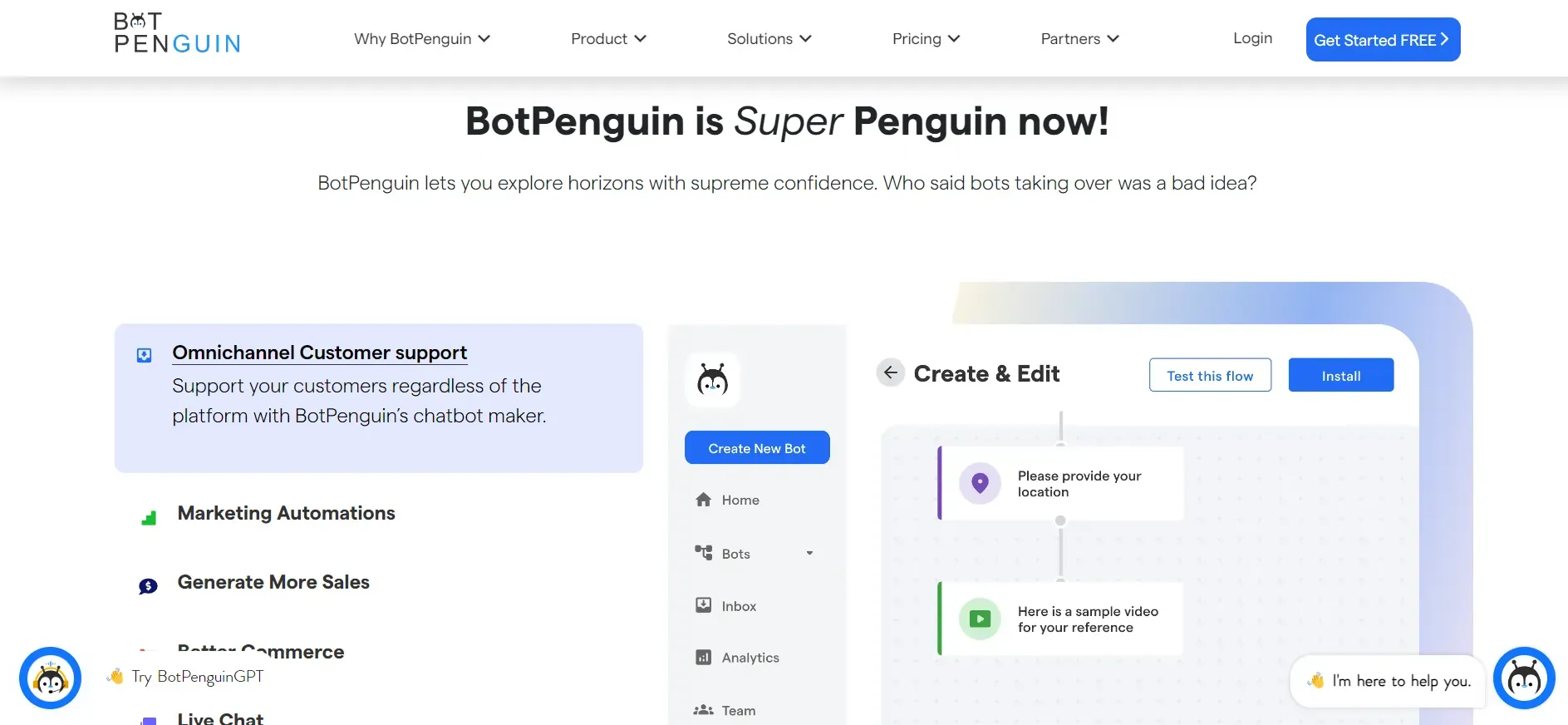 Advantages of BotPenguin
Many organizations frequently experience non-interactive contact forms without lead generation, inflated prices, reduced sales, prolonged waiting time for straightforward inquiries, etc.
Due to this, there is an obvious decrease in conversions, so customer service takes a great hit. Nevertheless, this Tawk.to alternative offers a comprehensive answer to these issues and much more!
This unique chatbot maker tool is incredibly user-friendly. It develops a chatbot for websites and social media messengers, producing conversations to gather leads efficiently.
Here are some advantages of utilizing chatbots for websites created by BotPenguin:
Assists in gathering surveys, scheduling appointments, and selling items.

Handles customer support, automates marketing and recovers abandoned carts.

Available 24 hours a day on the user's website, WhatsApp, Facebook, and Telegram.

Responds to consumer inquiries instantly.

Assembles data and effectively generates leads.

Keeps contact information in a CRM (customer relationship management).

Increases visitor engagement and conversion rate.

Zero Setup Cost

60+ native integrations

Zero coding needed

Comes with a Free plan, which can be upgraded to a premium one.




Types of Chatbots Offered
Lead Generation Chatbot
It can boost lead conversions by giving users an engaging way to share their information.

It provides sales associates with an overview. The chatbot can qualify leads by posing a specific set of questions.

After the qualification, the leads may be forwarded to your CRM via APIs (Application programming interface).




Virtual Assistant Chatbot
This chatbot offers users to virtually organize meetings via video conference, phone call, or in-person by noting the location and time.

This Tawk alternative can now identify between the visitor and returning client and conduct conversations accordingly, thanks to NLP.

Visitors may schedule appointments, make payments using secure payment channels, and converse with the virtual assistant on your website.
Customer Service Chatbot
This Tawk alternative utilizes live agents to provide immediate answers to all commonly asked queries from the users.

After the interaction, it receives consumer feedback on the service provided or the product mentioned.

Chatbots from BotPenguin offer 24/7 help for any user inquiries.

It also assembles survey results, then provides reports for any action required.




The million-dollar question: which one is the better choice?
It is crucial for businesses to market effectively and, in so, come chatbots. Taking well-calculated steps to automate business can be a boon to scale your business to new heights.
Both chatbot makers seem to do the job perfectly, but when it comes to future proofness and features that go miles, BotPenguin seems to be the clear winner.
BotPenguin is a chatbot that is genuinely a do-it-all. It can generate leads, sell products, and quickly help you keep your customers engaged and retained. Hence it makes it crystal clear that BotPenguin is the better Tawk.to alternative.
BotPenguin keeps affordability factored in and has a free plan for anyone and everyone. Ensuring that pricing matches the needs of every industry and its size so that one can catch that plane ticket to growthsville.
Also, try BotPenguin for free at $0 and see the magic happen!
Frequently Asked Questions
Does tawk.to have a chatbot?
Yes, tawk.to does have a built-in chatbot feature. The chatbot allows you to automate responses to common queries, engage with visitors when no agents are available, and gather basic information from users before transferring them to a human agent if needed.
Is tawk.to an API?
Yes, tawk.to provide an API that allows developers to integrate Tawk.to's chat functionality into their own applications or websites. The API enables businesses to build custom chat solutions and extend the capabilities of tawk.to.
How do I create a new property in tawk.to?
In tawk.to, a property represents a separate website or business entity. To create a new property, log in to your tawk.to dashboard and click on the Admin tab. In the left sidebar, select the Properties section, and then click on the "Add Property" button. Follow the prompts to provide details about your new property, such as its name, URL, and other relevant information. Once created, you can customize the settings and appearance of the chat widget specifically for that property.
What are the key differences between these two tools?
Tawk.to offers a wide range of features such as visitor tracking, file sharing, and ticketing system integration. On the other hand, BotPenguin specializes in creating AI-powered chatbots that can handle customer queries, provide information, and even process transactions.
Which tool offers better customization options for chatbots?
When it comes to customization, BotPenguin allows businesses to create highly tailored chatbot interactions by defining conversation flows, designing custom chatbot avatars, and incorporating specific branding elements. Tawk.to, while it offers some customization features, primarily focuses on the live chat interface and functionality rather than chatbot customization.
Does BotPenguin support multiple languages for chatbot interactions?
Yes, BotPenguin supports multiple languages for chatbot interactions. It offers language customization options, allowing businesses to create chatbots that can communicate with customers in their preferred language.