Chatbots may boost engagement by up to 90% and sales by 67% if used as a focused marketing tool.
Online transactions now dominate the real estate market. Data demonstrates that more than 50% of house purchasers search online for listings. That doesn't surprise me. For consumers, searching is now easier, thanks to the internet.
However, it has also pushed real estate businesses to a higher standard. The needs of your consumers may be easily gathered by a simple real estate chatbot, which can then convey the data to your agents so they can help the clients even more. It makes it easier for real estate brokers to promptly determine how severe a lead is and provide them with high-quality information.
A real estate bot can help gather data that you can then nurture and save in your CRM or database for later use.
Real Estate Industry AI Chatbot
AI chatbots are essential to the development process. One of the developments brought on by AI is the effect of chatbots. Industries have changed dramatically as a result of AI.
Nowadays, the majority of businesses use artificial intelligence to provide the best possible solutions. The real estate industry has come to understand that AI chatbots provide answers and long-desired possibilities to the customers.
How can Botpenguin chatbots help your real estate business?
1. Lead Qualification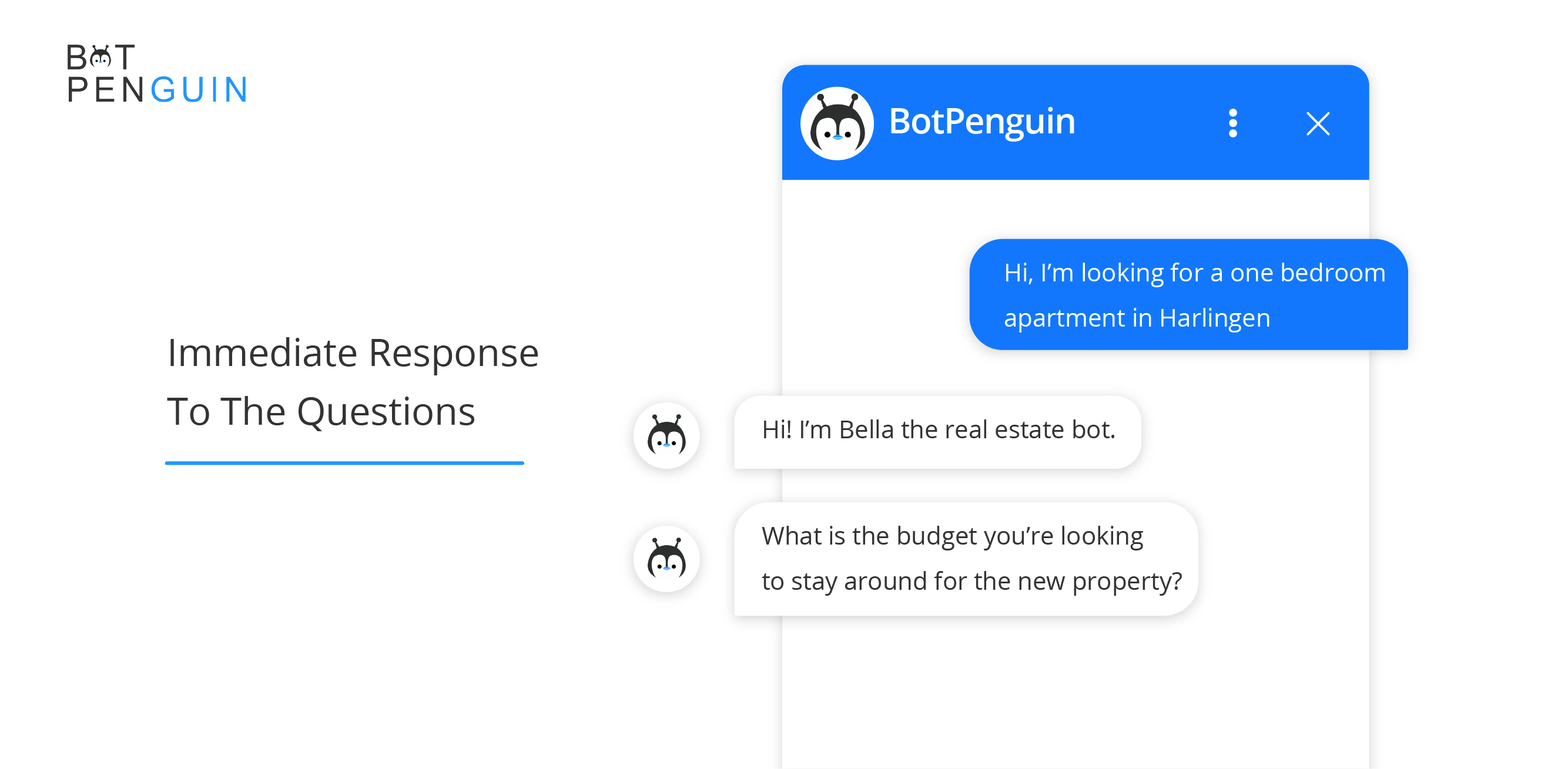 A consumer may become interested in a particular website if he receives an immediate response to his questions. They will thus be more likely to gravitate toward that website, increasing the likelihood that they will receive repeat business.
The most astonishing thing about chatbots is that they provide ease, promptness, and efficiency in their responses, encouraging potential customers to visit your website.
2. Information Retrieval and Discovery
Information retrieval used to be labor-intensive and done by humans. It's important to carefully review consumer information to offer customers the most incredible discounts.
The lengthy wait times brought on by filters, searches, etc., may have a detrimental impact on the user's overall experience.
AI chatbots can provide enormous amounts of knowledge and solutions at a much faster rate. Customers want quick and convenient outcomes in today's settings. AI chatbots are effective enough to provide customers with the precise answers they expect swiftly.
3. Creating Customer Profiles
Chatbots can question users for details to get a sense of their preferences for the area, city, and town where they reside, as well as what kind of property they would most want to purchase.
What is their budget for listing their homes, and do they choose to purchase, rent, or lease? Selection of homes, including condominiums, houses, and flats.
This data is gathered from potential customers by chatbots so that each user may have a profile created and receive customized alternatives.
4. Respond to inquiries about real estate.
Potential buyers may have questions or concerns regarding various elements of a property while looking at it, and chatbots can resolve these issues. When a buyer asks a question about the agency, working hours, available locations, etc., chatbots with access to the agency's information can respond.
5. Assist clients after hours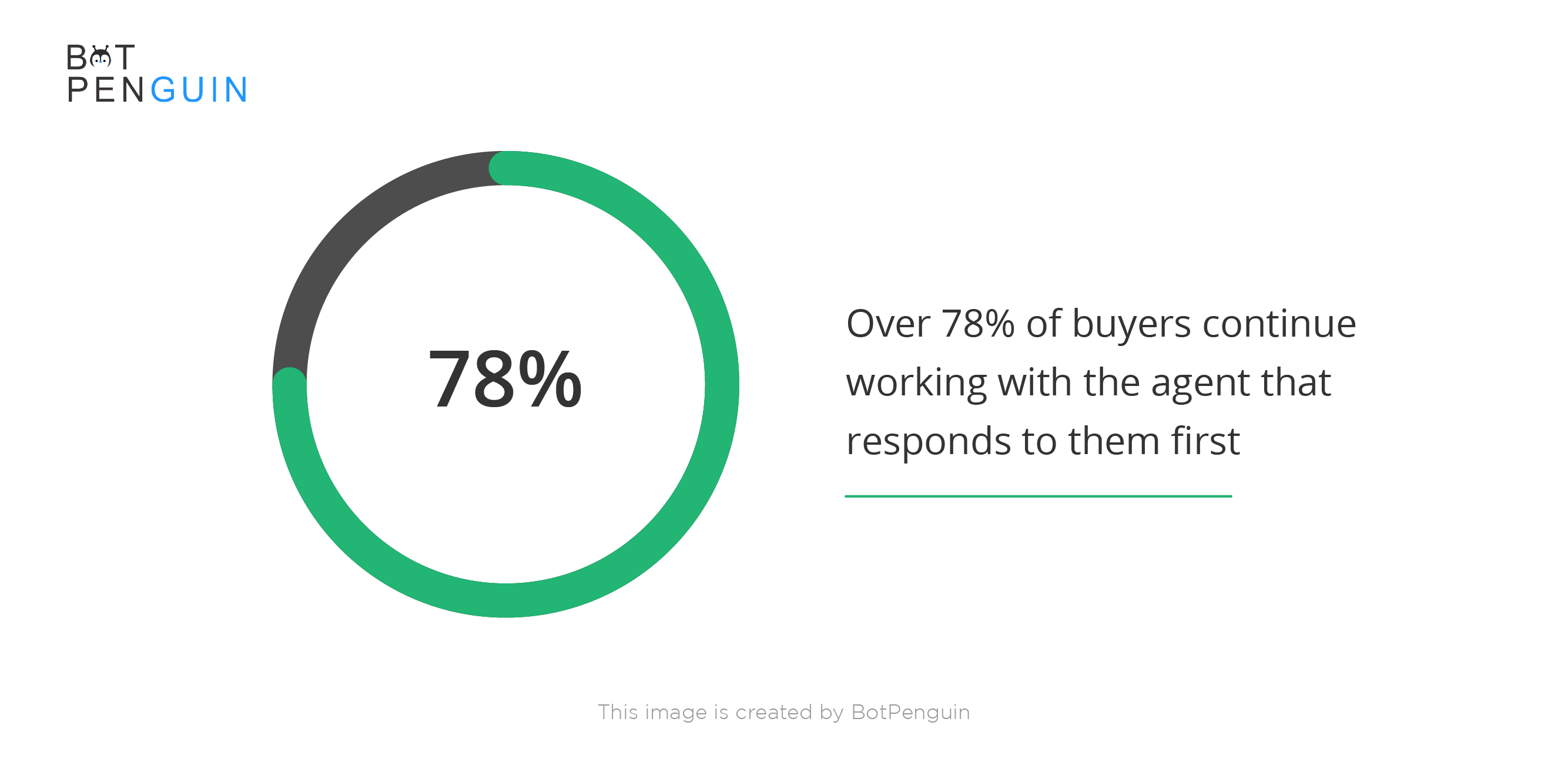 Real estate agents who are extremely busy can only respond to consumer contact or conversation. They are frantically having meetings while attempting to lease or sell real estate. However, every time they are unable to provide a prompt response to inquiries, they run the danger of losing a potential client.
According to data, over 78% of buyers continue working with the agent that responds to them first. If that's the case, a real estate company may either adopt a chatbot or recruit a staff of agents that can respond to potential clients' calls, chats, and emails throughout the day.
Intelligent assistants are available all the time and can help several consumers at once. They can replace simple duties performed by human agents, including responding to frequent inquiries, gathering contact information, and advertising rental ads. You have the opportunity to engage more potential customers in the home-buying process by employing a real estate chatbot.
6. Learn stuff about market demands.
Possessing desirable properties is a necessity if you want to draw tenants and purchasers. Even more crucial, though, is having listings that fit your customers' interests and spending limits.
You must, therefore, get knowledgeable about your local real estate market's ins and outs. You can look through the listings of your rivals and regional research forums, review demographic data, or develop a chatbot. Every day, a real estate chatbot may have several interactions and gather a lot of information about your target market.
The data acquired during talks may be used to find out what kinds of properties are most frequently looked for, which localities are the most sought-after, or what your prospects' average budgets are. By learning more about your local market, you may better focus your following marketing initiatives and customize listings to clients' demands.
7. Quick responses
When a customer asks a question on the Facebook Messenger website or another social media channel, an AI chatbot may react right away.
According to IBM, customer service expenses may be reduced by up to 30% by using chatbots for real estate.
Additionally, the procedure eliminates the need for States to wait for responses from any human personnel regarding their interest in a specific property.
8. Special Offers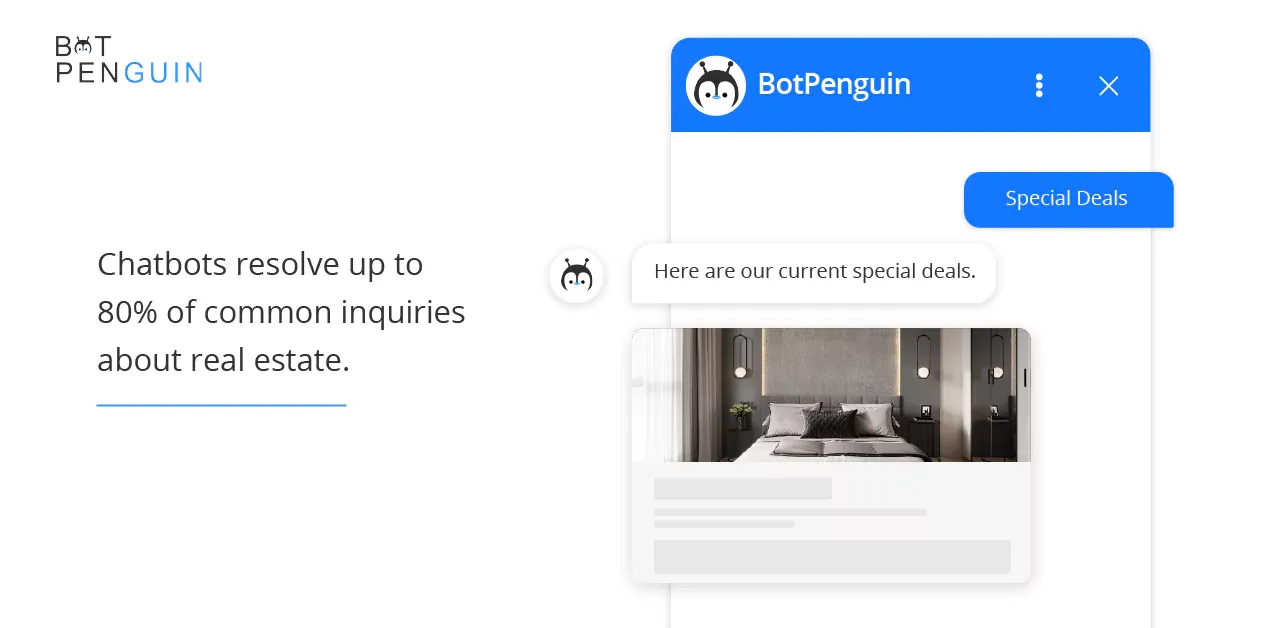 Each person or client is unique and seeks a distinct kind of apartment or kind of property. Real estate chatbots present declines with various alternatives to create more pertinent suggestions and gather data to provide them with customized solutions that match their demands. Chatbots resolve up to 80% of common inquiries about real estate.
9. User-friendly and Context-Specific
Each lead has a specific apartment or property type in mind. By posing a series of questions and providing pertinent information through interaction, the chatbot helps welcome clients or prospects and provides them with what they need to keep them interested.
10. Facilitates Greater Engagement
Customers can interact in real-time as opposed to filling out a typical question-and-answer form. This time-consuming, arduous procedure yields no results. However, real estate chatbots provide answers to questions while also gathering lead data.
Key Benefits of BotPenguin Chatbots in the Real Estate Industry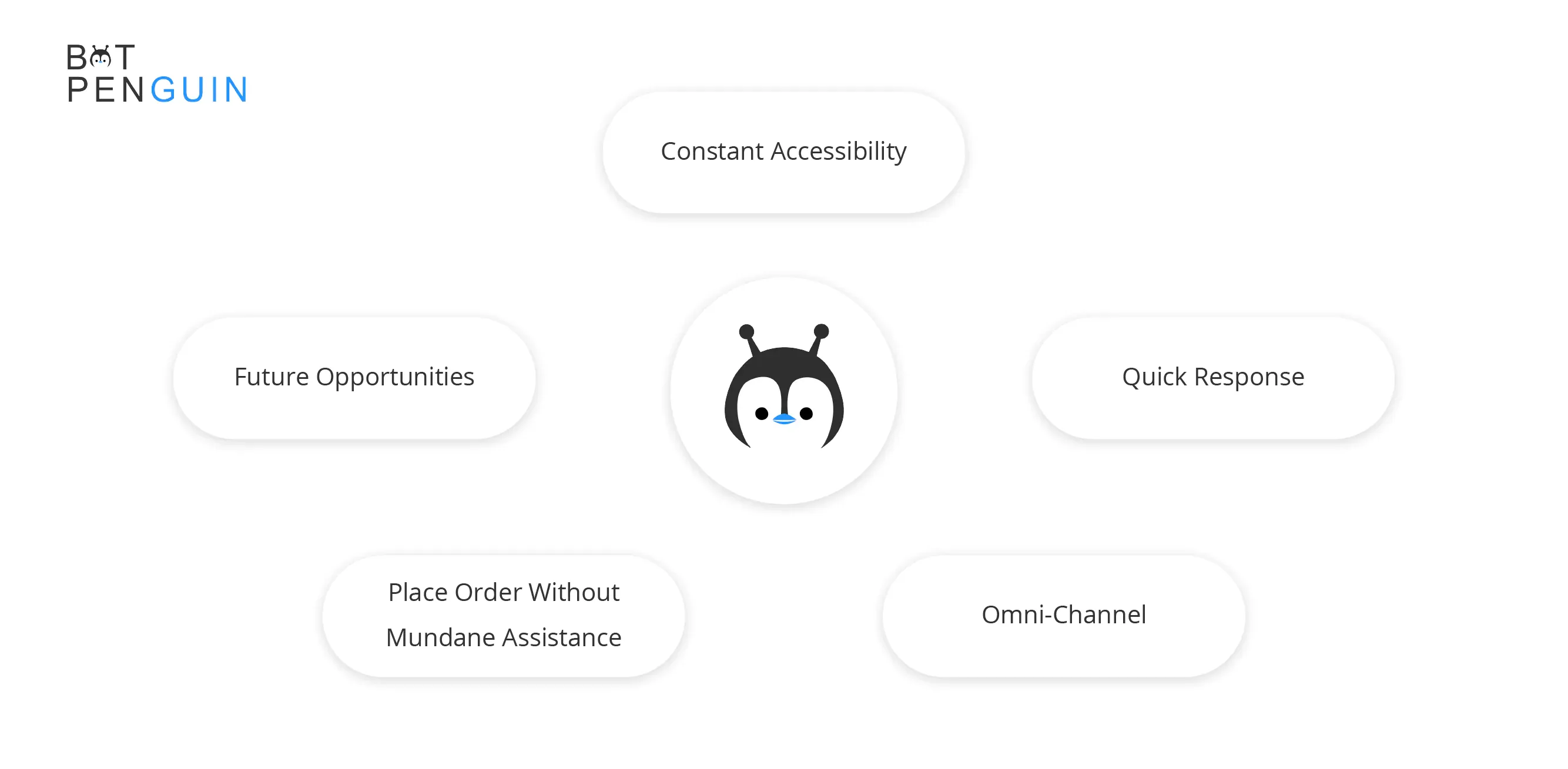 1. Constant accessibility
Because chatbots are now accessible around-the-clock to respond to leads and can handle many leads at once, customers no longer need to wait in line to speak with customer support representatives.
2. Quick Response
The chatbot can instantaneously and concurrently handle thousands of consumers while reducing average response times.
3. Omni-channel
This AI chatbot has omnichannel message support capabilities that enable customers to contact a business through a variety of channels, including Facebook and the website.
4. Place Order Without Mundane Assistance
Without any actual human assistance, customers may use a chatbot to book properties or conduct transactions.
5. Future opportunities and chatbots for real estate
Maintaining contact with your target audience, especially after business hours, is the secret to success. You can handle problems that don't require human assistance with a real estate chatbot.
Customer engagement has improved with the integration of chatbots into many different businesses or sectors, including e-commerce, retail, hotels, and healthcare. Real estate chatbots are prepared to offer practical advice and support the industry with a visually appealing UI.
Money, time, and additional resources are all saved thanks to the bots. It powerfully shows that chatbots are the way of the future for the sector. It is essential to incorporate chatbots into the system to build their sales funnel because the majority of customers and merchants start their investigation online.
A clever real estate chatbot also assists you in reaching the target market and gathering quality leads.
FAQ's
Why do businesses need chatbots?
Information that is quick and handy to access is made simple by chatbots. Customers will profit from chatbots since they can easily find the information they require. Your business may interact with clients via chatbots. You can answer questions or concerns from your clients right away, thanks to chatbots.
How might a chatbot help a company retain customers and boost sales?
One of the best strategies to build client loyalty is to provide detailed assistance for consumer questions. Chatbots are a method for giving clients fast, precise responses in real-time and under a second. The primary contact method between a business and its clients is through chatbots.
Conclusion
Chatbots for real estate are beneficial to your company. While you concentrate on expanding your business, it will look after the visitors to your website.
With the use of quick and smooth technology, chatbots will guarantee customer success, customer engagement, and proven business growth.
Also, if you want to lower the cost of customer support services, increase the number of qualified leads you receive, and increase your income, Using BotPenguin chatbot would be the best and most practical approach. We at BotPenguin would be happy to help you install your bot and guide you to success.