Several studies have concluded that customers do not prefer websites that cannot solve their queries in the minimum required time. According to Acquire, 57% of customers are likely only to continue their purchase if they receive the answer to their questions. It means more than half of the potential customers are getting diverted just because of a lack of proper communication. This serious issue needs to be solved as soon as possible.
Maintaining adequate communication with your customers is a crucial issue with the increase in online market transactions. If you cannot speak with your clients properly, there is a high chance of using your potential customers.
To combat this problem, several Live chat platforms or widgets can be added to your website page and work wonders. These widgets help your business grow with their unique features.
Pure chat is one such live chat provider for websites and apps that ensures that you can communicate with their customers wherever you are. In this blog, we will discuss in detail the Pure Chat platform and how you can use it to take your business to new heights.
What is Pure Chat?

Pure chat is one of the most popular live chat platforms specially designed for small and midsize businesses to help them add live chat functionality to their websites. It allows companies to provide support and engage and monitor visitors to their websites in real time.
This platform focuses mainly on live chat and allows businesses to connect with their audience online. It also integrates with various website management platforms like WordPress, Shopify, and Squarespace.
With its various customizable features and integrations, you can add a live chat support widget to your websites. It includes many customization options to make sure that it matches the look and feel of your company's website.
Pure chat's cloud-based nature ensures no additional hardware installation is needed to use it.
How to use Pure Chat in 2023?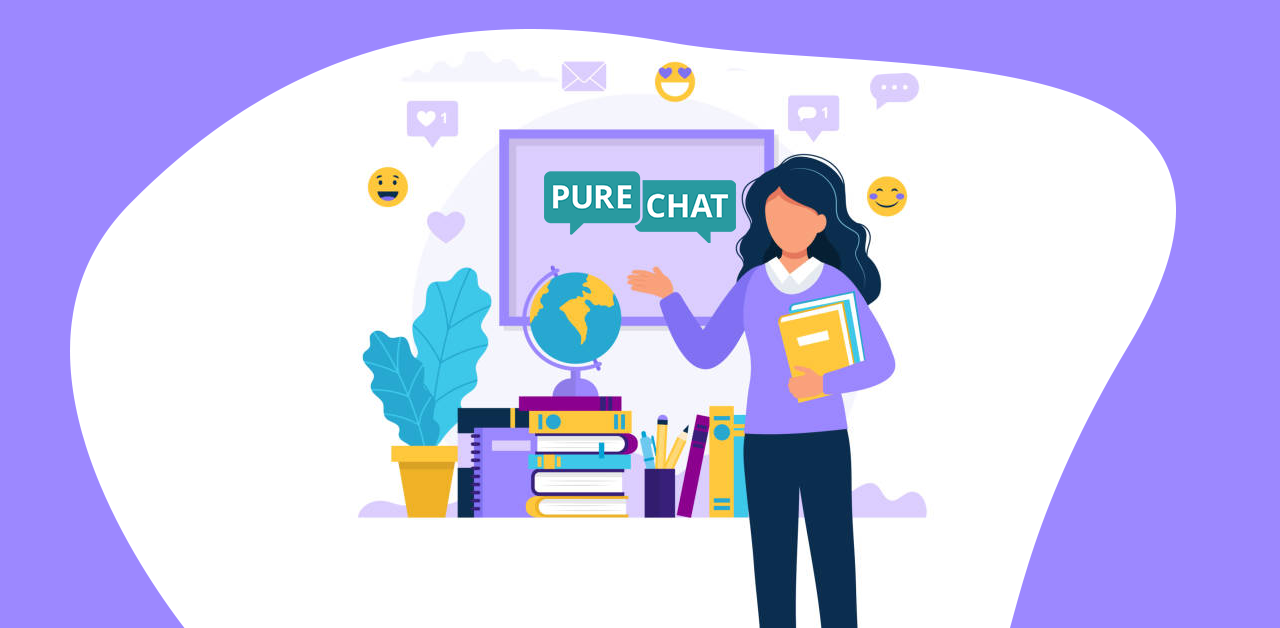 Add it as a plugin
Step 1- First, you must log in to your website builders account. Let's take the example of WordPress as your website builder. So login to your WordPress account and go to your Dashboard.
Step 2- On the left-hand side of your Dashboard, you will find an option written as a plugin. Select the Plugin option.
Step 3- Go to the "Add New" section and search for the Pure Chat plugin in the search bar. Once you find it install it on your WordPress.
Step 4- After installation, activate the plugin and find the Pure Chat option in the sidebar. From there, pick a widget for turning on the chat.
Step 5- After completing the installation procedure, you can now chat with your customers even on your mobile phone. To do this, you need to change your status to "Available" on the web and iOS or Android app store and log in to your account via the app.
Install it on your website
You can install pure chat on your website using the HTML method. To do this, follow the steps given below-
Step 1- Go to the Pure Chat account and choose "Websites" from the sidebar on the left hand of your screen.
Step 2- You will see many options popping up on the screen. From those options, select the chat box you would like to install.
Step 3- After selection, find the "Get Code Snippet" option at the bottom right corner and click on it.
Step 4 - Copy the code snippet and paste it into the closing body tag of your website code. If you need help editing your codes, take the help of an expert.
Customize your Pure Chat using JavaScript API
Sometimes, the standard pure chat doesn't fulfill your requirements. In such situations, you can use the pure discussion JavaScript API to better integrate with your website in several ways. But for this, you must ensure that you have the latest chat snippet installed on your website.
All the interactions with the pure chat JavaScript API are done through the API object returned to the window while loading your refined chat snippets.
If you have this object on your page. Manually delete it.
You can also customize your period chat website without using the JavaScript API, but it is better to use it. Here are some customizations you can make while using the JavaScript API.
You can modify all your settings using the dot syntax.
You can change the position of the chat box according to your wish.
You can also change what fields are required by a visitor to fulfill before they can begin a chat on your site.
You can customize what happens to your chat box if there are no agents around the chat.
You can set according to your wish what your customers will receive as a greeting message when they start chatting.
You can customize the image displayed when visitors close a chat box.
Integrations and Plugin Available
Use your live chat platform at the optimum level to integrate with other platforms or software like customer relationship management software. You need to remember that while you combine with other software, the results are helping you to save time and effort. Pure chat is one of the well-known live chat platforms that allows several integrations to help users work better. Some of the integrations and plugins available in pure chat are
Salesforce
Shopify
Zoho
Zapier
Hubspot
Google Analytics
Mailchimp
With the help of these integrations, you can easily cut down your workload on pure chat and create a more fabulous live chat experience for your users. Not all platforms allow you to add integrations or plugins to your website. But Pure Chat will enable you to add integrations and plugins to help you complete your work smoothly.
Essential features of PureChat that you must know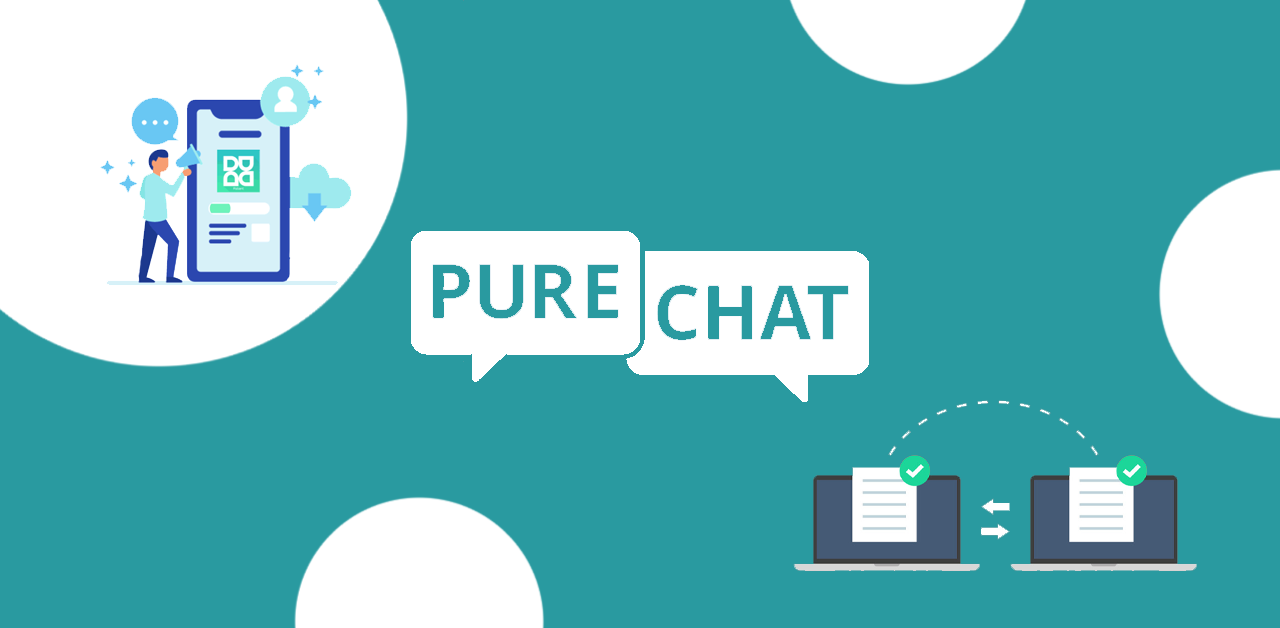 Access to complete chat history
With the help of pure chat, you can access your customer's total chat history from the beginning day of your conversation. This feature is not available in most of the other live chat platforms. They only give access to chat for maybe 3 to 5 years. But in a chat, you get unlimited access to your visitors' data no matter how old.
All in one engagement hub
In Pure Chat, with the help of the engagement hub, you can access all modes of communication at an accessible location which results in better customer engagement. This tool helps the visitor to look at the Engagement Hub on every page of your website, which helps them find information quickly rather than searching cluelessly throughout the website. It is a very user-friendly feature that allows you to attract more leads and provide easy customer support.
The availability of a mobile application
Pure Chat has a mobile application version that makes it easier to manage businesses on the go. It has a mobile application for Android and IOS devices so that you can efficiently work wherever you want. It helps your agents interact with website visitors and customers from mobile devices so that they don't miss any leads while on the go.
Easy transfer of files
Sometimes, specific explanations cannot be explained just by words. You need to give a demo for sharing a file to understand your client better. Pure chat comes with a file transfer tool within the chat box so that you can Converse easily, and the results are fruitful. You can receive files from website visitors and send them if the administrator enables inbound file transfer. But this feature will only work for website visitors using the widget.
Affordable plans
Pure Chat has some unique premium plans that help users to afford them. It also comes with a limited free trial, so the users can get an idea about it before investing. The Growth plan starts at $39/per month/4 for users, while the Pro plan costs $79/per month/for ten users.
Conclusion
Hopefully, you have now understood the vital role a live chat platform plays in the business market. A live chat platform costs less than handling customers manually over phone calls. They help to reduce their workload while delivering superior customer service.
It is not true that you need phone calls to deal with your clients. There are situations where clients prefer to talk to a physical human being rather than be answered by software. But other than such emergency cases, live chat platforms provide superior customer support.
In this blog, we have discussed how Pure chat can help you to provide good customer support in the minimum time. We have discussed its features and also shared the steps for using it. It is a very easy-to-install platform and integrates with your CRM to provide detailed information to your web page visitors in real time. It also helps you to collect feedback so that you can find loopholes in your business.
If you have any queries regarding Pure chat, drop a comment below without hesitation. We will be more than happy to help you. Feel free to communicate if you want to know anything about chat platforms.
And if you are someone searching for good chatbot-making software within your budget, remember to look out for the amazing features offered by BotPenguin!