The idea of bots and Chatbot Platforms can be a little intimidating because, after all, robots changed the way we used to perceive living and professionalism. To be honest, they kind of freak us out! Jokes apart, the truth is they aren't here to take over the world but to make life easier and more productive in terms of working. With the chatbots' innovation, the burden of time-consuming tasks was quickly transferred to an automated system, allowing the businesses to serve their prospects better. They leverage chatbot platforms like SMS text, website chat windows, and other social media platforms to receive and respond.
What end-users can expect from chatbot platforms?
To answer these questions, let's dive into some more details. Moreover, the key things your prospects want or expect from chatbot platforms are:
Get prompt solutions.
Considering their queries instantly.
Guidance and a better knowledge base throughout the process.
And a seamless user experience.
Now all this can be achieved with constant advancements and how development of chatbots are working towards adopting new technologies to make bots smarter and intelligent for the future.
There's no doubt that bots are one of the crucial elements to succeed in the digital marketplace. It is one way to stay competitive in modern-day commerce and automate systems as soon as possible.
Value of chatbot platforms in the market
So this is seen in the rise of multiple industries, especially in e-commerce. The increase of self-checkout at e-stores and other online marketplaces shows how Chatbot Platforms lead businesses towards ultimate glory.
The business giant "Amazon" came up with the stores without any cashiers, limiting human intervention to only necessary queries. It means how rapidly chatbot development is shaping brands.
The value of chatbots comes from their ability and powers given by the chatbot development platforms. Every single element together makes it a successful chatbot to support any particular brand or business.
AI bots have already touched businesses, from banks and hospitals to real estate and e-stores, and all types and sizes of units. They aren't just benefiting businesses but also providing support to non-profit organizations and educational institutions.
The chatbot platform's development is emerging quickly and supporting bots to get more feasible and flexible in terms of conversation. The majority of digital businesses are offering chatbot-based solutions for their users and expanding their power.
Here are some of them and how they're advancing chatbot development. So, let's discuss what the new technologies used by Chatbot Platforms are.
Artificial Intelligence and NLP in Chatbot Development
Mainly, there are two ways through which chatbot platforms formulates bot's development:
Pre-set or Rule-based chatbots are those users who provide inputs by selecting buttons or options instead of typing themselves. It limits users to communicate the actual query.
Whereas, AI-based and NLP (natural language processing) chatbots are way more intelligent and can continuously learn while interacting with the users.
According to Chatbot Platforms, the first type is the easiest to implement but doesn't make a greater impact. However, AI-powered bots can still make a major impact on the business in less time and effort.
With the right choice of the chatbot development team, you can save lots of money and raise revenue and overall customer support services.
Hence, chatbot platforms use high-end development technologies such as NLP and AI, the way bots are formed with this Technology are already emerging the best and improving constantly.
With these, bots can have a better future, as it'll be able to:
Respond precisely to user's queries.
Understanding the user's intent.
Ability to collect information for analysis.
Develops an EQ or emotional sense.
Hence, AI, Machine learning, and NLP help chatbots interact in a more human-like way.
To know more about, What is artificial intelligence? Read our blog.
https://botpenguin.com/what-is-ai-everything-you-need-to-know-about-artificial-intelligence
E-Commerce Chatbot Platforms
Chatbots have proven their caliber to be highly effective at raising sales and leads to many types of business organizations. For example-
Real estate- A real estate company can use Chatbot Platforms to gather relevant and qualified leads and can save time and get a better customer base.
A beauty salon- can leverage chatbot development platforms to attract and engage new clients and more manageable appointment bookings in a few taps.
Restaurants- can use a chatbot to accept to-go orders and to offer a platform for customers to order in a few minutes or dining reservations.
These are some of the impactful applications of chatbots, but there's one industry that is getting full-fledged day by day. And here it is- E-Commerce or online retailers.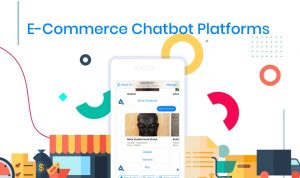 As per the chatbot development platforms, it makes perfect sense. E-Commerce businesses happen online, and bots can be with the users every step of the way. E-stores are gaining popularity and huge appreciation in terms of services and convenience.
Even with limited funds, it's easy to integrate a chatbot via Chatbot Platforms. It is estimated that by 2040 95% of purchases will be online; this says the future of bots is quite bright.
According to Shopify, in 2017, eCommerce was responsible for $2.3 trillion in sales, which is nearly double to $4.5 trillion by 2021.
Voice-Activation Technology
The chatbot development is also amalgamating voice-activation, which converse users via pre-recorded audio messages instead of written text.
The most popular and live examples are- Google and Amazon Echo. These smart speakers cum assistants rose about 40% in the US last year. And the main reason because the tech that powers them is constantly refining.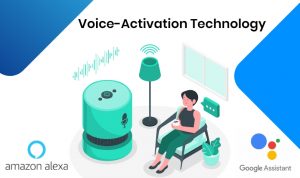 While chatbot development came up with voice-powered bots, they aren't right for every type because of some reasons:
The installation money can be quite more, but in my opinion, it's worth it if we'll consider the benefits. To build a quality voice-based chatbot, you need to partner with the best Chatbot Platforms.
These bots can run on platforms such as computers and cell phones, but the user needs to have a separate device to talk via voice in some cases.
However, I think these hindrances will fall away soon with the constant upgradation. Voice-bots are one of those hands-free and engaging.
Raising Interactivity
Chatbot platforms made it possible to see bots automating and functioning almost everywhere, whether it's a website, e-store, or any other social media platforms. The day is quite near where robots will conversate with each other and let the people have instant solutions and executions.
In addition, interoperability is one of those concepts that is constantly emerging and makes bots even more useful.
Interoperability among Chatbot Platforms means the full and ultimate utilization. The users can interact on Facebook Messenger to browse production services and can ask questions via speakers to order specific things and more. They can also make appointments for health checkups, beauty roundups, and everything remaining. You can also send reminders and alerts about cart abundance arrival of the fresh new collection over your e-store. This concept will help your business make your audience stay updated to raise your scalability and growth.
Final Thoughts
Chatbot platforms are already considered amongst the most powerful and vibrant Technology ever. And they provide an exclusive set of services to all the businesses out there. But when coupled with other advancing models and tools, they'll soon take over the business world to new heights.
If you want to be a part of this race, then you must visit BotPenguin to have your chatbot today by itself.