About 90% of the people on the internet had an interaction at least once with a chatbot. Surprising, isn't it?
We've come so far that the customer service and support industry may need less workforce.
Fortune Business Insights predicts that chatbots will have a 22% CAGR (compound annual growth rate) in the upcoming years.
The market share will increase from 721 million to three billion dollars. That's only for chatbots. Add in all other customer support branches and get close to a hundred billion dollars.
Why should you care about this market share? Because in the sea of billions of dollars, you can find your prize too. But how? With lead generation chatbots.
Yes, chatbots specializing in lead generation help you get tons of inbound leads.
The primary difference between an average chatbot and a lead generation chatbot is that it focuses more on enticing and appeasing new visitors.
It persuades them to leave their contact information, in contrast to the orthodox approach. A little customization may work wonders for you!
6 ways that chatbot can fuel your lead generation
They offer 24/7 Support That Converts Leads
60% of people on the internet say that the best feature of chatbots is that they can provide 24/7 support 365 days without fail.
How can 24/7 support convert leads?
Let's take a scenario. Suppose a visitor arrives at your site. They need information about a specific product or want answers to FAQs (frequently asked questions).
Also, you have a chatbot set up that greets new visitors and responds to FAQs. It increases the rate of converting visitors into clients by miles.
The more you engage with visitors, make them feel they matter, and give them what they want, which isn't so hard to determine, you can get many leads.
Moreover, say you have a dedicated greeting chatbot to convert leads and visitors. It will also increase your conversion rate drastically.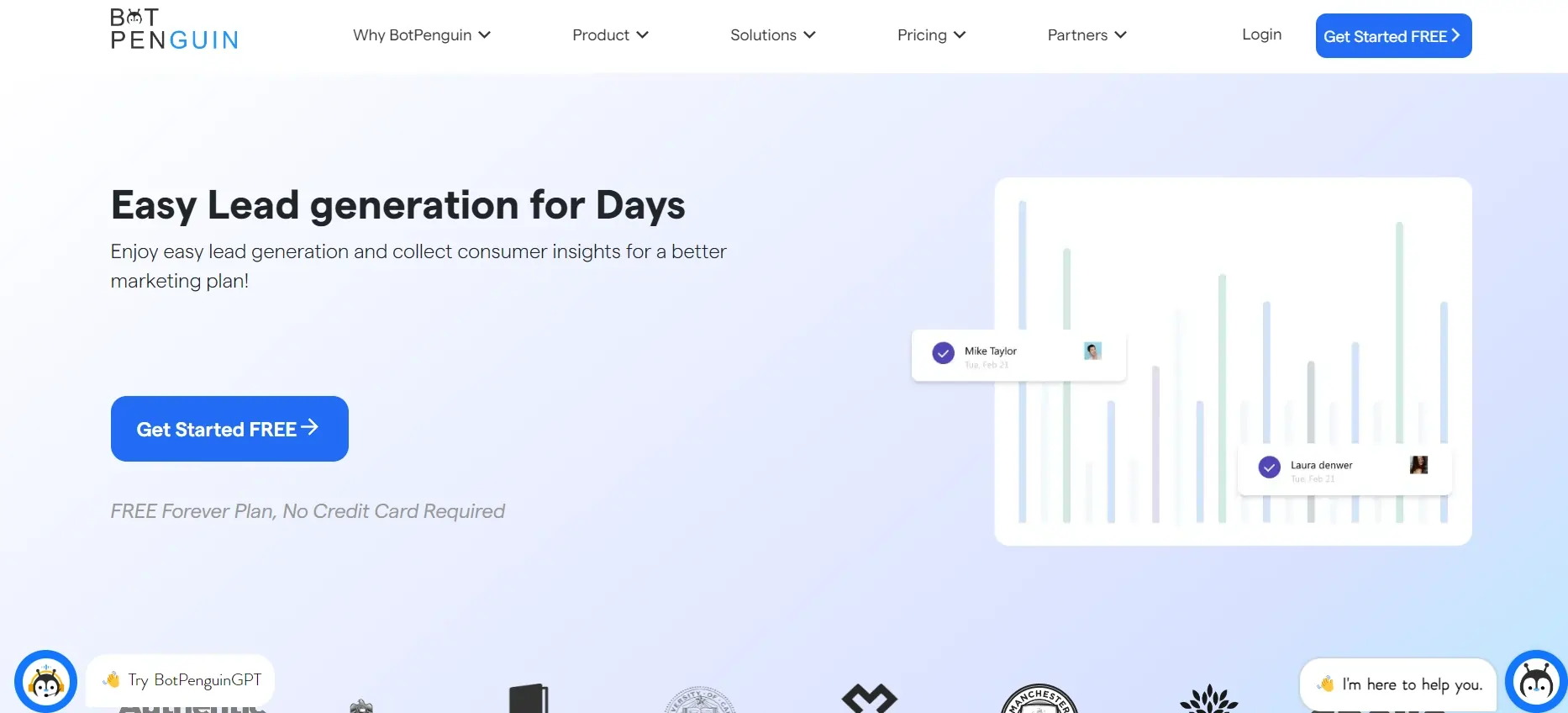 Chatbot can generate leads with lead magnets
Lead magnets? What is that? Have I never Heard of it?
Lead magnets are like click baits, but they give people what they want. Lead magnets can be content, learning material, or anything that may be valuable to a particular group of people on the web.
Did you ever submit your email in a form to read a newsletter? Or give your contact information to get a free e-book? Smile! You have experienced marketing at its best, in tune with human nature.
Lead magnets can be a game-changing strategy once you have what people want, even so, that they will give you their contact info for it. Create valuable content first, and then you can bank on lead magnets.
How can you implement lead magnets?
It's simple, once people know you have that E-book, newsletter, or a free webinar slot available on your website, they will start pouring on.
The trick targets people who don't want anything to do with you but want the thing you possess. Typical human nature, you can harness it!
Set up a Chabot service that greets a customer and lets them know what they can expect from your website. Once they see it, they'll fill out any forms you put before them, giving you the ultimate lead database.
You can integrate this valuable data into your CRM software and start segmenting your consumers and converting them into clientele.
Apart form Lead Generation,
BotPenguin can do many services apart from Lead Generation like:
They do the heavy lifting work for you when generating B2B leads
Create your own Chatbot now!
Chat Widgets Fuel Lead Conversions
Chatbots are available on every website today, but chat widgets are seldom available. Adding devices that perform specific tasks makes all the difference.
Why? Because 64% of people would instead engage a chatbot than talk to an agent if the waiting time is longer than 10 minutes.
If you give them a program that precisely targets and solves their problem, they'll remember you.
What are chat widgets?
Chat widgets are sub-programs of a chatbot service that perform a specific task to help new visitors find their way.
It is for sign-ups; now, imagine you appear for an online quiz but find the questions challenging and confusing due to a lack of precise wording.
The website provides you with a feedback widget where you can address your problems and let the developers know about your troubles. You won't be having any issues the next time you appear.
Similarly, there can be a chat widget for customer support and service. You can set up a live chat widget for virtually anything. However, it would be best if you target their pain points.
How does it drive lead generation and conversions?
With the additional functionality of chat widgets, you can target a large demographic. Moreover, while creating your strategy, you can segment your consumer base and prepare chatbot widgets accordingly.
The basic principle at work is to care for your consumer, i.e., the cardinal rule for businesses. The more problems you solve for the customers, the more loyalty you drive.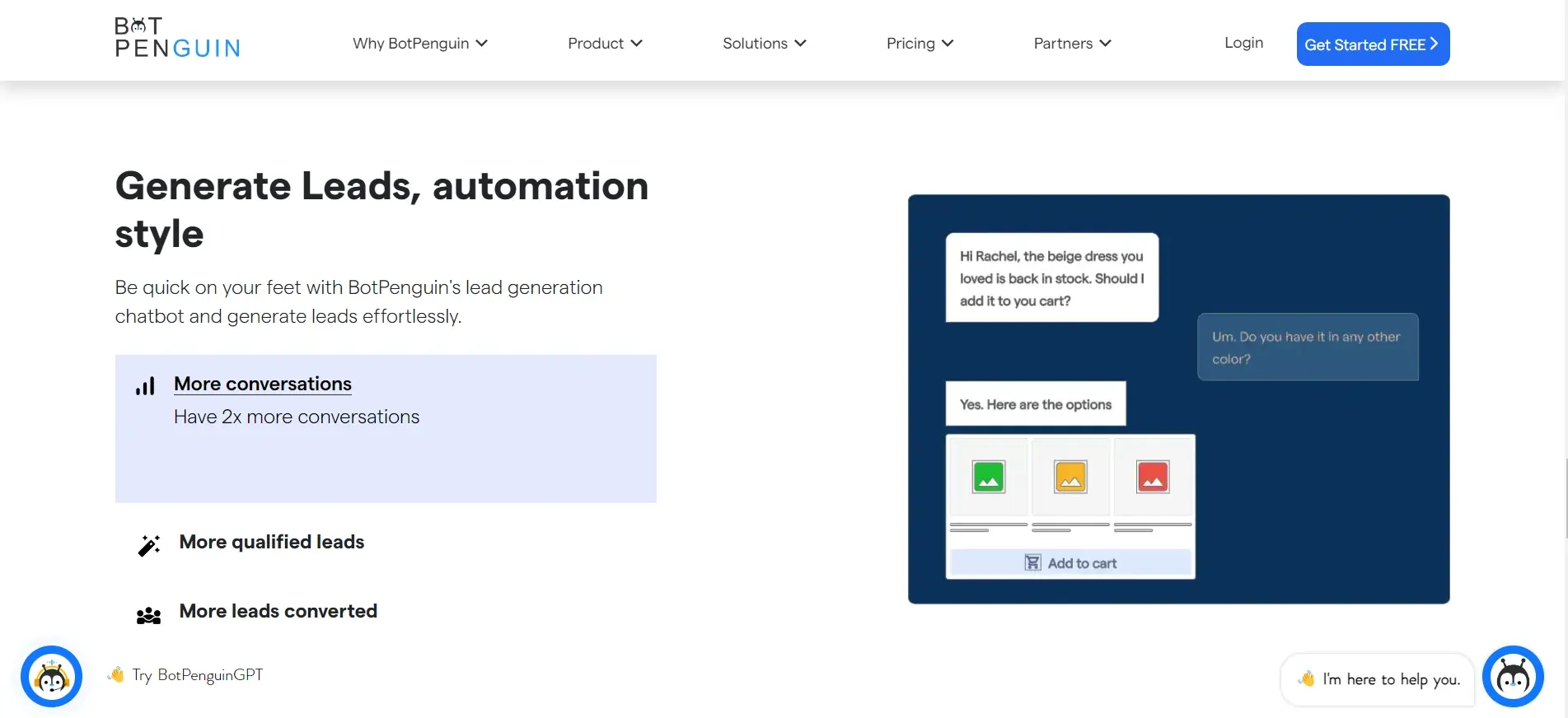 Chatbot personalize customer interactions
Customization and personalization features are getting vast by the day. Every day, developers find new ways to perform tasks better and efficiently. How does this help you?
No one likes a pre-set template as their app or product interface. The more a product reflects a consumer's identity, the more likely they will remain loyal. Using empathy, you can drive lead generations and conversions with simple chatbot programs.
Sounds good, but how does it work?
You can drive customer engagement by setting up questions that segment visitors into a smaller pool rather than giving them the general questions.
After segmentation, you can target them with relevant questions to connect with them. Taking the time to research and provide users with solutions to problems is a strategy that always generates revenue.
Segmenting customers
Segmentation refers to dividing your audience into groups based on their characteristics and interests. It allows you to target different types of people with additional messages.
For example, suppose you're selling sneakers online. In that case, you can segment by gender and age range because those characteristics will affect what they're looking for in their shoes.
Or, if you're trying to drive traffic from social media ads, you might want to segment by location or even income level to know where to spend your ad dollars.
Segmentation also helps marketers determine which products or services will best appeal to each group of consumers before launching a new product line or campaign.
Chatbots can help marketers segment their audiences by asking questions about preferences and targeting specific demographics through keywords and product placement within the conversation.
How does it work?
The process is quite simple: when visitors come to your website, you can ask them a few questions about their preferences, interests, etc.
Based on this information, you can suggest to them some products. This way, you can also ensure that they get what they want.
The same goes for someone who sends you an email or fills out a form on your website.
You can use chatbots to help segment these people based on their answers to your questions about their preferences and interests.
Spam filters and other automated systems are great for doing this. However, there's nothing better than human-to-human interaction.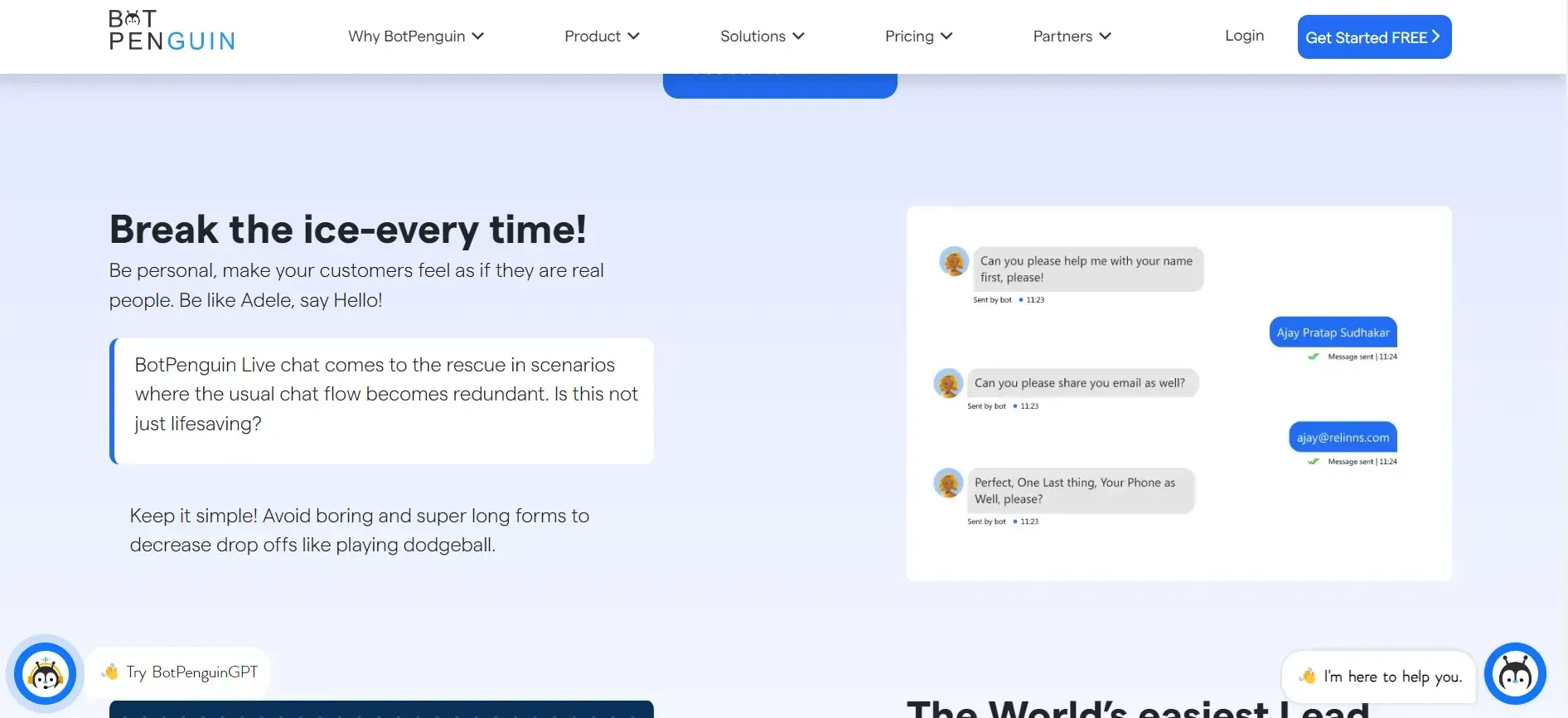 Qualify Customers and Simplify The Process
Chatbots are perfect for qualifying prospects because they allow you to collect more information about them when they're interested in your product or service.
You can ask questions about what they're looking for and if they're ready to buy now or if there's something else holding them back from making a purchase decision.
Chatbots make it easier for customers to reach out to you and give them an easy way to solve their problems without waiting for a human response.
They can answer basic questions about your company or product and schedule appointments.
Moreover, They can give an issue resolution estimate. Hence, there's no waiting around or frustration from either party involved in the conversation.
Final Thoughts
Chatbots are a brilliant way to streamline your lead generation process. They help you cut down on the time it takes to engage with customers, giving you more time to close deals and generate revenue.
With the rise of chatbots, businesses are becoming more efficient at qualifying leads and turning them into buyers.
As you have become aware, they can be a godsend for your support staff and business, allowing you to sit back and relax.
Do you know where you can get the above benefits and then some? BotPenguin!. Try it. It's free!