Introduction
Digital marketing is one of the most significant components of any business.
It allows you to connect with your leads and potential customers through various channels, including email, social media, and your website.
Having a good AI digital marketing strategy can make or break your business. One of the most vital interfaces of AI digital marketing is your website.
Your website is the virtual welcome door of your business. It's how customers find you and know about your products or services.
Content is responsible for dragging people to your site, but a chatbot keeps your customer on the website. Chatbots are the key to unlocking the door to successful AI digital marketing.
Globally, 67% of consumers have interacted and engaged with a chatbot in the last 12 months.
If you're not familiar with chatbots, don't worry.
This guide will demonstrate all you should know about chatbots and how they can be helpful and useful to you with digital marketing.
What is a Chatbot & How do they work?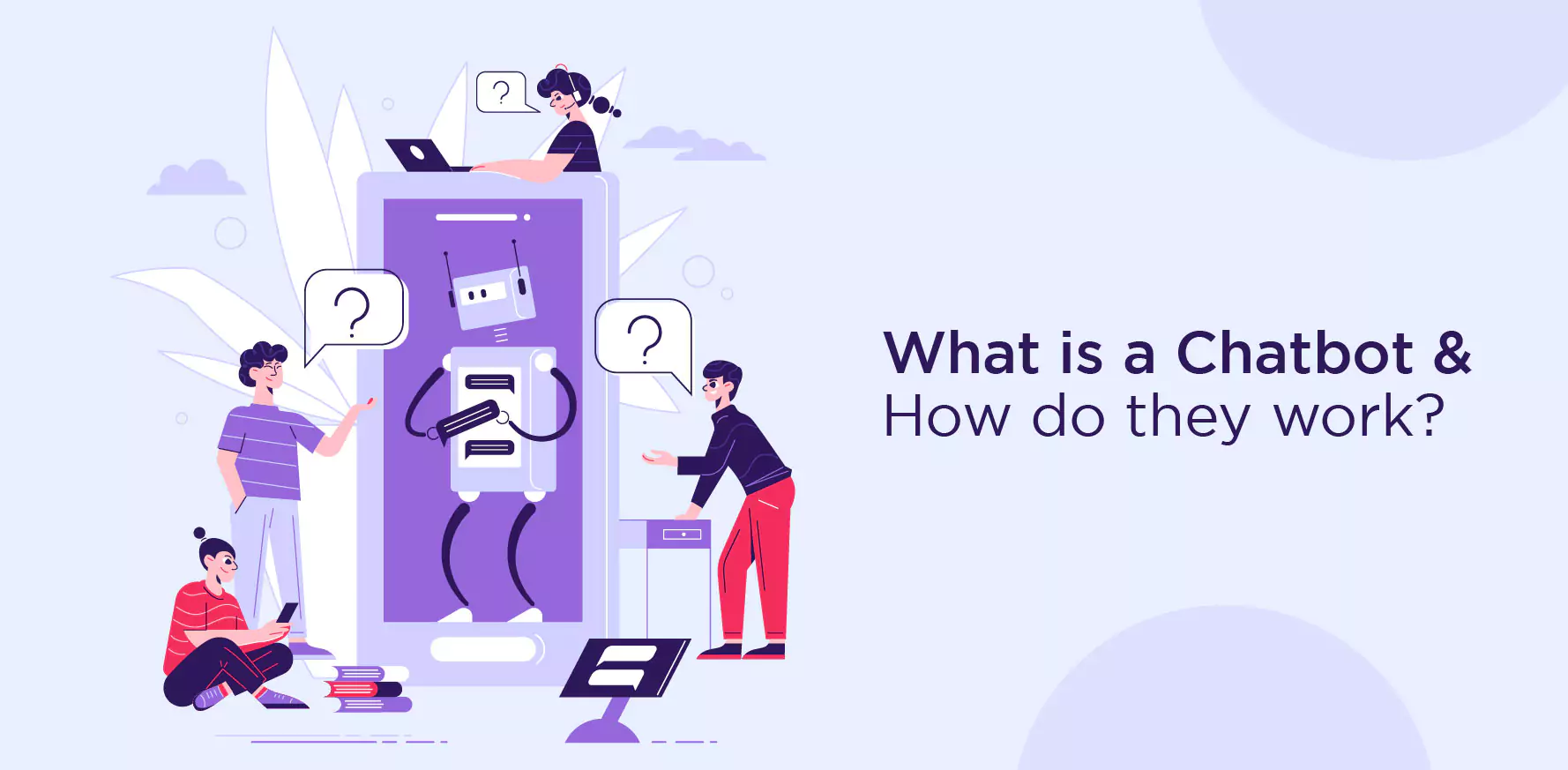 Chatbots are computer programs or robots that can mimic human conversation.
They are responsible for automating customer service or support.
Chatbots can create content for your website, social media, and even email marketing. They can help you promote your products or services and increase sales effortlessly.
Chatbots work by simulating human conversation by working on the principles of Artificial Intelligence and Machine Learning.
Furthermore, they use natural language processing (NLP) to understand human speech. NLP is a sub-branch of AI that is linked with the understanding of human language. Chatbots use NLP to understand the user's intent.
For example, if a user asks a chatbot for product recommendations, the chatbot will recommend products based on the user's interests.
What are the benefits of using chatbots for AI digital marketing?
Chatbots offer many benefits to businesses and AI digital marketing campaigns.
It can drive sales up above the sky due to the very case when chatbots are used for AI digital marketing in the following ways:
1. Chatbots can help you save time
One of the biggest advantages of using chatbots is that they can help you save time.
Chatbots can automate tasks of marketing and promoting that would otherwise be done manually.
For example, if you have to promote your products digitally, chatbots can promote your products and services to a wider range of audience.
2. Chatbots can help you save money
Every penny counts, isn't it? Chatbots can also help you save money.
Chatbots perform numerous tasks seamlessly that would otherwise require human labor. It replaces the need for human laborers and representatives.
This can save you from spending money on manual labor costs.
3. Chatbots aid in increasing sales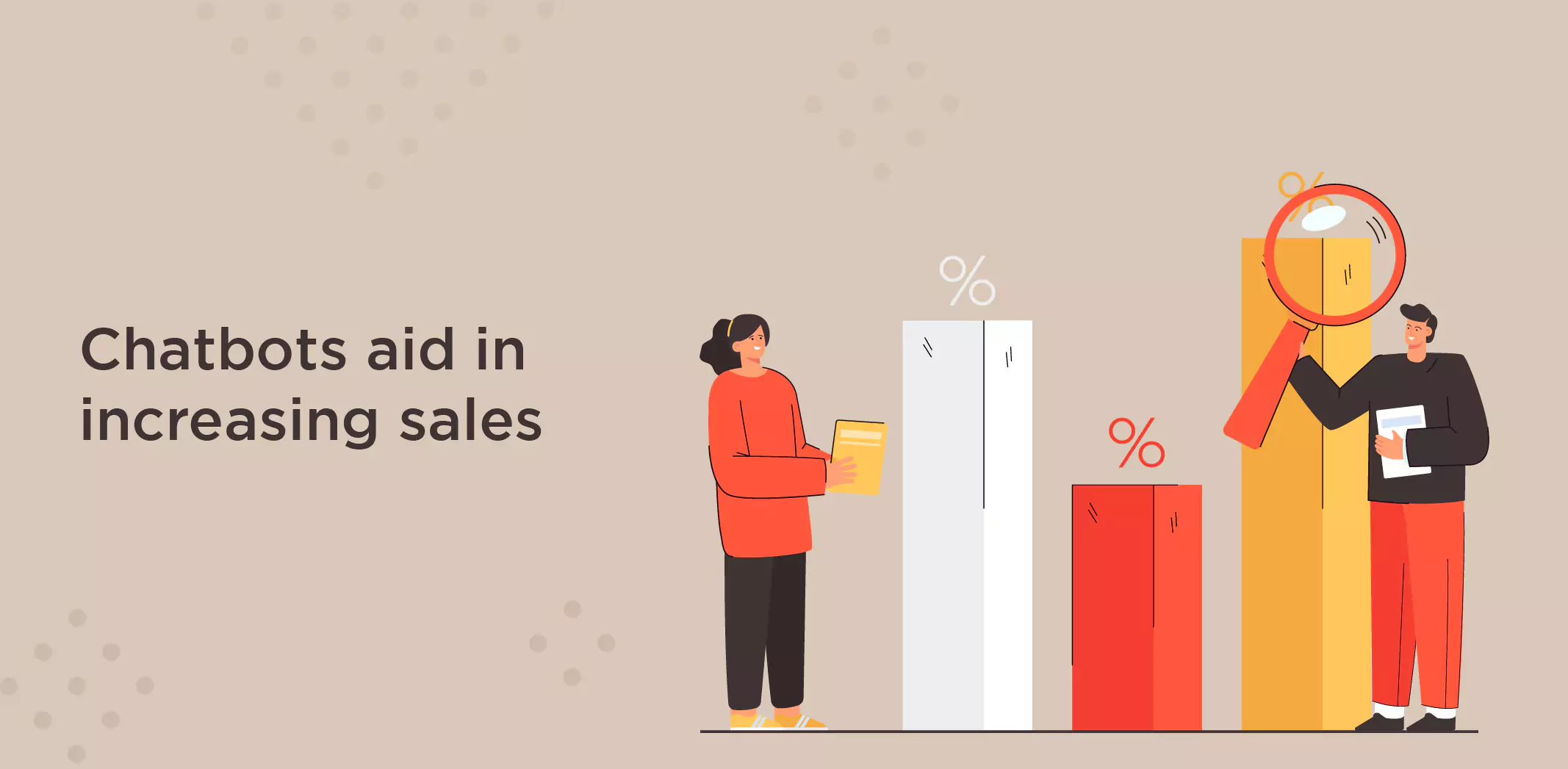 Another benefit of chatbots is that they can do 24/7* 365 without dripping a drop of sweat.
Chatbots can help you promote your products or services and increase conversion rates.
Increased conversion rates ultimately account for increased sales and profits.
For example, if you have a chatbot on your website, it can interact with visitors and recommend products or services that they might be interested in.
This can help you increase sales and improve your conversion rate.
4. Chatbots help you improve customer support
After doing the AI digital marketing part, if a lead is on the verge of becoming your sustainable customer but is facing some issues and want to ask queries.
Another benefit of chatbots is that they can help you improve customer support.
Chatbots can help you resolve customer issues and queries quickly and efficiently. They can resolve customer issues automatically based on the workflow.
5. Chatbots enhance Lead Generation
Another way to use chatbots is to generate leads.
By interacting with potential customers and providing them with valuable information, chatbots can help businesses convert leads into customers. It escalates the conversion rates.
6. Chatbots upscale quality engagement
Chatbots can also be used to increase engagement.
By sending timely, relevant, and personalized messages, chatbots can keep customers engaged with a brand.
7. Chatbots offer personalization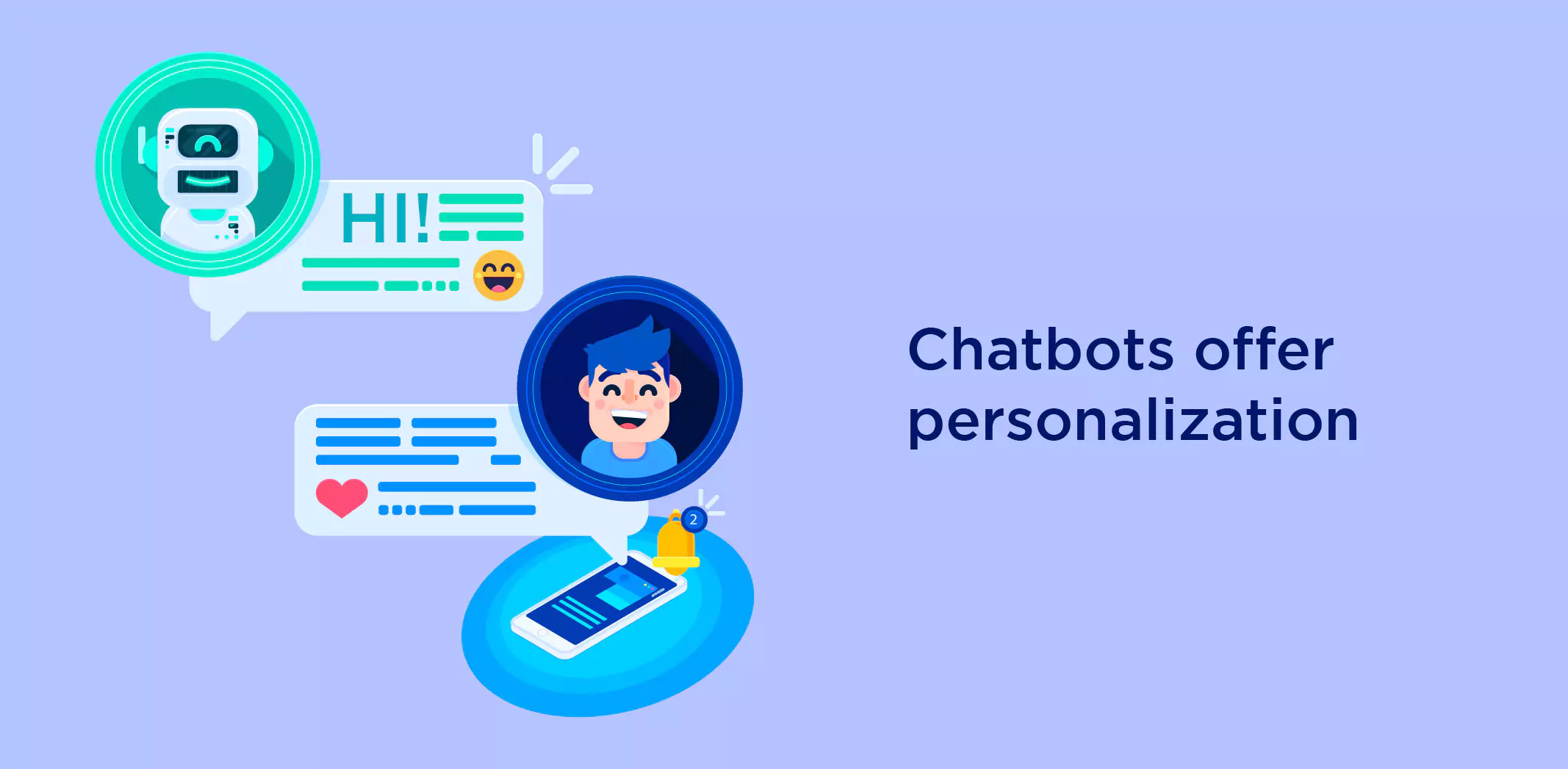 Finally, chatbots can be used to personalize the customer experience. By collecting data about a customer's preferences and interests, chatbots can provide a more personalized experience.
AI in Digital marketing chatbots can be used to engage with your customers in a variety of ways. To illustrate, you can use a chatbot to:
Send automated messages to your customers.

Engage in two-way conversations with your customers.

Provide customer support.

Solve queries and FAQs.

Chatbots remember customer preferences and provide tailored recommendations.

Provide information regarding your products and services.

Recommend more similar products and services.

Send automatic follow-up emails.

Ask for feedback after making a purchase.

Convince people to purchase their products and services.
Few things to keep about chatbots for digital marketing
AI Digital marketing teams are experimenting with chatbots to see how they can be utilized to enhance the customer service experience.
There are a few points to be noted while using chatbots in AI digital marketing.
First, chatbots should be used to supplement, not replace, human personalized touch. Chatbots are best used to handle repetitive tasks and tasks that would be time-consuming for a human to do.
For example, a chatbot can be used to answer frequently asked questions or provide information about a product.
Second, chatbots should be designed to understand natural language. They should be able to comprehend the context of a conversation and reply further accordingly.
Customers should be satisfied with the interaction they have with the chatbot.
Third, chatbots should be tested before they're deployed. Chatbots should be tested with a small group of users to make sure they're providing a positive experience.
Based on that, appropriate changes should be made, and as a result, you will have the best chatbot according to your marketing campaigns.
AI Digital marketing teams are still working out the best ways to use chatbots. But they offer a promising tool for businesses that want to improve the customer experience.
Wrapping it up
Digital marketing is a significant tool for any company and business in the modern world.
If you're not using a chatbot for AI digital marketing, you're missing out on a great opportunity to connect with your customers on a personal level.
One of the latest and most amazing phases of AI digital marketing is the rise of chatbots. As chatbots become more sophisticated, they will only become more popular and widely used.
So if you still need to start using chatbots in your AI digital marketing, now is the time to start.
Call Botpenguin right now to get the best chatbot for your business!
So, what are you waiting for? Contact Botpenguin right now!