Introduction
Customers are changing how they interact with different businesses and how they choose to purchase products. Businesses work hard to stay up with increasingly fickle customers. We are all aware that companies communicate in popular culture.
Customer satisfaction and speedy engagement are increasingly in demand worldwide. The technological advancements in artificial intelligence are beyond the capabilities of established online businesses. Because of this, automated systems and artificial intelligence are very useful for instant messaging.
Suppose a business doesn't give its clients a personalized experience. In that case, 52% of customers are inclined to switch vendors, according to data by SalesForce. Additionally, 65% of B2B stakeholders will likely approach related businesses.
Why use Chatbots for Marketing?
1. Help with marketing basics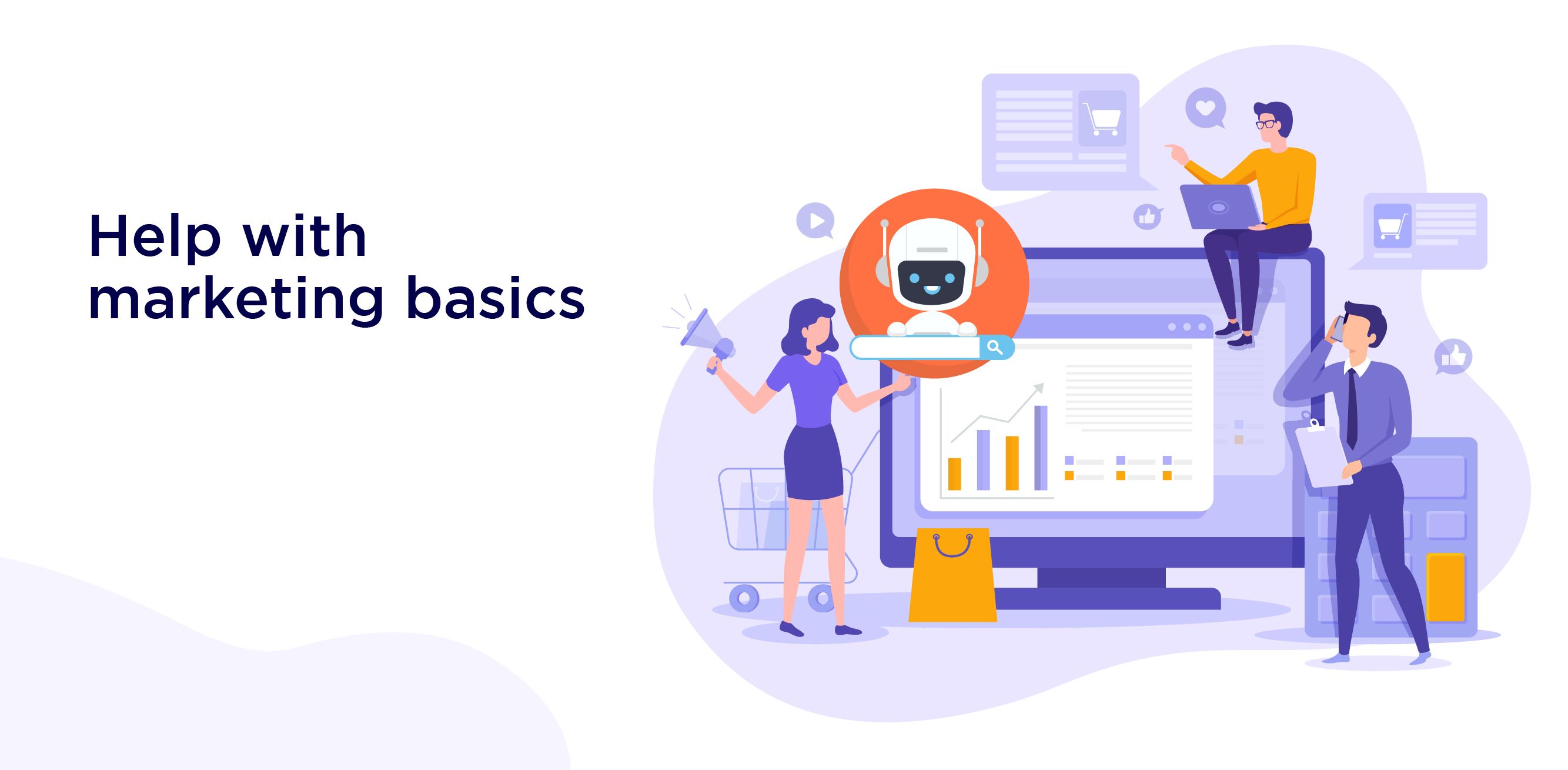 A lot goes into brand or product marketing. Initial actions like identifying and segmenting your target audience fall under this category. Bots can assist with this. They can do such crucial tasks if you use them as your main marketing strategy.
Understanding audiences has gotten easier because of the inclusion of artificial intelligence in chatbots today. They can discern user intent and deliver the best solutions. They tailor each customer's communications. Additionally, they can aid clients in placing and monitoring orders.
2. Providing quick responses
Today's brand marketing relies heavily on responsiveness. It fosters reliability and enjoyable experiences, which are essential for a firm to succeed. For instance, Shopify is a platform with competition. To prosper, businesses on it must set themselves apart. By responding to client inquiries more quickly, they may achieve this.
Chatbots may aid in enhancing response. It can also be used as a tool to help your company offer satisfied customers. A chatbot can help you promote and sell your brand. The creation of an effective Shopify store will then be simpler.
3. Increasing engagement
Business interactions have evolved as a result of technology. But the majority of changes have been driven by client preferences. For example, millennials favor businesses that employ technology. Real-time responses are what they seek. Email and other traditional methods cannot ensure this. That explains why companies are increasing their chatbot spending.
4. Data Analysis
For commercial decision-making, data is crucial. It aids companies in developing marketing messaging. But many businesses find it difficult to collect and analyze it. Good news! Chatbots can assist with this.
They engage with customers, so they may obtain this information directly. They then use their AI capabilities to analyze this data. For businesses, this has simplified things. They can wait for these tools to provide them with thoughtfully analyzed and informative data. They must use it to guide their decisions.
5. Optimizing business resources
Businesses invest a lot of money in marketing. This is particularly true when employing employees. It is a process that uses a significant amount of cash and other company resources. For start-up companies, this can be costly. Especially those with tight financial restrictions. Chatbots, however, make things simpler for these businesses.
They are available around the clock to assist clients. Evenings and weekends are included in this. The good news is that they are not compensated similarly to humans. Such businesses save a lot of money as a result. Additionally, it might help them achieve their objectives more quickly and save them significant time.
6. Help nurture leads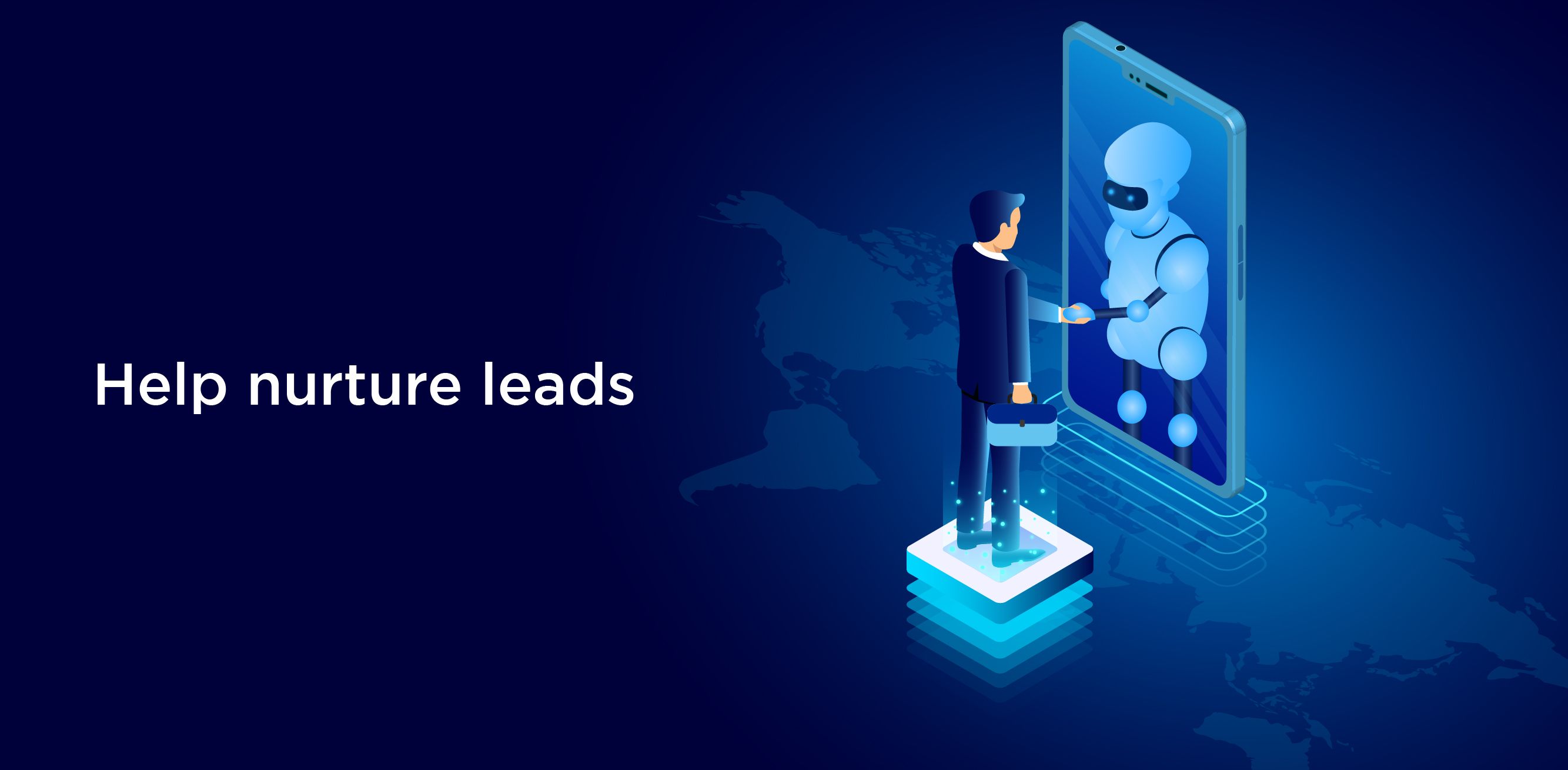 The creation of leads is essential for marketers. The most important thing is how they raise them, though. Well-cared-for leads eventually purchase a good or service. Different strategies are used by businesses while nurturing leads. Some people do this by hiring human marketers. Others employ technology, such as chatbots, or merge technology and people.
The effectiveness of chatbots in nurturing leads has been demonstrated. They might even perform it more skillfully than people. They are more dependable since customers can always find them online. Additionally, chatbots have developed over time. They have improved their understanding of the customer.
For instance, chatbots are aware of a company's customers' purchasing process. They can determine where a customer is in their journey as a result. They can easily personalize communication as a result. It also enables businesses to better serve their clientele.
How can Chatbots fit your Marketing Strategy?
1. Auto-qualify leads and sends them to sales instantly
In the past, sales personnel would qualify leads for the company. With chatbots automating lead qualification processes, technology has made it simpler. Customers are guided to submit their contact information by answering pertinent questions that chatbots pose in an entertaining and accessible way. The entire process is enhanced, and the sales cycle is shortened. Additionally, it frees up the salesperson's time so that they may concentrate on harder duties. Sales are immediately given high-quality leads, boosting the company's likelihood of making a sale.
2. Schedule Meetings
Appointment scheduling was regarded as a time-consuming process. Okay, not any longer. The business and visitors save a lot of time by using an AI-enabled personal assistant bot to plan meetings and appointments. A user may easily schedule, change, and cancel meetings using chatbots.
3. Enable making orders
You no longer need to call to make a reservation for a table or wait in line to get a pizza. Conversational bots are designed to interact meaningfully with users and do various functions, such as booking a table, making reservations, or taking money. You may buy without fuss, thanks to chatbots.
4. Tracking orders
The order is tracked in real-time by chatbots. A chatbot may answer every customer question by simply responding, "Please share the shipping status." The details of the order, the delivery date, time, tracking map, and many other things are included in the information. To improve the tracking, it also requests feedback after the delivery.
5. Share news and updates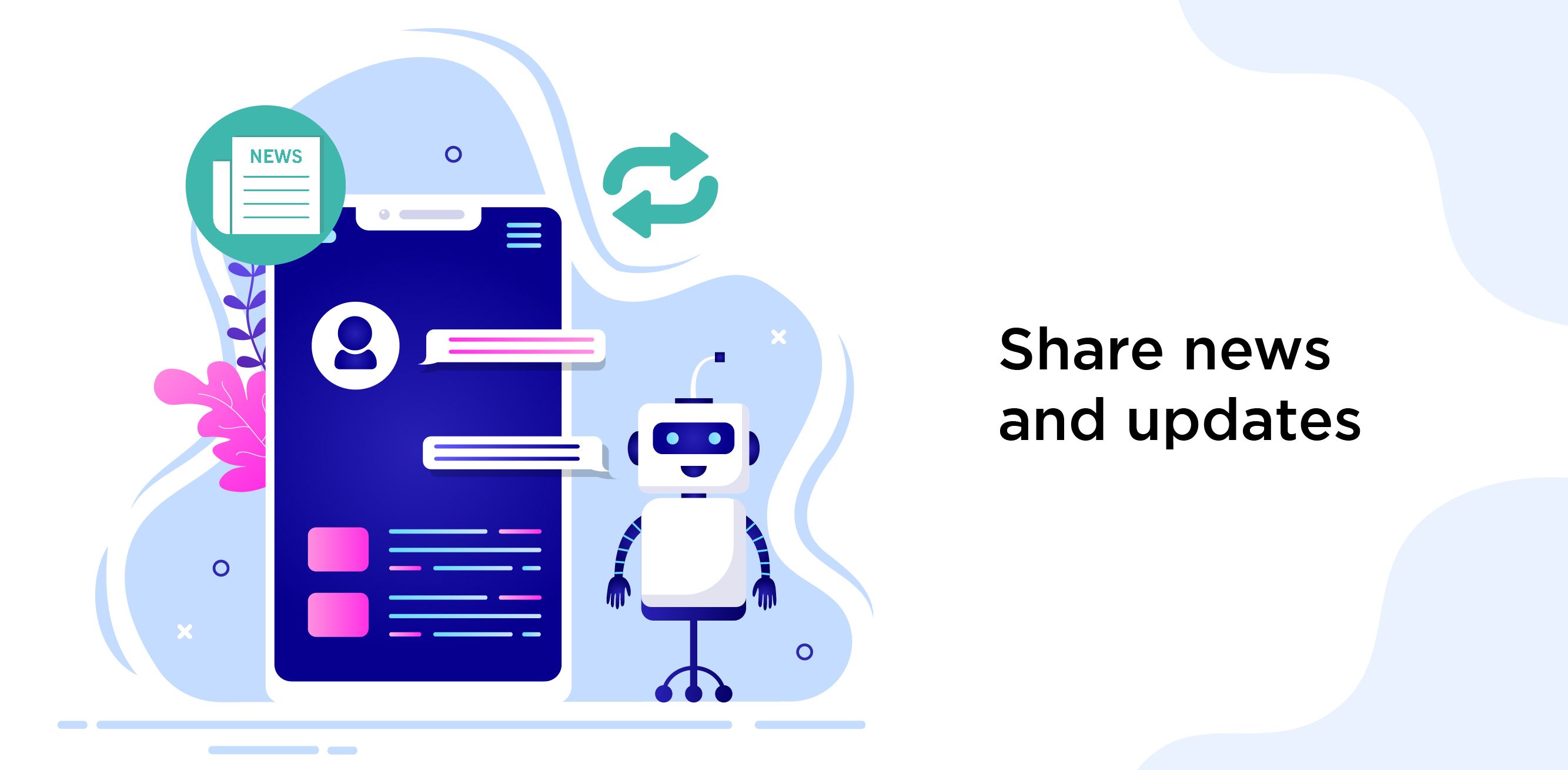 Top news and updates can be distributed to users via messaging platforms with the help of chatbots. Users receive customized notifications about the brand's activities, products, and services. A chatbot can help a business communicate with and engage with its customers.
6. Personalized discounts and recommendations
Numerous strategies are explored by brands to engage with consumers. By interacting with customers, you can target customers depending on their interests and reactions. Brands may have a unique discussion with each customer with chatbots. One strategy is to reward clients for purchases by giving them discounts each time they communicate with the chatbot. Additionally, organizations can have two-way discussions with customers at scale with chatbots, allowing them to collect data to improve the user experience.
Are you considering including chatbots in your marketing strategies in the future?
Chatbots are now necessary for business and are no longer optional. They have had a great effect on several commercial areas. The marketing industry has seen the most substantial impact from them.
This effort determines the number of leads they produce. Additionally, it impacts the conversion rate. These activities also affect customer retention rates. However, companies are not required to use conventional methods. The marketing landscape is rapidly evolving. Because everything is going digital, chatbots will never go away.
The best digital marketing tools today are chatbots. They have aided companies in increasing the effectiveness of their marketing. In addition, they now have happier customers. If you want to simplify your marketing, it is worthwhile to invest in them. They are also necessary to address your problems with lead creation and nurturing.
Chatbots' use of artificial intelligence has completely changed the game. The way they interact with users has altered. Even now, you might not be aware that you are speaking with a chatbot. Business owners should start thinking about investing in chatbots.
They will save money because of this. Chatbots can also help them save a tonne of time. In the long run, it will assist companies in realizing a sizable return on investment.
Without technology, there would be no future. Businesses and individuals must adopt it as a result. One piece of technology that will influence marketing in the future is chatbots.
Check out BotPenguin for one of the best AI chatbot-making platforms available.