Introduction
Are you looking to organize your customer communications effectively?
Do you want your customers responded to quickly and effectively?
Setting up a HelpDesk can assist your support team in offering the best possible customer service experience.
Around 32% of the world's foremost companies use AI customer service technologies. One in three companies reports that customers prefer to complete a purchase or resolve issues without speaking to a human agent.
Here are 6 Amazing HelpDesk Alternatives You Want To Take Advantage of!
What is HelpDesk?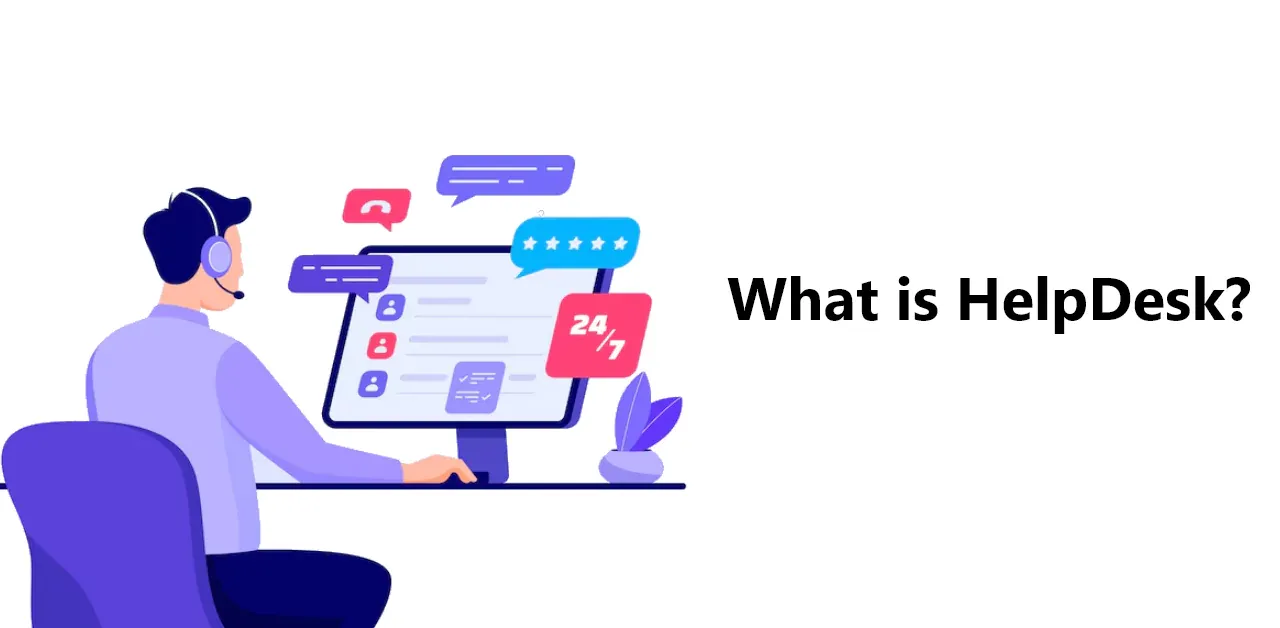 A helpDesk is a tool that helps you organize your customer communications and to assist businesses in responding to customers and supporting them quicker and more effectively. A help desk can allow your support team to offer the best possible service experience.
HelpDesks offer features for providing context and insights into customer experiences. They provide features to allow you to benchmark the performance ensuring that your team is efficiently working in assisting and delighting your customers. Helpdesks are an integral tool for supporting your customers and providing effortless customer service.
Why do people use a Helpdesk?
Every customer support team may have to interact with several people simultaneously. Suppose this happens across multiple email accounts with several people. In that case, it becomes very difficult to minimize duplicated conversations, understand the context, and know how the customer interacts with your company.
The helpdesk system brings all the interactions into one interface. It allows different conversations to be cross-referenced and used for further customer experience analysis.
Some basic functions for which organizations use a help desk are
Organizing customer interactions as support tickets on a single interface.
Categorizing and automating the flow of tickets.
Assigning the tickets to customer service agents for issue resolution
Tracking the status of a ticket, both in ownership and ticket duration.
The software helps create organization by keeping your ticket system clean and providing your agents with relevant customer data.
Who can use a HelpDesk?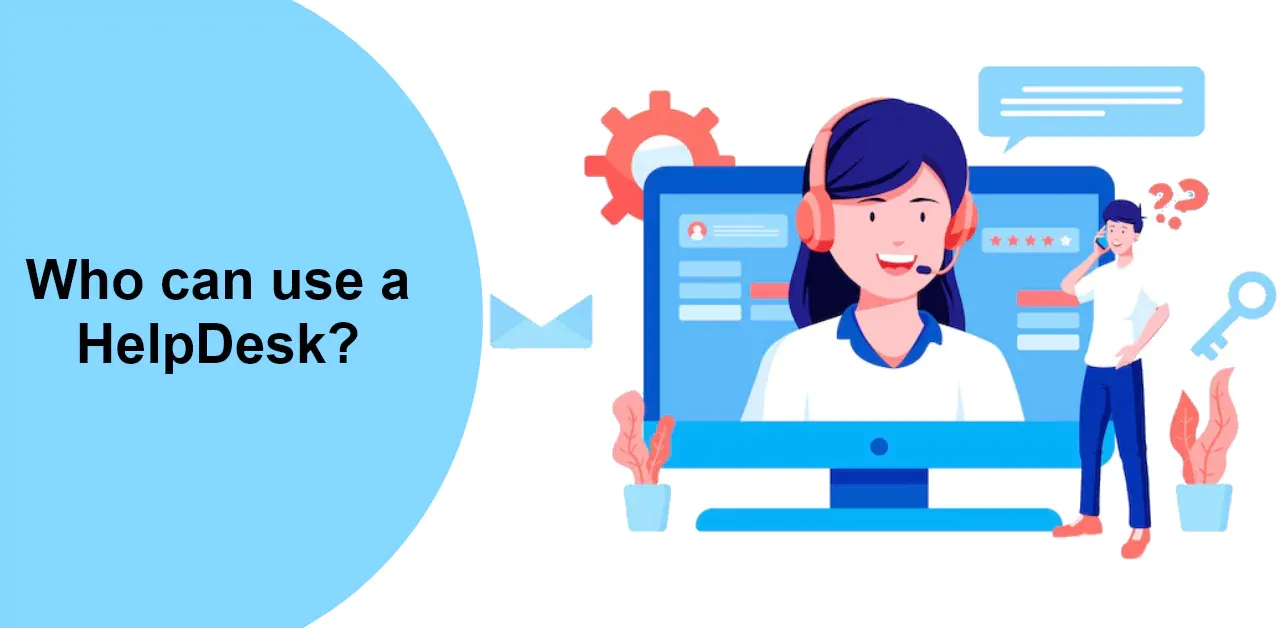 HelpDesk can be divided into many parts based on your company's size, the structure of your support function, and the kind of business you have.
HelpDesk for different business sizes
HelpDesk for small businesses
HelpDesk for enterprises
HelpDesk for different consumer segments
B2B(Business to Business)
B2C(Business to customer)
HelpDesk for different customer service roles
Customer service representative
Customer service manager
Other customer support roles
Key Benefits of HelpDesk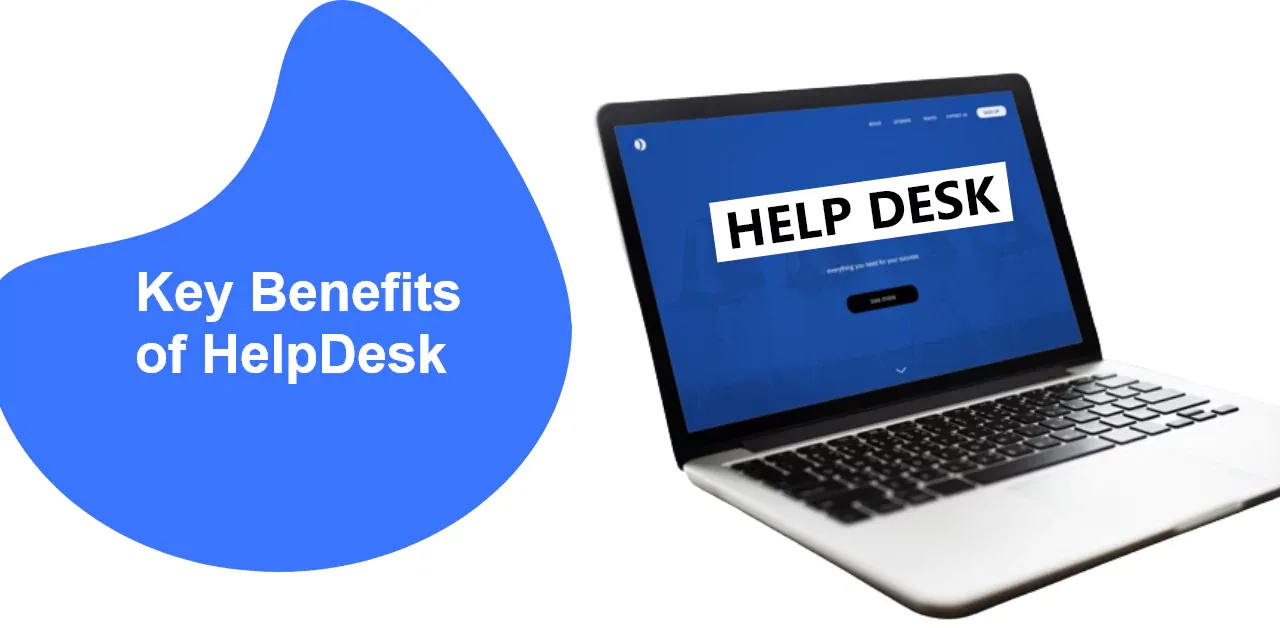 Unify all your support channels in a single place
HelpDesk enables you to unify all your support channels into one place. It provides a seamless omnichannel experience to your customers by retaining context when they switch channels.
Provide faster support to customers
No one likes to wait, be it in a queue, by email, or over a phone call. Everyone wants faster responses from the company, and your support team can't waste time switching tabs and sorting queries. A good helpdesk ticketing system helps you to put customer interaction on one screen and adds tags to them to help support agents get a quick overview of the problem. It helps them categorize the tickets for agents to deliver quick responses.
Boost your team's productivity
It allows you to automate time-consuming tasks such as ticket assignments. It eases your team's workload with simple automation. You can also build a knowledge base within your helpdesk for agents to share insights and resources while communicating changes. It facilitates cross-team collaboration, improving your team's efficiency and keeping all team members on the same page.
Implement effective self-service options
Customers prefer self-service rather than speaking with agents. They believe that they can resolve issues faster by finding help themselves. A helpdesk loaded with features helps you to create, organize and centralize your support documentation. Access to analytics for your database also gives you insights into the most searched queries and highly viewed documentation.
Engage in contextual conversations with your customers
A helpdesk lets you have all your customer information in a single place and helps you see whatever a customer has reached out to you for so far. Your team can then pick up any conversation without any inconsistency in context.
Gain critical feedback on agent and team performance
Using personal or shared inboxes for customer queries can make it hard for you to track the requests' volume, type, and resolution rates. It is essential information as it allows you to monitor the performance of individual agents and the helpdesk team. A good helpdesk system can assist you with all the analytics and reports.
How to choose the best HelpDesk alternatives?
With hundreds of helpdesk systems to choose from, it can take time to choose the one which suits your needs the best. Here are some things to consider while hunting for the best helpdesk software for you.
Cost
Every business has a budget allocated for implementing new tools despite the size and nature of the business. You must consider the costs involved initially and in the coming months while evaluating a helpdesk software. Consider this, and a $50/month sounds feasible when you have a two-member team. Would the pricing still hold good when you have a 20-membered team?
Features
You must have a list of the features that are a must-have for your business and the nice-to-have features. You can't compromise must-have features, and looking for software that caters best to you is better. The nice-to-have features don't have to be a deal breaker but are always good.
Support
It is essential to have good support and reach out when needed. Look for the support options that a helpdesk software provides. Do they have email support? Do they have various tiers of support for different types of customers? How helpful are the support documentations? Look for a helpdesk software that will support you in a way that suits your needs. A quick way to test this is to send a ticket to the helpdesk and check the spread and quality of the customer service.
Integration with other apps
There may be various other software that your company uses daily. An app integration can help connect two services and make their communication simplified.
6 Best HelpDesk Alternatives
HubSpot's Help Desk Software(Best for Cross-team Collaboration)
HubSpot's helpdesk tool is a part of Service Hub, a customer service software to help small businesses provide a delightful customer service experience. Key features include
Customer intake management
Communication inbox
Service level agreements
Bots for automation
Customer service reporting to achieve better results.
Price: Free; $45/month for premium features
Zendesk(Best for Customer Portals)
Zendesk is known for its customer service portal features, where you can access previously submitted tickets and add additional responses. It is one of the most established customer service software companies, with tools catering to all sizes of corporations. Zendesk offers super-slick tools and consolidates all the customer data across different platforms in one place.
Price: Starting at $19/user/month
Happy Fox(Best for Task Management)
Happy fox offers one of the most powerful helpdesks, including ticketing features, canned actions, and task management tools. One of its most notable features is its task management tool which allows users to break down items from a ticket into various tasks. It focuses mainly on large companies empowering large customer service teams. You can automate many tasks and provide consistent experiences, helping customers help themselves.
Price: Starting at $39/user/month
Freshdesk(Best for Field Customer Service)
Freshdesk offers a helpdesk that brings customer service to all of the company's different channels of communication. It allows you to unify all the customer messages and information to give the customer a better experience. It also offers a range of field service management tools that make a great tool if you serve your customers in their homes or while on the road.
Price: Free; starts at $15/user/month for more advanced features
Intercom(Best for SaaS Customer Onboarding)
Intercom is best known for its live chat tool, and the helpdesk it offers is a very easy-to-use solution for teams. It has tools for easy collaborations, automation, and improving customer support.
The onboarding tool is Intercom's most notable feature. It allows you to provide proactive customer service. Intercom is probably the best helpdesk for you if you have a SaaS business and want to minimize roadblocks and customer inquiries.
Price: Starting at $74/month for one user
Zoho Desk(Best for Customer Sentiment Analysis)
Zoho Desk's helpdesk software aims to increase individual customer support productivity. It helps provide insights and trends for your team to make better decisions. It also includes a sentiment analysis tool that allows you to measure how customers feel about your services. Suppose you have a large database of customers. In that case, it can help provide essential data to project a picture of the effectiveness of your service efforts.
Price: Free; Starts at $12/month for premium features
Conclusion
Helpdesk tools are becoming more and more popular by the day. It provides essential tools for businesses to enhance customer service and automate ticketing tasks. The above-listed tools are some of the best available in the market. You should try them before deciding on the tool you finally pick up for your business.