Customer relationship management (CRM) software from Freshworks is the best option for firms that want to give their sales managers the tools they need to track sales activity and the effectiveness of their team correctly.
With tools to email marketing campaigns, manage leads and deals, and easily track quotes and invoices while keeping an eye on the strategic picture. Freshsales helps businesses build and guide the customer journey from the first contact with a lead to the close of the sale.
With its headquarters in San Mateo, California, Freshworks employs a committed staff to support its 50,000+ clients, which include Bridgestone, Chargebee, DeliveryHero, ITV, Klarna, Multichoice, OfficeMax, TaylorMade, and Vice Media.
However, looking at its alternatives, you'll discover many cheaper but equally effective CRM software solutions that compete with Freshworks.
Today we are going to discuss six effective FreshWorks CRM alternatives. That will help you choose the software that will work best with your small company budget; we'll review each feature and price it one at a time.
Freshworks CRM: What is it?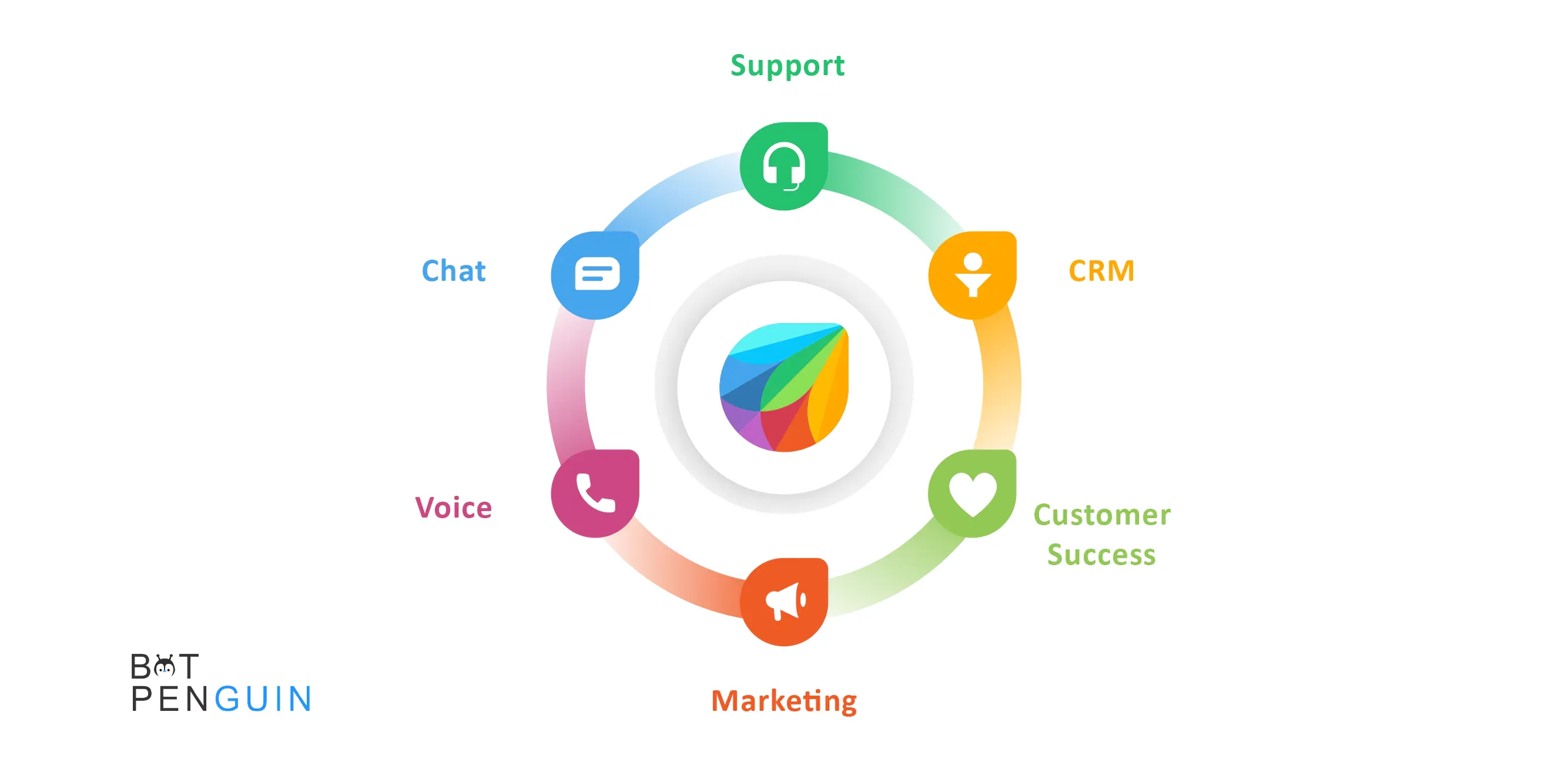 Freshworks is a top CRM platform with integrated communication tools and AI-powered capabilities that take the conventional sales to funnel above the bare minimum of deal monitoring and management.
You will have much more information about your prospects with built-in cloud telephony thanks to a quick view of prior activity, call notes, previous talks, and their total score to close deals faster. The platform may automatically record sales calls to assist you in analyzing the key performance metrics that influence sales.
Freddy, the AI-powered assistant, will acquire knowledge from your previous sales data, activities, and customer involvement to provide more valuable suggestions throughout the customer experience.
When the chatbot is activated, you decrease the initial response time on your website and increase lead generation by providing thorough responses to frequently asked consumer inquiries.
6 alternatives to Freshworks CRM
1. HubSpot
HubSpot is a cutting-edge, all-in-one CRM tool that benefits medium-to-large-sized organizations. HubSpot has more features and is more robust than Freshworks CRM, which is ideal for smaller companies and more reasonably priced.
Features
You want a powerful, no-cost CRM with email marketing features.

You desire a sophisticated, user-friendly CRM system.

You choose top-notch internet marketing tools.
Pricing
There is a free version of HubSpot CRM.

The CRM Suite Starter costs $45 per month every year.

CRM Suite Professional costs $1,600 per month when invoiced yearly.

CRM Suite Enterprise is available for $4,000 per month every year.

For two users each month, Sales Hub starts at $45 when invoiced annually.

The monthly rate for Marketing Hub is $45 per month, payable yearly.

The Service Hub costs $45 for two users per month when paid yearly.
2. Pipedrive
Pipedrive CRM positions itself as a platform that makes the sales process more efficient. It was developed with and for salespeople. It's the most excellent Freshsales replacement available on the CRM market.
Features
Utilizing customized pipelines, lead management and deal management functions are performed.

While organizing relationships, enterprises, and organizations, keep track of every contact and action.

There includes two-way email syncing, a consolidated inbox, and a template library.

Along with several process automation for the sales pipeline, Pipedrive now provides an AI assistant for sales teams.
Pricing
The basic plan costs $12.50 per user per month when paid yearly.

The monthly cost of the advanced plan, invoiced yearly, is $24.90 per user.

Monthly fees for the professional plan are $49.90 per user, payable yearly.

Enterprise is invoiced annually at $99 per user per month.
3. Zoho CRM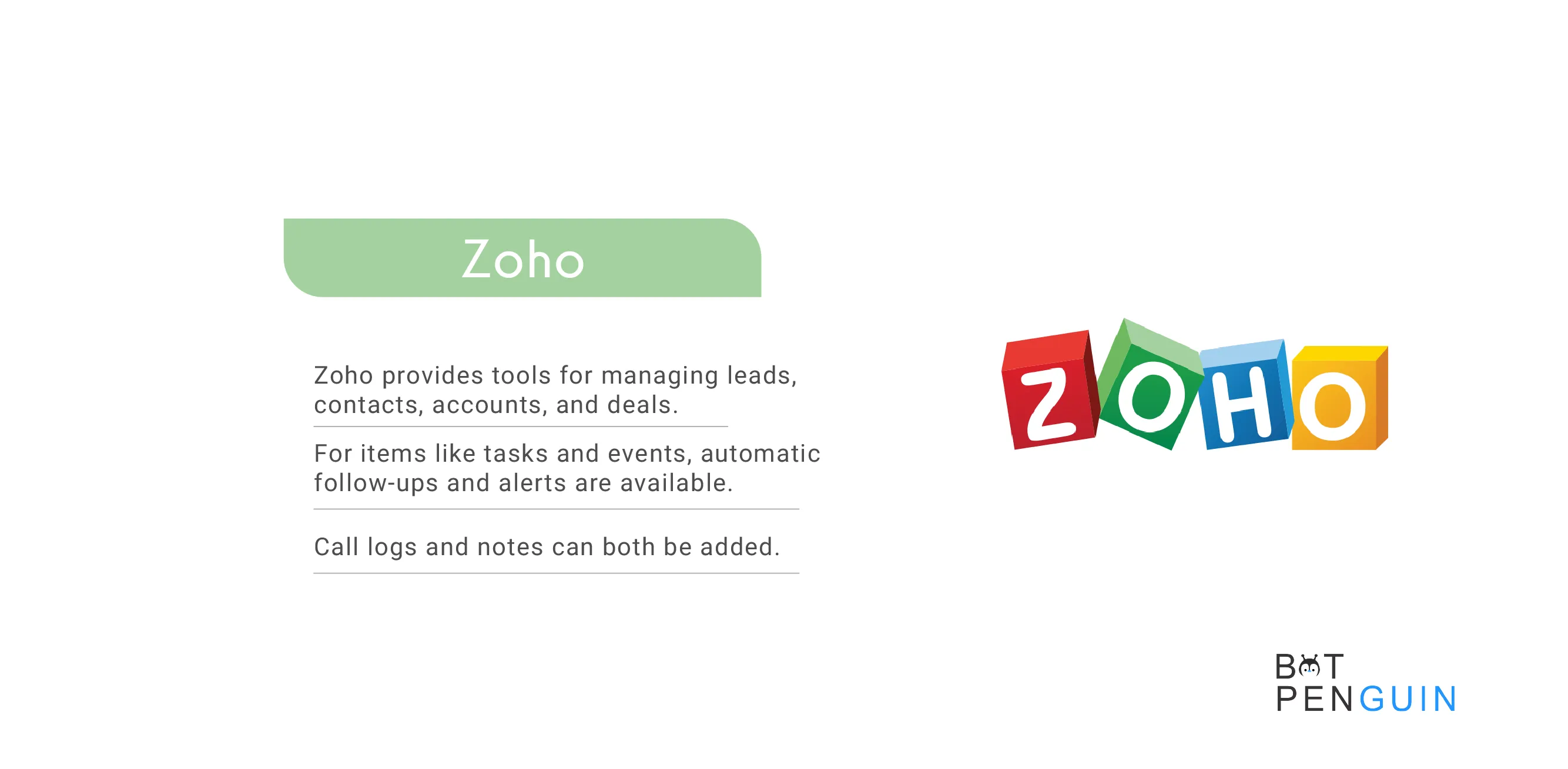 In the world of business applications, there is a lot of confidence in the Zoho CRM name. While it is true that Zoho CRM has a respectable free edition, it may be the lesser-priced plan that makes Zoho a fantastic alternative to Freshsales.
Features
Zoho provides a "sales force automation" solution that includes tools for managing leads, contacts, accounts, and deals.

For items like tasks and events, automatic follow-ups and alerts are available.

Call logs and notes can both be added. Similar to several of the top CRMs,

Real-time analytics and business card scanning are both features of the mobile apps for iOS and Android developed by Zoho.
Pricing
A free version of Zoho CRM is available.

Monthly user fees for Zoho CRM Begin are $7 when invoiced annually.

The standard plan costs $14 per user each year when paid yearly.

The professional package is $23 per user per month, payable annually.

The enterprise plan is $40 per month per user, payable annually. The premium plan costs $52 per user each year when paid yearly.
4. Nimble CRM
Nimble CRM may be used in place of Freshworks CRM-related products like Freshsales. In addition to being an excellent sales tool, it excels in online and social networking.
Features
A CRM application called Nimble automatically updates your contact information by looking for information on social networking.

You may obtain information about your contacts from several sources, such as Gmail, Microsoft Office 365, Twitter, and LinkedIn.

It then offers information on trends and helps with audience segmentation so you can deliver the right marketing message.

The remainder can be handled by Nimble because of its effective pipeline management.
Pricing
The annual cost of the Nimble Business plan is $19 per month.
5. Insightly
The core functions of Insightly, a CRM and project management tool, are support, marketing, and sales. It excels as a great Freshsales API alternative as well.
Features
There are complete toolkits for sales and marketing, including automated features and excellent analytics.

Project management boosts team members' productivity through process management, interactions with other systems, and milestone tracking.

Insightly's REST API is accessible and easy to use, and the firm provides a robust connector library.
Pricing
The Plus plan has an annual fee of $29 per user.

When paid for annually, the professional plan costs $49 per user each month.

The enterprise plan is $99 a year per user. Visit the website for insight services or marketing.
6. Simple Systems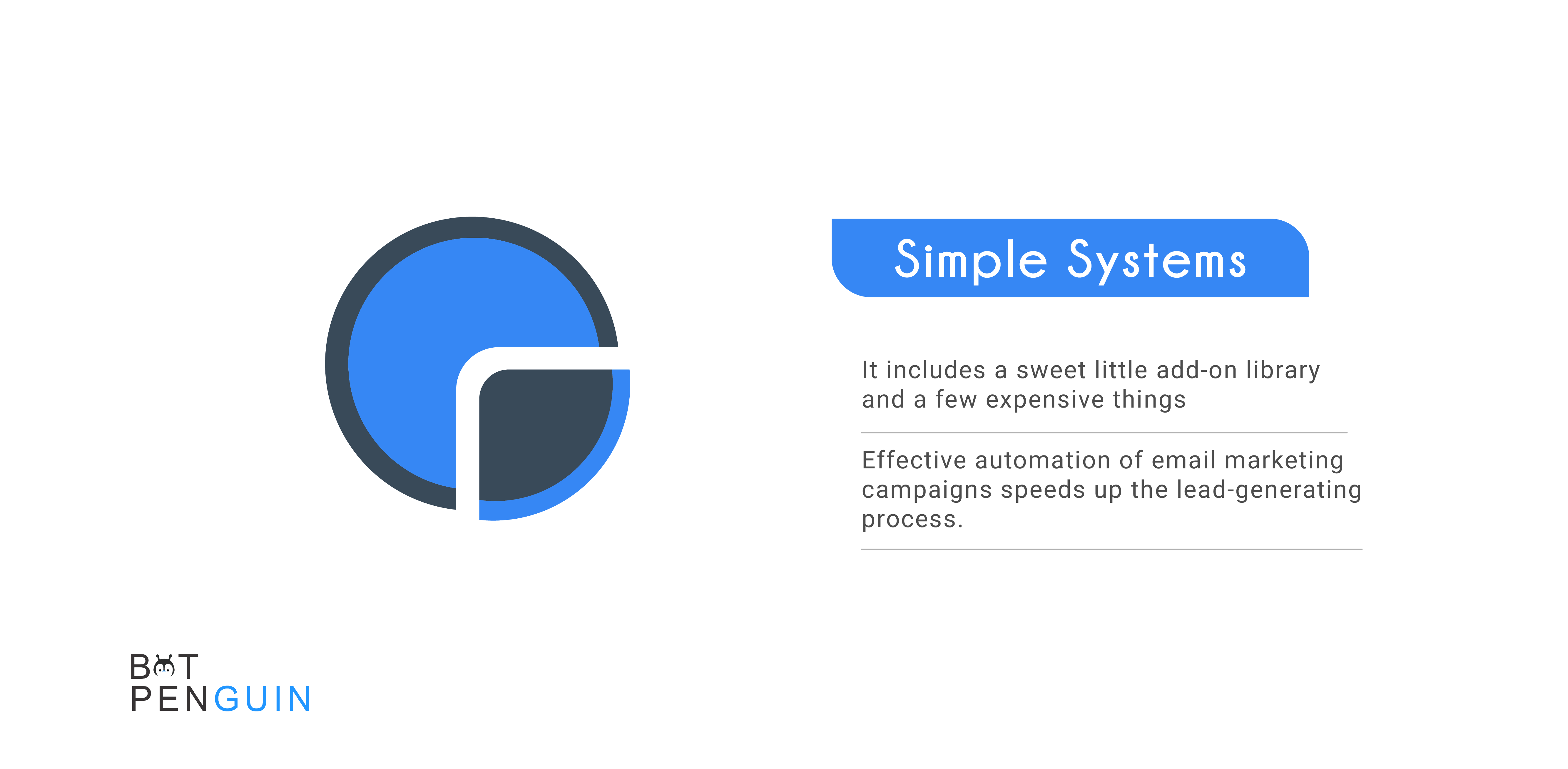 Simple Systems offers a complete CRM toolkit for sales, support, and marketing. It also includes a sweet little add-on library and a few expensive things. Compared to Freshsales, Simple Systems is a more understandable alternative for comparative analysis.
Features
When you combine challenging tasks and calendar tools with contact and pipeline management, your salespeople stay on task and perform better via efficiency.

Effective automation of email marketing campaigns speeds up the lead-generating process. On the service end, case management and SLAs are seamlessly connected with your email.
Pricing
A free version of Really Simple Systems.

The beginning plan's monthly costs are $14 per user, payable annually.

The professional package is $30 per user per month, payable annually.
FAQs
1. Are Freshworks and Freshsales the same thing?
The " Freshsales " app is not precisely the same as "Freshworks." Numerous commercial SaaS is sold under the name Freshworks. Freshworks CRM and sales platform are called Freshsales.
Freshdesk for customer service, Freshmarketer for marketing, Freshteam for HR, and Freshservice for IT administration are other Freshworks products.
2. Freshworks: Is it a CRM?
A variety of business software is sold under the brand name "Freshworks." It contains the sales platform and CRM (customer relationship management) app; Freshworks was first known as Freshdesk Inc. in 2010. Later in 2016, they created Freshsales. Freshdesk Inc. just changed its name to Freshworks in 2017.
Conclusion
When comparing various solutions, potential customers assess competence in areas including evaluation and contracting, integration and implementation, service and support, and particular product capabilities.
Among these six powerful Freshworks alternatives discussed above, Zoho CRM as its Overall Rating, Career Opportunities, Compensation & Benefits, Work-Life Balance, Senior Management, Culture & Values, and Overall Rating were the nine categories where Zoho performed better.