With the growth in the business world, there is significant growth in the importance of customer support and managing good customer relationships. These two factors are vital in determining how efficiently a business house can flourish.
Businesses need help to respond to customers' queries at the earliest. Hence, many CRM (Customer Relationship Management) software are available in the market.
Freshworks is one of the most popular CRM software. It is affordable for small business owners needing basic CRM capabilities and larger organizations with the budget to afford its premium plans and add more functionality.
In this blog, we will learn in detail about Freshworks CRM and identify its five most exciting and critical features that one must know.
So, let's dig in.
What is Freshworks CRM?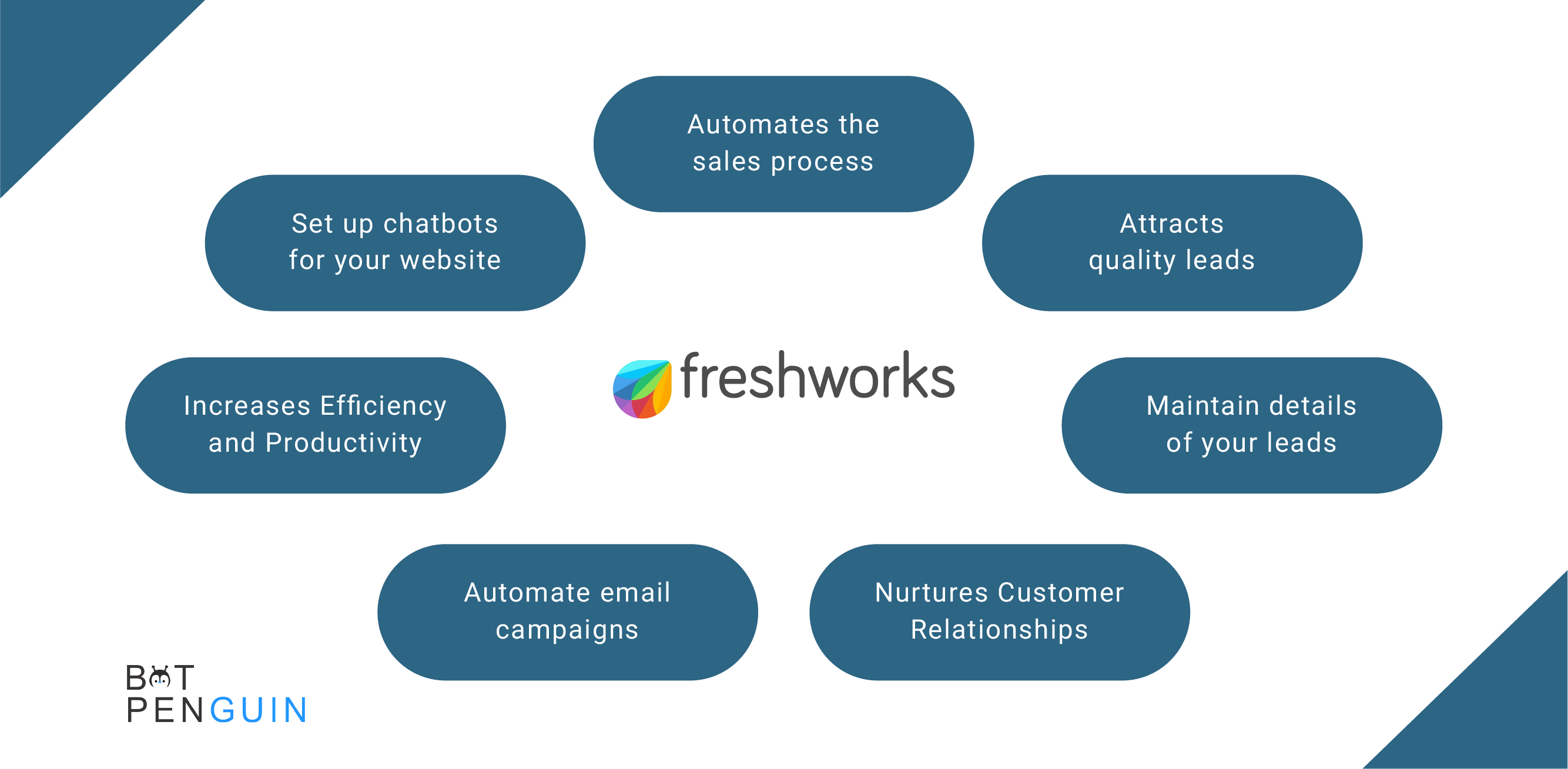 Freshworks (currently known as Freshsales ) is a free CRM tool with various packages that combine sales and marketing tools to chat and comes with an in-built phone.
Freshworks is an experienced sales force automation solution for any sales team. It can provide everything a salesperson needs, like attracting quality leads, engaging in information-related conversations, finding details using artificial intelligence, and nurturing customer relationships.
Freshworks empowers sales teams with built-in email, phone, chat, and telephony, as they can spend more time selling. It also helps automate the sales process. It increases efficiency and productivity in their daily activities.
In Freshworks CRM, businesses can take the next step toward powerful pipeline management. Also, by using native CPQ, generating and sharing quotes and other vital sales assets becomes a lot easier.
Freshworks helps you find a solution for your marketing teams to organize customer information, personalize and automate email campaigns, and find the right sales opportunities. It is a compact solution for sales and marketing teams.
With Freshworks, you can maintain details of your leads, customers, and deals, create marketing email journeys, set up chatbots for your website, work from anywhere with the mobile app, add unlimited users and get unlimited support.
Why should you choose Freshworks CRM for Communications?
The most impressive part of using

Freshworks CRM

is its native cloud-based phone support. It has toll-free and local business phone numbers in more than 90 countries.

Freshworks CRM offers many other features, including AI-powered chatbots, bulk email marketing tools, accessible forms to capture customer data, and automatically adding social and publicly listed information to your contacts' listings.

It combines essential communications tools with an automated sales pipeline, thus helping your team access vital customer information.

Freshworks also provides AI-powered insights to focus on and close more deals in less time.

You can also run all your sales from your phone with the mobile app included in all plans. With the Pro plan of Freshworks, you can get the best experience with its AI-powered deal insights, time-based workflows, and multiple sales pipelines, mainly designed to help teams sell effectively.
5 things you must know about FreshWorks CRM
Its amazing customer support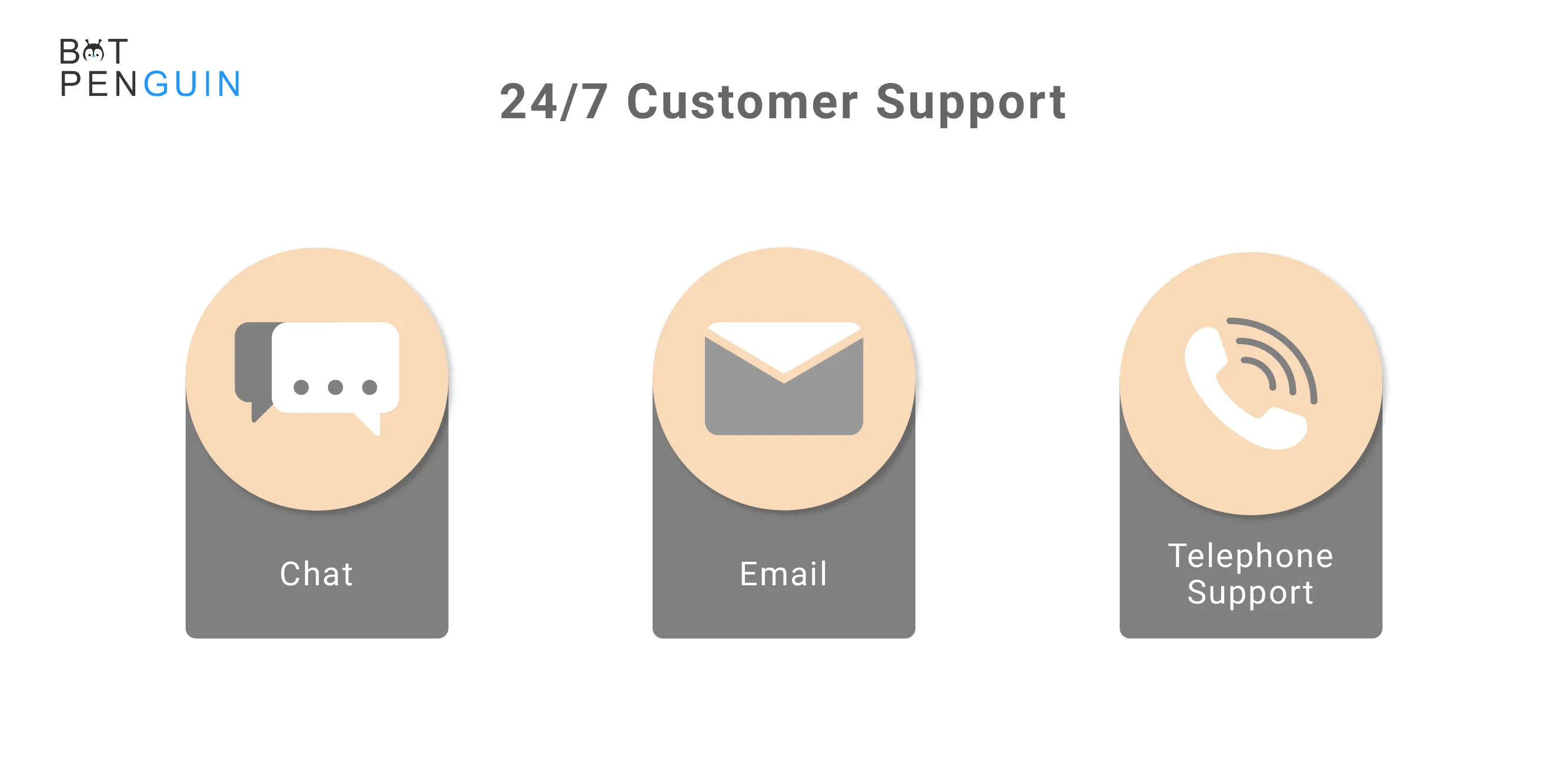 Using CRM software can be difficult for beginners due to multiple overlapping features. 24/7 chat, email, and telephone support are included in all Freshworks plans.
Many self-service support options include articles covering tasks and appointments, reports, and admin and user settings. There are videos on different topics like general settings, layout customization, and sales sequences; FAQs to answer your questions about leads, contacts, territories, and workflows; and guides to learn how to set up Freshworks and migrate information from another CRM system.
Freshworks' CRM support options are one step ahead of many other software providers, who frequently need more customer service corners and often confuse users.
Ease of use
To be a great CRM software application, remember it should be simple. Unlike other CRM applications having dashboards containing too many different content blocks, the Freshworks user interface is relatively easy to move around. It also gives you multiple features like built-in email and phone, automated lead scoring, customized reports, and everything without switching between various applications.
While customizing dashboard information, it is very annoying to go to other pages to see critical marketing KPIs, such as your sales quotas. It can become very irritating but not with FreshWorks CRM. Its icon-based side menu provides easy access to contacts, leads, and reports.
Users are very impressed with Freshworks and have shared their reviews about its superior customer service, easy migration of customer records into its database, and comprehensive account activity feed. But some users have expressed concerns about problems finding error logs and issues when converting leads to contacts.
Wide-ranging plans at an amazing price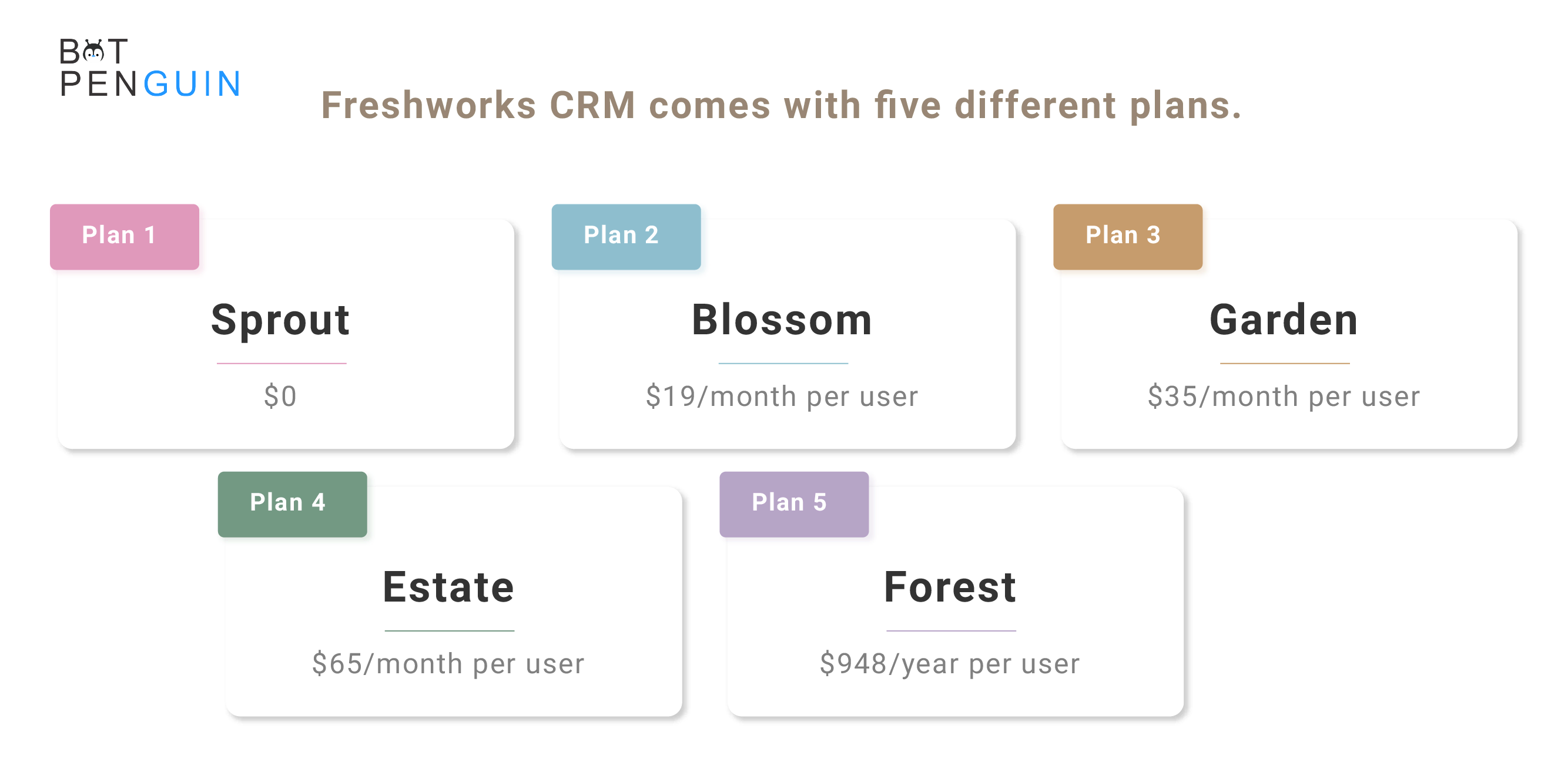 Freshworks is way ahead of other CRM software in terms of pricing. But it is essential to know about pricing, and you must research each plan's options to identify what you are getting compared to what you need.
Freshworks CRM comes with five different plans.
Plan 1- Sprout: It is a free plan and includes unlimited users, contacts, and 24/7 email, chat, and phone support.
Plan 2- Blossom: This plan costs $19/month per user and gives access to features like deal management, lead scoring, Freshworks integrations, apps and integrations, and application programming interface (API).
Plan 3- Garden: This plan costs $35/month per user and gives facilities like adding ten teams, 250 bulk emails/day per user, ten workflow automation, territories and lead assignment, custom roles, and advanced reports.
Plan 4- Estate: This plan starts from $65/month per user and gives access to facilities like adding sales goals, advanced CRM customization, auto profile enrichment, reports dashboard, intelligent forms, event tracking, and multiple currencies.
Plan 5 - Forest: This plan costs around $948/year per user and gives access to features like adding a dedicated account manager, audit logs, and IP whitelisting.
All these plans come with a 21-day free trial with no payment details required. There are also discounts available on Blossom, Garden, and Estate plans. These range from 24% to 36% if you pay for a year at a time. There is no monthly option for the Forest plan.
Integration with other software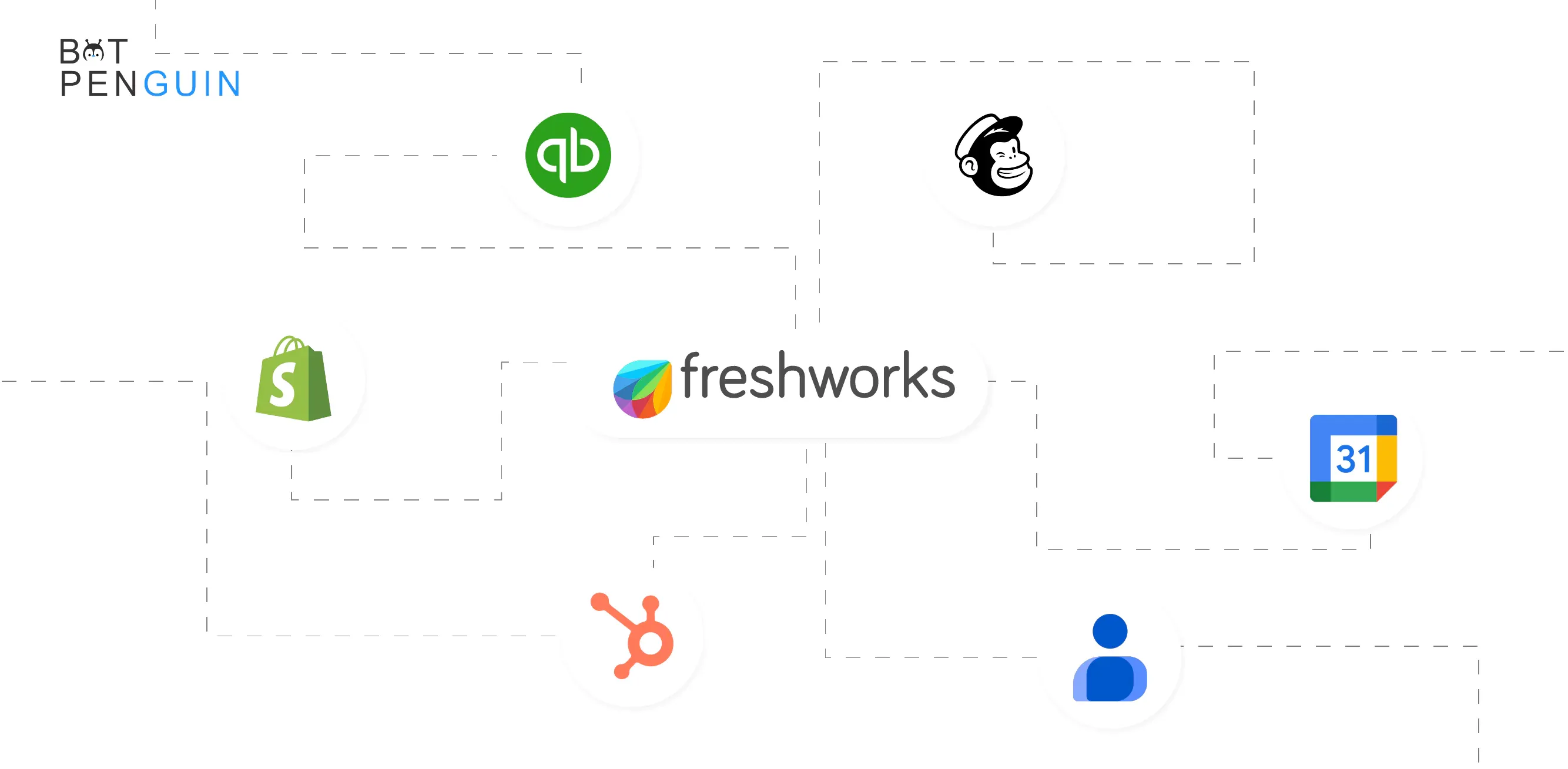 We all know that we can only expect a single software to fulfill some of our needs. Thus, applications need to share data with other applications. It is essential for CRM solutions because they combine information from various sources, like email, social media, live chat, phone calls, calendar applications, and inventory management software.
Freshworks CRM has not less than 20 native integrations with third-party applications, including some renowned options like Google Calendar and Contacts, QuickBooks, Mailchimp, and HubSpot Marketing.
They have also notified the inclusion of Shopify and DocuSign integrations on its website. It also works with its companion help desk, telephone, chat, and marketing software.
Freshworks CRM uses the third-party connector apps Zapier and PieSync to create connections to existing applications such as Facebook or Trello. For example, the Freshworks CRM deal makes a corresponding Trello project card when you set up a new relationship.
PieSync creates one-way and two-way connections, while Zapier only creates one-way communications. There are monthly subscription costs for these connector applications.
Uses an excellent AI Tool - Freddy AI
Freshworks uses Freddy AI to manage its customers. It is impressive that an AI-powered assistant whose main motto is to help you know your customers better. It is also an excellent feature as it improves over time, learning from CRM data to deliver predictions and recommendations that fulfill your business goals. It increases your team's opportunities for success and keeps good leads from slipping away.
Freddy's data-backed suggestions also help by suggesting the next step to keep the conversation going. You can automate chat conversations to reduce website response times, proactively interact with prospects, and answer standard questions.
Conclusion
Finding a good CRM tool is essential for your business to grow. Often it is noticed that people put a lot of effort into their companies but have yet to get fruitful results. A poor customer management system can be one of the main reasons for this. It is essential to understand the importance of investing in good CRM software to enhance the experience of your visitors and turn them into loyal customers.
Freshworks CRM is a fantastic option for all businesses, whether small or negligible. It has all the features that are primarily needed to enhance your customer's experience and come with many powerful tools to take customer relationship management to new heights.
This blog gives you an in-depth insight into the software and highlights five essential features you must know before investing in it.
We hope you find this blog helpful. If you have any questions regarding Freshworks, feel free to comment below.
Also, if you are searching for a reliable and accessible customer service alternative, come check out BotPenguin!