Ironically, in the homeland of WhatsApp, the USA, less than 30% of people use WhatsApp daily. Meanwhile, in countries like India, Germany, the Middle East, and Austria, WhatsApp is a widely used messaging platform.
To speak about WhatsApp was bought by Facebook in 2014. Since then, over 2 billion monthly users have used WhatsApp. In India alone, WhatsApp has over 400 million monthly users. According to Pew Research, only 20% of North American adults have WhatsApp applications on their phones. Whereas over 69% of Americans use Facebook and 73% use YouTube.
Despite being highly popular in other countries, WhatsApp cannot gain popularity in North America. Although WhatsApp users are rising, the app is still unknown to most. You might be asking, why isn't WhatsApp so popular in North America? Why is WhatsApp not their default messaging platform? What are the alternatives to WhatsApp that people use in North America?
If your head is swarming with all these questions, this article is for you.
WhatsApp in North America?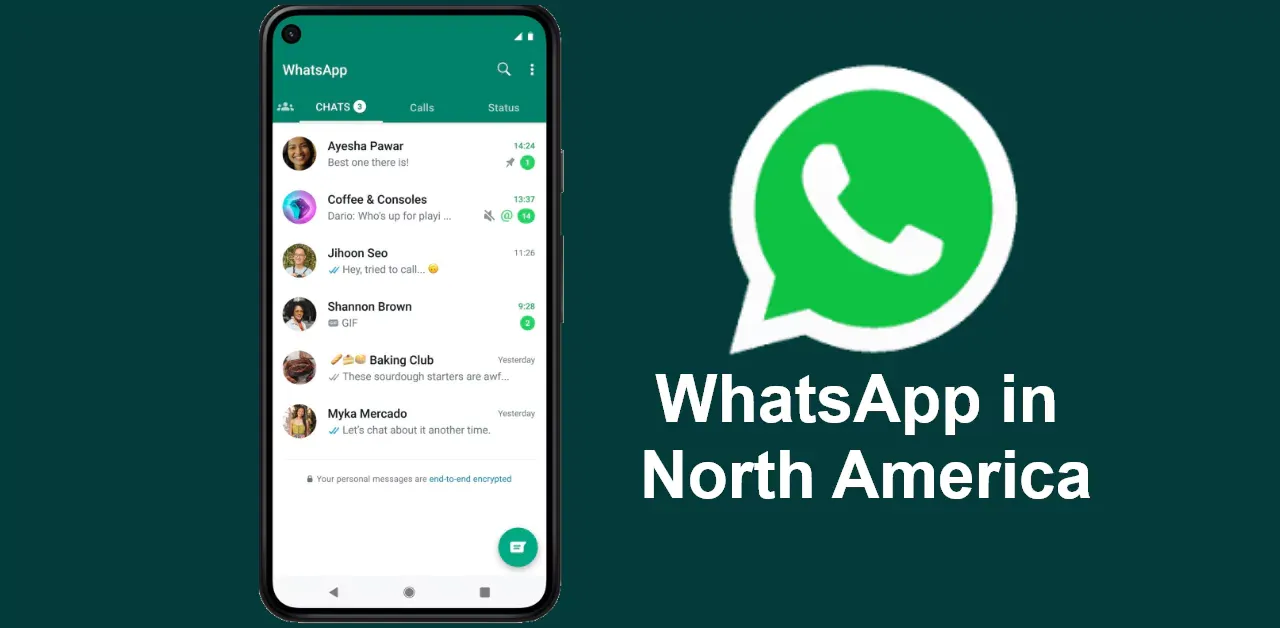 The most widely used messaging platform globally is WhatsApp. After Facebook and YouTube, the instant messaging app for mobile devices has the third-highest number of users. The app has over 400 million monthly users in India and virtually worldwide. It was started in 2009 by two software programmers, Jan Koum and Brian Acton; and was quickly expanded, and in 2014 Facebook bought it for $19 billion. It is now the most costly acquisition for Facebook to date.
WhatsApp is incredibly popular worldwide, but only 74.9 million Americans use it. When compared to other platforms like YouTube or Facebook, that is insignificant. Even some Americans are unaware of WhatsApp and its capabilities. Americans might not be interested in WhatsApp, but people in various other nations love the app for a variety of purposes.
Many people increasingly use WhatsApp for activities other than banal talks and chats, such as making reservations, conducting business, and reading news. It's essential to how people communicate in other nations, and many users use it as their preferred messaging tool.
Why isn't WhatsApp so popular in North America?
1. Privacy Concerns
Despite being end-to-end encrypted, the fact that Facebook controls it causes some users to have privacy concerns. The app also includes capabilities like location sharing, last seen, knowing if someone is online or not, etc. These characteristics are viewed as defects by many Americans. There are still some issues even though some of these functions can be disabled.
2. Strong SMS platform
You most certainly have a mobile phone contract if you own a mobile phone in the US. The offerings for users are quite alluring because the mobile market is extremely competitive. Almost all offers provide flat pricing for SMS and free minutes. Therefore, your mobile phone is a very effective and affordable messenger service in the US. Furthermore, data bundles in the US are pricey. Therefore, sending an SMS is more affordable than using WhatsApp. Why alter?
3. Presence Of Other Messaging Apps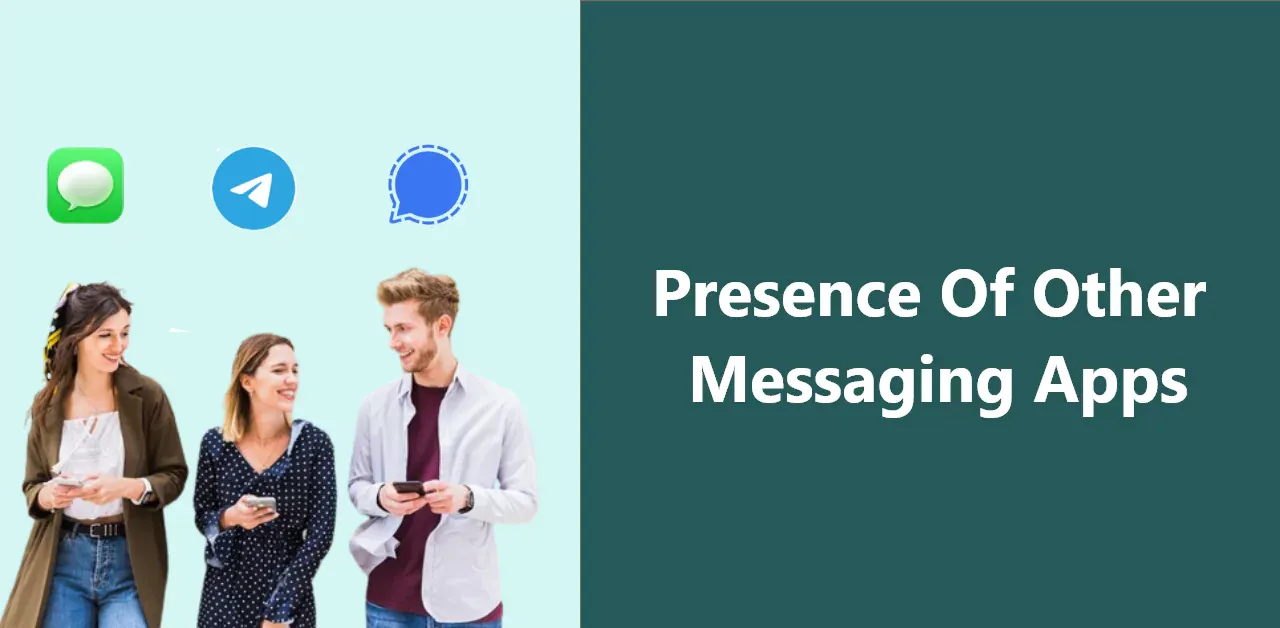 Facebook Messenger is a popular messaging program in the US. Even though Facebook also owns it, many Americans who currently use Facebook prefer it because of its extensive history. It works nicely with SMS to give Americans a wide range of instant communications alternatives.
In addition to Facebook Messenger, other social networking sites, including Snapchat, Instagram, and Twitter, also offer messaging services. So Americans may use those channels to communicate with anybody they want without hassle. There is no need to add WhatsApp to the mix when there are many possibilities.
4. Facebook Messenger has a firm hold on the US market
Of course, this does not mean that Americans use no messenger apps. In addition to traditional SMS, Facebook Messenger is popular for sending messages. Nearly everyone in the US who you wish to text may be reached using Facebook Messenger and SMS.
Who needs a third service that offers nothing unique or superior if you already have Facebook Messenger and your mobile provider and use them to connect with all your friends and acquaintances?
5. Travel habits don't align
The Hispanic community in the United States uses the app the most frequently, according to Pew Research, which highlights one of WhatsApp's most well-liked features: its global reach.
Regarding international texting, which Americans do less than people from other nations, WhatsApp plays a crucial role. That could be related to Americans' remarkably different travel habits from other nations.
Americans don't go abroad at the same rates as other comparable countries for socioeconomic reasons: Forbes reports that only 42% of Americans have a passport, much fewer than the 76% of Welsh and Britons and the 66% of Canadians.
6. Users are app-weary
Users are also growing weary of new apps. The apps on their smartphones already fill the screens. Users grow pickier when it comes to installing new applications. Since more apps compete for space on smartphones, few people see the benefit of downloading one that doesn't provide anything novel or a better or more affordable service, as WhatsApp does.
7. iPhone Usage
Many Americans use iPhones and other Apple goods in addition to the fact that there are alternative messaging apps. To text another iPhone user, utilize the built-in texting program on these phones, called iMessage. They can now use iMessage instead of WhatsApp, thanks to the free use cost.
8. They look for WhatsApp alternatives
Users who have relatives or acquaintances abroad are the only ones who genuinely benefit from WhatsApp in the US. After all, WhatsApp is filling a market void created by US cell phone contracts. Without special packages, it is incredibly expensive to phone or sends SMS outside the US.
Thus, most Americans who use WhatsApp do so mostly out of obligation to relatives or friends who live abroad and very infrequently out of independent decision. Of course, some people in the USA are worried about data security and want a more secure alternative to Facebook, Skype, or traditional SMS. However, many use messaging programs like Telegram or Signal rather than WhatsApp, which has some security concerns.
9. Openness To Technological Innovation
Although the US is a tech metropolis, its citizens are less receptive to new technology developments. It was unnecessary to investigate WhatsApp because other messaging services already functioned properly. This attitude toward technology has been ingrained in us since our first dating experiences.
Americans continued to use AIM when the rest of the world used MSN and ICQ for online communication. They utilized desktop computers long before switching to Gchat, Facebook Messenger, and AIM.
What are the Alternatives to WhatsApp?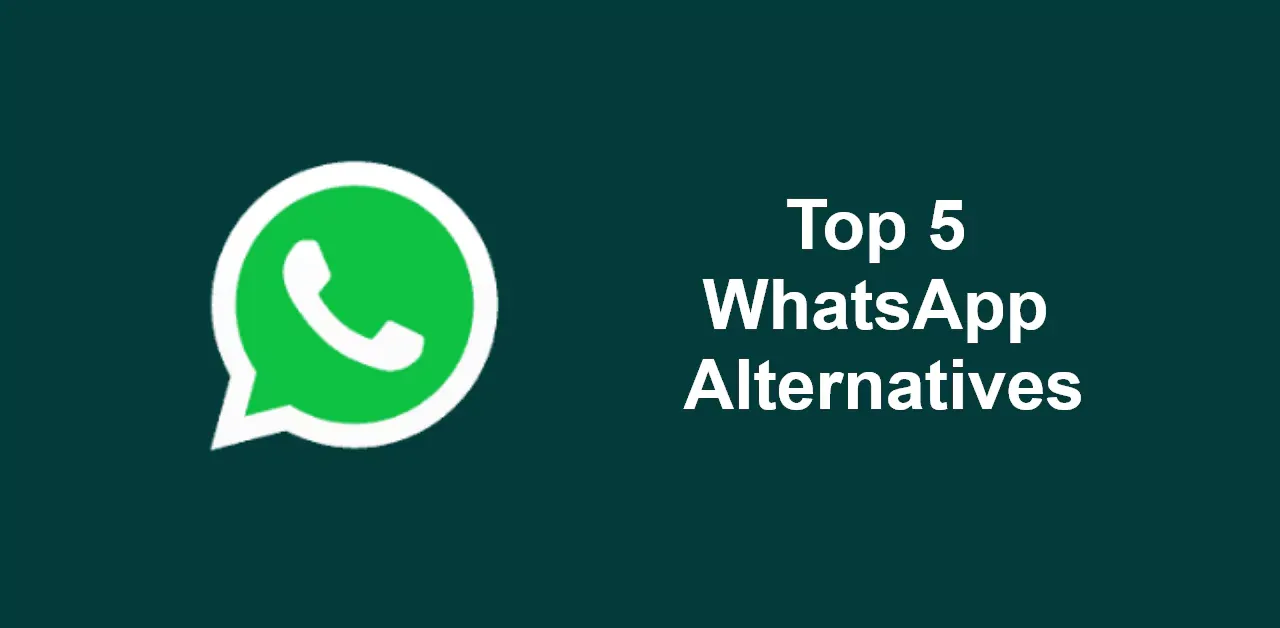 1. Telegram
A well-liked WhatsApp substitute is Telegram, which has more than 200 million active users. The cloud-based application functions on a variety of platforms. It uses a double-tick method, like WhatsApp, to determine when a message is received.
The software comes standard with end-to-end encryption for voice calls, preventing anyone from ever listening in on your conversations. However, only its "Secret" talks are, by default, e2e encrypted.
Only standard channels, group chats, and one-on-one communications employ cloud-based encryption. It implies that Telegram's servers are where your messages are stored, where the corporation or a hacker could access them. A message can be deleted by Telegram automatically after a predetermined period. Sharing of multimedia files is also supported.
2. iMessage
Only available on your iPhone, iPad, or Mac, iMessage is a suitable WhatsApp substitute. No matter the app the receivers use to access their phone numbers. You may use it to send SMS messages to all of them.
iMessage offers text, video, and audio messages (but not video and audio calls), group calls, GIFs, and photos like many other apps. Through this app, Apple Pay is accessible in various nations.
Regarding security, Apple maintains that iMessage cannot have a backdoor opened by the government. Your messages are secure if no one has access to your iCloud backups.
3. Signal
Another excellent WhatsApp option is Signal. This program is extremely reliable and safe. It is also incredibly user-friendly. Signal provides end-to-end encryption for all traffic. Additionally, they provide increased defense against MITM attacks, in which hackers attempt to snoop on your traffic.
The Signal does not maintain user logs and uses SSL/TLS protocols. You can decide whether to grant the app access to your contact list. Additionally, your device stores an encrypted copy of your communication history. Doing this prevents any information from leaking if your phone is stolen or misplaced.
4. Viber
Viber's user interface is fairly similar to WhatsApp's. It has access to your contacts and enables easy communication with your friends. You can call your Viber contacts just like you can with WhatsApp. It is a fantastic alternative to WhatsApp because it includes many additional capabilities, like instant video messaging. Various stickers are added to your encrypted chats as well.
5. Facebook Messenger
Facebook Messenger, which has more than 1,2 billion users worldwide, is a serious rival to WhatsApp. The Facebook-connected app is especially well-liked in North America, Australia, and portions of Europe. Messenger has all the features you're used to finding in WhatsApp, plus more.
You can participate in group conversations, send messages, exchange photographs, and make video calls. Additionally, Messenger provides a different option that enables you to send pals pictures that expire after a day. If you use Snapchat, this feature might sound familiar.
Conclusion
In conclusion, Americans' lack of interest in WhatsApp is caused by rational factors. They have a wide range of choices. Therefore WhatsApp is not necessary. Since most mobile data plans in the US include unlimited SMS texts. Therefore, most individuals do not feel the need to download third-party apps like WhatsApp, Line, etc., to contact each other. Instead, they use SMS. Of course, many millions of Americans continue to use WhatsApp. You can look through the list of alternatives to WhatsApp above and select one that appeals to you.