When it comes to messaging apps, WhatsApp and Telegram are the most well-known. Businesses use the bot features of both messengers for their marketing, customer service, and sales efforts.
However, the choice between WhatsApp vs Telegram chatbots is not easy. Both instant messengers have demonstrated their worth in terms of making internet interactions more simple and interactive.
While Telegram is attempting to penetrate the market and make a name for itself, WhatsApp has replaced chiefly other communication apps as the standard worldwide. On the rise of WhatsApp, it relies on top-tier security and privacy as a trump card.
The public perception of WhatsApp was severely damaged in March 2021. At the same time, Telegram emerged as a safe replacement. Other players in the game, such as Signal, appeared out of nowhere and gradually faded away.
Despite all the online criticism, WhatsApp dominates the instant messaging market. And it keeps expanding at a fantastic rate. It is a challenging position for firms to make a choice between WhatsApp vs Telegram. Which one should they pick to launch their chatbot through?
Let's start by comprehending the distinctions.
WhatsApp Chatbot
WhatsApp's most popular instant messaging service has 2 billion monthly active users and provides many benefits to its customers. It makes audio and video conversations and sends stickers, gifs, and other material.
It is a platform for end-to-end encrypted communications that provides several commercial possibilities.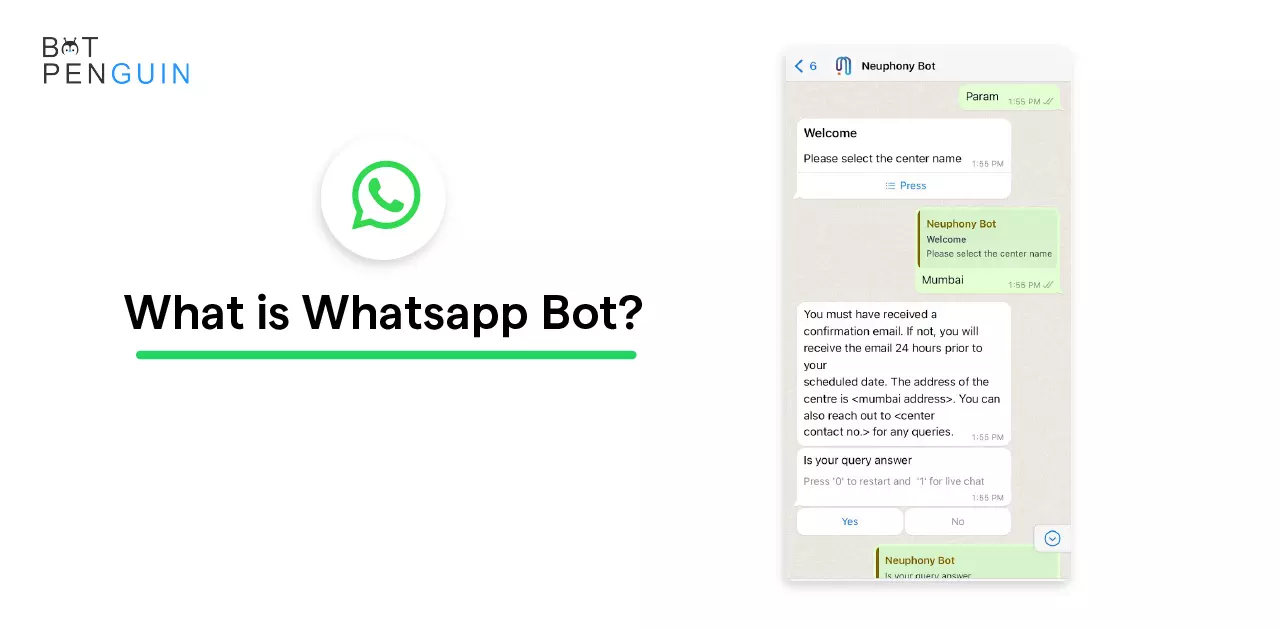 The most incredible thing is that one may have both a personal and a business account on WhatsApp, and both WhatsApp business accounts and the WhatsApp API are safe.
But, the WhatsApp business account cannot handle important client contacts independently. However, by integrating the WhatsApp Chatbot, customer interactions may be automated.
WhatsApp is well-liked by people of all ages since it is a platform with no advertisements, is free for users, and has an intuitive user interface.
Telegram Bot
A "Telegram bot" is a unique user that uses a computer program rather than a human to do various tasks for businesses or brands, including providing information, setting reminders, playing music, placing orders, and more. In a channel or group, a bot can post a message as well.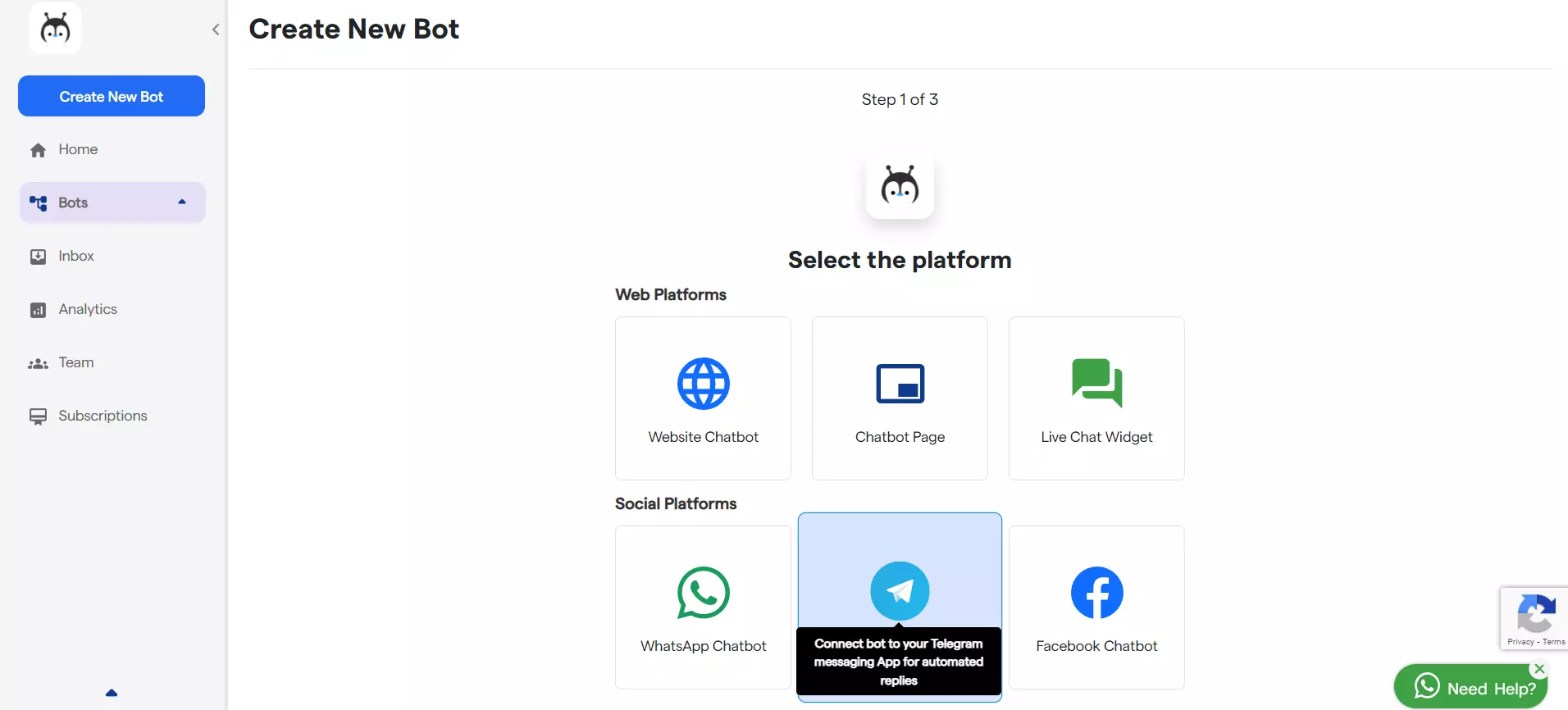 Regular users can follow any Telegram bot if they want to stay updated. Compared to the other three peer kinds, the Telegram bot has many capabilities that are quite beneficial to organizations. Telegram offers an API for bot development for social interactions, productivity, gaming, and e-commerce functions on the network.
Build your own Telegram Chatbots using BotPenguin, it also offers chatbot creation for social platforms, websites, wordpress:
WhatsApp vs Telegram Features Comparison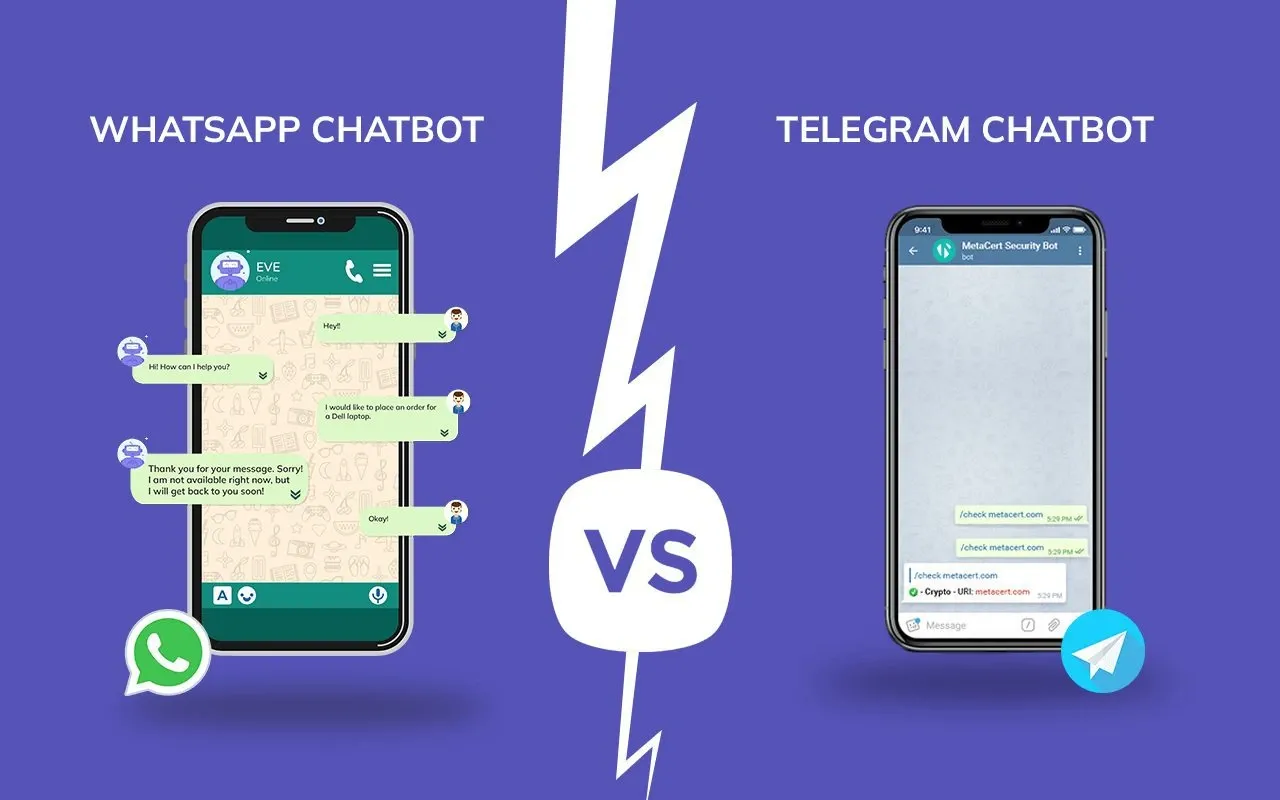 Messaging
WhatsApp
WhatsApp offers simple, trustworthy, and secure messaging services for smartphones used worldwide and does not impose SMS charges.
Telegram
Users of Telegram may access a single, scattered global network of data centers and use the fastest messaging service currently available. All of your devices may concurrently access your communications.
You may start writing a message on your phone and finish it on a tablet or laptop. Send media and files of any size and format. Your whole communication history will be securely stored in the cloud rather than occupying your smartphone's space.
What can they do for you?
What WhatsApp Bot can do for you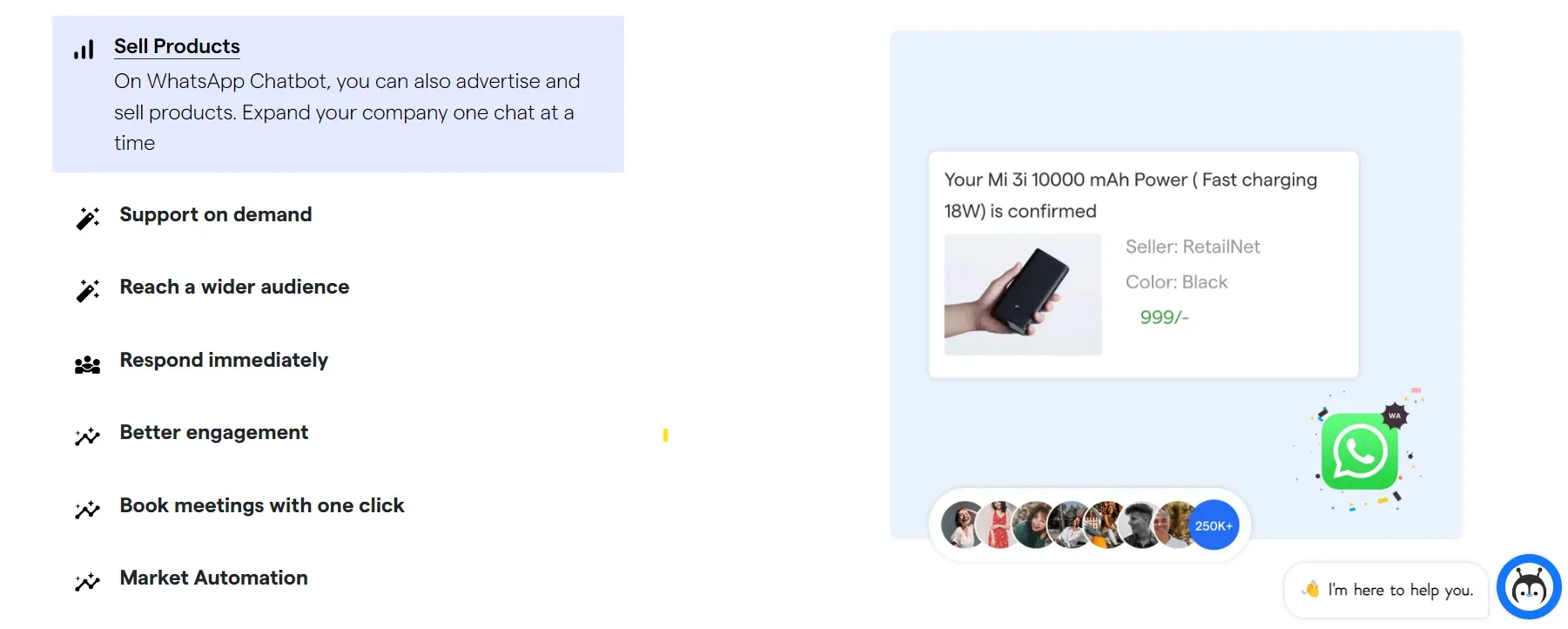 What the Telegram bot can do for you:
An application that offers features and automation is known as a Telegram bot.

Users of Telegram can join their channels, chats, or groups.

They may be created using the Telegram bot API or Telegram's proprietary bot builder, the Botfather.

The latter provides developers with additional options.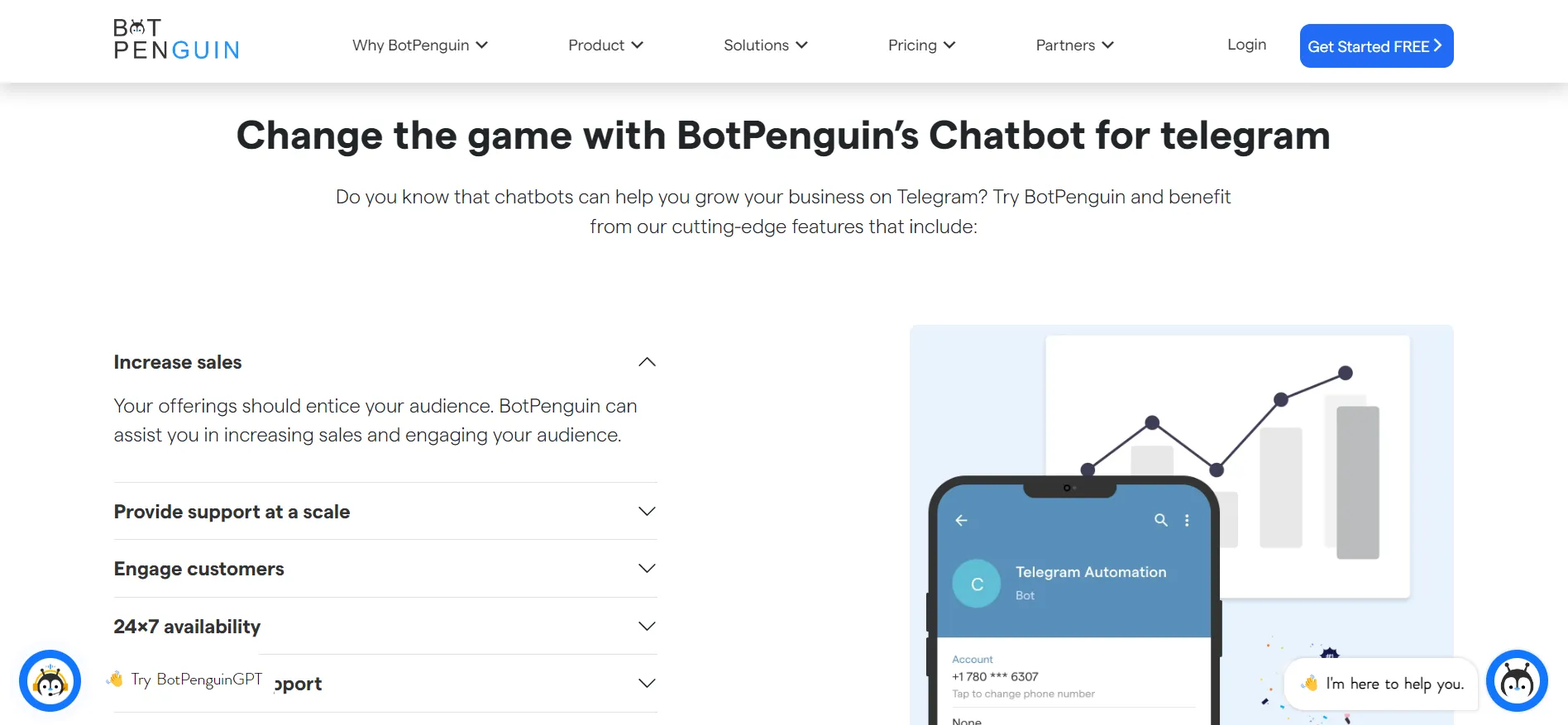 Security
WhatsApp
You may share a couple of your private moments with WhatsApp using the most recent version of the software. Messages and calls you make are secure when encryption is turned on.
Not even WhatsApp can hear or see them; only you and the other party in the message can. While WhatsApp updated its text message encryption feature to completely end-to-end encryption in 2016, the security of discussions on the program has continued to be questioned.
Get your own WhatsApp Chatbot today, BotPenguin offers chatbot creation for other social platforms like:
Telegram
Telegram supports user-to-user and user-to-server encryption for public and private chats. The security of your conversations is also increased by unique features like Secret Chats and Self-destruct durations, which make it much more difficult for privacy campaigners to eavesdrop on them.
As opposed to WhatsApp, it demonstrates that because Telegram refuses to compromise users' security and privacy for commercial gain, we should support it in terms of security.
Additionally, Android users' WhatsApp communications are unsafe since they are stored on Google Drive. If your Google account or Google Drive is attacked, the likelihood of data loss increases.
Auto-destruct timer
One of Telegram's most popular features, "disappearing messages," has recently been added to WhatsApp. On Telegram, you may set a timer to delete messages after a long time has elapsed.
As a result, the chats between the two participants are automatically wiped after your session ends. WhatsApp now has a function similar to Telegram's but isn't as broad or specialized as Telegram's.
Access
To use WhatsApp on another device, you must first consent to delete your existing account.
Scan the QR code on the system's website to use WhatsApp on your PC. Your device must be close to the system since it will synchronize the dialogue on both your mobile and the system simultaneously.
Users of the messaging service Telegram must sign in with their phone numbers. It is available across many platforms. Messages sync quickly. However, all devices lose connectivity if the primary device does.
Support for Platforms
WhatsApp
WhatsApp may be accessed on mobile devices, the web, and via Windows and Mac desktop applications. WhatsApp's desktop and web interfaces depend on its mobile app to function.
Telegram
Telegram has desktop versions for Windows, macOS, and even Linux. Because Telegram is open-source, there are also third-party Telegram apps available.
However, we advise against using a Telegram client created by an unidentified or unrecognized developer. There is a browser version of Telegram available via the Chrome Web Store.
For business
Better ROI
A quarter of the world's population regularly uses WhatsApp. Many of them are prospective clients of yours. Due to its widespread use across all age groups, WhatsApp has an advantage over Telegram.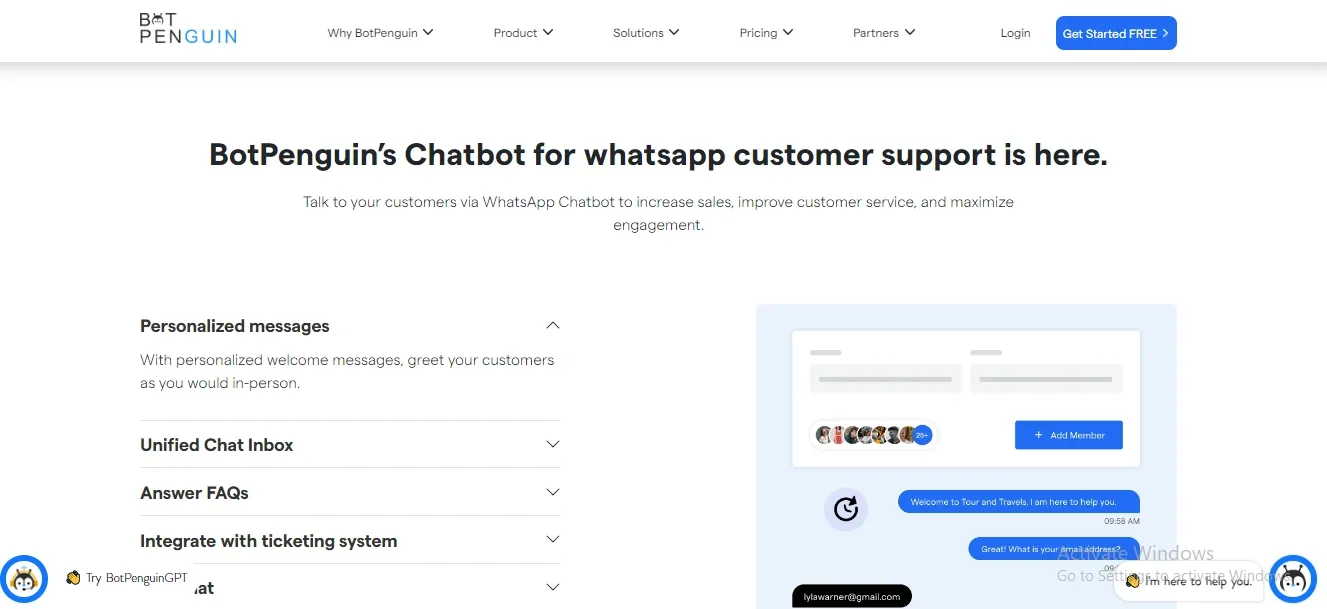 Even if the number of Telegram users grows daily, it still lags behind WhatsApp's adoption. Additionally, studies demonstrate that Telegram is most popular among those aged 24–35.
Before selecting the chatbot platform, look at where your clients are seated according to your business.
Better ROI
If you want to get the most out of your investment considering one form WhatsApp vs Telegram, WhatsApp is the superior choice for your company. Regarding users, WhatsApp is the most popular messaging service on the market. Running a small business also gives you the option to open a free business account.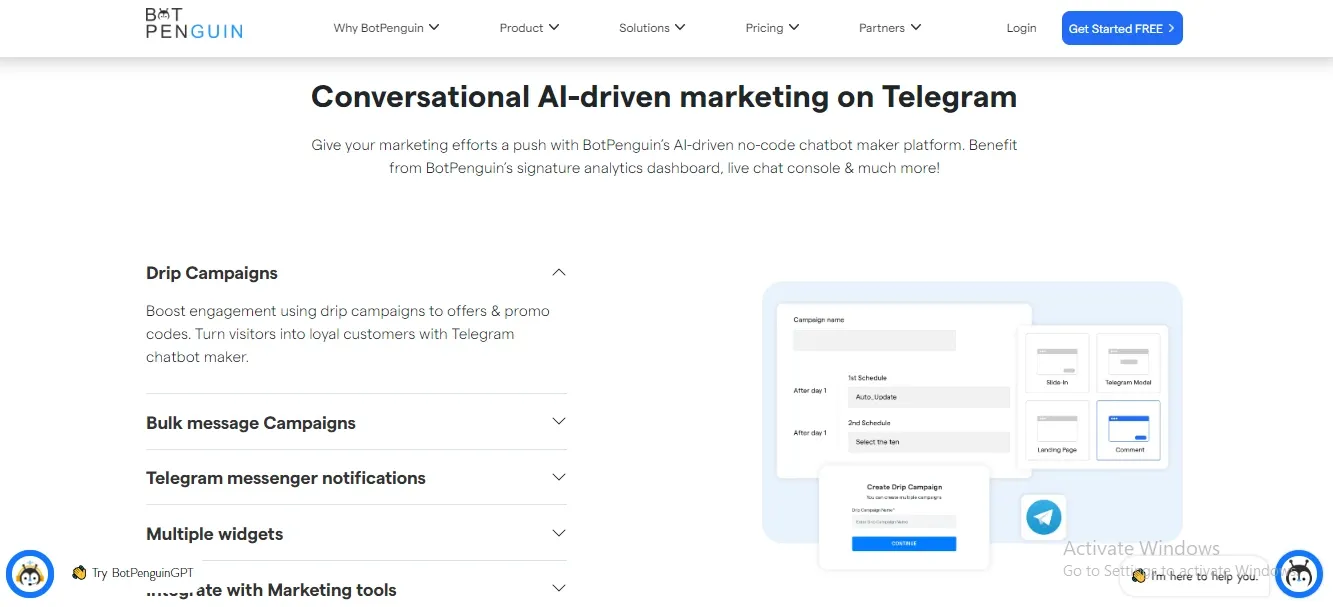 Increase your industry's customer service and brand recognition by obtaining the WhatsApp API if you want to grow your business. Additionally, it enables you to integrate your chatbot with CRM. If your company uses CRM software, your chatbot may gather leads and enter them straight into the system.
WhatsApp vs Telegram: Pros & Cons
WhatsApp
Pros
Free international calls

Instagram and Facebook are integrated.

End-to-end encryption is a possibility.

It enables widespread group communication.

Video discussions can involve up to 8 people.

Capable of transmitting 100MB files.

It excludes advertisements.
Cons
Privacy and encryption both raise issues.

WhatsApp Business cannot be used in organizations or sectors subject to regulations.

The 100MB file limit applies to the transmission of images and videos.

Group chats have a limit of 250 participants.
Telegram
Pros
It is more feature-rich in every way.

Excellent bots and file sharing.

Increased platform compatibility and multi-instance utilization simultaneously.

Automatic cloud backups are created for every communication.

Enhanced privacy.
Cons
There is no video call support

The lower the number of users
Final check – WhatsApp bots or Telegram bots?
Which bot is the most suitable for your customers, WhatsApp or Telegram?
Both platforms may improve your client interaction strategy and offer comparable capabilities. However, we advise that you consider the function of your chatbot and which features you should prioritize to meet your consumers' needs before making your choice and deploying it.
A customer study is also necessary to comprehend your consumers' preferred platforms for communication and how they like to interact. Consider the scenario when the majority of your users utilize WhatsApp.
In such a situation, it is unlikely that they will switch to Telegram to communicate with your bot, so you must be careful to set up your chatbot on a platform they already know. Your chatbot must assist the conversation and provide a solution.
Building a chatbot for WhatsApp and Telegram is quick and easy with the help of BotPenguin, a chatbot builder that has an intuitive and user-friendly interface. Your ability to use chatbots more effectively and to make smarter decisions at all points in the customer experience is fully supported.
Frequently Asked Questions
Which bot platform provides better security and privacy features, Whatsapp, or Telegram?
Telegram is often regarded for its emphasis on security and privacy, boasting features like end-to-end encryption for secret chats. While Whatsapp also offers end-to-end encryption, some users might prefer Telegram's additional privacy options like self-destructing messages and two-factor authentication.
Are there any limitations in terms of bot development on either platform?
Both Whatsapp and Telegram have their respective API limitations and guidelines for bot development. Developers should carefully review the documentation and terms of use to ensure their bots comply with the platforms' rules.
What are the advantages of using a Whatsapp Bot?
One of the key advantages of a Whatsapp Bot is its large user base, potentially providing access to a broader audience. Additionally, Whatsapp's integration with user phone numbers can offer a more personalized and direct interaction with users.
What unique features does a Telegram Bot offer?
Telegram Bots offer several unique features, such as inline mode, allowing users to interact with bots directly in chats without invoking a command. Additionally, bots can provide rich media, stickers, and even games within Telegram, enhancing user engagement.
Which bot platform offers better third-party integrations?
Telegram is well-known for its open API and extensive support for third-party integrations, making it more flexible for developers to connect their bots with various services and applications.
How do the messaging platforms differ in terms of media sharing capabilities?
Telegram has an edge in media sharing, with larger file size limits and the ability to send uncompressed images and video. Whatsapp, on the other hand, compresses media files to reduce data usage.