What is Nightbot?
Nightbot is a moderation plugin that allows creators to regulate their servers and streams by automatically launching protocols. The Nightbot features automatically publish comments upon video uploads or promptly ban users who comment with restricted words are among the most well-liked ones. It enables creators to control their community even when they are not physically present at their computers.
One of Nightbot's unique aspects is that it is cross-application, which means the same bot operates on Twitch and Discord and maintains the same rules, rewards, and orders on both platforms.
Why Nightbot?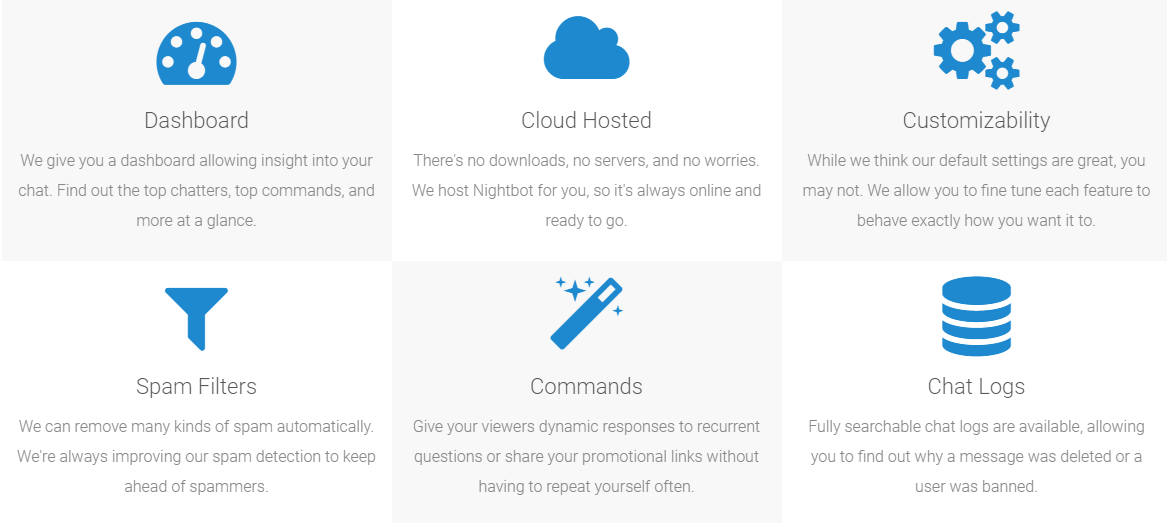 Nightbot is a reliable chatbot for your channel that you can use on Twitch and YouTube. It enables real-time, moderated chat automation for users. Since Twitch's inception, it has been one of the most popular chatbots. It enables Twitch to spend more time entertaining the viewers of your channel. It contains a unique dashboard that provides insight into chats, the ability to modify settings as needed, and the option to keep chat records. This cloud-based approach eliminates the need for servers and downloads. It is also possible to give viewers dynamic responses to frequently requested questions. The fact that Nightbot is a free Twitch bot hosted on the web is its best feature.
How to set Nightbot up on Twitch?

To get Nightbot running in your Twitch chat, log into Nightbot and add it to your chat.
Provide Nightbot with the permissions to post each message in your chat.
Hop into the Nightbot Dashboard, click the "Join Channel" button, and follow the directions in the pop-up box. It will start "inviting" the chatbot to your channel.
Et Voila! You are now capable of using Nightbot's many features! You can now add Nightbot channel commands to your stream to add customized features.
Awesome Nightbot Features
Twitch bots are superb tools for taking your Twitch channel to another level. Nightbot allows you to create your commands and provides tools to help you curate great content to keep your Twitch chat engaged in your stream.
These are some of the best Nightbot features available in the chatbot:
Commands plus Custom Commands
Nightbot commands offer you and your viewers access to various tools throughout your streams. All you have to do is type![Commandterm] in the chat, and Nightbot will reply. Nightbot comes with several defaults commands out of the box.
!commands – Provides users a list of commands
!poll – Mods and streamers can create polls
! winner – Picks a random follower in the chat
Nightbot allows you to create custom commands. Here are a few examples:
!youtube – shows users a link to your YouTube channel
!twitter – provides users a link to your Twitter page
!bracket – Shows a link to a tournament currently being hosted
Throwing Giveaways
You can now set giveaways for your viewers.
Select eligible people, increase the chances to win, and use a number to pick entrants/winners. Giveaways have never been so easy.
Adios Spam!
Do you want to spend less time moderating chat and more time streaming?
Nightbot can be configured to filter out specific words, caps, emotes, links, and repeat messages. These settings are usually enabled by default, so tweak the spam filters in your settings if you don't want an overbearing Nightbot.
Timers
Timers are an excellent tool for creating calls to action. You can remind your followers of your stream schedule, encourage them to follow your page, or re-direct them to other places where they can find you. You can set timers to repeat based on time or the number of users in the chat. But be careful not to overdo the reminders. Nobody wants a date alone with only Nightbot.
The Regulars
Most channels will have loyal viewers who tune in regularly. When you know and trust them enough, you may grant them special privileges that other viewers will not have, such as the ability to use specific commands or say things that a spam filter would typically reject. You can now manage your regulars in the Nightbot menu, similar to Twitch VIP, and decide what special treatment they will be given.
The Song Request
You can control your playlist for the followers/subscribers by allowing them to choose which song to play next. You can also use youtube/NCS songs if you don't want to upload a playlist.
The Top 10 Nightbot commands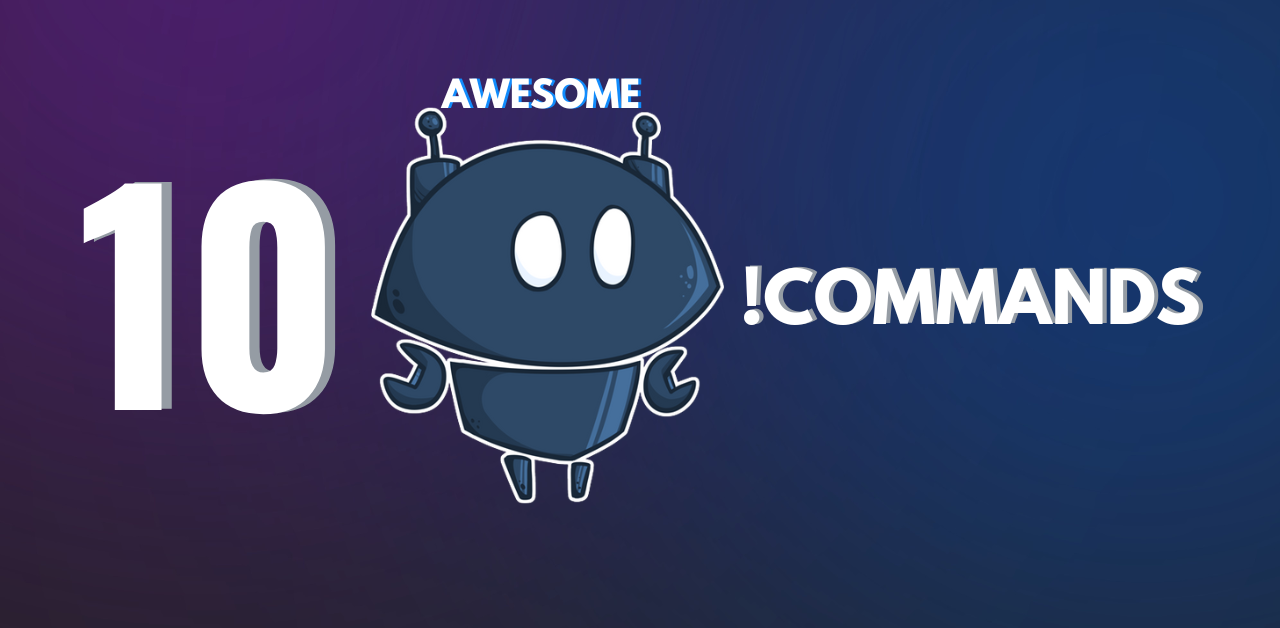 The bot has more than 30 default commands, but you can create and customize more as needed to help Nightbot support your channel and content.
While there are endless possibilities for creating customized commands, the base chat commands that come with Nightbot are also helpful in your stream.
You may not feel compelled to use all of them, but a few commands are more useful than the rest. Here are some of the most effective Nightbot commands for Twitch.
!commands
This easy command is an excellent way for viewers to learn more about your channel. Many streamers use Nightbot to generate a slew of commands that provide information about their PC setup, game settings, and personal information.
!commands is a default command that posts a link in chat to a webpage where viewers can see every command in your channel and the Nightbot's response to a particular command.
!commands add
Nightbot has many options, but customizing your command can be done with !commands add.
This command allows a streamer to quickly add a command in the middle of a stream. It is super useful if you're answering the same question repeatedly during a stream and don't want it to dumb down the quality of the content.
!commercial
This simple command allows streamers to schedule ad breaks on their streams. Streamers can use a 30-second or three-minute break to use the restroom or attend to personal matters by adding a number afterward that is an interval of 30.
!game
Many streamers change the game they're playing without changing their Twitch category, but !game allows mods to help show the corrected game category.
When a streamer switches from Just Chatting to Apex Legends, a moderator can execute"!game Apex Legends" in the chat to change the stream description on Twitch.
!poll new / !poll results
!Poll new allows streamers to create a poll that you can use in various ways to interact with their community. ! Poll new can help them decide what game to play or find out everyone's favorite color.
When you've had enough feedback,!poll results can show how many people voted for all of that Poll's options.
! winner
! winner is a tool that allows streamers to quickly and easily run a raffle on their channel.
When a streamer enters !Winner, Nightbot will choose a viewer at random from those who have written in chat in the previous 10 minutes. The command is straightforward, but you can use it in various ways to broaden the scope of a streamer's content.
!rpsrandom
It is the most interesting of the commands. It can improve and nourish the bond between a streamer and his viewers. It's known as the rock, paper, scissors command.
As a result, the rock paper scissors command initiates a classic rock, paper, scissors game between the streamer and a random viewer.
Although the rock paper scissors command may appear silly to many people, it allows streamers to engage their viewers, make a good impact and interact with them, gain more followers and "positive points," and, eventually, build a strong Twitch community.
!support
Streamers can use this command to invite people to support their channels.
One of its most valuable features is this command's ability to be timed.
You can, for example, set a timer and have the message repeatedly appear after a particular time.
This way, you only have to type the command once, but it will frequently appear in your stream, and people will remember to support your work.
!funfacts
This random fun facts command produces a random fun fact into the chat.
The current database contains 150 entertaining facts.
It is another excellent command for changing the pace of the stream and engaging viewers who may sometimes become bored at some point during the stream.
!weatherlookup
It is yet another weather-related command.
However, this case displays the weather for any location you specify.
To use this function, type the city name for which you want to see the weather after the command
Related Articles: What are twitch bots, how to use them, and the list of the best five twitch bots out there! Twitch chatbot: 8 Great Chatbots to Upgrade Your Twitch Stream