Nowadays, there's a good possibility that MEE6 will greet you when you join a Discord server. Most Discord mods use it to automate their servers because it is one of the most well-liked bots on the platform.
In addition to adding features like games and streaming YouTube music, MEE6 enables users to carry out activities that often require just a few clicks.
Finding the right commands to utilize on your channel might be challenging given the large number of MEE6 commands that are currently accessible.
To adequately capture the MEE6 experience, the following instructions ought to suffice. If you provide the proper inputs, MEE6 can support you with anything from establishing birthdays to playing music on your server.
It indicates, following research, how well a website fulfills visitor expectations and grabs their attention. Compared month to last, mee6. XYZ's traffic has declined by 8.71 percent.
What is Discord?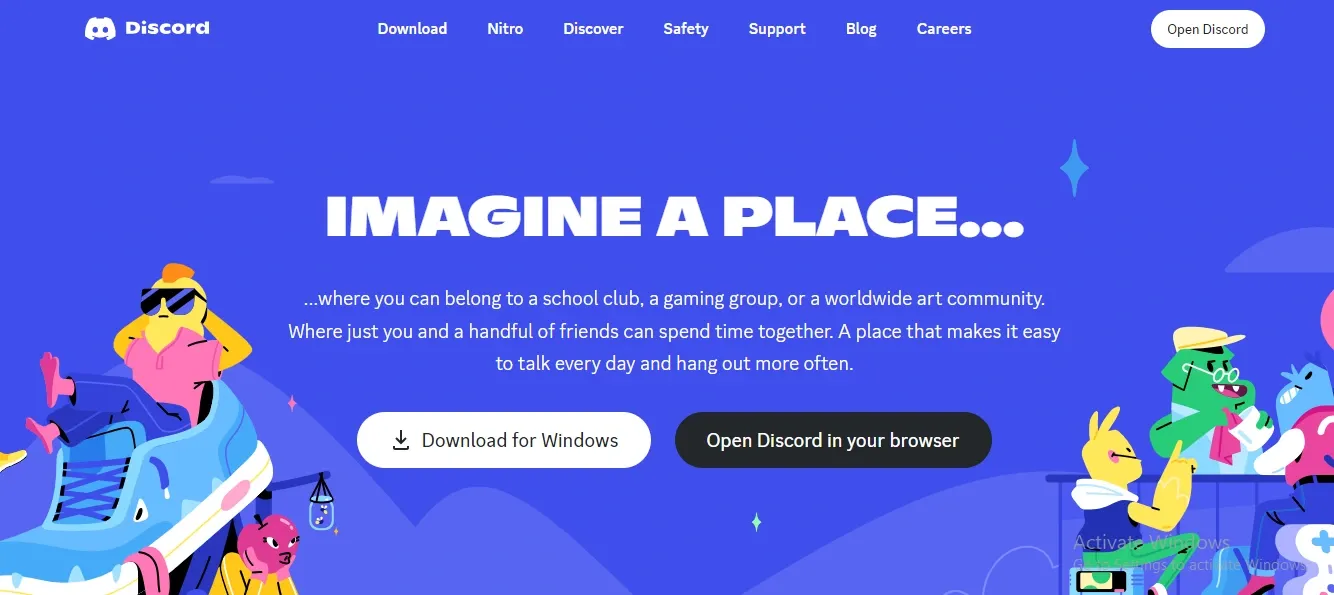 Discord, a well-known tool for group chats, was initially developed to provide a space for gamers to interact and form communities.
For instance, you might develop a bot that monitors every time a user deletes a message or one that automatically rewards users for sending a certain amount of messages.
Discord bots may be programmed to do various tasks on your server.
Introducing Discord bots now causes them to act like other server users. They are invited to the server like any other user, and you must give them access and permission to fulfill your wishes.
What is MEE6 Bot?
The well-known Discord bot MEE6 can perform various tasks, such as moderating, role-leveling, making announcements, playing music, and more.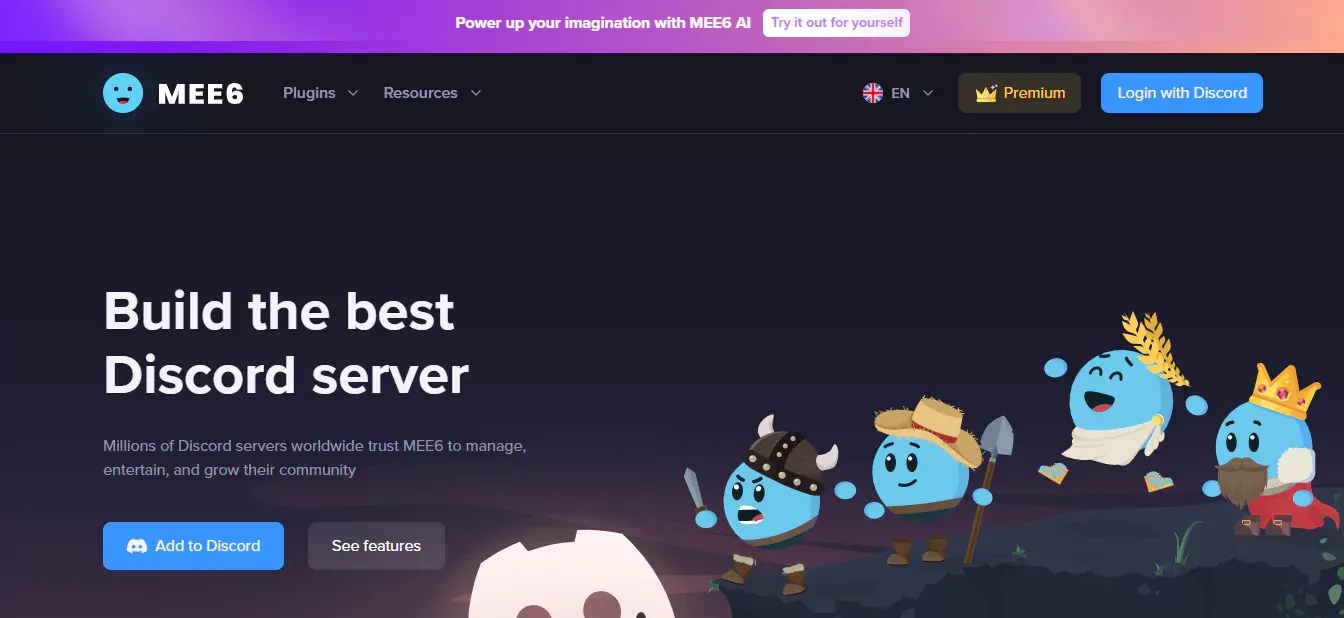 You can utilize many of the MEE6 plugin's free capabilities as soon as you install the Bot. However, certain functions are only available through paid subscriptions. Most Discord users get access to key moderator features with the free version.
How to use the Mee6 Dashboard on Discord?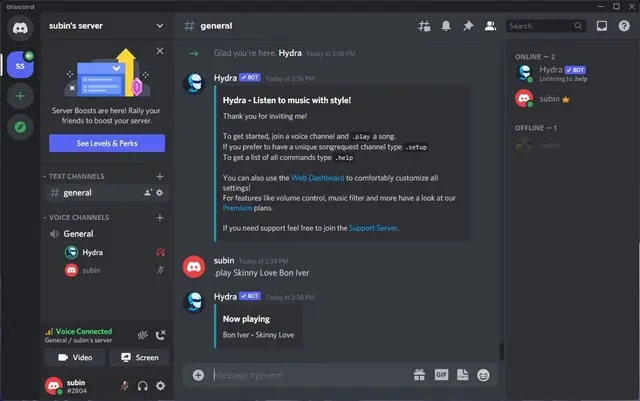 MEE6's commands are just as simple to use as their setup.
Go to the MEE6 website's official page and confirm that you are the server administrator of the Discord server to which you are attempting to add MEE6.

Sign in with your Discord credentials by clicking the login icon in the top right corner of the page.

After logging in, select Add to Discord, and it will explain the next steps to you.

Select the server by clicking on it.

A list of servers marked "Allow the following permission" will be available.

Ensure that you choose everything from the list that appears.

To grant the request, click Authorize.

MEE6 will be added to your server after you confirm.

Using the active command, you may confirm it.
How to use MEE6 as Welcoming Bot?

Go to the

MEE6

Dashboard and click the "Welcome" tab. Currently, the Dashboard will greet you when you visit the MEE6 website. It can modify the Bot's interaction with your server from now on.




You can choose which server channel and how the Bot's greeting messages are displayed by choosing the "Welcome" page. You will need to pay for a premium membership in MEE6 to further modify your welcome message.

The "general" channel has been chosen, as seen in the image below. As a result, the Bot will only send the welcome message on that channel whenever a new member joins the service.

You may modify the content or stick with the standard format for your welcome message.




To have the Bot send new users a private message, assign them a position, or post a parting message if they choose to quit your server, scroll down.

To make adjustments, go back to this tab on your MEE6 Dashboard whenever possible.

Go to the server to which MEE6 was previously allowed access, and invite a new user to join.




Following the instructions, the Bot will automatically publish the welcome message in your chosen channel when a new member joins your server.
BotPenguin offers chatbot creation for social platforms, websites, WordPress along many different features:

How to use MEE6 as a Moderator Bot?
MEE6 may be used for more than just moderating; it can also "level up" members and play music on your servers.

Choose "Moderator" from your

MEE6

Dashboard by going there.

To activate the plugin, respond "Yes" when requested.

It may find the rules you wish the Bot to apply under "Auto-Moderator" if you scroll down. You can have the Bot remove a message written by a user for each rule, notify the user that they violated the rule, or delete and notify the user.

For instance, a bot can delete the message if a user posts too many emojis. Further, it can notify the user that their post contains too many emojis, or do both, at your discretion.

When you are satisfied with the Bot, choose "Save Changes."
Mee6 Features
The three main features of the MEE6 Bot are:
Moderation

Leveling

Music




You may use MEE6 Bot as an automatic moderator. You may use it to keep spammers off your server and keep it secure.
Users occasionally get into heated arguments and post insults, offensive links, vulgar language, swear words, etc., that might annoy other users.
Based on the guidelines established by the server administrator, MEE6 Bot may automatically mediate such situations by muzzling or banning users.
MEE6 Bot may provide XP points when they submit a message to keep users interested and delighted. You may promote users based on their XP points.
You can also use MEE6 Bot as an autonomous social media sharing Bot in addition to these fundamental responsibilities.
MEE6 Bot may automatically disseminate anything the server owner posts on Reddit, Twitch, YouTube, and other social media sites to the server's users.
Using MEE6 Bot, you can also establish custom commands to greet new users with messages. Moreover, you can give users roles, send automatic messages, deliver alerts, let users know about events, etc.
MEE6 Commands
!ban command- is used to remove a person from the Discord server.

!tempban- To temporarily ban a user from the Discord server

! clear- to remove a channel's message by a set of guidelines

! infractions- to show a user's transgressions

! kick- A user's removal from the Discord server

play-plays the music from the waiting list.

!search - Song search

! record- makes a voice channel recording of the current discussion.

!Volume- may be changed by 200 percent using the! volume command.

!queue- List the songs in the queue
MEE6 Discord Bot's Benefits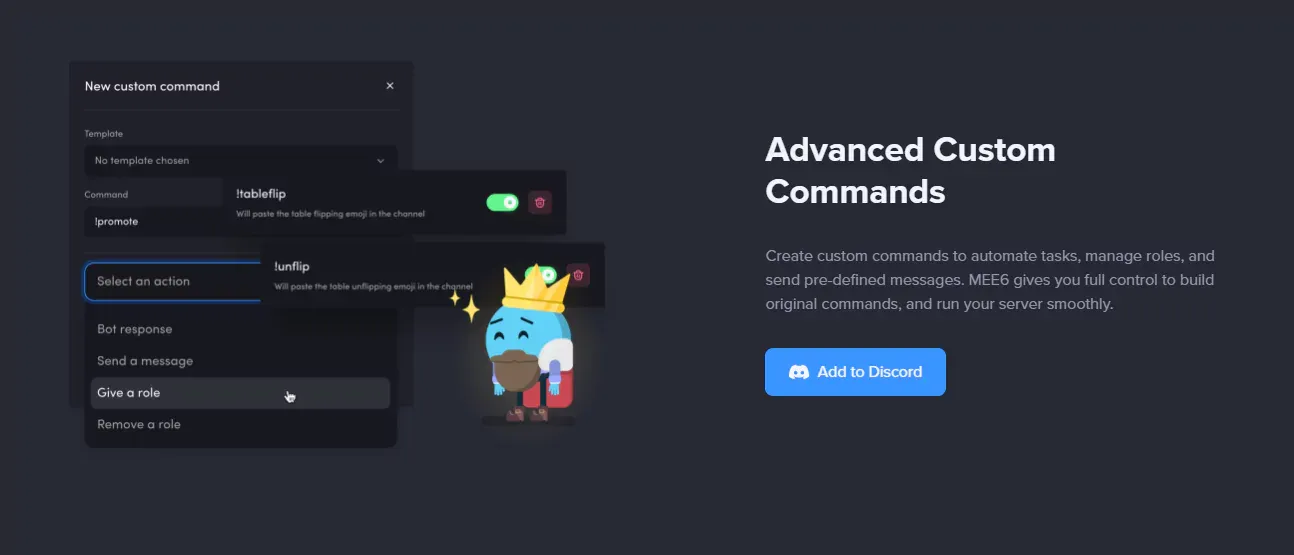 You may easily create custom commands using the MEE6 Discord Bot.

On your Discord server, you may send a message to welcome new users and give them an automatic role.

You can grant levels and XP to your members. They'll work harder on your server as a consequence.

The comprehensive moderating options MEE6 protect your server from trolls and other dangers.

To your Discord server, you may transmit notifications from Twitch, YouTube, and Reddit

Its fully functional online Dashboard makes operating your MEE6 Bot quite easy.
What's in MEE6 Premium?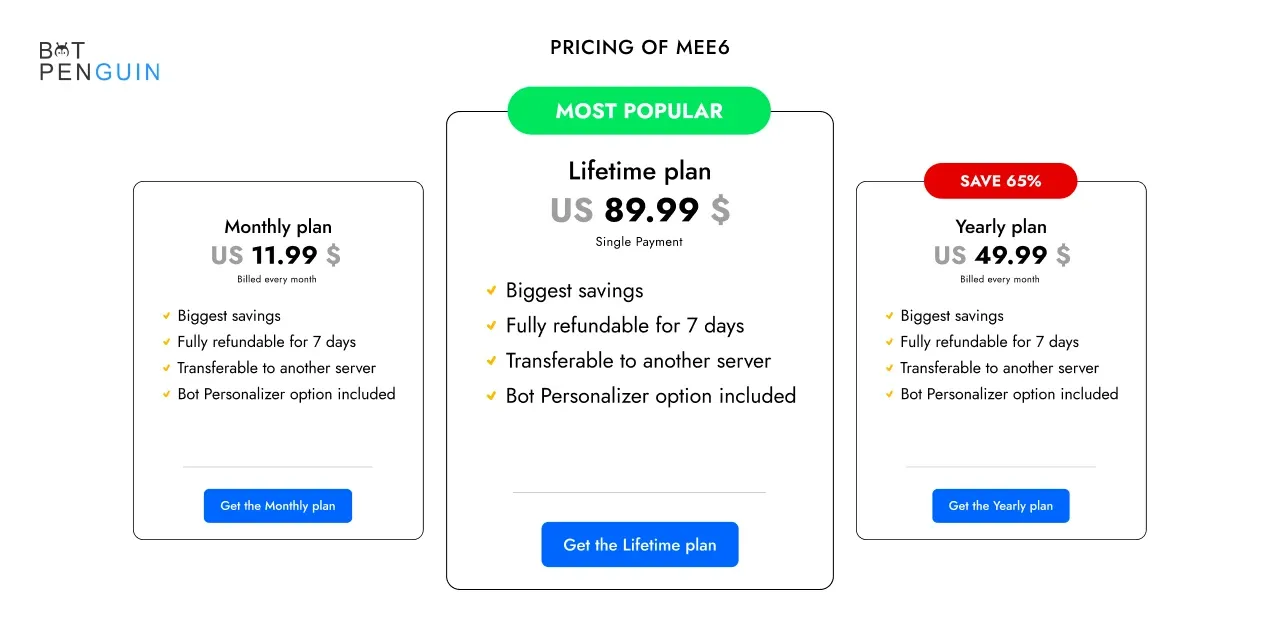 Here is a list of all the features included in MEE6 Premium, along with a pricing range, in case you choose to upgrade to that version.
These are the Premium plans:
Plan for life: $89.90

$49.99/year for a one-year plan

$11.95/month for a one-month plan
Conclusion
This concludes the MEE6 Bot guide for Discord. You should install MEE6, an awesome Discord bot, to your server if you want to make things simpler.
The moderating tool and the choice to play music on your server are two potent features that MEE6 offers. You are not necessary to utilize any other music bot for Discord if MEE6 is already on your server.
For practically everyone, MEE6's free version will be more than enough. The expanded features of MEE6's premium edition include altering the command prefix.
You now understand what MEE6 Bot is, what its features and benefits are, How to use the Mee6 Dashboard on Discord, and How to use MEE6 as a welcome bot or as a moderator of its premium features.
If you have any further questions, please leave a comment below.
Also, If you want a robust and reliable customer service option, check out BotPenguin!
Create Your Own Chatbot with BotPenguin