WhatsApp is probably one of the oldest and most used messaging platforms. Do you ever think of personalizing your WhatsApp as per your taste? If you did, you are not the only one. Many people want to customize their WhatsApp to match their personality or mood.
WhatsApp lacked a prominent customizable feature. But don't worry about that anymore, as you can customize your WhatsApp with the help of different WhatsApp clients.
WhatsApp client or clients are third-party application that serves as an extended version of WhatsApp. It is a forked version of WhatsApp with more premium features. Few people want to use third-party WhatsApp clients for windows.
You should know that WhatsApp clients are not directly available for windows. Having WhatsApp clients can be very beneficial for businesses.
But there's a threat looming overheard while using third-party WhatsApp clients. It doesn't have the proper end-to-end encryption that the original stock app provides.
Continue reading to find out about the top five third-party WhatsApp clients for windows.
What is Third Party WhatsApp Client?
The WhatsApp client application has been upgraded and includes new features, including the ability to hide your online Status, your typing state, your voice recording status, and many more. You can find further advantages, such as the ability to hide the blue checkmark when reading a message sent to you while still viewing the blue checkmark on the sender's message.
Like Third Party Clients for WhatsApp , BotPenguin offers chatbot creation for other social platforms like:
With WhatsApp clients, you can not only protect your privacy but also alter the look and feel of the entire program by using one of the more than 1000 free themes included.
Top 5 good third-party WhatsApp clients for Windows
Get More from WhatsApp on Your Windows Device with These 5 Third-Party Clients
WhatsApp Plus
Whatsapp + offers a better talking experience and has received over 2 million downloads from the Google Play store.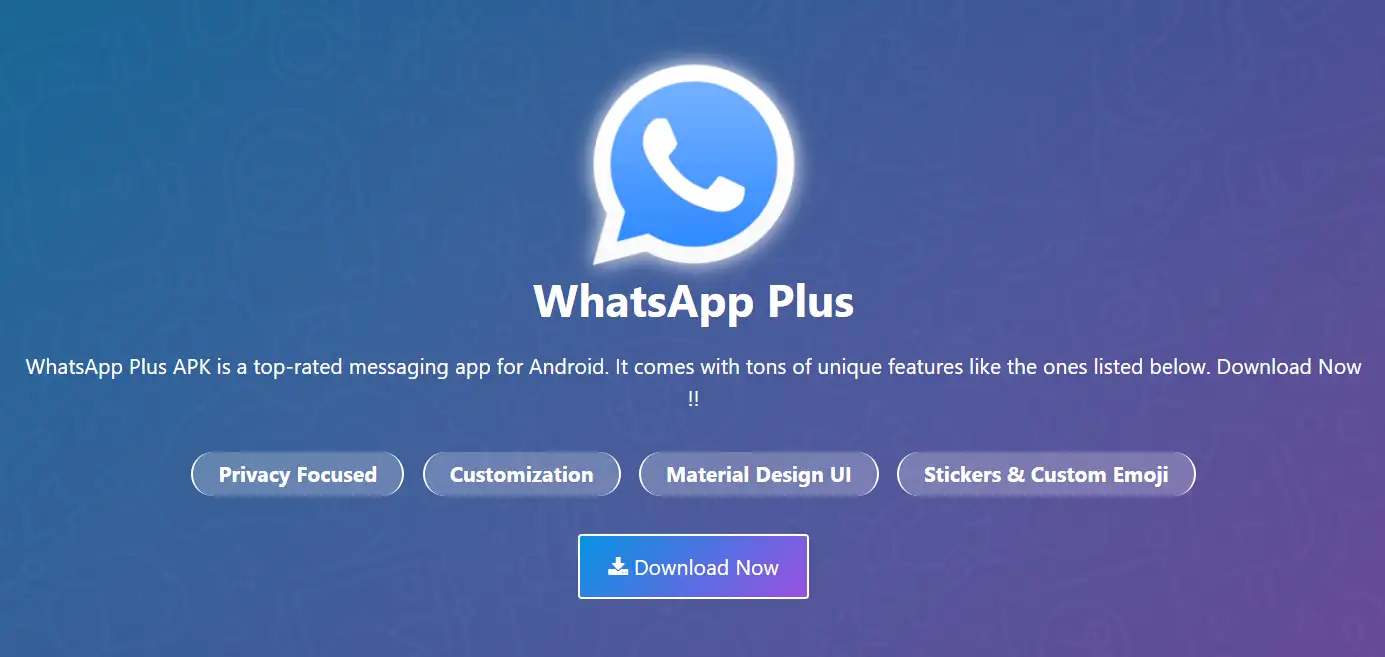 It provides more capabilities for group chatting and has greater strength for WhatsApp group users. When WhatsApp Plus came out, users very well received it.
However, as time went on, developers created additional modified WhatsApp apps. However, WhatsApp Plus contains intriguing features that the Google Play Store version of WhatsApp does not. Since this is not a copy of WhatsApp, you must first remove the original version from your smartphone to install this one.
Features
On WhatsApp Plus, you may share HD movies with your contacts.
Like other WhatsApp certifications, you may simultaneously transmit more than ten photos.
The DND mode is an option.
The Anti-revoke function is available.
In WhatsApp Plus, you can customize widgets, alerts, themes, and more.
From a vast font library, you may select your preferred fonts.
You may take advantage of the built-in chat locker and message scheduler.
WhatsApp Go
WhatsApp Go has extra file-sending options and privacy controls. To provide users more control over the communications they send and receive, WhatsApp GO, a MOD, primarily provides these two features. Double ticks, seeing deleted messages, and masking the online Status are just a few of the features that users may manage.
However, users of this MOD will also be able to change other features of file sending. They can modify things such as increasing the size of films or the number of photos to transmit in bulk. DND (Do Not Disturb) is another option for preventing all sorts of activities.
Features
A better privacy system is one of the benefits.
Anti-revoke functionality and DND mode.
Enables the transmission of up to 90 pictures.
Allows modifying the app's icon and notifications.
Saves statuses
Use up to 250 characters to compose your Status.
GBWhatsApp
One of the most well-known WhatsApp clients out there is GBWhatsApp.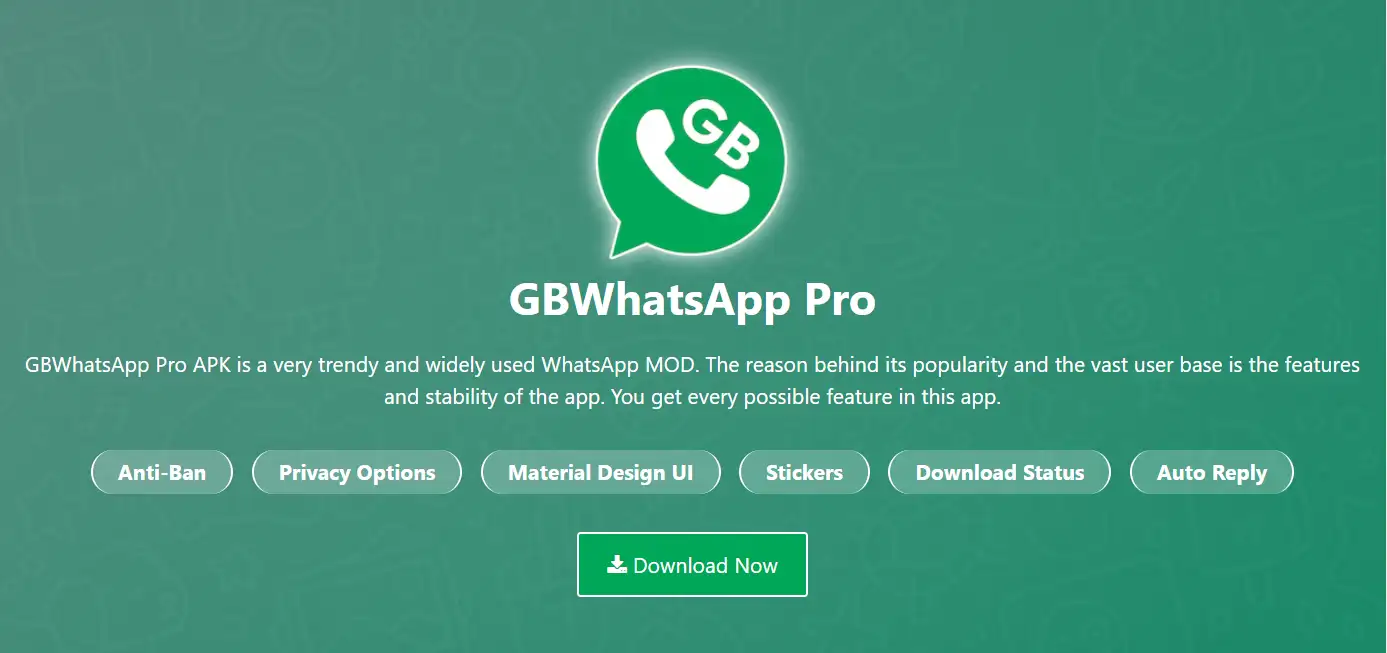 Most consumers continue to favor this WhatsApp alternative, which has millions of installations worldwide. The app is easy to use and well-designed. With GBWhatsApp, you can have exceptional privacy and security.
With numerous useful features, GBWhatsApp is comparable to WhatsApp Plus. Some people, like you, can send bigger video files, mask their online Status, and send or receive more than 90 images at once. This forked WA software is the best if you want to use two WA accounts on one device. The GBWhatsApp software was developed by Team GB and is compatible with all Android smartphones. It offers many customization options to help users get the most out of the program.
Features
Other WhatsApp contacts' status updates can be copied to the clipboard.
Use two WhatsApp accounts simultaneously.
The WhatsApp client is multilingual.
You can configure the "Always Online" option.
With each update, new and amusing-looking WhatsApp stickers and emoticons are available.
Keep them private to prevent WhatsApp conversations from appearing on the main dashboard.
It gives you The ability to simultaneously use and operate the standard WhatsApp Messenger and the GBWhatsApp client.
When you're unavailable or busy, auto-reply to messages.
Scheduler for messages
There is a payment option.
For a more individualized experience, create your unique themes.
YOWhatsApp
Another well-liked WhatsApp client is YoWhatsApp, sometimes referred to as YOWA.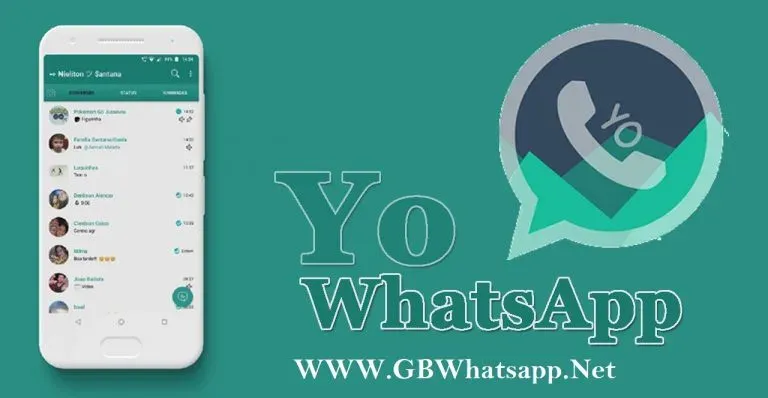 Yousef-Al-Basha created some incredible features for this WhatsApp client. You may enjoy WhatsApp's iPhone-like style and interface on your Android device, thanks to the app's similar user interface to the iOS WhatsApp app. Without a third-party app locker, you may lock WA.
Additionally, it has all other necessary components, such as themes and minimal risks of being banned. YoWhatsApp is another fantastic mod software you may try this year to boost your interactions. It is somewhat similar to the original WhatsApp Messenger but has additional capabilities. You may use it to operate three WhatsApp accounts simultaneously on the same device. You may even alter it to suit your needs and specifications.
Features
Share videos that are under 50 MB in size.
Schedule messages
Automate responses when you can't
Additional features for group administrators
Make a 600-user broadcast list.
The voice call feature has been disabled.
Copy your contacts' WhatsApp status
Share videos that are under 50 MB in size.
Extra stickers and emojis are available for
FMWhatsApp
FMWhatsApp is another well-known WhatsApp client. You won't find many differences between GBWhatsApp and FMWhatsApp; both have proper functions. The same developer who created GBWhatsApp also created FMWhatsApp, Fouad MODS. It has all the essential components in security, privacy, theming, and others. It is reasonable to state that FMWhatsApp stands out among the top WhatsApp clientS due to the presence of these features.
It gives you complete control over your WhatsApp privacy. In FMWhatsApp, you can do anything from concealing last seen to prevent friends and family from finding out when you've read their Status.
Features
Can hide chats
Contact security through lock chat.
May finely adjust the chat windows' customization.
It supports iMessage styles and Facebook Emojis.
Support for 5-minute video status updates.
Adjust the last seen on/off, blue, and double tick values.
How to install third-party WhatsApp clients for windows?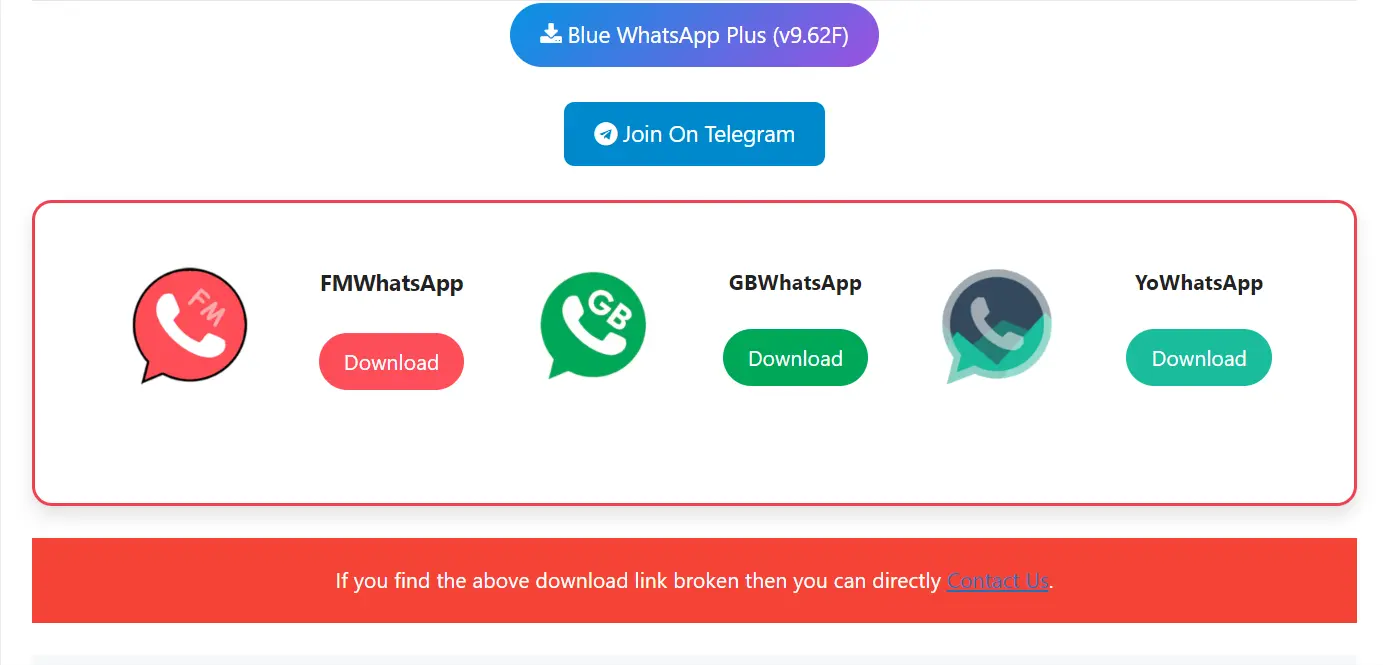 You can use the WhatsApp client mentioned above in your windows but not through a direct route. A Bluestacks App Player Android emulator enables Windows and Mac computers to run Android apps and games. When Bluestacks App Player's initial version was released in 2011, it quickly became the most widely used program. 96% of the applications in the Google Play Store, including WhatsApp, can be operated on Bluestacks App Player, according to its makers.
To begin with, you'll need an android emulator. The finest emulator for this job is Bluestacks.
On your computer, go to bluestacks.com to download Bluestacks. The download link is located there.
To install it, double-click the Bluestacks.exe file.
To install Bluestacks, adhere to the directions displayed on the screen. Google also has a guide for installing BlueStacks.
Once BlueStacks is up and running on your computer, you may install WhatsApp Plus. Go on to the following action.
Save the WhatsApp Plus Apk file. For this, click the download link that is below: Plus WhatsApp.
Choose Bluestacks now, then click Install Apk.
Pick the Whatsapp Plus Apk option. You can look for it by searching through the folder where you downloaded it.
To install WhatsApp Plus, select Open now. The installation will start and will take a brief time.
Open WhatsApp Plus after installation, then sign up with your phone number.
Now there are no longer any issues using WhatsApp Plus on a computer. It will operate similarly to how an Android smartphone does.
It will occur as your windows are running and the mobile WhatsApp client is running in Bluestacks. You may use the web-based and desktop clients of WhatsApp even if your mobile device is not connected to the internet.
OGWhatsApp
OGWhatsApp offers a new breed of the WhatsApp PC client alternative for users who want more from their messaging function.
As a 3rd-party WhatsApp application, this Windows software allows the operation of multiple accounts on the same device, catering to both professional and personal needs.
Although currently unavailable on the Windows Store, it can be directly downloaded from reputable third-party sources.
WhatsApp Prime
Promising a premium feel, WhatsApp Prime serves as a third-party WhatsApp client for Windows, delivering advanced functionalities beyond the traditional WhatsApp service.
Users benefit from upgraded privacy settings, personalized themes, and better media sharing options.
Despite being a WhatsApp third-party app, it's not available on the Windows Store, so users must download the app directly from trusted sources.
WhatsApp MA
The WhatsApp MA client app for Windows presents an optimal solution for those seeking more advanced features and customization options than what the routine WhatsApp client provides.
Boasting attributes like enhanced privacy modes, extended file sharing capabilities, and hidden online status, this WhatsApp alternative client needs to be directly downloaded from verified third-party sources since it's not available on the Windows Store.
WhatsApp Aero
WhatsApp Aero for Windows radically redefines what a third-party WhatsApp app should be.
With an eye-pleasing UI design, strong security features, and vast customization choices, this WhatsApp client app delivers a seamless user experience.
As an unofficial app, it's unavailable on the Windows Store, necessitating users to manually download the client from trustworthy sources.
WhatsApp Indigo
WhatsApp Indigo is a vibrant addition to the array of third-party WhatsApp applications for Windows.
Building on the standard features, this WhatsApp client app brings enhanced privacy controls, unique theme personalizations, and additional media-sharing functionalities to your fingertips.
Its visually appealing interface compliments the overall experience. Since this is a WhatsApp third-party app, it must be manually downloaded from reliable online sources, bypassing the official Windows Store.

Who Should Use Third-Party WhatsApp Client?
There are many Individuals, Tech Enthusiasts that Use Third-Party WhatsApp Client
Multiple Account Holders
Consider using WhatsApp on your phone and your business phone for different purposes. However, WhatsApp client apk downloads let you combine the two, so you need one smartphone, so you don't have to handle and maintain two.
Individuals Seeking the Best Experience
A WhatsApp client is what you're searching for if you're the type who enjoys customizing their phone to suit their personality and the styles and themes they adore. You'll have a lot of options for the look of your app because there are so many modifications giving so many different themes and styles.
Users of Low-Performance Devices.
You'll find WhatsApp can drain your smartphone's power if you're using it on an outdated device or one that doesn't have enough RAM or memory. However, by utilizing a mod, you may make use of all WhatsApp has to offer without risking the slowdown of your device.
People who desire more functionality
A WhatsApp client download can provide your device with many features and capabilities. A WhatsApp client is available for everyone whether they want to get over the official WhatsApp restrictions on picture sharing and file sizes. Moreover, they can get more control over their privacy settings.
Individuals Who Value Security
Today, security is crucial, especially whether you're a parent managing private communications you don't want others to read or an owner managing important information. If so, a WhatsApp client can assist you in securing and protecting your data.
What are Risks Associated with Third-Party WhatsApp Clients?
Risks Associated with Third-Party WhatsApp Clients
Malware and Spyware
The modified versions of WhatsApp are more likely to introduce malware and spyware since they exist on less secure servers. They are more likely to tamper with consumers' data.
Transparency of Messages
Since WhatsApp's modified versions are not secured, anybody may see the messages you transmit. Sending sensitive information, such as passwords or logins for online banking, or any other private information that can jeopardize your privacy, is extremely risky.
Permanent Ban
While using GBWhatsApp or WhatsApp Plus is not illegal, it is against WhatsApp's rules. It might lead to the corporation permanently banning your use of WA.
Gather Personal Information
These applications request permissions that are often not required for them to function. Thus, if you use your phone for any business, the modified applications might potentially gather user personal information, which is problematic. Although they appear incredibly enticing, the modified WhatsApp-like might be possibly harmful to users.
Conclusion
In conclusion, WhatsApp clients are the extended version of WhatsApp developed by developers for more features. Many third-party WhatsApp clients are available in the play store for androids. But any windows can use the WhatsApp clients by installing them via Bluestacks.
You can choose any of the above-mentioned third-party WhatsApp clients for your daily use. When you start using them, you will find many exciting and new features lacking in the original WhatsApp. With these altered WhatsApp clients, you can also find less security and privacy. So, if you are planning to use third-party WhatsApp clients, use it cautiously.
Frequently Asked Questions (FAQs)
What do you mean by third-party WhatsApp clients for Windows?
Third-party WhatsApp clients for Windows are unofficial applications that offer features beyond the official WhatsApp application.
These clients are not developed by WhatsApp Inc. but by independent developers.
Is it safe to use third-party WhatsApp clients?
Using third-party WhatsApp clients has its risks, as they are not endorsed by WhatsApp Inc.
It is essential to download third-party clients from trustworthy sources to avoid downloading malware or spyware. It is also necessary to read the terms and conditions of the third-party client before installing it.
What is the purpose of using third-party WhatsApp clients on Windows?
Third-party WhatsApp clients offer additional features such as customization options, privacy and security features that are not available in the official WhatsApp application.
By using third-party WhatsApp clients, you can improve your overall messaging experience.
What is WhatsApp Plus?
WhatsApp Plus is a third-party WhatsApp client for Windows that allows you to customize the app's look and feel. It also offers enhanced privacy features like hiding your online status and read receipts
What is GBWhatsApp?
GBWhatsApp is a third-party WhatsApp client for Windows that offers a range of features, including customizing the app's appearance, scheduling messages, and hiding your online status. It also offers enhanced privacy features like hiding your read receipts.
What is FMWhatsApp?
FMWhatsApp is a third-party WhatsApp client for Windows that offers several features like customizing the app's appearance, scheduling messages, and hiding your online status. It also provides enhanced privacy features like hiding your read receipts and locking your chats with a password.
What is WhatsApp Go?
WhatsApp Go is a third-party WhatsApp client for Windows that offers several features, including the ability to customize the app's appearance and hide your online status. It also provides enhanced security features like locking your chats with a password.
What is YOWhatsApp?
YOWhatsApp is a third-party WhatsApp client for Windows that offers features such as customizing the app's appearance and hiding your online status. It also offers enhanced privacy features like hiding your read receipts and locking your chats with a password.
Can you use multiple WhatsApp accounts with third-party clients?
Some third-party WhatsApp clients support the use of multiple accounts. However, it is necessary to check the features of the specific client you are using to determine if it supports multiple accounts.