WhatsApp group is a great way of interacting with your friends and colleagues. You can also stay on top of any news, learn new things, and create a better community with the help of a WhatsApp group. You can also create unlimited groups on WhatsApp for work-related, family, or various groups of friends.
WhatsApp group chats are standard features for app users for group discussions. Over 1.5 billion WhatsApp users use groups for business or to keep in touch with their friends. WhatsApp groups are simple to use for any age of people. Whatsapp group also allows you to edit and customize the group according to your needs.
WhatsApp groups can add anyone without permission. It can be very annoying to be part of unwanted groups. Even sometimes, people mute big groups and don't find helpful information. Or even sometimes, some people find creating a WhatsApp group complex.
In this article, you will find how to create, edit and add members to the WhatsApp group.
How to create a Whatsapp Group?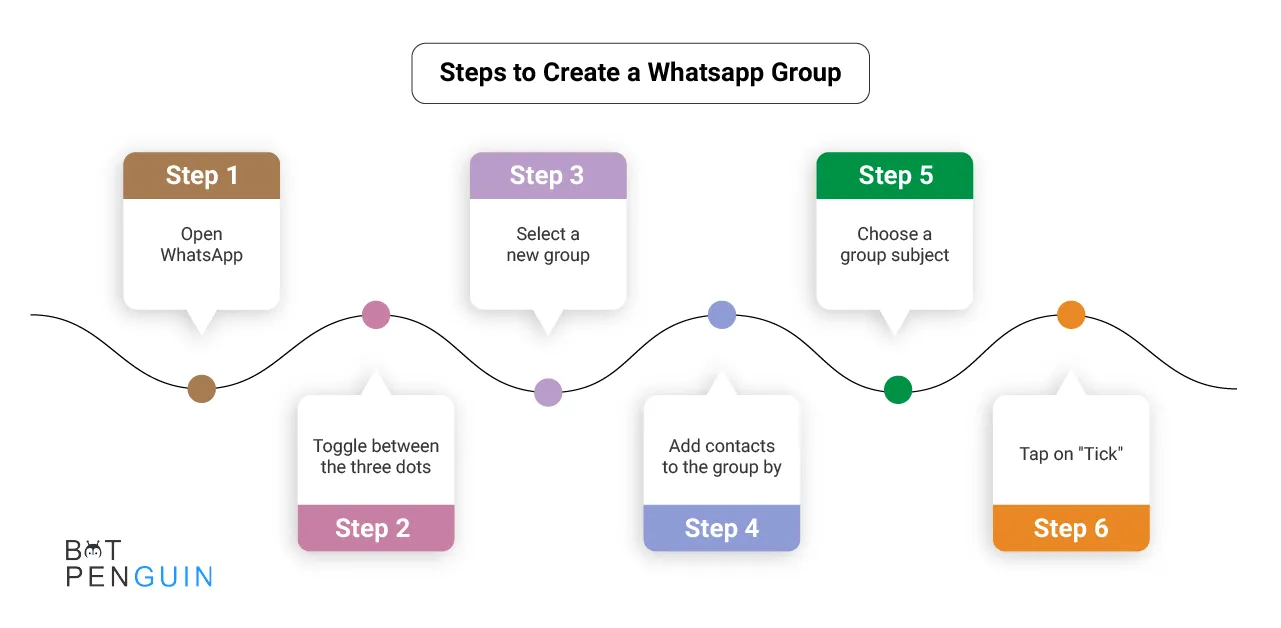 Step 1: Open WhatsApp
The first step is to launch the Whatsapp app on your device. Install it from the Play Store if you don't already have it.
Step 2: Toggle between the three dots
After that, look for the 'three-dots' button in the right corner of your screen after starting WhatsApp. Please view the image below for reference. To continue, click the three dots.
Step 3: Select a new group
A new menu with several options will display in front of you. Click the first option, 'New Group,' to start a WhatsApp group.
Step 4: Add contacts to the group by
You must add members to our new group.
Select all individuals you want to add to the group from your contact list.
If you forget to add all of the participants to your contact list, you will not be able to add them to the group.
Step 5: Choose a group subject
After selecting all of the group members, give it a name. You can also use emojis.
Step 6: Your group will form when you tap on "Tick"
Finally, we're about there. To create a Whatsapp Group, click the 'Tick' button. And that's it! That's how you may quickly build a WhatsApp group and invite everyone interested. You may, however, remove the WhatsApp group once you achieve your goal.
How to Create WhatsApp Group on iPhone
Step 1: Open WhatsApp
Launch WhatsApp by hitting the WhatsApp icon on your home screen.
Step 2: Select a New Group
Go to conversations and select New Group from the top menu.
Step 3: Add participants and a group name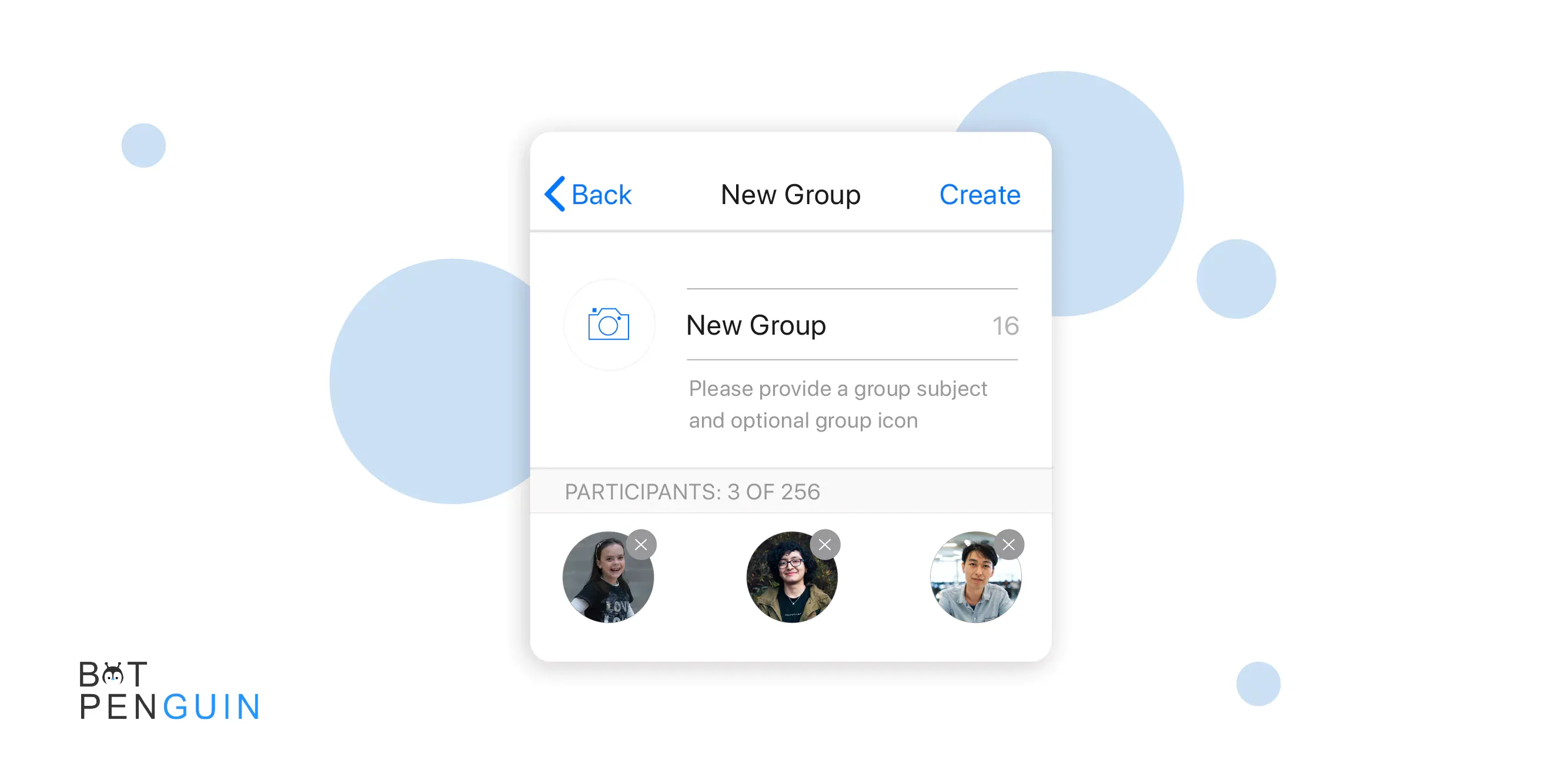 Tap on the next option after selecting the participants. Type in a group name, write it in and click Create Group.
Step 4: Additional features
You may now post to the group. Tap the group name at the top for additional possibilities.
Step 5: Add photos, participants, and invite
Add a photo.
Invite participants.
Update the image by touching the photo icon.
To add more people, use the + option. Finally, you may invite others to your group by clicking the invited group link button.
How to join a WhatsApp Group?
While joining a WhatsApp group is straightforward, there are additional choices. One of the most common approaches is to provide a link to a WhatsApp group invitation. You may quickly join a WhatsApp group by clicking on an invite link.
How to add and remove WhatsApp Group participants
You may add or remove group members if you're a group admin.
To Add:
Step 1: Tap the group subject in the WhatsApp group discussion.
Step 2: Alternatively, touch and hold the group on the CHATS tab. Then select More options > Group information.
Step 3: Select Participants to add.
Step 4: Add contacts to the group by searching for or selecting them.
Step 5: When you do this, tap the green checkmark.
To Remove:
Step 1: Tap the group subject in the WhatsApp group discussion.
Step 2: Alternatively, touch and hold the group on the CHATS tab. Then select More options > Group information.
Step 3: Select the participant you'd like to dismiss.
Step 4: Select Participant > Remove > OK.
What to Do If You're Not the Admin?
You have the most authority as the administrator of a WhatsApp group. Other group members can, for example, edit the group's photo, but that's where the rights of an ordinary member end. Suppose you need a particular person to join the group conversation. In that case, you can always contact the WhatsApp Admin to do it for you.
They must first add the contact's phone number to their phone's address book before continuing. Alternatively, you can request to get the Administrator's rights on WhatsApp.
How to become an admin in a WhatsApp Group?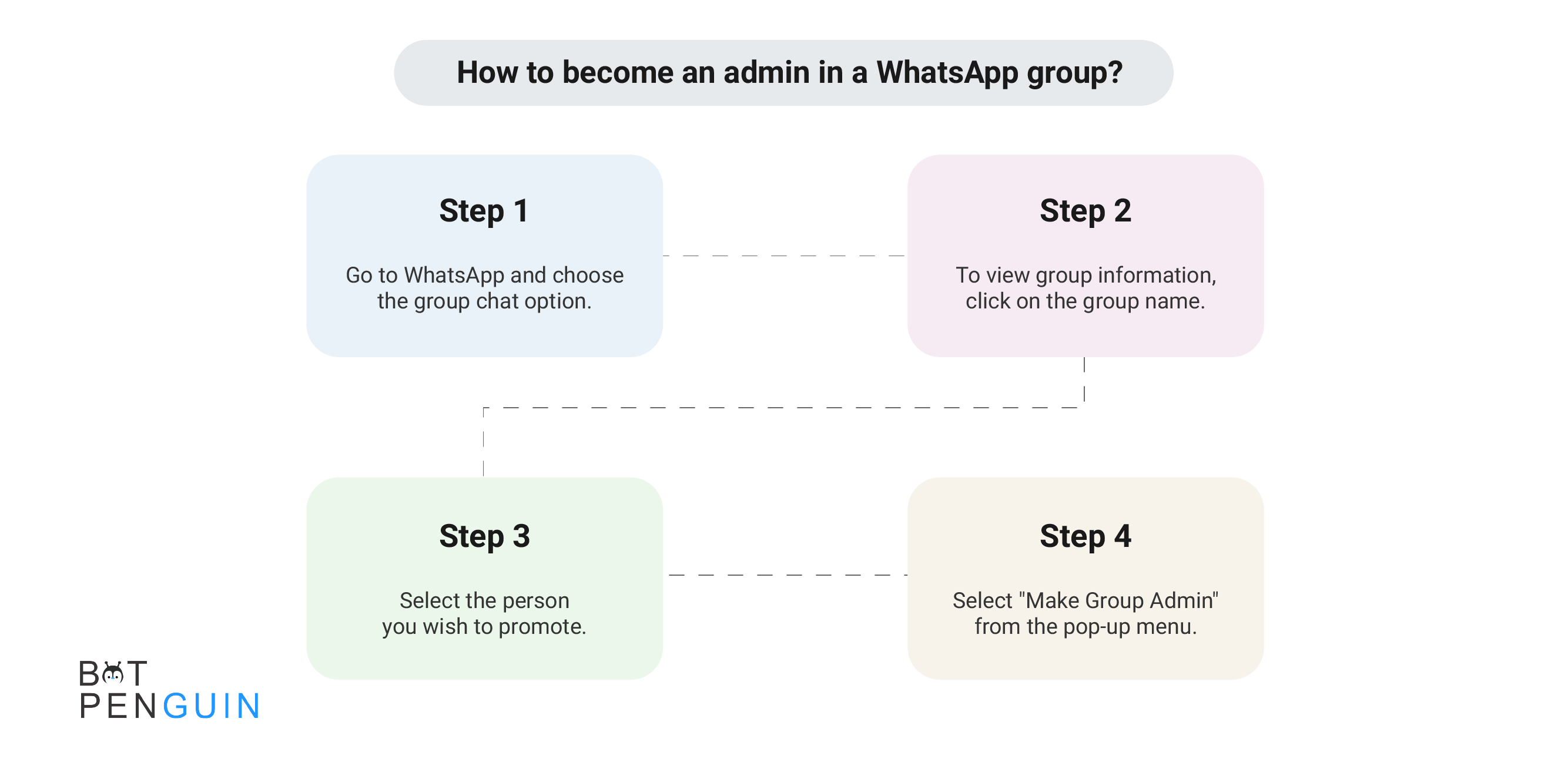 Here's how to make another WhatsApp group member an admin:
Step 1: Go to WhatsApp and choose the group chat option.
Step 2: To view group information, click on the group name.
Step 3: Select the person you wish to promote.
Step 4: Select "Make Group Admin" from the pop-up menu.
Suppose this was only a temporarily given task. In that case, you could remove the Admin position by repeating the procedures until you reach the "Dismiss as admin" option.
How to Invite Someone via Group Link
There's another way to add new users to a WhatsApp group conversation if you're the administrator. A sharing link is an excellent tool for quickly connecting a new contact to the group. Here's how you can do it:
Step 1: Go to your WhatsApp group conversation.
Step 2: Select "Invite by link" from the "Group Info" menu.
Step 3: You can send the link via WhatsApp or copy and share it with another app.
Step 4: Another option is to send the invitation via the link using the QR code.
If you're going to proceed with the invitations, be careful. Because anybody may join the group, they must be individuals you know.
How to Avoid Random People Adding You to the WhatsApp Group
Step 1: Open WhatsApp and choose the three dots in the upper right corner.
Step 2: Select Account from the drop-down menu under Settings.
Step 3: Navigate to Privacy > Groups. 'Everyone' is most likely the default option.
Step 4: Select one of three options: "Everyone," "My Contacts," or "My Contacts Except."
Step 5: Anyone with your phone number can add you to a group without permission using the' Everyone' option.
Step 6: Users can only add you to groups whose phone numbers you have saved in your contact list using the 'My Contact' option.
Step 7: Finally, the 'My Contacts Except' option allows you to determine who can add you to groups. It enables you to filter further and delete contacts you don't want to join a group.
How to look for Media as a Group?
Step 1: Tap the top bar to open the group. Then, on the following screen, tap the Media label.
Step 2: Select Documents or Links, then select the Search button in the top-right corner.
Step 3: Enter a search keyword, and WhatsApp will identify links or documents that include that term right away.
Tips for group administrators in WhatsApp Group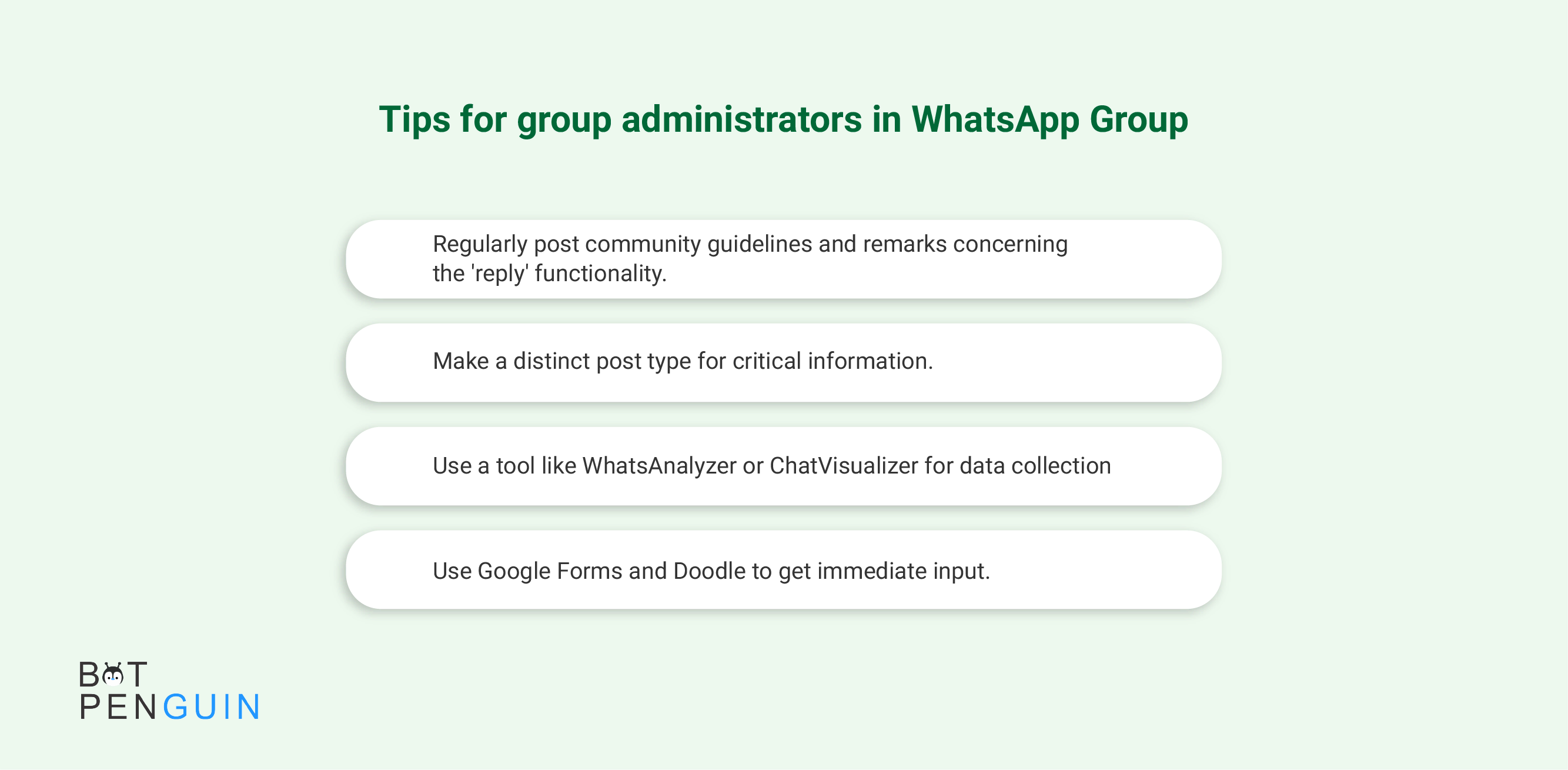 1. Regularly post community guidelines and remarks concerning the 'reply' functionality.
It never hurts to include community/group standards and the names of group admins, whether you're starting a new group or already have one. It is especially beneficial for more extensive and socially focused groups (especially when reminding users about the reply option). It may help keep issues on track, and members know when to dip in and out and prevent self-promotional contributions.
2. Make a distinct post type for critical information.
The content will differ for each group. However, write an immediately identifiable post (picture, emoji, ASCII). People will be more likely to notice it in more active groups (plus, it will be easier to find).
3. Use a tool like WhatsAnalyzer or ChatVisualizer for data collection
Use the tools to figure out what works (and doesn't) (check terms and conditions first). A valuable tool for seeing data from your exported conversations. Use the information to determine when to post, what to post about, and which people you should contact to encourage them to be more active.
4. Use Google Forms and Doodle to get immediate input.
Using Google Forms to ask a question or a quick link from Doodle to plan a meet-up makes managing huge groups more accessible and equitable. For WhatsApp group administrators, using bit.ly might offer an extra layer of assessment (and users).
Conclusion
WhatsApp groups are a blessing when you want to connect with several people to share everyday news. You can talk with multiple via text, voice, or video call. It brings diverse people together. If you WhatsApp regularly, you must be part of one group. When you want to add more people, you can ask the admin to add and send a link, or you can add yourself if you are an admin.
Small business uses Whatsapp group to increase sales. Anyone can use a group for group chat and planning things. There are merits to using WhatsApp group, and if you know how to use it, you can use it to the fullest.
Deploy a WhatsApp Chatbot today with BotPenguin with no Hassle! It's Free! Sign Up Now!