Introduction
There's a way to seriously upgrade your WhatsApp game– By using WhatsApp Plus.
You might think that's just regular old WhatsApp. But it is something new and improved.
WhatsApp Plus is a modded version of WhatsApp with tons of awesome customized features you won't find in the original.
You can react to messages with any emoji, schedule messages to send later, translate conversations automatically, and more.
So if you're looking to take your WhatsApp communication to the next level, ditch the limitations of regular old WhatsApp.
WhatsApp Plus 2023 features are where it's at! Keep reading and We'll fill you in on all the juicy details about the latest and greatest features that make it a must-have chat app.
Get ready to have it!
Now let us start with WhatsApp Plus.
What's the Buzz about WhatsApp Plus?
WhatsApp Plus is not your ordinary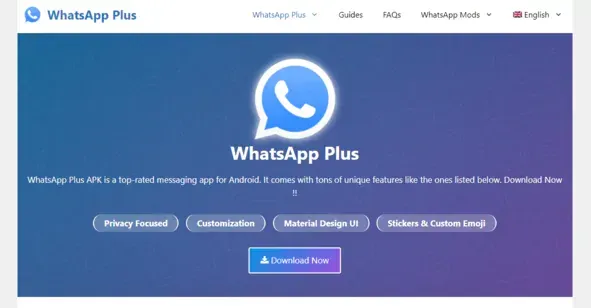 messaging app. It's like WhatsApp's cool sibling, offering an array of extra features and customization options.
Developed by independent master of code, WhatsApp Plus aims to take your messaging experience up a notch, giving you more control over how you interact and connect.
What's coming up next? We're diving into the slick interface of WhatsApp Plus 2023!
BotPenguin offers chatbot creation for social platforms, websites, and WordPress along with many different features:

Features of WhatsApp Plus
The best part about WhatsApp Plus is all the awesome exclusive features you can't get with regular WhatsApp. This mod unlocks a ton of possibilities!
In this section, We'll highlight the WhatsApp Plus 2023 features that are so unique. From modern interface to advanced privacy controls, you'll see why it's the ultimate modded messaging app.
Get ready to explore all the cool WhatsApp Plus 2023 features that it offers.
These WhatsApp Plus 2023 features really take your chat experience to the next level compared to plain old WhatsApp.
A Sleek and Modern Interface
Get ready for a visual treat! WhatsApp Plus 2023 introduces a slick new interface that's as modern as it gets.
The design has undergone a makeover to give it that polished, sophisticated vibe. Navigating the app is now a breeze, thanks to its intuitive and user-friendly layout.
Now, let's talk about something every style-savvy user would appreciate: customizable themes!
Personalized Themes at Your Fingertips
Express yourself through your chats!
WhatsApp Plus 2023 lets you pick and choose from an array of themes to make your chat environment uniquely yours.
Fancy a dark mode for those late-night conversations? Or maybe a vibrant theme that matches your personality? With WhatsApp Plus 2023, you're in control of the vibe you want to set.
Stay tuned for a sneak peek into WhatsApp Plus 2023's heightened privacy settings.
Elevated Privacy Options
Privacy is the name of the game, and WhatsApp Plus 2023 has got you covered. This version takes your privacy to the next level with customizable settings for each contact.
Want to keep your online status a secret? No worries, you can do that too. Your personal information is now under your command, giving you the peace of mind you deserve.
And now, let's uncover the magic behind WhatsApp Plus 2023's enhanced group chats!
Upgraded Group Chat Experience
Say goodbye to group chat confusion! WhatsApp Plus 2023 introduces features that turn group conversations into a smooth ride.
Group Polls
Making group decisions just got a whole lot easier. WhatsApp Plus 2023 introduces group polls, so you can quickly gather opinions and reach a consensus.
From weekend plans to what to order for lunch, group discussions have never been this efficient.
Group Stickers
Add a touch of fun to your group chats with exclusive group stickers. WhatsApp Plus 2023 lets you create and share stickers that are tailor-made for your group.
Inside jokes, celebrations, and more – let the stickers do the talking!
Ready for a multimedia makeover? Let's dive into WhatsApp Plus 2023's enhanced media sharing capabilities.
Change the Multimedia Sharing
One major way WhatsApp Plus enhances your chatting experience is by removing limits on multimedia sharing. Send anything you want!
In this section, We'll outline the upgraded media sharing capabilities in WhatsApp Plus. From sending HD photos and videos to sharing large files, it really opens up your options.
Get ready to learn how WhatsApp Plus transforms and improves your ability to share high-quality media seamlessly in chats. Say goodbye to pesky file size limits!
High-Quality Image Sharing
No more sacrificing image quality for the sake of sharing. With WhatsApp Plus 2023, your high-quality images stay as stunning as ever, even after sharing.
Your friends will thank you for the eye-catching snaps.
Video Editing Made Easy
Editing videos has never been simpler. WhatsApp Plus 2023 lets you trim and enhance videos directly within the app. Say goodbye to complicated third-party tools – it's all here, right at your fingertips.
Ready for the grand finale? Let's see how WhatsApp Plus plays well with other apps!
Seamless Integration with Third-Party Apps
WhatsApp Plus 2023 doesn't like to play alone. It teams up with other apps to make your messaging experience even more versatile.
Spotify Integration
Love sharing your favorite tunes? WhatsApp Plus lets you share songs, playlists, and podcasts directly from Spotify. Music and chats – the perfect combo!
Google Maps Integration
Planning a meet-up? WhatsApp Plus lets you share your real-time location with friends through Google Maps. No more getting lost on the way to a rendezvous!
Brace yourselves, we're nearing the end with a conclusive look at WhatsApp Plus 2023's fantastic features!
Recap
And there you have it, the scoop on WhatsApp Plus 2023 features.
From a revamped interface to beefed-up privacy controls, elevated group chats, dynamic media sharing, and harmonious third-party integration, this version of WhatsApp is all set to redefine your messaging experience.
No need to wait – Enjoy the upgrade to WhatsApp Plus 2023 features and enjoy a whole new level of connectivity and fun!
Get ready to change the way you chat, express, and connect.