Nowadays, the latest trend in the market is not only to integrate chatbots into their businesses but also to monetize them. Do you know the chatbots market is expected to reach $9.4 billion in 2024? There is no doubt that chatbots play an essential role in the business sector. And chatbots enhance traffic, user experience, and ROI.
Today, anyone can make loads of money by becoming a chatbot reseller and selling digital products. As becoming a chatbot reseller is not only a possibility but also a necessity. It works in advantage of a company's revenue or as a passive income for any person.
Chatbot reselling means selling the chatbot from one company to another as a white-label chatbot.
How do you make money by selling Chatbots?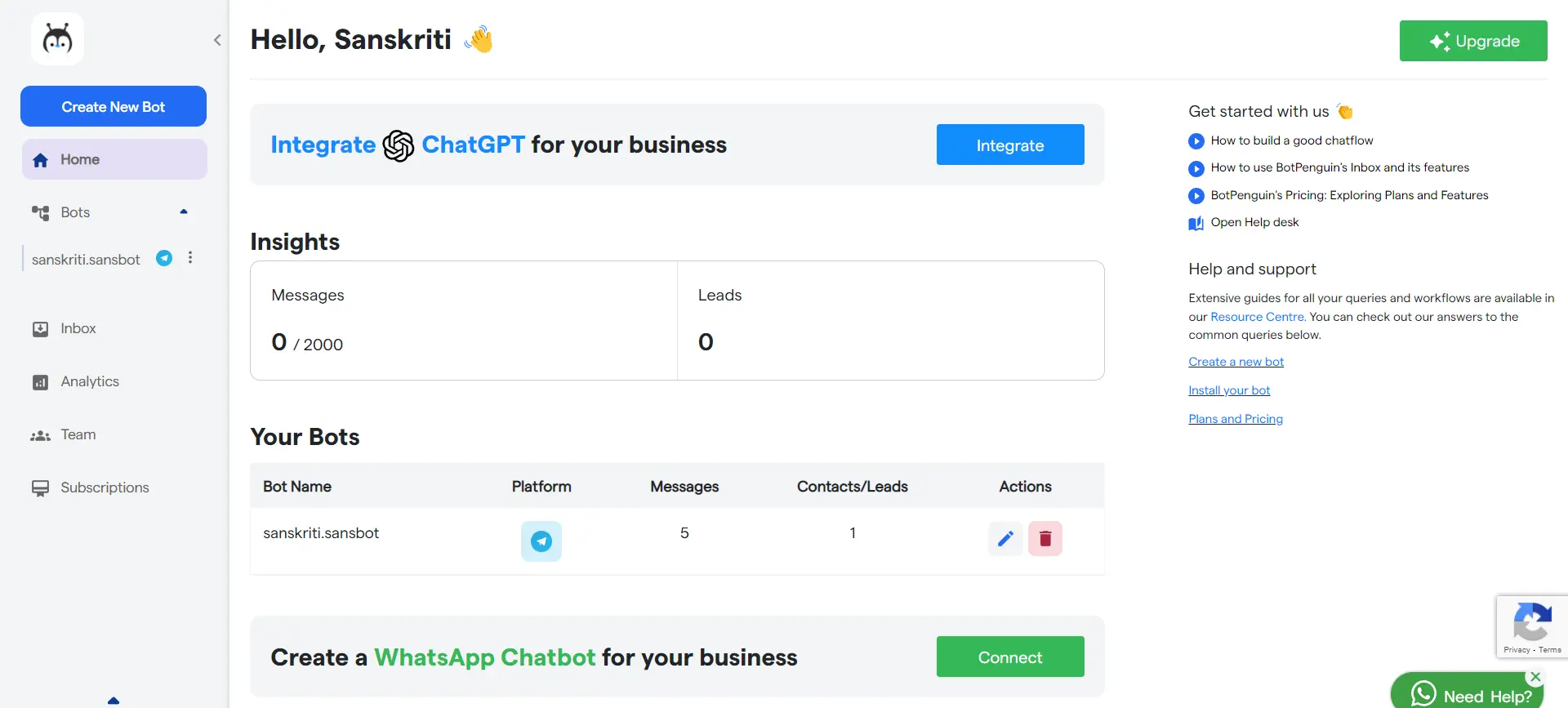 Making and selling chatbots may bring in a sizable income. Selling your blog to a firm or business, giving it out for free, and receiving a commission on any sales made is one method of making money from your blog.
Many firms are eager to purchase chatbots to automate some of their sales, support, and marketing activities.
More and more companies are using internal and corporate chatbots. Because they save expenses and aid in marketing and customer service. They also free up staff members from dull, routine duties to focus on more exciting and vital jobs.
The moment is ideal to recognize the need for chatbots since you can provide the supply. Selling platforms for creating chatbots is turning out to be a highly profitable job. Therefore, this is your chance if you're a sales professional who wants to be a part of the future.
Today, monetizing a chatbot through affiliate marketing, e-commerce, lead generation, advertising, and partnerships is simple. Businesses are prepared to acquire as they become fully aware of this. Experience the power of partnership today! Join Our Partner Program NOW!
How to become a chatbot reseller?
To become a chatbot reseller, you will need to have a solid understanding of chatbot technology, sales and marketing skills, and the ability to provide excellent customer service. Here are some steps you can take to become a chatbot reseller: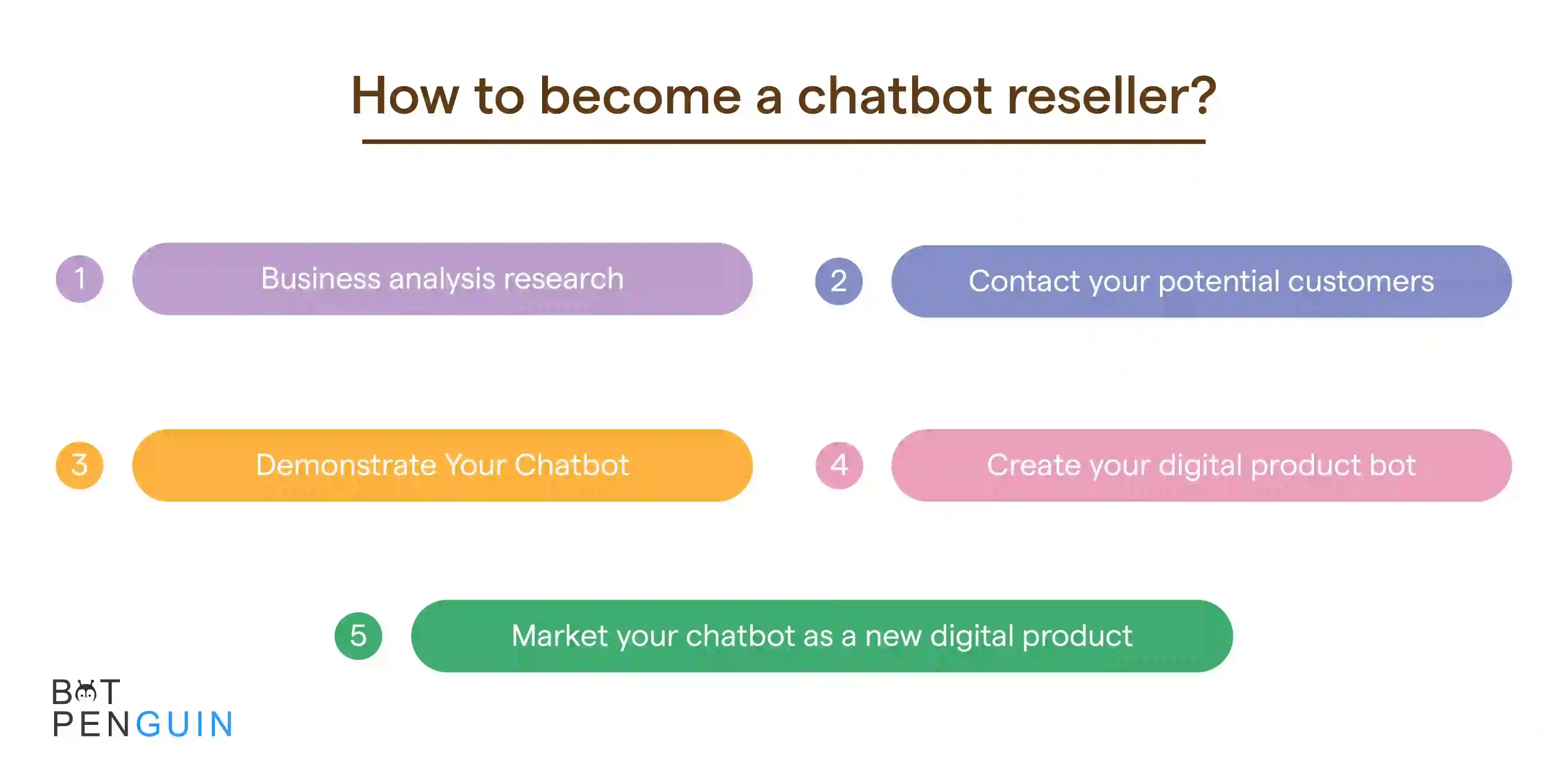 Business analysis research
Pick a sector that interests and is familiar to you. It will be much simpler to respond to their real demands if you put yourself in their and their client's shoes. Your bot will probably be useless if it does not provide real-world solutions.
Make sure you thoroughly investigate the business you are selling your chatbot to. Do deep research, especially if you intend to create the bot for free and receive commissions from sales.
Depending on the company's performance, the contract, the percentages, rewards, and other factors, this might be a fantastic victory or a tremendous loss for you.
Contact your potential customers
Recall that selling your bot is a business transaction just like any other. If you successfully wow your potential customer, they are more likely to evaluate your offers and buy your bot. Cite statistics and real ROI (Return On investment).
What are their benefits? What real-world solution will your bot offer to their issue?
How will it increase their revenue or lower their expenses? What will it cost them, exactly?
Local companies are an excellent location to start if you're a novice because it's simple to identify and present your concept to them. Examining the business's finances and reputation is some approach to determining its needs.
Use social media, the phone, email, or walk-ins to contact various companies. Be sure to pay attention to their requirements and comprehend what kind of help their particular company wants. Businesses will spend money on items that are valuable to them.
Demonstrate Your Chatbot

After reaching out, if a customer shows interest, your next move should be to introduce them to your bot. To assist you in illustrating the value the bot can offer to their firm. You may draw a picture of the conversation it will have.
Personalize this as much as you can so they understand how you might benefit their particular business. Throughout your pitch, you may discuss the several advantages of chatbots.
Bots simplify the automation of sales. They may interact with website visitors, gather lead data, qualify leads, and link those leads with salespeople. During this phase, you must act professionally and clearly because it decides if they will comprehend your offer.
Show a bot in action on your website or a website you made for a different customer.
Create your digital product bot
Build a strong bot that responds to your client's unique business demands by collaborating with them on it. They could be interested more if they enjoy your first bot and notice a profit.
To get started, you may construct a bot for a particular page on their website or for brand-new visitors. The first time building a bot for a company, the procedure can take some time.
Market your chatbot as a new digital product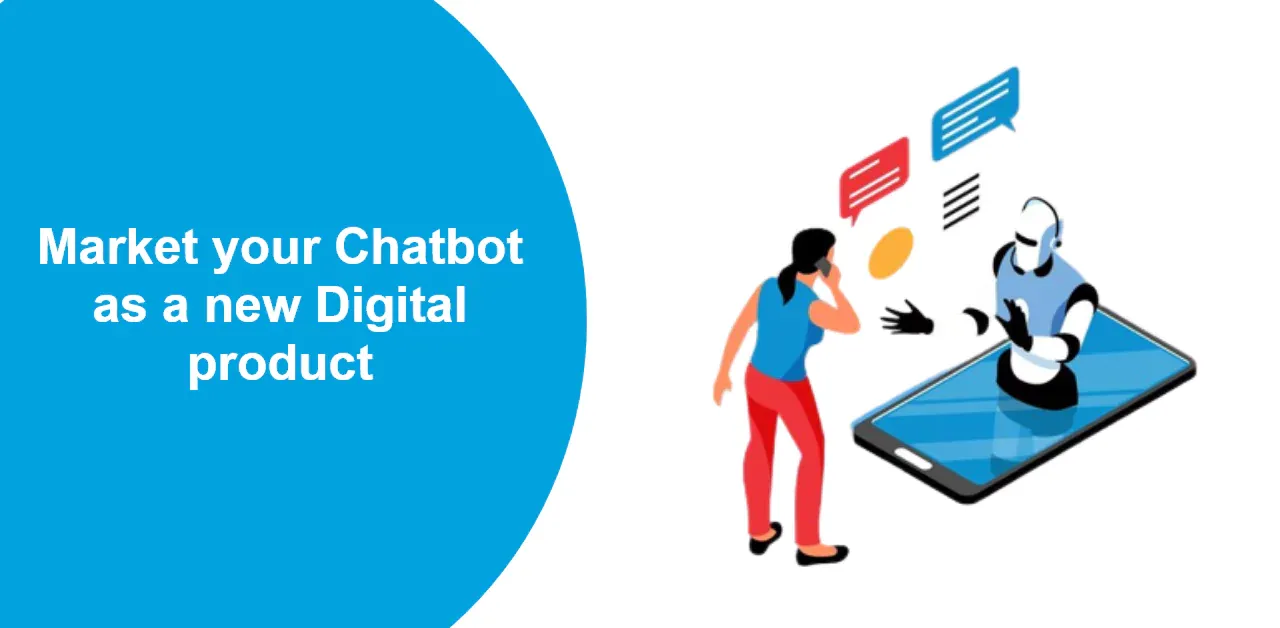 Before closing the deal, the price strategy should have been chosen. Remember that you have a few different business models to pick from. These consist of
Charging a one-time, fixed cost for the bot
Obtaining recurrent income for continuous support, updates, new features, etc.
Receiving a commission on leads or sales that are produced.
You may alternatively do the above procedures but give out your bot for free instead of selling it. You may ask for commissions on those transactions if your bot is utilized to create leads or sales.
Businesses utilize efficient lead generation techniques (such as chatbots) to gather information from potential clients so they may sell to them. But never finalize a contract with which you are uneasy.
Ensure the firm is reliable and pays you out if it asks you to build the bot for free in exchange for a commission on leads or sales earned.
Sign a contract that specifies how long it will be in effect. If you have, work with a knowledgeable attorney. Many other companies need your bot.
So, before selling your bot, be patient and consider alternative offers if the deal isn't right. You may build other Chatbots with your money, sell them, and earn more.
So, before selling your bot, be patient and consider alternative offers if the deal isn't right. You may build other Chatbots with your money, sell them, and earn more.
How to make loads of money by becoming a chatbot reseller?
Discover the Profitable world of Chatbot Reselling and start earning big in no time
The strategy of lead generation through digital products
Marketers work all hours of the night to produce excellent leads. Although chatbot monetization possibilities are still in their infancy, marketers are rapidly warming to using chatbots as a lead-generating strategy.
When a website visitor asks for assistance or has concerns about a product or service, your chatbot must be able to provide them with actionable insights or information.
Consider the situation where someone needs specific details on email marketing software. The user encounters a chatbot after failing to locate anything valuable online.
They may use the chatbot to inquire about the features and costs or compare other email marketing software. The chatbot provides a link to the precise resource the visitor requested.
The chatbot can learn more about the guest as the dialogue goes on. For instance, it may inquire about their email address or field of work. The chatbot might suggest that the visitor talk with a business sales representative.
Digital products & Affiliate Marketing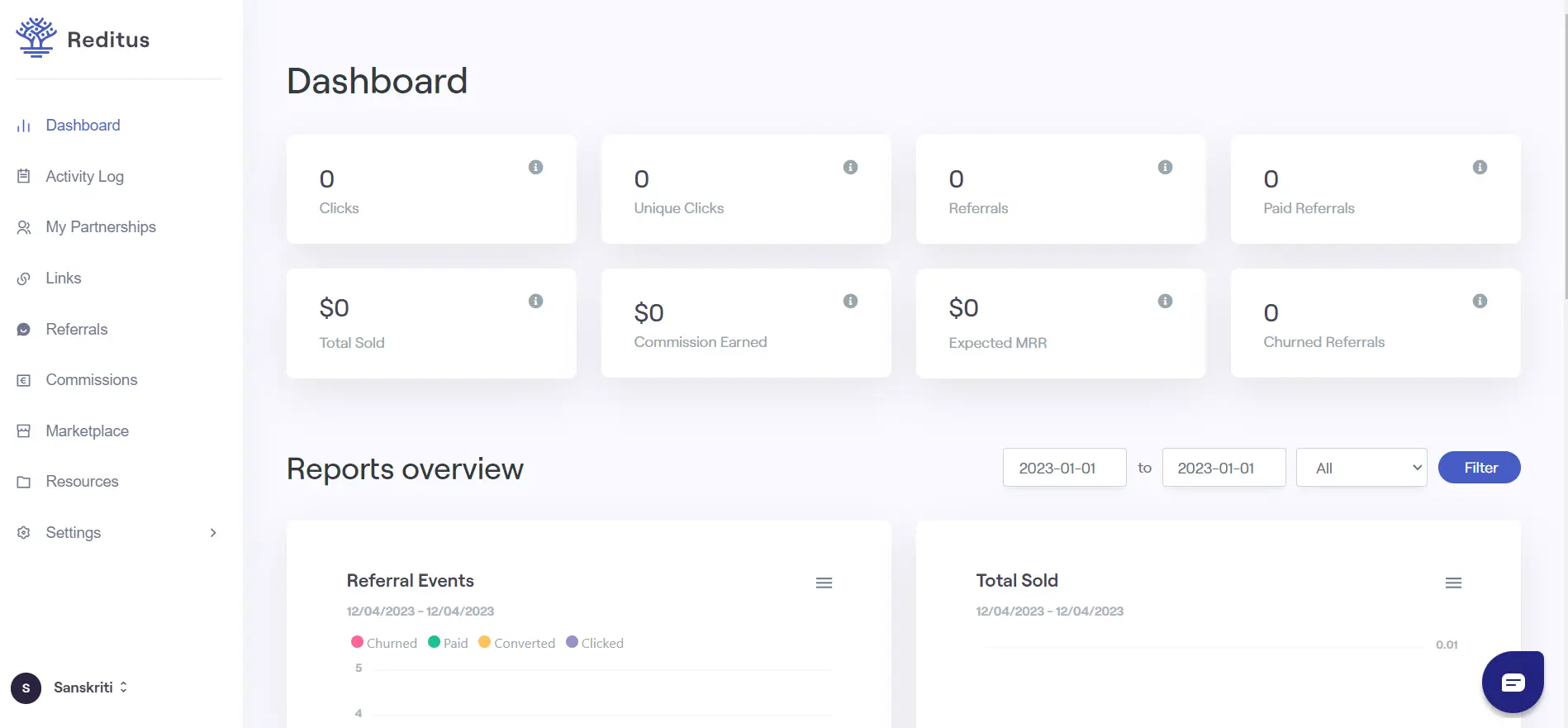 Affiliate marketing is a great approach to making a respectable amount of money. The popularity of using chatbots as a monetization method among affiliate marketers has been growing.
The steps involved in affiliate marketing may be summed up as follows: choosing the product that people are most likely to look for online, constructing a website or landing page to attract visitors, launching marketing campaigns or advertisements, and lastly, realizing a profit.
In comparison to other marketing channels, affiliate marketing reported average order values and orders per client that were higher than 21% and 31%, respectively, in 2016, according to research.
You may create a chatbot that provides visitors with useful information and uses affiliate links to send them to the relevant landing page to generate sizable affiliate revenue.
Email marketing is undoubtedly an important marketing medium. There is also a wealth of email marketing tools available for affiliate marketers, but employing chatbots as a monetization method is another way never to miss a chance to make more affiliate money.
Join our affiliate program and start earning today!
Chatbots as a digital product service
Chatbots are transforming the technological landscape in B2C and B2B corporate settings. With the help of this AI innovation, businesses may automate processes without incurring additional human expenditures. What a fantastic thing!
You may cut money on pricey SaaS products by utilizing bot technology. Consequently, your productivity is better, and your ROI is higher.
If we're talking about that, you can create and manage smart bots using Microsoft's cloud bot service. Additionally, you may use the cloud computing and Microsoft Cognitive Services integration options.
You may select the bot service you need based on your company's requirements. The bot may be used as a platform service or to build a framework.
Intelligent apps may be made using the Microsoft-launched bot framework. However, suppose you don't want to get technical. In that case, you may utilize one of the already-existing chat services, like Facebook Messenger.
Place a chatbot on your landing page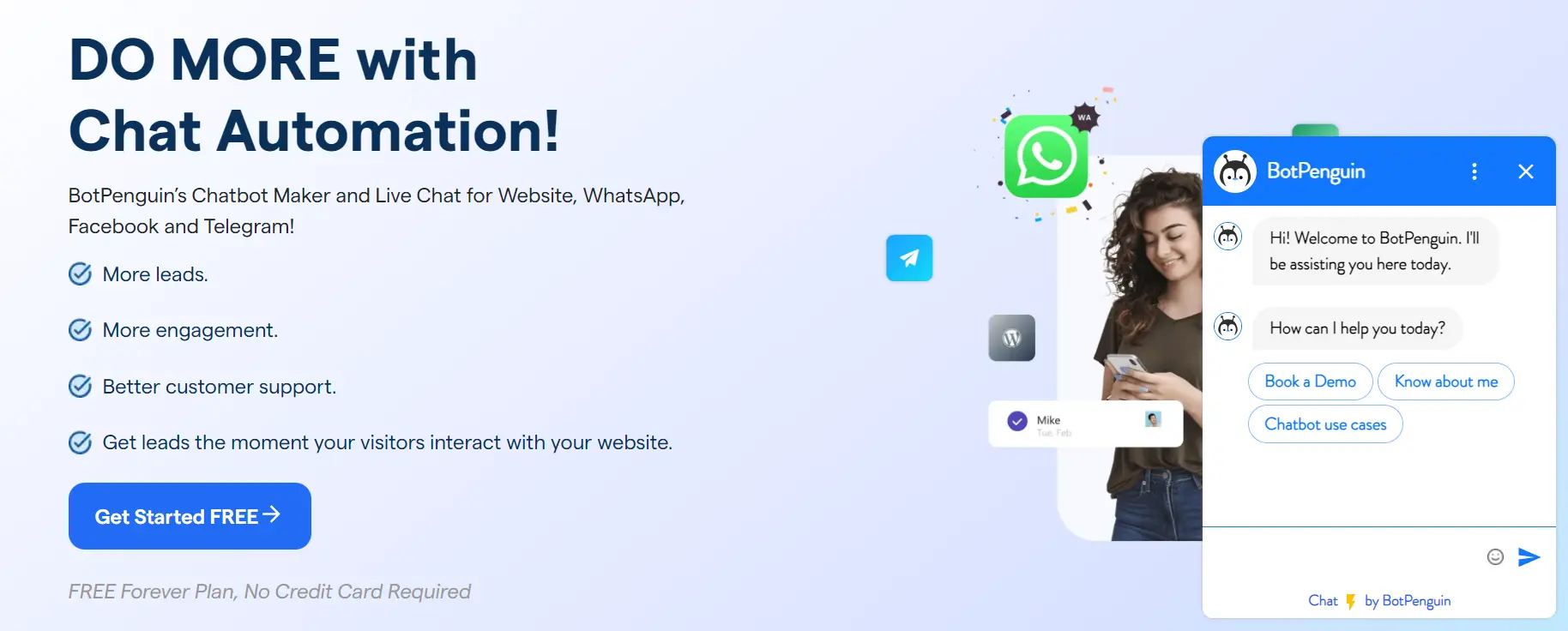 For generating high-quality leads and identifying prospective consumers, landing pages are marketers' first choice. Marketers are looking into using chatbots to create conversational landing pages.
Said this research aims to improve user experience and offer visitors value to finish the sales cycle. In addition, everyone carries a mobile device with them at all times. Instead of switching between online pages, the majority of them choose to ask their questions in the chat room.
The day when a developer could only create a chatbot is long past. Several technologies are available nowadays for creating chatbots, which are utilized to create intelligent chatbots.
Conclusion
Summing up, digital product reseller is for anyone, whether you are a start-up, marketing agency, web development agency, tech consultant, or software company. However, remember that your business has a strong network with different industries for promotion.
There is a huge growing demand for chatbot channels for communication both in and for the company. By taking advantage of this, you can make loads of money by becoming a chatbot reseller. You can own a chatbot instead of being a client of another's chatbot.
BotPenguin Offers four different types of Partner Programs:

If you still face any problems regarding Chatbots, please allow us to help you by commenting on your issue below.
Also, if you are planning to invest in a good chatbot creator, do check out the fantastic features offered by BotPenguin!
Frequently Asked Questions (FAQs)
What is a Chatbot Reseller?
A chatbot reseller is an individual or business that sells chatbot services provided by a chatbot platform to its clients, earning revenue from sales and commissions.
How much can I potentially earn as a Chatbot Reseller?
Earnings vary based on factors like commission rates, pricing, and the number of clients you acquire, but successful resellers can make a significant income.
How do I choose the right Chatbot platform to partner with?
Evaluate chatbot platforms based on factors like product quality, commission structure, support, and customization options to find the best fit.
Do I need technical expertise to become a successful Chatbot Reseller?
While not mandatory, having a basic understanding of chatbot technology can help you better explain the product and its benefits to clients.
Can I offer additional services alongside Chatbot Reselling to boost my income?
Yes, you can expand your offerings with complementary services, such as chatbot customization, integration support, or digital marketing services.
What trends should I be aware of in the Chatbot industry to stay competitive?
Keep up-to-date with advancements in AI, natural language processing, and chatbot platform features to ensure you're offering the latest and most effective solutions to your clients.