What is ERP (Enterprise Resource Planning)?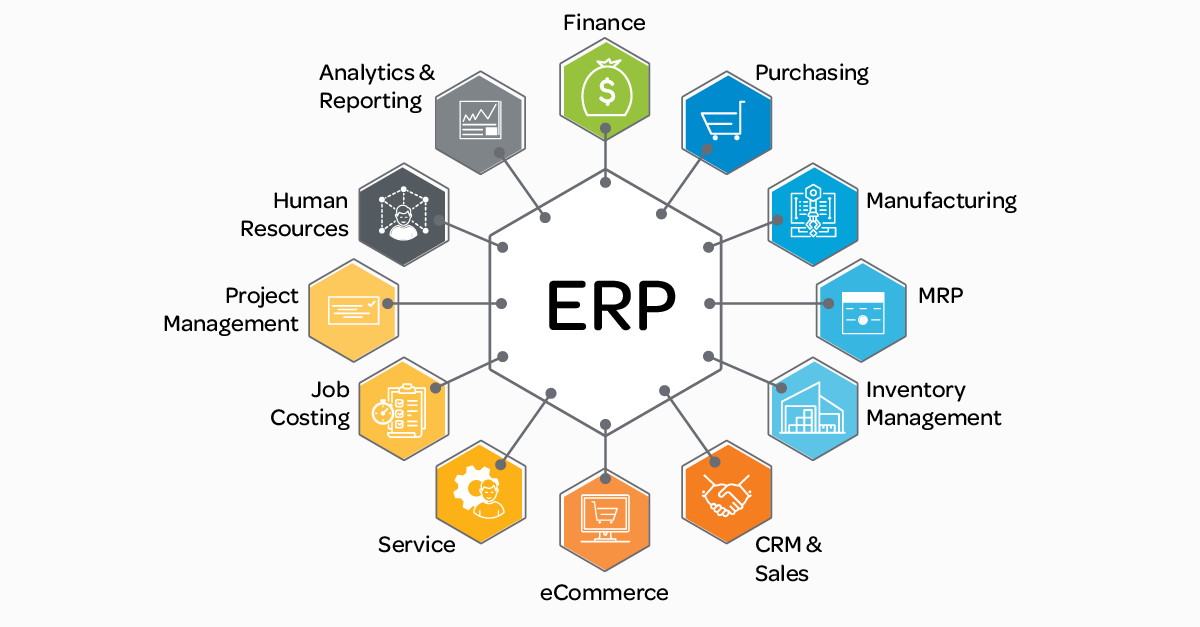 ERP, or Enterprise Resource Planning, is like the central nervous system for a business. It's a software solution that integrates and streamlines various business processes, such as finance, inventory, sales, and customer relations, all under one roof.
Think of it as a one-stop shop for managing your business's vital functions. The goal? To help your business run smoother, faster, and smarter.
ERP systems are designed to make life easier for businesses by simplifying complex processes and providing real-time data access. Some of the benefits include improved efficiency, reduced operational costs, better decision-making, enhanced collaboration, and increased customer satisfaction.
Key ERP Modules and Components
1. Finance and Accounting
Money makes the world go round, and the finance and accounting module in an ERP system helps you keep track of all things financial. From general ledger and accounts payable to financial reporting and budgeting, this module is an accountant's dream come true.
2. Supply Chain Management
Keep your supply chain running like a well-oiled machine with the supply chain management module. This component helps you manage inventory, procurement, and logistics, ensuring that your products get from point A to point B without a hitch.
3. Human Resources
Your employees are your greatest asset, and the human resources module helps you manage them effectively. From recruitment and onboarding to payroll and benefits administration, this module ensures that your workforce remains happy, productive, and engaged.
4. Customer Relationship Management
It's all about the customer, and the customer relationship management (CRM) module in an ERP system helps you build and maintain strong relationships with your clients. From sales and marketing to customer service and support, this component puts your customer at the center of your business operations.
Why Choose an ERP System?
1. Streamlining Business Processes
ERP systems are like a well-oiled machine, helping to streamline your business processes and making everything run more smoothly. Say goodbye to bottlenecks, data silos, and inefficient workflows, and hello to a more efficient and productive future!
2. Improving Data Accuracy and Accessibility
Data is the lifeblood of any business, and ERP systems ensure that it's accurate, up-to-date, and easily accessible. With a centralized database, you can make informed decisions based on real-time data, improving your business's overall performance.
3. Improving Financial Management
ERP systems offer comprehensive financial management tools, such as budgeting, forecasting, and reporting, enabling businesses to optimize cash flow, reduce costs, and boost profitability.
4. Simplifying Inventory Management
With an ERP system, businesses can track inventory levels, monitor stock movements, and optimize procurement processes, reducing stockouts and excess inventory.
5. Strengthening Customer Relationship Management
ERP systems often include CRM modules that help businesses manage customer interactions, track sales opportunities, and improve customer satisfaction, leading to increased loyalty and revenue.
6. Facilitating Collaboration and Communication
By providing a centralized platform for information sharing, ERP systems promote collaboration and communication among departments, improving teamwork and overall business performance.
7. Ensuring Regulatory Compliance
ERP systems help businesses maintain compliance with industry-specific regulations by automating reporting, tracking changes, and providing audit trails, reducing the risk of non-compliance penalties.
8. Supporting Scalability and Growth
As businesses grow and evolve, ERP systems can be customized and scaled to accommodate changing needs, ensuring continued efficiency and adaptability in a dynamic business environment.
Who Uses ERP Systems?
1. Industries Implementing ERP
ERP systems have a broad appeal, and you'll find them in various industries, including manufacturing, retail, healthcare, construction, and more. It's like a universal language for businesses, helping them communicate and collaborate more effectively.
2. Size of Businesses Utilizing ERP
It doesn't matter if you're a small startup or a multinational corporation - ERP systems are scalable and adaptable to businesses of all sizes. So whether you have ten employees or ten thousand, there's an ERP solution out there to suit your needs.
When to Implement an ERP System?
1. Inefficient and Disconnected Processes
If your business struggles with time-consuming manual tasks, data silos, or poor interdepartmental communication, implementing an ERP system can streamline processes, centralize data, and facilitate collaboration.
2. Difficulty Managing Financials and Inventory
When managing finances and inventory becomes increasingly complex and error-prone, an ERP system can help by automating financial management, simplifying inventory tracking, and providing real-time insights for better decision-making.
3. Growing Customer Relationship Challenges
If your business is experiencing difficulty managing customer interactions, tracking sales opportunities, or maintaining customer satisfaction, an ERP system with CRM capabilities can enhance relationship management and boost customer loyalty.
4. Expansion and Scalability Needs
As your business grows and evolves, implementing an ERP system can provide the flexibility and scalability needed to adapt to changing demands, ensuring continued efficiency and success in a dynamic business environment.
How to Successfully Implement an ERP System
1. Careful Planning and Goal Setting
Before implementing an ERP system, it's crucial to define clear objectives, establish a realistic timeline, and allocate sufficient resources to ensure a smooth and successful implementation process.
2. Selecting the Right ERP System
Choose an ERP system that aligns with your business requirements, industry-specific needs, and budget constraints. Consider factors such as scalability, customization options, and vendor support when making your decision.
3. Engaging Stakeholders and Building a Strong Project Team
Involve key stakeholders from different departments in the decision-making process and form a dedicated project team with a mix of technical and functional expertise. This ensures buy-in, promotes collaboration, and helps address potential challenges.
4. Providing Comprehensive Training and Support
Ensure a successful ERP implementation by investing in comprehensive training for end-users, addressing any skill gaps, and providing ongoing support to help employees adapt to the new system and maximize its benefits.
Applications of ERP Systems
1. Streamlining Financial Management
ERP systems simplify financial management by automating accounting processes, tracking expenses, and providing real-time financial insights, helping businesses make informed decisions and maintain compliance.
2. Enhancing Supply Chain Management
ERP applications improve supply chain management by optimizing inventory levels, tracking shipments, and streamlining procurement processes, enabling businesses to meet customer demands efficiently and cost-effectively.
3. Boosting Customer Relationship Management
By centralizing customer data and tracking interactions, ERP systems enable businesses to better understand their customers, personalize communication, and deliver exceptional service, fostering loyalty and satisfaction.
4. Human Resources Management
ERP systems facilitate HR management by automating tasks such as recruitment, payroll, and performance tracking, helping businesses attract and retain top talent while reducing administrative burdens.
5. Project Management and Collaboration
With ERP systems, businesses can efficiently manage projects, allocate resources, and monitor progress, fostering collaboration and ensuring timely completion of tasks to meet objectives and deadlines.
6. Business Intelligence and Reporting
ERP systems provide comprehensive business intelligence tools, offering valuable insights and analytics that support data-driven decision-making and help businesses identify trends and opportunities for growth.
Top ERP Vendors and Solutions
1. SAP
As one of the heavyweights in the ERP arena, SAP is known for its robust and feature-rich solutions. With a wide range of modules and industry-specific solutions, SAP caters to businesses of all sizes and sectors.
2. Oracle
Oracle is another big player in the ERP world, offering a suite of cloud-based solutions designed to streamline processes and improve decision-making. Oracle's ERP system is highly scalable, making it an excellent choice for growing businesses.
3. Microsoft Dynamics
Microsoft Dynamics combines the power of Microsoft's well-known software suite with advanced ERP capabilities. This user-friendly solution is suitable for a variety of industries and offers seamless integration with other Microsoft products.
4. Infor
Infor is a strong contender in the ERP market, providing industry-specific solutions tailored to your unique business needs. With a focus on user experience and innovation, Infor's ERP system is designed to help you stay ahead of the competition.
FAQs
1. What is an ERP system?
An ERP (Enterprise Resource Planning) system is a software solution that integrates and manages key business processes, streamlining operations and improving efficiency.
2. Why do businesses need ERP systems?
ERP systems centralize data, automate workflows, and improve decision-making, helping businesses become more agile, efficient, and competitive.
3. How does an ERP system work?
ERP systems connect various business functions, such as finance, HR, and inventory, enabling seamless data sharing and collaboration across departments.
4. What are the key benefits of ERP systems?
ERP systems increase efficiency, reduce costs, enhance data accuracy, improve collaboration, and support informed decision-making.
5. Can I customize an ERP system for my business?
Yes, ERP systems are often customizable, allowing businesses to tailor the software to their unique needs and industry requirements.