What is a Cloud Contact Center?
A cloud contact center is a centralized hub that enables businesses to manage customer interactions and conversations across multiple channels, all while leveraging the power of cloud computing. It's like having a superhero team ready to swoop in and save the day for your customers, without the need for a fancy headquarters.
Key Differences between Traditional and Cloud Contact Centers
1. Infrastructure and Setup
Traditional contact centers require physical infrastructure and on-premise equipment, including servers, phones, and workstations. Cloud-based contact centers, on the other hand, are hosted on the internet, needing only a reliable internet connection and a device to access the platform, significantly reducing setup costs and time.
2. Scalability and Flexibility
Cloud contact centers offer superior scalability and flexibility. They can easily adjust to varying call volumes and business needs, even on short notice. Traditional contact centers, however, often struggle with scalability due to hardware limitations and the requirement for additional physical resources.
3. Accessibility and Remote Working
Cloud contact centers enable remote working by allowing agents to access the system from any location with an internet connection. This feature has proven especially useful during times of crisis or unexpected events. In contrast, traditional contact centers typically require agents to be physically present at a specific location.
4. System Updates and Maintenance
With traditional contact centers, updates and maintenance often involve downtime, and hardware failures can cause significant disruption. Cloud-based solutions provide automatic updates and system maintenance without interrupting service, ensuring the latest features and seamless operation.
5. Integration and Collaboration
Cloud contact centers often come with built-in integrations for CRM systems, social media, email, and chat, providing a unified platform for customer interactions. Traditional contact centers might require additional hardware or software for such integrations, leading to potential compatibility issues.
6. Data Security and Compliance
Both types of contact centers prioritize data security, but their approaches differ. Traditional contact centers rely on physical security measures and internal IT teams. Cloud contact centers depend on the provider's security measures, which often include advanced encryption, multi-factor authentication, and adherence to global compliance standards.
7. Cost Structure
Traditional contact centers involve significant upfront investment in hardware, infrastructure, and maintenance. Cloud-based contact centers typically follow a subscription-based pricing model, turning large capital expenditures into predictable operational expenses, providing financial flexibility for businesses.
Why Choose a Cloud Contact Center?
1. Cost Savings
Cloud Contact Centers reduce the need for expensive on-site infrastructure and maintenance, leading to significant cost savings for businesses. Companies only pay for the services they require, optimizing their budget.
2. Scalability
As businesses grow or experience fluctuating call volumes, Cloud Contact Centers can easily scale up or down, allowing companies to adjust their resources according to their needs without additional hardware or software investments.
3. Remote Work Capability
With Cloud Contact Centers, agents can work from anywhere as long as they have internet access. This flexibility helps businesses recruit talent from a wider pool and ensures uninterrupted customer support during emergencies.
4. Enhanced Security
Reputable Cloud Contact Center providers prioritize data security by employing encryption, compliance certifications, and strict access controls to protect sensitive customer information and ensure a secure communication environment.
5. Easy Integration
Cloud Contact Centers can seamlessly integrate with existing CRM systems, automation tools, and other software applications, enabling businesses to improve their customer service workflows without the need for major system overhauls.
6. Advanced Analytics
Real-time analytics provided by Cloud Contact Centers help businesses monitor key performance indicators, identify trends, and make data-driven decisions to optimize their customer service operations and enhance the overall customer experience.
7. Omni-Channel Support
Cloud Contact Centers offer omnichannel support, enabling businesses to interact with customers through various channels such as phone calls, emails, live chat, and social media, ensuring consistent and personalized customer experiences.
Who Uses Cloud Contact Centers?
1. Small and Medium-Sized Businesses
Cloud Contact Centers are popular among small and medium-sized businesses due to their affordability, easy scalability, and ability to compete with larger enterprises in terms of customer service quality.
2. E-commerce Businesses
E-commerce companies rely on Cloud Contact Centers to provide efficient customer support, handle high call volumes, manage returns, and address other customer inquiries across multiple channels.
3. Large Enterprises
Large organizations use Cloud Contact Centers to streamline their customer service operations, enable remote work, and integrate with existing systems, resulting in improved customer satisfaction and reduced costs.
4. Tech Startups
Tech startups gravitate towards Cloud Contact Centers for their flexibility, rapid deployment, and compatibility with innovative technologies, helping them stay ahead in the competitive market.
5. BPO Companies
Business Process Outsourcing (BPO) companies use Cloud Contact Centers to handle customer service for their clients across various industries, offering a scalable and cost-effective solution.
6. Nonprofit Organizations
Nonprofits benefit from Cloud Contact Centers to manage donor communications, volunteer coordination, and event planning more effectively, enabling them to focus on their mission and maximize resources.
7. Healthcare Providers
Healthcare providers utilize Cloud Contact Centers to manage appointment scheduling, patient inquiries, and support services, ensuring HIPAA compliance and providing a seamless experience for patients.
How Do Cloud Contact Centers Work?
1. Technology and Infrastructure
A the heart of cloud contact centers is the magic of cloud computing. This technology allows your contact center software, data, and infrastructure to be hosted on the internet, making it accessible from anywhere with an internet connection.
2. Integration with Existing Systems
One of the beautiful things about cloud contact centers is their ability to play nicely with your existing systems. Whether it's your CRM, helpdesk, or any other tool, cloud contact centers can integrate seamlessly, creating a harmonious symphony of efficiency.
3. Data Security and Compliance
Worried about the safety of your precious data? Fear not! Cloud contact center providers take security very seriously, with robust measures in place to protect your information. Plus, they'll ensure compliance with industry regulations, so you can rest easy knowing your data is safe and sound.
Key Features of Cloud Contact Centers
1. Omnichannel Communication Capabilities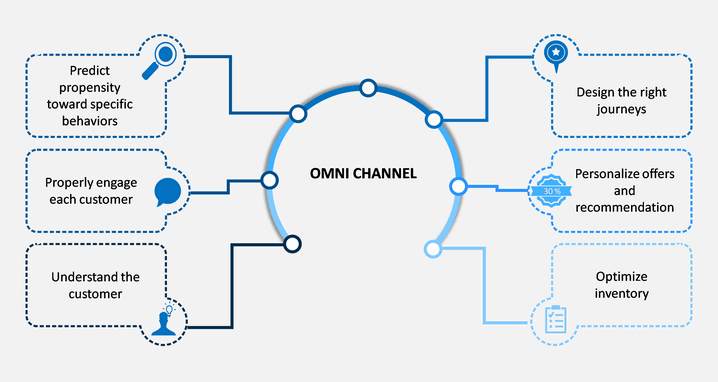 Cloud contact centers are like a Swiss Army knife of communication tools. They offer omnichannel capabilities, meaning your agents can seamlessly switch between channels like phone, email, chat, and social media, ensuring your customers never miss a beat.
2. Advanced Analytics and Reporting
They say knowledge is power, and with cloud contact centers, you'll have plenty of it. These solutions offer advanced analytics and reporting features, giving you valuable insights into agent performance, customer satisfaction, and overall operations. Armed with this information, you can make data-driven decisions to optimize and improve your contact center.
3. Workforce Management Tools
Managing a contact center can be a juggling act, but cloud contact centers have you covered with their workforce management tools. From scheduling and forecasting to performance tracking and coaching, these features help you keep your contact center running smoothly and efficiently.
Selecting the Right Cloud Contact Center Provider
1. Essential Factors to Consider
With so many cloud contact center providers vying for your attention, how do you choose the best one for your business? It's essential to consider factors like:
Features and Functionality

Scalability and customization options

Ease of use and user experience

Integration capabilities

Customer support and training resources

Pricing and contract terms
2. Top Cloud Contact Center Providers
To help you get started on your search, here are some top cloud contact center providers that have earned their stripes in the industry:
Twilio Flex

Genesys Cloud

Five9

Talkdesk

NICE inContact
Best Practices for Cloud Contact Center Implementation
1. Ensuring a Seamless Transition
Ready to make the switch to a cloud contact center? To ensure a smooth and seamless transition, follow these best practices:
Develop a clear implementation plan and timeline

Communicate changes and expectations with your team

Test and troubleshoot before going live

Monitor performance and make adjustments as needed
2. Training and Support for Agents
A happy agent is a well-trained agent! Invest in comprehensive training and ongoing support for your agents to get the most out of your cloud contact center. This will assist them in becoming acquainted with the new system, increasing efficiency and productivity, and ultimately providing better customer experiences.
TL;DR
In conclusion, the world of cloud contact centers is an exciting and ever-evolving landscape. By understanding the ins and outs of this technology and choosing the right solution for your business, you can create exceptional customer experiences and set your company up for long-term success. So go forth, and conquer the cloud!
FAQs
1. What are Cloud Contact Centers?
Cloud Contact Centers are customer service platforms hosted on the internet, providing communication tools and resources for businesses to handle customer interactions efficiently.
2. How do Cloud Contact Centers differ from traditional ones?
Unlike traditional contact centers, Cloud Contact Centers are hosted online, offering flexibility, easier scalability, and reduced maintenance costs while enabling remote work capabilities.
3. What features do Cloud Contact Centers offer?
Cloud Contact Centers offer features like omni-channel support, advanced call routing, real-time analytics, workforce management, and easy integration with existing systems.
4. Are Cloud Contact Centers secure?
Yes, reputable Cloud Contact Center providers prioritize security with data encryption, compliance certifications, and robust access controls to protect sensitive information.
5. How do Cloud Contact Centers benefit businesses?
Cloud Contact Centers benefit businesses by reducing infrastructure costs, enabling remote work, increasing scalability, and providing advanced analytics for improved customer service.