Many owners of online businesses are seeking ways to enhance their operations, but they are failing to accomplish their objectives.
If you want to meet your business needs, you've come to the correct place. WhatsApp Bot, a basic AI tool, can fulfill your vital business demands!
Within a year, WhatsApp Chatbot for Business attracted more than 5 million business users. In today's fast-paced world, every business needs a WhatsApp chatbot to connect with customers, enhance customer engagement, and answer customer questions.
WhatsApp is the industry leader in messaging platforms. WhatsApp chatbots enable your company's communication procedures to successfully fulfill your audiences' expectations. In this blog, we will look at some of the most significant characteristics of WhatsApp chatbots and why you ought to use them in your customer care system.
WhatsApp Chatbot for Business – What is it All About?
A WhatsApp chatbot, also known as a WhatsApp bot, enables you to automate customer service and sales on WhatsApp. It is a machine-learning application that aids brands in simulating human interactions. You need to think about using WhatsApp chatbots if you want to provide excellent customer service.
WhatsApp chatbots powered by AI make it easier for companies to communicate with clients rapidly. You should be aware that a WhatsApp chatbot can only be contacted through the WhatsApp platform. No matter where the chat begins, WhatsApp is eventually where it ends up.
Reasons why your company needs a WhatsApp Chatbot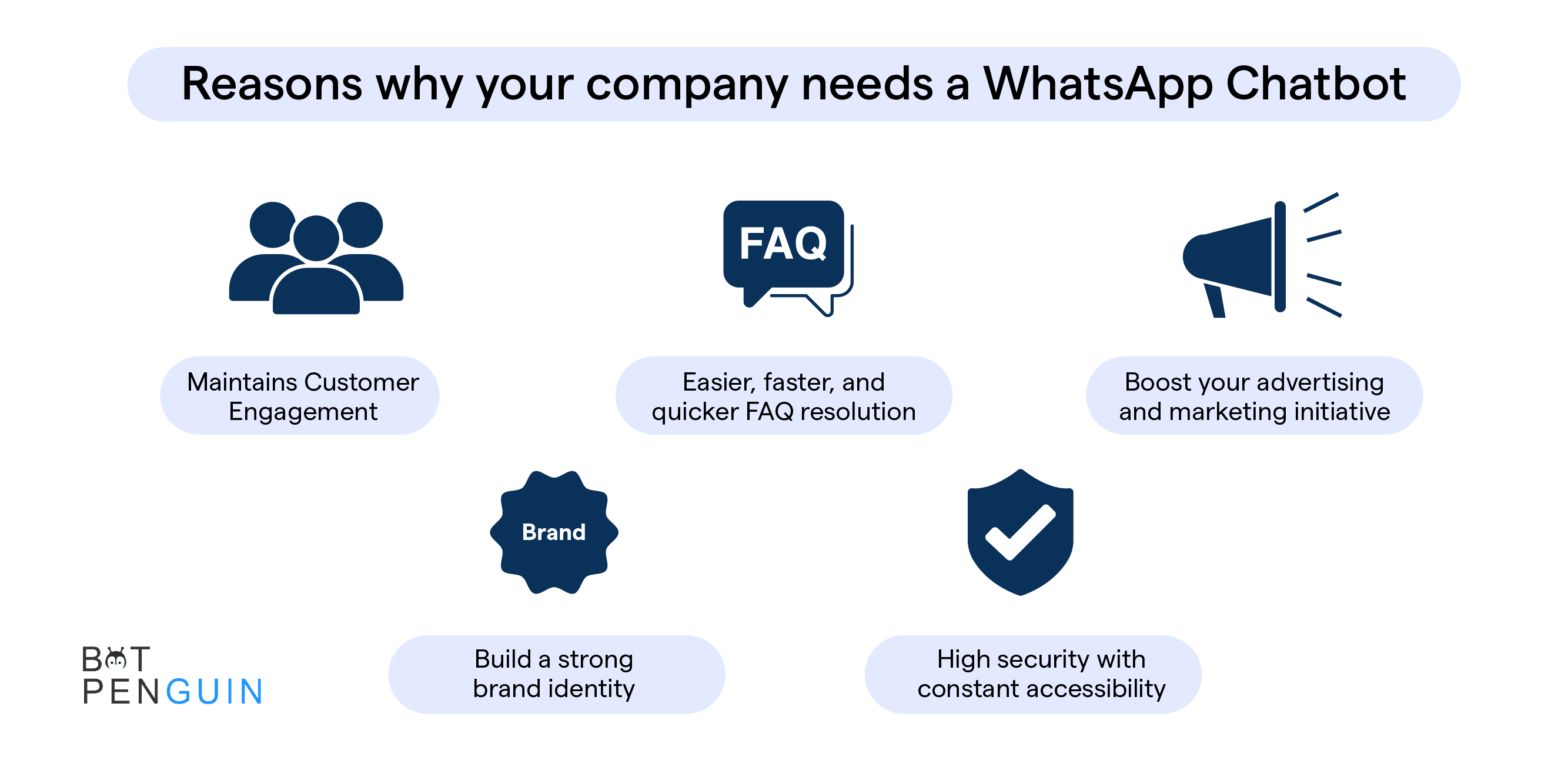 Maintains Customer Engagement
One of the main reasons every business needs a WhatsApp chatbot is to increase customer interaction. Every business, regardless of size, recognizes the importance of client connection. How successfully you assist clients in finding answers to their questions is one of the aspects that influences their behavior.
The company may connect with clients without restrictions or boundaries thanks to WhatsApp chatbots. Conversely, WhatsApp chatbots will have higher open rates than traditional SMS and emails. As a result, numerous businesses worldwide are enhancing their client interaction strategies with AI-powered WhatsApp.
Easier, faster, and quicker FAQ resolution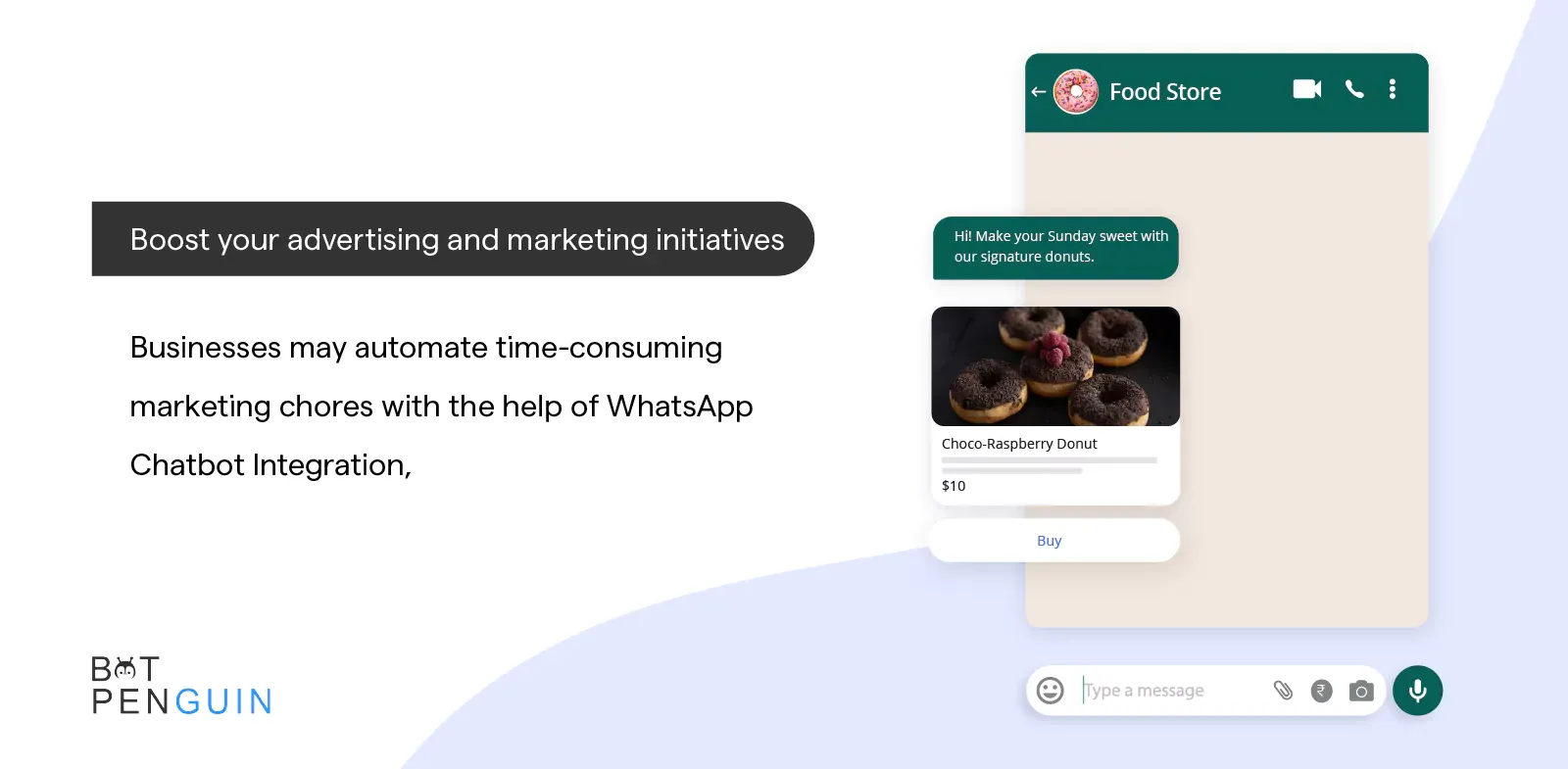 Modern consumers expect businesses to respond to them right away. Any industry, including retail, finance, and logistics, may use this. It improves your client loyalty strategy and gives them a sense of importance and value. Customers may now have numerous questions about your goods or service.
Consider operating a hotel reservation website. The most frequent questions that your consumers may have are about average hotel rates, reservations, approved payment methods, refund policies, and other topics. Now, there's a danger that your audience will leave if they don't hear back from you immediately.
A WhatsApp chatbot can help you out in this situation. You can use it to automate FAQs. For various conversational stages, you can create your bespoke flows. You may automate your cross-selling cycle using a WhatsApp bot without human involvement.
Build a strong brand identity.
Giving your WhatsApp chatbot a brand personality will help you establish a positive first impression with clients and foster brand loyalty. Organizations may significantly increase sales and consumer engagement with a strong brand.
Boost your advertising and marketing initiatives.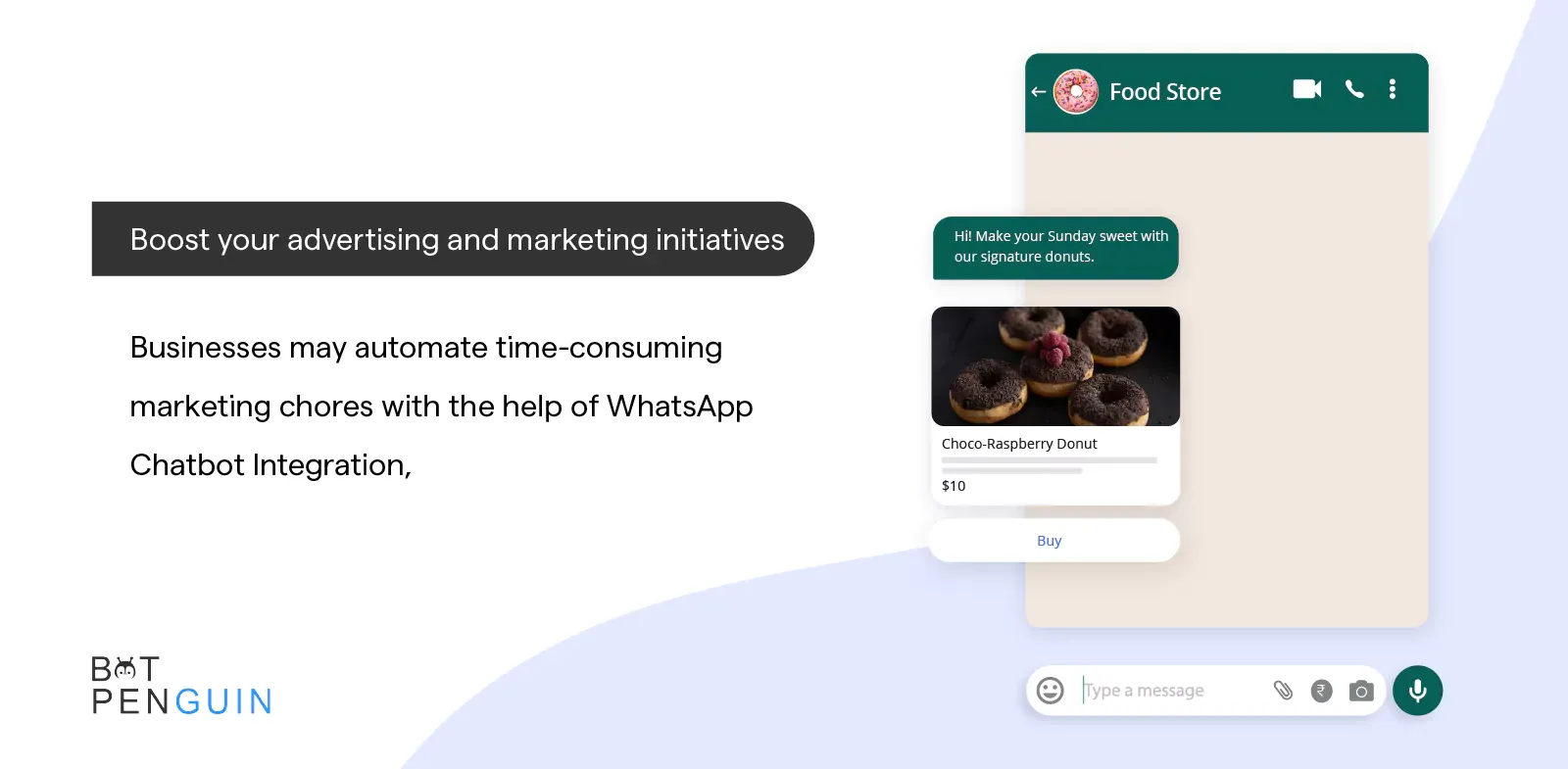 Many businesses utilize a WhatsApp bot to advertise their goods and services to customers worldwide, including forthcoming events, new players, new services, and new offers/discounts. The platform uses historical data and previous purchases to assist businesses in making customized suggestions for their clients.
Companies can also distribute campaign brochures and monthly newsletters to subscribers. Businesses may automate time-consuming marketing chores with the help of WhatsApp chatbot integration, freeing up their sales and marketing staff to concentrate more on lead creation.
High security with constant accessibility
WhatsApp is one of the world's most secure platforms because of its end-to-end encryption.
With end-to-end encryption, only you and the recipient of the message can read what is sent; WhatsApp itself is inaccessible in between.
WhatsApp is the best platform for sending messages with sensitive information. WhatsApp can send OTPs, transactional updates, and follow-up messages. Additionally, unlike traditional channels, WhatsApp chatbots have the added benefit of being accessible 24/7 to help users.
Final Thoughts
Your competitors are vying for customer interaction and growth by racing to join WhatsApp. They'll all be utilizing a WhatsApp Business service.
You will benefit significantly from a solid WhatsApp Chatbot on your business number.
All of the considerations mentioned above lead to the conclusion that WhatsApp chatbots are efficient communication tools for businesses of all sizes. WhatsApp, driven by AI, enables businesses to offer 24/7 customer support to their clients and entirely delight them.
It's undeniable that WhatsApp gives companies countless options to provide better customer care. Have you considered incorporating WhatsApp chatbots into your company's communication strategy?
You're in good hands with BotPenguin, one of the top WhatsApp for Business solution providers. We offer AI-powered chatbot solutions that help raise your ROI and improve customer satisfaction. Incorporate NLP modules into your chatbot using a powerful toolbox. Contact us now!