Businesses are rushing to create a personalized and interactive experience for their Telegram users. However, the lack of technical expertise to build complex chatbots from scratch stops them.
You could be asking yourself, "But why even use chatbot builders in the first place?" Using chatbots businesses can reduce customer care expenses by up to 30%. It can also boost customer satisfaction by an astounding 80%, according to Statista.
The chatbots assist in automating routine tasks and streamlining workflows in your Telegram group or channel. It frees up time for more strategic initiatives.
To say chatbots are crucial will be an understatement. And to choose the right chatbot platform is another issue. So to provide a solution for your problem, this article is about the best Telegram chatbot platform, that is, BotPenguin.
BotPenguin is a no-code chatbot platform that allows you to create powerful chatbots for Telegram without any coding experience. It is a cloud-based platform, so you can create and manage your chatbots from anywhere. BotPenguin offers a variety of features that make it the best Telegram chatbot platform for businesses of all sizes.
Continue reading this article to know why BotPenguin is the best Telegram chatbot platform.
What is Telegram Chatbot?
Telegram chatbots are automated programs that use artificial intelligence to interact with users on the platform Telegram. Over 500,000 Telegram bots are deployed globally that can provide information, deliver services, play games, and more.
Bots are enhancing Telegram with capabilities like virtual assistants, feedback collection, e-commerce, language learning, and beyond. Their ability to offer automated and personalized messaging at scale makes Telegram an ideal environment to engage audiences worldwide using chatbots.
What is a BotPenguin chatbot?
BotPenguin is a chatbot platform that makes it easy to build AI-powered bots for Telegram. With BotPenguin's visual bot builder, anyone can create conversational Telegram bots without coding in just minutes.
BotPenguin has features like natural language processing, scripting tools, and messaging templates that enable automating interactive experiences on Telegram.
BotPenguin bots can understand questions, deliver information, collect data, and handle other repetitive tasks automatically.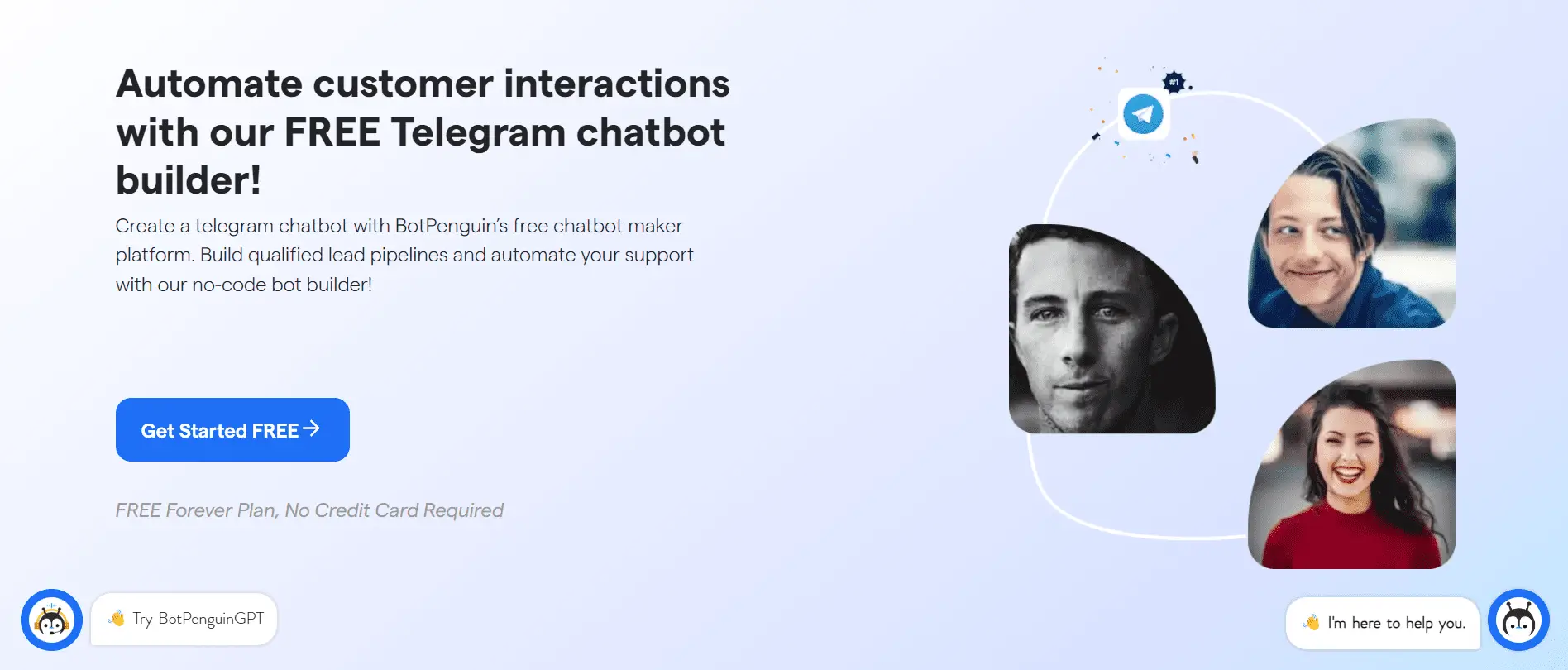 Why is BotPenguin the Best Telegram Chatbot Platform?
A study by Forrester found that BotPenguin is one of the most secure Telegram Chatbot platforms in the market!
Thanks to its ground-breaking functions, approachable user interface, and unrivaled support, BotPenguin has emerged as the market leader. The platform provides the artificial intelligence capabilities and Telegram integration needed to quickly deploy scalable, effective chatbots that engage audiences on this popular messaging channel.
Let's examine the details to determine why BotPenguin is superior to its competitors.
Simple Interface
Ease of use is crucial when developing a Telegram chatbot. With the help of BotPenguin, even non-technical users can simply develop and deploy chatbots thanks to its streamlined user interface.
BotPenguin's features and advantages include constructing your chatbot using drag-and-drop tools and templates that are customizable. So, say hello to BotPenguin who is here to replace complicated code!
Natural Language Processing (NLP)
NLP technology enables the BotPenguin chatbots to better understand and respond to user queries. With NLP, the chatbot can provide personalized and context-aware responses. It makes the overall user experience more engaging and efficient.
Seamless Integration
When selecting a Telegram Chatbot platform, integration is a crucial aspect to take into account. Because of the seamless integration between BotPenguin and Telegram, you can contact your consumers wherever they are.
You may take advantage of Telegram's enormous user base and interact with your clients in real-time by connecting with it. You're covered by BotPenguin whether you want to send alerts, updates, or surveys.
Multi-Channel Support
BotPenguin, the amazing Telegram chatbot platform, supports several channels besides Telegram, such as Facebook Messenger, Slack, and others.
This enables you to connect with your customers on their favorite platforms and give them a uniform and seamless experience across all of your channels. BotPenguin, the best Telegram chatbot platform makes sure you can easily connect with your customers wherever they may be.
Advanced Analytics
Telegram chatbot platform offers sophisticated analytics and reporting tools to help you monitor the chatbot's performance. You may keep tabs on important indicators like the number of talks, user engagement, and client happiness.
With the aid of these insights, you can pinpoint areas that need work and enhance the effectiveness of your chatbot, ensuring that it keeps adding value to your company.
24/7 Support
Technological issues can occur at any time. Because of this, BotPenguin's Telegram chatbot provides its consumers with 24/7 support. A devoted support team is always here for you, whether you have a question, need help, or just want to check out some new features.
Conclusion
In conclusion, Botpenguin for Telegram Chatbot has become the first choice for businesses.
The ability to quickly build capable and engaging chatbots is making Telegram chatbot platforms like BotPenguin an attractive option for organizations. It effectively leverages automated messaging and audience engagement.
BotPenguin chatbot platform also has intuitive bot builders, built-in artificial intelligence, and seamless channel integration tools. It eliminates the technical hurdles of creating smart conversational agents from scratch.
BotPenguin's features and advantages include a convenient and efficient way to interact with customers, automate tasks, and boost productivity. When it comes to Telegram chatbot platforms, BotPenguin exceeds expectations.
With its simplified interface, advanced features, and unparalleled support, BotPenguin stands out as the best Telegram Chatbot Platform in the market. So why wait? Take your business to the next level with BotPenguin for Telegram chatbot and watch your customer interactions soar!