Introduction
Customer relations are the lifeblood of businesses; the better they are, the more you thrive. Numerous ways have been introduced throughout history to improve customer service and add that magic touch to products. Whether gifting coupons, deals to loyal customers, or a personal note from the CEO on the first purchase, the industry has come quite a long way.
Customer engagement and service are worth millions of dollars in this modern era. So, what options does a business have to provide good customer service? Fifty percent of all companies on the internet use CRMs (customer relationship management software) to enhance their customer service.
The Customer Relations Dilemma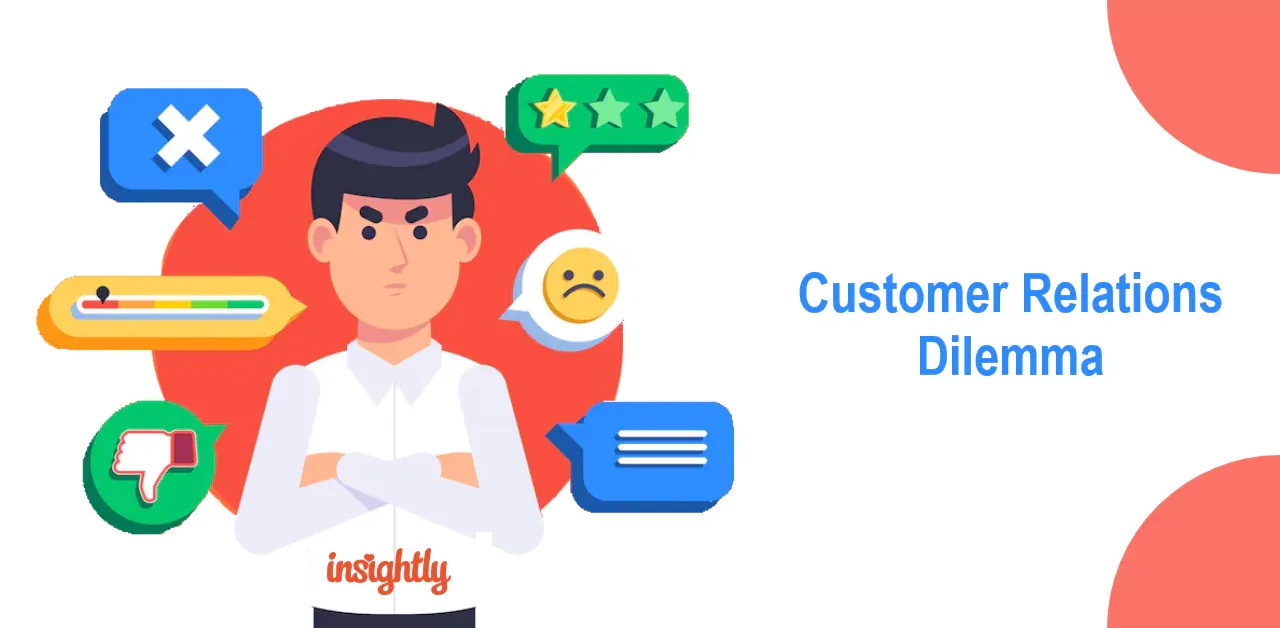 CRMs are a one-stop solution for everything a business needs to thrive. In other words, they come with tools that make life easier for your business and team. The real dilemma entrepreneurs face is selecting the right CRM.
So, Which is the right one?
The answer is entirely dependent on your consumer base. There are a lot of options for CRMs online. What criteria should you look for in a CRM? Some factors include ease of usage, pricing, reviews, etc.
Insightly is an organization that satisfies all these criteria. It has been in the market for twelve years and has been helping businesses evolve. Insightly offers various products, but the most popular is Insightly CRM.
Before we learn about Insightly and its features, let's see what they are all about.
Next up! What is Insightly?
What is Insightly, and why use it?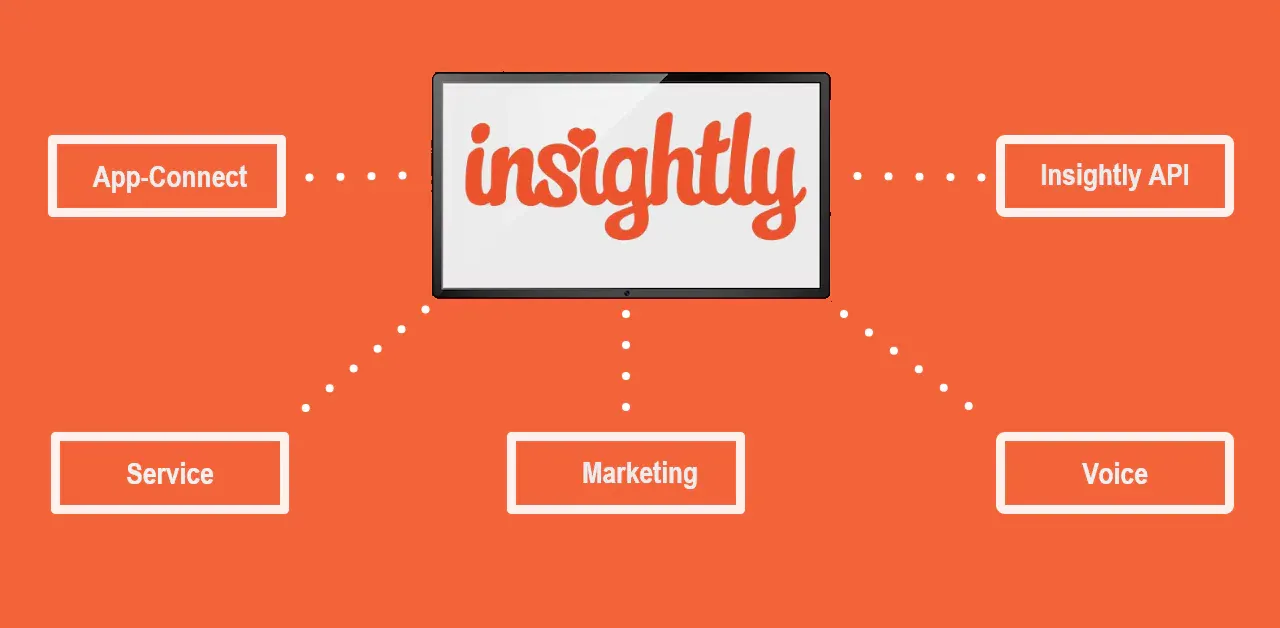 Insightly is a SaaS (software as a service) venture that began in 2009. Insightly helps transform businesses to their best version possible through various services and products. They serve over 25,000 small and medium-sized ventures globally with 500,000 monthly active users.
Companies like Bosch, Bloomberg, and Sanofi have increased their profits by a large percentage since they started using Insightly's service. These companies are the standard in their industries. It is a testament to Insightly's fantastic performance, making it one of the best customer relations software globally.
The most popular product of Insightly is Insightly CRM, with over 1.5 plus million users in all industries. They also provide other services:
App-Connect
Integrating other applications and extensions into the CRM workflow is called app connect. It enables businesses to manage and do everything from one combined interface. This service is popular among businesses with large databases.
Service
Insightly's customer service product; enables businesses to step up their customer service a notch. They help companies to engage and interact more effectively with their customers and leads.
Marketing
Insightly also provides marketing services that help businesses create a compelling and easy strategy to generate more sales. Things like customer segmentation, purchase journeys, and marketing campaigns come under this service.
Voice
As the name suggests, Insightly also helps businesses set up call lines for customer service, engagement, and interaction. They provide companies with advanced tools that make managing a call center a piece of cake.
Insightly API
Budding developers can integrate Insightly's API (application programming interface) into any program they want. For example, a business owner decides to invest money in proprietary CRM software just for their company. You can quickly implement the features of Insightly into the developing software.
This product gives Insightly the flexibility to survive even when people do not subscribe to their services.
Insightly's Top 8 Features and benefits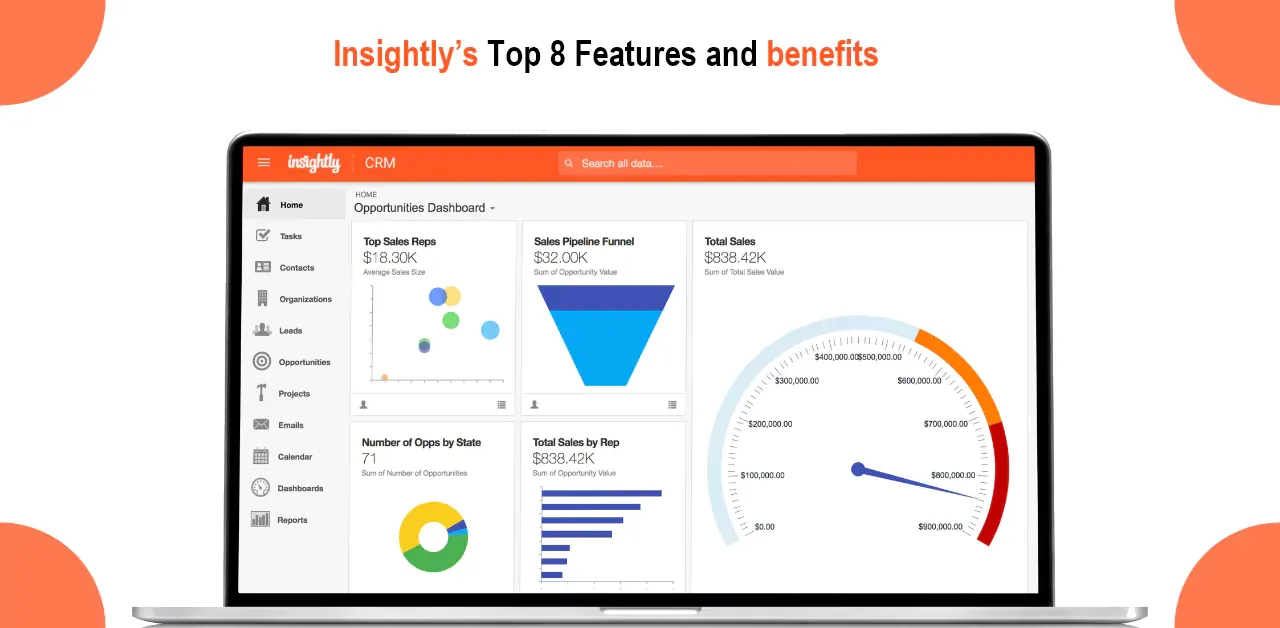 So far, we have glanced at what Insightly as a whole offers to businesses. Now let's understand Insightly's features and their benefits to a business.
Advanced lead management and routing by Insightly
Inbound leads are the lifeblood of many online businesses on the internet. Insightly features a great system of lead generation and management. The CRM interface automatically picks out data and verifies it; if it is actionable, it is routed to a sales rep for further contact. This process happens in real-time, saving a lot of man-hours and money for businesses in every industry.
Deploy custom applications quickly without code on Insightly CRM
Many companies use CRMs that require a developer to create apps on the CRM. Now, apps on the CRMs are created for different purposes to avoid the tedious process. But what good does it do when you need to call a developer whenever you need a custom app? Insightly eliminates this problem by allowing you to create custom apps by setting a few different parameters.
Create your custom interface through Insightly CRM
Do you ever wish you could eliminate all the extra metrics on your screen? Now you can. Insightly offers users to create custom dashboards by formatting them according to their needs. This feature allows businesses to track the metrics they want because, over time, priorities change for an organization. This adds flexibility and efficiency to your workflow.
Insightly can be used from anywhere.
Do you ever wish you could manage a project through your phone?
Insightly has a fantastic solution for this, IOS and android applications for Insightly. These apps allow users to work from anywhere and on the go.
It adds mobility to your workflow and helps your sales rep work directly from the field. The Insightly mobile app can automatically store business cards and a person's contact info. So, a complete mobile workstation is in your pockets.
Insightly Supports all major workflow integrations without coding.
Most CRMs don't support the integration of application extensions into their workflow. If they do support it, it requires a developer. Insightly features a great App-Connect service that allows you to add any app extension you want to your CRM without a developer.
Yes, you read right, without writing a single piece of code. Users can add extensions across various categories, such as:
Finance
HR
Sales
Support
DevOps/It
Ecommerce
Marketing
Ironclad safety protocols in Insightly
Every major database with customers' personal information faces the threat of theft. Throughout history, many data leaks have put customers of famous brands in harm's way.
Fortunately, safety and Privacy are a priority for Insightly developers. Every step comes with encryption on the Insightly CRM, from signing in to logging off. Some protocols that Insightly uses for protection are:
2-factor authentication
Single sign-on by industry-grade authentication protocols
Data encryption while it is outgoing as well as incoming
GDPR compliance and US/EU privacy protected
Insightly helps you test out your marketing strategy.
Every marketing strategy is like a theory that you need to test. Unfortunately, few tools are accessible to businesses other than traditional ones like focus groups. Insightly employs advanced algorithms and helps you predict the chances of success for your strategy. It also offers suggestions on which content to put out according to trends.
Reasonable and Affordable Pricing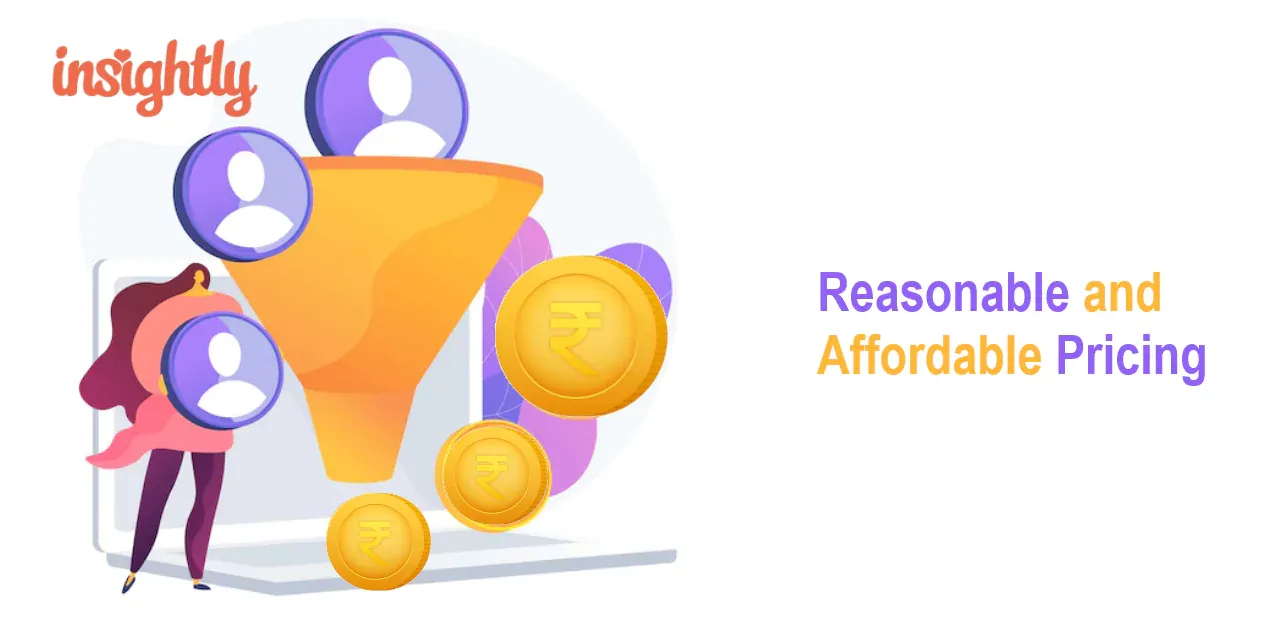 Insightly's features have significant benefits, but what good are they if you cannot use them? Insightly understands people's financial strain when starting and has set affordable prices accordingly. Insightly offers three plans: plus, professional, and enterprise. The plans start from 29 dollars monthly and go up to 99 dollars.
Some facts about Insightly and CRMs
There are over one and a half million daily active users of Insightly.
Insightly is the most popular customer relationship management software among Google and Office 365 users.
Insightly is used by twenty-five thousand companies worldwide for sales tracking and customer engagement.
The developers of Insightly have secured over fifty million dollars in funding from various stellar ventures like Emergence Capital Partners, Cloud Apps Capital Partners, Scott Bommer, and Sozo Ventures.
The global CRM market had a net worth of forty billion dollars in 2019. This market cap will grow by at least 15% CAGR in the next five years.
Seventy-five percent of SaaS (software as a service) purchases in the previous two years were CRMs
Fifty percent of companies worldwide are using some marketing automation to increase sales.
CRMs offer a great return on investment. For example: if a CRM takes one dollar to operate, it will generate around 8-9 dollars.
CRMs have been instrumental in giving much higher ROIs, even 1000-1500%, in the Quint Wellington Redwood Group case.
Insightly in a nutshell
After everything we have learned, we hope it has helped you understand Insightly and its features and benefits. Insightly, in short, is easy, flexible, value for money, trustworthy, safe, and efficient. So, it's everything a growing business needs to evolve and add value to its customers' lives.
If you are running a business, go for it! Insightly has very reasonable pricing options that start at $29 per month.