Are you a user of the WhatsApp messenger app? The answer is likely to be yes! With more than 1 billion users across 180 nations, WhatsApp is the most popular messaging service in the world.
You may be aware that sometime back WhatsApp just changed its terms and privacy policies. The updated policy stipulates that WhatsApp must share your data with Facebook and other third-party services. So what do the users do then?
The best action is to start utilizing WhatsApp alternatives if you prefer to avoid information leaks and mishaps. Several WhatsApp alternatives on the Play Store are already available that prioritize your security and privacy first.
What is WhatsApp?
WhatsApp is a free, cross-platform messaging app that lets you have video and audio conversations, send texts, and more with a Wi-Fi people connection. WhatsApp, which has over 2 billion active users, is well-liked among friends and family who wish to remain in touch but reside in different countries.
The Top 10 WhatsApp Alternatives in 2023
1. Telegram Messenger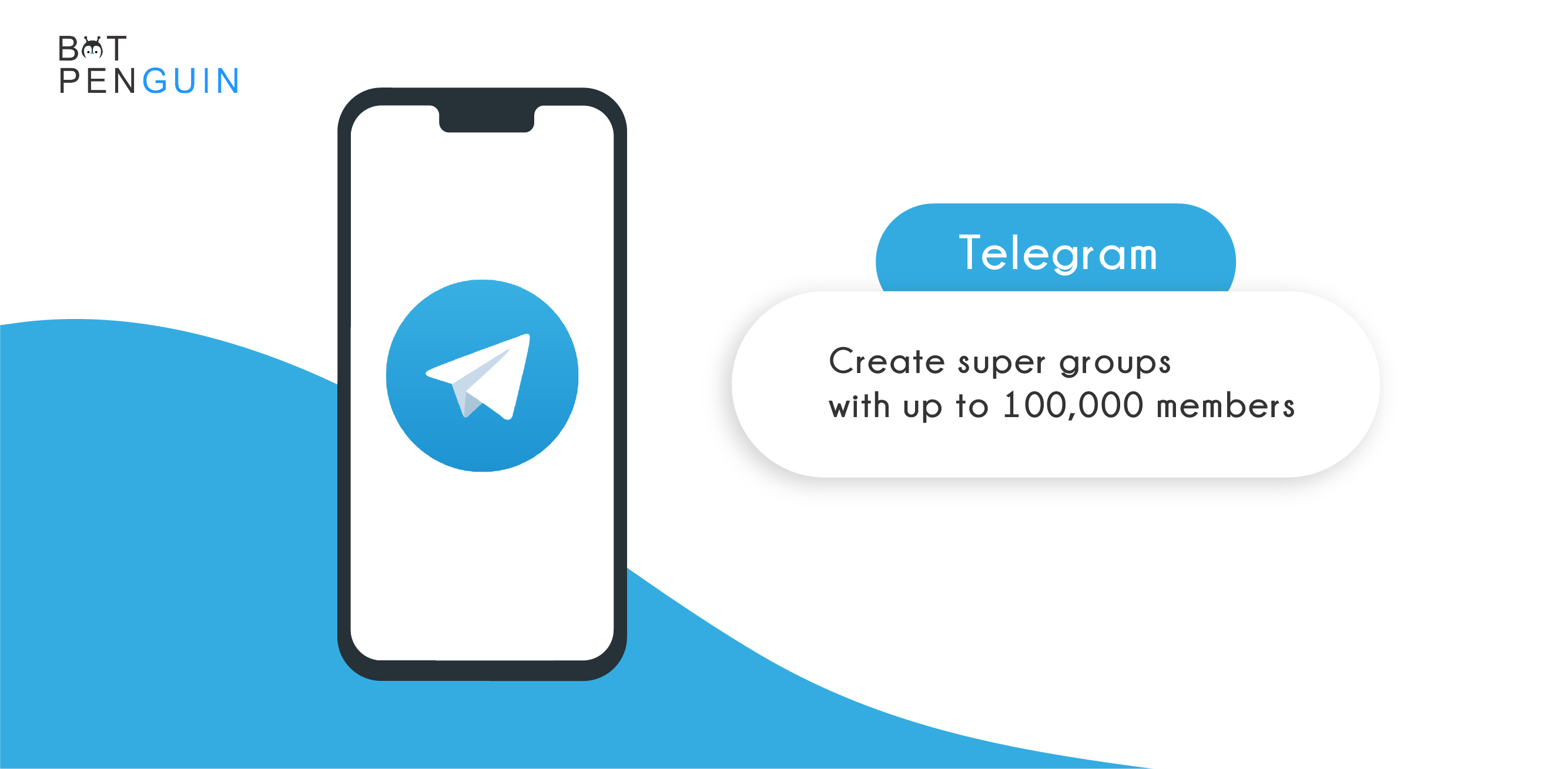 Since quite some time ago, Telegram Messenger has been regarded as the greatest WhatsApp rival. The top WhatsApp alternative is still the open-source messaging program.
Along with the standard messaging features that both WhatsApp and Telegram offer, the latter adds extras like super groups with up to 100,000 members, public channels, usernames, and the capacity to share files up to 1.5 GB in size.
Telegram is a cross-platform messaging service with improved encryption and privacy. Most communications have client-to-server encryption, but Secret Chat messages have end-to-end encryption. Group conversations and self-destructing texts are both supported by Telegram.
2. Viber Messenger
WhatsApp and Viber are similar in using cell phone contact numbers to identify users. A text message with an access code is delivered to your cell phone. Once it has accessed your address book to determine whether any of your contacts are using Viber, you may immediately connect with them.
As long as your smartphone is online, you can call someone on Viber, unlike WhatsApp.
Viber messages are secured with end-to-end encryption. The app is frequently used by users who want to have public and private conversations, play games with other users, and access the service on a PC.
Viber works with a user's phone's contacts list and voice assistants like Siri and Google Assistant. A characteristic of Viber's instant messaging is the ability to exchange images, animated GIFs, stickers, movies, and emoticons.
3. Line Messenger
The social networking platform Line was created in South Korea, although it is most well-known in Japan. In reaction to the Tohoku earthquake and tsunami that devastated Japan, Line Messenger was created in June 2011. The software was developed to give individuals a dependable means of communication during emergencies, but it quickly became a regular texting service.
Today, Line is regarded as a "super app." Like WeChat in China and KakaoTalk in South Korea, this platform has emerged from a chat app to a hub for leisure, social, and daily activities. Imagine combining Uber, Reddit, Clubhouse, WhatsApp, Instagram, YouTube, Spotify, WhatsApp, and more.
4. WeChat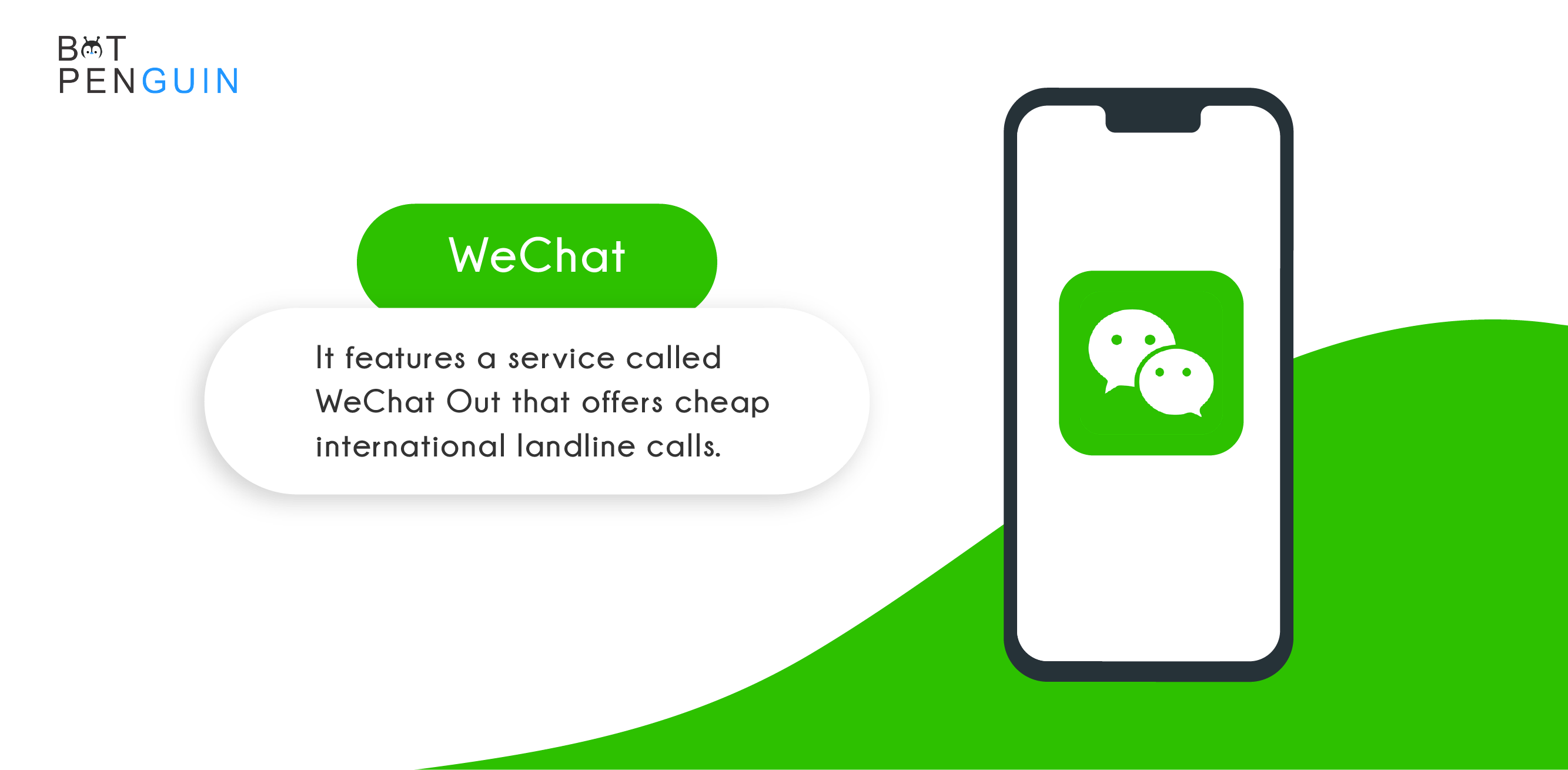 WeChat is the new name for the Chinese instant messaging software introduced in 2011 under the name "Weixin." WeChat is a social networking software that provides geotagging, conferencing, and gaming functions in addition to standard texting.
Additionally, it features a service called WeChat Out that offers cheap international landline calls. This localization capability can convert text between 20 different languages for messages and content.
Even though anybody may use it, WeChat is only particularly well-known in China. It could be because it enables advertisements, in contrast to WhatsApp. The fact that many users of this chat software express worries about data privacy are another problem.
This program allows third parties, including the governments of the USA, Taiwan, and India, to listen in on private chats. WeChat is infamous for censoring important Chinese socio-political topics.
5. Signal Messenger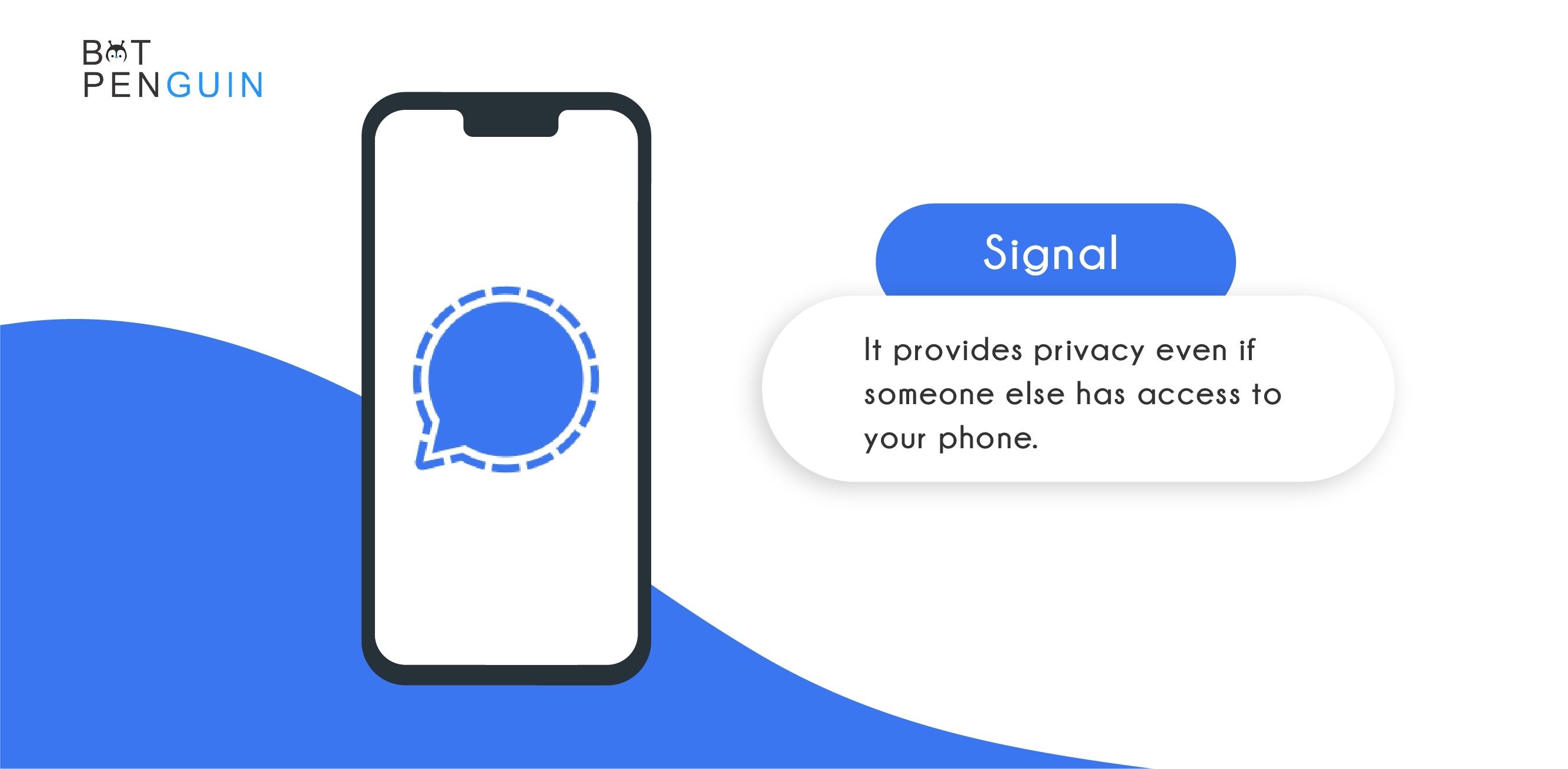 Signal messenger is open source, secure, and compatible with all mobile operating systems. Signal is relatively easy to use, much like most other texting apps. It also provides phone and video calling services.
Signal messenger comes with desktop installation files so that you can use the application on your computer and smartphone.
Each message is encrypted, allowing only the sender and recipient to decipher it. Hackers are unable to read any messages as Signal employs open-source encryption. It increases the security of the app.
Messages can be deleted at the user's discretion by establishing an automated deletion timer. It provides privacy even if someone else has access to your phone.
6. Skype Messenger
You may contact other Skype users, call landlines, send messages, and have video conferences with the Skype app for Android. Skype has transformed how we place calls on PCs, and it's also now accessible on Android mobile devices.
When someone searches for your Skype name and email address, they can send you a contact request even if they are not already on your contact list. They'll call you once you grant their request.
7. Discord
Discord is becoming more than simply a place to interact with other gamers. Discord's DM capability is frequently disregarded by users, even though you may explore several servers to connect with others who share your interests.
You may send messages, emoticons, emotes (if you have Discord Nitro), GIFs, photos, and documents using Discord's private communications function. After sharing your screen, you may conduct audio or video chats or go online together.
Discord covers all your communications requirements and is probably superior to WhatsApp because of its clever connections with Spotify, Twitch, YouTube, Battle.net, Steam, Reddit, Facebook, Twitter, Xbox Live, and GitHub.
On Discord, group discussions with up to 10 participants are also possible.
8. imessaging
If you only have an iPhone, iPad, or Mac, then iMessage is a great WhatsApp alternative. Regardless of which app the receivers are using, you may use it to send SMS messages to any phone number.
Like many other programs, iMessage offers group calls, GIFs, photos, text, video, and audio messages (but not video and audio calls). This software provides access to Apple Pay in select nations.
Regarding security, Apple abides by its stance not to grant governments backdoor access to iMessage. As long as unauthorized parties cannot access your iCloud backups, your communications will remain secure.
9. Kik Messenger
Kik is a wonderful messaging app for people who want to avoid giving their phone numbers to use the messaging app. While certain chat services, such as WhatsApp, require users to provide their phone numbers, many people feel uncomfortable providing them to these platforms.
Kik is an excellent tool for those people because it simply takes your email address. When you sign up for the service with your email address, Kik will provide a unique username for interacting with other Kik users.
The most excellent thing about utilizing Kik is retaining all texting functionality. You will continue to have access to all the essential features, such as group conversations, picture sharing, video sharing, emoticons, stickers, and GIFs.
The support for bots, which WhatsApp does not offer, is another distinctive aspect of Kik. Using bots, you may play quizzes, get fashion advice, the most recent news, and more. Kik's primary USP continues to be its lack of a phone number, so if that's something you're interested in, check it out.
10. Snapchat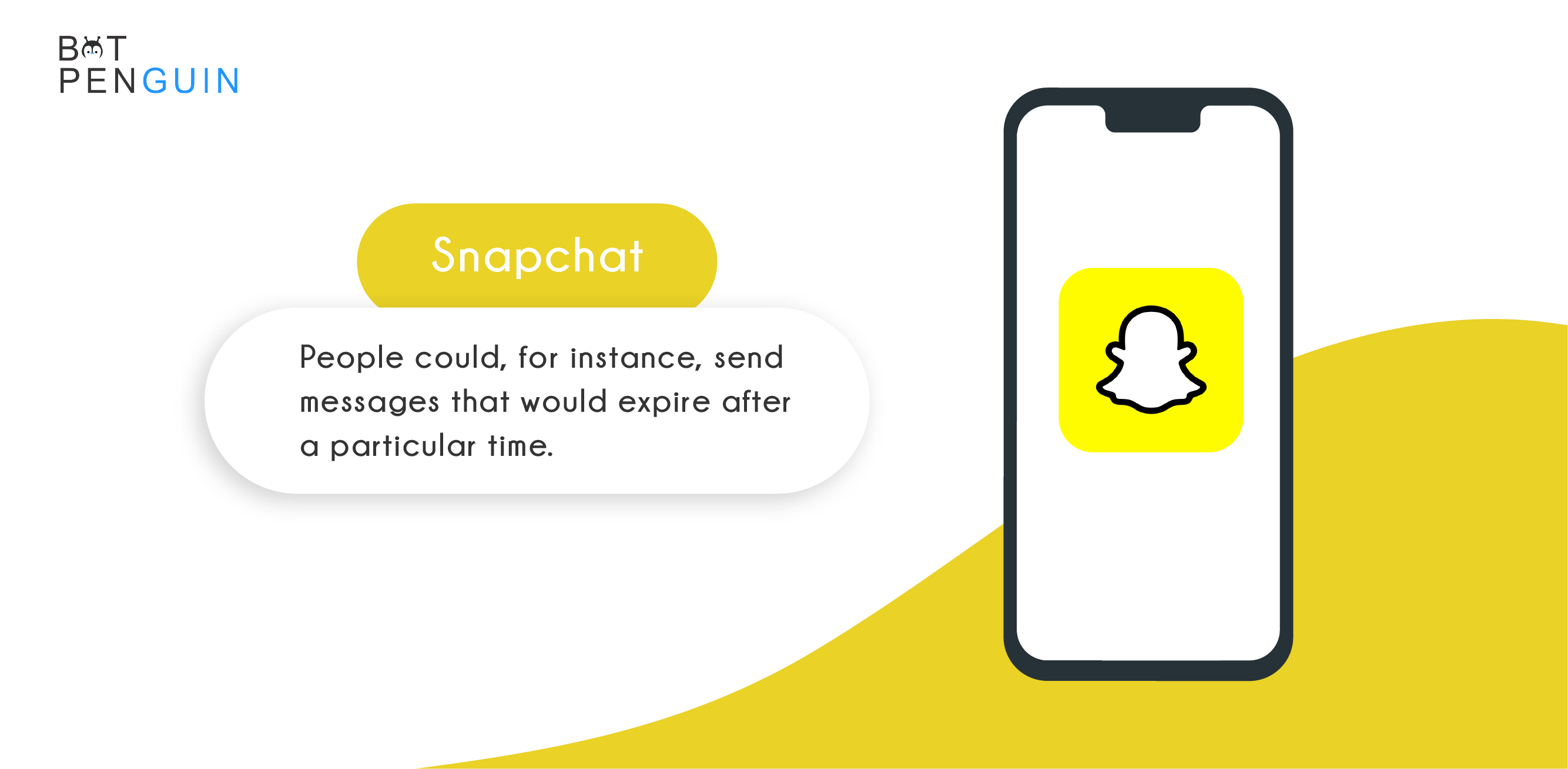 Although Snapchat is officially a social networking app rather than merely a messaging app, people find themselves using it more and more as a messaging app because of specific remarkable capabilities that no other messaging app can provide. People could, for instance, send messages that would expire after a particular time.
Additionally, it sends an alerts when someone takes a screenshots one of the conversations. Finally, it has the largest selection of face emojis which adds to the excitement of using it.
And there are group chat, voice calls, group voice calls, gifs, and other messaging tools available. Another reason people adore it is that it is one of the most cutting-edge messaging systems available.
Snapchat frequently steals the functionalities that users of WhatsApp or Facebook Messenger typically enjoy. Snapchat is the software to download if you want to enjoy these great features and be the first to know about new chat capabilities.
FAQs
Which messaging service was most widely used in 2022?
With two billion monthly active users as of 2022, WhatsApp is the most widely used messaging service worldwide. The user base of the chat app has been steadily and quickly expanding over time.
Conclusion
Other more popular texting services like IMO, Hike, and others are pretty good. However, the applications mentioned above are your best options if you seek a WhatsApp replacement.
While none of these applications will come close to WhatsApp's user base, they are more than capable of taking its place in terms of functionality and privacy.
Here we have discussed 10 Whatsapp alternatives that are ranked in 2023, such as Snapchat, Skype, WeChat, and many more. Try out these WhatsApp alternatives, then tell us which is your favorite in the comments below.
And if you want to create a chatbot for your business, you can make it for free with our website Botpenguin.