Throughout the year, Meta updates its messaging service, WhatsApp, with new tools and features.
Users of WhatsApp can anticipate a plethora of new features for personal and business accounts by the end of 2022 or the start of 2023.
WhatsApp announced a new community feature and raised the file-sharing cap to 2GB. In addition, new message reactions are accessible to all users.
WhatsApp is always experimenting and introducing new features.
Here, in this blog, we will cover all the predictions and implementations that WhatsApp is going to make in the future.
So, let us start with the WhatsApp future prediction and implementation.
What is WhatsApp?
WhatsApp is a messaging app that allows users to send text messages, make voice and video calls, and share files and media with other WhatsApp users over the internet.
It was founded in 2009 and acquired by Meta in 2014.
WhatsApp is a popular communication tool with over 2 billion monthly active users worldwide.
It uses end-to-end encryption to ensure that only the sender and recipient can read messages, providing high security and privacy.
WhatsApp can be used on mobile devices and desktop computers, supporting group chats and broadcast lists.
Moreover, the app has features like WhatsApp Online, which lets users view their chats on a web browser and status updates,
And also it let users share photographs and videos with their friends and then vanish after 24 hours.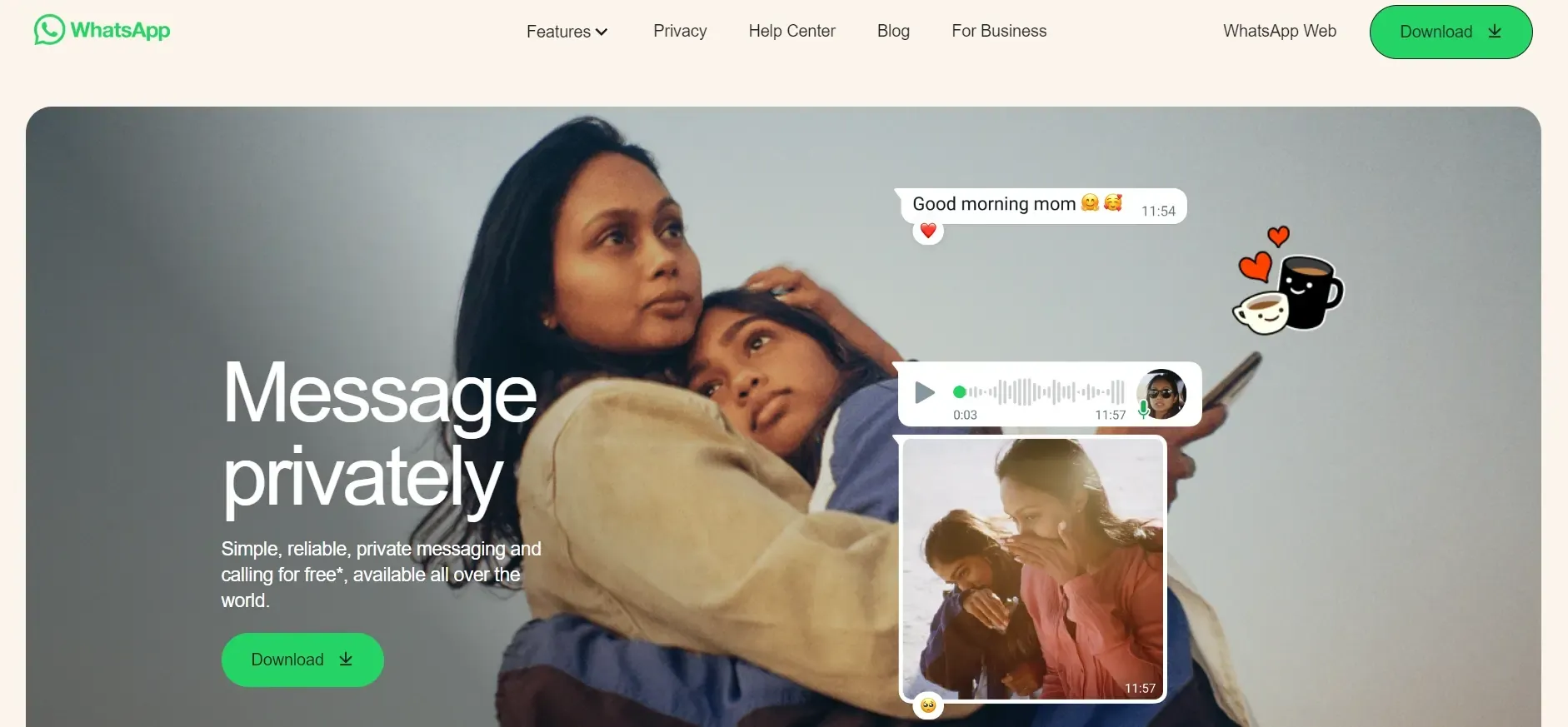 The future of WhatsApp: Predictions & Implications
Some potential predictions and implications for the future of WhatsApp include the following:
1. The continuous growth of WhatsApp
WhatsApp has been experiencing steady growth in its user base, and this trend is expected to continue as more people around the world adopt the app as their primary messaging tool.
WhatsApp's simplicity, ease of use, and reliability are reasons for its growing popularity.

With its free-to-use service and the ability to send messages and make calls over Wi-Fi or mobile data, WhatsApp has become a go-to app for many people.
This trend is expected to continue as more people worldwide gain access to smartphones and the internet.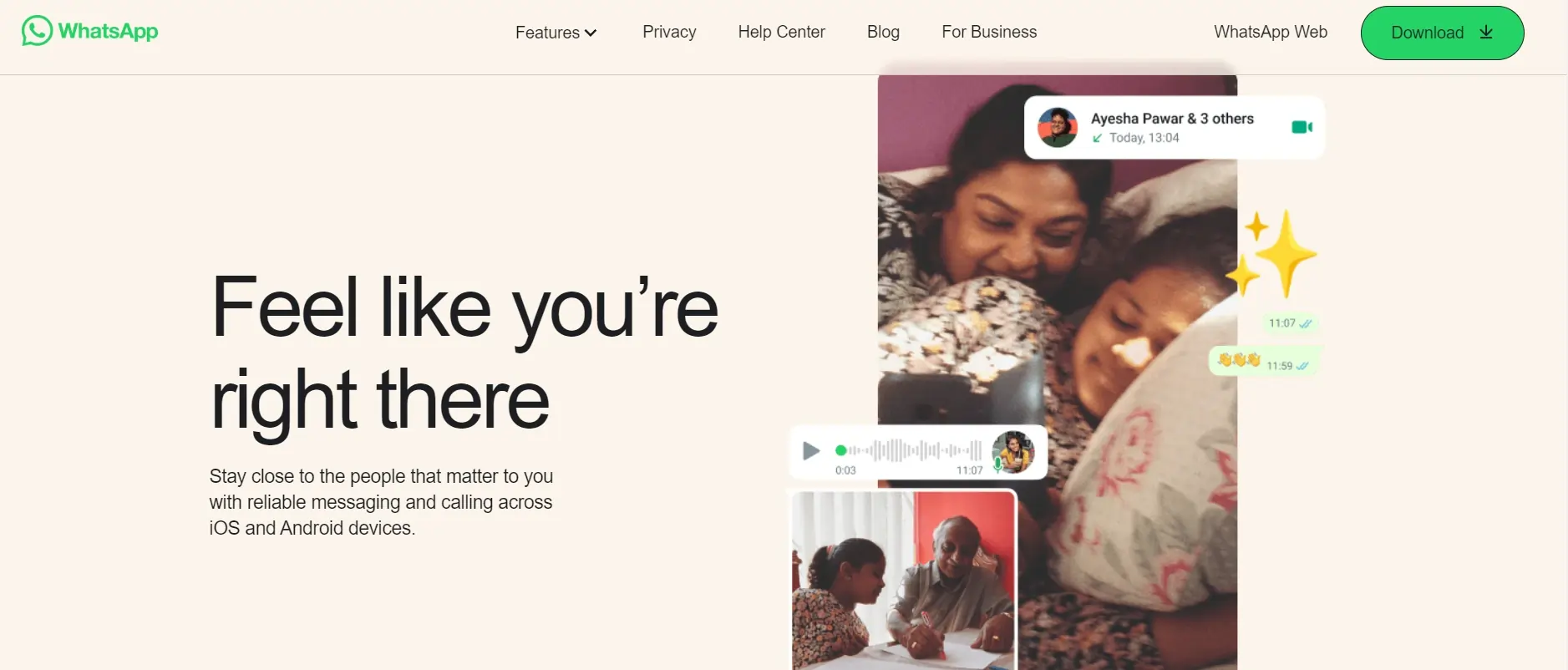 2. Its increasing daily integration with other Meta products
Meta, which owns WhatsApp, has been working on integrating its various products and services, such as Instagram and Messenger, with WhatsApp.
This integration could lead to new features and improved functionality.
For example, Meta has already enabled cross-messaging between WhatsApp and Messenger, allowing users to communicate across the two platforms.
However, this integration could also raise concerns about privacy and data sharing, especially as Meta continues to face scrutiny over its data practices.

3. By integrating business features into WhatsApp features, you can enhance your biz
WhatsApp has been expanding its business whatsapp features, including the ability for businesses to create catalogs and sell products directly within the app.
It could lead to more enterprises using WhatsApp features as a sales and marketing tool, especially in regions where WhatsApp is widely used, such as India and Brazil.
However, it could also raise concerns about data privacy, as the WhatsApp features collects and shares data with Facebook, and businesses may have access to personal information about users.
You heard about integrating WhatsApp features and Business Features all together. But What about Integrating WhatsApp Chatbot?
Along with WhatsApp Chatbot, BotPenguin offers chatbot creation for other social platforms like:
Add a WhatsApp bot to chats so they may contact you or send alerts to keep everyone updated on shared chores; a bot may be added to a WhatsApp differently.
4. Whatsapp features are more advanced in security
As concerns around privacy and security continue to grow, WhatsApp may need to enhance its security features further to stay competitive and address user concerns.
WhatsApp already uses end-to-end encryption, which ensures that only the sender and recipient can read messages.
However, there have been concerns about WhatsApp's data-sharing practices with Facebook, and the app has faced criticism over its handling of misinformation and hate speech.
As a result, WhatsApp features may need to develop new security and privacy features to address these concerns and remain competitive in the messaging app market.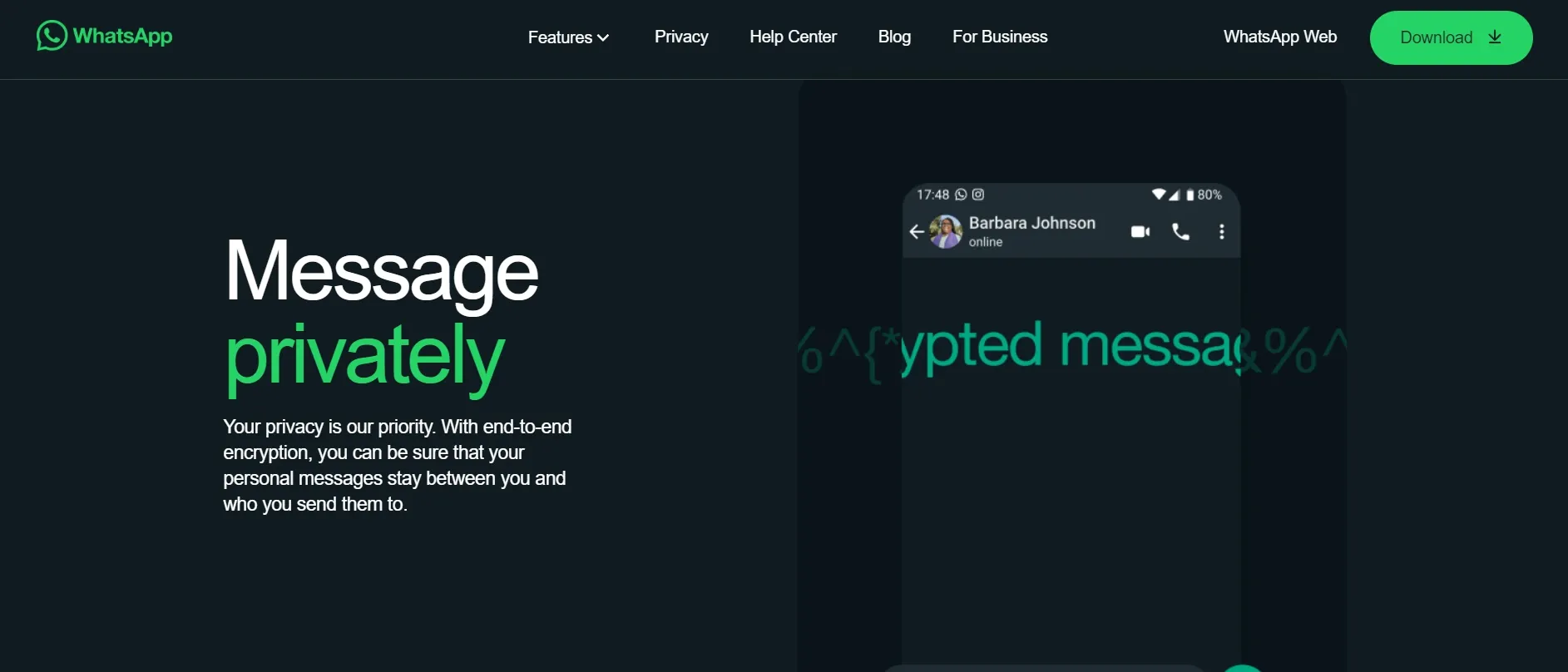 5. Whatsapp Increased its regulation
Governments worldwide are becoming more involved in regulating social media and messaging apps, and WhatsApp is no exception.
For example, India recently introduced new rules that require social media platforms to identify the "first originator" of specific messages sent on their platforms.
WhatsApp has challenged the rule, saying it violates user privacy. In other countries, WhatsApp has faced scrutiny over its data-sharing practices with Facebook.
As a result, WhatsApp may need to adapt its policies and procedures to comply with new regulations, which could impact its functionality and user experience.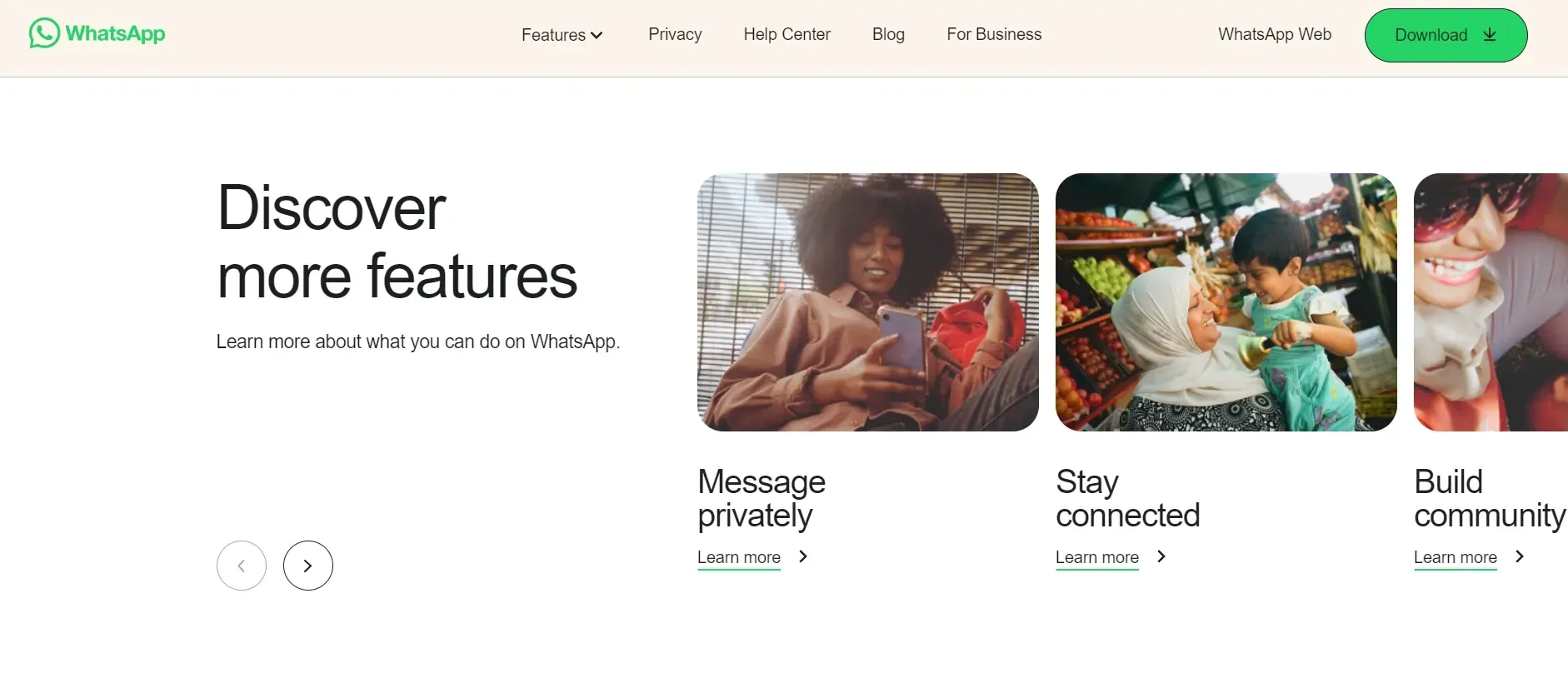 What is the scope of WhatsApp in business?
WhatsApp has become a popular communication tool for businesses in recent years, offering a range of features that can help businesses connect with customers and promote their products and services.
Some of the key benefits and scope of WhatsApp in business include.
Customer engagement: WhatsApp can be used by businesses to communicate with customers in real time, offering a quick and convenient way to handle customer inquiries, complaints, and support requests.



Businesses can also use WhatsApp

to send personalized messages, updates, and promotions to customers, which can help to build customer loyalty and boost sales.



Sales and marketing:

Businesses can use WhatsApp features

to promote their products and services and sell directly to customers.





For example, businesses can create product catalogs and display them within WhatsApp, allowing customers to browse and purchase products within the app.





Sales and marketing can benefit businesses in regions where WhatsApp is widely used, such as India and Brazil.



Automation: WhatsApp features offers a range of automation feature that can help businesses to streamline their operations and improve efficiency.



For example, companies can

set up automated responses

to common customer inquiries or use chatbots to handle support requests.



Security: WhatsApp uses

end-to-end encryption to protect messages

and data, offering high security and privacy for businesses and customers.





Security can be essential for companies that handle sensitive customer information, such as financial or medical data.



Cost-effective:

WhatsApp is a free-to-use app

that can send messages, make calls, and share files over Wi-Fi or mobile data.





This makes it a cost-effective communication tool for businesses, especially those that operate on a tight budget.




What is the revenue of WhatsApp?
WhatsApp Messenger has established itself as the most popular instant messaging software, with more than 2 billion users and widespread use in more than 100 countries!
The user base and use figures are remarkable. Thus, it is reasonable to anticipate that the income statistics will be more impressive.
WhatsApp is free for all users, and WhatsApp business is the only source of money for businesses.
In 2023, WhatsApp reportedly made $906 million in income, virtually entirely on the WhatsApp Business app!
Conclusion
WhatsApp is a popular messaging app with a large user base and significant potential for growth in the future.
The company may continue to expand its business tools, focus on privacy, integrate with other Meta services, and monetize its platform in various ways.
However, as with any predictions, the actual future of WhatsApp may differ from these possibilities, and it will be interesting to see how the company evolves in the coming years.
BotPenguin is a chatbot-building platform that can integrate with various messaging channels, including WhatsApp.
With the integration of BotPenguin with WhatsApp, businesses can create and deploy chatbots on the messaging platform, automating multiple customer service tasks and providing 24/7 support.
Chatbots can help businesses to offer quick and personalized responses to customer queries, handle transactions, and provide product recommendations.
Moreover, companies can use BotPenguin's analytics dashboard to monitor the performance of their chatbots and optimize their customer support processes.
Integrating BotPenguin with WhatsApp can help businesses enhance customer experience and operational efficiency.
So what are you waiting for? Call us today!