No matter what type of business you have, engaging the audience through content is critical for business success. Whether you are prospecting to generate new leads, or want to interact with existing customers, content can help you in this regard.
There are many ways that businesses can adopt to engage the targeted audience with the help of content. In this article, we are going to take a look at some of the best ways, so stick around with us till the end.
Different Ways to Engage the Audience with the Help of Content
Engaging the audience with content is essential for capturing their attention, building relationships, and driving desired actions. Here are various ways to achieve this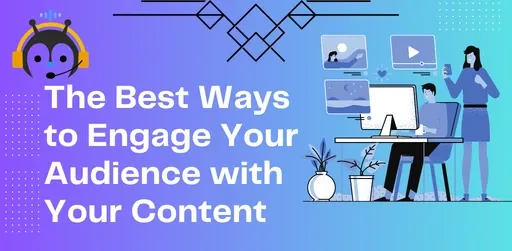 Come With Reader Personas
A reader persona is an imaginary person that represents the target audience for the piece of content a business or brand is writing.
Reader personas are based on real data and have attributes and interests like real people. They allow brands to focus on writing content that can reach and engage the audience more effectively.
That is why, while producing reader personas, brands need to adopt a writing style that fits their targeted audience and add references to things that their readers have knowledge of.
Moreover, brands also need to update it regularly to reflect changes in their audience.
Note: Keep in mind that reader personas should be based on data, not on assumptions.
Focus on Providing Valuable Content
Providing valuable content is another effective way to engage the targeted audience. Valuable content serves the target audience with something that meets their needs.
Some traits of valuable content include, useful, entertaining, focused, credible, and clear.
The more valuable content a brand offers to a targeted audience, the more likely they are to engage with it and also share it with others. This can further result in increased brand awareness, a larger audience, and ultimately more conversion and sales.
Now, the question here is what the best approaches brands can adopt to produce valuable content. Below, we have listed the ones to get started:
Understand audience needs
First of all, brands need to understand the targeted audience's needs. This involves getting an understanding of what they are looking for, what are their pain points, and their preferences also.
Write content
Businesses then need to write content tailored to their needs. They should consider writing content that is well-structured, accurate, and provides real value to the readers.
Make content engaging
While writing content, businesses need to keep the tone as engaging as possible. They can do this by using powerful and emotional words in their content. If using powerful and emotional words is challenging, then they can take help from a paraphrasing tool.
It makes the content engaging and direct by utilizing more appropriate terms instead of jargon and slang.
Use Visuals
Brands can also consider adding visuals such as infographics, pictures, videos, etc., to keep the readers engaged in the content. Visuals can also help the readers to understand the message quickly and efficiently.
Overall, delivering valuable content is an effective way to keep the audience interested in the brand.
Conduct surveys and polls
Another way to engage your target audience with the help of content is by holding surveys and polls on a regular basis. Surveys & polls will allow businesses to ask their audience directly about what sort of content they want.
Moreover, holding surveys and polls will also help brands figure out the critical pain points of their reader, which further allows the companies to create content on these pain points for maximum user engagement.
However, audience interest and needs also change with time, surveys and polls help companies in staying up to date with their audience requirements with an option to change their content strategy according to their audience needs.
Let us explain how surveys and polls can help in engaging the audience with an example. For instance, your brand is offering door-to-door service for kitchen items.
You have launched a cashback reward program for customers who are making purchases from your brand.
So, you can create polls or hold surveys by asking the audience questions like "Are you satisfied with our cashback reward program?"
When asking questions like the one mentioned above, the targeted audience is more likely to answer those which will increase user engagement. Moreover, by reviewing their suggestions, you can determine the areas where your brands need improvement.
Sending Emails
Sending emails to the targeted audience is also considered the best way to engage them. This is because emails allow brands to interact with their customers directly. This will further help companies to keep the audience engaged with their brand.
Now the question here is, how brands can make the customers engaged? Let us explain.
This can be done by offering incentives such as free trials, discounts, updates, and valuable content with the help of emails.
Note: Brands should send emails to only those audiences that have intended to receive emails.
Overall, sending emails is a useful way to engage the audience with the help of content. Apart from this, approaching targeted audiences through emails will not only allow businesses to get helpful advice from the audience but also make the audience feel closer to you.
Final Words
In conclusion, no matter how much quality content you have, it will have no worth if it does not engage your targeted audience. Your content should help you to reach the maximum audience and keep them engaged.
This can be done by following the best ways such as creating valuable content, holding surveys and polls, and sending personalized emails.