Chatbots have occupied the market in numerous ways by helping businesses to reach new milestones.
A chatbot is an artificial intelligence-based bot that is mainly designed to help companies initiate conversations with customers so that they can attract their interest in their business or services.
These chatbots are used explicitly for lead generation.
Other than chatbots, some additional tools and strategies can be used for generating leads.
Still, the business house is mainly preferred because they provide more opportunities and benefits.
In recent studies, it was found over 55% of firms believe that AI chatbots help them to generate more high-quality leads.
In this blog, we will study in Greater detail how chatbots help in lead generation and what the different types of chatbots can help to do so.
We will also look at the strategies that are used by chatbots to generate more leads.
So, let's begin.
Types of Chatbots that help in lead generation
Various chatbots can be used to speak with customers and engage them in your business or services to create leads in multiple ways.
Here we have discussed some of the common types of chatbots that are used for lead generation.
Lead Magnet bots
Chatbots help you to acquire more data in return for the content you provide without overloading your leads.
Chatbots lead magnets allow your clients to convert and offer their information to a chatbot in exchange for gated content such as business manuals, recordings, and white papers.
Lead Generation bots
These bots are mainly developed using decision tree logic.
This means that instead of importing inquiries or questions, the leads are taken to a different path by clicking on the alternatives offered by the chatbot.
These alternative chatbots are the basic ones that help assist the segments and gather information about the leaders before sending them to your sales team.
All these will help improve the quality of the leads you are capturing.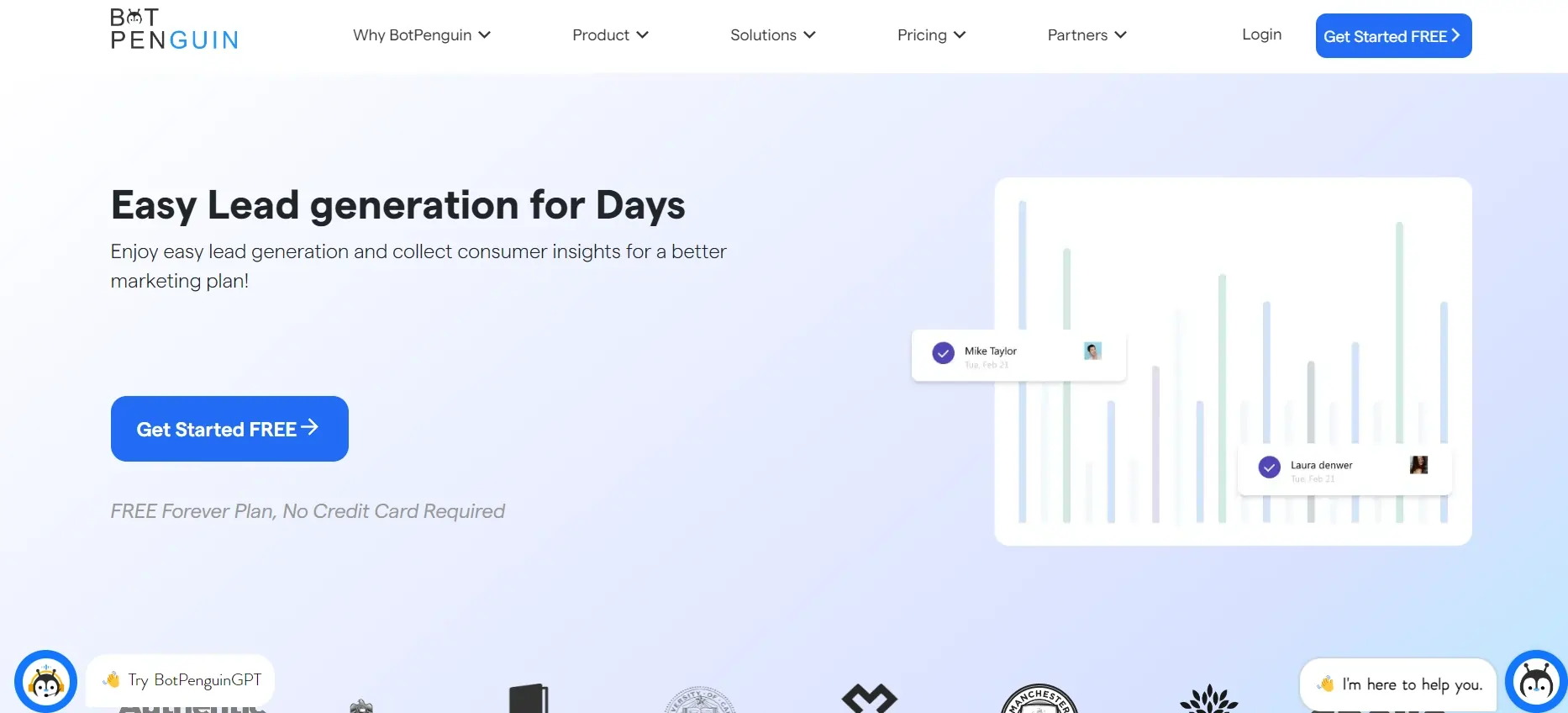 Newsletter chatbots
Newsletter chatbots are one of the most approachable ways of reaching out to your audience.
With the help of this, you can transform an essential popup window into an attractive conversational bot that can help you to collect feedback on your messages.
It also helps your audiences to score your content using newsletter bots.
FAQ Chatbots
Frequently asked questions or FAQs are commonly answered by a chatbot. Most chatbots that answer FAQs can be used for a variety of purposes.
They can be used to direct website users to the appropriate material available on your website and, thus, generate leads.
The chatbots mainly compile the commonly asked questions under a single location so that they can be easily accessed by users and allow them to find solutions to their queries by themselves.
BotPenguin can do many services apart from Lead Generation like:
They do the heavy lifting work for you when generating B2B leads
Create your own Chatbot now!
Appointment Chatbots
Appointment chatbots help you to book appointments on the first day and show your calendar availability in real-time.
These chatbots are very helpful in organizing your meetings and appointments.
Customers and clients can use the chatbot if they want to request a demo, make reservations for their appointments, and schedule an appointment.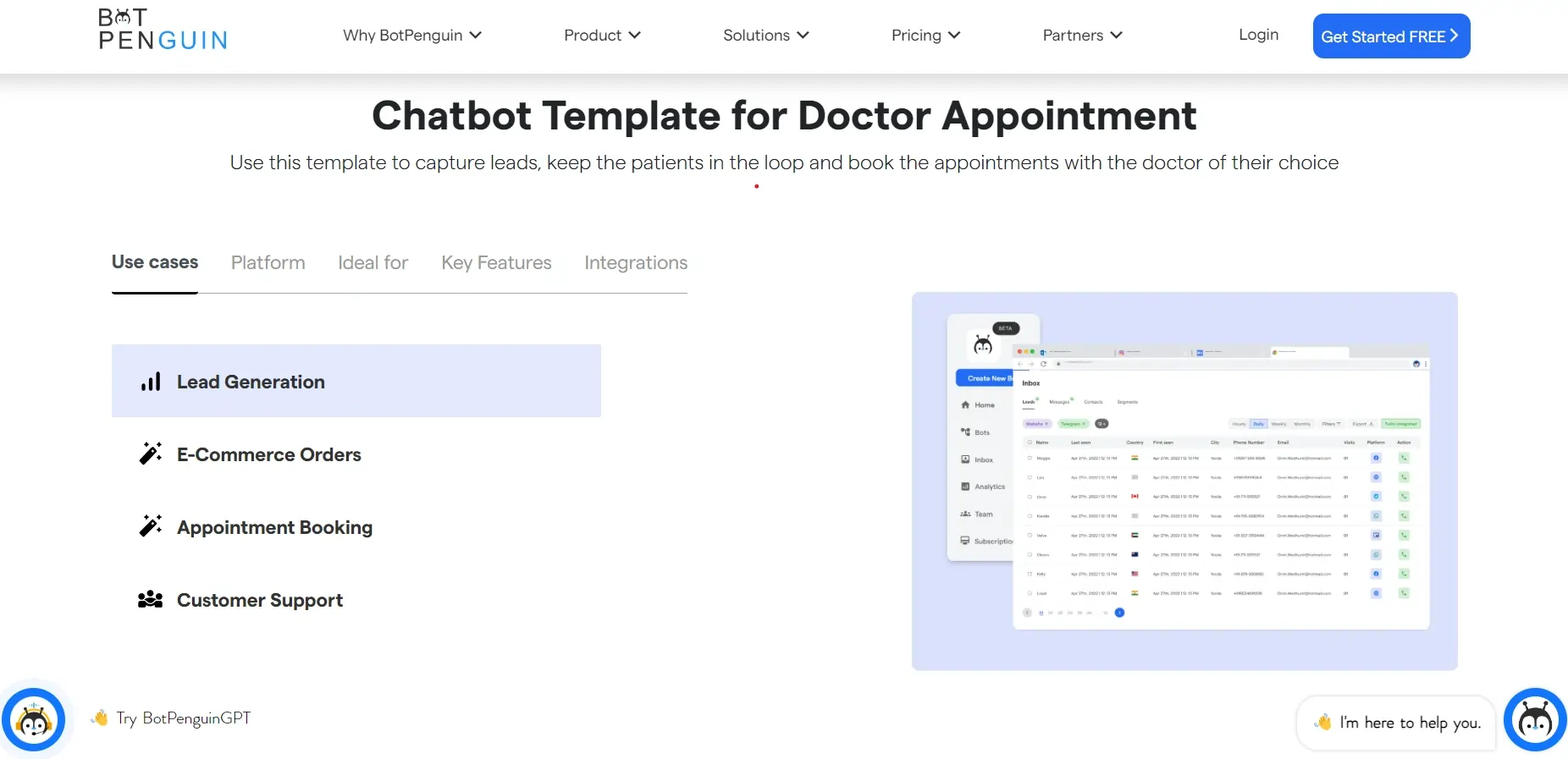 Promotional Chatbots
Sometimes, chatbots can also be used to advertise new items or campaigns as they may serve as a good tool for promoting and helping visitors take advantage of the special offers provided.
With the help of a chatbot, you can spread a message to your visitors or customers regarding a sale that you are organizing.
You can also use it to promote your customers about your company and provide them with some incentives or rewards in return for the information they provide.
This will help you to stop people from abandoning your website without converting.
Key aspects that help Chatbot to generate more lead
Several factors play a crucial role in helping chatbots to generate more leads. Some of them are as follows:
Helps in scheduling appointments anytime
Reserving appointments is one of the main tasks that are performed by chatbots.
This type of reservation is mainly done for B2B companies, Healthcare organizations, hospitals, etc. because these organizations have to entertain many meeting-related requests daily.
Chatbot helps these firms to schedule these meetings and appointments.
Thus they won't have to deal with scheduling issues or need to give additional fees to an employee who is appointed to do this task.
Instead, they can invest this capital in chatbots that will help them to manage appointment scheduling at a meager cost than the traditional way.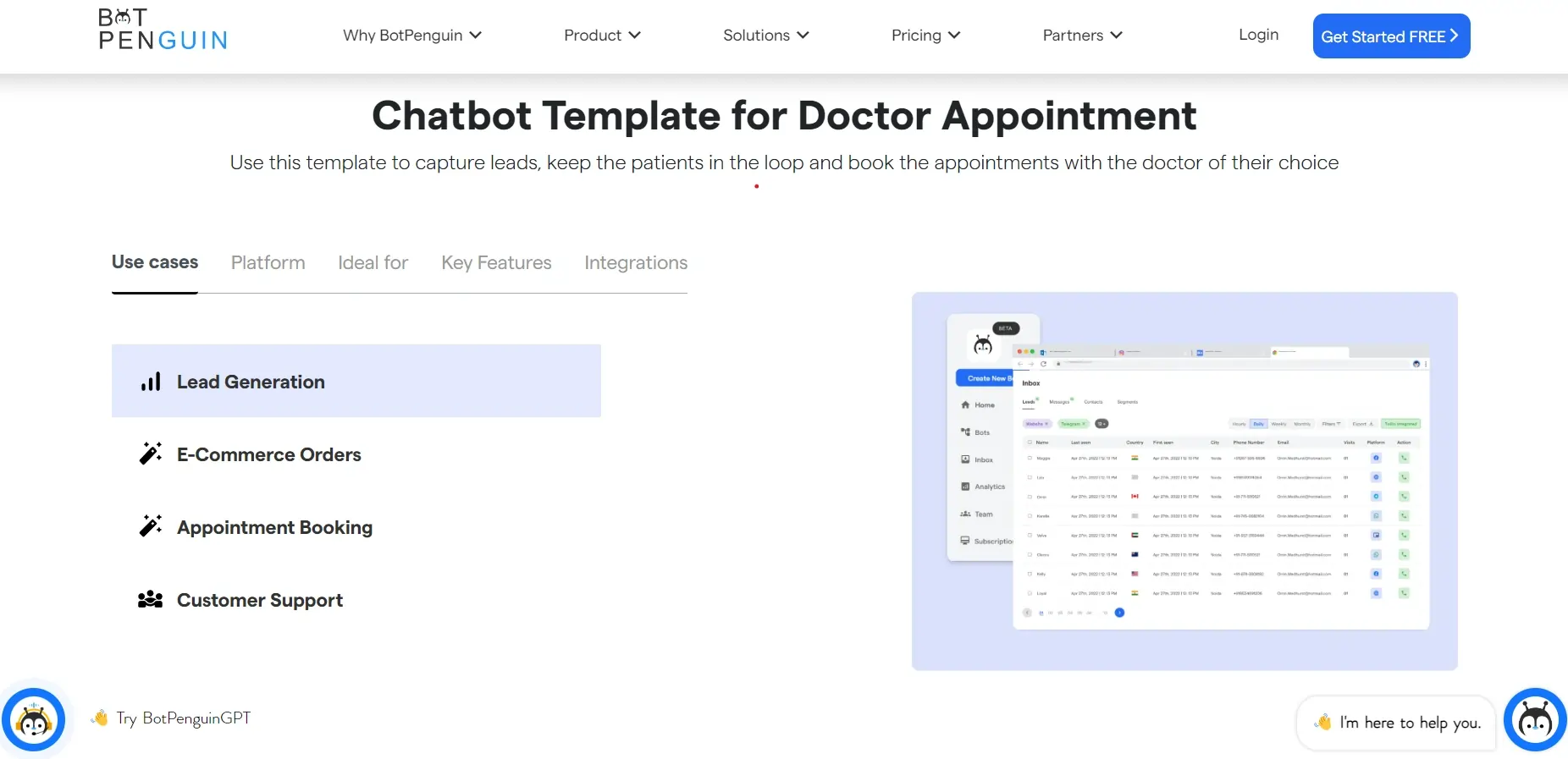 Gather better knowledge about the audience
Companies often need more knowledge about their audience. It is always easy to choose a good friend over a new colleague.
This is the reason why you should always have a piece of good knowledge about your audience and their choices.
Proper knowledge about your customer's choice will help you market your products and target your primary audience.
With the help of a chatbot, it is easier to identify your target audience. Thus, allowing you to determine customer product preferences, likes, and dislikes.
Chatbots Ram service, quizzes, or asking customers questions that help you have a better sense of your audience and about your best and worst performing products.
Helps to qualify your leads
Chatbots have become an essential tool for companies and customers to communicate.
With the improvement of AI bots and increased availability in the market, they help engage people successfully, handle issues in less time, and provide swift replies.
Chatbots work their best to provide services when human teams are busy or unavailable.
Nowadays, without involving a physical team, chatbots on their own can help you to reach out to a larger audience.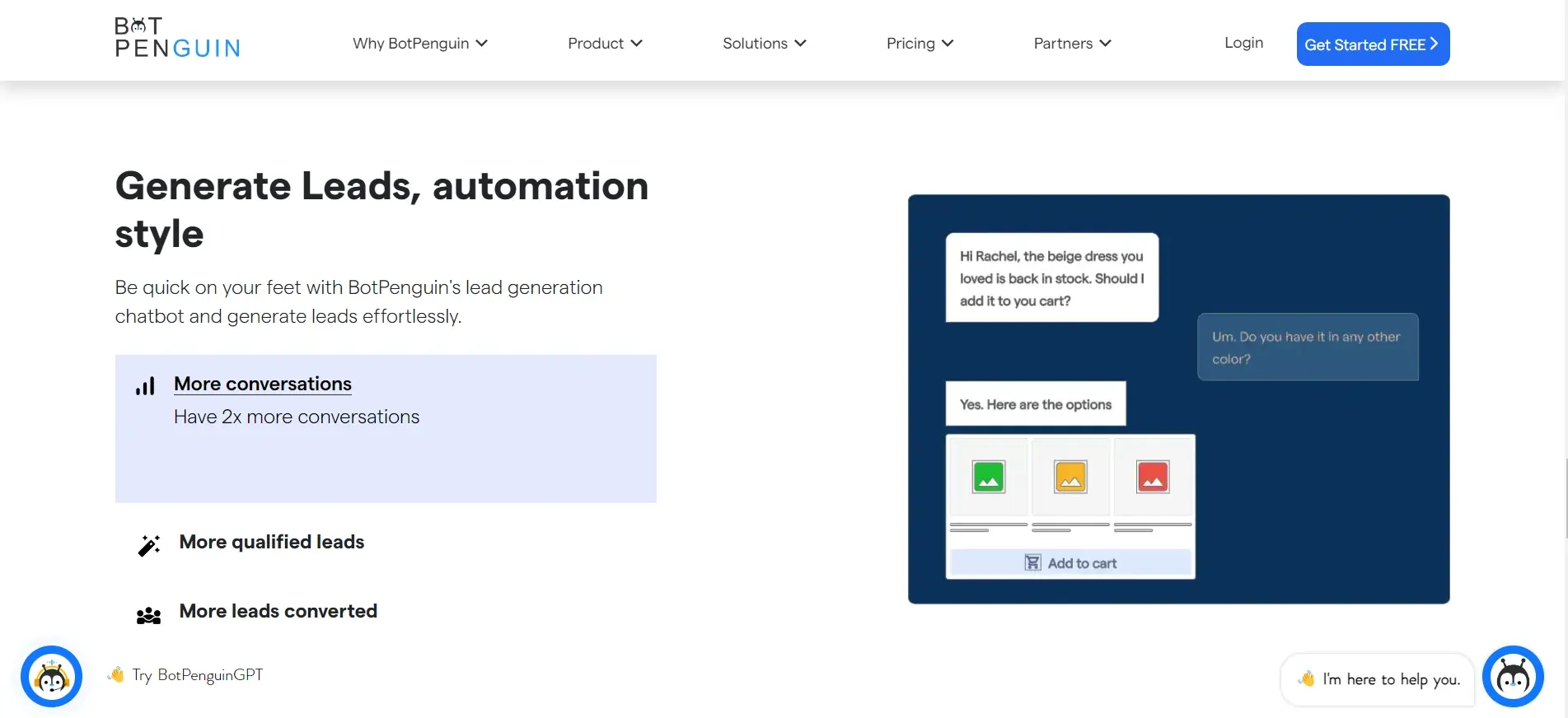 Works as a great alternative to forms
In the traditional ways, we have often found that states are filled to gather information. It is a very time-consuming task and is significantly less engaging.
Chatbots can be a great alternative to forms for gathering information more cost-effectively, thus helping in generating more leads.
It collects information during the chat process, reducing friction and streamlining the data collection process.
As the customer does not have to make the extra effort of filling out a form to provide information, it becomes easier for you to gather more leads.
A chatbot is equipped enough to collect information like the user name, email, phone number, address, and other basic information of your customers.
As the whole process is done conversationally, customers find it more engaging and respond accurately.
Helps to build a better relationship with your audience
Maintaining a good relationship with your customer is the key to your success.
Building a good relationship requires building trust between the company and the consumer. This can be done through regular conversation with their audience.
Chatbot helps to develop distrust and keeps your audience engaged by giving them immediate assistance and being available 24/7.
This type of engagement creates a sense of importance in the customers' minds as they like a quick response.
Chatbots are broadly used to provide great customer service because they are non-intrusive and constantly consider the customer's choice.
If you can satisfy your customers and give them importance by using chatbots, you can generate more leads quickly.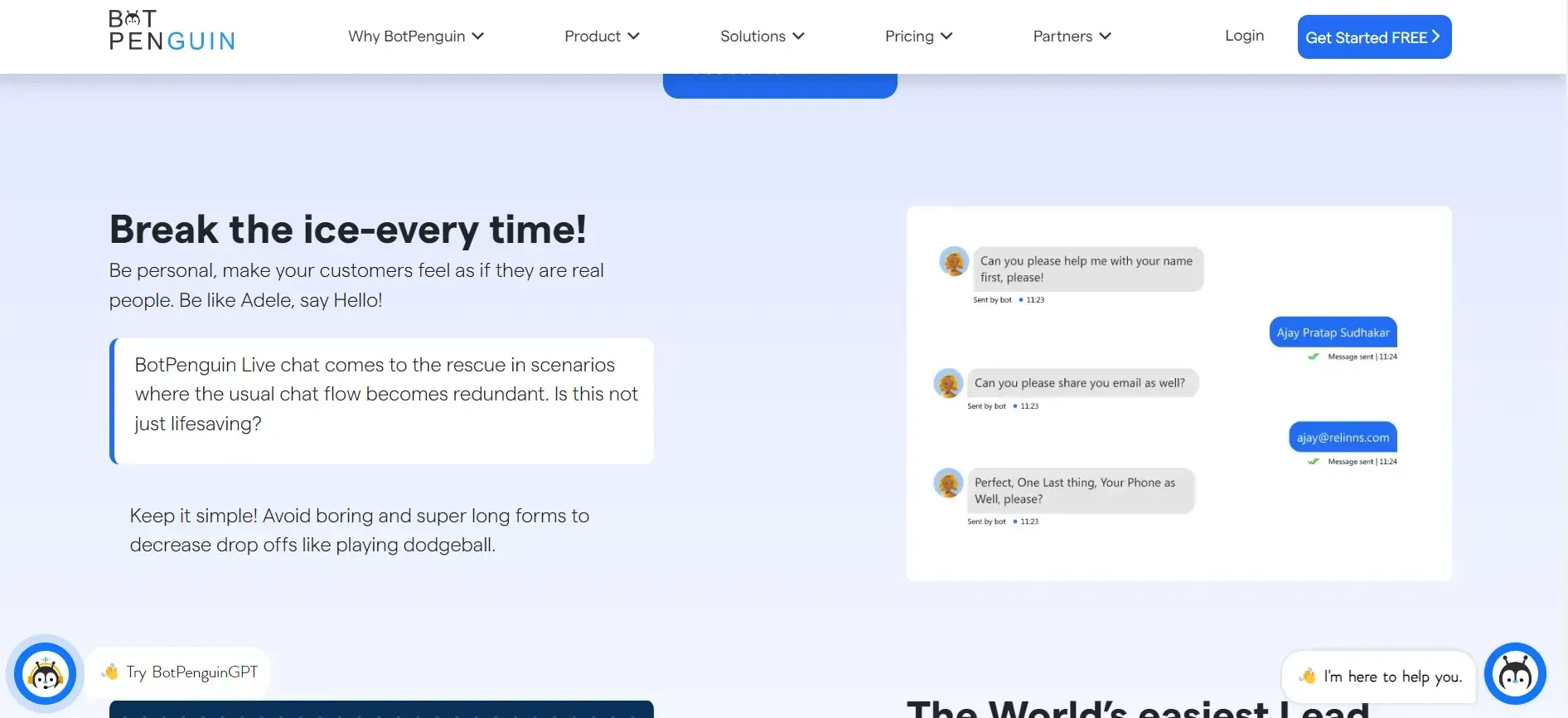 Summing up
With the rapid increase in Artificial Intelligence and online business platforms, there is a higher expectation in the minds of consumers when it comes to communicating with business houses.
They mainly look for easy involvement, instant responses, and a source that is constantly available to solve problems and help them.
Meeting all these expectations is far beyond human reach and can only be done by chatbots.
In this blog, we have discussed in detail how different chatbots are used for lead generation and the main factors that help chatbots generate leads.
The chatbots that use lead generation methodology can become an ideal solution by exploiting high capabilities and improving the everyday experience of website users.
As a result, there is a higher chance for more lead generation than in traditional ways.
Do you know where you can get the above benefits and then some? BotPenguin!. Try it. It's free!
If you have any problem regarding how chatbots help generate leads, feel free to comment below and contact us.
Also, if you are someone who is searching for excellent customizable chatbot-creating software, do check out the fantastic features offered by BotPenguin!