In the current era, chatbots have genuinely evolved and reached almost every corner of the world and function immensely without any doubt. From Facebook Messenger to skype to mobile phones- you can find and talk and gather solutions instantly. Few of them consult us with the best health remedy, some assist in planning our vacations, and more. And talking about the real estate chatbot, they have revolutionized how they converse, sell, or rent out properties quite easily and quickly. They turned long, tedious, and static forms into an exclusive interactive experience for the users.
The industry- "real estate" is where communication plays a crucial role and decides the real deal and business growth. Moreover, not all people connect to estate agencies. However, many brokers waste their time answering repetitive basic questions from people who would never return to sign a contract. But with the help of Chatbots for Real Estate, the agents make this task automated and focus on other relevant areas.
Thus, this is the place where Technology comes in handy. By integrating Chatbots for Real Estate, agencies can qualify leads, send regular follow-ups, improve engagement, and increase sales.
This blog will tell you about a real estate chatbot and how it will help you correctly and suit your business strategy in a highly competitive marketplace.
But first, let's find out what benefits it brings to the Real Estate industry.
Benefits of Chatbots for Real Estate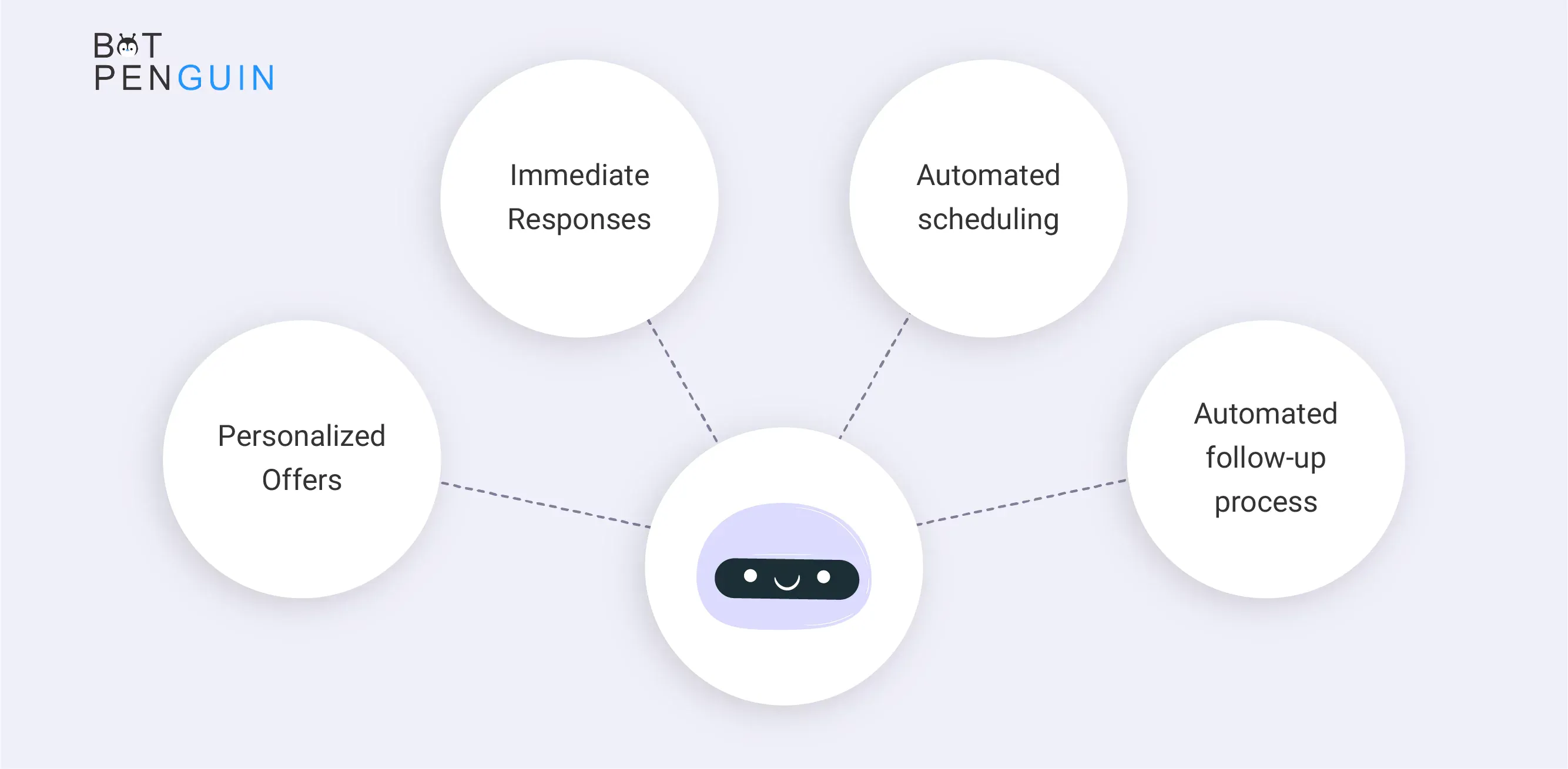 The selling process in the real estate industry appears not as simple as it seems. Brokers and agents find it difficult to handle all queries from potential clients and cannot catch the opportunities.
Thus, bot real estate might bring the following benefits:
Immediate Responses
An AI chatbot can instantly respond to the clients' queries via the Facebook messenger web site or any other social media platform. IBM suggests Chatbots for Real Estate saves up to 30% in customer support costs. Also, the process States do not have to wait for answers from any human staff about their interest in a particular property.
Personalized Offers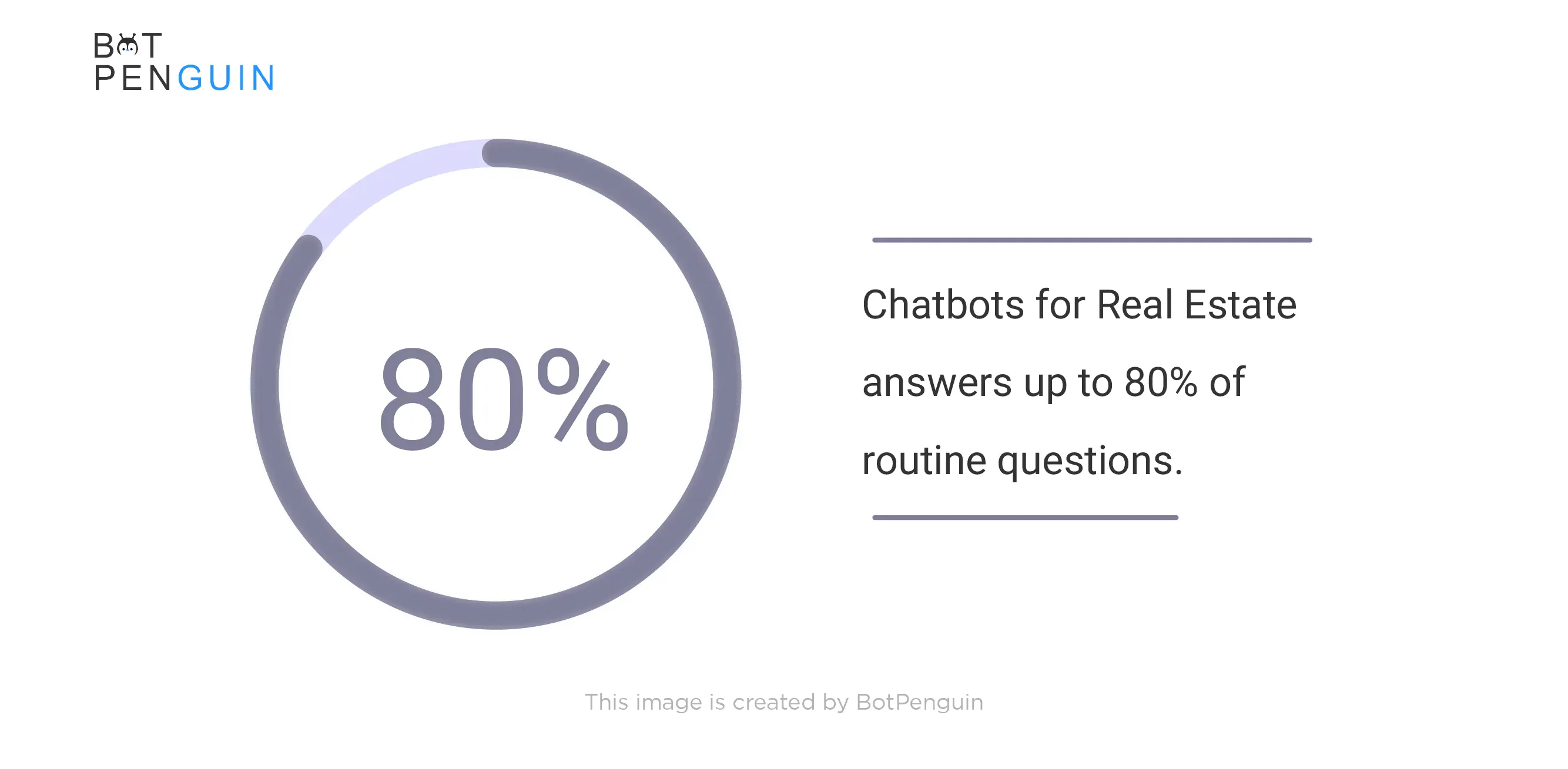 Every individual or customer is different and looking for different types of apartments or property types. Hence, real estate chatbot offers declines with a series of options to develop more relevant recommendations and collect information to serve them with personalized solutions that perfectly fit in the bag of their needs. Chatbots for Real Estate answers up to 80% of routine questions.
Automated scheduling
After qualifying the lead as a potential purchaser, Chatbots for Real Estate can quickly schedule a home or property tour. And also, introduce the real estate agent to the clients for more detailed information and further communication. Hence this is the point where the agents take over the reins.
Automated follow-up process
The best part of bot real estate is that you can prepare them for the role you want them to execute more effectively than human resources. Chatbots for Real Estate is conveniently utilized to follow up on your leaves via any medium they choose. Follow up email for messages can be automatically sent to the client without any manual intervention. So, make your bot smart enough to rule the market.
Chatbots for Real Estate & Opportunities in the Future!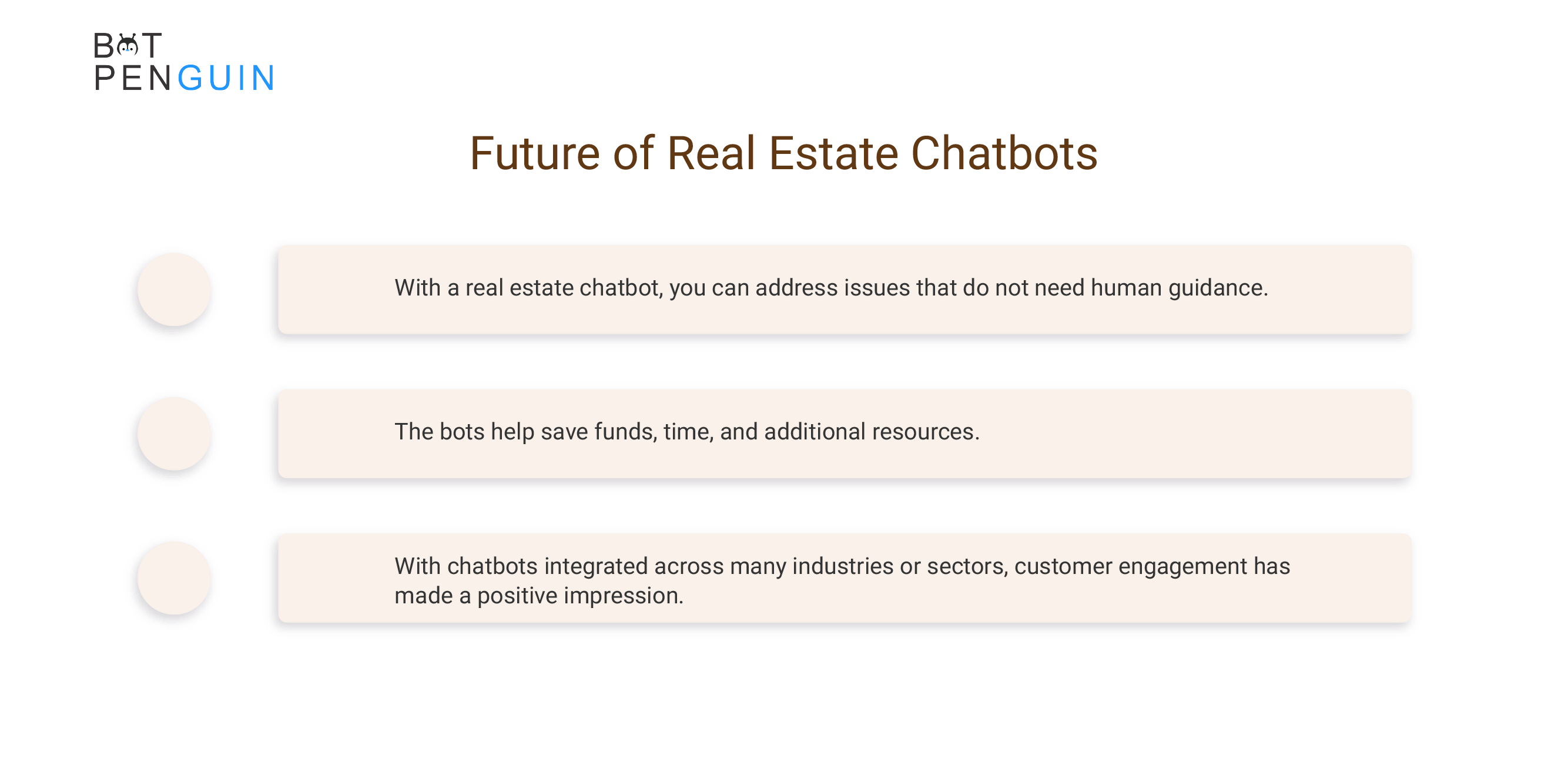 The ultimate key to success is to continue indulging with your target audience, especially outside the operating hours. With a real estate chatbot, you can address issues that do not need human guidance.
With chatbots integrated across many industries or sectors such as E-Commerce, retail, hospitality, or Healthcare, customer engagement has made a positive impression. Chatbots for Real Estate are ready for the actual assistance and support the sector with an impressive user interface. The bots help save funds, time, and additional resources. This suggests quite clearly that Chatbots are the future of the industry.
Since most people, whether their buyers and sellers initiate their research online, it is advisable to integrate chatbots in the system to create their sales funnel.
Moreover, a smart real estate chatbot helps you tap into the target audience and gather relevant leads.
Global Usage and Opportunities
Globally, real estate is considered the driver for development. Surprisingly, New York had a fun one- a real estate chatbot helped sell 3 apartments in 10 days at €1.6 per pre-qualified lead. While in UAE (United Arab Emirates), be it a residential or commercial place, the market is resorting to modern technologies such as Robotic tools, virtual reality, artificial intelligence, thrusting a seamless experience in real estate transactions for all the stakeholders involved.
Hence, Prop tech is the new buzzword in Real estate real today.
How to Develop a Real Estate Chatbot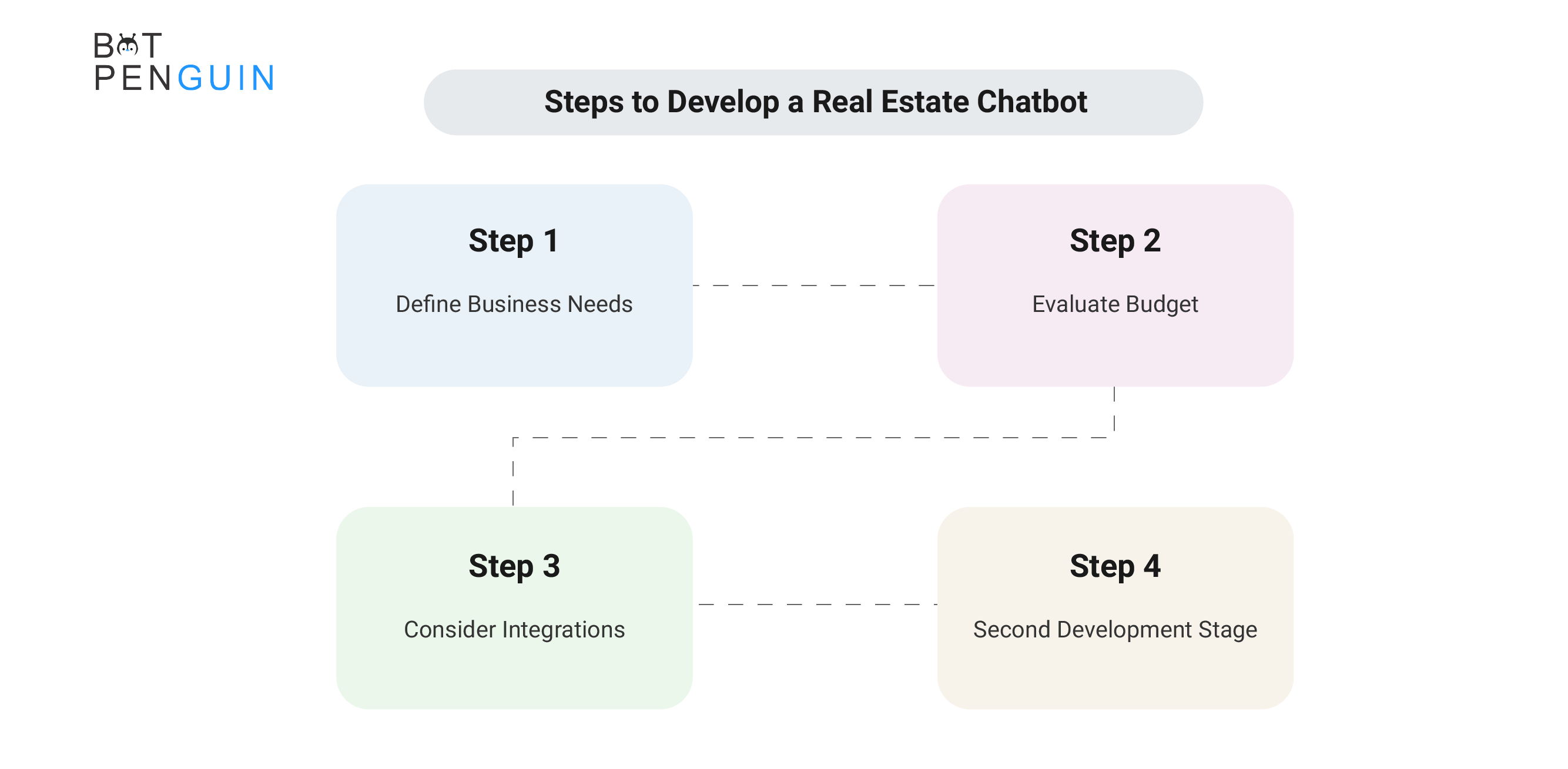 To deploy a Chatbot to your real estate business, you need to consider a few steps for the ideal bot.
Step 1. Define Business Needs
The first and the most critical step is to find out the issues you want to solve and what features you should infuse in your real estate chatbot.
Generate more qualified leads
Automate lead generation and validation process
Raise and improve customer services
Or all at once
Step 2. Evaluate Budget
Now you need to see your business and what budget to invest in your bot real estate. Mainly it goes through two main categories, all limited budget, or no budget at all.
Tight budget- Can go for platforms offering no code chatbots such as Mobilemonkey, BotPenguin, and much more. You can quickly develop your bot in less time and money.
Budget for a full-scale project- who wants to have a full technical team and develop from scratch.
Step 3. Consider Integrations
Now you need to decide how much integration your chatbot will have. Generally, developers infuse all the integrations. For instance, for the Facebook Messenger bot, you need to integrate it with your content management system (CMS) and your CRM (Content Relationship Management).
Step 4. Second Development Stage
At this stage, you need to examine the whole functioning of the Chatbots for Real Estate. Enrich it with additional features and fix the trouble areas. Analyze the interactions with the customers and track how well it is doing with analytics.
Conclusion
Real estate is one of those evolving industries, and all thanks go to Chatbots for Real Estate. It would be best if you considered integrating a chatbot in your estate business as soon as possible to shine out of the crowd. Hence, it would be the best and most feasible solution if you want to reduce customer support service costs, receive more qualified leads, and raise your revenue. We here at BotPenguin would be glad to support you with your bot's deployment and lead you through success.