Your company's website is its public face, and in today's digital age, it's where consumers go to take action. People seek informed purchases, order updates, and quick problem-solving. To meet this demand, building a robust support team is essential.
Chatbots bridge the gap between the increasing demand for support and the supply. Website chatbots, designed to interact with your website's visitors, offer 24/7 assistance.
Before chatbots, online conversion rates were as low as 2%. Early adopters witnessed significantly higher conversion rates, thanks to engaging conversational chatbots.
A study by Salesforce reveals that 53% of service organizations plan to use chatbots within the next 18 months, signifying a 136% growth rate and a promising future for chatbots.
In this blog, we'll explore how a website chatbot can benefit your business and guide you on obtaining one for FREE.
The Power of a Website Chatbot
A website chatbot is an automated messaging tool that interacts with visitors on your website. It can assist them with common queries, provide product information, and even complete basic transactions.
This powerful tool works 24/7, allowing you to provide instant customer support, regardless of the time or day.
With a chatbot, you can eliminate the frustration of long wait times and improve customer satisfaction.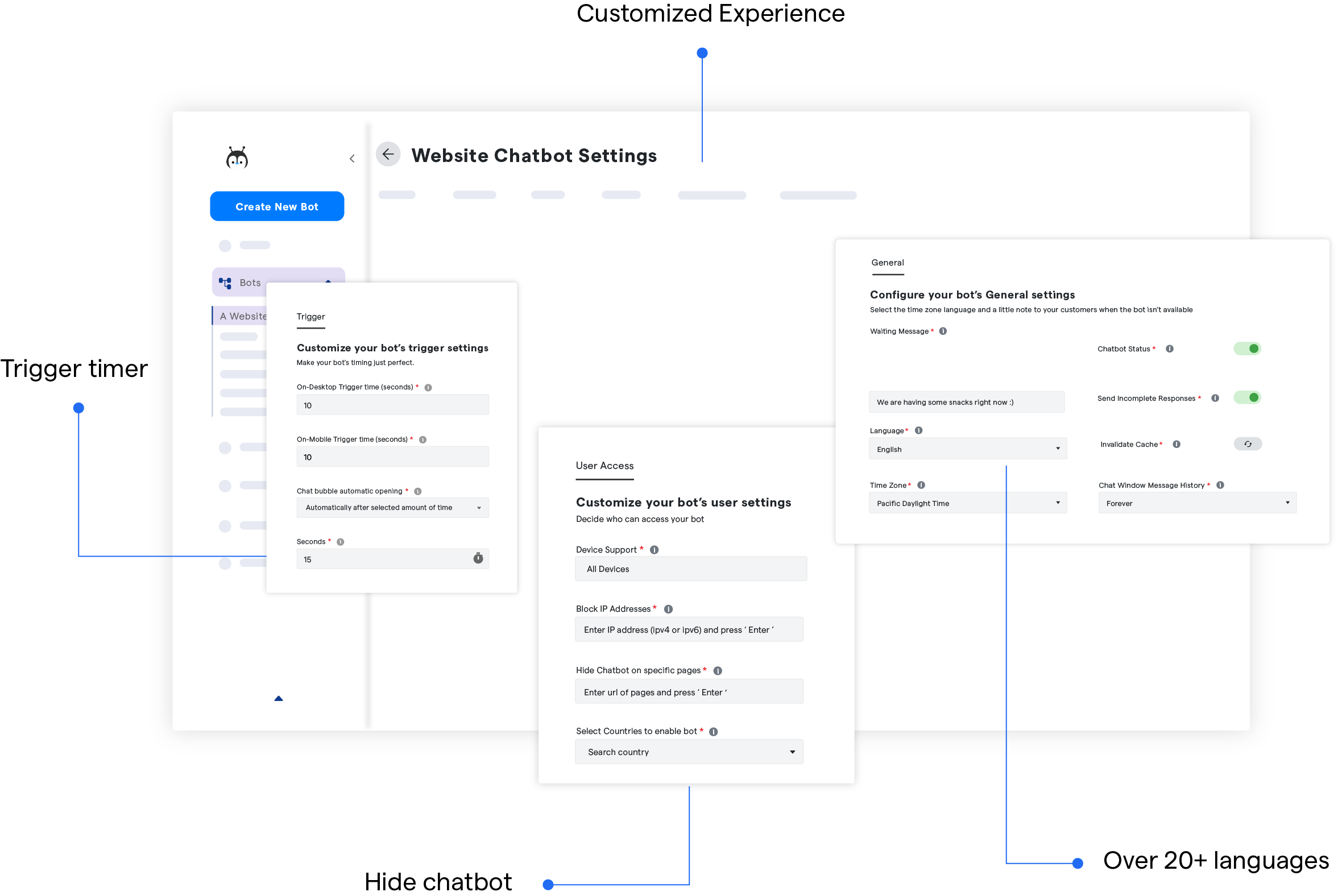 Why Do You Need a Website Chatbot?
A website chatbot offers several compelling benefits, making it a valuable addition for businesses and organizations. Here are reasons why you need a website chatbot:
Enhanced Customer Support
With a website chatbot, your customers can get immediate answers to their questions. Instead of waiting for an email response or being put on hold, they can simply type their query and receive an instant response. This helps build trust and increases customer loyalty.
Increased Sales and Conversions
A chatbot can guide visitors through purchasing and provide personalized product recommendations.
You can improve conversions and boost sales by assisting customers in real time. The chatbot acts as a virtual salesperson, helping customers make informed decisions.
Suggested Reading:
Improved User Engagement
Engaging with your website visitors is essential for building strong relationships. A chatbot provides an interactive and personalized experience, making visitors feel valued.
When visitors feel heard and supported, they are likelier to spend more time on your website and explore your offerings.
Cost Savings
Hiring an entire customer support team can be expensive. On the other hand, implementing a website chatbot requires minimal investment and maintenance costs.
You can save on staffing expenses by automating customer support with AI-powered chatbots while delivering exceptional service.
How to Get a FREE Chatbot for Your Website
Obtaining a free chatbot for your website is feasible through several sites that provide free chatbot-building tools. Follow these steps to get a free chatbot:
Choose a Platform
Begin by selecting a chatbot platform that provides a FREE plan. There are several options like BotPenguin, each with its unique features.
Opt for a platform that suits your business requirements and has an easy-to-use interface.
And opting for BotPenguin is a real gold rush of features. From automating the lead generation process to customer support automation, BotPenguin's Chatbots have too much to offer. And talking about offers, here is the sweet dish-
BotPenguin offers a free chatbot not only for websites but also for various platforms like: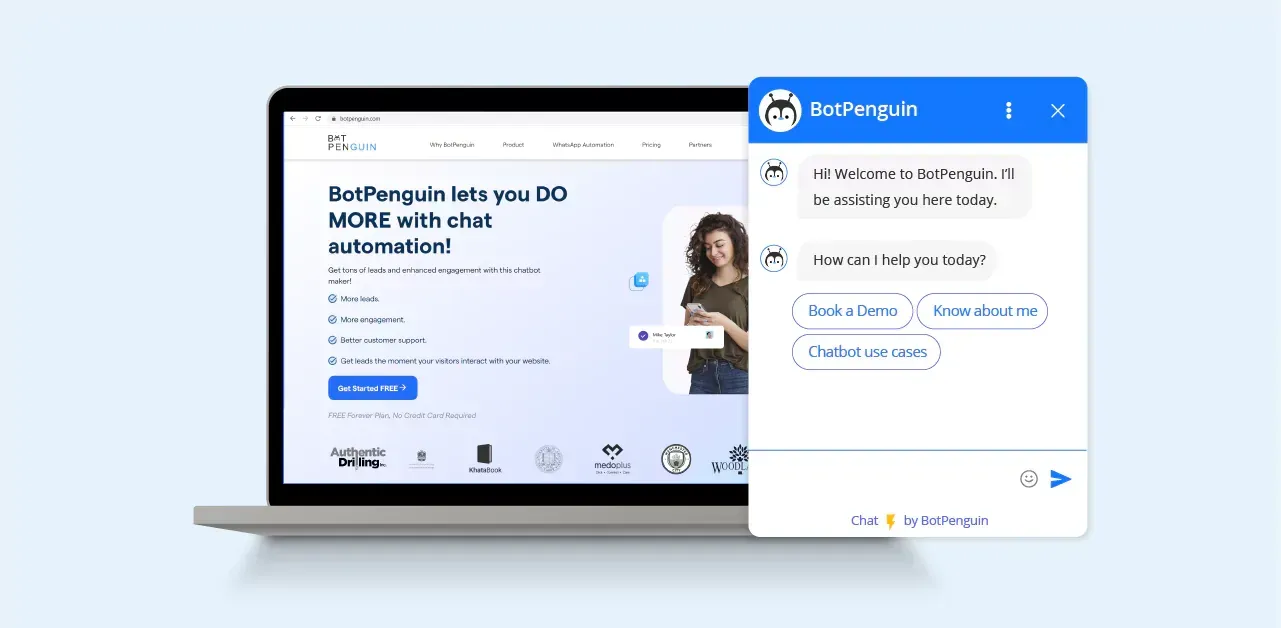 Customize
After picking a platform, customize your chatbot to align with your brand's voice and tone. Personalize greetings, messages, and responses to ensure a consistent customer experience.
Most platforms offer drag-and-drop tools for customization, eliminating the need for coding knowledge.
Set Up Integration
Integrate your chatbot with your website and other communication channels to maximize utility.
This integration enables your chatbot to support various platforms, including social media, messaging apps, CRMs, etc. It ensures a seamless customer support experience, regardless of the channel your customers prefer.
Train Your Chatbot
Before deploying your chatbot, train it with frequently asked questions and appropriate responses. This will enable the bot to handle common queries on its own.
However, remember to have a fallback option, such as transferring the conversation to a human agent if the query is complex or requires a personal touch.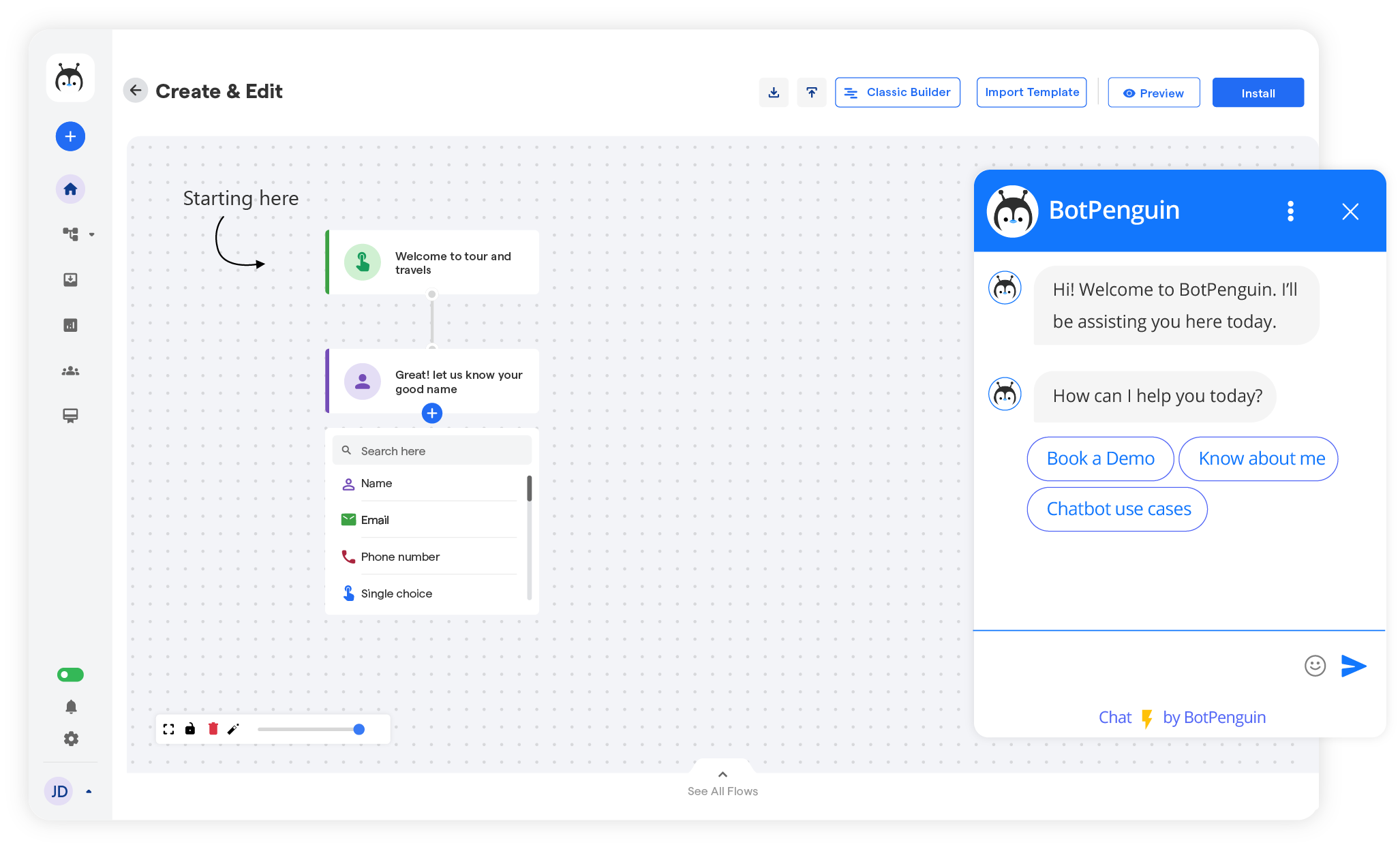 Deploy and Optimize
Once you are satisfied with the customization and training, it's time to deploy your chatbot on your website.
Monitor its performance and gather feedback from both customers and your team. Continuously optimize the chatbot based on user interactions and feedback to ensure it provides the best possible support.
Suggested Reading:
Conclusion
Incorporating a website chatbot into your customer support strategy can revolutionize customer interactions.
Not only does it provide instant support, but it also enhances user engagement, boosts conversions, and saves costs.
With our FREE chatbot solution, you can reap all these benefits without breaking the bank.
You may hone your organization's peak efficiency and genuine potential by acquiring a tailored chatbot for your website. A conversational AI internet chatbot can connect different operations into a single chat window.
What could be more convenient than that?
Looking for a hassle-free platform? Give BotPenguin a try! We've worked hard for you, so no coding or complicated transfers are needed.
All you have to do is select the type of website chatbot you want, customize its appearance and responses, and decide where you want it. It's that simple.
We've made everything as easy as a click of a button.
Best of all, you won't pay anything with our "Free Forever" program, which allows you to create and use your website chatbot for free. With BotPenguin, you get:
Complete customization of your website chatbot.
No coding is required, and seamless integration with over 60 platforms.
A unified chatbox to manage conversations from all your chatbots.
Flexible pricing - you only pay for what you use when upgrading.
Getting started is a breeze. Just click the button below and join our "Free Forever" Plan. No credit card is required.
Get started today and watch your customer support reach new heights!