Introduction
What would make the best vacation ever?
Before chatbots in the travel business emerged, finding affordable lodging, booking a flight, and allowing at least two hours for check-in were all required before relaxing on the beach.
You can now easily book hotels and flights and even check in online using a chatbot and smartphone.
This blog is for you if you want to create a chatbot for your travel business.
We outline the best applications for a chatbot for travel below and a step-by-step tutorial on creating one.
But first, let's explore the benefits of utilizing a chatbot for your travel company.
The advantages of using a chatbot for travel
Internet travel agencies are making it easier for us to plan our vacations.
Over 84% of travel people use websites like Kayak, Expedia, or TripAdvisor to book their trips.
The market for booking travel is still swamped with useless possibilities, and to discover the best one, consumers visit 38 websites on average.
For 62% of consumers, finding the greatest deal is challenging.
Huxley's poll revealed that 87% of tourists desire to communicate with a chatbot to locate the best lodging while saving time on the unsure search.
Also, 79% anticipate that a chatbot for travel will be an online travel agent.
Let's now examine chatbots from a business standpoint:
1. Boosts engagement:
As mentioned, tourists go via several websites to select the ideal trip.
Also, if your chatbot for travel can present users with relevant offers, your business will be more valuable to your customers and increase your engagement rate.
2. Minimizes your workload and overhead expenses:
Traveler is more likely to inquire about a tour or hotel if they are interested in learning more about it.
Unfortunately, your customer service staff spends at least two hours daily responding to the same queries.
Travelers may get basic inquiries answered by a FAQ chatbot, which will lighten the load on your staff and cut customer service costs by up to 30% and enhance sales.
3. Integrations with payment gateways:
Long forms are a painful and annoying experience for travelers who want to swiftly book a hotel, rent a car, or pay for their ticket.
Thanks to the connected payment gateway, a chatbot for travel may easily guide your consumers through the sales process and clinch a deal with fewer interactions.
To do this, travelers must submit their credit card information into Facebook Messenger, where it will be saved for future frictionless payments.
4. Entice new clients through travel chatbots:
The customer acquisition cost is a crucial indicator for several businesses outside travel.
A proactive chatbot for travel reduces CAC and draw in new clients by discussing.
You can program a bot to welcome website visitors who make reservations or post comments on your Facebook page.
Also, your chatbot can offer pertinent information based on your consumers' keywords.
A chatbot for travel can enhance your business metrics and save operating costs while boosting your consumers' booking experience by making recommendations that are more pertinent to their needs.
The most effective applications of chatbots for travel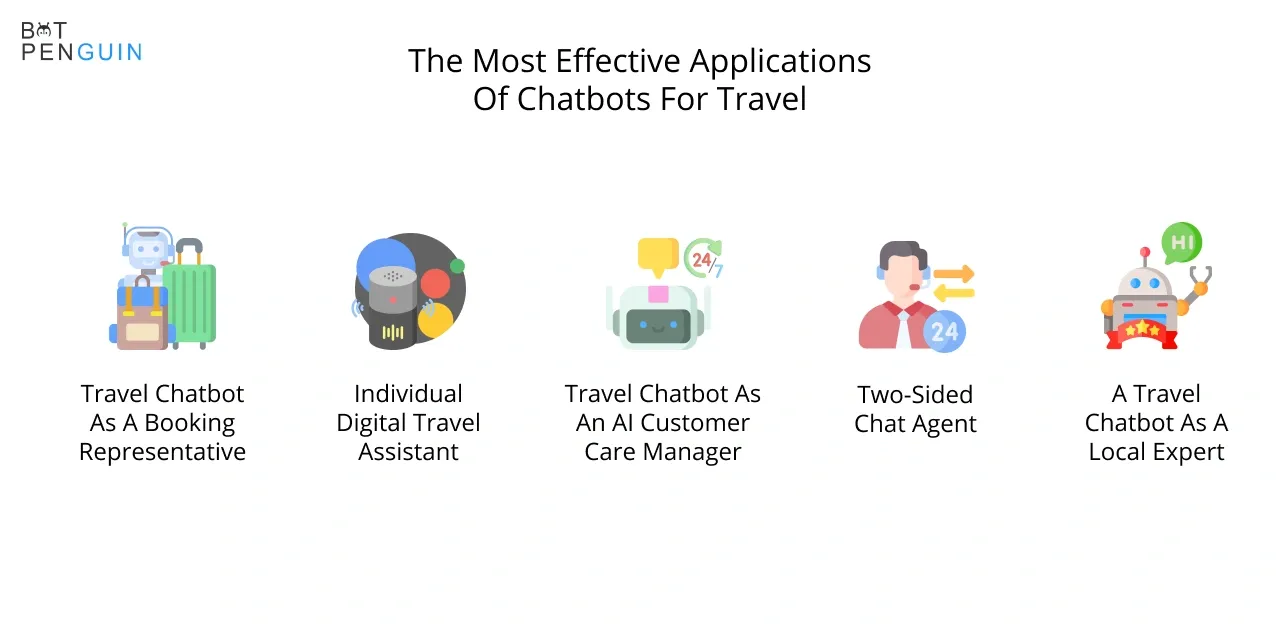 Let's explore some well-known chatbots for travel use cases and the outcomes of such an integration.
1. Travel chatbot as a booking representative
Travelers can use this chatbot to reserve hotel rooms, rental cars, cruises, and even holiday packages via their website or Facebook page.
Travelers must give the bot their specifications, such as destination, date, type of lodging, price range, and so forth, to receive offers that are pertinent to their needs.
Expedia.com's chatbot can be used in this situation.
One is routed to Expedia's website to make a direct reservation after receiving pertinent hotel search results.
The chatbot sends the user a link to an itinerary on Messenger.
Travelers can use this travel chatbot on Amazon Alexa's virtual assistant and Facebook Messenger to request booking updates.
2. Individual digital travel assistant
Natural language processing (NLP) enables a chatbot for travel to identify specific user searches, such as "exotic Japanese weekends," and respond with suggestions for hotels, transportation, and local attractions.
Visitors can complete only a short questionnaire because they obtain immediate and pertinent recommendations.
Such chatbots also assist passengers in locating the closest vehicle rental agency and provide local weather forecasts while considering their budget and even special dietary requirements.
Personalized travel aides support tourists at every stage of their journey and preserve their tickets and documentation in one location.
One great example is the Mezi AI chatbot, owned by American Express.
According to the company's credo, "everyone who travels for work deserves a first-class experience."
Travelers can use this chatbot to reserve lodging, transportation, and even a table at a restaurant.
3. Travel chatbot as an AI customer care manager
This use case for a chatbot for travel streamlines customer support by sending check-in notifications, flight updates, boarding passes, and even booking confirmation via the selected channel.
KLM Royal Netherlands Airlines uses a specific kind of chatbot developed on the DigitalGenius platform.
With Facebook Messenger, the company's AI chatbot, which has been programmed with over 60,000 queries and responses, can give customers non-pre-written responses to requests concerning information and updates on their flight.
The KLM Facebook page received 40% more messages after the bot's introduction. KLM's chatbot can speak 13 languages and responds weekly to 15,000 Messenger questions.
Since its debut, the KLM chatbot has responded to over 500,000 people's 1.7 million messages. KLM created a chatbot for Google Assistant in addition to social networking sites.
The bot delivers voice-over responses to frequently asked queries and details about airline restrictions and may even offer advice on how to pack for a flight based on the destination.
4. Two-sided chat agent
This chatbot for travel use case will benefit your company if you run a two-sided travel marketplace.
This chatbot for travel connects travelers and hotels to check hotel availability or look up vital details like check-in hours or parking reservations.
Because this chatbot is two-sided, accommodations can respond to user inquiries by sending alerts.
According to Booking.com, a chatbot for travel can currently respond to 30% of consumers' hotel inquiries in less than 5 minutes.
5. A travel chatbot as a local expert
Many tourists visits another nation for a genuine experience. They desire to eat, enjoy themselves, and live like natives.
A local insider chatbot is the greatest option to advise tourists about restaurants serving regional food, festivals, and other activities.
By doing this, your consumers will receive pertinent information without spending hours looking up the best sites on social media.
The travel chatbot Bebot, which was introduced right before the Tokyo 2020 Olympic Games, is a great example of one of these.
This chatbot for travel's primary objective was to explain linguistic and cultural hurdles to an increasing number of foreign tourists.
Users of travel chatbot can get tailored suggestions for restaurants, attractions, and travel throughout the nation.
6 stages to creating a chatbot for travel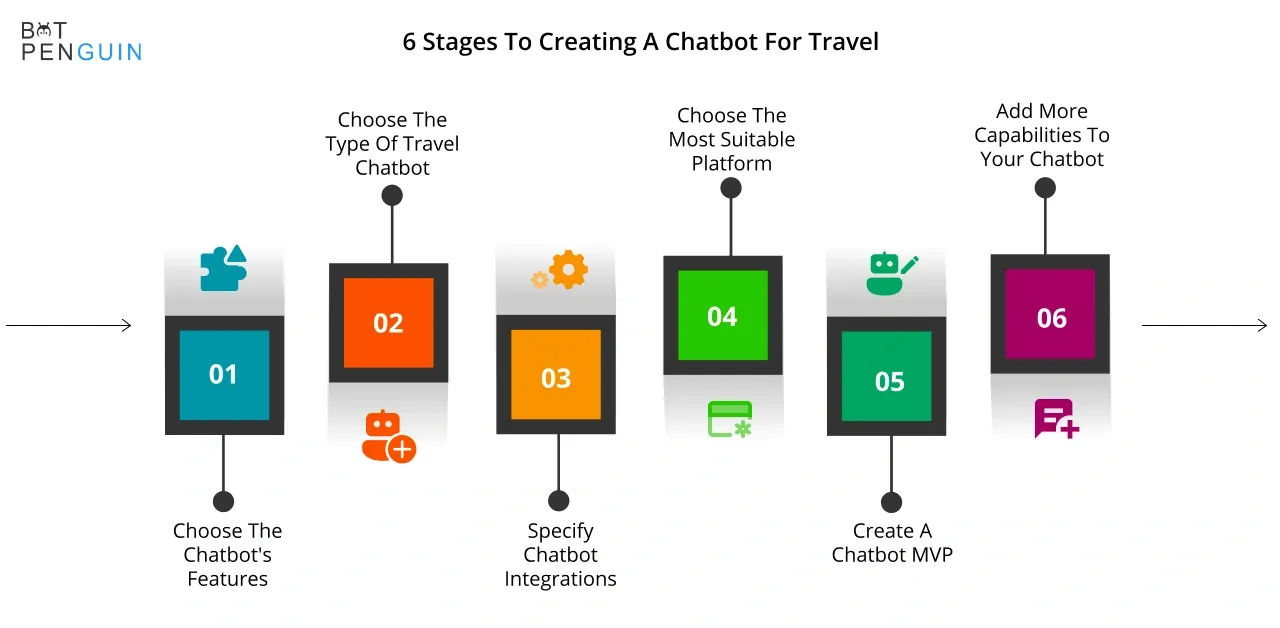 The primary tasks you must perform to build the ideal chatbot for your travel business are listed below:
Step 1: Choose the chatbot's features
You must describe your chatbot's purpose at this stage and set goals and objectives.
You must respond to the following inquiries to choose the appropriate chatbot goals:
What is the size of your company?

Do you require a chatbot to answer client questions or to amuse users?

What business process do you want your chatbot to automate?

How many users will your travel chatbot have?

Do you need to integrate your chatbot with a CRM, CMS, or database?

After you understand your chatbot project after answering these questions, you may move on to the next stage.
Step 2: Choose the type of travel chatbot
Knowing your project's goals will make it simpler for you to select the ideal chatbot type from the list below:
Scripted or based on rules because they communicate with users using a decision tree, chatbots are the most basic type.
Scripted bots understand keywords when interacting with people and direct them in the right direction to accomplish their objectives, such as providing details about the greatest discounts currently available, etc.
These travel chatbots could be more extensive in their capabilities. Yet, you can utilize them for easy jobs like
Customer service representatives that send out automated responses to customers

Engagement bots that alert clients about promotions
AI-Powered Chatbots are more sophisticated and frequently use machine learning (ML) and natural language processing (NLP) technologies.
AI-powered chatbots can respond to a user with non-predefined responses, unlike rule-based chatbots.
Machine learning (ML) enables them to learn from each interaction with the user and remember the user's preferences.
If you wish to create a chatbot, we suggest picking this type:
Agents who help customers make or fill out reservations

Recommendation agents that show pertinent results after gathering the customer's criteria

A personal travel concierge who can assist with booking flights, finding hotels, and providing local knowledge

A chatbot comparison tool that compares the costs of hotels and airline tickets

Automatic check-in chatbot that enables users to book hotels or flights

AI-driven chatbots
Step 3. Specify chatbot integrations
You should now think about potential integrations for your chatbot.
The most desired chatbot integrations are:
Adding a chat room to your travel website

Your cellular travel program;

Messaging app for mobile carrier channels (SMS, USSD) (Facebook Messenger, WeChat, Kik, Line, Viber)

Ensure the integrations you choose offer an open API so your chatbot for travel developers can quickly integrate it if you want to use a chatbot on your website, Facebook Messenger and Telegram. If you want to use an omnichannel chatbot on your website, Facebook Messenger, and Telegram. The best action in this situation is to choose the most popular channel with your audience and gradually add a chatbot to other integrations.
Step 4: Choose the most suitable platform
You will choose the platform to construct your future chatbot based on the type of chatbot and the communication channel.
Without hiring chatbot developers, you can easily create a chatbot using the user-friendly drag-and-drop interface of BotPenguin, which also turns out to be the bang for the buck.
With BotPenguin, businesses can easily create and deploy chatbots without technical expertise, providing customers with personalized and instant support 24/7.
BotPenguin offers a user-friendly interface, advanced analytics, and multilingual support, enabling businesses to engage with customers across the globe on different channels.
But remember that you'll need to engage chatbot developers for initial bot setup and training to establish a more advanced AI and ML bot that does difficult business activities.
The entire conversation between the user and the custom chatbot, from the welcome message
that collects the user's needs to the "goodbye" message, will be included in the script.
Additionally, consider situations where the bot does not understand the user's input and circumstances where the bot must switch communication with the traveler to a human agent.
Identifying specific elements in the message, natural language processing, or NLP, enables a chatbot to comprehend user intent or what your users desire.
A bespoke chatbot's backend should use natural language processing to process messages.
Also, the backend of the custom chatbot should have business logic and third-party integrations, such as payment gateways.
Step 5: Create a chatbot MVP
You must now recruit chatbot developers to prioritize the chatbot's business duties and integrate the most crucial features in the chatbot for travel MVP.
A minimal viable product is known as an MVP.
This method is utilized in software development when a client wishes to test a theory without investing much money.
Step 6: Add more capabilities to your chatbot for travel
Your development team has launched the chatbot MVP at this point. But the process of creating your chatbot is still ongoing. Why?
You must carefully examine how your chatbot communicates with your clients at this stage.
To do this, request client testing and feedback on your chatbot.
At the second development stage, you can also ask them what characteristics your chatbot needs.
Imagine that developing a chatbot involves acquiring data, reviewing it, and then modifying the chatbot.
That's it! Your unique travel chatbot is up and running!
Conclusion
Your travel company requires a chatbot for travel to stay ahead of the competition, give customers a top-notch customer experience, and keep them interested.
You may create a chatbot with various use cases to accommodate any size of the travel business.
Additionally, with a wide choice of DIY construction platforms, you can create a simple chatbot yourself.
But, you will need to employ a chatbot development team for initial bot settings if you want to use an AI chatbot for travel to automate business processes.
We strongly recommend BotPenguin, the ultimate chatbot platform revolutionizing how businesses interact with customers.
Its customizable chatbots can be tailored to specific needs, ensuring businesses can deliver the best customer experience.
BotPenguin integrates with various platforms such as Facebook, Twitter, and WhatsApp, making it easier for businesses to reach customers on their preferred channels.
Plus, with affordable pricing plans and 24/7 customer support, businesses can get the help they need whenever they need it.
In a world where customer experience is crucial to business success, BotPenguin provides the ultimate solution to enhance customer engagement, increase conversions, and drive business growth.
Try BotPenguin today and take your customer experience to the next level!