If you're searching for a new CRM for your company but are concerned about cost and simplicity of use, Capsule CRM is an excellent alternative to investigate. It provides the fundamental functionality and structure required by a small sales force to be productive.
The capsule has many functions, such as a sales funnel and statistics. It also has a free plan, which should be sufficient for lone owners or small sales teams.
We'll examine the platform's price tiers, top features, and key pros to let you know 7 mind-blowing facts about Capsule CRM. Stay tuned for our ultimate opinion on whether this gadget is a good purchase.
About Capsule CRM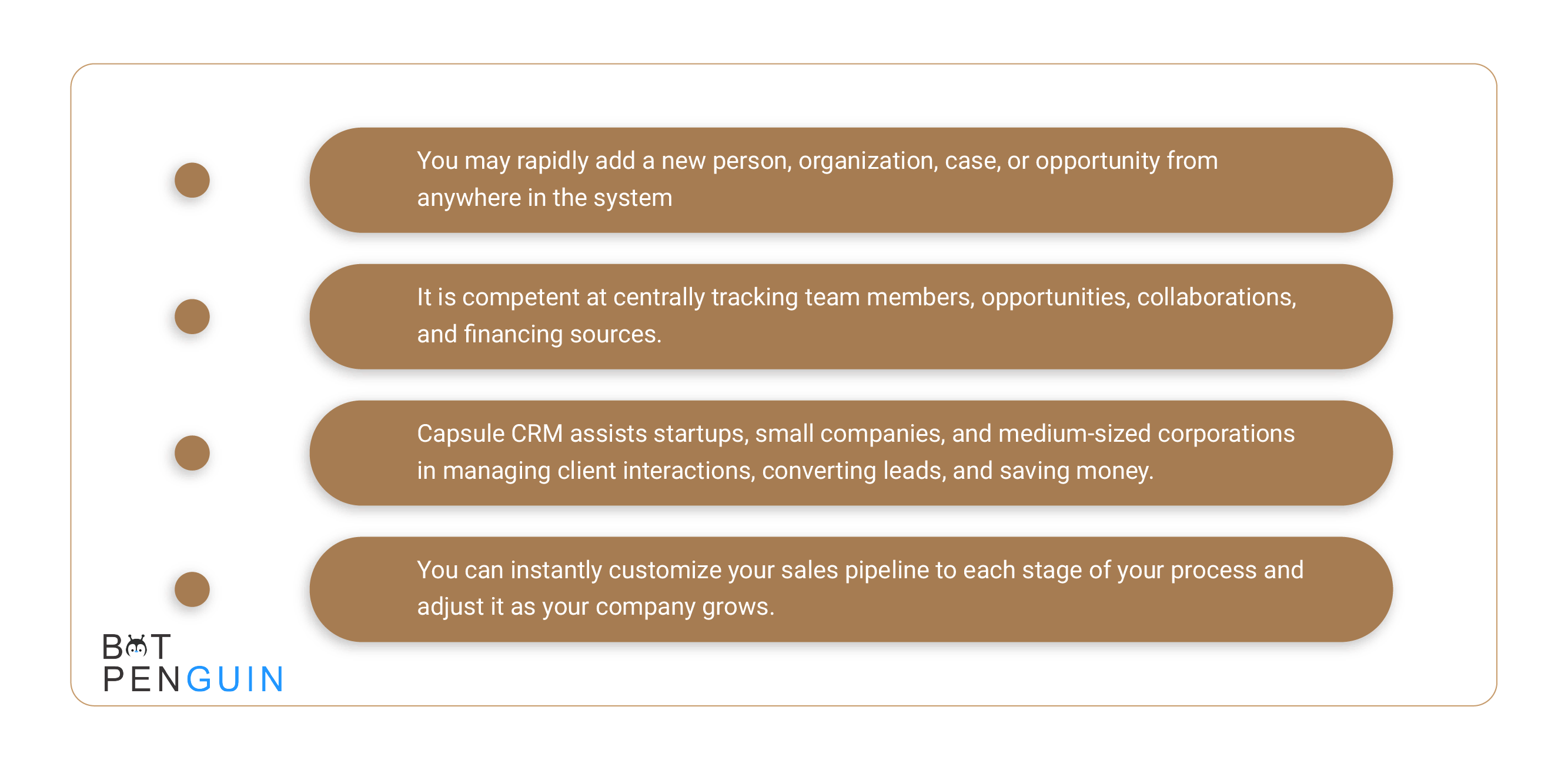 The capsule CRM is created to be as simple as possible. Even the most technologically-averse person will find this program easy to use. Playing with the system for an hour or two will teach you how everything works.
The user interface is divided into six sections: the dashboard, people and organizations, calendars and tasks, the sales pipeline, cases, and reports.
A global search bar in the center of the page allows you to find anything in seconds. You may rapidly add a new person, organization, case, or opportunity from anywhere in the system. It is competent at centrally tracking team members, opportunities, collaborations, and financing sources.
Capsule CRM assists startups, small companies, and medium-sized corporations in managing client interactions, converting leads, and saving money. Capsule's staff knows that every organization is unique, with distinct operations and data tracked. As a result, the system has been designed to be very configurable. You can instantly customize your sales pipeline to each stage of your process and adjust it as your company grows.
Custom fields, activity kinds, and task categories can all be added. You can also customize the color palette and add your logo.
Although the system prioritizes minimalism, Capsule CRM includes many capabilities that fit the demands of small to medium-sized enterprises (SMBs) to enhance organization and increase sales. Powerful contact management, tasks and calendar, sales funnel, and sales analytics are among the characteristics mentioned.
7 Mind-Blowing Facts About Capsule CRM
1. Capsule CRM provides promo codes and discount coupons.
Online discounts and Capsule CRM coupon codes are often accessible. Be careful to conduct a web search to find these from third parties. The typical range of discounts is 20% to 30%.
2. Capsule CRM provides both a free and premium edition.
Capsule provides a free plan with all the essential features required for solopreneurs or small teams to manage their sales funnel. There are three paid options with monthly costs ranging from $18 per user to $54 per month.
However, because only two users are allowed in the freemium edition, it can only be used by a single business or a small sales force. Free version users can store only 250 contacts.
Another drawback is the free plan's inability to link with accounting platforms, which is essential for many sales teams.
The Professional plan, which has the lowest monthly fee of $18 per person, unlocks various capabilities not accessible in the free program, including up to 50,000 contacts per plan.
3. Its instrument for client retention focuses on the success that you can manage.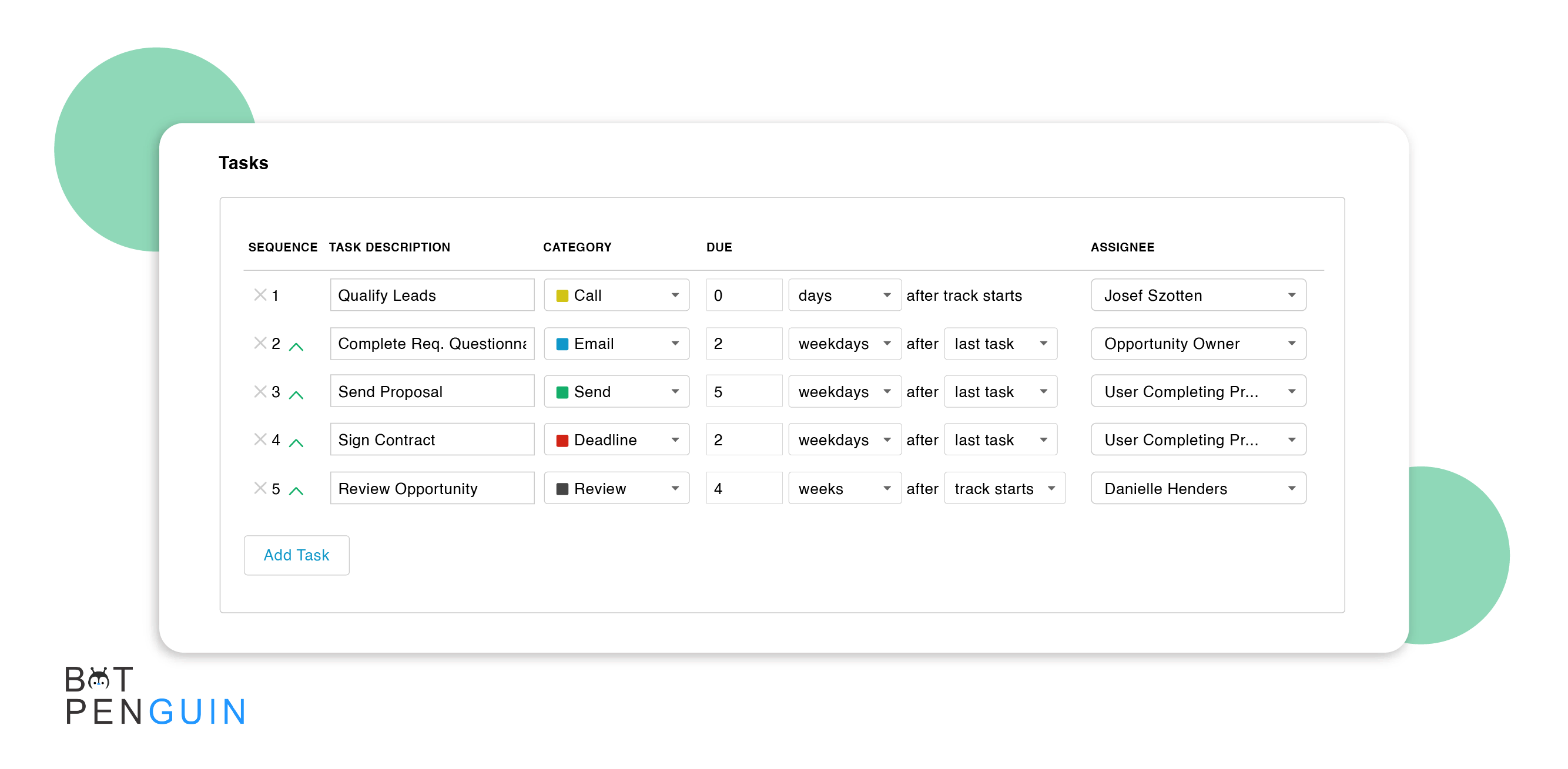 The ability to create tracks and view workflow has improved. There is no need for training.
With unique programming, anyone may utilize it and understand its works.
The supplemental materials are incredibly educational and beneficial. It smoothly incorporates other solutions.
Customer service is responsive, and every issue is fixed effectively and promptly.
It offers a wealth of helpful features and meets practically any business requirement.
4. It controls communication through service management and consensus-based forecasting.
You can communicate through its service management service. It also contains sophisticated features, including lead scoring, chat integration, and document storage.
Additionally, it is utilized for email marketing, which enables consumers to handle their emails with the aid of this program.
5. It enables businesses to handle their new clients automatically.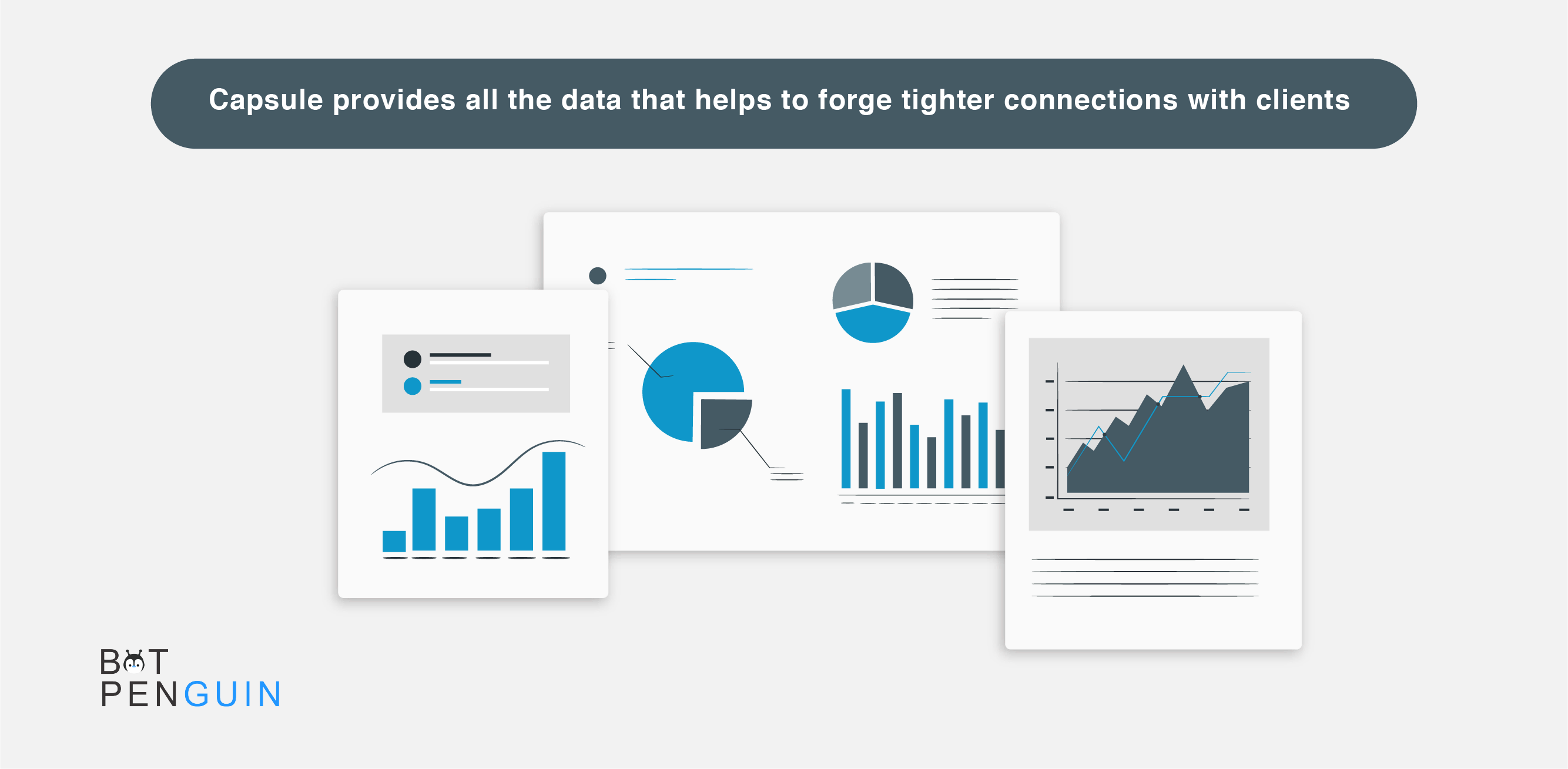 A CRM system should simplify your life and provide you with all the data you want to forge tighter connections with your clients.
But after using a CRM system for a long time, it's simple to become accustomed to it and stick to using the capabilities you are familiar with.
6. Reduce time spent by keeping papers in your CRM.
How many hours a week do salespeople waste looking at files on a shared drive? Spend less time by keeping all the necessary paperwork in your CRM.
It makes sense to store them there since that's where your salespeople log in daily. If you wish to keep your sales process distinct from your document storage, Capsule has a designated place for you to do so.
7. It makes good relations with Employees.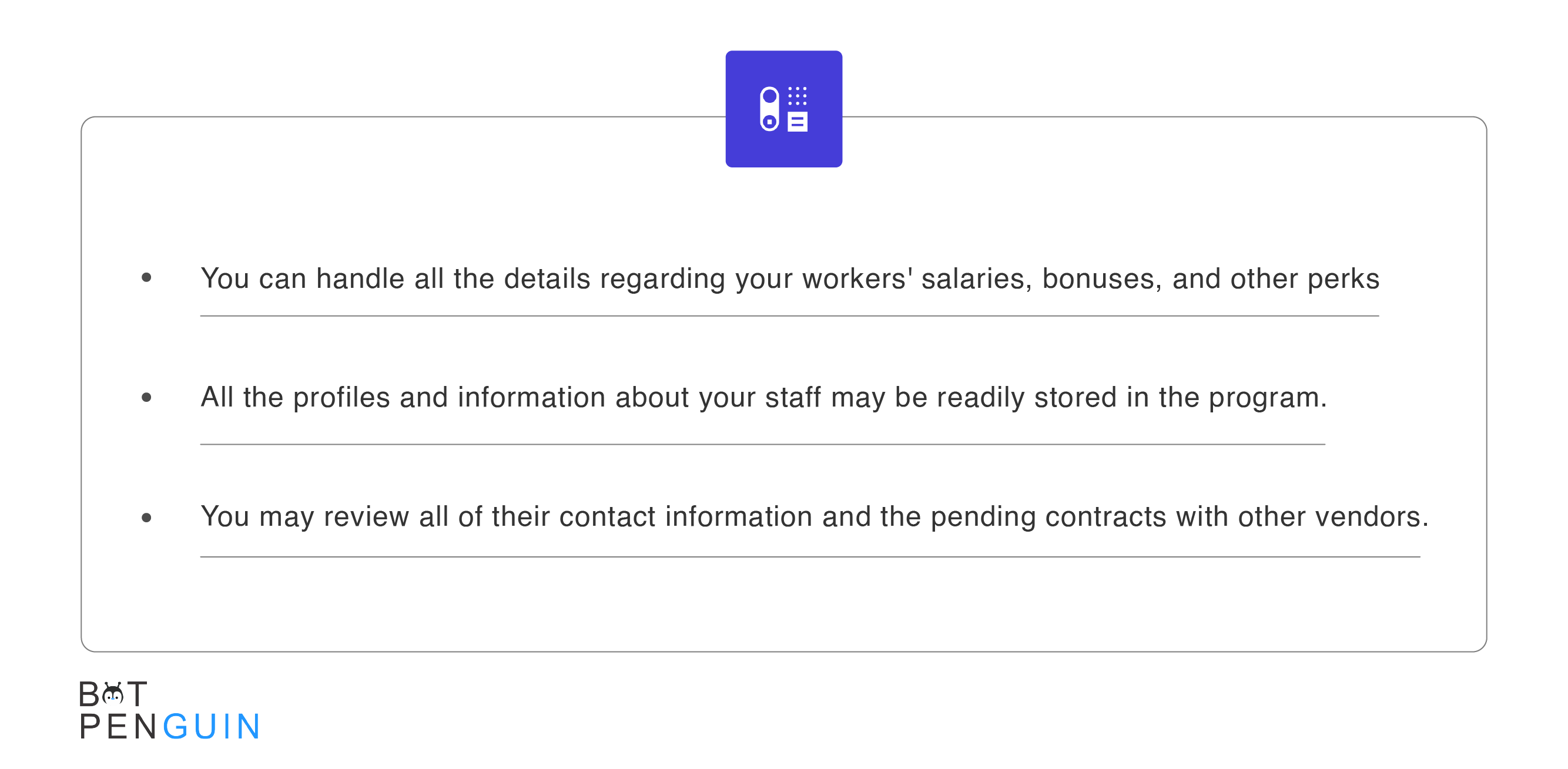 You may handle all the details regarding your workers' salaries, bonuses, and other perks using Capsule CRM. All the profiles and information about your staff may be readily stored in the program.
Additionally, you may review all of their contact information and the pending contracts with other vendors. It is required to prevent, among other things, unforeseen costs and legal problems with payment.
Who can use Capsule CRM?
Most business owners who operate customer-based, manufacturing, and shipping firms find the Capsule CRM system excellent. It is for business owners working alone who are primarily involved in B2B sales and are searching for a super-simple, primary platform that they can use right away that is available through the cloud.
FAQs
What is the capsule program?
Zestia, a privately held software firm established in 2009 which conducts business internationally, has created Capsule, a customer relationship management (CRM) software-as-a-service online application and mobile app.
Conclusion
Capsule CRM is an excellent option if you're searching for a low-cost, straightforward, easy, and practical approach to managing your company's contacts, cases, and organizational challenges.
It includes a wide range of unique features that may assist you in efficiently organizing every element of your organization. It has given company owners a setting that is simple and fun to operate in. I advise every business owner who wants to advance their enterprise to buy this product.
It is one of the most basic CRM programs currently on the market and is missing certain essential functions, particularly regarding conversation monitoring and email marketing.
The most significant advantage of Capsule CRM is that it is reasonably priced. It offers a feature set that will enable you to manage a sizable database, find business possibilities, track conversations, and organize a sales funnel quickly despite being one of the most affordable CRM solutions available. To know more, contact Botpenguin today!